Restaurant Style Salsa – the best! (with Video)
Ever go out to eat just for that irresistible salsa? You won't believe how easy it is to make restaurant style salsa at home. You'll find that this salsa quickly becomes a staple in your fridge. Try it today!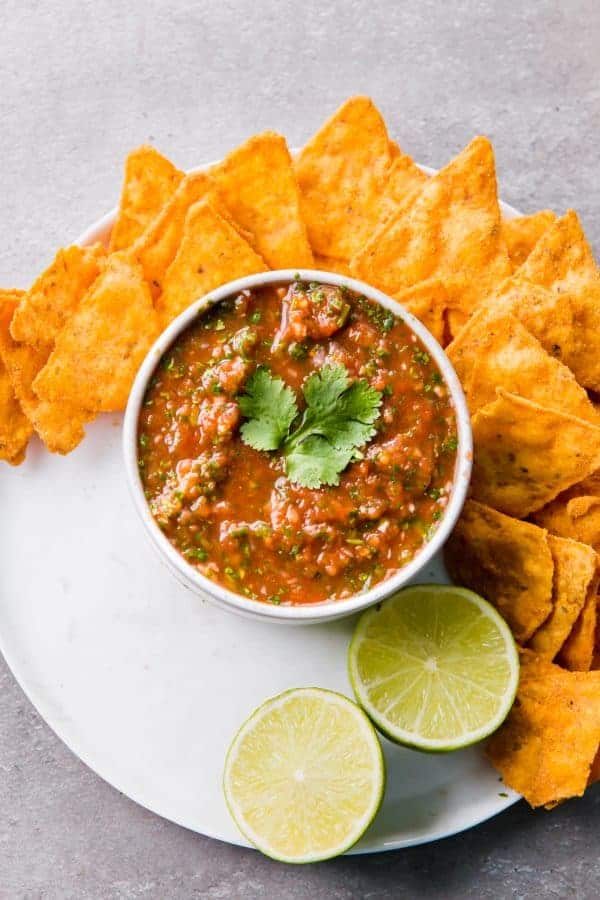 So there's this Mexican restaurant. It's pretty amazing. Here's how you know it's amazing: Every time we go, we wait 30-45 minutes for a table. With a five-year-old and a three-year-old. And then I consume a week's worth of calories in a single meal, topped off by a killer margarita (on the rocks, sugar rim).
And their salsa. Oh, my — their salsa. I could literally drink the stuff. But I don't – obviously. Because….chips. So there's another week's worth of calories.
But hey, you gotta live a little, and this place is certainly a splurge in terms of calories. It's well worth it, though. However, since it's clearly not an every day type thing, it was pretty necessary to at least come close to this salsa in my own kitchen. And you guys will seriously not believe how easy this is to make. SO easy. If you're wondering how do Mexican restaurants make their salsa, you came to the right place!
I made a couple batches of this while I was testing the recipe so I texted my neighbor, Julie. I'm always pawning food off on my neighbors but oddly enough, they don't seem to mind. Anyways, I texted and asked if she wanted some salsa.
Julie: "No, I'm really picky about salsa, I only like it at Mexican Village." <— That's the restaurant we like too.
Me: "YOU HAVE NO FAITH IN ME WHATSOEVER. Won't someone in your family eat it? This batch is too spicy for me." <—or something like that.
Julie: "Oh, Jeff will eat it, he loves salsa."
So I drop it off, with chips…of course.
Later that day:
Julie: "I actually like it! I'm normally not a fan, but this is good!"
Me: I don't really remember what I said. It was probably mostly emojis. But when someone says they don't like something, and then they try it and they do like it? Pretty much the best thing ever.
About this restaurant style salsa
So here's how you make this salsa:
Throw everything in the blender or food processor.
Blend.
Stuff your face with chips and restaurant style salsa. That's pretty much all there is to it. It's SO EASY. I'm confident you can handle it. I don't know if it's authentic but I'm going to authentically stuff my face with it.
I'm teaming up with Red Gold® for a couple recipes this year and for this first recipe, they sent me their tomatoes and a can of their competitor's tomatoes. I'll let the pictures speak for themselves.
Pretty clear difference, right? I mean, what is that spot on one of the competitors tomatoes? Gross. Which would you rather eat? Last year, I had the opportunity to meet the folks behind Red Gold and learn more about the fourth-generation family-owned company. They've been growing tomatoes for over 70 years and now are non GMO Project Verified and their cans feature non-BPA/BPS liners. Something else that I found really interesting on my visit to the Red Gold facilities was that they are taking steps to become landfill free by 2017. Pretty impressive, right?
I almost didn't want to put those beauties into my blender, but….chips. Salsa.
Enjoy! Margarita optional. Sorta.
Here's the short version of how to make this restaurant style salsa!
Roughly chop onion, garlic and jalapeño.
Add to a blender or a food processor with the rest of the ingredients and pulse until ingredients are combined and all about the same size.
Pour into a container that has an airtight lid. This salsa will taste even better after it sits for about 30 minutes in the fridge!
Used in this recipe:
Craving more dips suitable for chips?

You're not alone.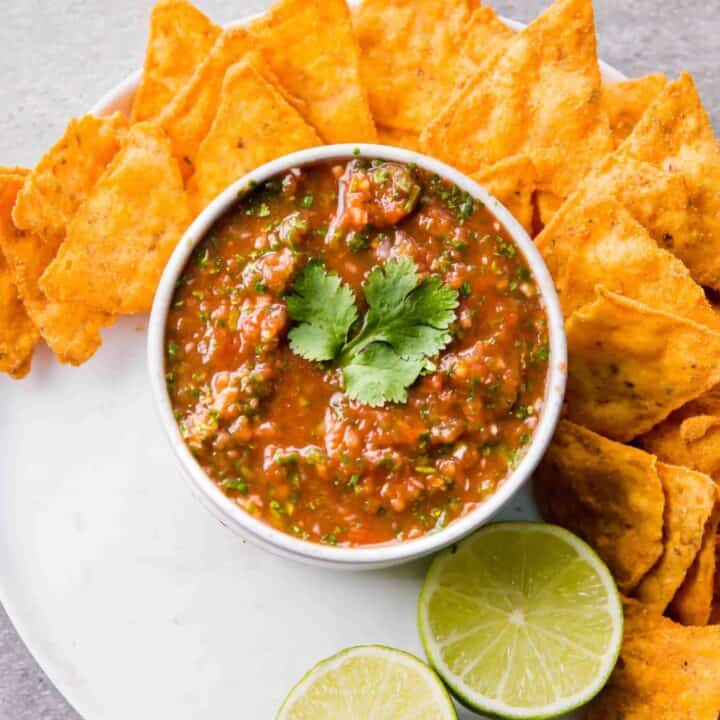 Restaurant Style Salsa
Yield: 2-3 cups
Prep Time: 10 minutes
Total Time: 10 minutes
Ever go out to eat just for that irresistible salsa? You won't believe how easy it is to make restaurant style salsa at home.
Ingredients
one can (28 ounces) Red Gold peeled whole tomatoes (with juice)
1 jalapeno (seeds removed if desired to decrease spiciness), roughly chopped
1/2 small onion, roughly chopped
2 garlic cloves, roughly chopped
1 cup loosely packed cilantro leaves and stems, torn
1 tablespoon fresh lime juice
1/2 teaspoon salt
1/2 teaspoon sugar or agave nectar
pepper to taste
Instructions
In a food processor or blender, pulse and blend until combined, scraping down sides as needed. You don't want it completely smooth, but all large chunks should be gone.
Serve immediately or store in an airtight container for up to a week.
Notes
If you don't love garlic – omit garlic cloves. For a more subtle garlic flavor, omit garlic cloves and use 1/2 teaspoon garlic powder.
Serving size: 2 tablespoons.
Nutrition information does not include chips.
Nutrition Information:
Yield: 32
Serving Size: 2 tablespoons
Amount Per Serving:
Calories: 3
Total Fat: 0g
Saturated Fat: 0g
Trans Fat: 0g
Unsaturated Fat: 0g
Cholesterol: 0mg
Sodium: 34mg
Carbohydrates: 1g
Fiber: 0g
Sugar: 0g
Protein: 0g
RachelCooks.com sometimes provides nutritional information, but these figures should be considered estimates, as they are not calculated by a registered dietitian. Please consult a medical professional for any specific nutrition, diet, or allergy advice.
Disclaimer: This Restaurant Style Salsa was created in connection Red Gold Tomatoes. Red Gold compensated me for the time required to create this recipe and share it with you. All opinions are always my own. Thank you for supporting my blog by reading about brands I use and love in my own home.
This post was updated on 1/8/18 with a video and new images. See below for a couple of the old images!