Instant Pot Turkey Breast (from frozen!)
With lots of flavorful herbs, a quick-cooking Instant Pot turkey breast is always juicy, tender, and perfectly done. And the bonus? There's no need to thaw it first!
Recipe Overview
Why you'll love it: A turkey breast is much easier and quicker to prepare than a whole turkey.
How long it takes: 1 hour, 35 minutes
Equipment you'll need: Instant Pot/pressure multi cooker
Servings: 8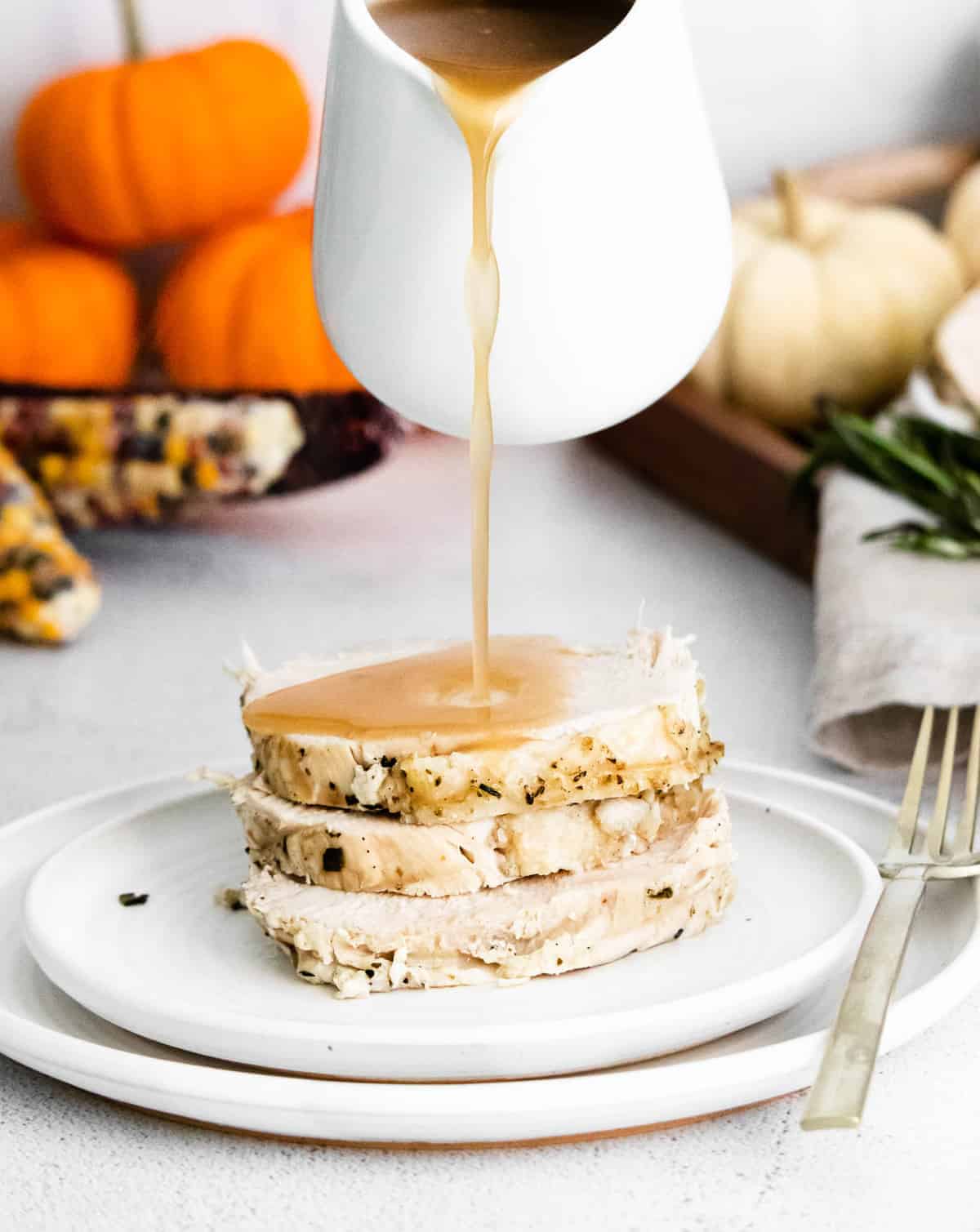 Turkey time! Dreading the ordeal of making a turkey? I bet most of us secretly hope that someone else will volunteer to do the turkey this year. It's just kind of a hassle, isn't it? Thawing that frozen bird, digging out those little packets of innards, rinsing, brining, rinsing again, getting up at dawn to get the bird in the oven, etc., etc., etc.
Or maybe you are enjoying a smaller Thanksgiving celebration this year and don't really need a big ol' turkey with all the fixings. If that's the case, maybe you'd like to try either this Instant Pot turkey breast or a sheet pan Thanksgiving dinner (turkey, dressing & more).
Some of us just don't care for dark meat and wish that a turkey didn't come with legs, thighs, and wings. (Sorry, Mr. Gobbler, we're not trying to be critical about your body parts!)
Your Instant Pot pressure cooker comes to the rescue! Cook a perfectly done boneless turkey breast in less than two hours. And it's so delicious: juicy, succulent white meat, flavored with sage, rosemary, and thyme. Here's a really big bonus: you don't even have to thaw it first!
Think about this: using your Instant Pot for the turkey frees up valuable oven space. Now you'll have plenty of room in the oven to bake all the yummy trimmings that go along with turkey.
I almost think the trimmings are the best part. You can bake healthy sweet potato casserole (I love this dairy-free, nut-free, gluten-free recipe), and green bean casserole (with no canned soup!). And don't forget baked mac and cheese or cheesy Brussels sprouts au gratin.
Like turkey with stuffing? Kind of a dumb question, isn't it? I always make this slow cooker stuffing recipe. It's the best! And don't forget the warm rolls and mashed potatoes with gravy. Your day will be easier with crockpot mashed potatoes and make ahead turkey gravy.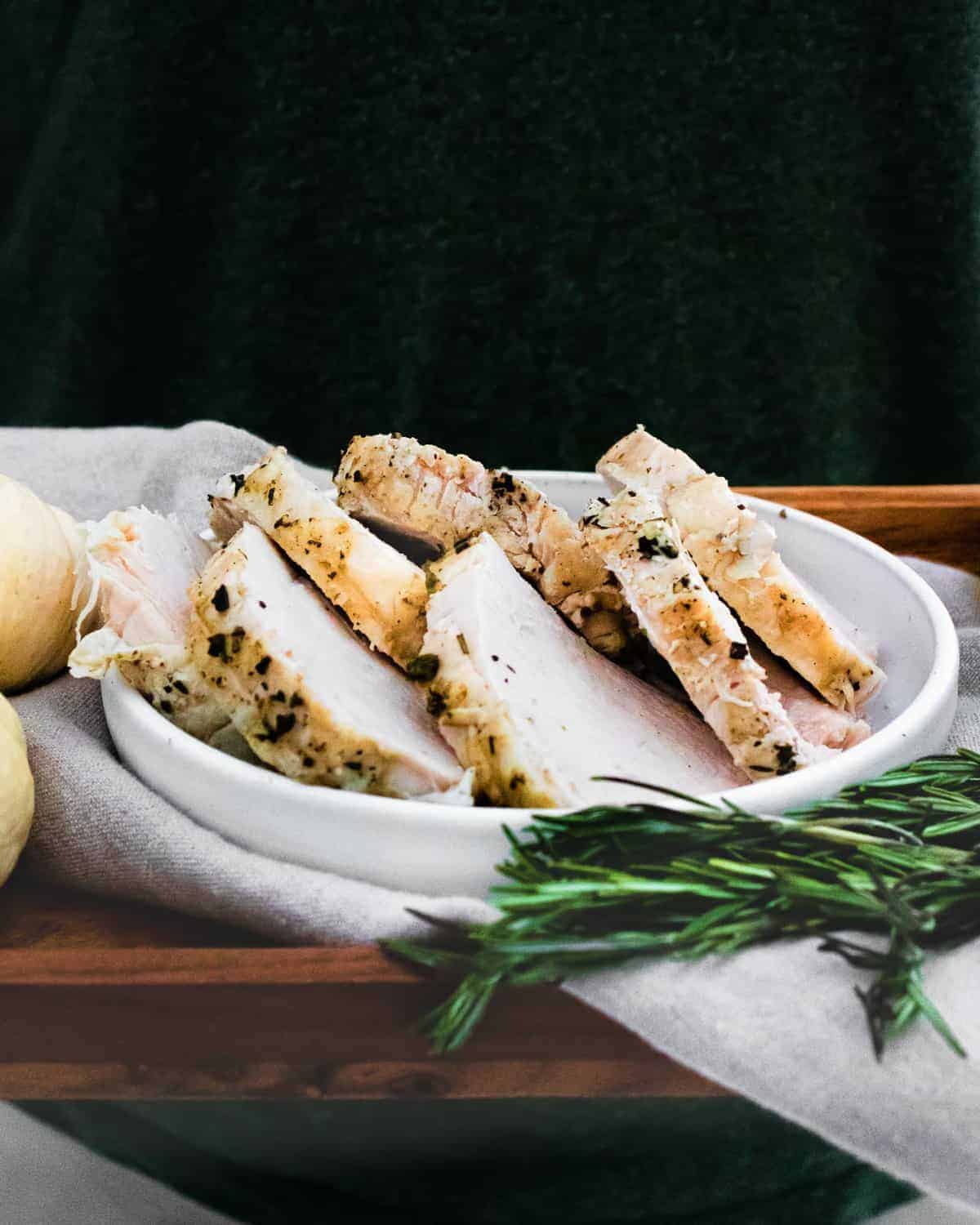 About this Recipe
You'll find directions here for cooking either a frozen turkey breast or a fresh/thawed one.
A boneless turkey breast is usually held together with mesh. For best results, leave the mesh on while you cook the turkey breast. The mesh is actually holding the meat together. If you're uncomfortable with using the mesh, cut it off and truss the turkey breast yourself.
Note that there may also be plastic netting that's on the outside of the wrapping that should definitely be removed before roasting!
I'll run through the recipe here with extra tips and information. Keep reading to the end of the post for the printable recipe card with complete instructions and nutrition information.
What You'll Need
Boneless, Skin-on Turkey Breast — either frozen or thawed, about 2-3 pounds.
Butter: Use unsalted if you have it. If you use salted butter, decrease the amount of salt used.
Olive Oil
Garlic: Adds wonderful flavor.
Fresh Herbs: Sage, rosemary, and thyme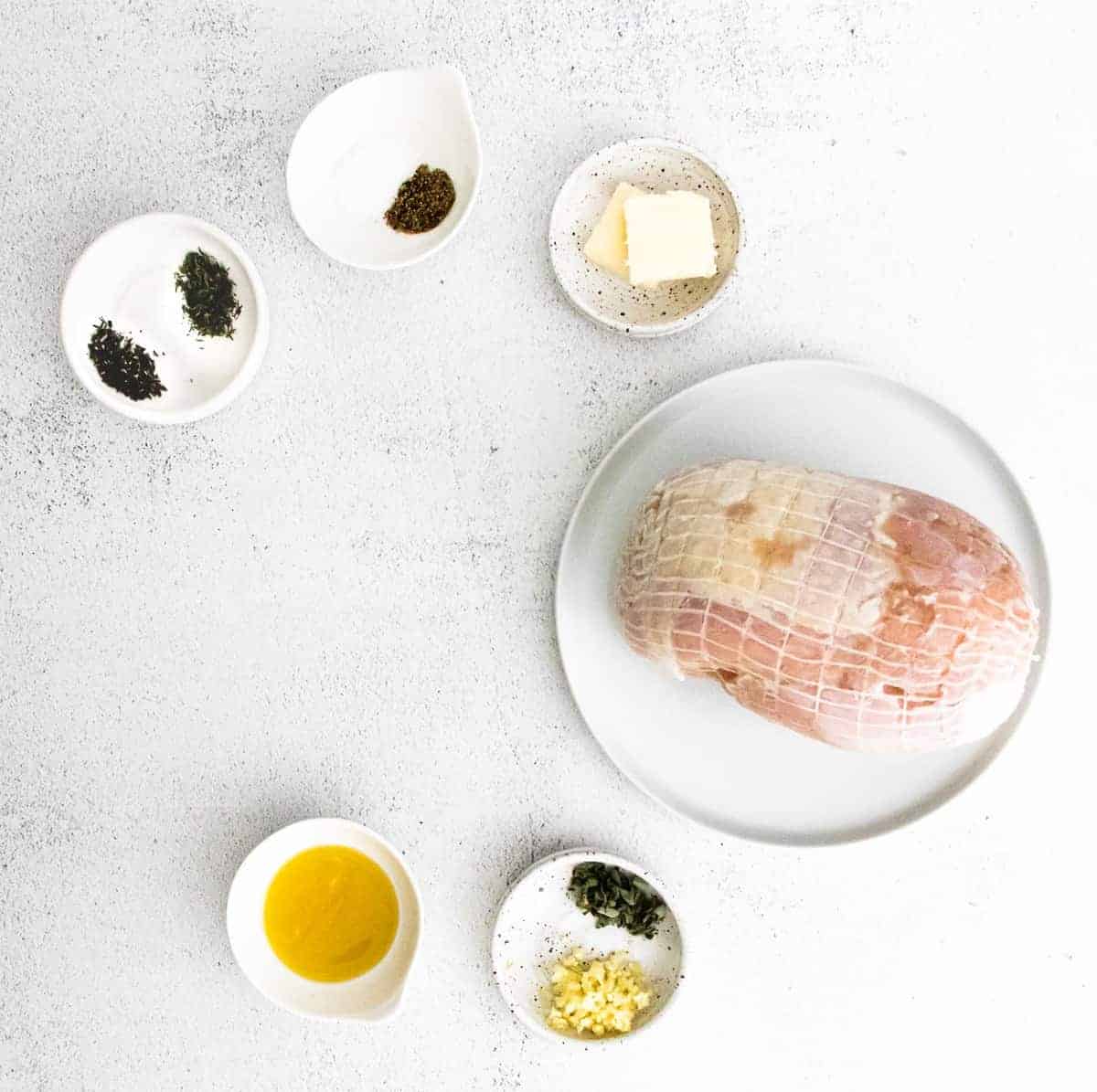 Mix together herb butter with garlic and fresh herbs and slather it all over the turkey breast. Using the rack, add a little water to the bottom of the pot, place the breast in, and seal it up. That's it! Isn't that so easy? Ten minutes and the turkey's ready to cook.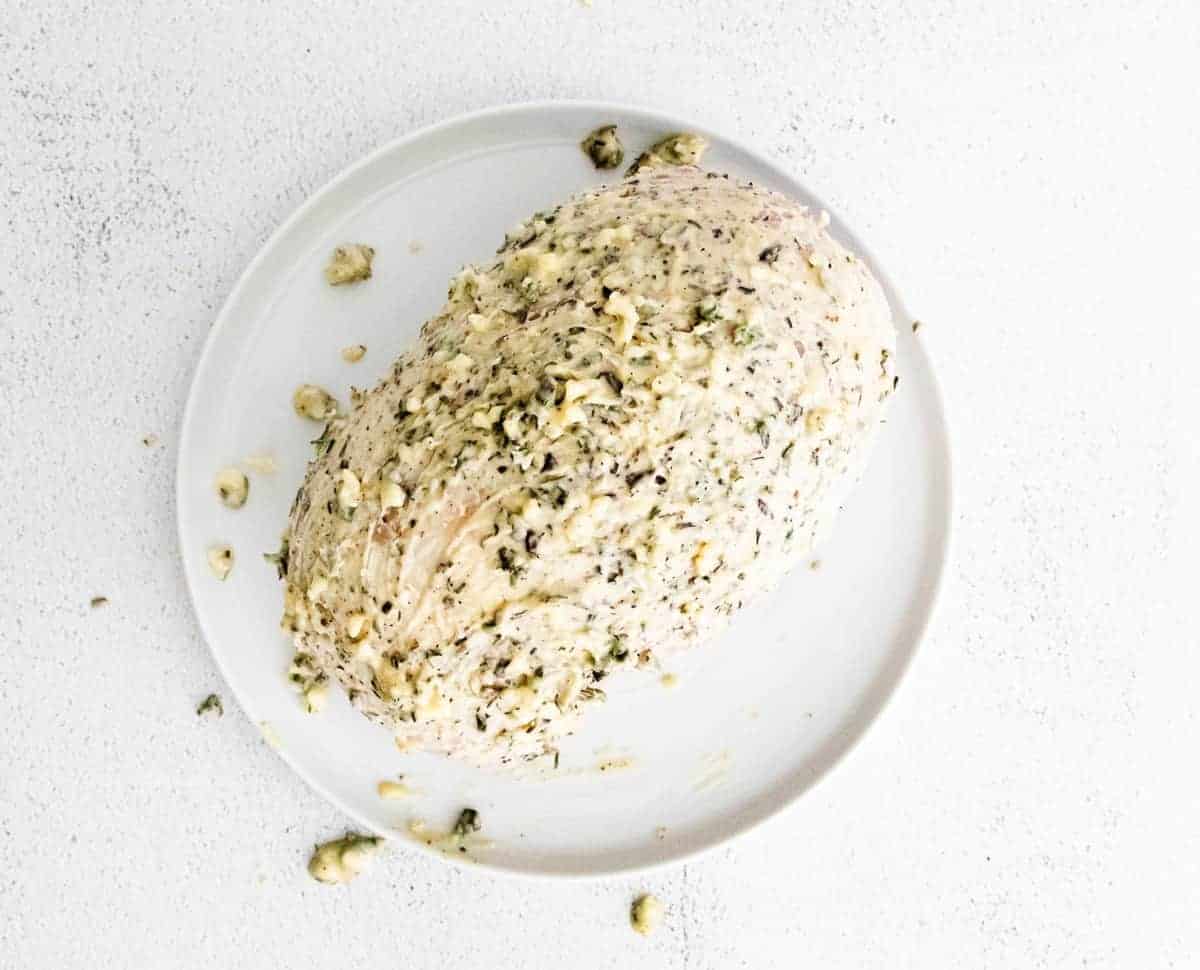 The cooking time will vary, depending on whether the turkey breast is frozen or thawed. You'll need approximately 65 minutes to pressure cook a frozen breast, and 35 minutes for a thawed breast. Remember to allow an extra 15-20 minutes for the pressure cooker to reach full pressure.
After cooking, allow the turkey to rest five or ten minutes. Now's a perfect time to get the rest of your dinner on the table. Remove the cooking net from the turkey, slice, and serve!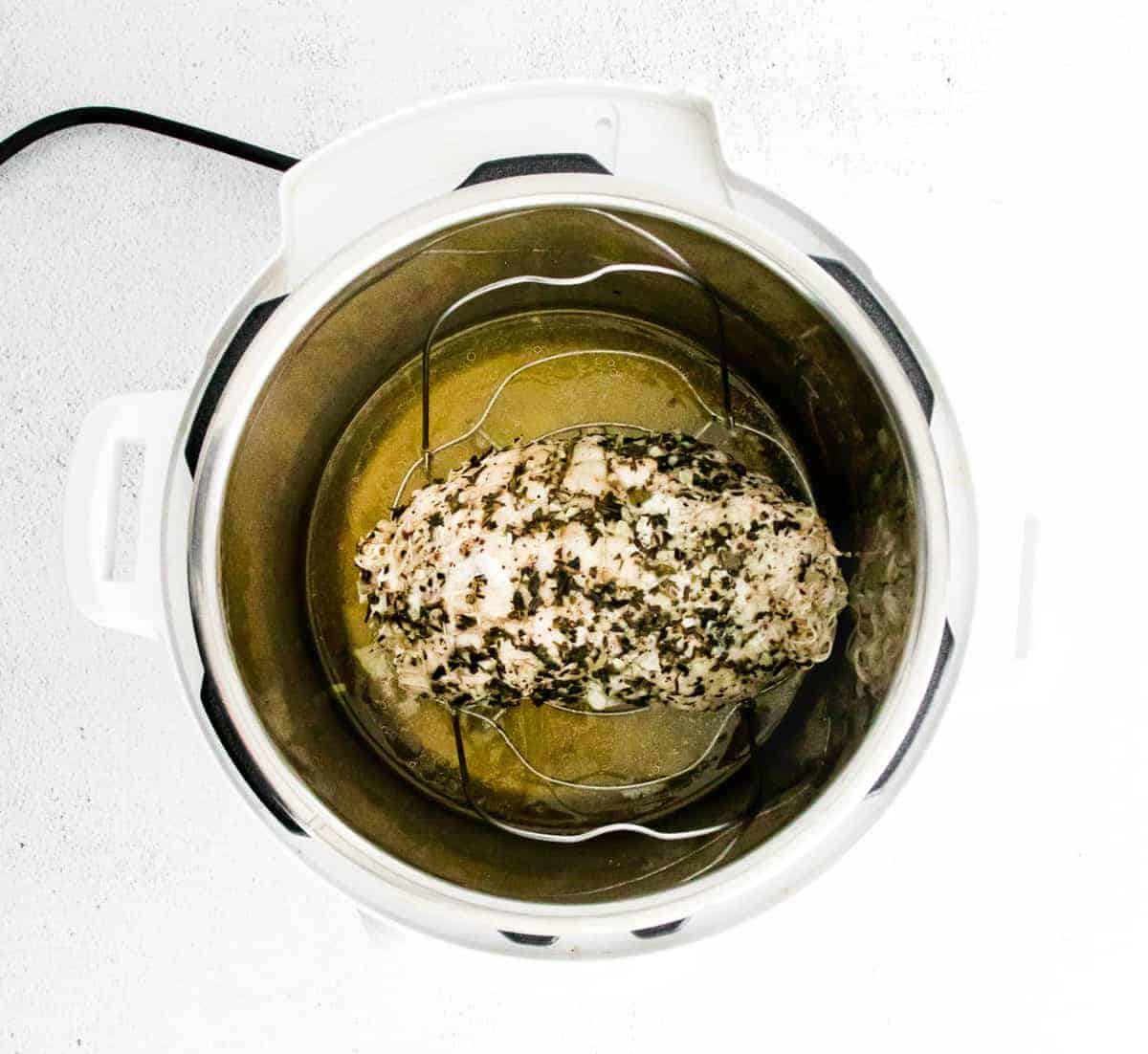 Make It Your Own
This is a pretty simple recipe. You can vary the seasonings as you prefer. Maybe you don't care for garlic? No problem, just leave it out. Only have dried herbs? You can substitute dried herbs for fresh. You'll need less dried herbs because they're a little more potent. The rule of thumb is 1:3, dried to fresh.
Go less traditional and try a spice blend, from Cajun to southwest to Asian. A turkey breast is a pretty blank slate so you can enliven it whichever way you choose.
Have a bone-in turkey breast? Try this herb roasted turkey breast in the oven. It's delicious! I'd like to try this honey-soy glazed turkey breast in the slow cooker by Diethood, too.
Rather have chicken? A whole roasted chicken is a good alternative to turkey or try roasted bone-in chicken breasts.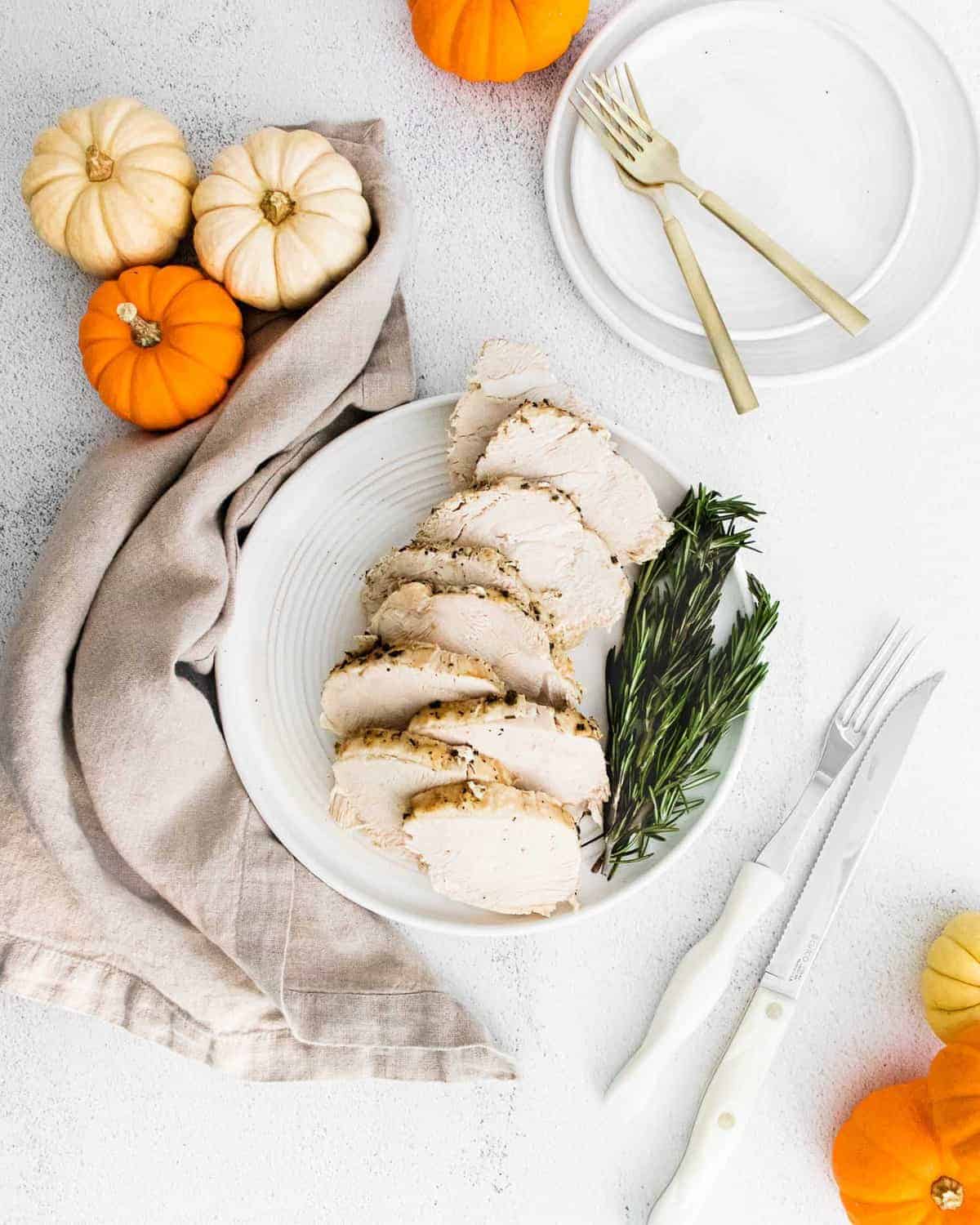 FAQs
How long does it take per pound to cook a turkey breast?
This is is a hard question to give one answer to because the time varies depending on cooking method, whether the turkey breast is boneless or bone-in, whether it's frozen or thawed, and how large the turkey breast is.
In this Instant Pot recipe, a frozen 2 to 3 pound boneless turkey breast will be cooked in approximately 65 minutes, plus time to come to pressure, an additional 15 to 20 minutes. A thawed turkey breast of the same size will be cooked in 25 minutes.
Use an instant read thermometer to check the internal temperature of the turkey. It should be 165°F.
How long does it take to cook a 7 pound turkey breast?
Unless you have a 10-quart Instant Pot, I wouldn't recommend cooking a 7 pound turkey breast in it. Since I haven't tested it, I won't venture a guess. However, if you'd like to cook a larger breast (7 pounds) in the oven, try Herb Roasted Turkey Breast. It's delicious and takes two and a half to three hours.
Storage & Reheating Tips
Leftover turkey can be wrapped well and refrigerated for three to four days, or frozen for up to three months. Reheat gently in the microwave or wrap in foil and heat in the oven.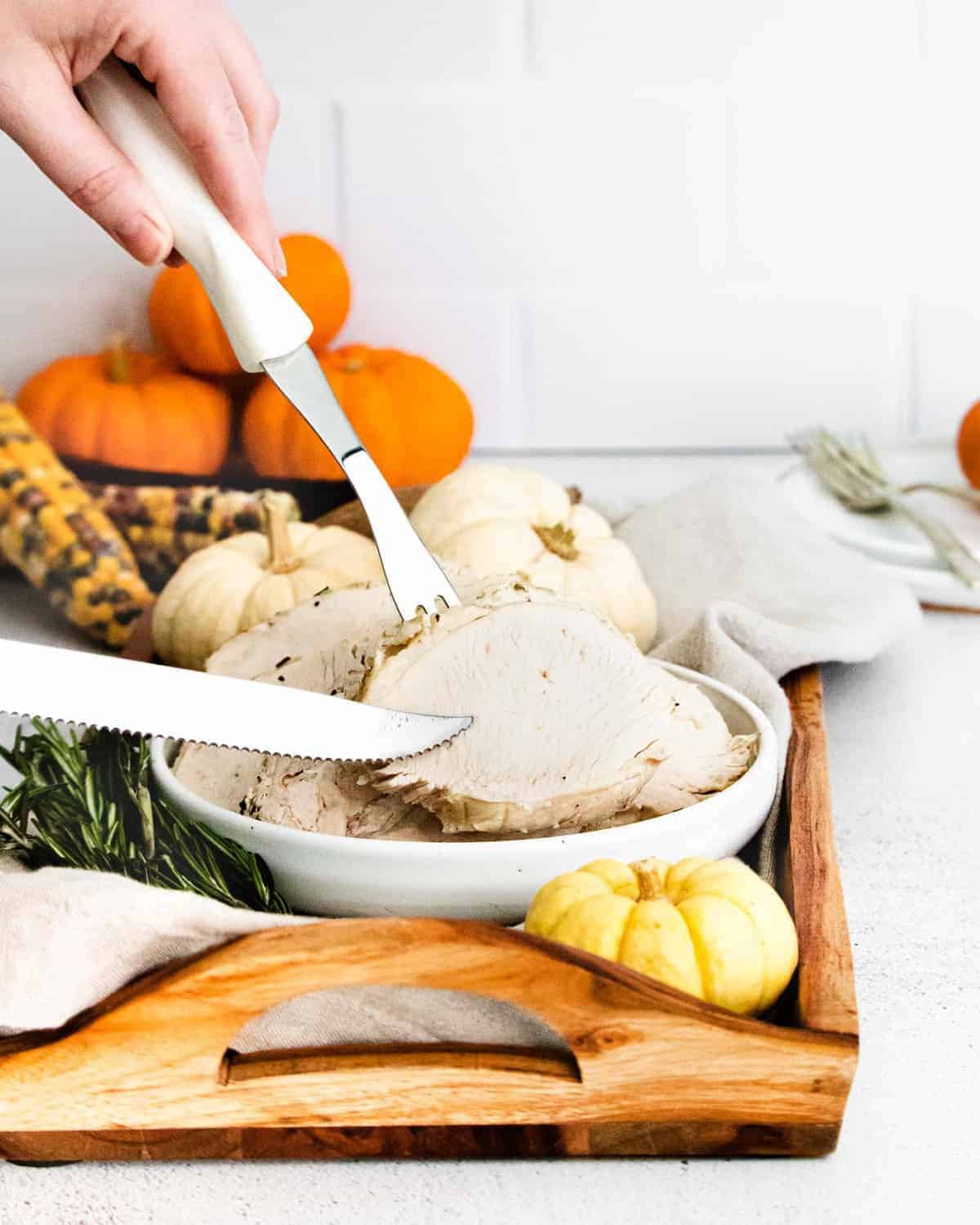 A Turkey Tip
Are you a meal prepper? It doesn't have to be Thanksgiving to enjoy turkey! Turkey is usually on sale around Thanksgiving so stock up and fill your freezer with this economical and healthy source of protein.
Cook a frozen turkey breast for meals all week. Use it for sandwiches, make turkey salad, or a pan of yummy turkey sliders if you're having a crowd. Turkey breast can be substituted for chicken breasts in any recipe. You can put cooked, sliced meat in freezer bags to enjoy later.
Interested in a weekly meal plan (it's free!) that includes this turkey breast recipe? Take a look at my Meal Plan #30. You'll find a wholesome recipe for each weekday plus a categorized grocery list. Let me do the planning for you this week!
We'll be adding a new meal plan weekly. If you're interested, browse all of our meal plans.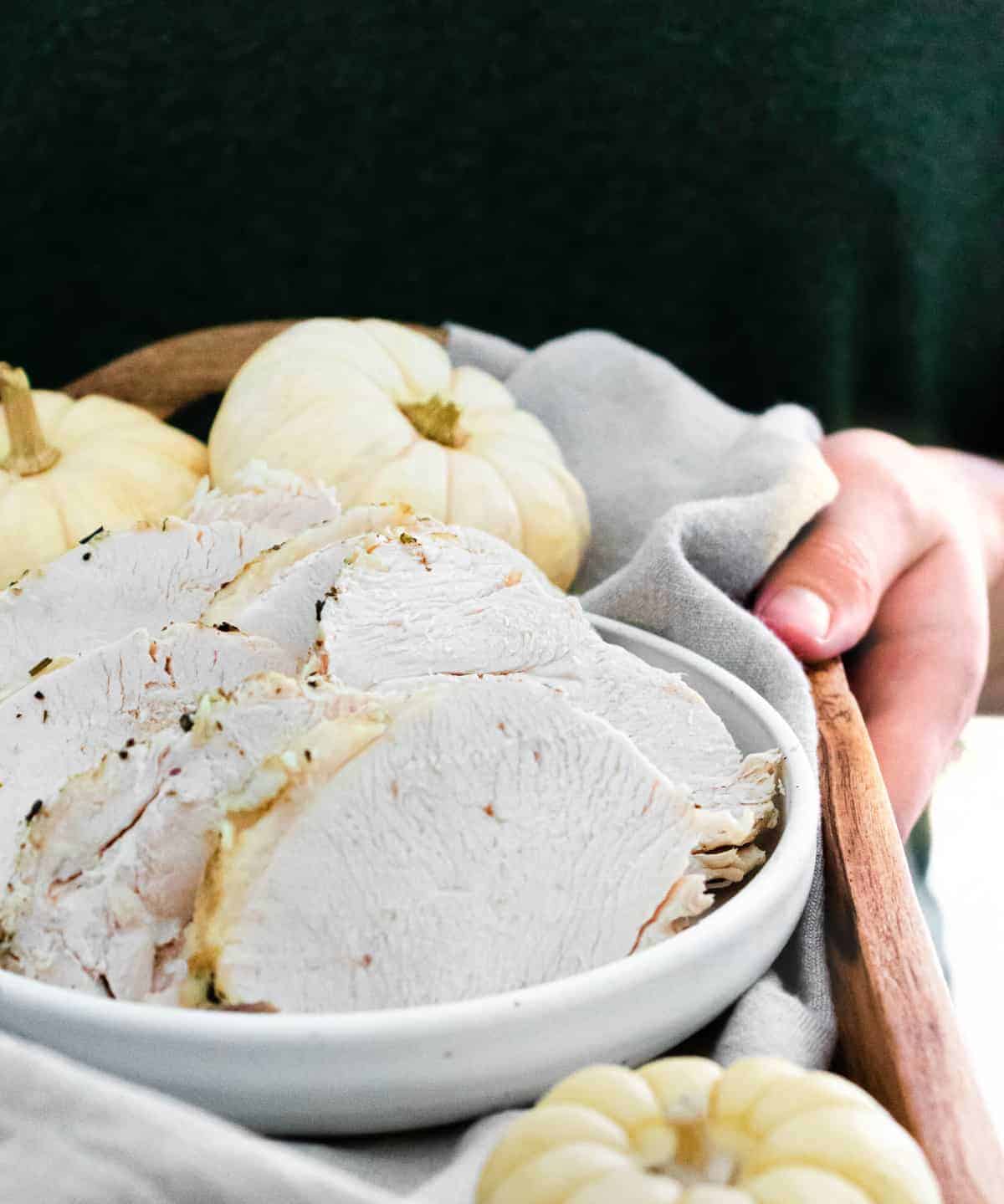 More Instant Pot shortcuts
If you don't already have an Instant Pot, take advantage of Black Friday deals, or watch for other sales. I use mine all the time and I'm sure you will too. Here's a few of my favorites or check all my Instant Pot recipes.
Did you make this? Be sure to leave a review below and tag me @rachelcooksblog on Facebook, Instagram, or Pinterest!
With lots of flavorful herbs, a quick-cooking Instant Pot turkey breast is always juicy, tender, and perfectly done. And the bonus? There's no need to thaw it first!
Ingredients
1

boneless, skin-on turkey breast (about 2 pounds), frozen

(see note)

1

tablespoons

butter, softened

1

tablespoon

olive oil

2

cloves

garlic, minced

1

teaspoon

fresh sage, minced

1

teaspoon

fresh rosemary, minced

1

teaspoon

fresh thyme, minced

1

teaspoon

kosher salt

½

teaspoon

coarse ground black pepper

1 ½

cups

chicken broth or water
Instructions
Pat the turkey breast dry with a paper towel. In a small bowl, combine butter, olive oil, garlic, sage, rosemary, thyme, salt, and pepper. Rub the garlic and herb mixture on all sides of the turkey breast.

Place trivet in the Instant Pot and add water until just below the trivet line. In a 6-Qt Instant Pot, ¾ cup of water works well. Place the turkey breast on top of the trivet.

Heat the Instant Pot using the Pressure Cook (or Manual) High Pressure setting and set the timer for 65 minutes. Make sure the valve is in the "sealing" position. When the timer has finished, release the pressure manually (quick release) by switching the valve to the "venting" position.

Test the temperature of the turkey in 2 to 3 places using an instant read thermometer. If it doesn't reach at least 160°F, place the lid back on the Instant Pot and cook for an additional 5 to 10 minutes under high pressure, with another quick release of the pressure.

When the turkey has finished, remove it from the Instant Pot. Cut away the mesh if there is one around the outside of the breast.

(Optional) Place the turkey breast on a sheet pan skin side up. Broil the turkey breast on High for 5 to 6 minutes, or until the skin starts to crisp. Make sure to watch it carefully— you don't want it to burn!

Let turkey rest 5 to 10 minutes. Slice and serve with desired sides.

Store any uneaten turkey in an airtight container in the refrigerator for up to 3 days.
Notes
If you have a thawed or fresh turkey breast, cook it for 35 minutes and then test the temperature.
If your turkey breast is closer to 3 pounds, add 5 minutes to the cooking time.
If you don't have an instant read thermometer, you can tell the turkey is cooked when the meat is opaque and white, no pink remains, and the juices run clear. If there is any pink/red/purple coloration, the turkey is not ready!
If you prefer, use a spice rub instead of herbs.
Nutrition Information
Serving:
4
oz.
,
Calories:
200
kcal
,
Carbohydrates:
1
g
,
Protein:
24
g
,
Fat:
11
g
,
Saturated Fat:
3
g
,
Polyunsaturated Fat:
2
g
,
Monounsaturated Fat:
5
g
,
Trans Fat:
1
g
,
Cholesterol:
74
mg
,
Sodium:
367
mg
,
Potassium:
306
mg
,
Fiber:
1
g
,
Sugar:
1
g
,
Vitamin A:
63
IU
,
Vitamin C:
1
mg
,
Calcium:
19
mg
,
Iron:
1
mg
This website provides approximate nutrition information for convenience and as a courtesy only. Nutrition data is gathered primarily from the USDA Food Composition Database, whenever available, or otherwise other online calculators.