Sheet Pan Thanksgiving Dinner (Turkey, Dressing & More)
Cooking a smaller dinner for Thanksgiving? You will love this sheet pan Thanksgiving dinner with turkey breast, stuffing, potatoes, and asparagus all cooked on one pan.
Recipe Overview
Why you'll love it: Enjoy a delicious Thanksgiving dinner without all the hassle! Smaller proportions are just right for 4 people.
How long it takes: 25 minutes to prep, 1 hour and 20 minutes to roast
Equipment you'll need: large sheet pan (13 x 18 inches)
Servings: 4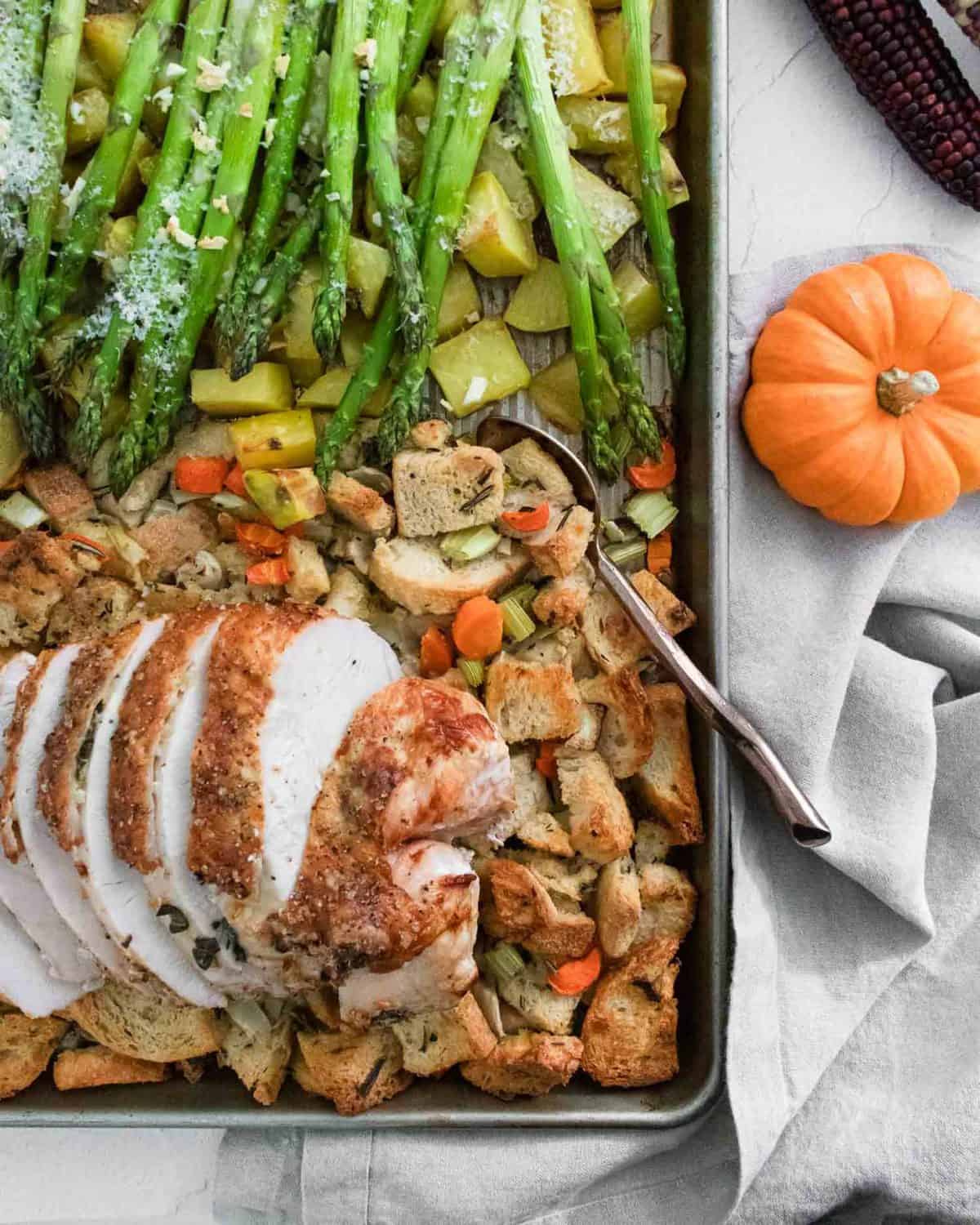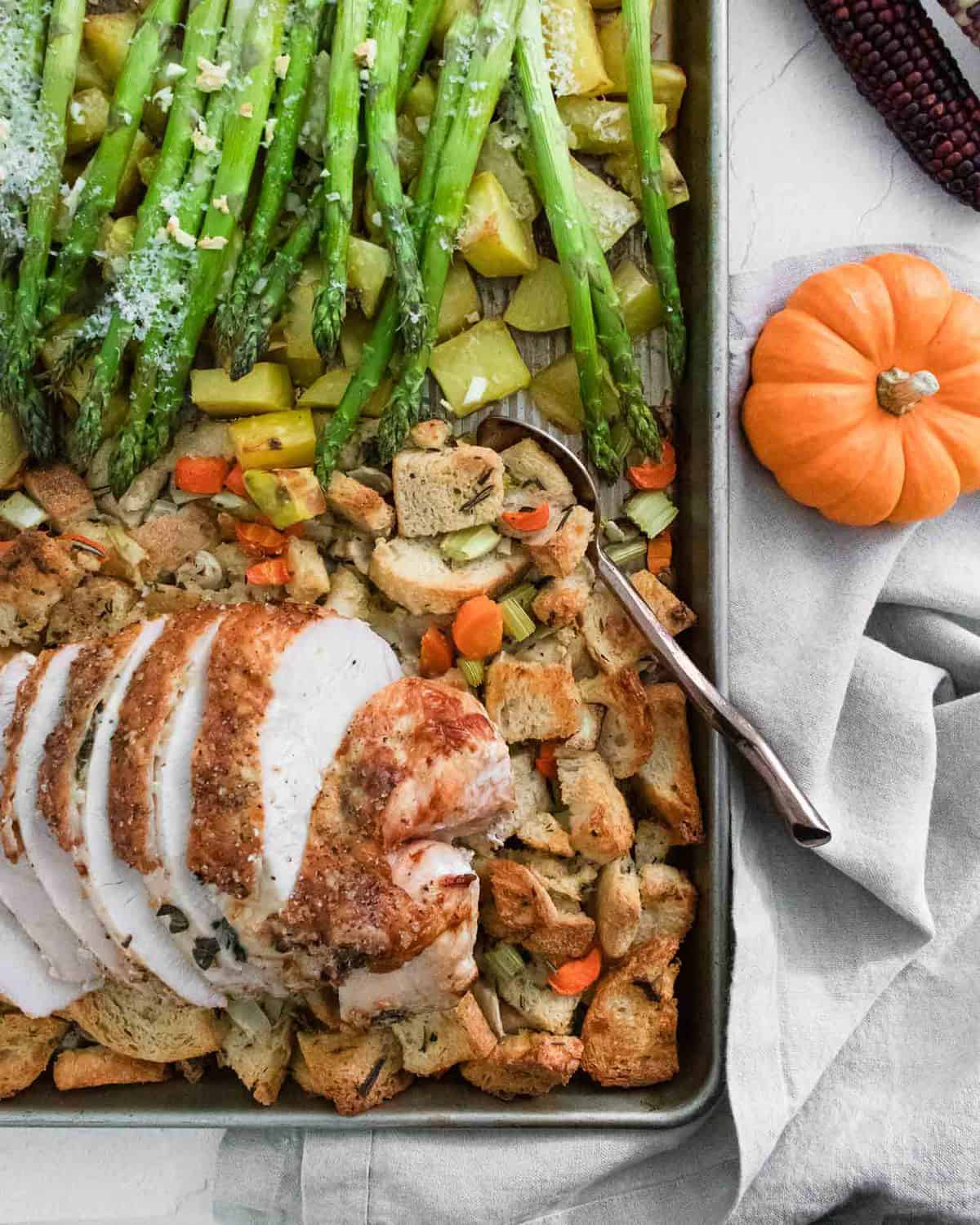 Tender juicy turkey breast roasted with butter and herbs, delicious stuffing, crispy Yukon potatoes, and garlicky asparagus — I'm so excited about this easy Thanksgiving dinner for two or four people.
Easy cleanup. You may be thinking rather dubiously, a sheet pan turkey dinner? Really? How does that work? Well, it works wonderfully! And deliciously! And there's only one pan to wash. Does it get better than that? I don't think so. You'll find this steak sheet pan dinner equally as amazing.
Perfect any time of year! This "mini Thanksgiving dinner" is a sensible choice year round. If you prefer, roast a small whole chicken instead of a turkey breast. Both work equally well.
Add easy side dishes. Looking for a few sides to serve with your dinner? I love easy cinnamon apple cranberry sauce and you can make that a day or two ahead. If your Thanksgiving dinner isn't complete without sweet potatoes, try vanilla bean mashed sweet potatoes, or substitute sweet potatoes for the Yukon potatoes in the sheet pan dinner. You'll see lots more ideas at the end of this post.
Make an easy pumpkin dessert. Try no-bake mini pumpkin tarts topped with homemade whipped cream. Easy pumpkin pudding is delicious, too, and can be made ahead. My recipe for homemade pumpkin pie is easy to make, too.
Didn't Thanksgiving just get a bit less challenging? I hope so! Have a wonderful dinner together, whether it's with two of you or ten. Pause for a moment to express gratitude for the good things in your lives; we've been blessed with so much! Just sitting down to a delicious meal with a loved one is a blessing beyond compare, isn't it?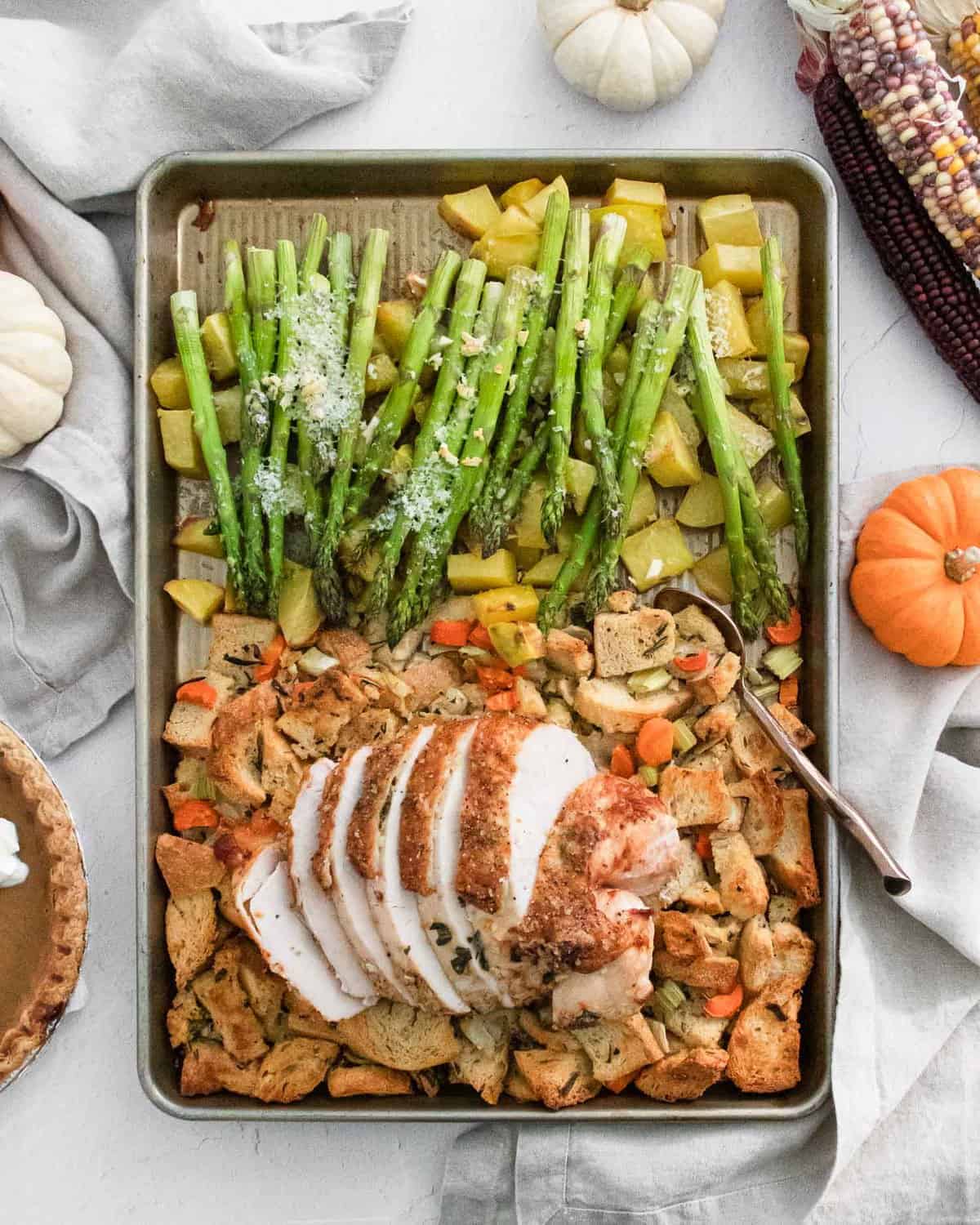 About This Turkey Sheet Pan Dinner
This really isn't a complicated recipe at all, although there are a few steps. You may look at the list of ingredients and think, Whew, that looks like a pretty long list, but just remember, it's for your whole dinner! That puts things into perspective a bit and the list doesn't look quite as daunting.
You'll find the complete recipe on the recipe card below but here's a quick run-down of the process.
Start roasting the turkey breast. You'll start the turkey breast in the oven first. It will look a little lonely on the sheet pan but don't worry, turkey, you'll have company soon. While the turkey is roasting, prepare the other ingredients.
Make the homemade stuffing. Chop up celery, carrots, and onions, and lots of fresh herbs. Mix them right into the stuffing. There's no need to sauté them first, they'll roast in the oven and become nice and tender.
Find a hearty coarse bakery bread for the dressing, such as French bread, Italian bread, or another bread of your choice. Stale bread is perfect. In fact, stale bread is so much better because it will absorb moisture but still crisp up on the edges. Don't be tempted to use the dried cubes that come in a bag already seasoned, they really don't work with this recipe (they're perfect for slow cooker stuffing, though).
Add the stuffing and potatoes to the pan. After the turkey has roasted for 50 minutes, remove the pan from the oven and take the turkey breast off (just set it on a plate, it's only going to be there for a minute or two). Arrange the stuffing on one half of the pan and the potatoes on the other half.
Continue roasting the turkey dinner. Back into the oven it goes for another 20 to 25 minutes, or until the internal temp of the turkey is 165ºF when tested with an instant-read thermometer.
Add the asparagus. Place the turkey breast on a clean serving platter, keeping it warm with foil tented over it. Arrange the asparagus on top of the potatoes, and place the sheet pan back in the oven to finish up. The asparagus won't take long, only about 10 minutes. It depends a bit on how thick your spears are and how tender you like them.
Isn't it kind of amazing that your entire Thanksgiving dinner, turkey, dressing, potatoes, and vegetable, is baked on one pan? Sounds almost too good to be true, doesn't it? Imagine, only one pan to wash!
What You'll Need
There are four parts to this sheet pan dinner: herb butter turkey breast, sourdough dressing (stuffing), roasted parmesan potatoes, and garlic asparagus.
Large Sheet Pan
A large rimmed sheet pan (18 x 13 inches) is essential. If you don't already have one, it's a good kitchen investment. I use mine nearly every day. In addition to wonderful sheet pan dinners, you'll use it for roasted vegetables, baking bacon, and a host of other recipes.
Herb Butter Turkey Breast
Boneless, skin-in turkey breast, about 2 pounds, thawed
Fresh sage, butter, garlic, salt and pepper
Sourdough Dressing (Stuffing)
Bread cubes, cut from slightly stale sourdough or French bread
Carrots, celery, onions
Butter
Egg
Chicken stock (or turkey)
Garlic
Thyme, rosemary, sage
Roasted Parmesan Potatoes
Yukon gold potatoes, cut into cubes (no need to peel)
Parmesan cheese, finely grated
Olive oil
Salt and pepper
Garlic Asparagus
Fresh asparagus spears
Garlic
Olive oil, salt, and pepper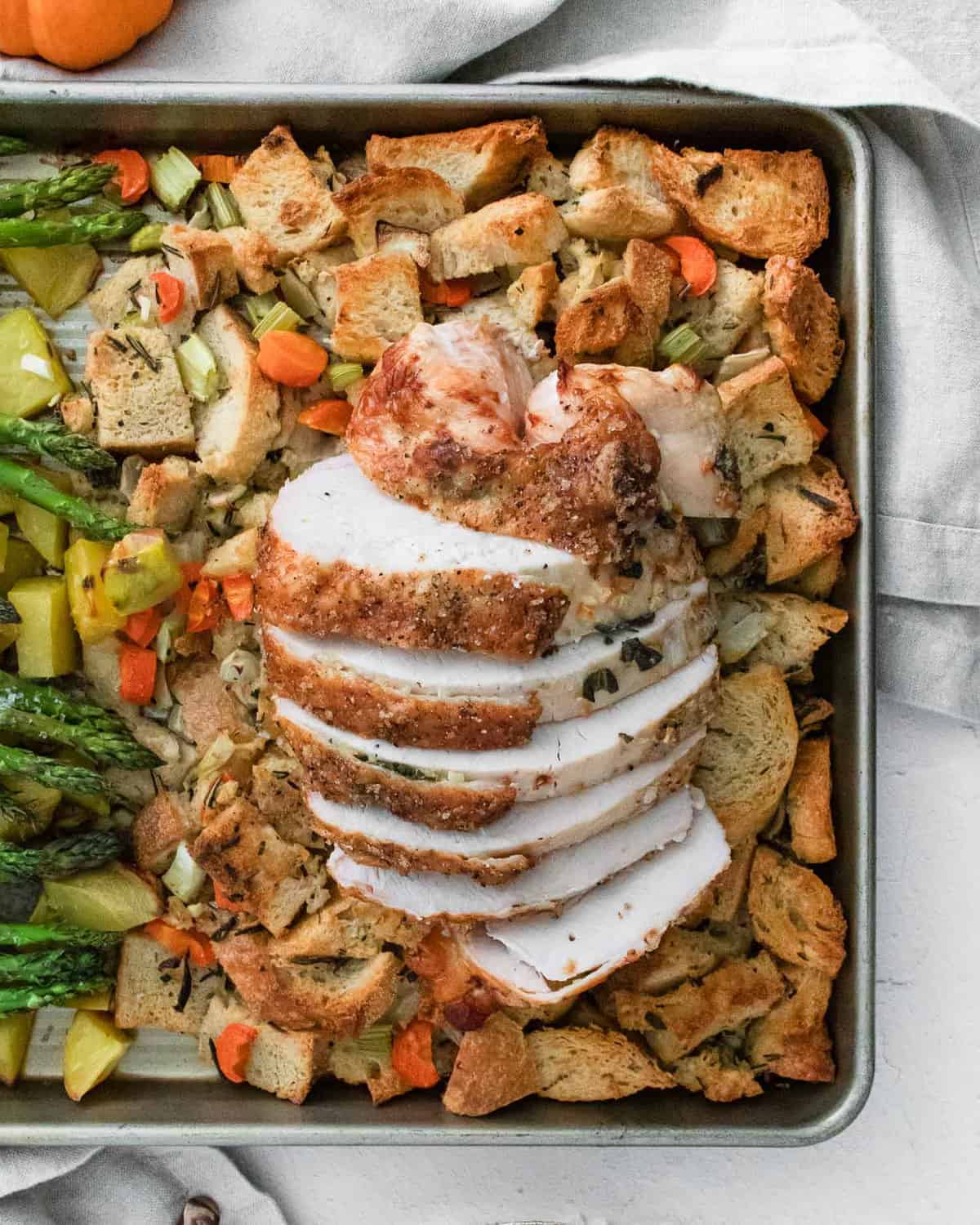 FAQs
Can you cook a turkey on a sheet pan?
While you normally need a roasting pan to cook a whole turkey, a turkey breast can easily be accommodated on a sheet pan. If you'd like to cook a whole turkey on your sheet pan, deconstruct the turkey, that is, cut it into five pieces. (leg/thigh, wings, breast, back is discarded). It will cook much more quicklythan a whole turkey.
Are sheet pan meals safe?
Certainly yes! There is less risk cooking on a sheet pan than there is cooking a stuffed turkey because the stuffing isn't inside the turkey. Most sheet pan meals combine vegetables and meat but are cooked at a high enough temperature so that bacteria is not a problem.
Should I cover my turkey with aluminum foil?
It's not necessary with this sheet pan dinner. It's really not in the oven long enough to dry out. f you feel that the turkey is getting too brown, feel free to loosely cover it with foil.
Make It Your Own
Substitute chicken. Not crazy about turkey? Replace the turkey breast with a small whole chicken (approx. 3 pounds). We've tested it both ways, and found that a turkey breast or a whole chicken work equally as well with the same cooking instructions. Or, if you prefer, roast a whole chicken with potatoes, carrots, and onions in a more traditional fashion.
Substitute sweet potatoes for the Yukon gold potatoes, or make a combination of both. Other potato varieties will work well, too.
Substitute a different vegetable. If asparagus isn't your favorite or you can't find any, green beans or Brussels sprouts are a good choice.
Storage & Reheating Tips
If you have leftovers, store them separately in the fridge for up to a couple of days. Reheat gently in the microwave.
Thanksgiving Recipes
Looking for more sides or ideas for your Thanksgiving dinner? Take a look at a few of my favorite Thanksgiving recipes. You'll also find a helpful day-to-day, hourly guide for the big day. If you're inclined toward a healthier holiday, take a look at my healthy Thanksgiving recipes collection.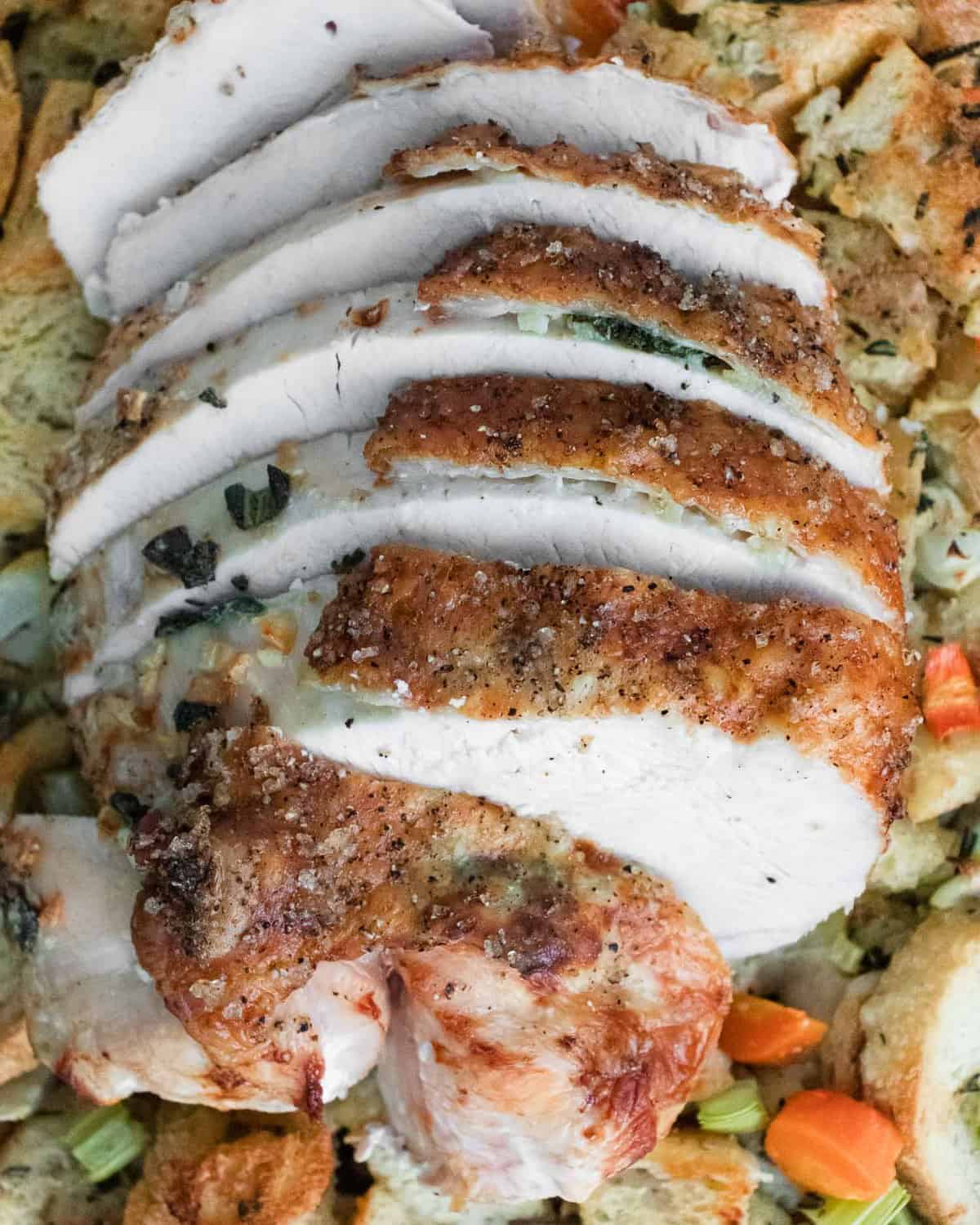 Did you make this? Be sure to leave a review below and tag me @rachelcooksblog on Facebook, Instagram, or Pinterest!
Cooking a smaller dinner for Thanksgiving? You love this sheet pan Thanksgiving dinner with turkey breast, stuffing, potatoes, and asparagus all cooked on one pan. So delicious and such an easy clean up!
Ingredients
Turkey
2

lb.

boneless skin-on turkey breast, thawed

2

tablespoons

unsalted butter, softened

2

teaspoons

fresh sage, chopped

2

cloves

garlic, minced

(about 1 teaspoon)

1

teaspoon

kosher salt

1

teaspoon

coarse ground black pepper

1

tablespoon

olive oil
Roasted Yukon Gold Potatoes
Herb Dressing
1

large egg, beaten

¾

cup

chicken stock

(or turkey stock, if you have it)

4

cups

(

½

loaf) cubed stale French or sourdough bread

(¾ inch cubes)

½

cup

diced carrot

(

1

large carrot)

½

cup

diced celery

(

1

stalk)

¼

cup

diced yellow onion

(

½

of a medium onion)

3

tablespoons

unsalted butter, melted

2

cloves

garlic, chopped

(about

1

teaspoon)

1

teaspoon

fresh thyme, minced

1

teaspoon

fresh sage, minced

1

teaspoon

fresh rosemary, minced

Kosher salt and coarse ground black pepper, to taste
Garlic Roasted Asparagus
½

pound

fresh asparagus

1

teaspoon

olive oil

2

cloves

garlic, minced

(about

2

teaspoons)

Kosher salt and coarse ground black pepper, to taste
Instructions
Par-bake the turkey breast:
Preheat your oven to 375ºF.

Pat the turkey dry with a paper towel and lightly lift the skin from the breast— but don't remove it entirely.

In a small bowl, combine the butter, sage, garlic, salt, and pepper. Rub the mixture over the breast meat, under the skin, and then place the skin back on top of the butter. Drizzle the olive oil over the outside of the turkey.

Place turkey breast on a large sheet pan and bake in a preheated oven for 50 minutes.
Assemble the sides:
While the turkey bakes, assemble the sides as follows:

Combine the potatoes, olive oil, Parmesan, salt, and pepper in a large bowl. Set aside.

Combine all of the herb dressing ingredients in a large bowl. Set aside.

Combine the garlic roasted asparagus ingredients in a small bowl. Set aside.
Finish baking:
Increase the oven temperature to 400ºF.

Remove the turkey from the sheet pan. Arrange the dressing in a single layer on half the sheet pan. Arrange the potatoes on the other side of the sheet pan in a single layer. Place the turkey on top of the dressing. Bake for an additional 20 minutes.

Remove pan from oven and check the internal temperature of the turkey using an instant-read food thermometer. It should be at 165ºF. (see notes) Remove to a plate, tent with foil, and let rest.

Stir the dressing and potatoes. Place the asparagus on top of the potatoes. Roast for an additional 10 minutes, or until asparagus is crisp-tender.

Slice turkey and serve with sides.
Notes
Use an instant read thermometer to gauge your turkey's doneness— undercooking your turkey could cause food borne illness and overcooking your turkey will cause it to be dry.
If you don't have stale bread, place the bread on a separate sheet pan and bake it 5 to 10 minutes during the turkey par-bake to dry it out.
Substitution Ideas: If desired, substitute a whole chicken for the turkey breast. Sweet potatoes or another potato variety can be substituted for the Yukon gold potatoes. Green beans are a good substitute for asparagus.
Nutrition Information
Calories:
1406
kcal
,
Carbohydrates:
165
g
,
Protein:
87
g
,
Fat:
44
g
,
Saturated Fat:
17
g
,
Polyunsaturated Fat:
7
g
,
Monounsaturated Fat:
16
g
,
Trans Fat:
1
g
,
Cholesterol:
233
mg
,
Sodium:
2428
mg
,
Potassium:
1787
mg
,
Fiber:
11
g
,
Sugar:
10
g
,
Vitamin A:
3755
IU
,
Vitamin C:
33
mg
,
Calcium:
280
mg
,
Iron:
14
mg
This website provides approximate nutrition information for convenience and as a courtesy only. Nutrition data is gathered primarily from the USDA Food Composition Database, whenever available, or otherwise other online calculators.