Creamy and buttery, with loads of flavor, mashed red potatoes are an easy side dish to prepare. Throw away the box and enjoy freshly made mashed potatoes!
Recipe Overview
Why you'll love it: Restaurant style mashed red potatoes are easy to replicate without resorting to a box of over-processed instant potatoes.
How long it takes: about 40 minutes
Equipment you'll need: large pan to boil potatoes, potato masher
Servings: 8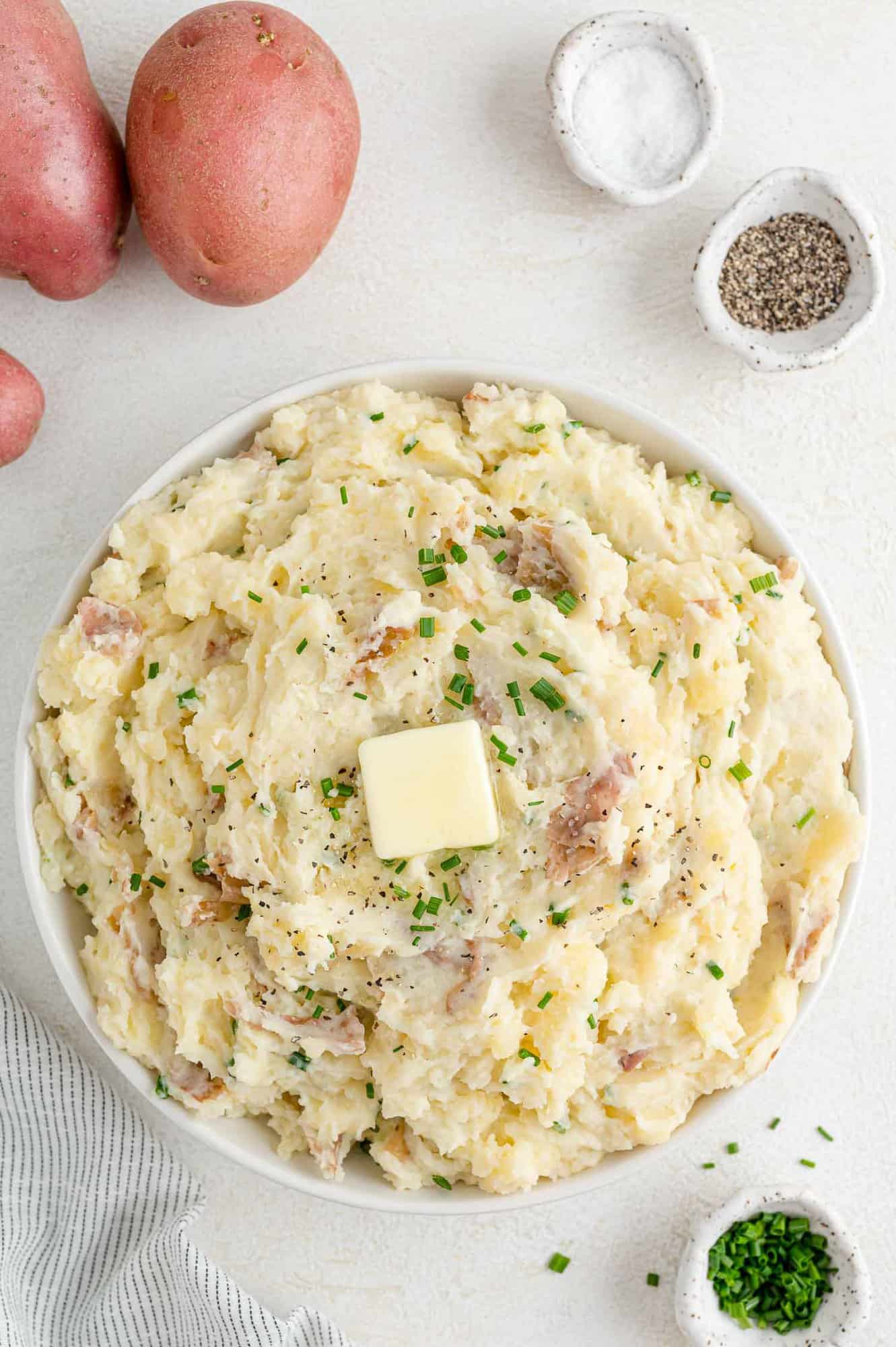 Craving a mound of steaming mashed potatoes topped with a little lake of melted butter? Doesn't that just make your mouth water? There are some meals that just cry out for mashed potatoes to complete the picture. I'm thinking of meatloaf, breaded pork chops, or a juicy steak.
And with Thanksgiving right around the corner, you'll need mashed potatoes for all that luscious turkey gravy. Stuffing, sweet potatoes, and green bean casserole are great but you can't forget the mashed potatoes.
Homestyle mashed red potatoes are uncomplicated and satisfying. The potatoes are mashed, not whipped, so they are chunkier, with tender red skins mashed right in. (If you prefer whipped potatoes, I've got you covered. Try Instant Pot mashed potatoes; they turn out perfectly every time.)
Rich butter, milk, and tangy sour cream are blended into the mash, ensuring that the mashed potatoes are tasty and delicious. Fancy them up with chopped chives, fresh parsley, or garlic.
About This Recipe
It's really as easy as boiling potatoes and mashing them up.
I'll admit, there isn't anything much easier to make than instant potatoes. But you know I'm going to say this: Have you looked at the list of ingredients on the side of the box? There are a lot of unpronounceable items on that list, and, hold on to your hat, 390 mg of sodium per half cup serving! Ouch. And a half cup of mashed potatoes isn't a very large serving.
It's a little tricky to compare homemade mashed potatoes for two reasons. One, I doubled the serving size to a more realistic one cup. Two, the nutrition information is calculated on the total amount of the salt added to the cooking water. According to a study done by the USDA, boiled red potatoes only absorb about one third of the salt in the cooking water. Keeping both factors in mind, I calculated that a half cup serving of homemade mashed red potatoes has just 81 mg of sodium. Whew! That's a huge difference.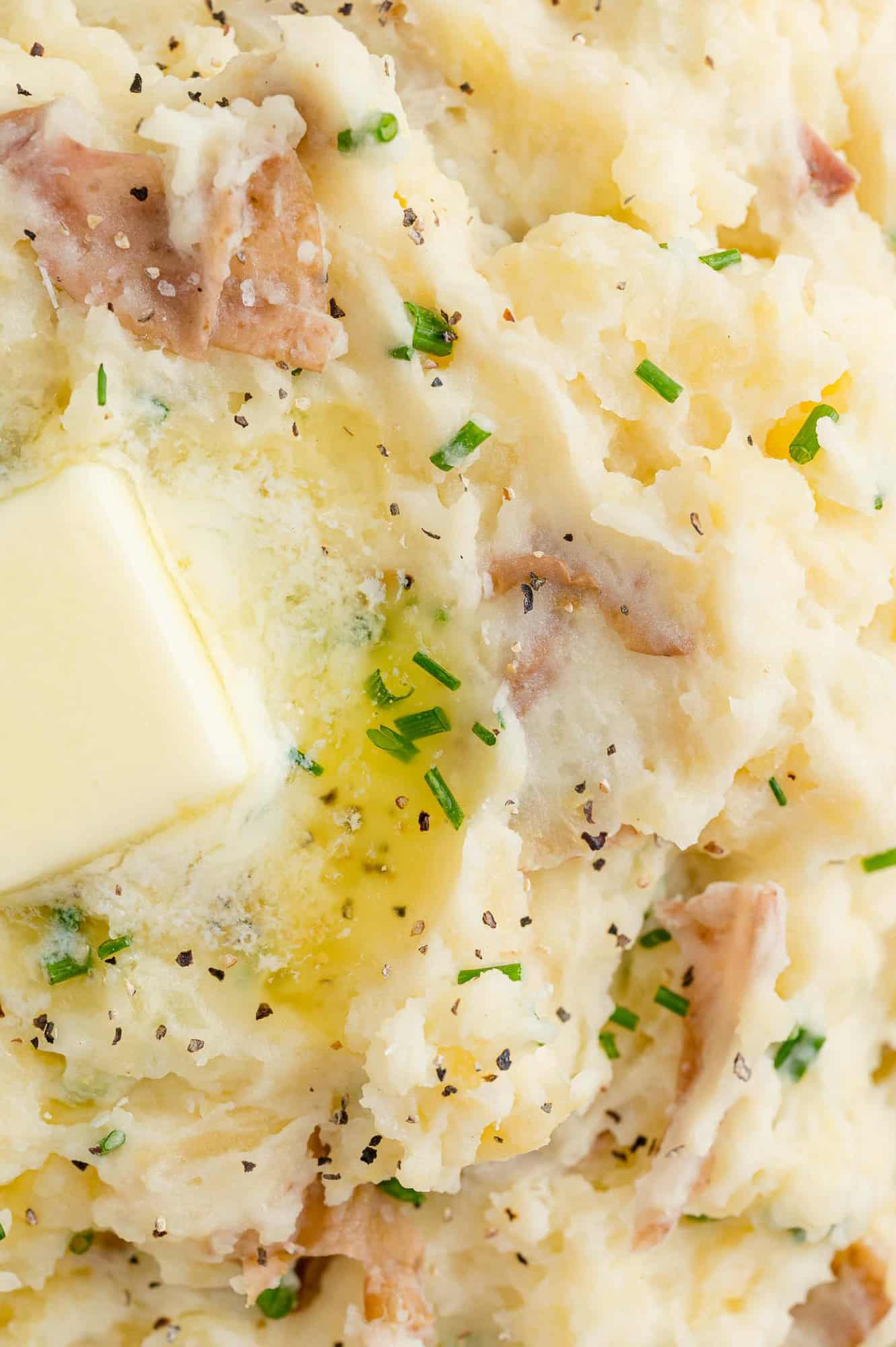 I'll get you started on the recipe here and give you some helpful tips. Look for specific measurements, instructions, and nutrition information on the recipe card below.
What you'll need
Red Potatoes: Look for a 3 pound bag of red potatoes. Red potatoes have a red skin that is thin and tender. You won't be peeling the potatoes; the skin is mashed right into the potatoes. Red potatoes are lower in starch and have a somewhat sweet flavor. Small red potatoes are sometimes called new potatoes.
Butter: The recipe calls for 4 tablespoons, or half a stick. This amount is totally up to you; add more or less to your taste. Take the butter out of the fridge when you start the potatoes so it isn't rock hard. It will blend into the potatoes more easily without cooling them down too much.
Milk: Full fat, lowfat, or 2%, any type of milk will work. The milk helps loosen the mixture a bit so the potatoes are easier to mash and not too stiff or dry.
Sour Cream: Sour cream adds a tangy flavor that goes really well with potatoes. Think of baked potatoes with sour cream; they're good, right?
Fresh Parsley or Chives, optional: In my mind, fresh herbs aren't really optional but you may leave them out if there's someone in your family who draws the line at anything green. Parsley adds a fresh herby flavor; chives have a mild onion and garlic profile.
Salt & Pepper: Be sure to add salt to the cooking water. Without any salt, potatoes taste bland and flavorless.
How to make Mashed Potatoes
The first step is to prep the potatoes. You can actually do that the day before if you want (look at the Make-Ahead section). Scrub the potatoes lightly and rinse them well. They usually aren't very dirty but you want to make sure they are spotlessly clean – no one wants gritty potatoes. Trim off any eyes or bruises.
Fill a large cooking pan with cold water. Cut the potatoes into 1 to 2 inch chunks. The size of the chunks doesn't matter as much as cutting them into the same size. If the pieces are roughly the same size, they'll cook more evenly and get done at the same time.
The potatoes should be completely covered by water in the pan. That doesn't mean that the water level has to be 2 inches over the potatoes. Just make sure they are all submerged.
Add the salt and put the pan on the stove over high heat. Cover the pan and bring the potatoes to a boil. It will take roughly ten to twelve minutes, depending on the size of your pan.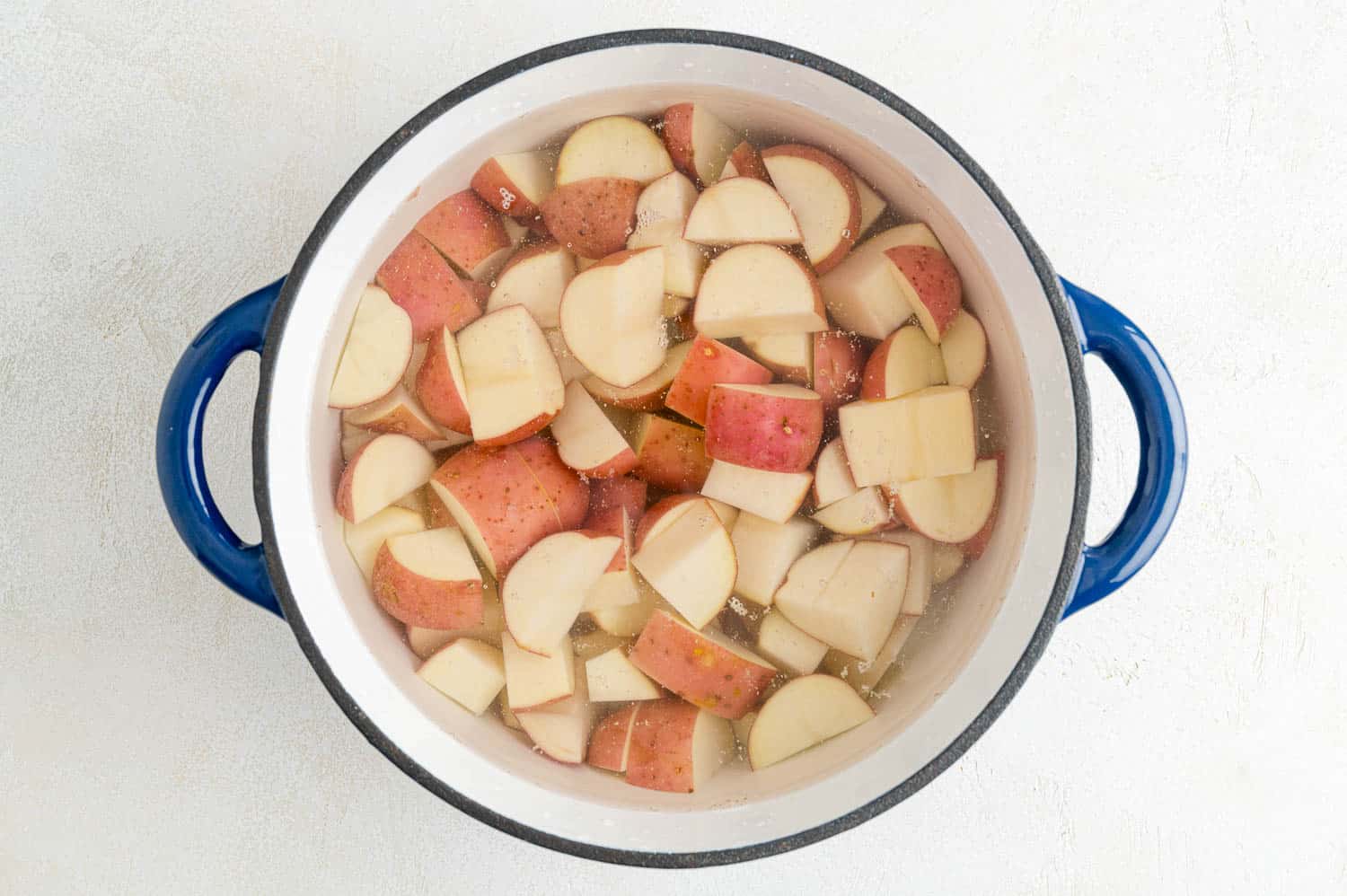 Once the potatoes have come to a boil, turn the heat down to heat, maintaining a good boil. Cook the potatoes until they are fork tender. When you poke a fork into a potato chunk, you shouldn't feel any resistance. I usually poke a few just to make sure.
Drain the potatoes in a colander set in the sink. Put the drained potatoes back into the hot pan and heat them over medium heat. This step ensures that the excess water will evaporate. A lot of cooking water left on the potatoes tends to make them gluey.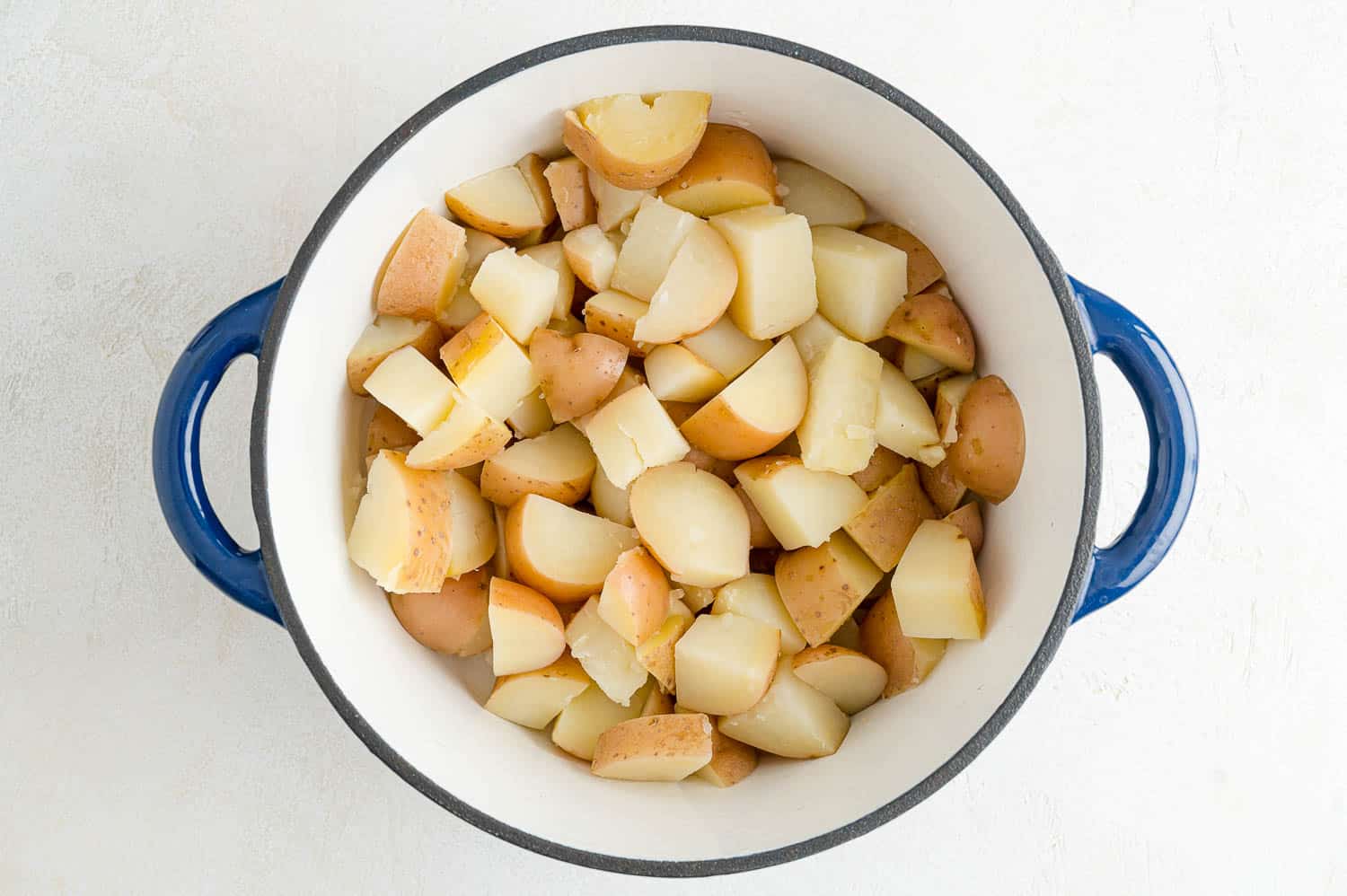 Add the softened butter, milk, and sour cream to the pan. Allow these ingredients to warm up until the butter melts. Remove the pan from the heat.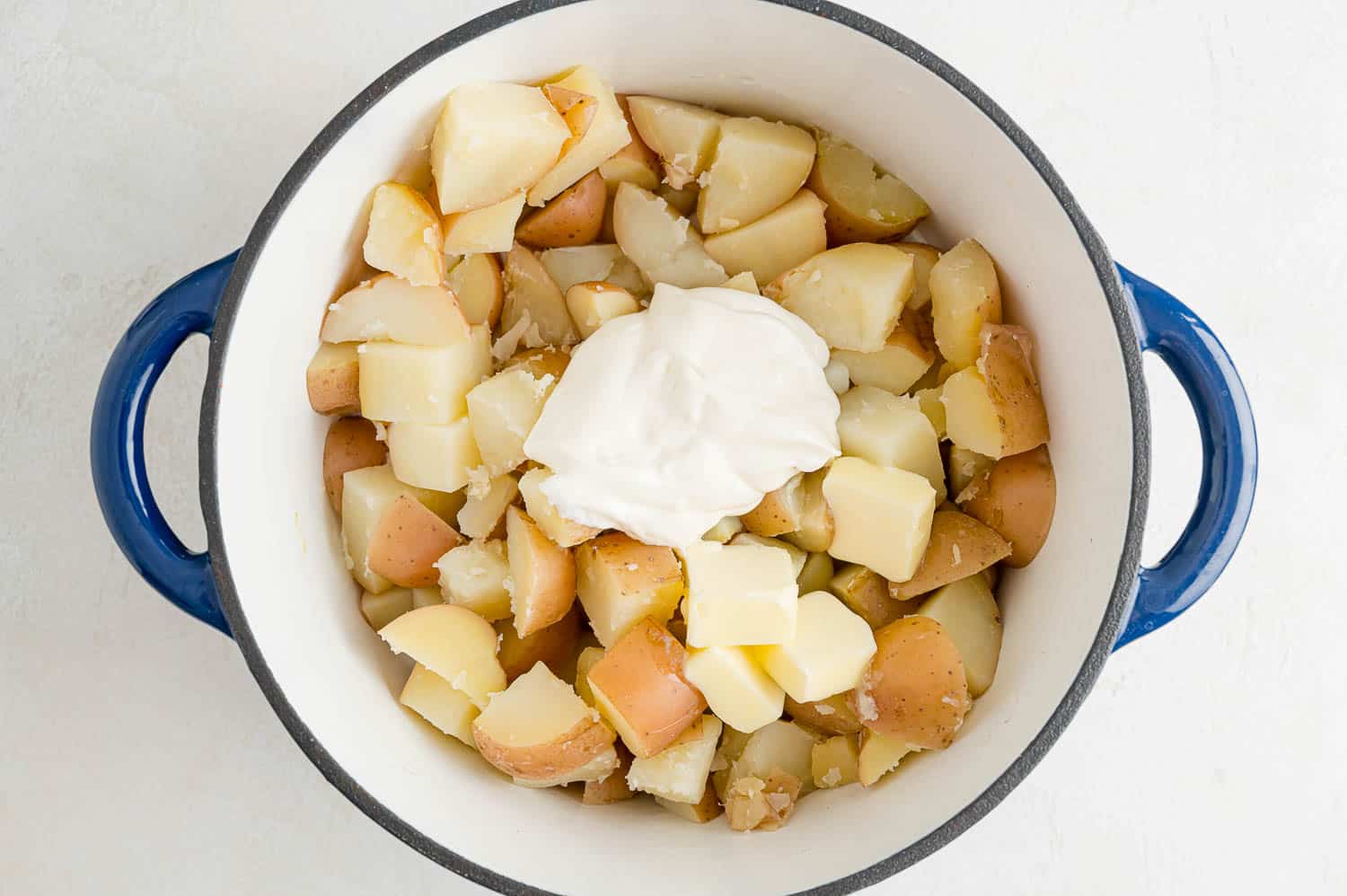 Mash the potatoes with a potato masher. It's up to you how much you mash them. Some folks prefer them lightly "smashed"; others prefer a creamier texture.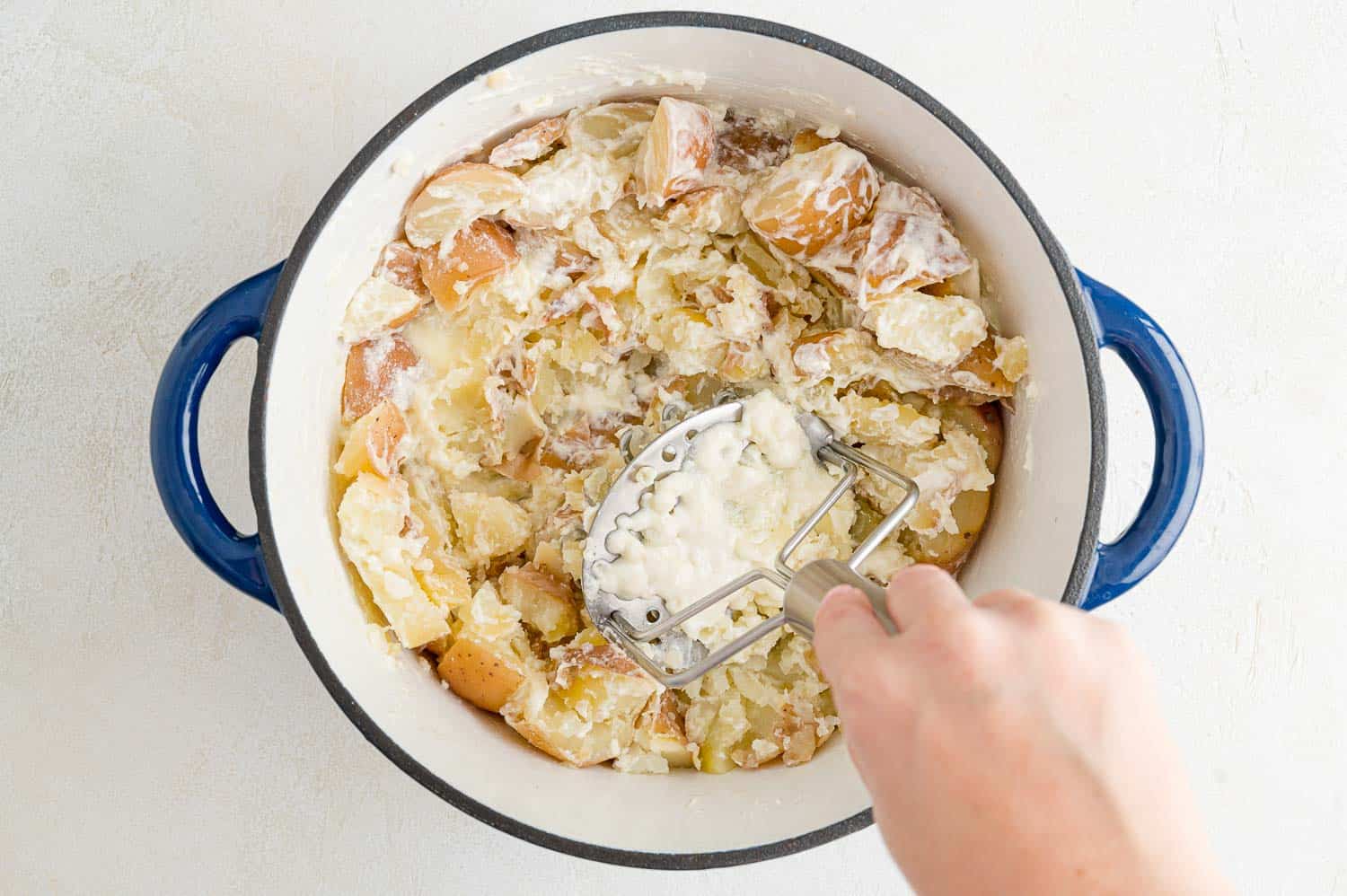 Add fresh chopped chives or parsley. Taste the potatoes and check the seasoning. Add more salt and a few grinds of freshly cracked black pepper.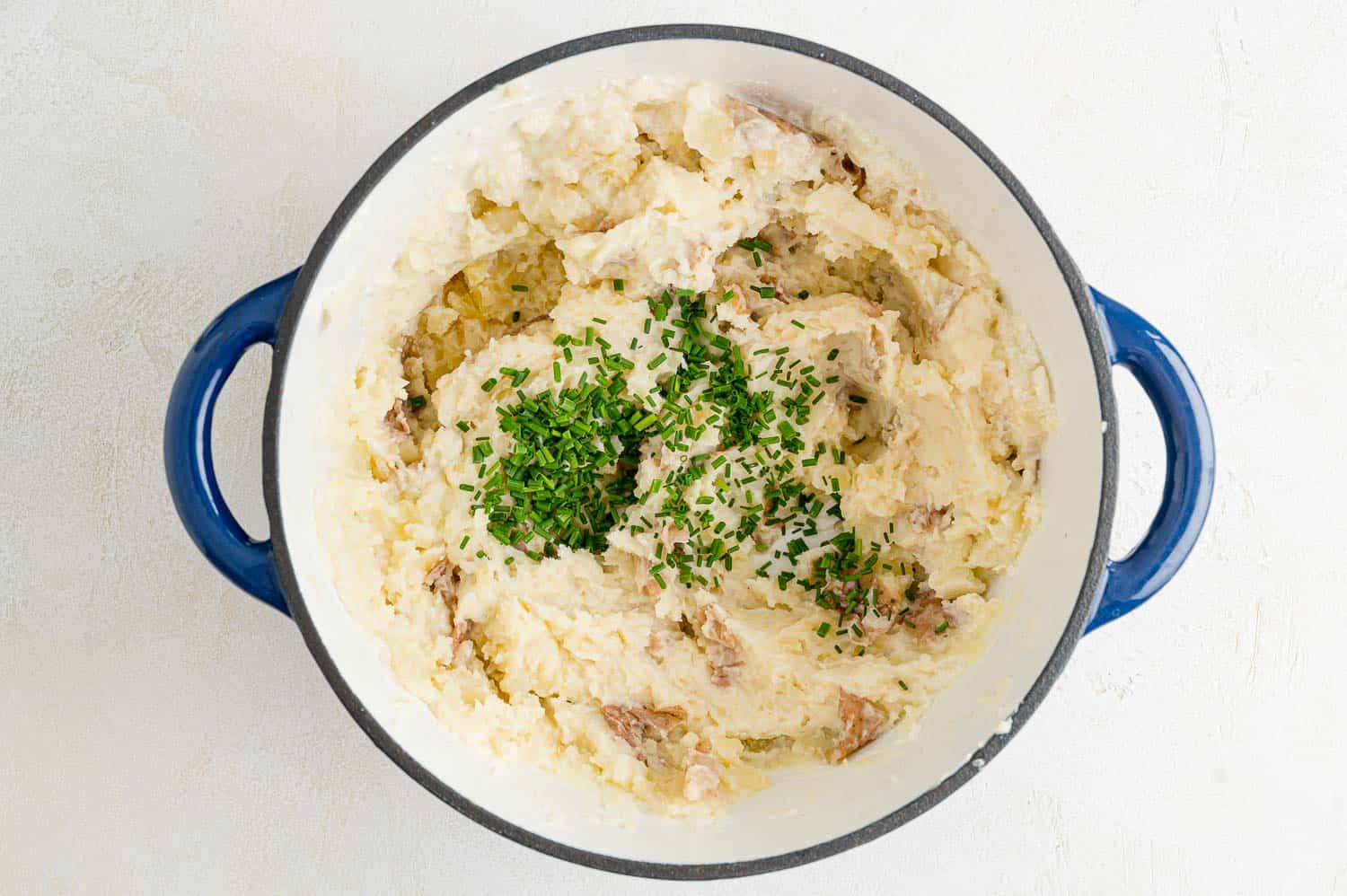 Serve immediately or keep warm until ready to serve.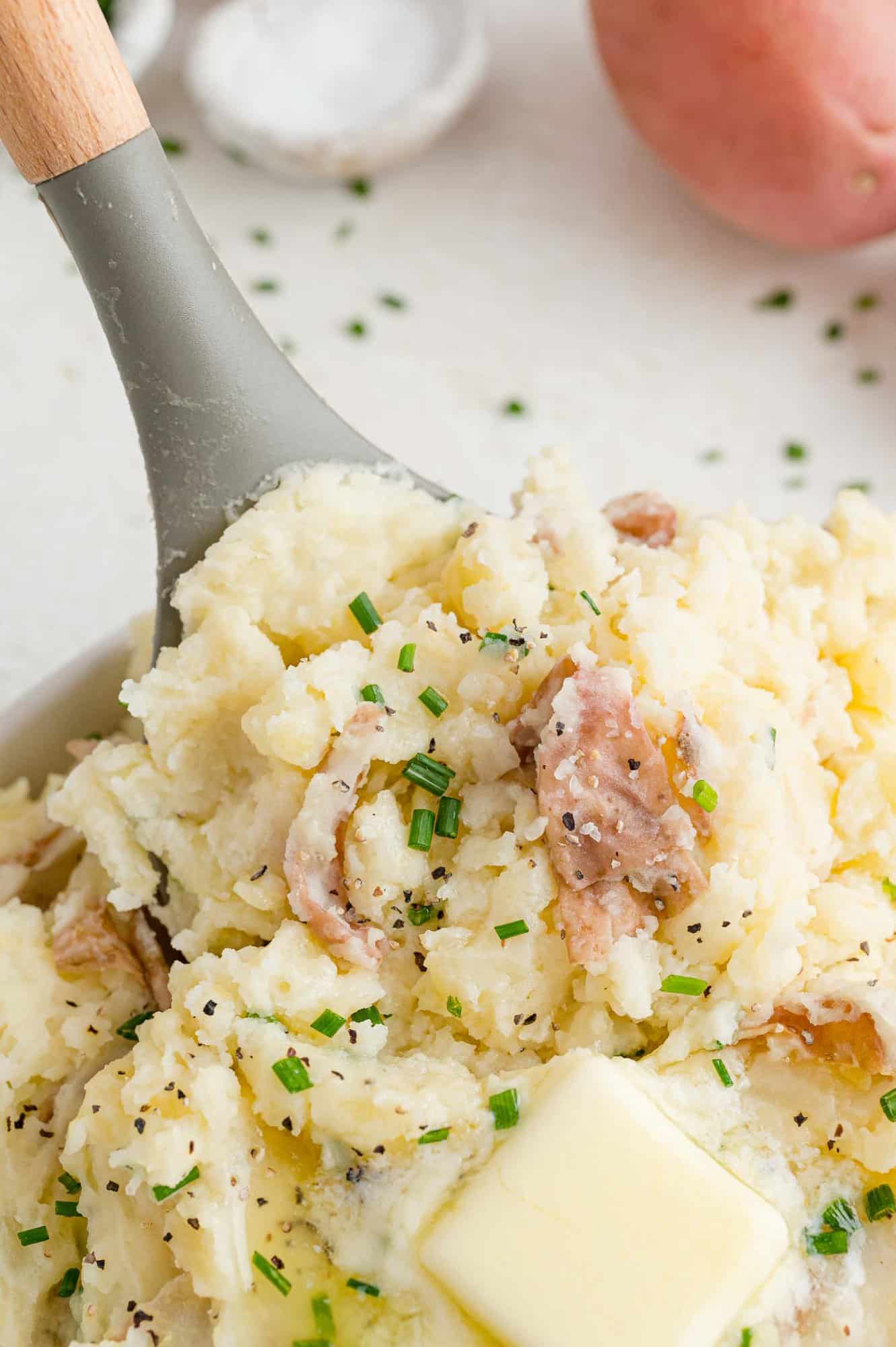 What's the best way to keep mashed potatoes warm?
There are a few methods to keep mashed potatoes warm until you're ready to serve them.
For up to twenty minutes: Leave the potatoes in the hot pan and simply place a folded lint-free dish towel over it. The towel will absorb any condensation that occurs.
For 2 to 3 hours: Put the potatoes in a heat-resistant glass bowl, cover, and set the bowl over simmering water, such as a double boiler pan.
Crockpot Method: Transfer the mashed potatoes to a buttered crockpot; cover. Set on the Warm setting, or Low if your crockpot doesn't have a Warm setting. Drizzle a little milk, melted butter, cream, or broth around the edges. Stir about once an hour. Add more butter or cream if the potatoes are getting too thick. The potatoes will stay fine for 3 to 4 hours.
Oven Method: Transfer the mashed potatoes to an oven-proof serving dish; cover with foil. Preheat the oven to 300°F and put the potatoes in for up to 45 minutes.
FAQs
What makes better mashed potatoes, reds or russets?
The answer is both, depending on the type of mashed potato you want. Red potatoes are lower in starch and are perfect for a rustic mash. They become gluey if you whip them. On the other hand, Russets are higher in starch and lower in moisture, and they whip up creamy, fluffy, and smooth.
Do you boil water before adding potatoes when making mashed potatoes?
Start the potatoes in cold water. If you add the raw potatoes to boiling water, there's a good chance that the outsides will become overcooked and start to fall apart, while the insides are still crisp and uncooked.
The gradual heating of the water ensures that the potatoes will be evenly cooked, resulting in the smoothest mashed potatoes.
Are mashed potatoes healthy for you?
You may avoid mashed potatoes, thinking they are a high calorie treat. Actually, a cup of these mashed potatoes are only 160 calories. They are high in carbs but they also have vitamins and minerals, especially potassium and vitamin C. Eating potatoes and the skins is a better choice than eating peeled potatoes because up to half of the nutritional value is found in the skins.
Make It Your Own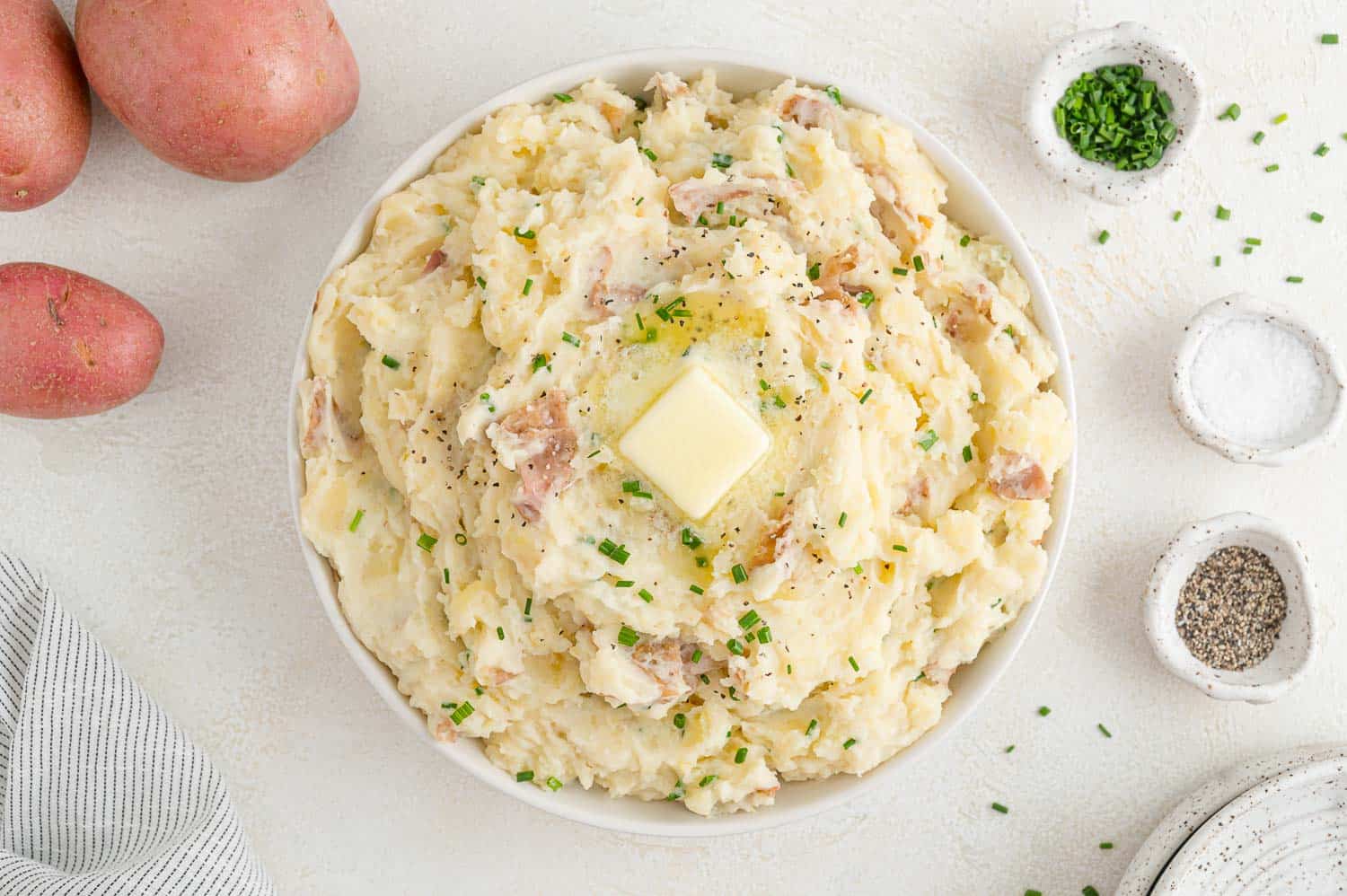 Make-Ahead Ideas
Scrub and cut the potatoes up to 24 hours in advance. Cover the cut potatoes completely with water so that they don't discolor. Store in the refrigerator.
Drain the potatoes before cooking. Add fresh cold water to the pan.
Storage & Reheating Tips
Leftover mashed potatoes, if refrigerated promptly, will keep for three to four days in a covered container. They can be frozen for up to 2 months; the texture will be affected.
Individual portions can be reheated in the microwave at 50% power until warmed through. For larger amounts, spread the mashed potatoes in an oven-proof baking dish, stir in a little milk or cream, and cover. Heat in the oven (350°F) for 20 to 30 minutes or until warm.
Leftover Love
Here's a great way to use up leftover mashed potatoes: try mashed potato pancakes! The potatoes are mixed with a bit of flour, an egg, cheese, and seasonings, formed into patties, and fried until crisp. So good with a spoonful of sour cream or ketchup.
Another great use for leftover mashed potatoes is this loaded mashed potato casserole – it's amazing!
Did you make this? Be sure to leave a review below and tag me @rachelcooksblog on Facebook, Instagram, or Pinterest!
Creamy and buttery, with loads of flavor, mashed red potatoes are an easy side dish to prepare. Throw away the box and enjoy freshly made mashed potatoes!
Ingredients
3

pounds

red potatoes, scrubbed clean and cut into 1 to 2 inch pieces

(see note)

1 ½

teaspoons

kosher salt

4

tablespoons

butter

½

cup

milk

½

cup

sour cream

2

tablespoons

chopped fresh parsley or chives

(can add up to

¼

cup, if desired)

additional kosher salt and freshly ground black pepper, to taste
Instructions
Put cut up potatoes in a large pot and cover with cold water. Add salt. Cover and bring to a boil over high heat. Depending on the size of your pan, it will take 10 to 12 minutes to come to a boil.

Turn heat to medium and cook potatoes until fork tender, 13 to 15 minutes.

Drain potatoes and return to the pot. Cook over medium-low heat, stirring occasionally, to remove excess moisture, 1 to 2 minutes.

Add milk, sour cream, and butter to the potatoes. Warm gently until butter melts. Mash until desired consistency is achieved, adding more milk if needed. Stir in herbs. Taste and season with salt and pepper as desired.
Notes
Cut the potatoes in evenly sized pieces. They'll cook more evenly resulting in mashed potatoes with a creamy texture (no crunchy bits).
The recipe can easily be halved to make 4 servings, or doubled to make 16 servings.
Fresh herbs (parsley or chives) are optional but really add so much flavor. You'll love them! Try adding roasted garlic, too.
Refer to the post for ways to keep mashed potatoes warm until you're ready to serve them.
Sodium is likely lower than calculated in the nutritional information. It includes all of the salt added to the cooking water. According to the USDA, boiled red potatoes only absorb about one third of the salt in the cooking water.
Nutrition Information
Serving:
1
cup
,
Calories:
160
kcal
,
Carbohydrates:
29
g
,
Protein:
4
g
,
Fat:
4
g
,
Saturated Fat:
2
g
,
Polyunsaturated Fat:
0.2
g
,
Monounsaturated Fat:
1
g
,
Trans Fat:
0.01
g
,
Cholesterol:
10
mg
,
Sodium:
486
mg
,
Potassium:
828
mg
,
Fiber:
3
g
,
Sugar:
4
g
,
Vitamin A:
213
IU
,
Vitamin C:
16
mg
,
Calcium:
60
mg
,
Iron:
1
mg
This website provides approximate nutrition information for convenience and as a courtesy only. Nutrition data is gathered primarily from the USDA Food Composition Database, whenever available, or otherwise other online calculators.