Goat Cheese Steak with Balsamic Glaze
You will absolutely love this goat cheese topped steak with balsamic glaze — don't settle for a boring steak!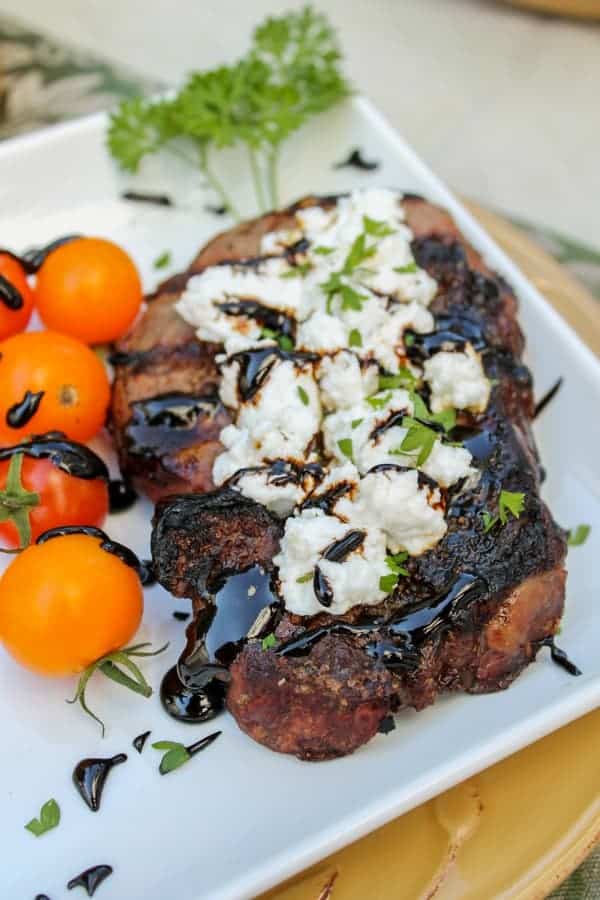 We're finally starting to get settled into our new house…getting some things on the walls, etc. It's so hard to manage to get anything done with the kids. I mean, take hanging photos on the walls for example. Can't do it when they are awake (nails, hammers, trying to get things level…none of these things mesh with toddlers). Can't do it when they are sleeping because it's loud as heck. So that leaves the weekend when we're both home but then there are a million things to do.
I'm so happy to have another friend guest posting today — Karen from The Food Charlatan. She has me craving steak in a major way. Make sure to check out her site…and this steak. Thanks Karen!
Hello, Rachel Cooks readers! I'm Karen, I blog over at The Food Charlatan. The other day I commented on someone's okra photo on Instagram that I had never eaten okra, and how I needed to try it. I don't know the guy, but he commented back saying, "And you call yourself a Food Charlatan!"
And it was that awkward moment where someone is making fun of you but the joke's actually on them because they don't know what charlatan means. (noun: "fraud," or, my own personal favorite, "quack.") But even the biggest fakes can make themselves dinner. I just happen to blog about it too.
Today we're adding goat cheese to steak with balsamic. If you are not already REALLY excited about this, just wait for the balsamic glaze. It's crazy, you guys! If you want to learn more about how to make balsamic reduction make sure to check out that link! There are also a bunch of other great uses for it in that post, so you might want to make extra!
I'm in love with this simple meal. Goat cheese makes the world go round. Also, don't skip the cherry tomatoes. Go to the farmer's market. The fresher the better!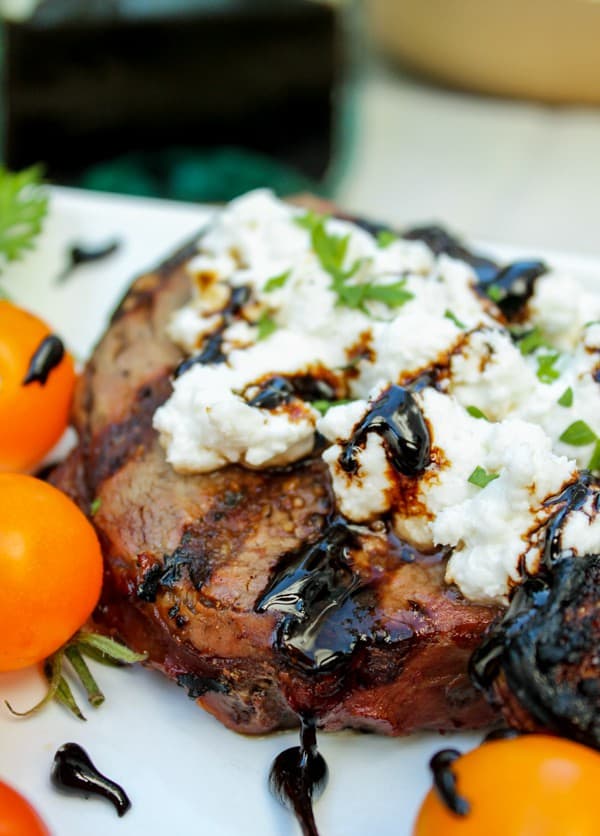 I know it's September and officially fall or whatever ("My favorite color is October"), but please tell me your grill is still out. This goat cheese steak with balsamic tomato combo needs you.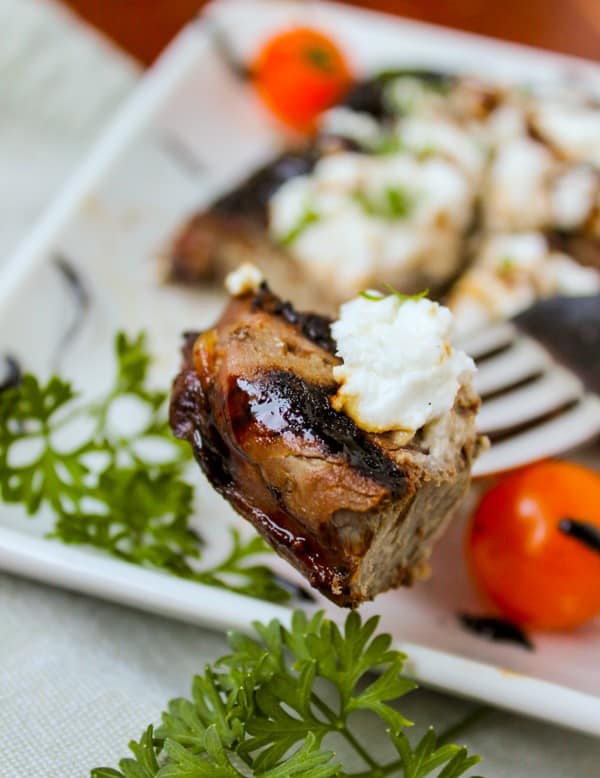 Looking for more great grilling recipes?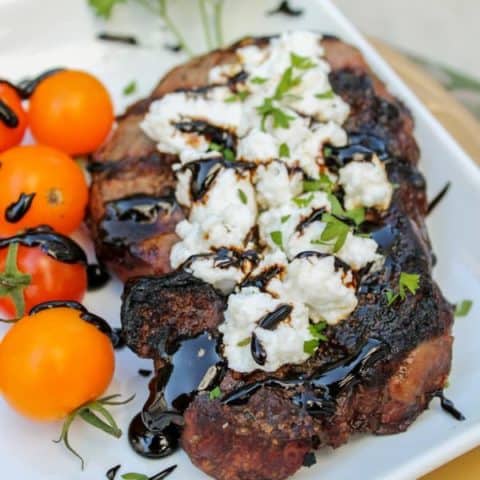 Goat Cheese Steak with Balsamic Glaze
Yield: 4 servings
Prep Time: 10 minutes
Cook Time: 26 minutes
Additional Time: 4 minutes
Total Time: 40 minutes
You will absolutely love this goat cheese steak with balsamic glaze — don't settle for a boring steak!
Ingredients
1 1/2 cups balsamic vinegar
4 (5-7 ounce) steaks, such as filet mignon, rib eye, etc.
salt and pepper
4 ounces goat cheese
1 pound cherry tomatoes
chopped parsley, to garnish (optional)
Instructions
Preheat grill on high heat.
In a saucepan, bring the balsamic vinegar to a boil. Stir occasionally for 15-20 minutes, until the vinegar has reduced by about a third and is syrupy. Don't let it burn! Babysit it. Once syrupy, turn the heat to low and leave it on the stove.
Generously salt and pepper both sides of each steak.
Add the steaks to the grill and cook for 2-3 minutes. Flip and cook for another 2-3 minutes. Add the goat cheese for the last minute of grill time, so that it melts slightly. (The times will depend on the size of your steaks and how well done you like them. I follow this grilling guide.)
Remove from the grill and let rest for about 3 minutes before serving.
Drizzle each steak with balsamic reduction. Sprinkle with chopped parsley, if desired.
Serve with fresh cherry tomatoes and corn on the cob, if desired.
Nutrition Information:
Yield: 4
Serving Size: 1 of 4
Amount Per Serving:
Calories: 294
Total Fat: 14g
Saturated Fat: 7g
Trans Fat: 0g
Unsaturated Fat: 5g
Cholesterol: 50mg
Sodium: 256mg
Carbohydrates: 21g
Fiber: 1g
Sugar: 17g
Protein: 18g
RachelCooks.com sometimes provides nutritional information, but these figures should be considered estimates, as they are not calculated by a registered dietitian. Please consult a medical professional for any specific nutrition, diet, or allergy advice.