Instant Pot Short Ribs & Mashed Potatoes (at the same time!)
These Instant Pot short ribs are fall-off-the-bone tender in less than an hour under pressure, and the best part is the mashed potatoes cook AT THE SAME TIME in the Instant Pot!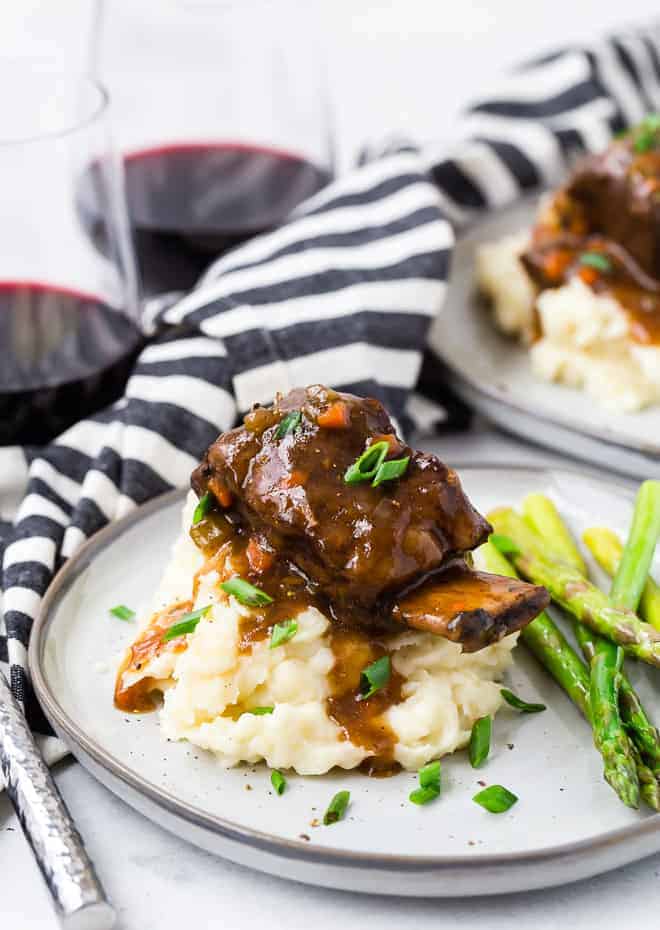 You guys! I'm really excited to share this recipe with you. It's the perfect Valentine's Day dinner. Pour a glass of wine and enjoy some time in the kitchen with your special someone. It's also the perfect weekend meal, when you want to take a little more time to savor and enjoy the process of cooking.
These are much quicker than traditional beef short ribs, but they're still a recipe you want to pour a little love and time into. It's a special cut of meat, a little pricier, a little richer and more indulgent than other cuts. The ribs will melt in your mouth!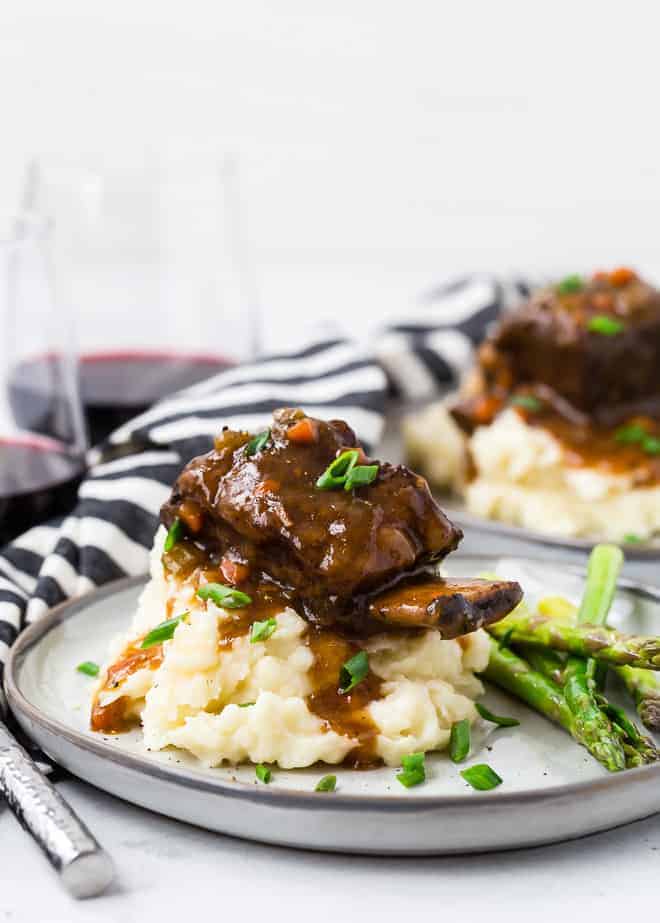 About these Instant Pot Short Ribs
Typically, short ribs take hours and hours to cook. You want to slowly cook them so the meat becomes tender and will fall off the bone.
Thankfully, the pressure cooker works great to achieve the same result. Now, there's a time and a place to cook a pot of short ribs all day. There's just something about that smell wafting through your house all day, and the leisurely act of preparing a meal that you've worked on all day. Sometimes, that's what you want.
However, sometimes you want the same end result, in a fraction of the time.
Enter, the Instant Pot. It's the same idea behind Instant Pot Ribs, Instant Pot pulled pork, Instant Pot Pot Roast, and Instant Pot beef stew. Tender, melt-in-your-mouth meat, in a short amount of time.
It's really kind of amazing.
Even more amazing is that the potatoes cook AT THE SAME TIME. In the SAME POT.
Sorry for yelling, but this is very exciting to me.
I can't take total credit for this idea, it's one I saw on Pressure Cook Recipes. Once you have the short ribs and all the other good stuff in the Instant Pot, you'll place a small bowl or cake pan on top of it all, and add your potatoes there. They cook in a similar manner to my Instant Pot mashed potatoes, but at the same time as the short ribs!
I feel like every time I make a new Instant Pot recipe, I fall in love with it a little more.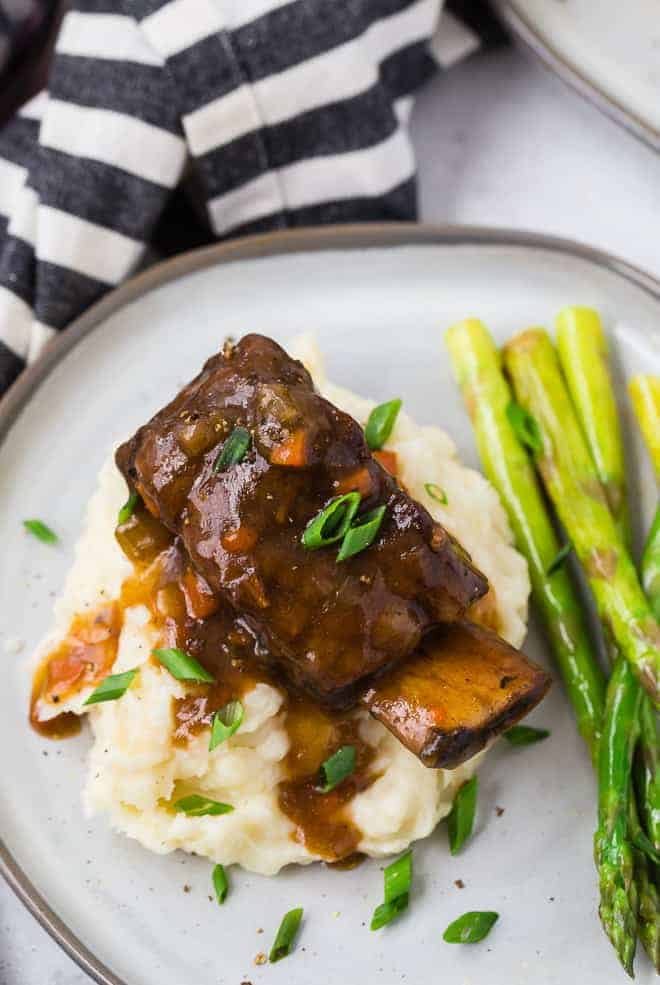 How to make Pressure Cooker Short Ribs
Honestly, at first glance, the ingredient list and instructions look a lot longer than some of my recipes. But read through it, measure things out ahead of time, and put some good music on. You can totally, 100%, definitely handle this!
Begin by browning the meat. This is probably the most time consuming part but it's a step you don't want to skip because it adds a ton of flavor. Get the pan good and hot and sear all sides of the short ribs. Get them nice and brown. This takes a bit of time because you'll need to do the ribs in batches. Thankfully, you can do this right in the Instant Pot! Jack of all trades, this thing. And possibly, master of all trades, too.
Once you have them browned, place the on a plate. Next, place your onion, celery, and carrots into the hot Instant Pot. And garlic, of course. Once those are sautéed, add a nice dry red wine and scrape all those yummy brown bits off the bottom of the pot.
Scraping those off will ensure you don't see that annoying "burn" warning on the Instant Pot, but it will also add great flavor to what will eventually be your gravy.
When the wine has reduced a bit, you'll be adding even more flavor the the gravy and the ribs. You'll add beef broth, balsamic vinegar, Worcestershire sauce, brown sugar, bay leaf, thyme, and paprika.
This is making me want to get in the kitchen and make these again right now!
Once you have all those yummy flavors added, you'll place the short ribs back into the brothy mixture. Add the potatoes in a stainless steel bowl or a small cake pan right on top of the ribs!
Now it's time for the pressure cooker to work its magic.
When they're finished cooking, you'll carefully remove the potatoes and mash them. The short ribs get removed from the pot one more time so you can thicken up the gravy with a mixture of a little cornstarch and beef broth. Once it's thick, you'll put the short ribs back in to get them shiny and glazed in that delicious gravy.
Time to serve!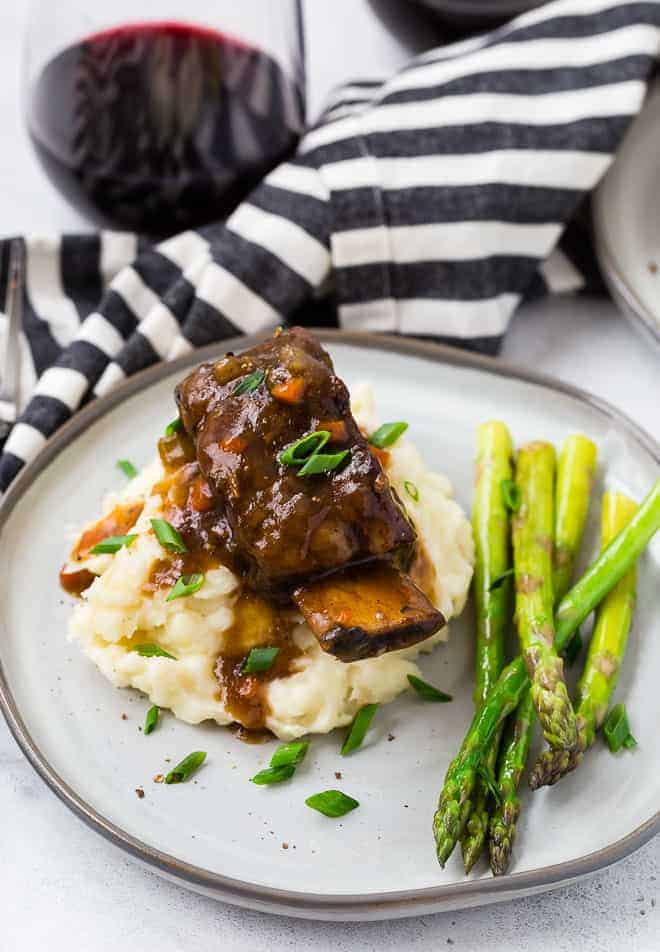 What sides to serve with Short Ribs:
I like short ribs best with mashed potatoes, which in this recipe you can make right at the same time! If you're a two Instant Pot kind of household, you could also do a larger batch of Instant Pot mashed potatoes, or you could do slow cooker mashed potatoes if you only have one Instant Pot (I only have one).
Short ribs also pair well with rice, or a low-carb mash like cauliflower mash or rutabaga mash. Polenta or grits would be phenomenal, as well.
What Vegetables to serve with Short Ribs:
Any, really! Whatever is your favorite. As you can see in the pictures, asparagus is always one of my first choices. These whole roasted carrots would be beautiful as well, or roasted green beans.
More amazing Instant Pot Recipes

These are some of my favorite Instant Pot main dishes!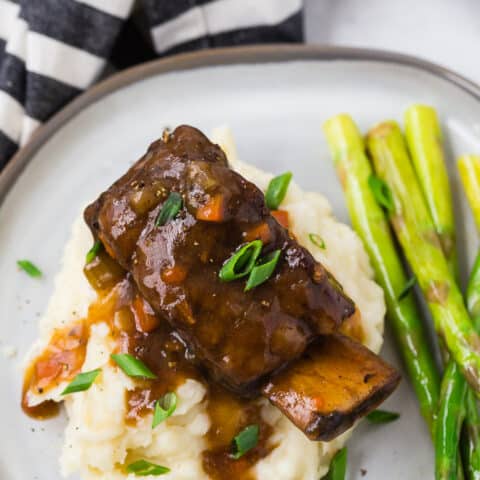 Instant Pot Short Ribs & Mashed Potatoes
Yield: 4 servings
Prep Time: 20 minutes
Cook Time: 1 hour 30 minutes
Additional Time: 10 minutes
Total Time: 2 hours
These Instant Pot short ribs are fall-off-the-bone tender in less than an hour under pressure, and the best part is the mashed potatoes cook AT THE SAME TIME in the Instant Pot!
Ingredients
For the short ribs:
2 tablespoons olive oil
4 pounds bone-in beef short ribs (about 8 short ribs)
1 teaspoon kosher salt
1/2 teaspoon coarsely ground black pepper
1/2 cup diced onion (about 1 small onion)
1/2 cup finely diced celery (about 2 stalks celery)
1/2 cup finely diced carrots (about 2 carrots)
2 cloves garlic, minced
1/2 cup dry red wine (we recommend Cabernet Sauvignon)
1 cup + 4 tablespoons beef broth, divided
2 tablespoons balsamic vinegar
1 tablespoon packed brown sugar
1 teaspoon Worcestershire sauce
1 bay leaf
1 teaspoon paprika
1/4 teaspoon dried thyme
2 tablespoons cornstarch
For potatoes:
3-4 russet potatoes, peeled and cut into 1-inch slices
1/2 teaspoon kosher salt
2 tablespoons unsalted butter
1/2 cup milk
Fresh chives or parsley for garnishing
Instructions
Heat Instant Pot to Saute and add oil.
Use a paper towel to wipe short ribs dry and also to remove any blood or bone fragments.
Season all sides of the short ribs with salt and pepper. Working in batches, place 3-4 short ribs in hot instant pot and brown on all sides, about 3 minutes per side. Remove to plate and repeat with remaining short ribs. (takes about 30 minutes total)
If there is a lot of oil/fat in the pan at this point, carefully remove all but about 1 tablespoon. Add onion, celery, and carrots and cook, stirring constantly for about 3 minutes, or until onions are translucent. Add garlic and cook for about 1 minute, stirring, or until fragrant.
Add wine and scrape bottom of the Instant Pot, making sure to remove ALL brown bits (will prevent a burn notice later). Cook for 2-3 minutes or until wine is reduced by about half.
Add 1 cup beef broth, balsamic vinegar, brown sugar, Worcestershire sauce, bay leaf, paprika, thyme. Stir to combine and then carefully add short ribs back into the pot, as well as any juices that have collected on the plate.
Place a small stainless steel bowl (or cake pan) on top of short ribs and add potatoes to bowl. Sprinkle with 1/2 teaspoon salt.
Secure lid and turn valve to seal.
Cook on high pressure ("manual" or "pressure cook," depending on model) for 42 minutes. Let pressure naturally release for 10 minutes before releasing remaining pressure.
Carefully remove bowl of potatoes, drain if needed, and transfer to a larger mixing bowl. Mash with butter and milk until desired consistency is achieved.
Remove short ribs from Instant Pot and place on a plate. Turn Instant Pot to "Saute" mode. In a small bowl, whisk together cornstarch and 2 tablespoons beef broth. Pour into sauce in Instant Pot and stir to combine. Let the sauce simmer until thickened. Taste and season with salt and pepper.
Turn Instant Pot to warm and place short ribs back in sauce to keep warm until ready to serve over mashed potatoes.
Sprinkle with fresh chives or parsley for a pop of color and fresh flavor.
Notes
If a thicker sauce is desired, add an additional 2 tablespoons broth, mixed with 1 tablespoon cornstarch.
Recommended Products
As an Amazon Associate and member of other affiliate programs, I earn from qualifying purchases.
Nutrition Information:
Yield: 8
Serving Size: 1
Amount Per Serving:
Calories: 883
Total Fat: 58g
Saturated Fat: 25g
Trans Fat: 3g
Unsaturated Fat: 32g
Cholesterol: 236mg
Sodium: 628mg
Carbohydrates: 27g
Fiber: 3g
Sugar: 4g
Protein: 61g
RachelCooks.com sometimes provides nutritional information, but these figures should be considered estimates, as they are not calculated by a registered dietitian. Please consult a medical professional for any specific nutrition, diet, or allergy advice.