Turkey and Beef Chili with Beer and Beans
Feeding a crowd? You'll love this turkey and beef chili recipe and leftovers taste great too. The beer in it really takes the flavor to the next level!
I should begin by saying I never, ever, ever make chili the same way twice. I'm not one of those people who has a "tried and true" recipe or one I'm known for. My white chili? Different story.
Don't get me wrong–it's always good (if I do say so myself), it's just not one of those meals where I take the time to be particular about things. If I had red peppers in the house, they are going in. If they happen to be green? No biggie, it will still taste great! Beer in the fridge? Better believe that's going in. Especially these pregnancy days! I had a bottle of Shiner Bock (which I love) staring me in the face for weeks every time I opened the door.
"Hahaha you can't drink me…"
Temptation be gone! I might not be able to drink you, Mr. Shiner Bock, but I can cook with you and EAT you! HA. Who is laughing now?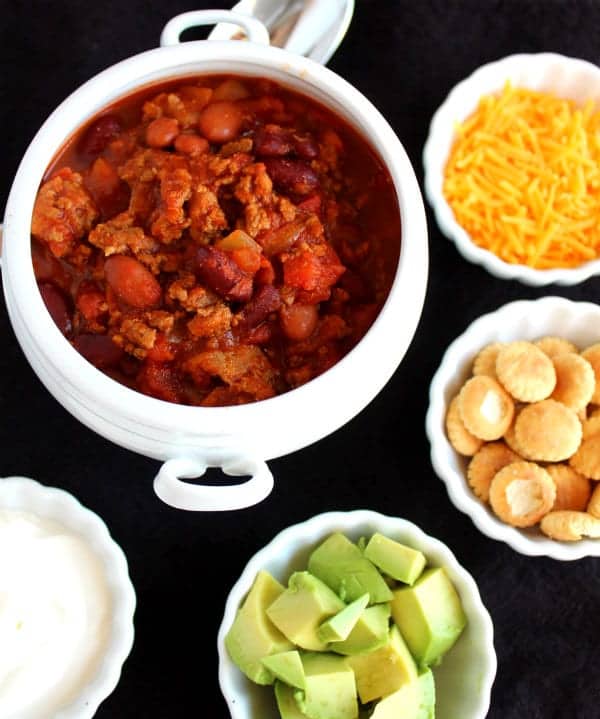 Making chili is the same general process each time but it always varies a bit depending on what veggies and meat I have available. And I never, ever measure spices unless I have to.
However, I decided to turn over a new leaf and actually measure things this time to share with you all. Note: the spice is mild, so feel free to amp it up if you like it a little hotter.
For this chili recipe, I use a combination of beef and lean turkey for lots of beefy flavor but with less fat. You'll find lots of tomatoes and beans in there, with bell peppers and onions. I even throw in some carrots for some added veggies and to add just a bit of sweetness.
Looking for different takes on chili? Try:
Turkey and Beef Chili
Yield: 10 servings
Prep Time: 20 minutes
Cook Time: 1 hour
Total Time: 1 hour 20 minutes
Feeding a crowd? You'll love this turkey chili recipe and leftovers taste great too.
Ingredients
1 pound ground turkey (I used 93% lean)
1 pound ground chuck
1 medium yellow onion, chopped
1 green bell pepper, chopped
1 red pepper, chopped
2 large carrots, diced
1 teaspoon olive oil
one 12 ounce bottle of beer (I used Shiner Bock)
2 tablespoons chili powder, more to taste
2 teaspoons ground cumin
1/4 teaspoon cayenne pepper, more to taste
1/2 teaspoon smoked paprika, more to taste
1 bay leaf
1 tablespoons tomato paste
one 15 ounce can of pinto beans, drained and rinsed
one 15 ounce can of kidney beans, drained and rinsed
two 15 ounce cans of crushed tomatoes
one 28 ounce can of petite diced tomatoes, with their juice
salt and pepper to taste
optional toppings: avocado, cheese, sour cream, oyster crackers, etc.
Instructions
In a very large pot or Dutch oven, heat oil over medium-high heat. Throw in turkey and beef, season w/ salt and pepper and break up into pieces. Add onion, peppers, carrots and continue to brown all ingredients until meat is almost cooked through. Drain grease off meat. Return ingredients to pan.
Add spices and continue to cook for about one minute. Add beer and scrape any brown bits off the bottom of the pan. Add tomato paste and stir until combined. Add beans, tomatoes, and bay leaf. Bring to a boil and reduce to a simmer.
Continue to simmer for at least an hour. If it is too thick for your liking (we like it THICK), add beef broth or water to thin out a little.
Test seasonings before serving. Add more chili powder and cayenne for additional heat.
Notes
This is a fairly mild chili–it's a good starting point for any picky eater who isn't a spice lover. Amp up the chili powder and cayenne or add in a chopped jalapeño for more heat.
This is soooo versatile, folks–have fun with it! Add different beans, a different beer, no beer (sub beef broth), whatever you want! No carrots? No biggie–I just put them in for extra veggies.
TOPPINGS. Let's talk about toppings. This is very important. Chili needs toppings in my opinion. Here are some of my favorites: sour cream (or plain Greek yogurt!), avocado, cilantro, green onions, sharp cheddar, oyster crackers, crushed tortilla chips….the list goes on!
If you're not feeding a crowd – no worries! This freezes GREAT!
Nutrition Information:
Yield: 10
Serving Size: 1 of 10
Amount Per Serving:
Calories: 437
Total Fat: 18g
Saturated Fat: 5g
Trans Fat: 0g
Unsaturated Fat: 10g
Cholesterol: 88mg
Sodium: 617mg
Carbohydrates: 36g
Fiber: 7g
Sugar: 12g
Protein: 33g
RachelCooks.com sometimes provides nutritional information, but these figures should be considered estimates, as they are not calculated by a registered dietitian. Please consult a medical professional for any specific nutrition, diet, or allergy advice.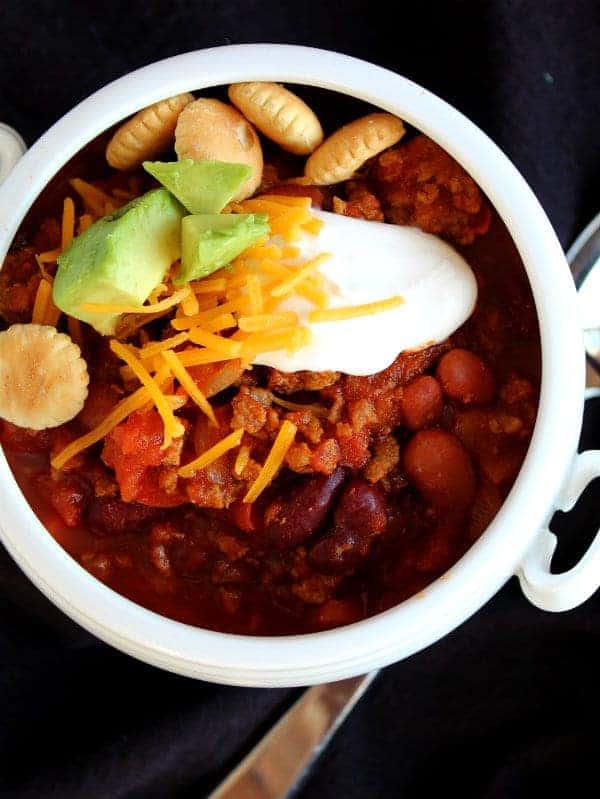 Verdict: Delicious! Since I'm still not loving meat with this pregnancy, I went crazy with the toppings and was able to get around the fact that this turkey and beef chili had tons of meat in it.
Husband's take: No complaints. He likes chili. Good thing he liked it too, because it provided our family with two dinners and enough leftovers for four lunches for him.
Changes I would make: None are necessary, but like I said, I'm always playing around with this recipe.
Difficulty: Super easy!