Instant Pot White Chicken Chili
Making Instant Pot white chicken chili is so quick and easy, you'll wonder how you got along without this recipe. Plus, it's dairy free!
Recipe Overview
Why you'll love it: This is an easy way to make white chili.
How long it takes: less than an hour
Equipment you'll need: pressure cooker, immersion blender (optional)
Servings: 6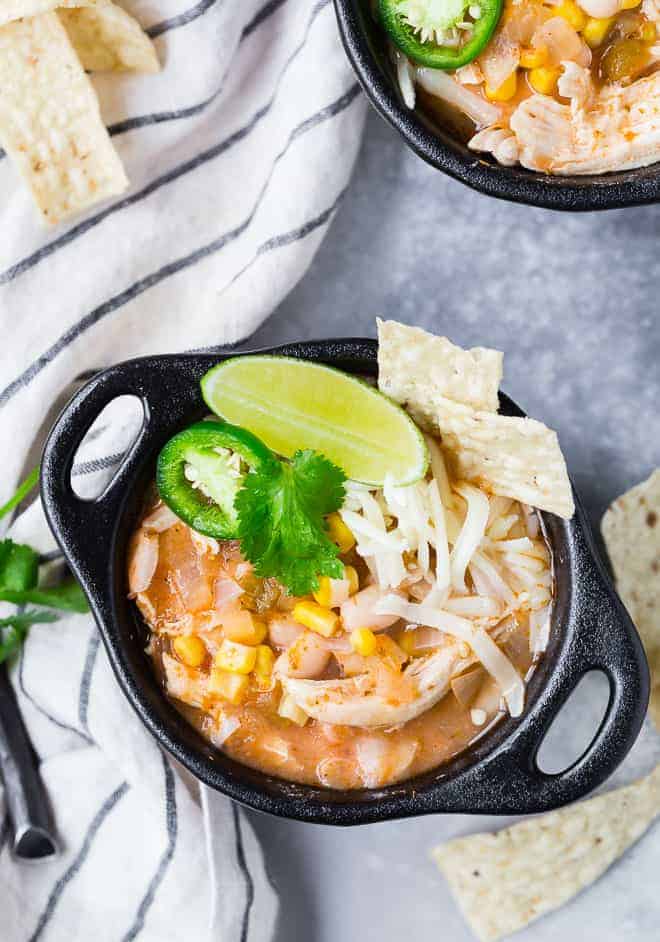 It seems like everyone has a favorite recipe for chili, doesn't it?
There must be hundreds of ways to make chili, each recipe as individual as the cook making it. Sometimes I wonder what the qualification is, what actually makes it chili.
Is it the beans? No, there are so many recipes without beans. In fact, some cooks would adamantly insist that beans ruin a good chili.
Is it the meat? No, there are chili recipes with meat or without. Some contain ground beef, sirloin, beef chuck (try this amazing slow cooker Texas style chili), chicken, turkey, or yup, no meat at all. Everyone loves my vegetarian quinoa chili. The quinoa mimics ground meat but for a complete no-meat experience, try vegetarian chili, with lots of beans and veggies.
Is it the seasonings? Maybe we're getting a little closer with this one but the spectrum of spices used in chili is pretty broad, too, with varying levels of heat.
Perhaps that's why chili cook-offs are so popular. Everyone believes that their recipe for chili is the best. And you know what? If you like the chili you made, maybe it is the best! It's certainly the one made for you.
That's what I love about cooking, the chance to be creative, making whatever you're cooking your very own masterpiece. It might not win first place at the cook-off but if your family loves it, I'd say that's a win!
True confession: I have several recipes for chili on my site. In fact, one of the very first posts I wrote, way back in 2011, was for white chicken chili (I've since updated it). My love affair with white chicken chili goes way back.
So why another recipe? I wanted to give you guys a recipe for Instant Pot white chicken chili. Using a pressure cooker speeds the process with delicious results. I'm sure you'll agree!
TIP: If you need a slower version that will cook while you're gone, try slow cooker white chicken chili.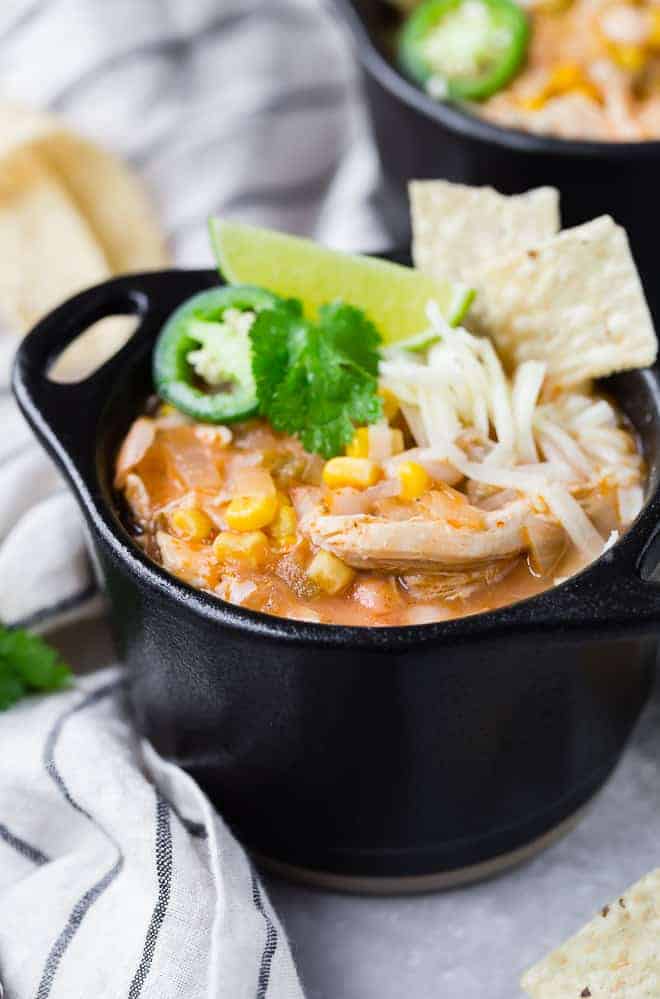 About This Recipe
Usually chili involves lots of simmering to meld those delicious flavors. With a pressure cooker, you'll achieve the same result in a lot less time.
I wanted to make this recipe dairy-free. Often white chicken chili is loaded with Monterey Jack cheese, which is so yummy but probably not so kind to our waistlines. However, the cheese usually provides the creamy texture that we all love. What a dilemma!
Here's my secret to making this chili creamy without adding cheese: I puree a can of white beans using my immersion blender. Add the puree to the chili and voila! Creaminess without the calories and dairy-free.
I'll get you started on this easy recipe here and give you lots of extra helpful tips.
As always, look for the printable recipe card near the end of the post. It has complete instructions, measurements, and nutrition information.
What You'll Need
Boneless Skinless Chicken Breasts: If you prefer dark meat, boneless skinless chicken thighs are a good choice too. There's no need to cut the chicken up before cooking it.
Onion: Any type of onion works well here. A yellow cooking onion is fine and usually less expensive than sweet or red onions but use whatever you have.
Chicken Broth: Look for no- or low-sodium broth. If. you can't find it, omit the salt in the recipe. This recipe makes chili with a soup-like consistency. If you like really thick chili, use less.
Salsa: Choose shelf-stable salsa. It works better in this recipe than the fresh refrigerated salsa. If you like it hot, use hot salsa. If you have a tender tongue, use mild. If you're like me, go for the middle and use medium.
Great Northern Beans (canned): These soft white beans are what's usually used in chicken chili. If you can't find them, cannellini beans are a good substitute.
Corn: Little tidbits of corn add texture and sweetness to the chili. Either canned corn or thawed frozen corn are fine. Fresh sweet corn is really great if it's in season.
Dried (Mexican) Oregano, Ground Cumin, Cayenne Pepper: If you can find it, Mexican oregano is the best choice. If you only have regular oregano, don't sweat it; it will be fine. Add the cayenne pepper to taste. Kick it up a notch by adding more.
Garnishes: shredded Monterey jack cheese, sour cream or plain Greek yogurt, fresh cilantro, sliced jalapeño peppers, pickled red onions, tortilla strips.
How To Make This Recipe
To make this easy chili, begin by sautéing the onions with a little olive oil in the Instant Pot until they soften a bit. Next, add the chicken (no need to cut it up), salsa, cumin, oregano, and cayenne to the pot.
Cover the Instant Pot, seal, and set it to pressure cook at high pressure for fourteen minutes. Remember, it will take an additional 5-10 minutes for it to come to full pressure.
Meanwhile, drain the canned corn and the beans. Put one can of beans in a medium sized bowl and either mash them with a fork or purée them with a stick blender.
When the timer goes off, release the pressure, take the chicken out to shred, and add the beans and corn to the pot along with the shredded chicken. Super easy, right?
Serve in a soup bowl with the desired toppings.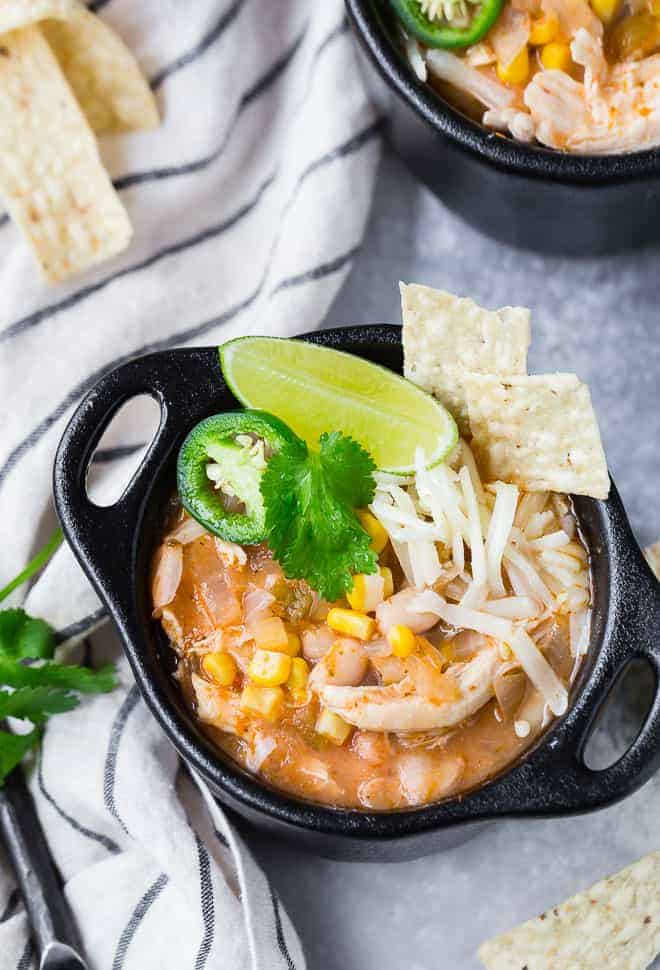 FAQs
What is the chili setting on an Instant Pot?
Whew, that's a tough question. Because there are so many different types of chili, it would be really difficult to find one setting that's perfect for all of them.
My advice would be to follow recipe instructions for the best results. My recipes are tested before publishing so there isn't any guesswork for you.
Can you put raw chicken in an Instant Pot?
Yes, the chicken will be thoroughly cooked at a safe temperature in a pressure cooker such as an Instant Pot. Sometimes the chicken is browned first using the Sauté function to add flavor and color.
Can I use frozen chicken in an Instant Pot?
Frozen chicken is fine. It will take a few minutes longer for it to come to full pressure.
Make It Your Own
Making chili gives cooks lots of opportunity to get creative. There are so many ways to make it your own. Here are just a few ideas to get you thinking:
As I mentioned, this recipe is non-dairy with no cheese at all. If you think white chicken chili just isn't right without cheese, go ahead and add it! You can't have too much creaminess, right?
To eliminate a step, you could use rotisserie chicken. Remove it from the bones and use it instead of the boneless skinless chicken breast. There's no need to pressure cook the rotisserie chicken since it's fully cooked already. Just heat it all up together. You can do this using the "Sauté" function on your Instant Pot, or you can use your stovetop and a large pot.
Like it a little spicier? Or less spicy? I use medium salsa for mine but you can use mild, hot, or even salsa verde. Kick up the heat with more cayenne.
This recipe calls for "white beans". Choose from great northern beans, cannellini (white kidney beans), navy beans, or baby limas. You could even use dry beans cooked in your Instant Pot before you begin this recipe.
Make it your own with toppings. I love to garnish my bowl of chili with a dab of sour cream, or plain Greek yogurt, and a sprinkling of chopped fresh cilantro. Other delicious toppings are: shredded Monterey Jack cheese, sliced jalapeño peppers, pickled onions, tortilla strips, or avocado. I'm sure you could add to the list.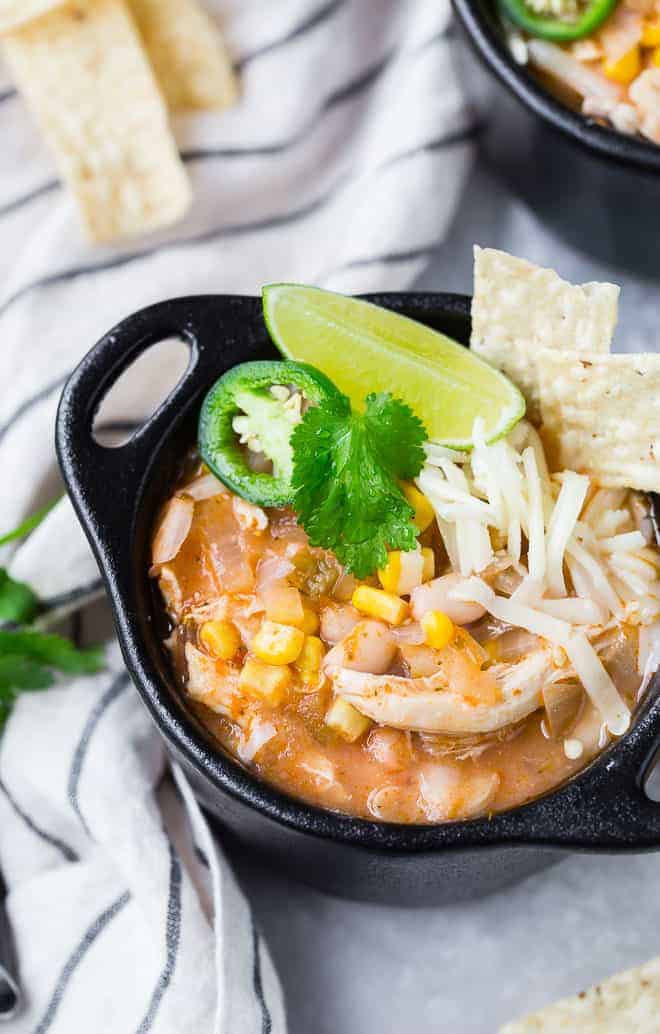 Storage & Reheating Tips
Make a big batch of white chicken chili and stow it in the fridge for those times when you know you're not going to have time to cook. Let it cool a bit, and put it into an airtight container. It will keep for up to four days in the fridge. Reheat it in a pan on the stove or warm a bowl of chili up in the microwave.
White chicken chili also freezes well. If you like, put it into serving size portions in freezer containers, let it cool in the refrigerator first, and then place it in the freezer. For best results, thaw overnight in the refrigerator, and reheat when ready to serve. It will keep in the freezer for a couple of months. So handy!
More Instant Pot Recipes
Do you love your pressure cooker as much as I do? Here's a few more of my favorites:
Did you make this? Be sure to leave a review below and tag me @rachelcooksblog on Facebook, Instagram, or Pinterest!
Making white chicken chili in your Instant Pot is so quick and easy, you'll wonder how you got along without this recipe. Plus, it's dairy free!
Ingredients
1

tablespoon

olive oil

1

cup

chopped yellow onion

(about 1 medium onion)

1.5

pounds

boneless skinless chicken breasts

4

cups

reduced sodium chicken broth

1

cup

prepared salsa

(see note)

1 ½

teaspoons

dried oregano

1

teaspoon

ground cumin

¼

teaspoon

ground cayenne pepper, or to taste

3

cans

(15.8 oz.) great Northern beans, rinsed and drained, divided

1

can

(15.25 oz.) yellow corn, drained

salt and pepper to taste

Optional garnishes: shredded Monterey jack cheese, sour cream or plain Greek yogurt, fresh cilantro, sliced jalapeño peppers, tortilla strips
Instructions
Using the Sauté setting of your Instant Pot, cook onions in olive oil 3-4 minutes or until translucent.

Add chicken breasts, broth (see note), salsa, oregano, cumin, and cayenne pepper. Secure lid, turn valve to seal.

Cook on High Pressure for 14 minutes.

When the timer goes off, turn valve to vent to quick release the pressure. Check chicken breasts with an instant-read thermometer. Internal temperature should be at least 165ºF. Remove chicken breasts to a plate to cool slightly. .

Add 2 cans of great Northern beans and corn to chili, to warm through. Meanwhile, shred cooked chicken using two forks; add to chili.

Purée third can of great Northern beans, using an immersion blender or mashing in a bowl with a fork. Add to chili.

Keep warm until ready to serve. Garnish with desired toppings.
Notes
This chili has a soup-like consistency. If thicker chili is desired, start with 2 cups broth, and add more as needed.
For best results, use shelf stable salsa. Fresh salsa (refrigerated) doesn't work as well.
If desired, add 1 cup shredded Monterey Jack cheese with the beans.
Nutrition information does not include toppings.
Nutrition Information
Calories:
267
kcal
,
Carbohydrates:
22
g
,
Protein:
31
g
,
Fat:
7
g
,
Saturated Fat:
1
g
,
Polyunsaturated Fat:
1
g
,
Monounsaturated Fat:
3
g
,
Trans Fat:
1
g
,
Cholesterol:
73
mg
,
Sodium:
487
mg
,
Potassium:
882
mg
,
Fiber:
3
g
,
Sugar:
6
g
,
Vitamin A:
470
IU
,
Vitamin C:
8
mg
,
Calcium:
45
mg
,
Iron:
2
mg
This website provides approximate nutrition information for convenience and as a courtesy only. Nutrition data is gathered primarily from the USDA Food Composition Database, whenever available, or otherwise other online calculators.