How to Cook Kabocha Squash – 3 methods!
Learning how to cook Kabocha squash doesn't have to be difficult! With these 3 easy methods, you'll find one that works for you!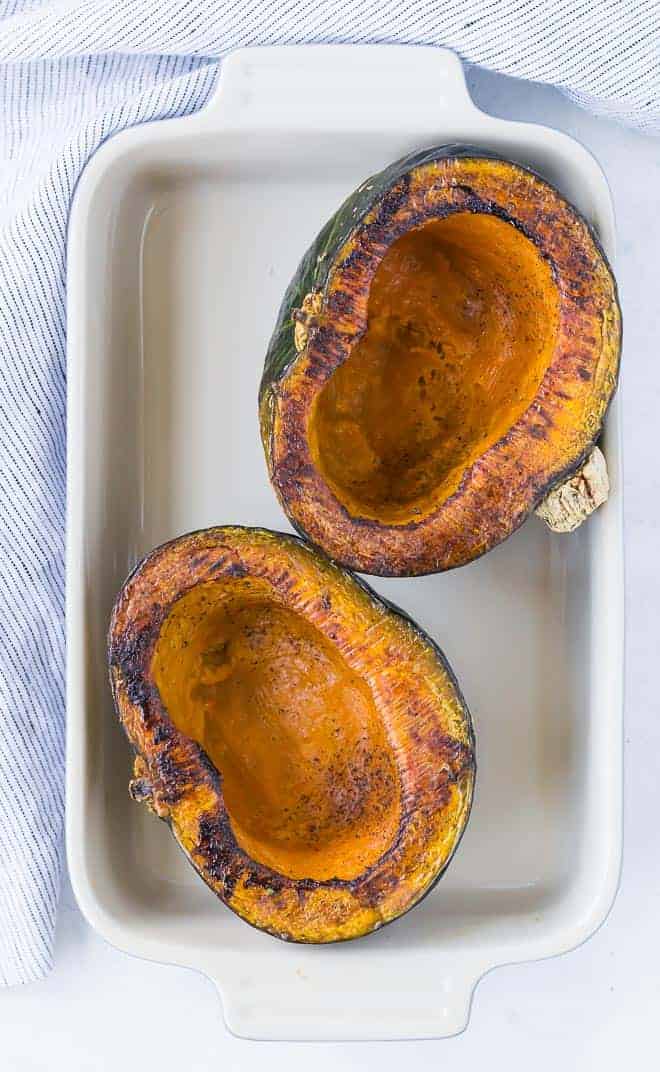 I've had so much great feedback on my posts about how to cook spaghetti squash (5 ways!), how to cook acorn squash (2 ways), and how to cook delicata squash, that I knew it was time to cover Kabocha squash!
Email me if you have any other requests! I'm working on butternut squash, but in the meantime you can learn how to cook butternut squash in the slow cooker and of course I have a lot of other butternut squash recipes. Everything from soup to healthy queso dip!
What is Kabocha squash?
Kabocha is probably a lesser-known squash than butternut or acorn, but it's really delicious, and if you haven't tried this variety of winter squash, you should give kabocha a go! It's wonderful on its own or made into a delicious creamy soup.
Also known as a Japanese pumpkin, Kabocha is in the same family as Hubbard squash, turban squash, and buttercup squash.
Kabocha is a hard squash, like most winter squash varieties are, and it has green, slightly bumpy skin, often with light green or white stripes, and dark yellow-orange flesh inside.
You'll find that it's a very sweet squash and has a slightly dry texture. Like other squash varieties, Kabocha is a great source of vitamin A, vitamin C, and fiber. It can be used in many of the same ways that you'd use butternut squash.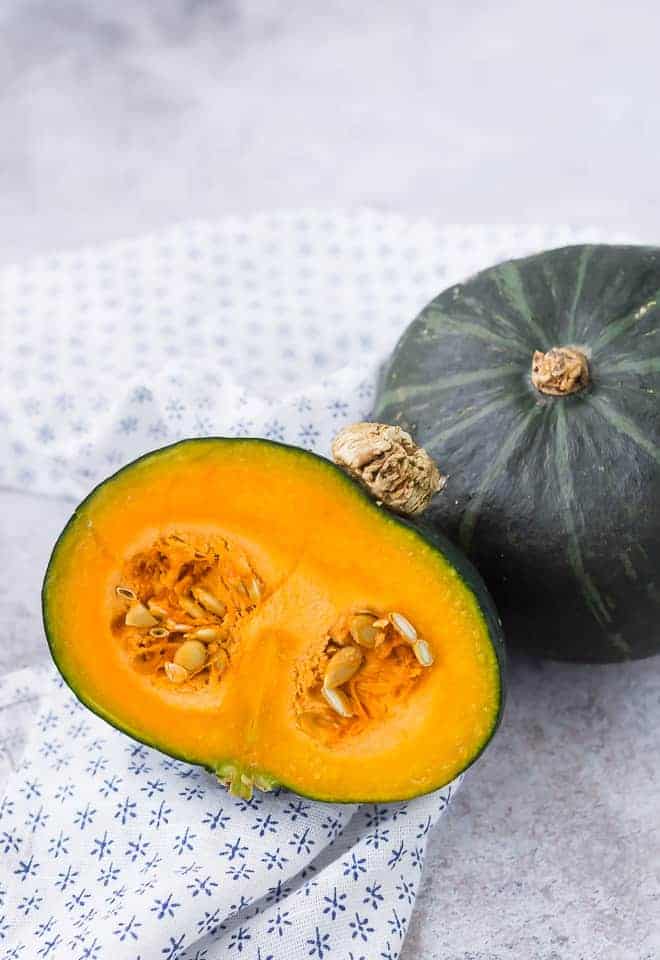 How to cook Kabocha squash 3 ways
Whether you need it quick or need it to cook all day while you're gone, there is a method here for you. In this post, you'll also find serving suggestions and some general tips, but if you have any questions at all, leave me a comment – I always respond!
I'd also love to hear if you use one of these methods and what you make with the cooked squash!
Each of these methods of cooking are different, but they're all best for using the flesh as a mash or in soup. If you want cubed squash, this variety of squash will also work great for that. Peel and dice and try following this recipe for spicy sweet roasted butternut squash. It will work great with either kind of squash.
As always, scroll to the bottom of this post for printable directions!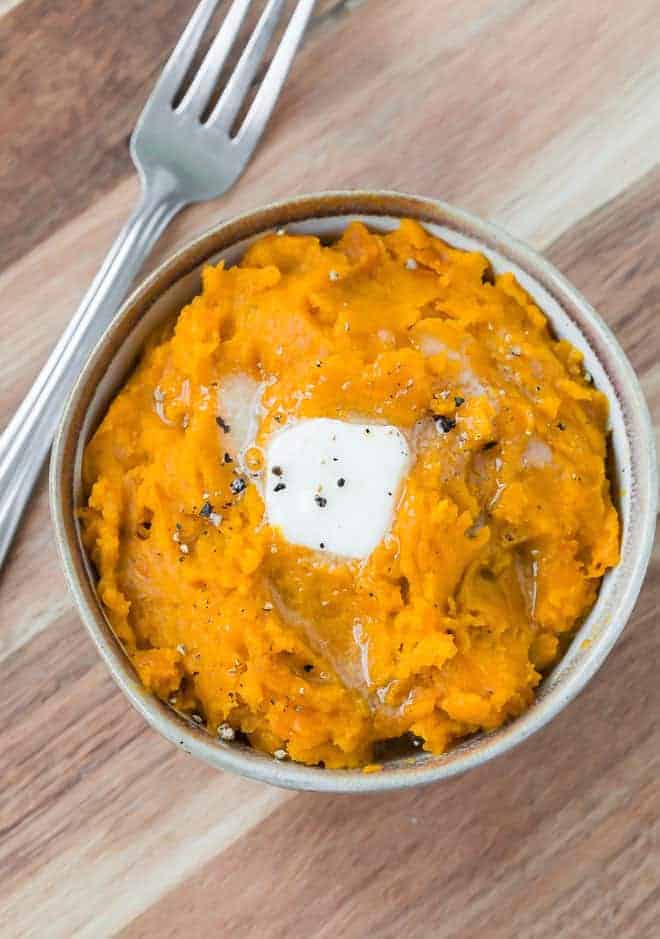 How to cook Kabocha squash in the oven
This is likely the most well-known method and will give you some golden-brown color around the edges of the squash. There's a ton of flavor in that browned squash!
First, you'll want to scrub the squash clean. Next, carefully cut squash in half. BE CAREFUL. This is the most difficult part. If you want, you can cut a thin slice off the side so that you have a flat surface to prevent the squash from rolling around.
Next up, remove the seeds. I like to use a grapefruit spoon to do this.
Drizzle with olive oil and use your hands to rub it all over the squash. Sprinkle with salt and pepper. Place on a baking sheet (I line mine with parchment for easy clean-up) cut side down.
Bake at 400°F for 45 to 60 minutes or until fork tender and let it cool slightly so you can handle it. Then, use a spoon to scoop the flesh of the squash away from the skin.
How to cook Kabocha squash in the slow cooker
This method is SO hands off and SO easy, it's a dream come true! It does get very soft, so be prepared for a squash that might be falling apart a little when it is done.
Scrub squash clean.
Place squash in slow cooker and place the cover on. Cook on high for 3-4 hours or on low for 6-8 hours or until easily pierced with a knife.
Carefully remove squash and let cool slightly. Cut in half and remove seeds.
Scoop flesh of squash out of shell.
How to cook Kabocha Squash in the Instant Pot
First off, make sure the squash fits in your Instant Pot! Most should fit in a 6 quart Instant Pot, but it's a good idea to check first.
Scrub squash clean and carefully pierce all over with a sharp knife (10-15 cuts, 1/2-inch to 1-inch in size).
Place steamer basket in the bottom of the pressure cooker and add 1 cup water. Place squash in/on steamer basket.
Secure lid, turn valve to seal, and set for 20 minutes on high pressure. When timer goes off, quick release pressure.
Carefully remove squash and let cool enough to handle. Cut in half, remove seeds, and scoop out flesh.
Serving Suggestions:
This squash is fantastic in squash soup or made into a simple mash (see recipe card notes for my suggestion on how to make a quick and easy mash!). It would also work well as a stuffed squash, like this stuffed acorn squash.
It can be used in nearly any way that butternut or acorn squash is used in. Check out this list of squash recipes for lots of ideas!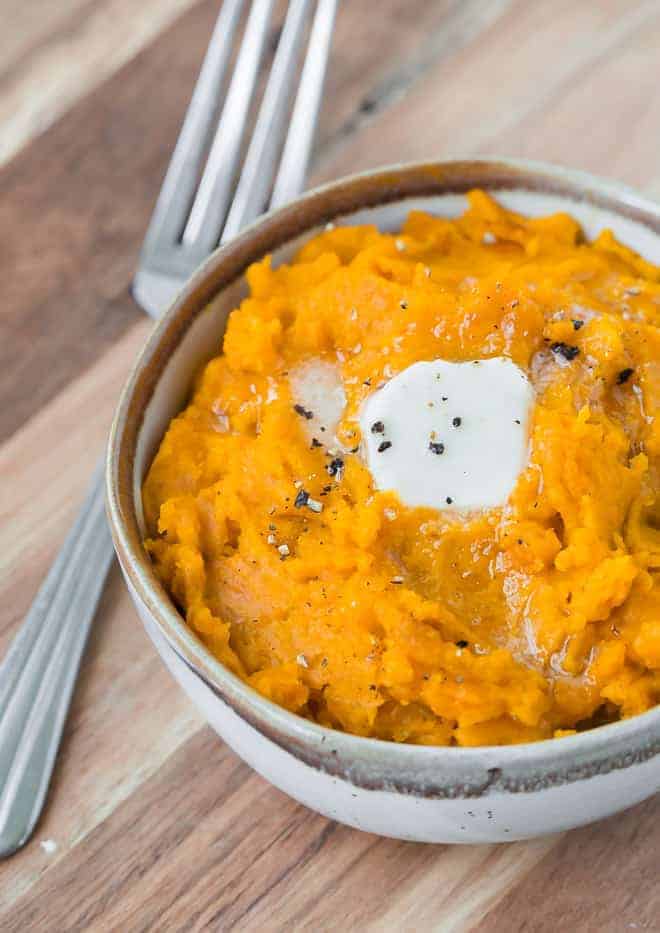 FAQs:
Can you eat Kabocha Squash skin?
Yes, once it is cooked, you can. However, my preference is typically to peel it or scoop the flesh away from the peeling once it is cooked. If you plan to eat it, make sure to clean it well before cooking it.
How do you clean and cut Kabocha squash?
I like to clean all squash with a vegetable brush (this one is my absolute favorite). I scrub it all over under running water, rinsing it well, and drying it. Even if I don't plan to eat the peel, I clean it so the dirt from the outside won't be brought inside the squash when slicing it.
Place it on a large cutting board that isn't going to slip around on you. A steady surface is essential – please be careful, I won't be held responsible for lost fingers!
You'll need a sturdy, sharp knife. It's best if your knife is long enough to go all the way through the squash. Do NOT choose a flexible or serrated knife!
Cut the stem end off. You don't want to try to saw through that tough woody stem. (I left mine on because it looks pretty in the photos.) It also helps to cut a slice off the side of the squash, to stabilize it on your cutting board.
Cut the squash vertically, from stem end to bottom end.
If you're still having a hard time, try putting the whole squash into the oven for 10 minutes at 375º, or heat it in the microwave for 5 minutes or so. You'll have to use mitts to handle it – be careful! Make sure to let it cool a bit before trying to cut into it. This softens the skin and makes it easier for the knife to slide through.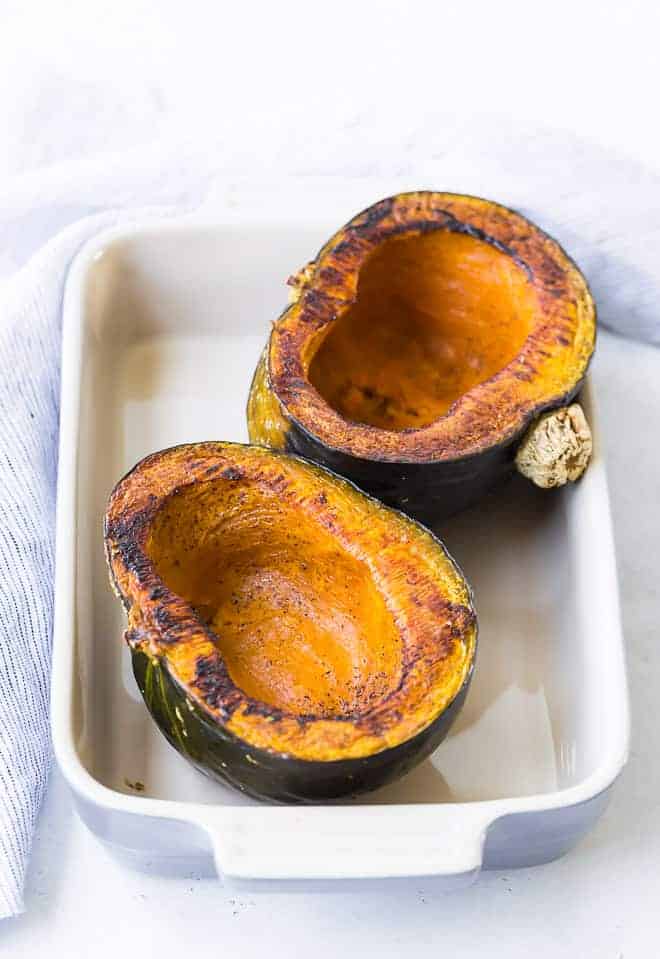 How long does Kabocha squash last?
Cooked squash will last 3-4 days in the fridge, or 2-3 months in the freezer. Uncooked, uncut squash will keep for 3-4 months in a cool, dry place. Discard if it becomes soft, squishy, or moldy.
Storing Kabocha squash: Store cooked squash in an airtight container in the fridge, or a zip-top bag or other airtight container in the freezer.
PS: I'm very sorry I said "flesh" so many times. I didn't enjoy that any more than you did.
How to Cook Kabocha Squash
Yield: 1 squash
Prep Time: 10 minutes
Cook Time: 1 hour
Total Time: 1 hour 10 minutes
Learning how to cook Kabocha squash doesn't have to be difficult! With these 3 easy methods, you'll find one that works for you!
Ingredients
1 medium sized Kabocha squash (between 2 ½ and 3 pounds)
1 teaspoon olive oil (for oven method)
¼ teaspoon salt, or to taste (for oven method)
⅛ teaspoon pepper, or to taste (for oven method)
Instructions
Oven Method:
Preheat oven to 400ºF. Place parchment paper or foil in baking pan that is large enough to hold both halves of the squash.
Scrub squash well with vegetable brush, cut in half, remove seeds. Brush with oil, and season with salt and pepper. Place on prepared baking pan.
Bake 45-60 minutes, or until fork tender (easily pierced with fork).
Cool slightly and carefully scrape cooked squash from skin with a large spoon. Place cooked squash into large bowl.
Slow Cooker Method:
Scrub squash well with vegetable brush. Place whole squash into slow cooker.
Cook on low for 5-6 hours, or until easily pierced with fork.
Remove from slow cooker, cool slightly, cut in half, discard seeds, and carefully scrape cooked squash from skin. Place cooked squash into bowl.
Instant Pot/Pressure Cooker Method:
Scrub squash well with vegetable brush. Pierce the skin of the squash in several places with a sharp knife, making 10-15 small cuts, about one half to one inch each.
Pour 1 cup of water into bottom of Instant Pot. Place squash on steamer basket inside Instant Pot.
Cover, and bring to pressure. Cook on high pressure for 20 minutes. Use quick release to release pressure.
Cool slightly and remove squash from Instant Pot. Cut in half, discard seeds, and carefully scrape cooked squash from skin. Place cooked squash into bowl.
Notes
Cook and prep times indicated in this recipe card are for oven method of preparation.
For a simple squash mash, mash squash flesh with fork, potato masher, or electric mixer. Mix in 1/4-1/2 cup milk, 2 tablespoons unsalted butter, and salt and pepper to taste. Add more or less milk to achieve desired consistency. Try stirring in spices such as cinnamon, ginger, cayenne, paprika, or smoked paprika. PS: It's also great topped with a little bacon, feta, and chives. Just sayin'.
You can easily freeze the cooked squash after removing it from the skins. Place in airtight freezer container or freezer bag.
Recommended Products
As an Amazon Associate and member of other affiliate programs, I earn from qualifying purchases.
Nutrition Information:
Yield: 4
Serving Size: 1
Amount Per Serving:
Calories: 67
Total Fat: 1g
Saturated Fat: 0g
Trans Fat: 0g
Unsaturated Fat: 1g
Cholesterol: 0mg
Sodium: 135mg
Carbohydrates: 14g
Fiber: 3g
Sugar: 6g
Protein: 2g
RachelCooks.com sometimes provides nutritional information, but these figures should be considered estimates, as they are not calculated by a registered dietitian. Please consult a medical professional for any specific nutrition, diet, or allergy advice.
Verdict:
I love this flavorful, bright orange squash. It's so good no matter how you prepare it!
Husband's take:
Ben just isn't a squash fan. His loss!
Changes I would make:
No changes to these methods are necessary. Have fun with how you serve it, though!
Difficulty:
Easy!