Poblano Queso Dip – delicious & creamy!
Creamy poblano queso dip, studded with flavorful roasted poblano peppers, is pleasantly spicy but not fiery. Enjoy it as a dip or a topping for tacos or nachos.
Recipe Overview
Why you'll love it: The roasted poblanos take queso a step above ordinary queso.
How long it takes: 35 minutes
Equipment you'll need: skillet, measuring utensils, stove
Servings: makes 3 cups
I've been on a poblano kick lately. Much like roasted red peppers, roasting these dark green gems really makes a difference. Roasting mellows and intensifies the flavors at the same time, softening the flesh and loosening the skins so they can easily be peeled off.
You can use roasted poblanos in a variety of ways. I love southwestern farro salad with roasted poblanos and chile relleno soup with chicken. They are really good added to Creamy Queso Chili!
And, of course, I love the addition of roasted poblanos to this queso dip. The chunks of flavorful roasted peppers really up the flavor profile of plain queso dip. Some folks like adding meat to queso dip but I'd have to say that peppers are much tastier and it keeps this dip vegetarian friendly.
You may be wondering if poblano peppers make the dip spicier. I've noticed that there can be quite a lot of variation in the spiciness of poblano peppers. Sometimes the peppers have quite a bit of heat, and sometimes they are really quite mild. The peppers all look the same on the outside but you'll have to take a little taste to test how hot they are.
None of them are super hot, though, if you're worried about that. Poblano queso dip is not going to singe your tongue or make your eyes water.
Enjoy this poblano queso with tortilla chips as an appetizer. Try it as a topping for nachos or tacos – it's so good drizzled on these cauliflower nachos or crispy sweet potato tacos. Top homemade French fries or roasted sweet potatoes with poblano queso for a real treat.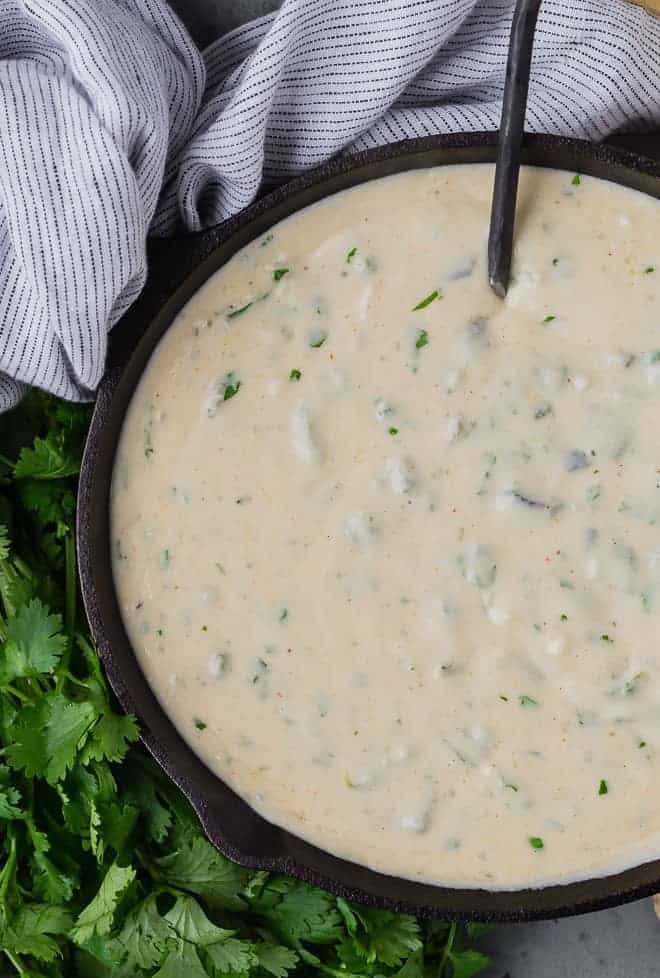 About this Queso
Creamy poblano queso isn't a difficult recipe to make. It takes a little time, especially if you need to roast the poblanos first. I like to roast a bunch of the peppers all at once to use in different recipes or just to eat plain.
In fact, while you're roasting peppers, roast a variety! Along with poblanos, bell peppers (any color) and jalapeño peppers can be roasted, too. Add them to sandwiches, tacos, salads, or almost anything you like. They're so good and nutritious, too.
Freezing Poblanos
Roast a big batch of poblanos and freeze them for future use in recipes. It's a great meal prep idea, and it makes sense to just do a bunch of peppers if you're already taking the time to do it. Pack them into freezer bags in a single layer and freeze them for up to a year.
I'll get you started on the recipe here with lots of extra tips and info. You'll find the printable recipe card near the end of the post, with complete directions and nutrition information.
What You'll Need
Roasted Poblano Peppers: You'll need three roasted peppers. Bell peppers can be substituted if you prefer less heat.
Onion and Garlic: These two members of the allium family add lots of flavor.
Unsalted Butter and Olive Oil: The onion and garlic are sautéed in a mixture of these two fats. You can use all butter or all olive oil if you prefer.
Flour: A couple tablespoons of all-purpose flour helps thicken the queso.
Chili Powder and Ground Cumin: For lots of southwestern flavor!
Milk: Choose whole milk or 2% milk. Lowfat or nonfat just doesn't work as well and this is queso, after all. We're not trying to make a nonfat product here.
Sharp Cheddar Cheese: Sharp cheddar has tons of flavor. If you prefer pepper Jack or Monterey Jack, that's okay!
Cream Cheese: When cream cheese is melted into a dip, you get a super creamy texture and flavor.
Cilantro: Fresh cilantro is so good with rich queso but if you don't care for it, either omit it or substitute fresh parsley.
Tortilla Chips: You'll need lots of tortilla chips to scoop up this cheesy goodness.
How To Make This Queso
Once you have the poblanos prepared, you're ready to go. You'll begin by sautéing chopped onions in a skillet, then adding minced garlic and the poblanos.
Next, add chili powder, cumin, and a few tablespoons of all-purpose flour to the pan, and stir this mixture around a few minutes as it heats and covers the vegetables in the pan. This creates a roux or a thickener for your queso. Slowly add milk to the pan, stirring constantly until the sauce is thickened and hot.
A lot of stirring, I know, but we're almost there now! Cheese time! Lower the heat, and stir in a block of cream cheese and shredded cheddar cheese, stirring until the cheese is melted.
Sprinkle the dip with fresh chopped cilantro and your poblano queso dip is ready to serve! Somebody grab the chips and let's get eating. Oh, I guess you could put the poblano queso dip into pretty bowl first if you want to get all fancy.
Poblano queso and chips go really well with a glass of Dos Equis or Bell's Oberon, or another one of your favorite beers. Just sayin'! Don't forget the orange wedge!
Keeping Queso Warm
Queso will solidify slightly as it cools. Keep warm over low heat on the stovetop or in a slow cooker set on the "warm" setting, so it stays warm, melty, and dippable.
FAQs
What is a Mexican poblano?
According to our friends at Wikipedia, poblanos are mild chili peppers that originated in the state of Puebla, Mexico. When dried, they're called ancho peppers. They are dark purplish green to almost black in color, and are about the same length as bell peppers but not as wide.
Are poblano peppers hot?
Poblanos are mildly spicy and can sometimes be quite spicy. Even peppers from the same plant can vary widely. The only way to tell is to take a little nibble. On the Scoville Scale, they rank about fifth lowest, lower than jalapeño peppers but much hotter than bell peppers which are at the very bottom with zero heat.
Do poblano peppers need to be peeled?
The skin can be a little tough and hard to digest. When you roast poblanos, the skin peels off very easily and can be discarded.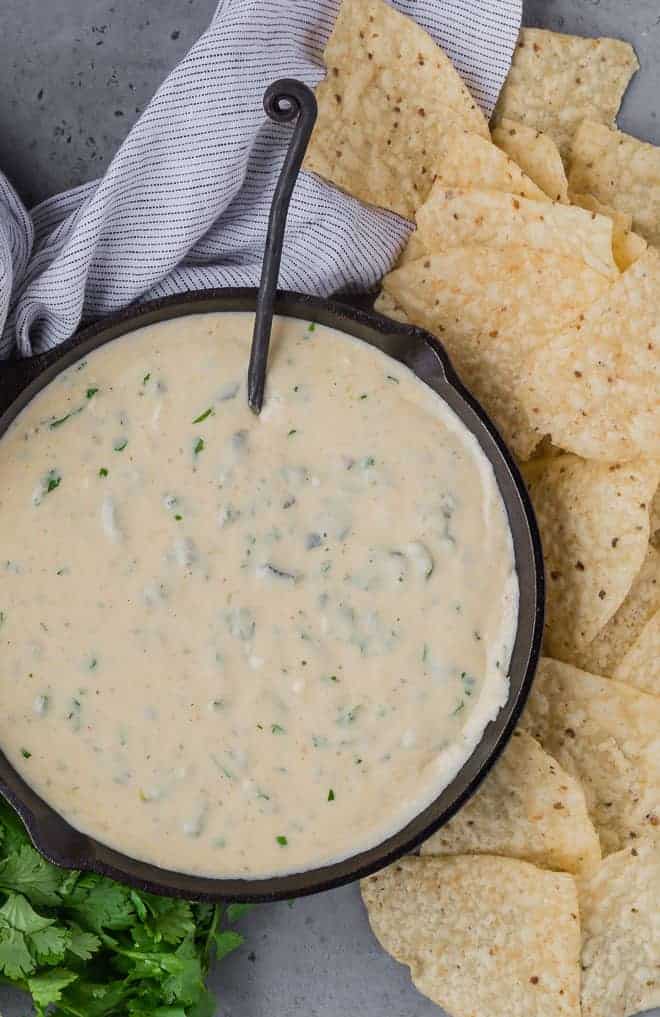 Make It Your Own
Spice level: Like I mentioned above, poblano peppers seem to vary in heat. Taste your dip and if you feel that it's not spicy enough, stir in additional chili powder, or ground cayenne. Chopped jalapeño peppers are tasty, too.
Watching your calories? Well, I have to say, this isn't a low-fat recipe. Is queso ever really a diet food? Probably not, but you can substitute low-fat milk or lower fat cream cheese. Just a warning, though, these substitutions will affect the texture of your dip. Better yet, stir the chopped poblano peppers into this Healthy Queso Dip that's made with frozen butternut squash. It's really good!
Instead of cheddar cheese, try a Mexican blend, Monterey Jack, Pepper Jack or Colby-Jack cheese.
Substitute roasted red bell peppers for the poblano peppers. Or skip the roasting part, and sauté chopped peppers of your choice right with the onions.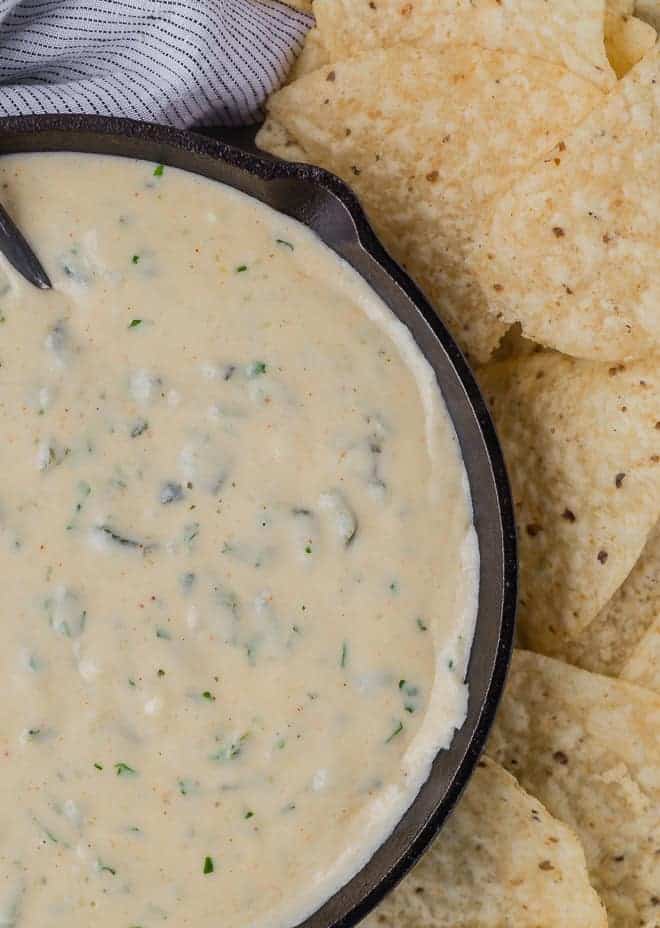 Storage & Reheating Tips
Cover leftover poblano queso dip tightly, and store in the fridge for up to 4 days.
That's assuming it hasn't been left on your counter for several hours while everyone's been dipping chips into it. I wouldn't recommend saving that leftover dip, but you know what? I bet there won't be much left over anyways, it's too good. The bowl will probably be scraped clean.
To reheat, slowly warm over low heat on the stovetop while stirring frequently.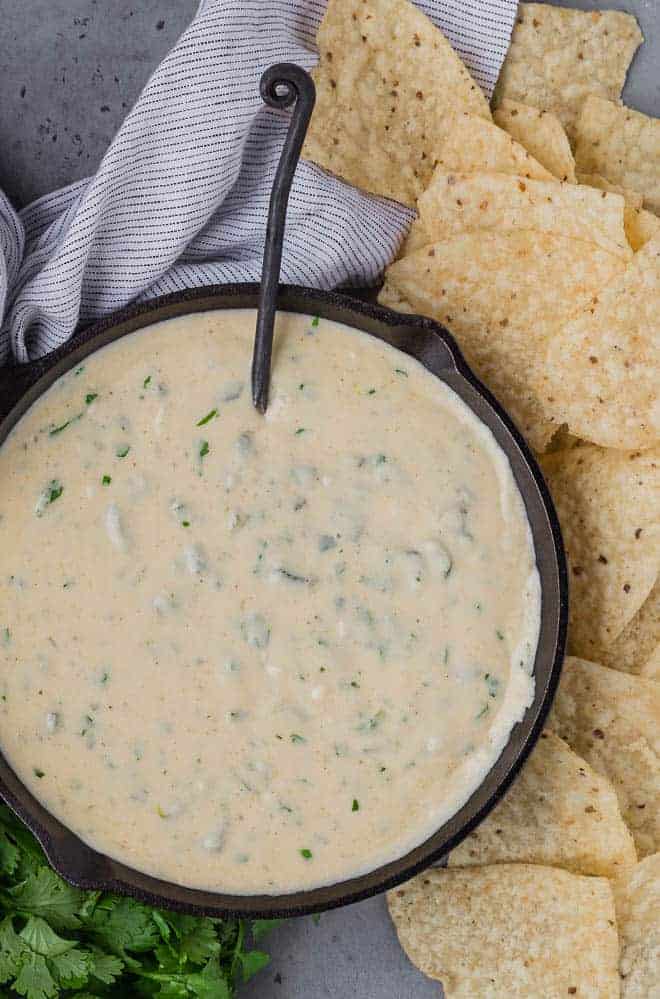 More Southwest Style Dips
Queso isn't the only kid on the block. Try a few of my favorite Mexican style dips:
Did you make this? Be sure to leave a review below and tag me @rachelcooksblog on Facebook, Instagram, or Pinterest!
Creamy poblano queso dip, studded with flavorful roasted poblano peppers, is pleasantly spicy but not fiery. Enjoy it as a dip or a topping for tacos or nachos.
Ingredients
2

tablespoons

unsalted butter

1

tablespoon

extra virgin olive oil

½

cup

diced yellow onion

(about one small onion)

3

poblano peppers,

roasted and diced (see note)

1

clove

garlic, minced

3

tablespoons

all-purpose flour

1/2

teaspoon

chili powder

1/4

teaspoon

ground cumin

2

cups

2% or whole milk

8

ounces

sharp cheddar cheese,

shredded

4

ounces

cream cheese,

softened

2

tablespoons

minced fresh cilantro

Tortilla chips for serving
Instructions
In a medium sized skillet, heat butter and oil over medium heat. When butter is melted, add onions and cook for 3-4 minutes or until translucent. Add peppers and garlic and cook, stirring, for 2 minutes or until fragrant.

Add flour, chili powder, and cumin, and cook for 2-3 minutes while stirring constantly.

Slowly add milk while stirring constantly. Add chili powder and cumin. Cook for 4-5 minutes, stirring frequently, until thickened.

Reduce heat to low and stir in cheddar and cream cheese until melted. Stir in cilantro.

Serve warm with chips.
Notes
Nutrition information is based on a quarter cup per serving and does not include tortilla chips.
Bell peppers may be substituted for the poblano peppers. If desired, skip the roasting step and add diced fresh peppers to the skillet with onions and

sauté until softened.

It's best to buy a block of cheese and grate it yourself for the smoothest queso.
Queso will solidify slightly as it cools. Keep warm over low heat on the stovetop or in a slow cooker set on the "warm" setting. To reheat, slowly warm over low heat on the stovetop while stirring frequently.
Nutrition Information
Serving:
1
/4 cup
,
Calories:
171
kcal
,
Carbohydrates:
6
g
,
Protein:
7
g
,
Fat:
13
g
,
Saturated Fat:
8
g
,
Polyunsaturated Fat:
1
g
,
Monounsaturated Fat:
4
g
,
Trans Fat:
1
g
,
Cholesterol:
38
mg
,
Sodium:
169
mg
,
Potassium:
155
mg
,
Fiber:
1
g
,
Sugar:
3
g
,
Vitamin A:
555
IU
,
Vitamin C:
25
mg
,
Calcium:
199
mg
,
Iron:
1
mg
This website provides approximate nutrition information for convenience and as a courtesy only. Nutrition data is gathered primarily from the USDA Food Composition Database, whenever available, or otherwise other online calculators.