Crispy Sweet Potato Tacos – Vegan
Beer marinated roasted sweet potatoes, charred corn, creamy avocado, crisp onions, and fresh cilantro, wrapped in a soft corn tortilla, make these vegetarian sweet potato tacos a taste sensation!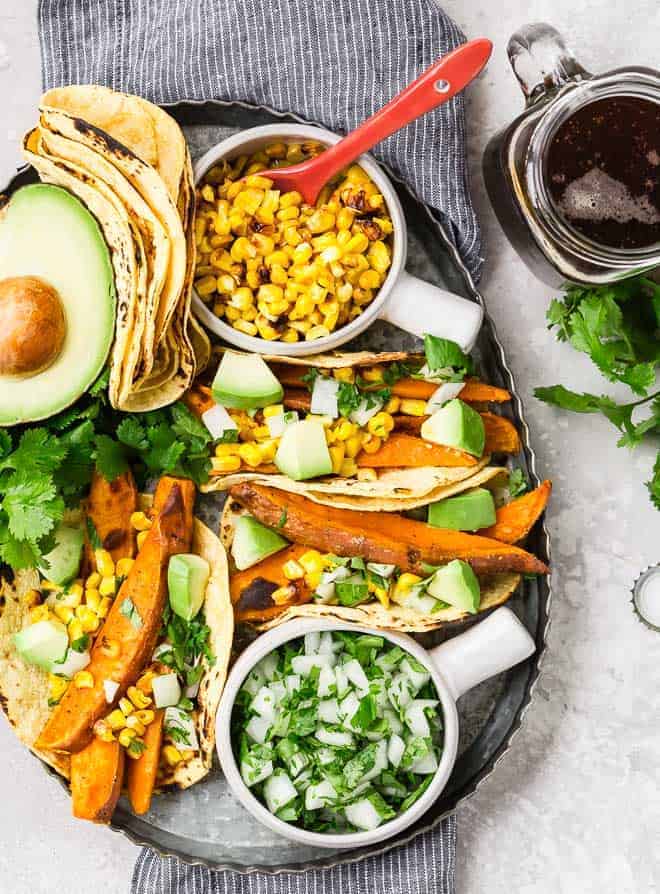 You're going to love these amazing crispy sweet potato tacos. They have everything going for them, involving nearly all the senses.
Imagine the texture: buttery roasted sweet potatoes, chewy bits of corn, crisp fresh onions, creamy avocado, leafy cilantro. Then the flavorful smells: malty beer marinade as the potatoes slowly roast, the sharp bright flavor of onions and cilantro, corn tortillas toasting. The colors are so beautiful too: deep orange potatoes, lightly browned, golden yellow corn, bright avocado, fiery red hot sauce, and deep cilantro green. And you haven't even taken a bite yet!
The recipe comes from my friend and colleague, Jackie of The Beeroness. They're from her third book, Lush: A Season by Season Celebration of Craft Beer and Produce, and let me tell you, the book is stunning!
It's a season-by-season guide to cooking with beer, and it's all vegetarian recipes full of amazing, seasonal produce. The photos are gorgeous, and the recipes are flavor-forward, yet still very approachable. More on the book soon. But first… let's talk about these tacos!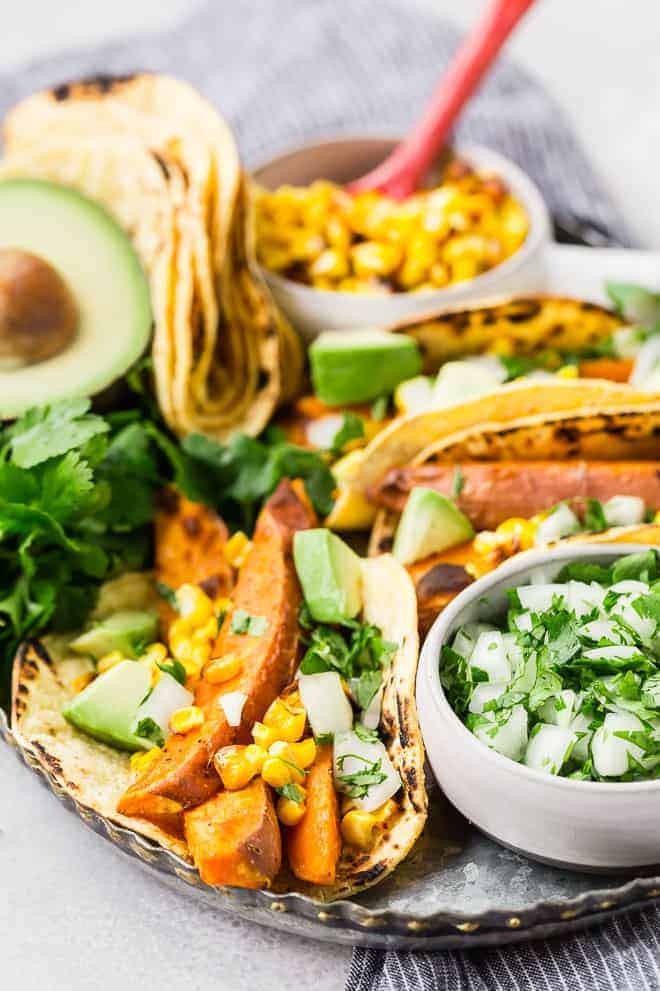 About these sweet potato tacos
The beer marinated sweet potatoes make these tacos so outstanding! You may wonder whether marinating raw sweet potatoes really works (my mom was super skeptical) and I'm here to tell you, the flavor of these marinated sweet potatoes is outstanding.
After cutting the peeled sweet potatoes into long narrow planks, they are submerged in a nice brown ale bath for at least three hours and up to twelve hours. They emerge from this soaking smelling of toasty caramel, kind of yeasty, and…well, like a nice brown ale.
Note:

Jackie recommends a "winter ale" for this recipe. If you're not a beer aficionado, she has you covered with this description:

"Although the idea of a 'winter ale' varies wildly from brewery to brewery, there are some common themes. Most often, beer that has been designated a winter ale falls into the category of a strong ale. However, they can also include anything from an IPA to a stout. Winter warmers are generally higher in ABV, have strong malt profiles, range from dark amber to inky black, and frequently contain spices such as cinnamon, nutmeg, and cloves."

I chose Short's Bellaire Brown for this recipe. Short's is a Michigan brewery, and we love drinking this beer as well as using it in recipes like this one, so it was a great choice for this recipe.
After the sweet potatoes marinate, you'll want to rinse them well and dry them thoroughly for maximum browning in the oven as they roast. But wait, don't put them in the oven yet! First, you're going to coat them with a nice even layer of olive oil, a little garlic and onion powder, and salt and pepper.
Spread them flat on a large rimmed baking sheet and roast until those sweet potato planks are soft on the inside and crisp on the outside. Perfect! I like mine nice and brown so I broil them a few extra minutes.
The crispy sweet potatoes are the base of these tacos. Next comes charred corn. I add corn to the baking sheet with the sweet potatoes to char it lightly.
To heat the corn tortillas, set each tortilla over a gas flame for a few seconds on each side or use a hot skillet to heat them.
Beer flavored sweet potatoes, charred corn, crisp onions, creamy avocado, fiery hot sauce, and fresh cilantro, wrapped in a flavorful corn tortilla! Doesn't get much better than that!
How to make these tacos your own
As I mentioned above, the sweet potatoes are the base of these tacos. While the beer marinated, roasted sweet potatoes are a grand slam, you could also use mashed, grilled, or these spicy sweet potatoes.
For more protein, add black beans, refried beans, cheese, or sour cream. You could add grilled chicken or taco meat, seasoned with my homemade taco seasoning.
To add more spiciness, top them with this homemade restaurant style salsa, or another salsa of your choosing. Salsa verde is really, really good on these crispy sweet potato tacos! Another great ideas would be pickled red onions (which are good on almost anything!).
You could add shredded lettuce or kale for fresh crispiness.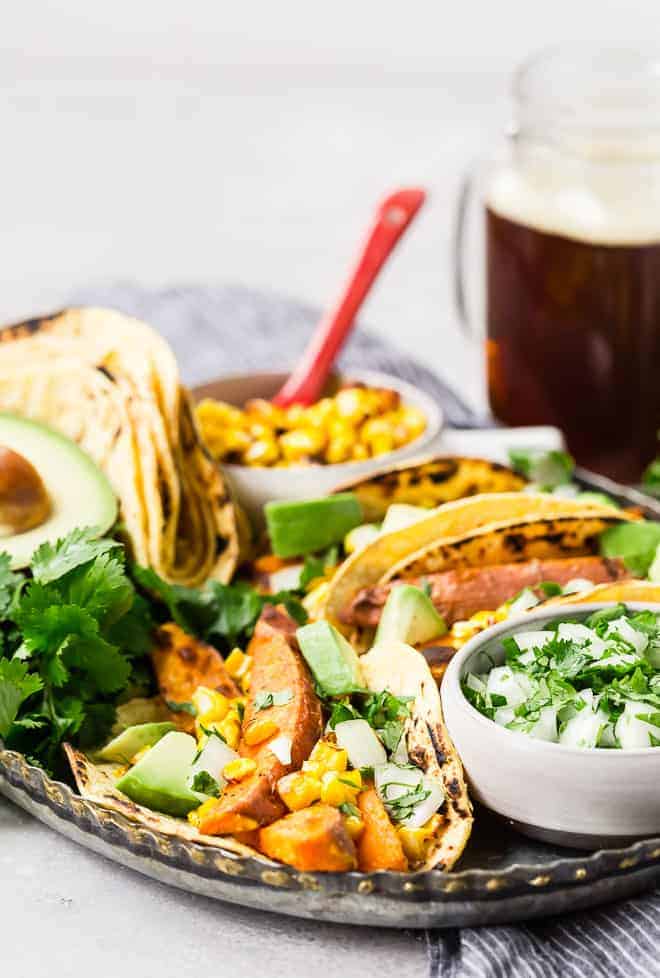 About LUSH: A Season by Season Celebration of Craft Beer and Produce
Highly recommend this book, you guys! It's not only full of great recipes, but it's contains a ton of super informative content about beer as well as cooking seasonly. Food tastes better when it's in season and fresh, so this is a fantastic way to approach cooking and to prevent boredom in the kitchen.
Here are some more recipes I can't wait to try:
Salt-Roasted Golden Beets with Whipped Belgian Ale Mascarpone and Herb Gremolata
English Pea and Bock Risotto
Grilled Romain with IPA-Pickled Strawberries (YUM)
Beer-Sautéed Apple, Caramelized Onion, and Brie Sandwiches
Blueberry-Lavender Summer Ale Clafoutis
Roasted Cabbage Wedges with Feta-Mustard Beer Vinaigrette
Mexican Street Corn Beer Cakes with Chipotle Creme
Spiced Rutabaga and Porter Cake
Truth be told, that was a really hard list to write because I want to make so many recipes in this book! It's definitely worth checking out if I haven't convinced you yet!
Tip: This book would be great for gift giving to any beer-lover in your life! Pair it with a six-pack of their favorite beer (or even better, a custom mixed six-pack and you're good to go!
Reheating and Storage Tips
These are definitely best eaten right away! If you want to make the crispy sweet potato planks ahead of time, you could roast them a day or two ahead. I would store them in a large container so you can kind of spread them out. To serve, reheat on a roasting pan under the broiler for about 5 minutes so they crisp up again as they reheat.
Other vegetarian and vegan taco recipes
If you love these as much as I do, I'm guessing you'll love these recipes too! They have so many flavorful ingredients that even meat lovers won't miss the meat.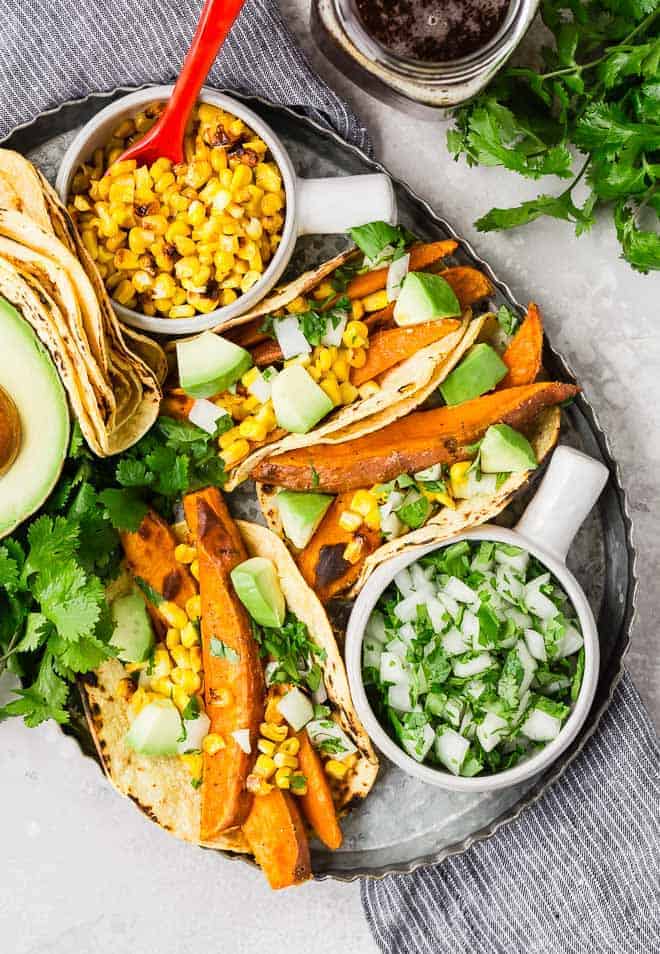 Did you make this? Be sure to leave a review below and tag me @rachelcooksblog on Facebook, Instagram, or Pinterest!
Beer marinated roasted sweet potatoes, charred corn, creamy avocado, crisp onions, and fresh cilantro, wrapped in a soft corn tortilla, make these vegetarian sweet potato tacos a taste sensation!
Ingredients
2

large

sweet potatoes, cut into ½ inch wedges

1

tablespoon

+ 1 teaspoon kosher salt, divided

1 ½

cups

winter ale

(see note)

2

tablespoons

extra virgin olive oil

½

teaspoon

onion powder

½

teaspoon

garlic powder

½

teaspoon

freshly ground black pepper

12

corn tortillas, lightly browned over a gas flame or in a hot skillet

1

cup

frozen corn kernels, thawed

(see note)

1

avocado, peeled and diced

½

medium white onion, chopped

¼

cup

chopped fresh cilantro leaves

Hot pepper sauce, for serving
Instructions
Put the sweet potato wedges in a large, shallow bowl. Sprinkle

1

tablespoon of the salt over them and add the beer. Add enough water to fully submerge the potato wedges. Cover the bowl and refrigerate for at least 3 hours and up to 12 hours.

Position a rack in the top third of the oven. Place a rimmed baking sheet on the rack. Preheat oven to 425ºF.

Drain the potatoes and rinse well. Pat them dry with paper towels, removing as much moisture as possible to help them crisp. Transfer them to a large bowl. Add the olive oil, onion powder, garlic powder, pepper, and remaining

1

teaspoon of salt and toss to coat.

Transfer the potatoes to the preheated baking sheet and spread them out in a single layer. Bake for 15 minutes. Flip the potatoes over and bake for an additional 10 minutes or until the undersides are golden brown. Remove the potatoes from the oven and transfer to paper towels to drain.

Optional: If you would like the sweet potatoes to brown a bit more, put them under the broiler for about 5 minutes after roasting them. You can also add the corn to the pan at this point (see note).

Top each tortilla with 2 or 3 sweet potato wedges and a spoonful of the corn, avocado, onions, cilantro, and hot sauce. Serve.
Notes
I chose a brown ale with caramel notes for this recipe.
To char the corn, add it to the baking sheet with roasted sweet potatoes, spray it lightly with olive oil and broil it until lightly charred.
Make Ahead: Sweet potatoes can be marinated up to 24 hours in advance.
Recipe used with permission from Lush: A Season by Season Celebration of Craft Beer and Produce, by Jacquelyn Dodd.
Nutrition Information
Serving:
2
tacos
,
Calories:
292
kcal
,
Carbohydrates:
45
g
,
Protein:
6
g
,
Fat:
12
g
,
Saturated Fat:
2
g
,
Polyunsaturated Fat:
2
g
,
Monounsaturated Fat:
7
g
,
Sodium:
436
mg
,
Potassium:
624
mg
,
Fiber:
8
g
,
Sugar:
6
g
,
Vitamin A:
11694
IU
,
Vitamin C:
17
mg
,
Calcium:
74
mg
,
Iron:
1
mg
This website provides approximate nutrition information for convenience and as a courtesy only. Nutrition data is gathered primarily from the USDA Food Composition Database, whenever available, or otherwise other online calculators.
Verdict: I absolutely love these tacos. I couldn't believe how much you can taste the flavors of the beer…it was such a pleasant surprise!
Husband's take: I'm not sure Ben has had the opportunity to try these yet!
Changes I would make: None are necessary, but you could definitely have some fun with the toppings!
Difficulty: Easy!