Vegetarian Tacos with Delicata Squash and Black Beans
You'll never miss the meat in these flavorful fall vegetarian tacos made with delicata squash and black beans. Topped with pickled red onions, avocado, and queso fresco, you'll be coming back for more and more!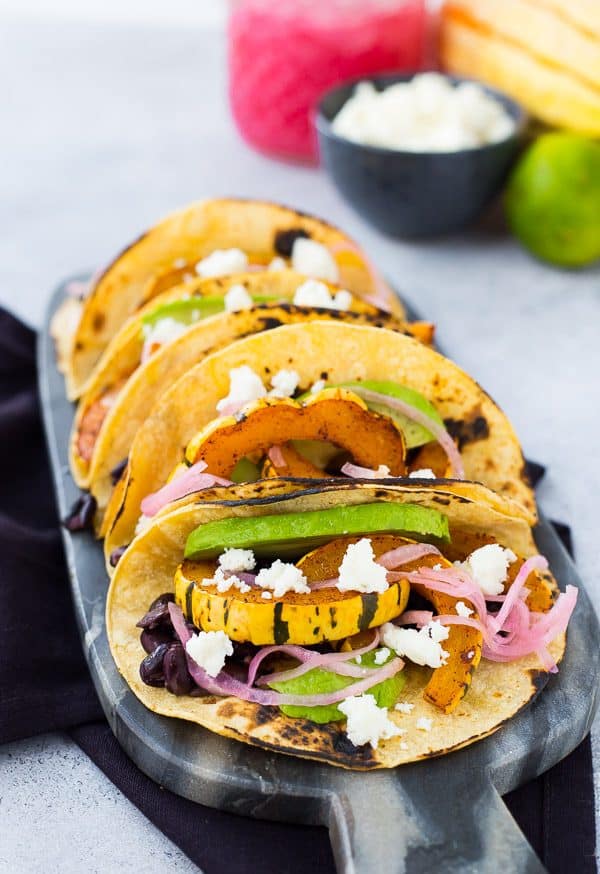 Last Friday we hosted a Harvest Party. Michigan wasn't cooperating and gave us a cold, rainy day. Unfortunately that eliminated our plans of putting up a bounce house for the kids and sitting around the bonfire drinking hot cider. Instead, we had 20 adults and 20 kids inside our house! Sounds amazing, right? Our house is plenty big for us, but it's not a mansion and that number of guests was definitely pushing the upper limits of capacity. It was pure chaos, but everyone had a great time and all 20 of the kids got along really well, thankfully!
When we moved into this house, the basement was finished but they let their cats urinate everywhere down there. The smell was AWFUL but we took our chances and put an offer in anyways. We pulled out the carpet as soon as we moved in, along with the carpet pad, AND two feet of drywall. We sealed the floor with a primer type sealant. Then, we waited a year to go through all the seasons and make absolutely sure the smell was gone.
Now, we finally have a designer and a contracter lined up. The basement is about 1/3 of our house so I'm thrilled that we're going to have it available for use in a few months. Anyways, long story short, I'm happy that we'll have a little more space for next year's Harvest Party.
PS: I made this beef chili – it was such a hit last year that I wasn't allowed to not make it this year. I highly recommend it! The beef melts in your mouth and the flavors are amazingly complex and delicious. I always make white chicken chili, too, for those friends who don't care for beef, and often vegetarian chili, too.
About these vegetarian tacos
Now let's talk about these vegetarian tacos!!!! I'm really excited about these, you guys. On Monday, I went on and on about how much I love delicata squash and how to cook delicata squash, And as promised, these tacos are a fun way to use it. Make the squash exactly the same way as I describe on Monday except sprinkle it with a little chili powder to give it a southwestern spin for these tacos.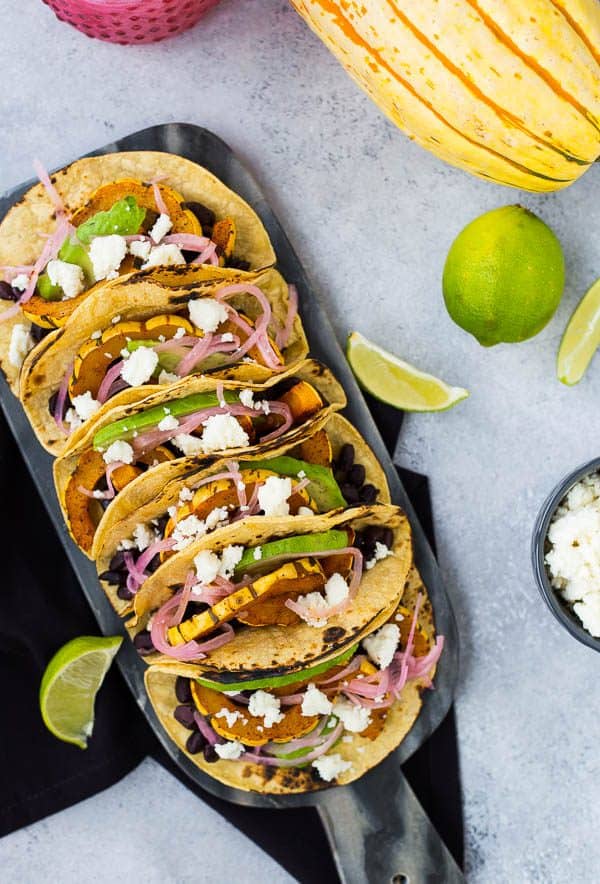 Try corn tortillas — they have such great texture and flavor. These vegetarian tacos are also fantastic with flour tortillas if that's more your style. The fillings are also great in lettuce wraps if you're looking to cut carbs.
Fill the tortillas with crispy roasted squash, creamy black beans, and then the toppings! Sometimes toppings are optional but in this case, I'd argue that they aren't optional, you're going to want them all! Queso fresco, creamy avocado, tangy pickled red onions (check out this post to see how to pickle red onions in five minutes!), and a good hearty squeeze of lime! Homemade salsa verde is really excellent, too.
I really hope you try these because I know you're going to love them as much as I do! If you want to add a bit more protein, try crispy air fryer tofu.
Tip: Pickle the red onions a day in advance so they're ready to go. They taste even better if you make them ahead.
More Vegetarian Eats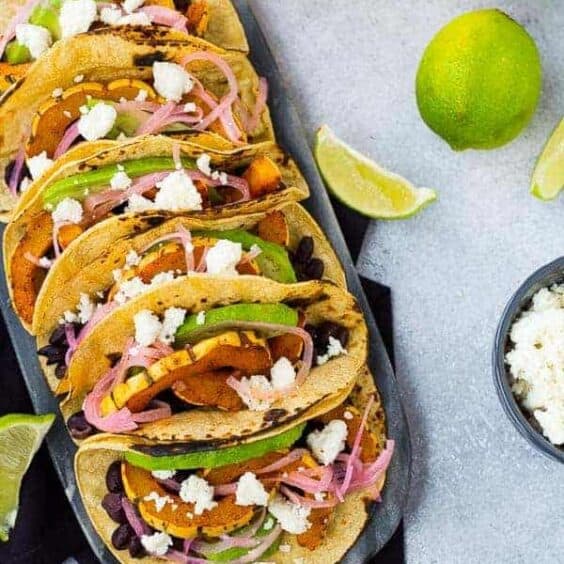 Vegetarian Tacos with Delicata Squash and Black Beans
Yield: 6 tacos
Prep Time: 10 minutes
Cook Time: 35 minutes
Total Time: 45 minutes
You'll never miss the meat in these flavorful fall vegetarian tacos made with delicata squash and black beans. Topped with pickled red onions, avocado, and queso fresco, you'll be coming back for more and more!
Ingredients
1 delicata squash, scrubbed, seeds removed and sliced into 1/4-inch thick half moons
1 teaspoon olive oil
1/4 teaspoon salt
1/2 teaspoon chili powder
6 corn tortillas, warmed
6-9 tablespoons black beans (from 1 can (15oz) black beans, rinsed and drained), warmed
6 teaspoons pickled red onions
6 teaspoons crumbled queso fresco
1 avocado, sliced
1 lime
Instructions
Preheat oven to 425ºF. Toss delicata squash slices with olive oil, salt, and chili powder. Spread in a single layer on a sheet pan (line with parchment paper for easy clean up).
Roast for 20 minutes, flip each slice, and continue to roast for another 15 minutes or until golden brown on the outside and tender on the inside.
Assemble tacos: Place black beans in warmed tortillas, add squash, red onions, queso fresco, and avocado. Finish with a generous squeeze of fresh lime juice before enjoying immediately.
Nutrition Information:
Yield: 3
Serving Size: 2 tacos
Amount Per Serving:
Calories: 332
Total Fat: 14g
Saturated Fat: 3g
Trans Fat: 0g
Unsaturated Fat: 11g
Cholesterol: 4mg
Sodium: 419mg
Carbohydrates: 49g
Fiber: 13g
Sugar: 9g
Protein: 9g
RachelCooks.com sometimes provides nutritional information, but these figures should be considered estimates, as they are not calculated by a registered dietician. Please consult a medical professional for any specific nutrition, diet, or allergy advice.