Oven Roasted Sweet Potatoes
Oven roasted sweet potatoes are delicious just as they are, or they can be seasoned in a variety of ways. Easy to make and so yummy!
Recipe Overview
Why you'll love it: These roasted sweet potatoes are healthy, super easy, and so versatile.
How long it takes: 10 minutes to prep, 35 minutes in the oven
Equipment you'll need: bowl, large sheet pan, spatula, oven
Servings: 6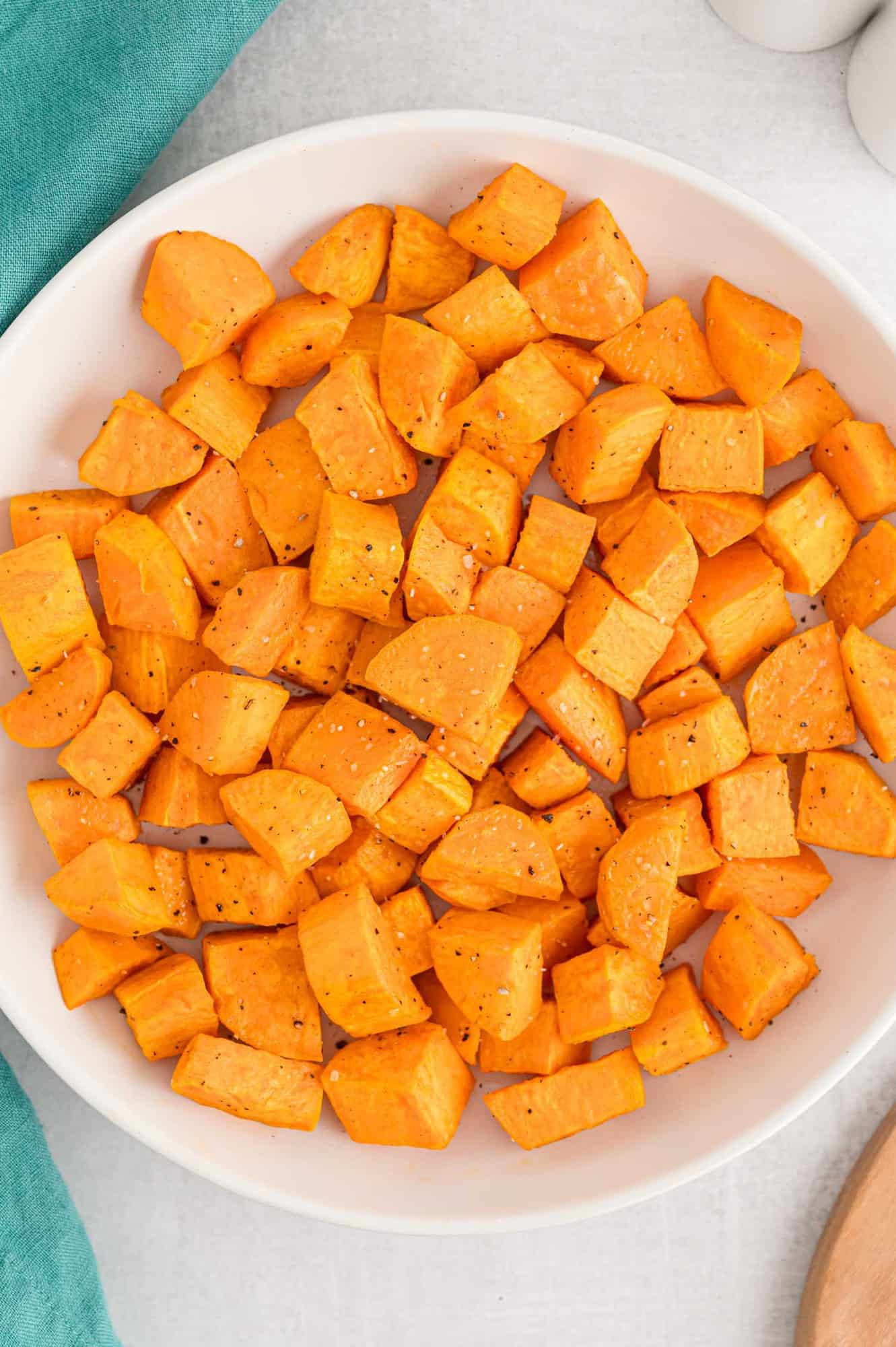 I've been making these like a crazy lady.
I'm talking once a week! And I'm not just talking about November and Thanksgiving. Summer, winter, spring, or fall, doesn't matter, I'll be eating these sweet potatoes.
Roasted sweet potatoes make a great side dish that goes with pretty much any meal, breakfast, lunch, and dinner. They are so delicious in a variety of ways.
And you know what? They are nutritious, low in calories, and have gobs of Vitamin A and antioxidants. This is a win-win situation!
Ways to eat roasted sweet potatoes
Side Dish for Dinner
What goes with roasted sweet potatoes? They go great with pretty much any meat: BBQ salmon, air fryer chicken breasts, breaded pork chops, meatballs, you name it. Lately we've been loving this quick and easy pork tenderloin with apples and onions.
Burrito Bowl
I love, love, love them in a burrito bowl. They add a rich sweet contrast to the usual components — rice or cauliflower rice, shredded chicken, greens, tomatoes, guacamole and restaurant style salsa or pico de gallo.
Vegetarian Tacos
They're so good combined with black beans or pinto beans to make a healthy vegetarian taco. Add all the toppings you want and you'll never miss the meat! You could easily substitute oven roasted sweet potatoes for the squash in these vegetarian tacos with delicata squash. If that sounds like something you'd like, don't miss crispy sweet potato tacos.
Salads
If a salad is more your thing, try this kale sweet potato salad with quinoa and creamy chili lime dressing. Or just drizzle the creamy chili lime dressing right over the oven roasted sweet potatoes and skip the kale and quinoa. Oh yum, I'm making myself hungry…
Breakfast
I also love them at breakfast. I'll choose a savory breakfast over a sweet one 99% of the time, so these roasted sweet potatoes with a couple of fried eggs or scrambled eggs and fresh fruit is all I really need at breakfast. And coffee. Coffee goes without saying though, am I right? Add candied bacon and you're guaranteed to have a winning day.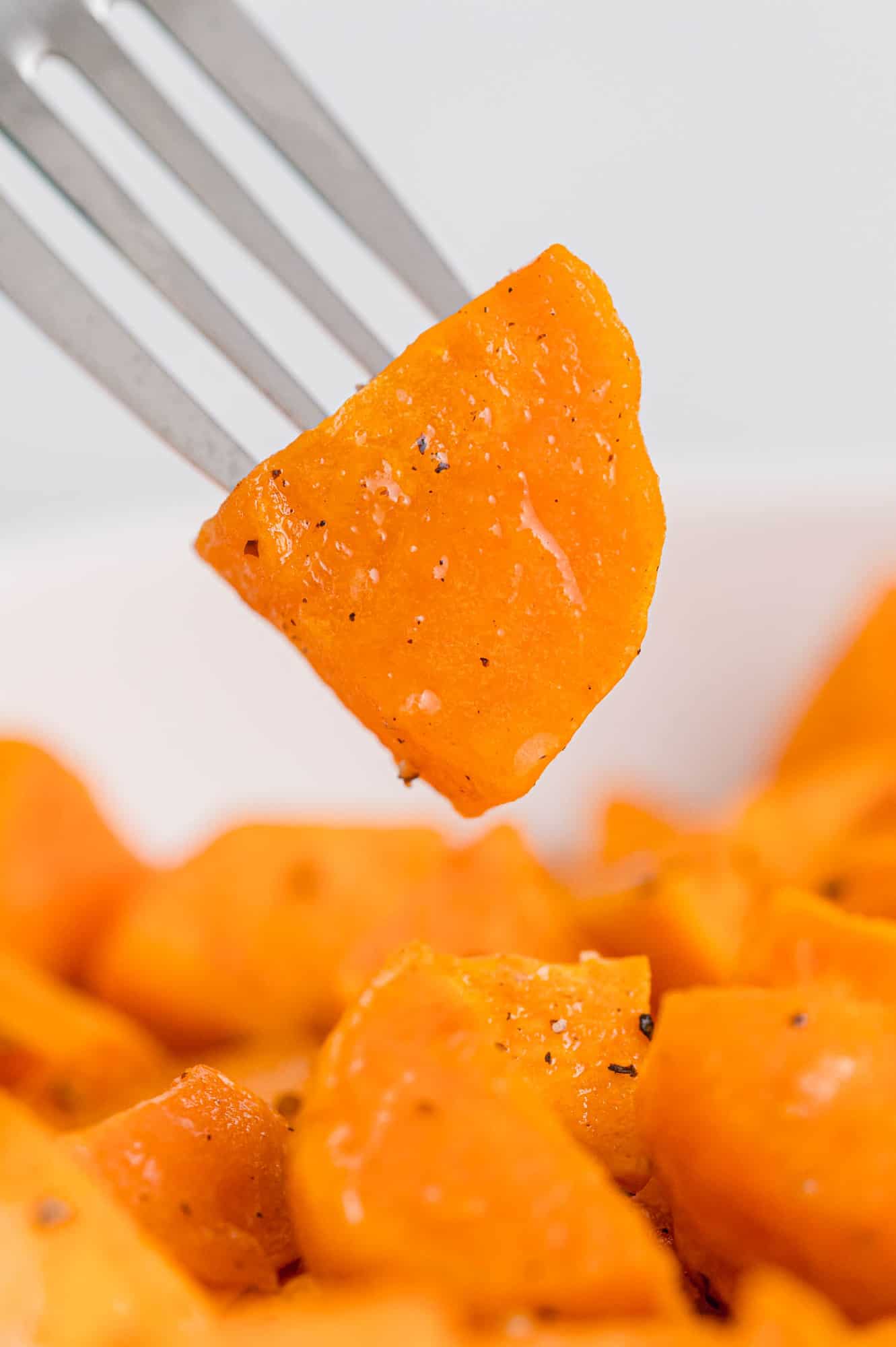 About These Sweet Potatoes
This is a simple, how-to recipe. There are just four basic ingredients: sweet potatoes, olive oil, salt and pepper.
Add seasonings you like. I've included lots of ways you can add variation to the basic recipe. Each one is so delicious — you'll want to try them all!
I'll run through the how-tos here but keep reading for the printable recipe card with complete instructions, measurements, nutrition information, and flavor variations. You'll find it near the end of the post.
Ingredients You'll Need
Sweet Potatoes: Choose sweet potatoes that are smooth skinned and firm, with no cuts or bruises. You'll need three large sweet potatoes, or a comparable amount. It's up to you if you want to peel them or just scrub them.
Olive Oil: Other oils can be substituted if you prefer. Grapeseed, avocado, or melted coconut oil are good choices. Vegetable or canola oil is fine, too.
Salt and Pepper: Use kosher salt and coarse ground pepper if you can. The larger pieces add nice little bursts of flavor to the roasted potatoes.
Optional Seasonings: The potatoes can be seasoned in a variety of ways. Read more about that in the Make It Your Own section or the recipe notes.
Optional Sweeteners: If you like, add a tablespoon of pure maple syrup or honey to the potatoes. They'll deepen the caramelization and add a lot of flavor. This is totally optional though!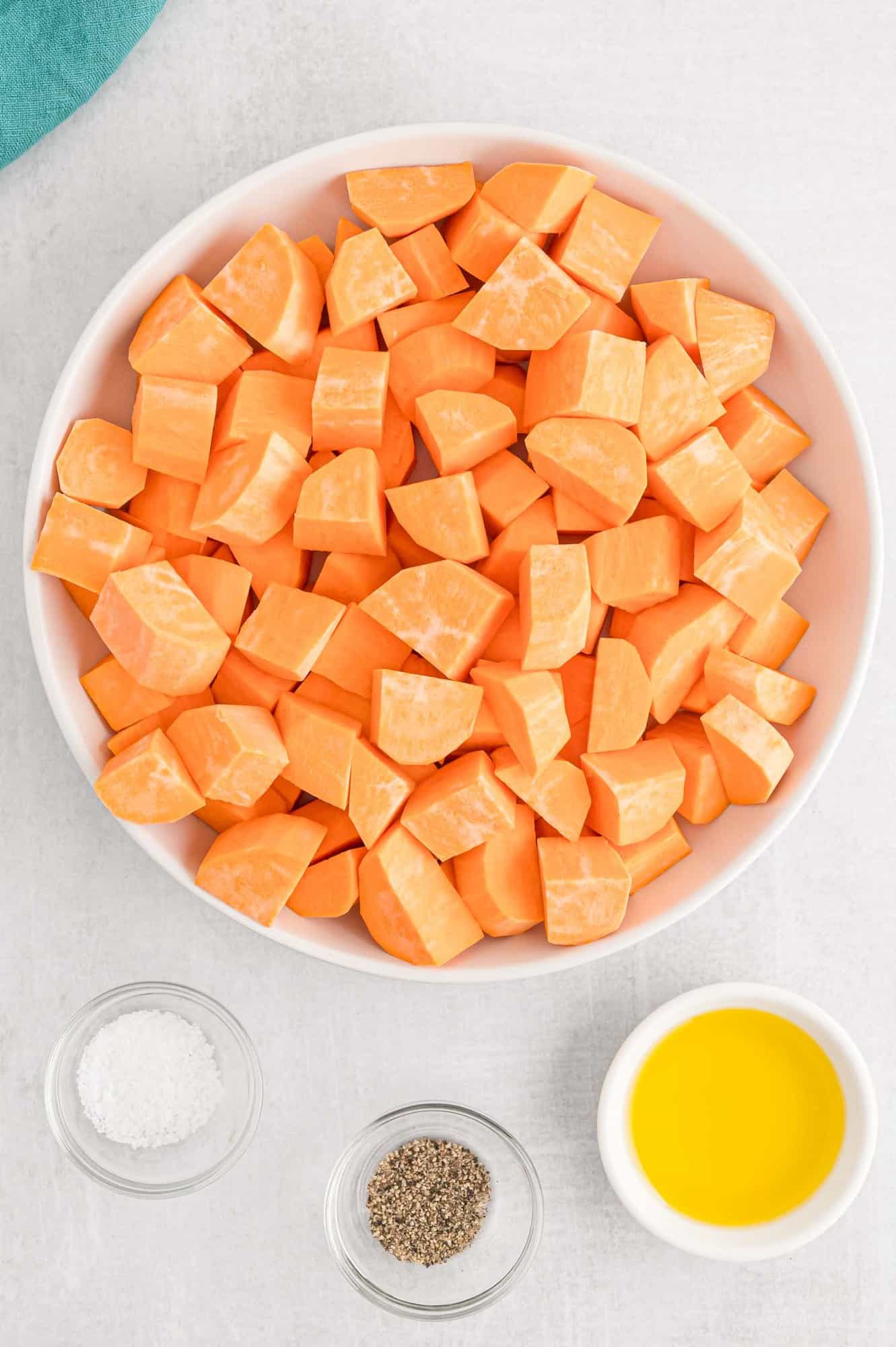 How To Make This Recipe
It's pretty simple. Get your oven preheating (425°F). A nice hot oven is essential for crispy roasted sweet potatoes.
Prep the pan. Get out a large rimmed sheet pan. My sheet pan is well-seasoned (it's used so often!) so it doesn't need to be greased or lined with parchment paper. If you like, give the pan a very light coat of cooking spray or oil. If you want a quick cleanup, line it with parchment paper instead. I find that the potatoes don't get quite as crispy when I use parchment paper but sometimes it's worth it not to have a pan to wash.
Prep the potatoes. Okay, enough about pans! Scrub the potatoes, dry them, and cut off any bad spots, if there are any. Peel them, or don't, that part is up to you. Make sure you don't skip drying the potatoes. Dry equals crisp!
Cube the potatoes into evenly sized pieces and put them into a large bowl.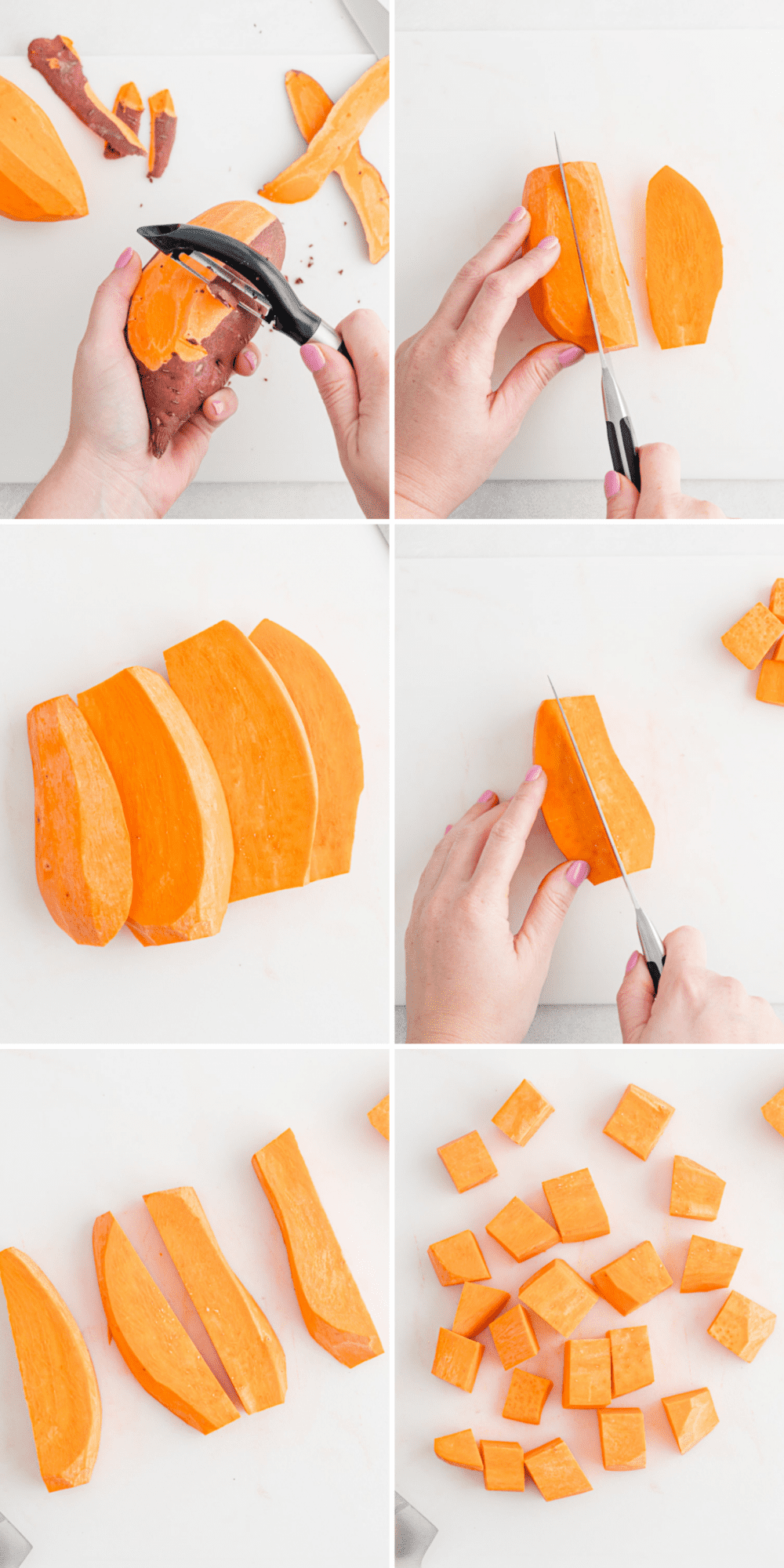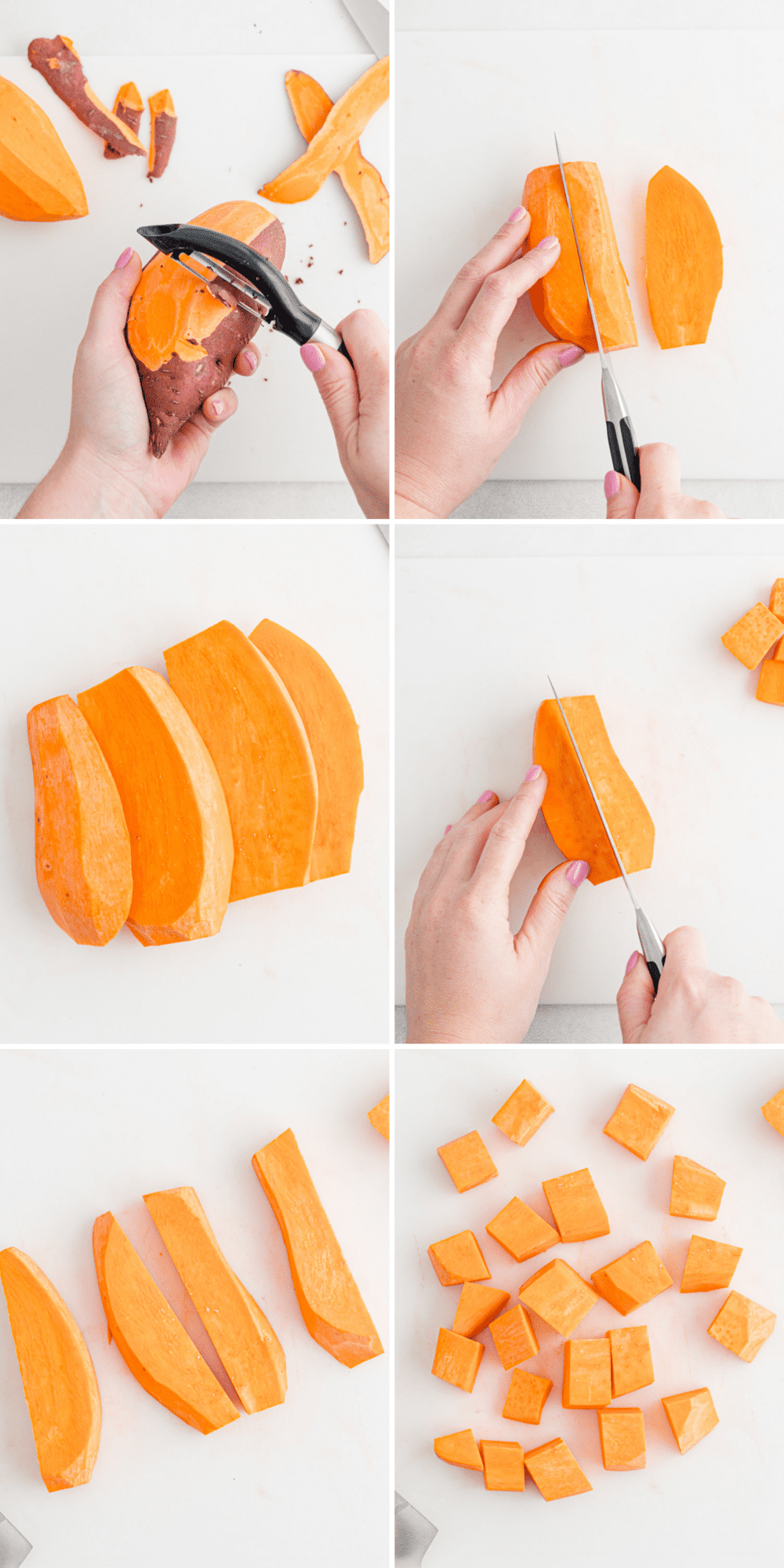 Add oil and seasonings. Pour oil over them along with any seasonings you want to add. Give them a good stir, making sure all the potato chunks are covered in oil. (If I'm in a hurry, sometimes I do this step right on the sheet pan.)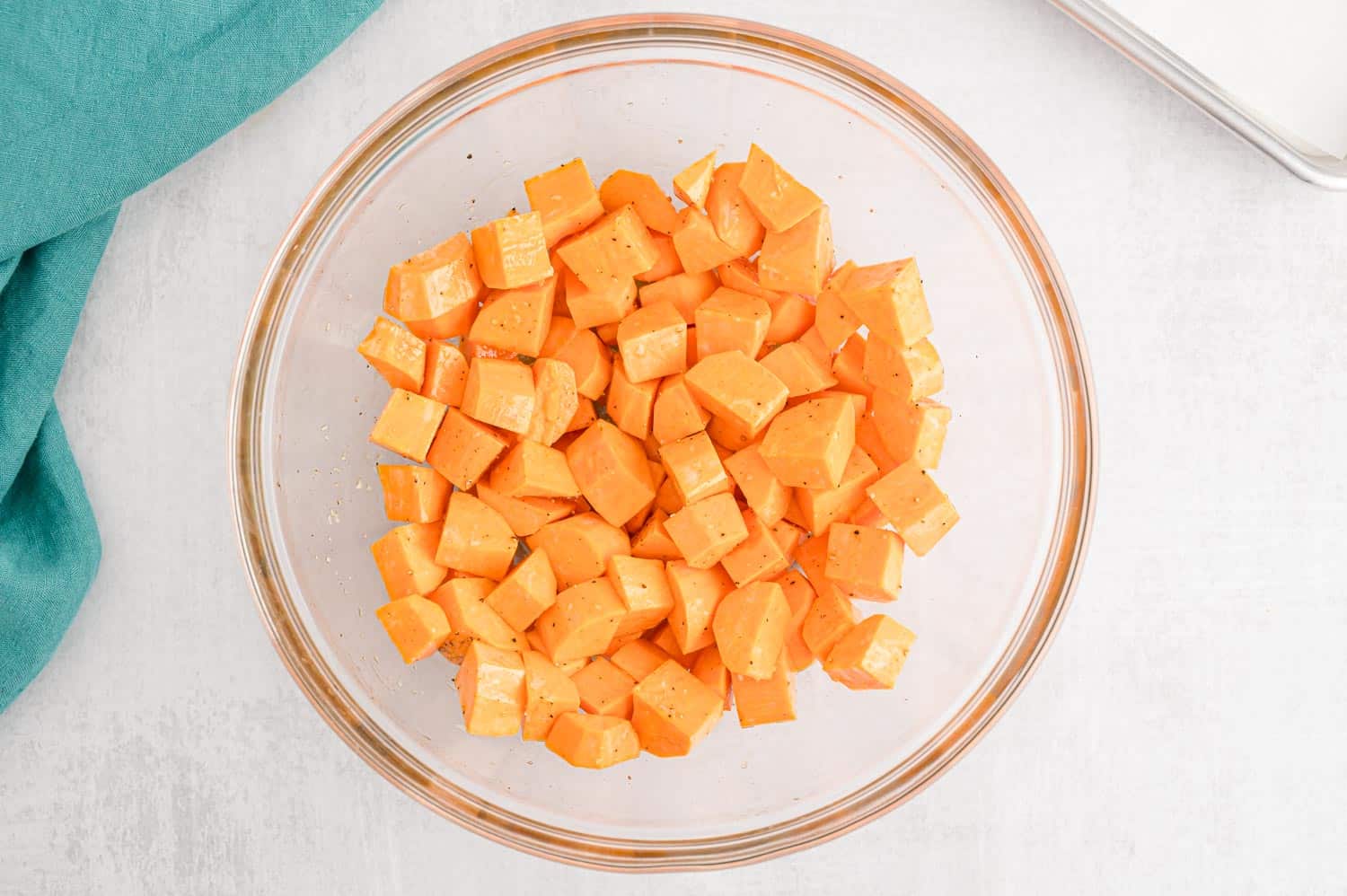 Scrape the potatoes and oil onto the sheet pan. Use a rubber scraper so you get as much oil in the pan as possible. Arrange the potatoes in a single layer.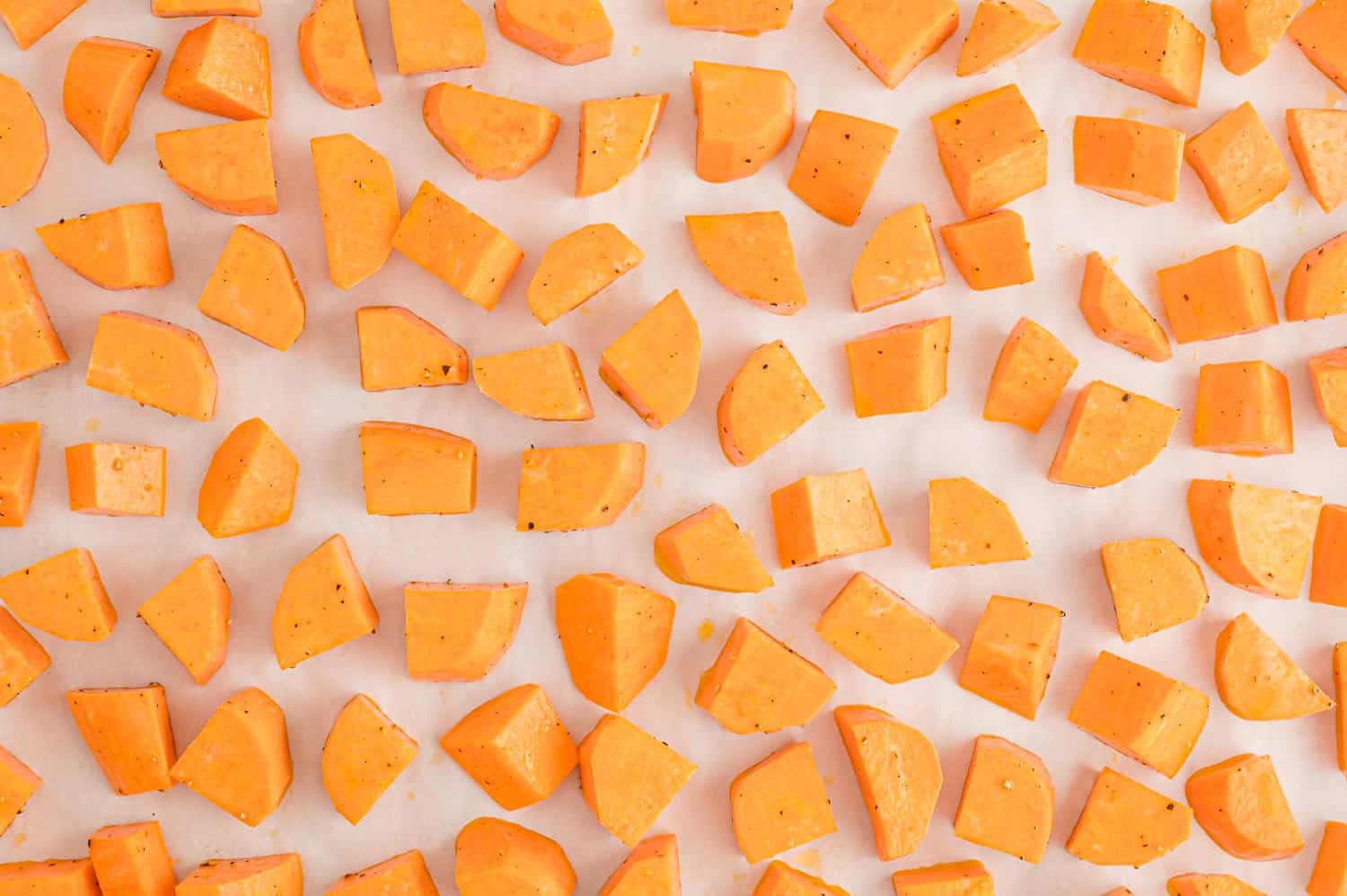 Roast the potatoes. Now your oven is going to do all the work. Simply roast the potatoes for twenty minutes and then take the pan out of the oven and flip the potatoes over with a spatula or tongs (you don't have to be perfect about this, just give them a stir and try to get them flipped if possible). They should release pretty easily and have a golden brown exterior on the bottoms. If not, put them back into the oven for another five minutes or so.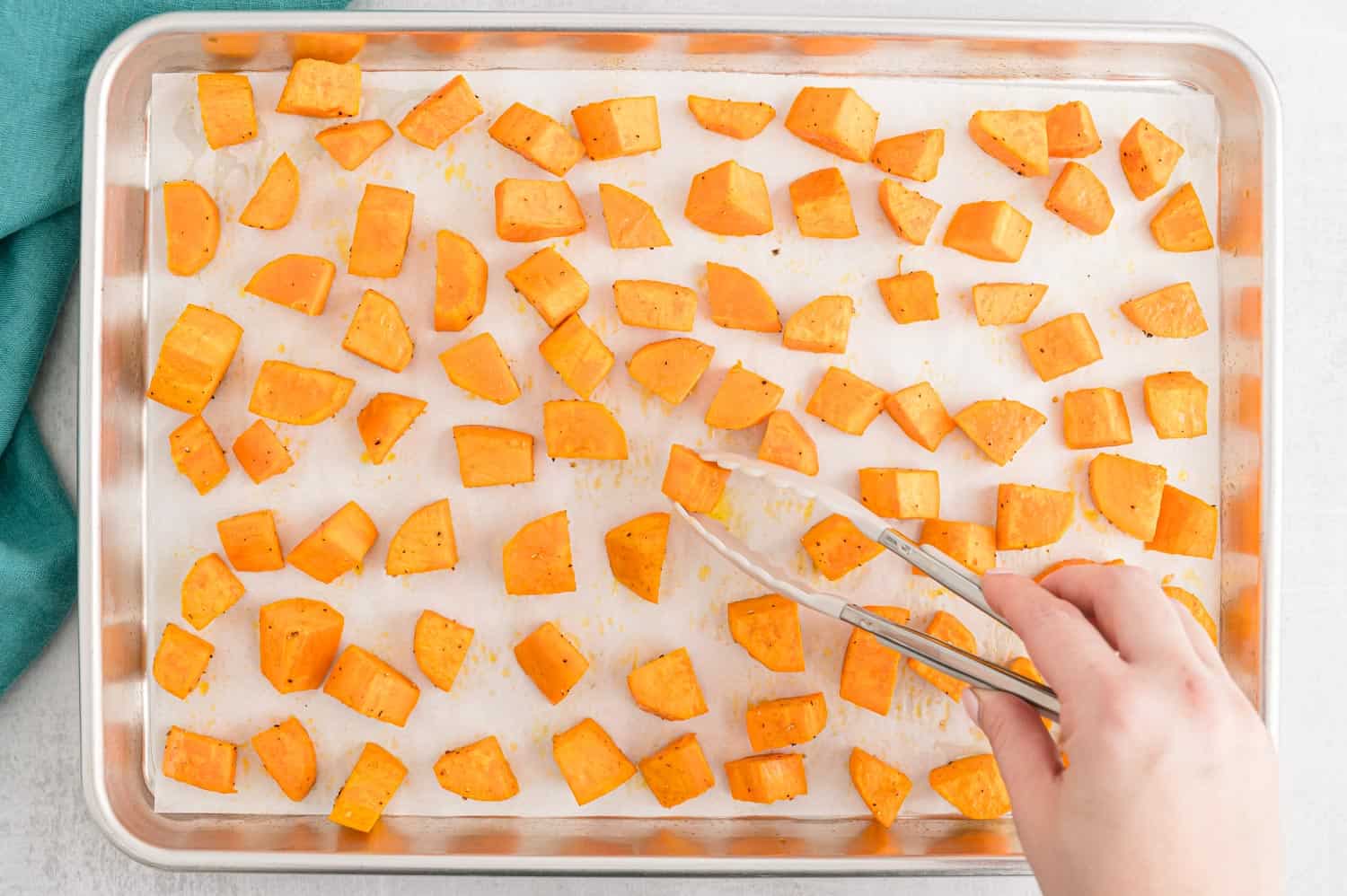 Roast the sweet potatoes for another ten to fifteen minutes, or until they are fork tender. That's it! They are ready to eat. Aren't they beautiful?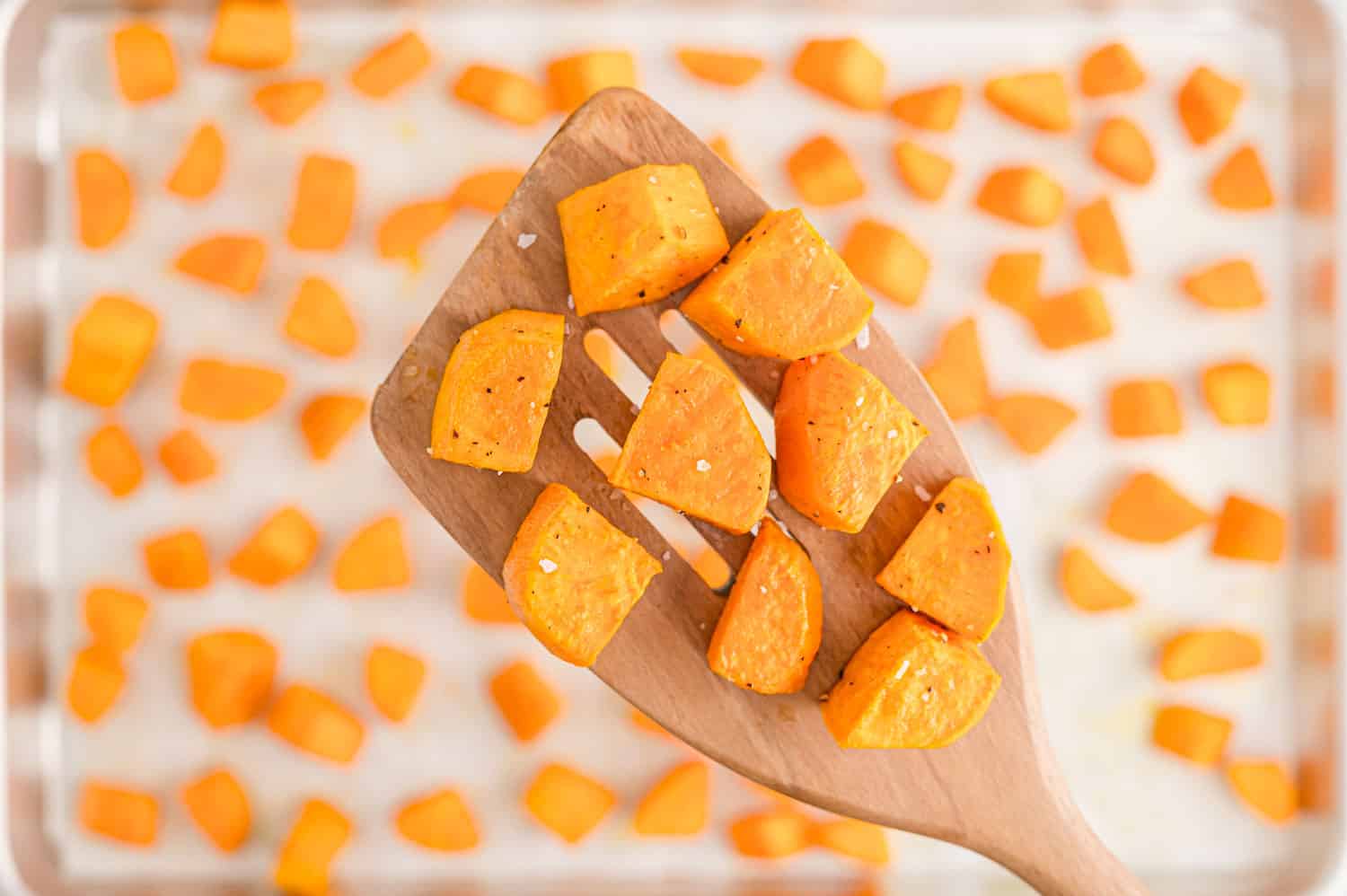 PS: If you love these, try maple mustard roasted sweet potatoes and shallots or check out my full list of roasted vegetables. There are over 40 recipes, from simple roasted vegetables to sheet pan dinners, and even a few things that aren't vegetables!
Make It Your Own
Hot and spicy: Add cayenne powder. A little goes a long way, so start with ¼ teaspoon and work your way up from there. Add a drizzle of hot honey for a sweet spicy finish.
Smoky: Try adding a teaspoon of smoked paprika. Chipotle chili powder will give a smoky flavor, too.
Southwest: If you plan to eat them on tacos or burritos, season them with my homemade taco seasoning (don't use a store-bought package since it contains thickeners and preservatives).
More seasoning ideas: Stir in my homemade all-purpose seasoning or add curry powder, cinnamon, or pumpkin pie spice. Dried herbs are good, too. You can see that the possibilities are almost endless, from savory to sweet.
Air fryer: Want to try making crispy sweet potatoes in your air fryer? Try air fryer sweet potato fries or air fryer sweet potato hash with candied bacon. So good!
Instant Pot: Have you tried cooking whole sweet potatoes in your Instant Pot? They're delicious! Try Instant Pot sweet potatoes.
Casseroles: If you're looking for a more typical sweet potato casserole, try my healthy sweet potato casserole. It's gluten-free, nut-free, and dairy-free. I love vanilla bean mashed sweet potatoes with brown sugar, butter, and vanilla bean paste.
FAQs
What's the difference between a sweet potato and a yam?
A sweet potato is smooth-skinned and orange or reddish brown in color. The inside flesh is orange and somewhat juicy. In contrast, a yam is rough-skinned, almost bark-like and has white, very dry flesh.
Do you leave the skin on sweet potatoes when roasting?
To peel or not to peel, that's the question. Leaving the skin on the potatoes is totally up to you. I usually like to leave it on for three reasons: it's easier not to peel them (yaaay!), the skin increases the fiber you ingest which is is always a good thing, and lastly, the skin is barely noticeable once the potatoes are roasted and crisp.
Why are my roasted potatoes soggy?
Make sure your potatoes are dry before adding the oil. Wet potatoes steam in the oven which makes them soggy.
Don't overcrowd the potatoes by using a pan that's too small. They need lots of air to get crisp.
Make sure your oven is good and hot. It should be preheated to 425°F.
If you feel like your potatoes aren't getting crispy enough, be sure to check out how to make crispy roasted potatoes. I have lots of great hints for you that also apply to sweet potatoes.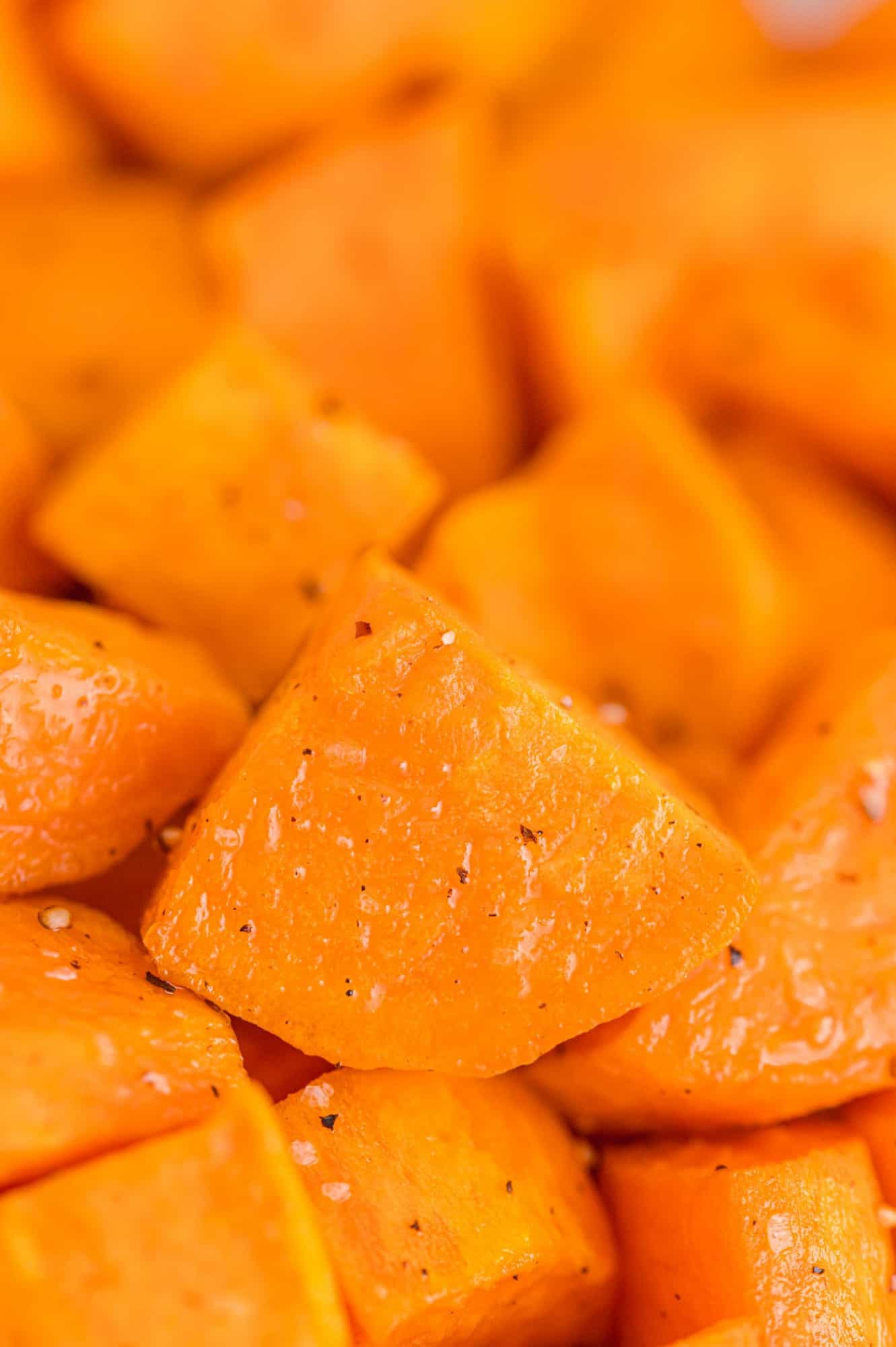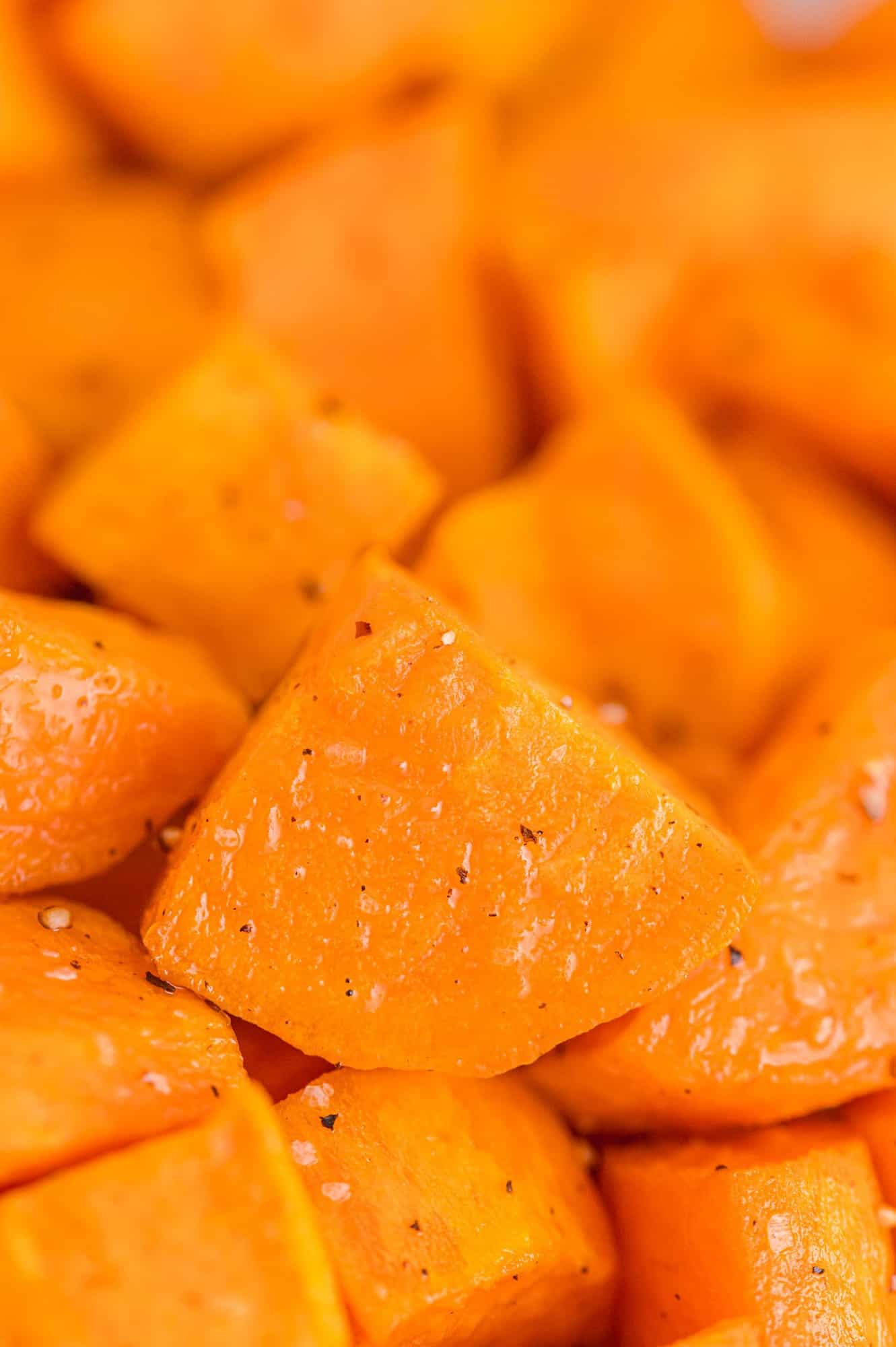 Make-Ahead Ideas
Food prepping: These sweet potatoes are a food prepper's dream. Make a big batch of them, maybe even a double batch, using 2 sheet pans. They can be refrigerated for up to 5 days and used in all sorts of ways. They are a great side for almost any type of meal.
Get a head start: Wash and dice the sweet potatoes up to 3 days in advance. Cover them completely with water to prevent discoloration. Make sure you drain and dry them thoroughly with paper towels or a lint-free cloth before roasting them.
Storage & Reheating Tips
Refrigerate/Freeze: Store roasted sweet potatoes in a covered bowl or resealable bag. They'll keep in the fridge for up to five days or in the freezer for a month. They thaw very quickly.
Reheat: I like to reheat them in my toaster oven. It only takes about 5 minutes for them to get super crispy again; it's like they're fresh out of the oven. They can also be reheated in the microwave or with a brief stint in your air fryer.
Did you make this? Be sure to leave a review below and tag me @rachelcooksblog on Facebook, Instagram, or Pinterest!
Oven roasted sweet potatoes are delicious just as they are, or they can be seasoned in a variety of ways. Easy to make and so yummy!
Ingredients
3

large sweet potatoes,

scrubbed and cut into ½ to ¾-inch cubes

2

tablespoons

olive oil

½

teaspoon

kosher salt

(more or less to taste)

¼

teaspoon

coarse ground pepper

(more or less to taste)

Optional seasonings, if desired

(see notes)
Instructions
Preheat oven to 425°F. Lightly spray or grease a rimmed baking sheet (sheet pan) or line with parchment paper, if desired.

If your sweet potatoes are still wet from washing them, pat them dry with paper towels or lint-free cloth. Remember, dry equals crispy.

Place the cubed potatoes in a large bowl; add olive oil. Sprinkle with salt, pepper, and optional seasonings. Toss to coat using a spoon or rubber spatula until all potatoes are evenly coated with oil mixture.

Scrape potatoes and oil onto the baking pan. Spread them into a single layer.

Bake for 20 minutes, remove the pan from the oven and stir/flip the potatoes. If potatoes don't release easily from the pan, put them back into the oven for five minutes or so. They should be browned and crisp on the bottom.

Put them back into the oven and continue to bake for 10 to 15 minutes or until cubes are crisp on the outside and fork tender inside.
Notes
If desired, peel sweet potatoes before cubing. I typically prefer to scrub them well with a brush and eat the skin which is tender.

For extra caramelization, add 1 tablespoon pure maple syrup or honey to the oil mixture.
Variations (Optional seasonings)
Smoky: add 1 teaspoon smoked paprika or chipotle chili powder to oil mixture.
Cinnamon: add 1 teaspoon ground cinnamon and

¼

teaspoon cayenne (optional) to oil mixture.
Southwestern: add 1 tablespoon chili powder and 1 teaspoon ground cumin to oil mixture. Another option is to add 1 tablespoon homemade taco seasoning (don't use a store-bought package since it contains thickeners and preservatives).
Curry: add 2 teaspoons curry powder (mild or hot) to oil mixture.
Pumpkin Spice: add 1 teaspoon pumpkin pie spice and 1 tablespoon pure maple syrup to oil mixture.
Nutrition Information
Calories:
139
kcal
,
Carbohydrates:
23
g
,
Protein:
2
g
,
Fat:
5
g
,
Saturated Fat:
1
g
,
Polyunsaturated Fat:
1
g
,
Monounsaturated Fat:
3
g
,
Sodium:
256
mg
,
Potassium:
382
mg
,
Fiber:
3
g
,
Sugar:
5
g
,
Vitamin A:
16032
IU
,
Vitamin C:
3
mg
,
Calcium:
34
mg
,
Iron:
1
mg
This website provides approximate nutrition information for convenience and as a courtesy only. Nutrition data is gathered primarily from the USDA Food Composition Database, whenever available, or otherwise other online calculators.