Pork Tenderloin with Apples and Onions
Pork tenderloin with apples is a perfect fall time meal. Pork tenderloin slices with warm buttery apples and caramelized onions, all made in one pan.
I know all we'll probably see on food blogs for the rest of the month are amazing Thanksgiving recipes. Cranberry sauce, stuffing, gorgeously browned turkeys, and of course, everything pumpkin. I'm hungry just typing that sentence.
Well, the truth of the matter is, we have to make dinner every day leading up to Thanksgiving. Or at least we should. If you're focusing tons of energy planning that perfect Thanksgiving meal (way to go!), you might want a quick and easy meal for those pesky other days leading up to the main event.
Pork tenderloin with apples is perfect for a quick every day meal. It's easy to prepare, doesn't require many ingredients, only gets one pan dirty, AND it's pretty healthy! So you can eat an extra slice of pie on Thanksgiving.
If I haven't convinced you yet, I'll also say that this is the perfect fall meal. Paired with roasted acorn squash? Color me happy!
I'm honored to be over at Better Homes and Gardens chatting my little head off about this great recipe. Actually, my head isn't little at all but it's clearly because of the massive quantity of brains in there. Haha.
Anyways, that's not the point. I'm super pumped to have the honor of blogging over at Better Homes and Gardens (BHG PEOPLE!!!! So exciting). I'm absolutely positive pork tenderloin with warm buttery apples and caramelized onions will become a weeknight favorite.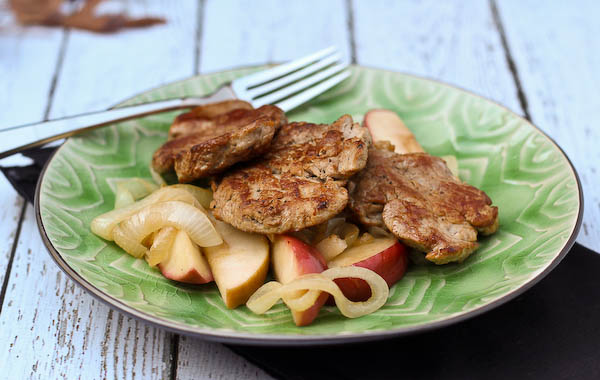 About Pork Tenderloin with Apples and Onions
You'll like this recipe because it is easy to prepare and doesn't have a lot of fancy ingredients. Apples, onions, pork, apple cider vinegar. That's about it.
A note about the apples: To peel or not to peel? I like to leave the peelings on because they look pretty and add extra fiber and nutrition. If you don't care for peelings, feel free to peel the apples before cooking. What kind of apples work best? Use a flavorful apples like Honeycrisp, Granny Smith, or Sweet Tango. An apple that holds its shape when it's cooked works best for this recipe. Otherwise you'll have pork with applesauce.
Simply begin by sautéing the onions and apples in a little bit of butter until they're nice and soft, about 20-25 minutes. When they start to look almost caramelized, you'll know they're ready. Season with a tablespoon of apple cider vinegar, salt and a dash of salt. The vinegar will add a nice tang to the mixture which goes perfectly with the richness of the pork. Remove from the skillet and set aside.
Next, you'll sauté the pork slices in the same pan for about 6-8 minutes. Don't overcook the pork, you want it to be medium rare, 145°F, or just with a slight tinge of pink in the center. That's it! You're ready to serve this delicious meal. Divide the warm apple onion mixture between 4 plates, and add a couple of slices of pork tenderloin.
Looking for more ways to prepare pork?

Here's a few more recipes you may enjoy: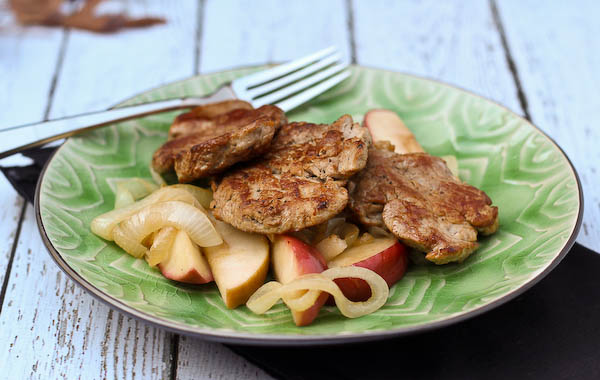 Pork Tenderloin with Apples and Onions
Yield: 4 servings
Prep Time: 15 minutes
Cook Time: 30 minutes
Total Time: 45 minutes
Pork tenderloin with apples is a perfect fall time meal. Pork tenderloin slices with warm buttery apples and caramelized onions, all made in one pan.
Ingredients
2 tablespoons unsalted butter
1 medium onion, thinly sliced and separated into rings
2 medium apples, cored and sliced, peeled or unpeeled
1/8 teaspoon salt
1 tablespoon apple cider vinegar
1 (12 ounce) pork tenderloin
salt
freshly ground black pepper
2 tablespoons olive oil
Instructions
In a large skillet, melt butter over medium heat. Add onion slices. Cook 10 minutes, stirring occasionally. Add apples; cook 15 to 20 minutes more or until apple and onion slices are tender and beginning to brown, stirring occasionally. Season with 1/8 teaspoon salt. Add vinegar; cook and stir for 30 seconds. Remove apple mixture from skillet; cover to keep warm.
While apple mixture is cooking, prepare pork. Cut meat crosswise into 1/2-inch thick slices. Sprinkle pork lightly with salt and pepper.
After removing apple mixture from skillet, heat oil in the same skillet over medium-high heat. Add pork; reduce heat to medium and cook for 6 to 8 minutes or until just barely pink in the centers, turning once.
To serve, spoon apple mixture onto 4 dinner plates. Top each with one-fourth of the pork slices. Serve immediately.
Nutrition Information:
Yield: 4
Serving Size: 3 oz. pork, with apples and onions
Amount Per Serving:
Calories: 239
Total Fat: 18g
Saturated Fat: 7g
Trans Fat: 0g
Unsaturated Fat: 10g
Cholesterol: 33mg
Sodium: 224mg
Carbohydrates: 15g
Fiber: 3g
Sugar: 11g
Protein: 6g
RachelCooks.com sometimes provides nutritional information, but these figures should be considered estimates, as they are not calculated by a registered dietitian. Please consult a medical professional for any specific nutrition, diet, or allergy advice.
Recipe for pork tenderloin with apples and onions can also be found at
Better Homes and Gardens
!