Instant Pot rice pudding is warm, creamy, lightly sweetened, and so satisfying. It's the perfect dessert on a cold winter evening.
Recipe Overview
Why you'll love it: Rice pudding is wholesome and filling, and is made with simple ingredients. It's easy on the tummy and not overly sweet.
How long it takes: just over a half hour, allow some time to cool
Equipment you'll need: Instant Pot pressure cooker
Servings: 8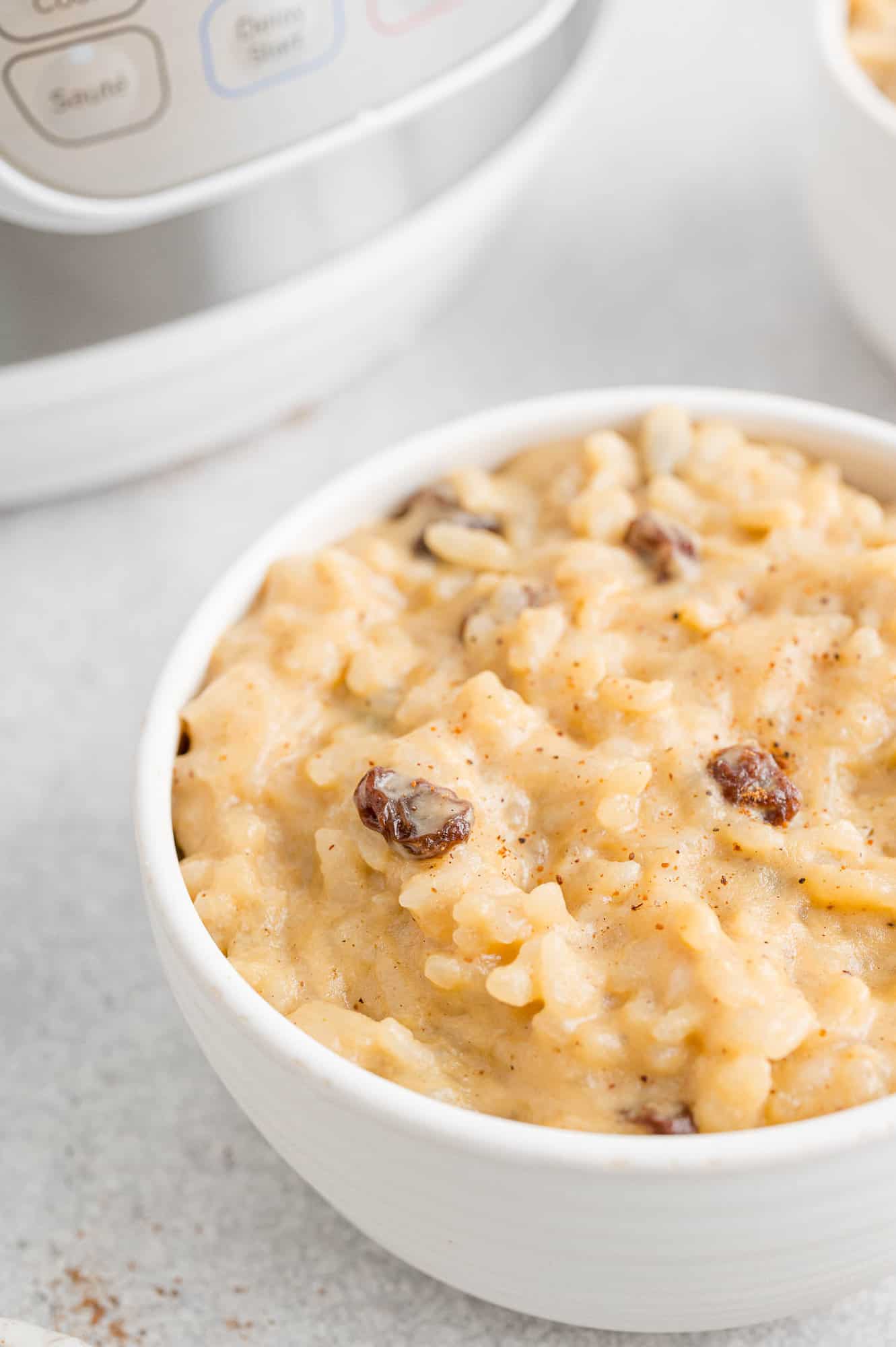 Call me a pudding fan. There's something about homemade pudding that really is so enticing. It's like a cuddly blanket or a gentle hug. It's sweet, but not too sweet, and so creamy. Pudding is a comforting dessert that makes me feel happy.
Homemade pudding is simple and unassuming. It doesn't have any false pretenses. It is what it is. (I think I just used one of my dad's favorite phrases right there. "It is what it is" seems to be applicable to a lot of subjects lately. Sometimes you just have to shrug and say, well, whatever.)
I have long been a fan of homemade vanilla pudding (I love the brown butter option!) and chocolate pudding isn't far behind. In fact, it isn't behind at all. What am I saying?! I love chocolate pudding!
Rice pudding brings back memories of my grandpa and his version of rice pudding. He simply prepared white rice with milk instead of water. He threw in a lot of raisins because he really loved raisins. We would spread the rice out on a plate, slather butter on it, and then sprinkle it with brown sugar and cinnamon. It was a special grandpa treat! You know, now I'm thinking that would be really great with coconut rice. Hmmm….
About This Recipe
Anyways, back to Instant Pot rice pudding. Stovetop recipes call for constant stirring as the rice cooks and absorbs the milk. The process is similar to making risotto and it takes a little patience and time.
Your Instant Pot simplifies the process drastically. It's pretty much hands off until the very end when you stir for a couple of minutes. I've found that a pressure cooker really is the ticket for recipes that traditionally take a lot of stirring. Try Instant Pot risotto and Instant Pot polenta and you'll see what I mean.
I'm going to get you started on the recipe here and give you a few helpful tips as we go. The recipe card below will give you specific measurements, instructions, and nutrition information.
What You'll need
Basmati Rice: This long grain white rice is the perfect choice for rice pudding. See more about rice in the FAQ section below.
Milk: For the richest, creamiest pudding, use whole milk. Lower fat milk tends to separate. Since rice pudding is basically rice and milk, using the right milk is important.
Brown Sugar: This rice pudding isn't heavily sweetened, with only a half cup of sugar. Some recipes are made with sweetened condensed milk which makes a very sweet pudding.
Heavy Cream or Half-and-Half: Either one is fine. Heavy cream makes a richer pudding but we found that half-and-half did the job just as well. In case you're wondering, half-and-half is simply a 1:1 blend (hence the "half and half" name) of heavy cream and whole milk.
Eggs: You'll need 2 large eggs. It's best if they are at room temperature before adding them to the pudding. Simply take them out of the fridge when you begin cooking the rice. By the time the rice is ready, the eggs will be warm enough.
Vanilla: Pure vanilla extract or vanilla bean paste are both good choices. Vanilla bean paste adds a bit more sugar but it does have those tiny brown specks of vanilla bean that are really nice in rice pudding. Both products can be found in baking aisle, usually next to the spices.
Nutmeg: Freshly grated nutmeg has the best flavor but ground nutmeg is perfectly acceptable.
Raisins, optional: Traditionally, rice pudding is made with raisins. Any type of raisin is fine. If the raisins are super dried out, soak them in hot water ten to fifteen minutes to plump them up before adding them to the pudding. If you don't care for raisins, feel free to leave them out.
How to make it
Get your Instant Pot out and let's get cooking! Remove all the ingredients you'll need from the refrigerator: milk, eggs, half-and-half. Although you won't be using everything right away, it's best if they come to room temperature while the rice is cooking.
If your raisins are not-quite-fresh and are looking a lot like dried pebbles, pour a cup of very hot water over them and let them plump up for a while. Be sure to drain them well before adding them to the rice pudding.
I like to lightly spray the inside of my Instant Pot with nonstick spray. It really helps when it comes to cleanup.
Measure out a cup of rice and add it to the Instant Pot, along with the water, a cup of milk, and a bit of salt. Lock on the lid and set the cooker to Pressure Cook for five minutes. Some models have different settings, such as Manual, High Pressure.
It will take about 10 to 11 minutes to come to pressure.
When the timer goes off, leave the cover on and wait for ten minutes. This is a natural release of pressure and means that you don't do anything except maybe set a timer to keep track of the time.
Once ten minutes has elapsed, release the remaining pressure and carefully remove the lid. Stir in the brown sugar. The pudding won't look much like pudding yet but don't worry.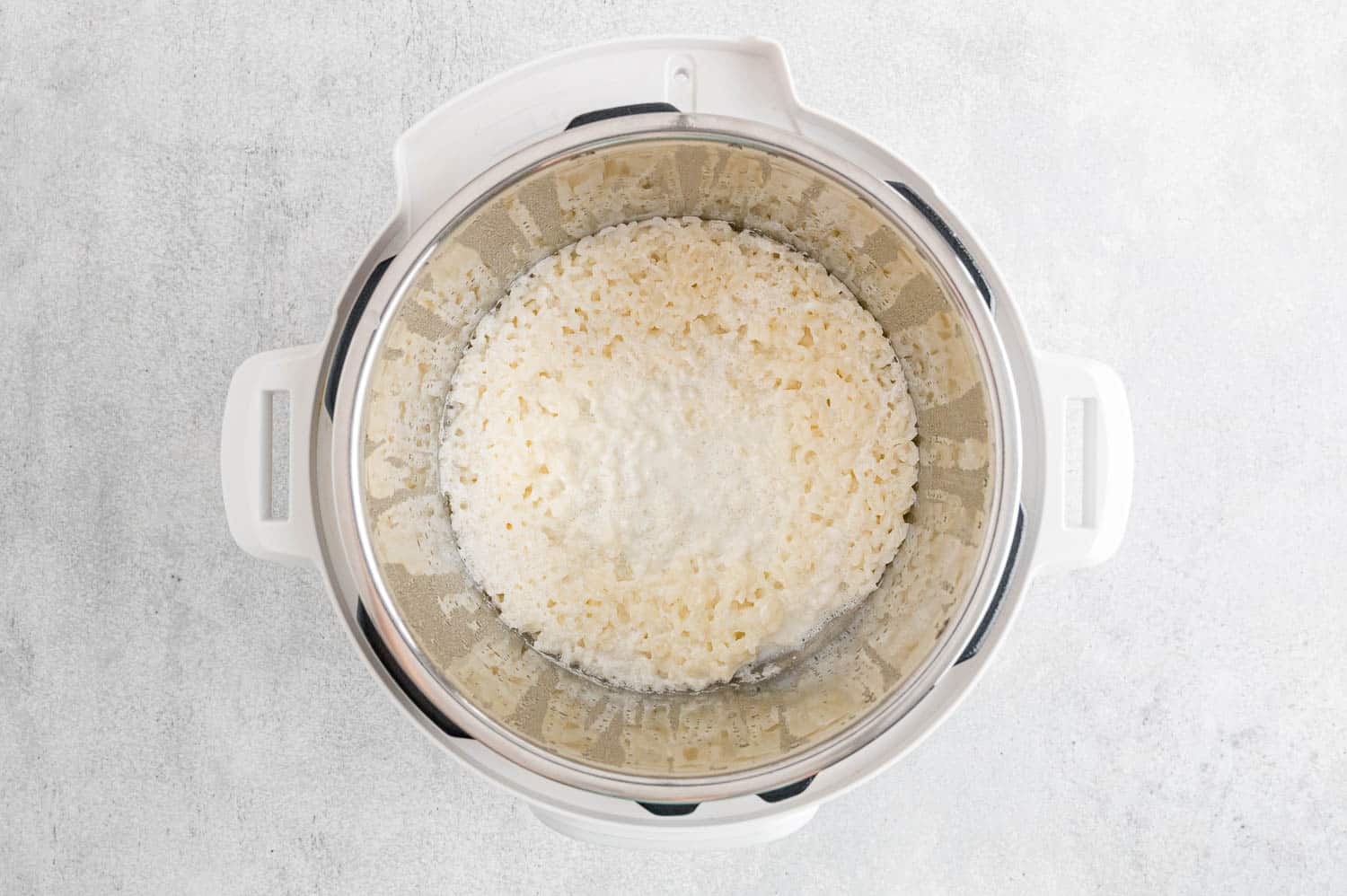 Whisk together the milk, cream, and eggs. Choose a mixing bowl that has a little extra room. Scoop out a half cup of the hot rice mixture from the Instant Pot and slowly add it to the egg mixture, whisking as you go. By warming up the egg mixture slowly, you avoid the risk of "scrambled eggs" when you add the eggs to the pudding.
Now, go ahead and slowly add the bowlful of milky eggs and rice to the rice mixture in the Instant Pot. Turn the Instant Pot on Sauté mode. Stirring constantly, bring the mixture to a simmer. Let the pudding cook for a few minutes as it begins to thicken.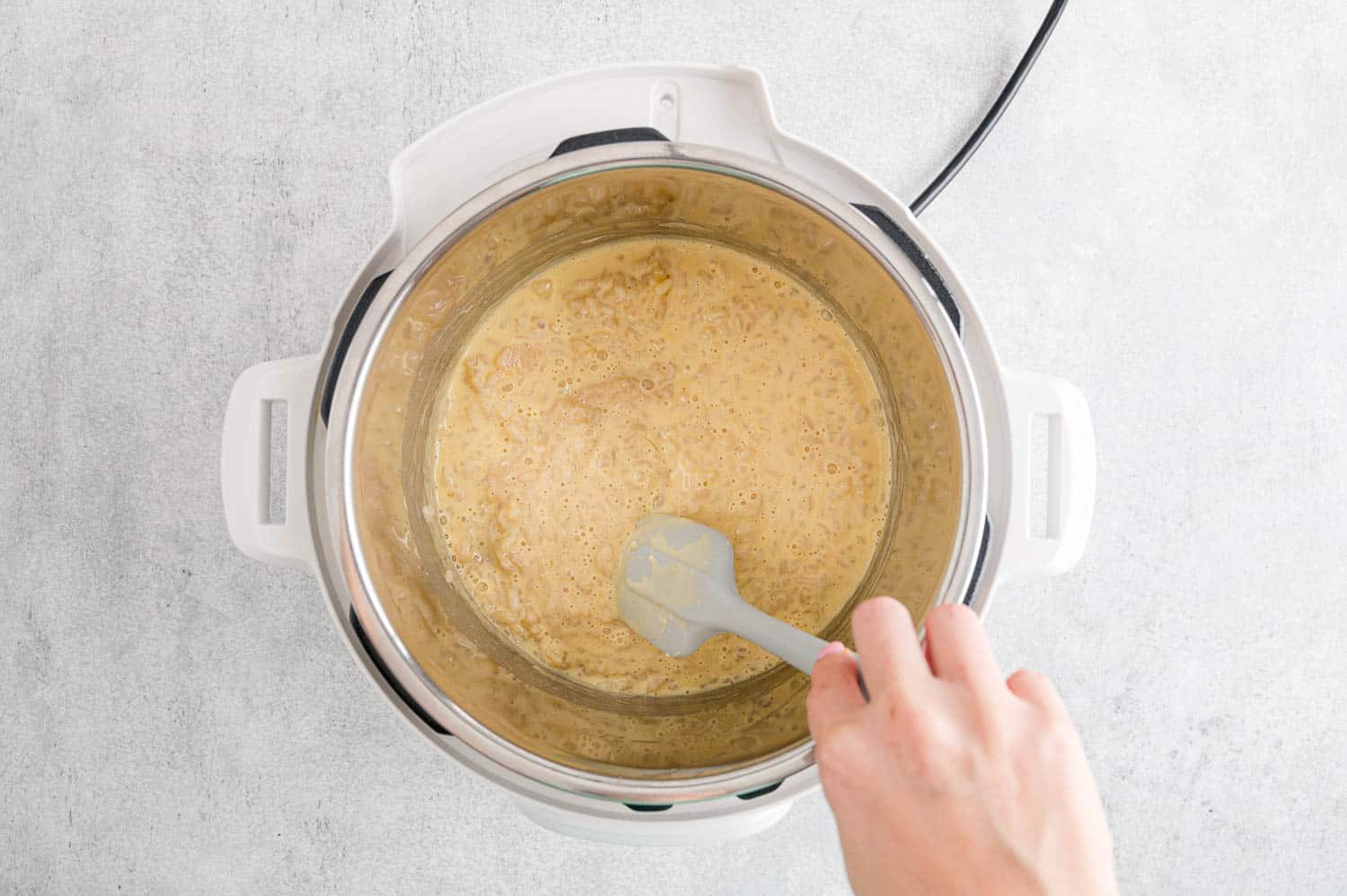 Turn off the Instant Pot and stir in the raisins, vanilla, and nutmeg. At this point, the rice pudding will still look pretty thin. Don't despair, it's okay. Pour (or scoop) it into a large bowl to cool, or into individual serving dishes. Do be careful; the pudding is extremely hot.
Let the pudding cool for fifteen minutes or so before serving it. While it can be eaten either warm or cold, I really think it's best warm. Enjoy! If you want to sprinkle a little cinnamon on top, that's always nice, too.
FAQs
What type of rice is best for rice pudding?
Choose a long grain white rice to make rice pudding. After a little experimentation, we decided that basmati rice is the best choice. The cooked grains retain their form and don't get as mushy. Jasmine rice is our second choice.
A short-grained rice, such as arborio, gets too soft and sticky.
Why is my rice pudding not thickening?
Rice pudding thickens considerably as it cools. When your rice pudding looks too runny, don't quit. Give it ten to fifteen minutes and let it cool down. You'll be surprised by how much it thickens.
Stovetop recipes for rice pudding require constant stirring or the end result may be too runny or watery. Cooking the rice pudding in an Instant Pot eliminates this problem (and it's much easier to make!). Stick to the measurements in the recipe for best results.
Make It Your Own
Storage Tips
Cool rice pudding for an hour or so at room temperature. Spread it out so it cools more quickly. Cover and refrigerate the pudding for up to three days. It doesn't freeze well.
Rice pudding is best served warm. Because it tends to thicken as it sets, you'll probably want to stir in a splash of milk or half-and-half. Warm individual portions in the microwave at medium power in 30 second increments, stirring each time.
Leftover Love
Enjoy leftover rice pudding for breakfast. Warm it up and top it with sliced bananas and a sprinkle of cinnamon, warm apple compote, or fresh berries.
Did you make this? Be sure to leave a review below and tag me @rachelcooksblog on Facebook, Instagram, or Pinterest!
Instant Pot rice pudding is warm, creamy, lightly sweetened, and so satisfying. It's the perfect dessert on a cold winter evening.
Ingredients
1

cup

basmati rice

2 ½

cups

whole milk, divided

1

cup

water

¼

teaspoon

salt

½

cup

brown sugar

½

cup

half-and-half or heavy cream, room temperature

2

large eggs, beaten, room temperature

1

teaspoon

pure vanilla extract

½

teaspoon

freshly grated nutmeg

½

cup

raisins, optional
Instructions
If desired, spray inside of Instant Pot with nonstick spray. Combine rice,

1 cup

milk, water, and salt in Instant Pot. Close and lock the lid. Set for Pressure Cook (or Manual on High Pressure, depending on your model) for 5 minutes. It will take about 10 minutes to come to pressure. When timer goes off, let the pressure naturally release for 10 minutes (that is, do nothing for 10 minutes). After 10 minutes, release remaining pressure and remove lid.

In a medium sized mixing bowl, whisk together half-and-half,

1 ½ cups

milk, and eggs. Temper the egg mixture by gradually stirring in a half cup of the hot rice mixture. With Instant Pot on sauté function, gradually stir in the egg mixture.

Bring to a boil, stirring constantly and cooking for 2 to 3 minutes or until pudding begins to thicken. It will thicken much more as it cools.

Stir in vanilla, nutmeg, and raisins (optional). Immediately transfer pudding (be careful, it's very hot) to a bowl so that it doesn't burn on the bottom.

Serve warm or cold.
Notes
Nutrition information is calculated for a half cup serving, using half-and-half, and including raisins.
If your raisins are rather hard and dry, soak them in a cup of very hot water while the rice cooks. Drain well before adding to the pudding.
Leftover rice pudding can be stored in the refrigerator for up to three days. Enjoy it cold or reheat single portions gently in the microwave. If the pudding seems too dry or thick, stir in a splash of milk or cream.
Nutrition Information
Serving:
0.5
cup
,
Calories:
247
kcal
,
Carbohydrates:
44
g
,
Protein:
6
g
,
Fat:
5
g
,
Saturated Fat:
3
g
,
Polyunsaturated Fat:
0.4
g
,
Monounsaturated Fat:
1
g
,
Trans Fat:
0.004
g
,
Cholesterol:
55
mg
,
Sodium:
134
mg
,
Potassium:
263
mg
,
Fiber:
1
g
,
Sugar:
23
g
,
Vitamin A:
237
IU
,
Vitamin C:
0.4
mg
,
Calcium:
140
mg
,
Iron:
1
mg
This website provides approximate nutrition information for convenience and as a courtesy only. Nutrition data is gathered primarily from the USDA Food Composition Database, whenever available, or otherwise other online calculators.