Pudding with protein and fiber, and low in calories? It's true! This chocolate chia pudding is the perfect afternoon chocolate fix.
Recipe Overview
Why you'll love it: This pudding is super easy to make!
How long it takes: just 5 minutes to stir up, with additional time to chill
Equipment you'll need: large measuring cup
Servings: 2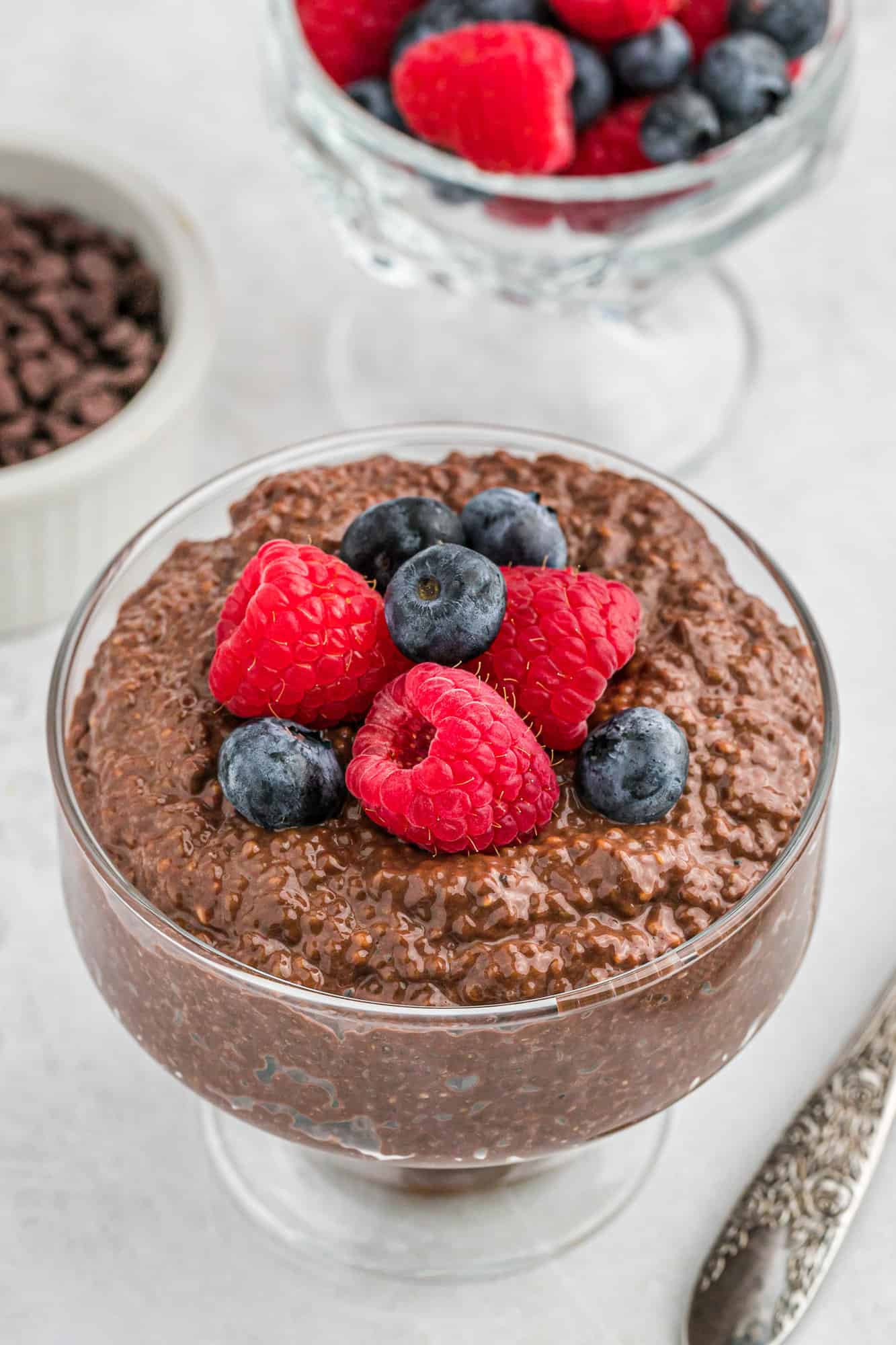 Have you tried chia seed pudding yet? It's a magical thing, really, when hard little chia seeds turn into a soft, creamy pudding similar in texture to tapioca pudding.
This chocolate chia pudding is a sweet and chocolatey treat. It tricks you a little bit because chia seeds are full of good-for-you omega-3 fatty acids and are also a good source of fiber, protein, and antioxidants, all of those things that usually aren't part of a sweet treat.
Pudding made with chia seeds is a great way to get that afternoon chocolate fix (am I the only one that craves chocolate every afternoon?). It's filling and good for you but tastes sweet and indulgent.
About This Recipe
What you'll really like about chia pudding is that it is so ridiculously easy to make. You just whisk all the ingredients together and then let it set overnight in your fridge.
This recipe is a variation of my basic chia seed pudding recipe; another variation you'll want to try is chai chia pudding. That is not a typo; think chai tea with all those yummy spices and honey.
Chia seed pudding isn't super sweet so if you like things on the sweeter side, top it with fresh berries or a sliced banana, or a bit of whipped cream. You can always add a bit more sweetener, too, if you like.
By the way, I also love my mom's more traditional homemade chocolate pudding. If you're used to canned pudding or pudding made from a boxed mix, you're in for a real treat when you make homemade pudding. There's really no comparison. Another good recipe to try is homemade vanilla pudding.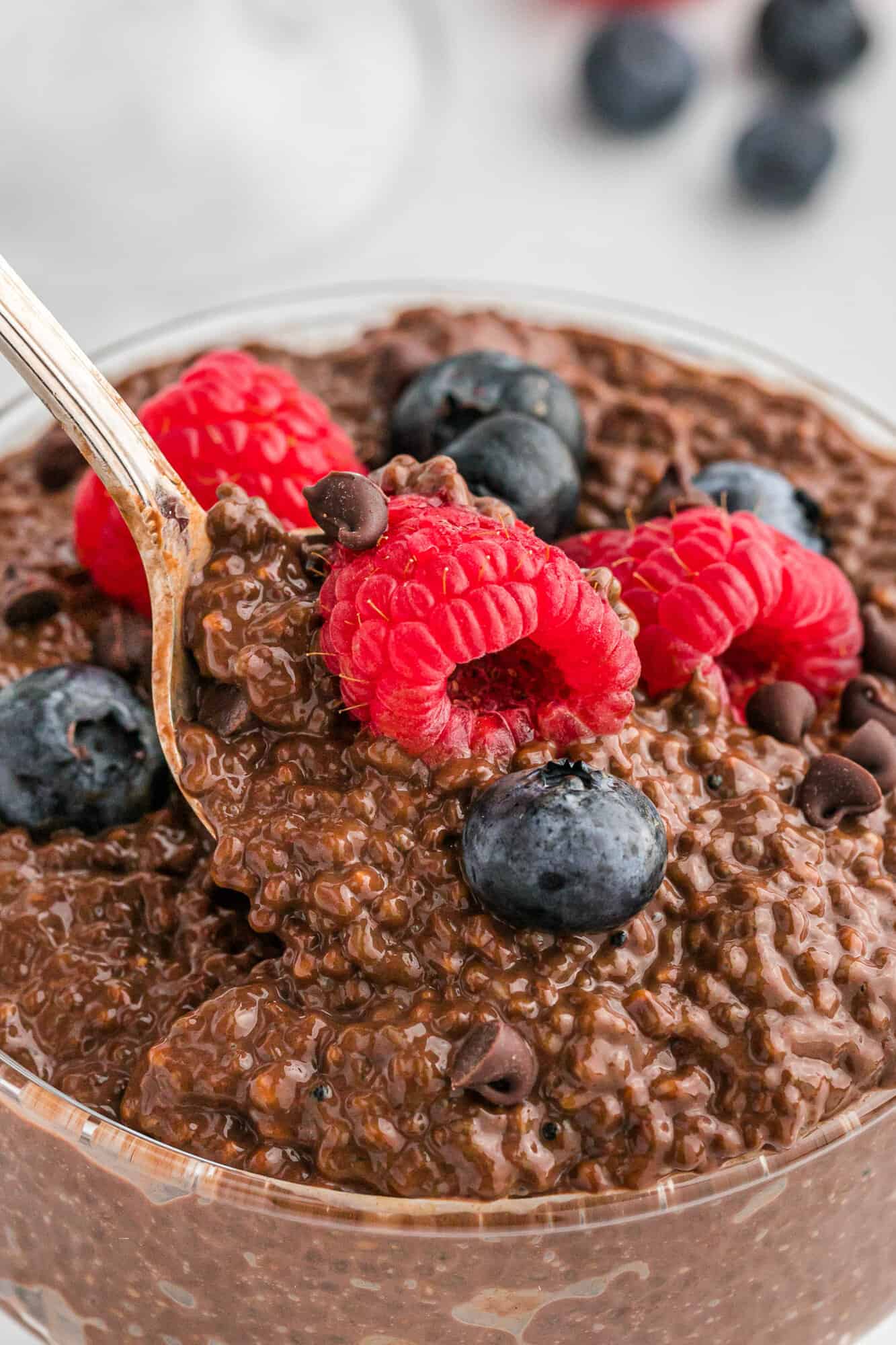 I'll get you started on your own chocolate chia seed pudding. It's really easy plus I'll give you a few helpful tips. Look for the recipe card near the bottom of the post for measurements, instructions, and nutrition information.
About Chia Seeds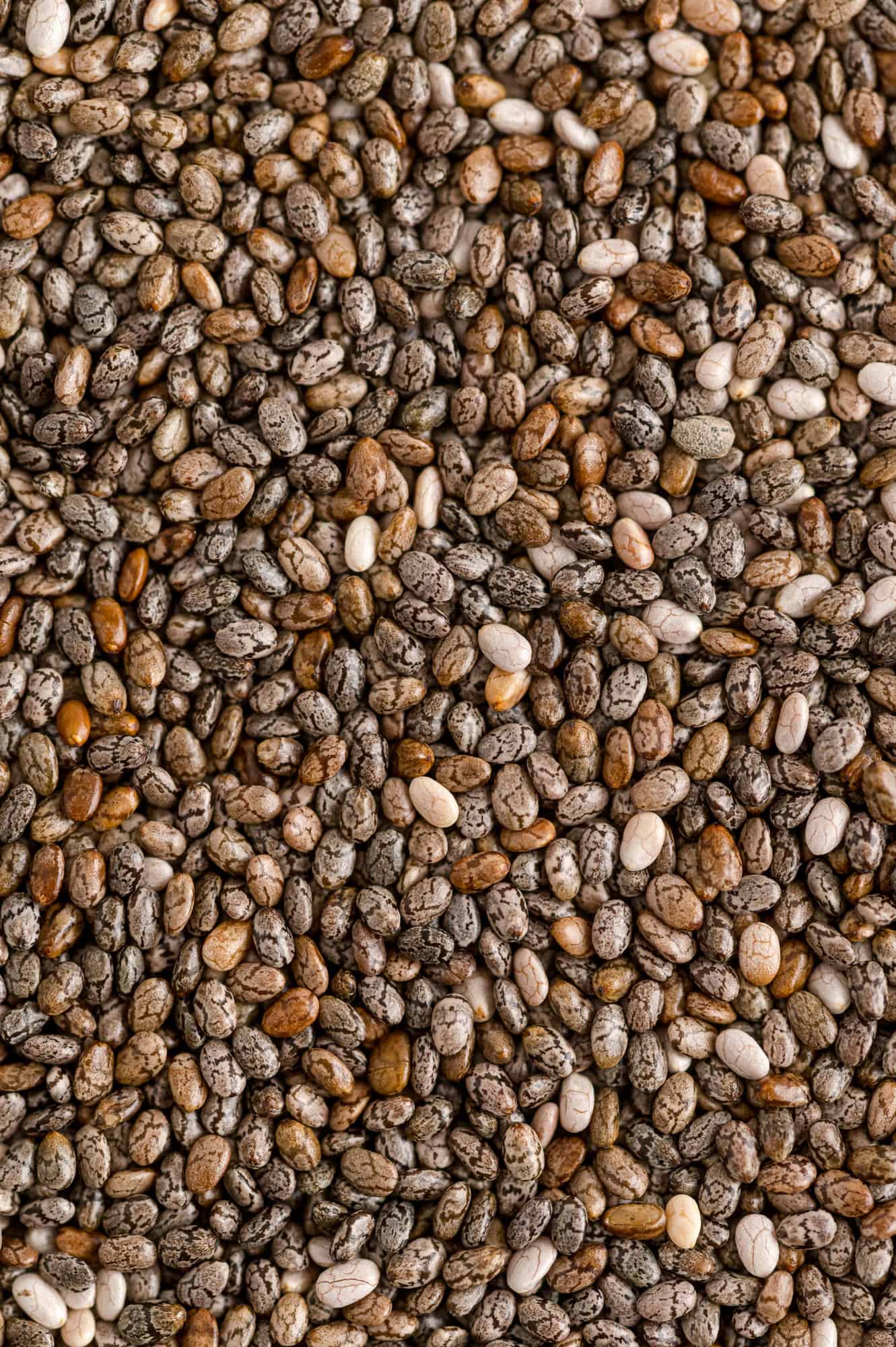 Good for you: Chia seeds are full of good-for-you omega-3 fatty acids and are also a good source of fiber, protein, and antioxidants.
Lots of color variation: As you can see from the photo, chia seeds vary in color. They can be black, brown, tan, white, or a combination. They are a member of the mint family but have very little taste. They contain a lot of soluble fiber which absorbs liquid and produces a gel-like substance.
Chia pets: Yes, they're the same seeds that grow to make a chia pet. Don't eat the seeds that come with a chia pet though. They may be treated with chemicals. Always buy food grade chia seeds for consumption, whether you're making this pudding or "sprouting" them.
Chia seed allergies: If you have a sesame seed allergy (like my son) or a mustard seed allergy, you are more prone to chia seed allergies. Good to know!
How To Store Chia Seeds
Chia seeds should be stored in the refrigerator, or a cool pantry, where they will keep for a few years. Put them into a tightly covered glass jar so they don't absorb odors or moisture. Chia seeds may become rancid if not stored properly. Toss them if they have a strong chemical odor.
What You'll Need
Chia Seeds: You'll need one third cup for this recipe.
Milk: I use 2% milk for this recipe but whole milk, unflavored almond milk, coconut milk, or any milk substitute you like will also work.
Unsweetened Cocoa Powder: Unsweetened cocoa powder is commonly used for baking and contains a fair amount of antioxidants. It's made from dry cocoa solids that are ground into a fine brown powder. It's fat free and sugar free.
Maple Syrup: Any type of sweetener can be used. Pure maple syrup is all-natural and vegan friendly. Honey, agave, regular sugar or coconut sugar can be substituted.
Pure Vanilla Extract: Vanilla flavor makes the pudding seem sweeter.
Espresso Powder, Optional: If you love mocha, you'll want to try adding espresso powder. Look for it by the instant coffees.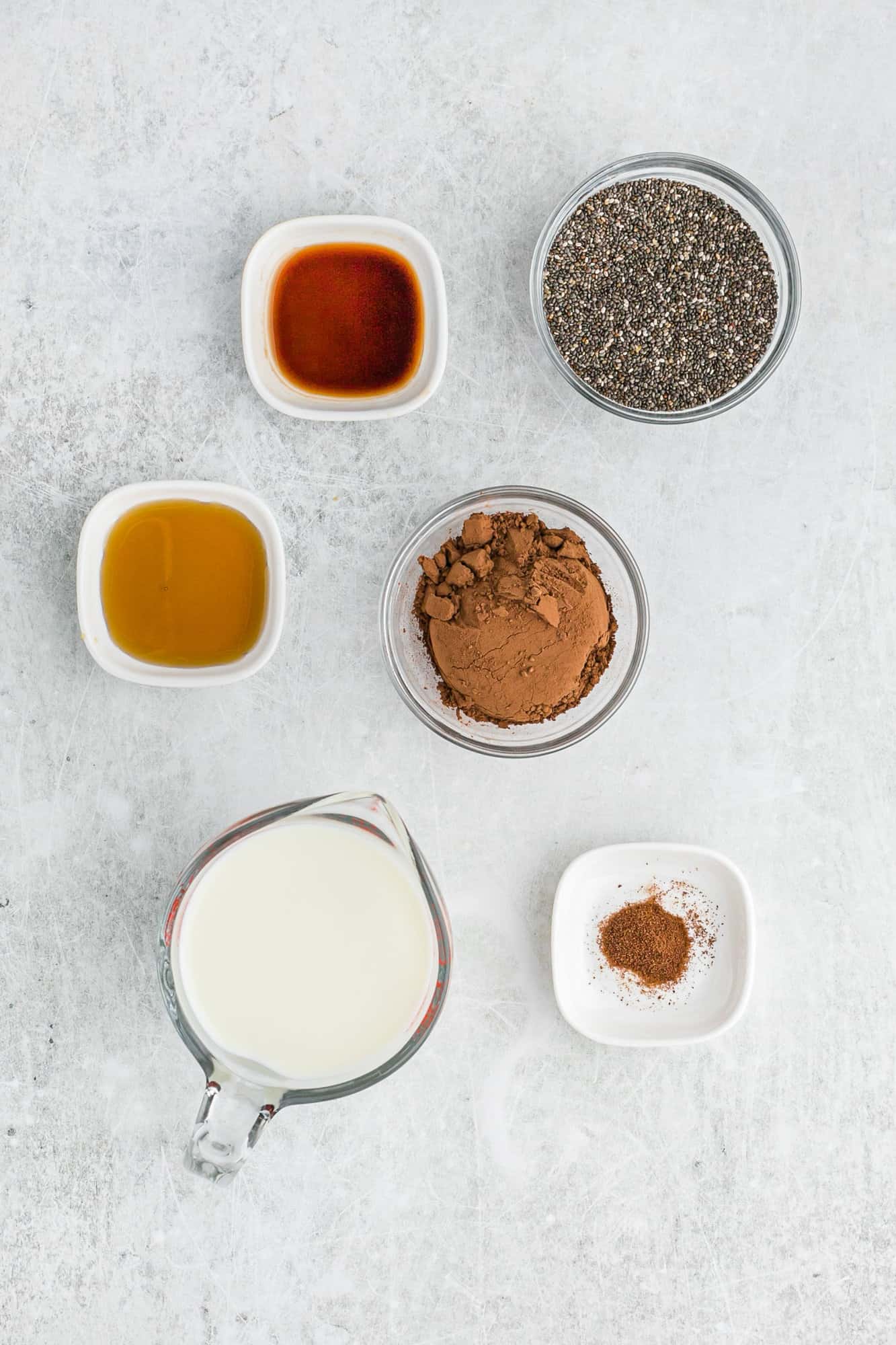 How To Make It
Here we go! I like to use a large measuring cup or a glass mixing bowl. Measure out the milk, the chia seeds, cocoa powder, maple syrup, and vanilla extract.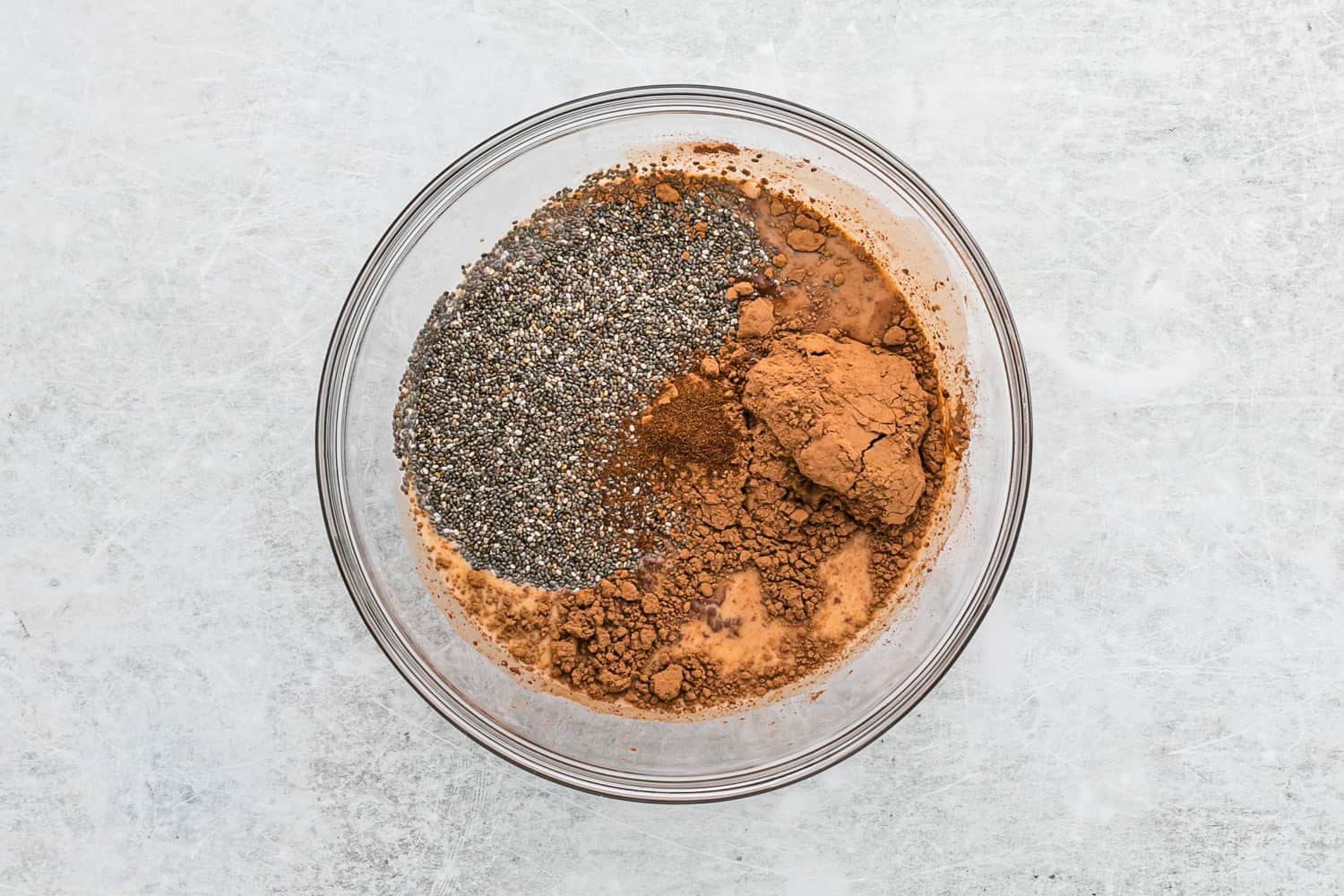 Whisk together well making sure there are no large clumps.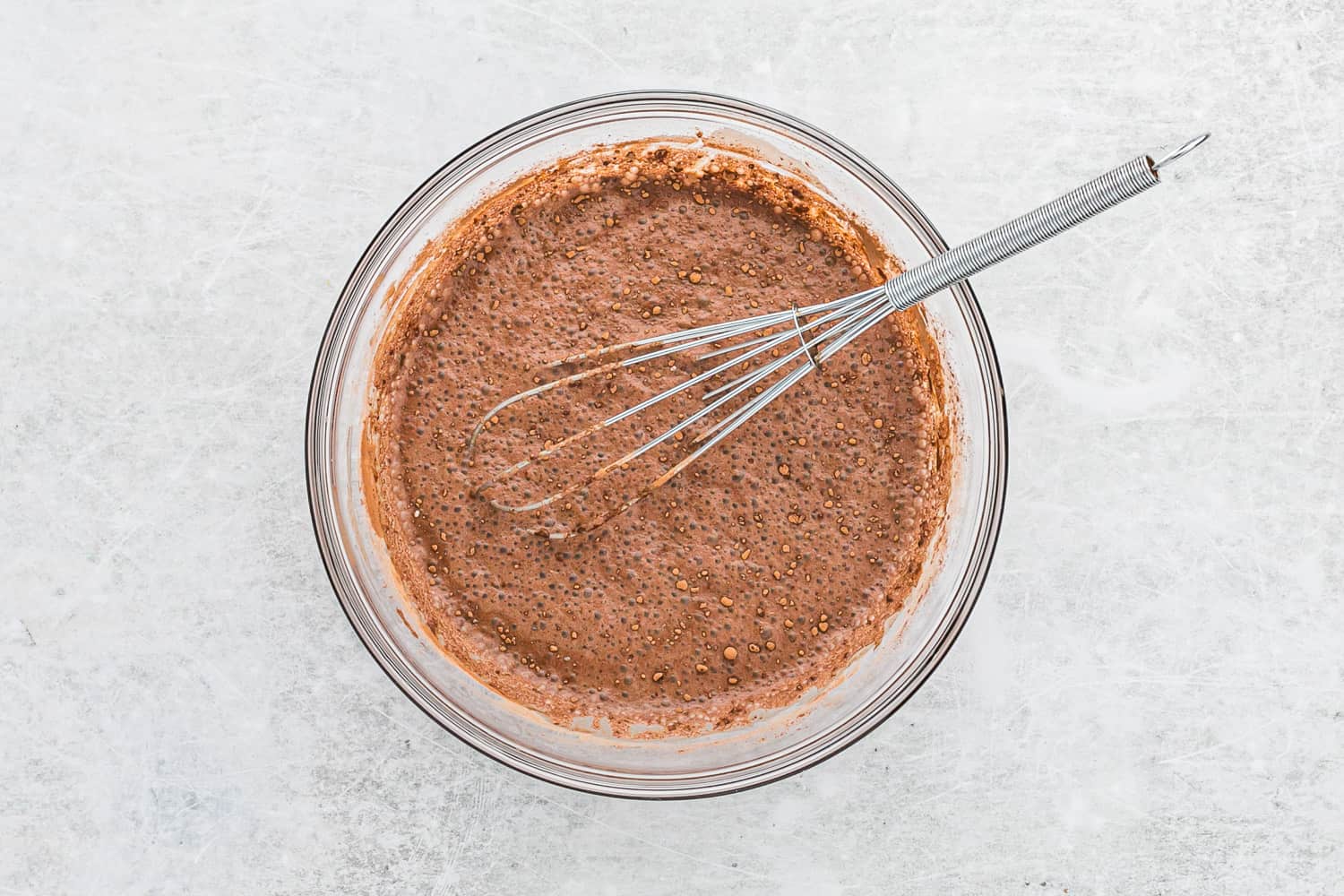 Let the mixture set for five minutes or so, then give it another good stir. The second stir ensures that the seeds aren't clumping together. If they are clumped, they may not absorb the liquid properly and your pudding won't thicken.
At this point, you can pour the pudding into serving dishes or jars, or you can just leave it in the measuring cup or bowl. It will still look pretty thin and runny but don't worry, it will thicken up into a pudding-like consistency.
Cover it and refrigerate for at least a couple of hours. I usually make the pudding the night before so it has plenty of time to gel up.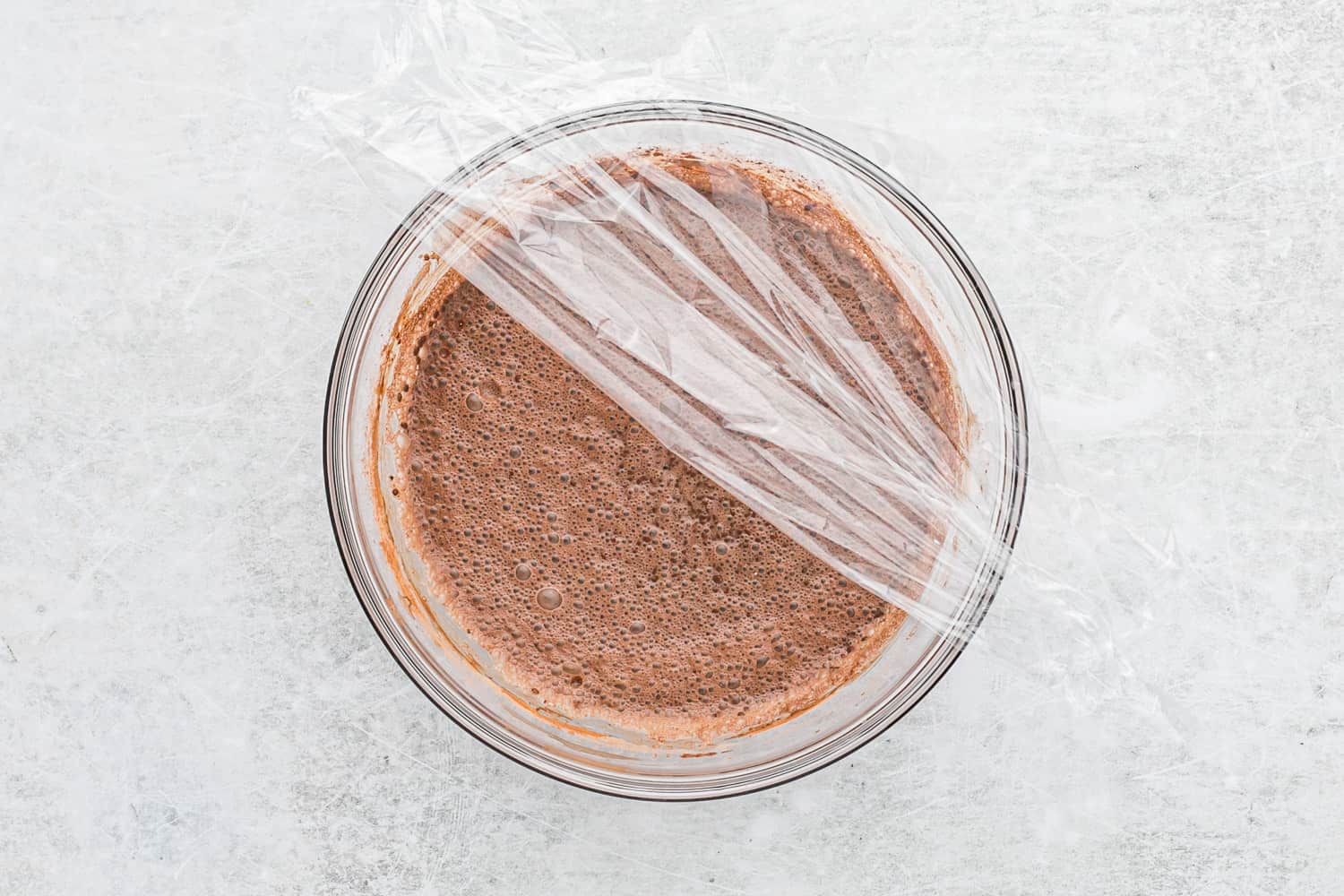 Serve your chocolate chia seed pudding just as it is, or add the toppings you like. Enjoy a bowl of chocolate pudding for your afternoon chocolate fix, a lunchbox treat, or an easy breakfast.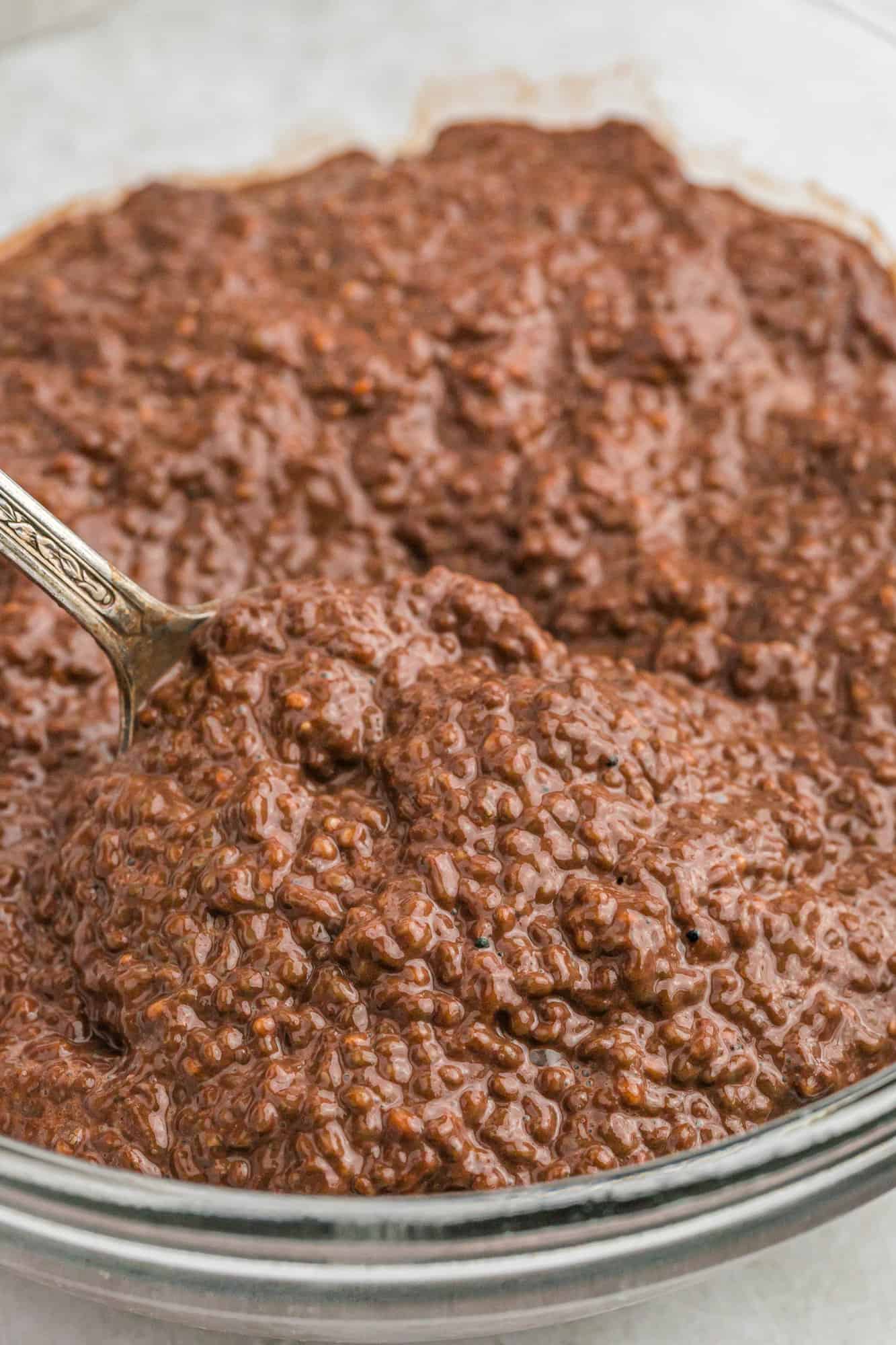 FAQs
How long do you soak chia seeds for chia pudding?
Just to avoid any confusion, chia seeds do not need to be soaked before making chia pudding. To make chia pudding, dry chia seeds are added to milk and soaked for at least 2 hours. The chia seeds will absorb the liquid and become gelatinous, having a pudding-like consistency. The mixture should be refrigerated as it soaks.
Do you use whole or ground chia seeds for pudding?
Although it's not necessary, you can grind chia seeds for pudding, especially if you don't care for the tapioca texture of whole seeds. Ground seeds will gel more quickly than whole seeds and may be a bit more digestible.
To grind the seeds, use a mortar and pestle, a clean coffee grinder, a food processor, or blender.
Make It Your Own
Double/triple the recipe. As long as you keep the ratio of milk (1 cup) to seeds ( ⅓ cup) the same, it's easy to do. In other words, to double the recipe, use 2 cups milk and ⅔ seeds. To triple the recipe, use 3 cups milk and 1 cup seeds.
Cut recipe in half to make a serving for one. It's a little trickier: use ½ cup milk and 2 tablespoons plus 2 teaspoons seeds. You can also use the serving size adjuster right in our recipe card to adjust the recipe prior to printing it!
Make it Whole30: Use a compliant milk and omit the sweetener. To lightly sweeten the pudding, whirl the milk, cocoa powder, vanilla, and either a Medjool date or a mashed banana in a blender. Stir in the chia seeds and continue with the recipe as directed.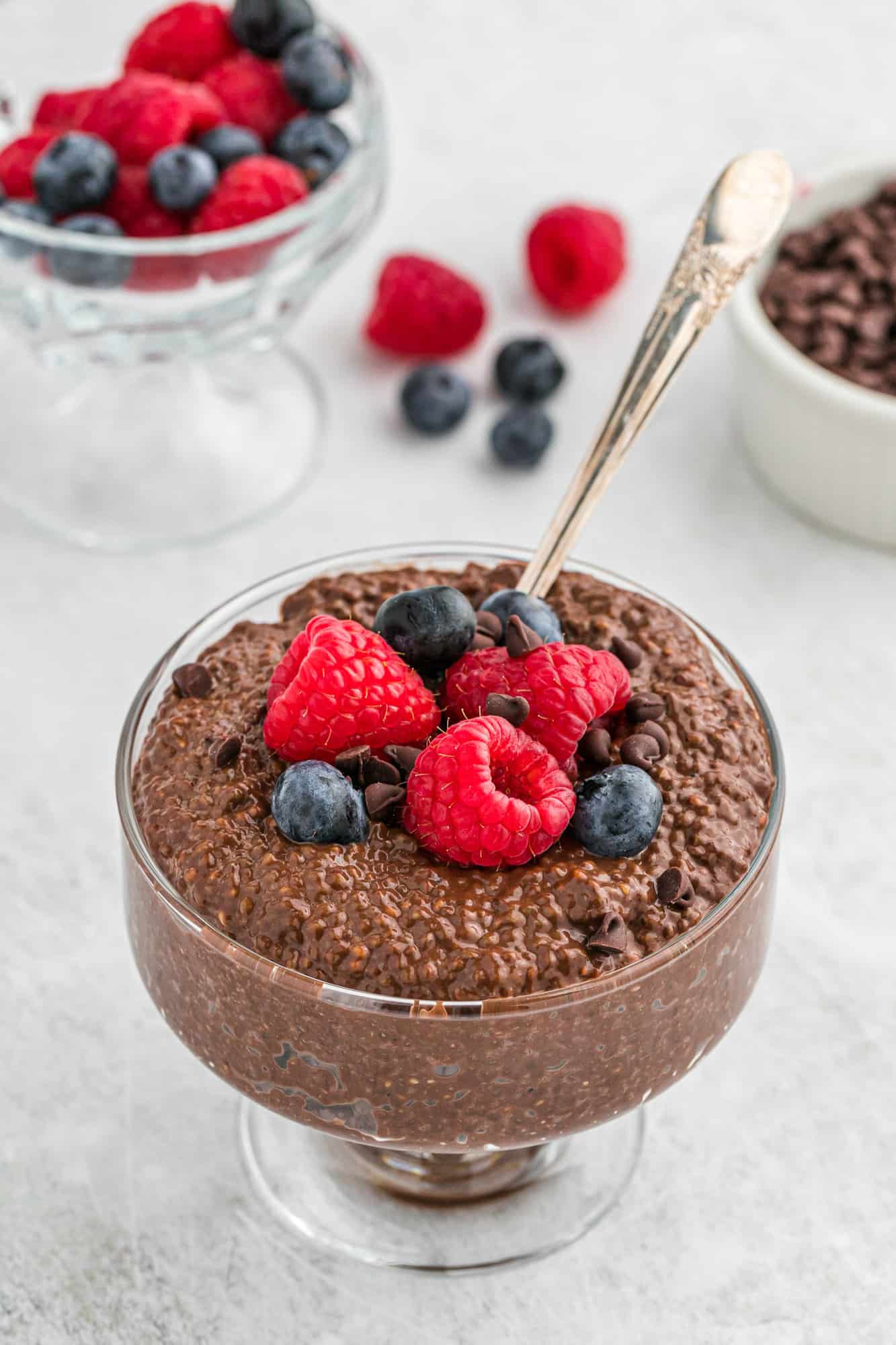 Storage Tips
Chia pudding should be covered and refrigerated. Use a clean container or small jars. It will keep for up to five days. It can also be frozen but I'll admit that I haven't tested that yet. It's so easy to make it fresh!
More Chia Recipes
Wondering what you're going to do with the rest of the chia seeds? Try one of these recipes:
Did you make this? Be sure to leave a review below and tag me @rachelcooksblog on Facebook, Instagram, or Pinterest!
Pudding with protein and fiber, and low in calories? It's true! This chocolate chia pudding is the perfect afternoon chocolate fix.
Ingredients
1

cup

milk

(see note)

⅓

cup

chia seeds

¼

cup

unsweetened cocoa powder

2

teaspoons

pure maple syrup, or sweetener of your choice

(see note)

1

teaspoon

pure vanilla extract, optional

¼

teaspoon

espresso powder, optional

Optional toppings: whipped cream, fruit

(see note)
Instructions
Mix all ingredients in a mixing bowl.

Let sit for 5 minutes, stir again. Cover with plastic wrap and refrigerate at least 2 hours or overnight. Pudding will thicken considerably as it chills.

Serve with additional cinnamon or desired toppings.
Notes
Nutrition information is based on 2% milk. Any type of milk can be substituted, including non-dairy.
Instead of maple syrup, try honey, brown sugar, agave, or any sweetener you prefer. Add more or less, to taste. This pudding isn't very sweet but it's easy to customize if you prefer more sweetness.
If desired, divide the pudding into two (or more) bowls or jars before refrigerating so it's ready to eat in the morning!
Try topping the chia pudding with fruit or spoon the pudding over berries or bananas for a healthy snack.
Recipe revised 11/3/2022.
Nutrition Information
Serving:
0.75
cup
,
Calories:
246
kcal
,
Carbohydrates:
29
g
,
Protein:
11
g
,
Fat:
13
g
,
Saturated Fat:
3
g
,
Polyunsaturated Fat:
7
g
,
Monounsaturated Fat:
2
g
,
Trans Fat:
0.1
g
,
Cholesterol:
9
mg
,
Sodium:
63
mg
,
Potassium:
463
mg
,
Fiber:
14
g
,
Sugar:
11
g
,
Vitamin A:
136
IU
,
Vitamin C:
1
mg
,
Calcium:
342
mg
,
Iron:
4
mg
This website provides approximate nutrition information for convenience and as a courtesy only. Nutrition data is gathered primarily from the USDA Food Composition Database, whenever available, or otherwise other online calculators.