Rustic Four Berry Pie
Bursting with blackberries, raspberries, blueberries, and strawberries, rustic four berry pie is summer time on a plate!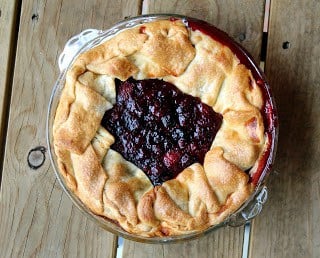 The inspiration for this pie came from the latest issue of the Rachael Ray magazine. I just had to try this summer time treat especially since the crust is rustic, which looks like a lot less fussing around. It reminds me of a French galette, only it's baked in a dish to contain all that juicy berry filling.
About this four berry pie
The original recipe calls for three types of berries, blackberries, blueberries, and strawberries, but I like to use four. Raspberries are the greatest berry ever, so I don't want to leave them out. They are so good fresh–they taste like summers in my grandma's garden, snitching raspberries while running away from bumblebees.
If you don't have all four types of berries, just add extra of the kind you do have. You'll need approximately 5-6 cups of berries. The berries are mixed with sugar and quick-cooking tapioca which thickens the juicy berries. Lemon juice and lemon zest flavor the filling.
I don't always make my own crust (gasp!). Hey, I have an eight month old baby so don't judge. You will find, however, that pre-rolled crusts may turn out to be more work than making your own probably would have been. You'll need 13 inches diameter to make the fold over style crust. The pre-rolled crusts are 9 inches which if you try to roll it to 13 inches, the dough is too thin and breaks easily.
Solution? Cut up the second crust and press the pieces to the first crust to make a larger circle. Place the large circle of dough into a deep pie dish with the excess hanging over the edge. Fill the pie with the berry filling, and gently fold the excess over the top of the pie, pleating it as you go. It won't go all the way to the middle. You want a nice open space in the middle of the pie to show off the jewel like tones of the berries.
I do love my mom's recipe for pastry that doesn't involve ice cold butter (we're rebels). I'll be adding that recipe to my site one of these days, for sure!
Serve your rustic four berry pie, slightly warm, with a scoop of
homemade vanilla bean ice cream
melting on top. Vanilla frozen yogurt is great too, or a swirl of
whipped cream
. Garnish with a few fresh berries, if you have any extra.
Pie Perfection!

I have a few more yummy pie recipes to share with you. Try:
Rustic Four Berry Pie
Yield: 1 pie
Prep Time: 30 minutes
Cook Time: 1 hour
Additional Time: 20 minutes
Total Time: 1 hour 50 minutes
Bursting with blackberries, raspberries, blueberries, and strawberries, rustic four berry pie is summer time on a plate!
Ingredients
2 pre-rolled pie crusts, or make your own pastry
2 containers (6 oz. each) of blackberries
1 cup sugar, plus more for sprinkling
1/4 cup quick-cooking (not pearl) tapioca
2 tablespoons fresh lemon juice
1-2 teaspoons fresh lemon zest
1 container (6 oz.) raspberries
1 container (6 oz.) blueberries
8 oz. strawberries (about two cups), quartered
2 tablespoons unsalted butter, cut into cubes
1 large egg white
Instructions
In a large bowl, combine 1 cup blackberries, 1/4 cup sugar, the tapioca, lemon juice, and lemon zest and mash with a potato masher. Stir in strawberries, blueberries, raspberries, remaining blackberries, and 3/4 sugar. Let stand for at least 20 minutes, gently stirring once or twice.
Meanwhile, preheat oven to 400*F. Roll pie crust to 13" if you make your own. If you're using pre-rolled crusts, I would recommend putting the nine inch crust in and then attaching the additional crust. Leave the excess crust hanging over the edge of a 9" pie pan.
Spoon the berry mixture evenly into the pan, making sure to pour in all the juices that have collected in the bowl. Dot the top with butter. Gently fold the pastry up over the berries, pleating as you go around.
In a small bowl, beat the egg white with a fork until frothy. With a pastry brush, lightly glaze the pastry all over with the egg white. Sprinkle the dough generously with sugar.
Bake the pie at 400*F until the berry filling is bubbling, about an hour. Check after 40 minutes and if the crust is browning too quickly, cover loosely with a sheet of foil.
Let the pie cool completely, at least four hours, before cutting and serving with scoops of ice cream (or frozen yogurt.
Notes
Recipe adapted from Rachael Ray magazine.
Nutrition Information:
Yield: 8
Serving Size: 1 slice
Amount Per Serving:
Calories: 277
Total Fat: 11g
Saturated Fat: 5g
Trans Fat: 0g
Unsaturated Fat: 5g
Cholesterol: 36mg
Sodium: 136mg
Carbohydrates: 43g
Fiber: 2g
Sugar: 29g
Protein: 3g
RachelCooks.com sometimes provides nutritional information, but these figures should be considered estimates, as they are not calculated by a registered dietitian. Please consult a medical professional for any specific nutrition, diet, or allergy advice.