Are your kids "starving" when they come home from school? Surprise them with an after school snack board stacked high with healthy fun snacks! They'll love it.
Recipe Overview
Why you'll love it: You can offer a broad range of healthy snacks that kids will love and they'll feel like it's a really special treat.
How long it takes: 20 minutes
Equipment you'll need: large tray or charcuterie board
Servings: as many as you like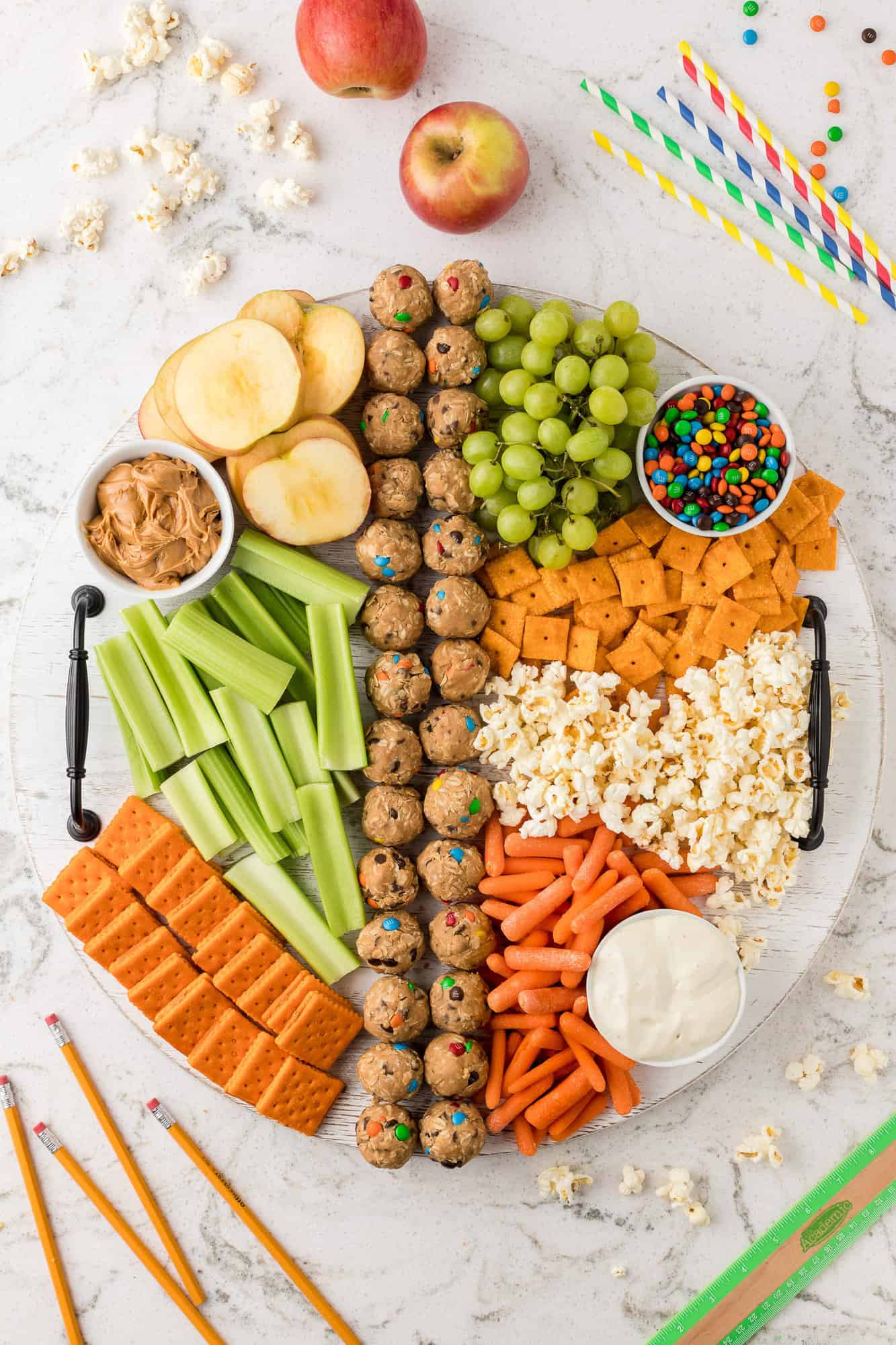 Are your kids as hungry as mine when they get home from school? It's like they haven't eaten for a year or something. They scarf down whatever they can lay their hands on, and sometimes it isn't always the most healthy choice. I try to keep lots of fruit, veggies, and high protein snacks in the house but that's not what they tend to gravitate towards.
One of the reasons I love this after school snack board is that it's loaded with lots of healthy snacks arrayed in an inviting manner. If the food looks fun and attractive, it's a lot more likely to be eaten. They feel like it's a special treat, and guess what, it is!
The star of the show is the monster cookie energy balls. They're great for a quick boost and they contain a fair amount of protein and complex carbs that will keep the kids going until dinner time. You can change it up with cranberry oatmeal energy balls or apple cinnamon energy bites. If you love chocolate, try chocolate coconut nut-free energy balls.
Make a snack board for birthday parties or sleepovers. This idea isn't limited to after school snacks. Any get-together with kids is a perfect opportunity to offer healthy snacks. Try it at your next birthday party, sleepover, pool party, church event, etc. I guarantee it will be a hit!
About this Snack Board
Okay, I can hear you saying, get real, Rachel! Like we have time to make a snack board every day. Yeah, I totally understand that a fully loaded after school snack board isn't going to be an every day option.
Prep it ahead. However, there are a couple of reasons why this idea will work more often than you think. First, all of the snacks can be prepped ahead and refrigerated. You can cut a whole bunch of carrot and celery sticks, etc. and put them in the fridge. The monster cookie energy balls are easy to make and can be frozen for a couple of months.
Make a smaller version with just a few of the snacks. Second, the snack board is very easy to customize. Choose snacks that you happen to have in the house. There are so many snack ideas you can offer. Arranged attractively on a small tray or platter, a snack board is quick and fun, and kids will love it.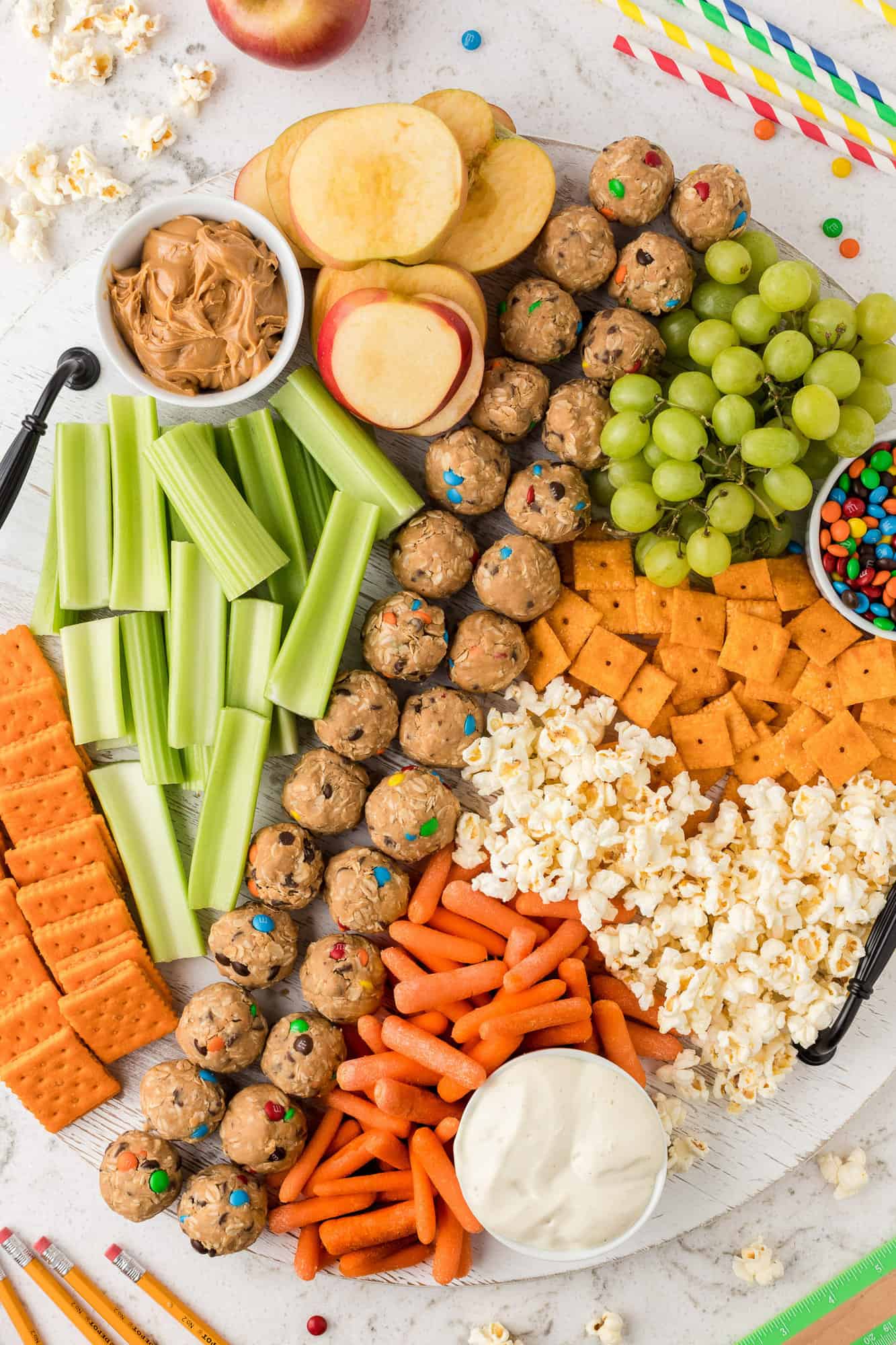 What You'll Need
Monster Cookie Energy Balls: Make the energy balls a few days in advance. They can be made ahead and frozen, too.
Mini M&M's: There are M&M's in the energy balls but a few extra M&M's are always welcome. You can surprise them with specialty M&M's too.
Ranch Dressing: The board has a couple of dipping options. Most kids like ranch dressing as a dip for celery and carrots.
Peanut Butter: Peanut butter is a great dip for celery sticks or apple slices.
Celery Sticks and Baby Carrots: Load up the board with healthy vegetables. You may be surprised at how eagerly the kids chow down the veggies when they're arranged on a fun board.
Cheese Peanut Butter Crackers: These sandwich crackers are always popular and offer extra protein too.
Cheez-It Crackers: Any type of small crackers or pretzels are fine. Did you know you can make homemade Cheez-Its? It's easy and kinda fun.
Grapes: The perfect finger food! Choose red, green, or purple grapes. If the children are very young, cut the grapes in half to prevent choking.
Sliced Apples: Slice the apples (unpeeled) in decorative half moons or cut into horizontal slices.
Popcorn: Everyone loves popcorn! There are so many kinds to choose from. Be ready to refill the popcorn spot on the board because it will disappear quickly.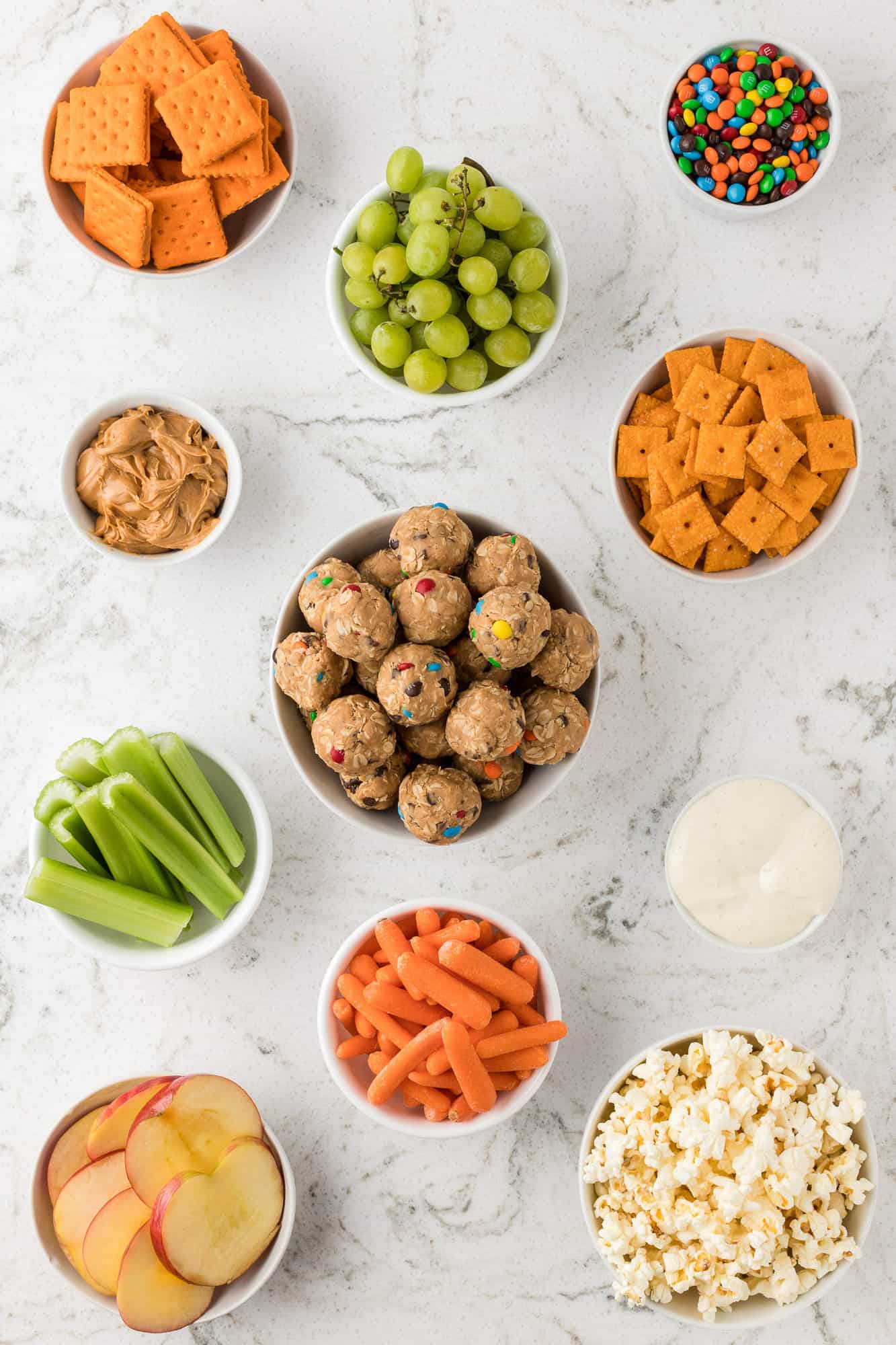 How To Assemble A Snack Board
Look for something large enough to hold all the snacks you want to offer. A large charcuterie board, cutting board, tray, or platter all work well. An aluminum baking sheet with a one inch rim (sheet pan) is a good choice. The rim keeps the snacks from falling off the edge.
Another option is to make a couple of boards, depending on your situation. It may be easier to spread the feast out a little bit so the kids aren't all crowded into one spot.
Remember, the kids won't be looking for anything fancy and probably won't be all that impressed by your beautiful live edge olive wood monogramed charcuterie board.
Arrange the snacks attractively. You can be as creative as you like with the arrangement. I like to start with a couple rows of the monster cookie energy balls running right down the middle. They are the featured act and should be given top billing.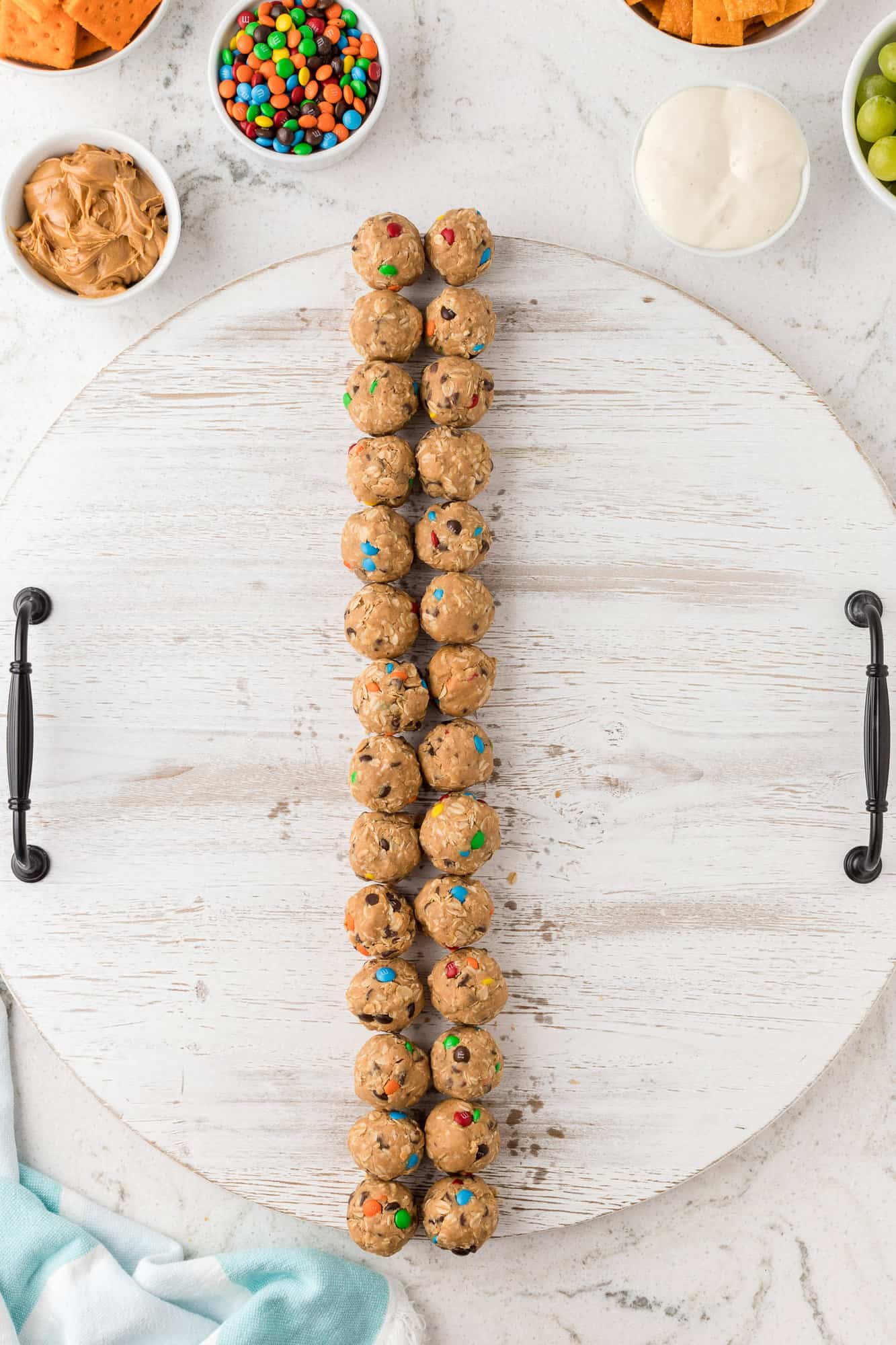 Utilize small bowls. Fill a few small bowls with the M&M's, peanut butter, and ranch dressing. I like to put a spoon in each bowl too. Arrange the three bowls around the edges of the board.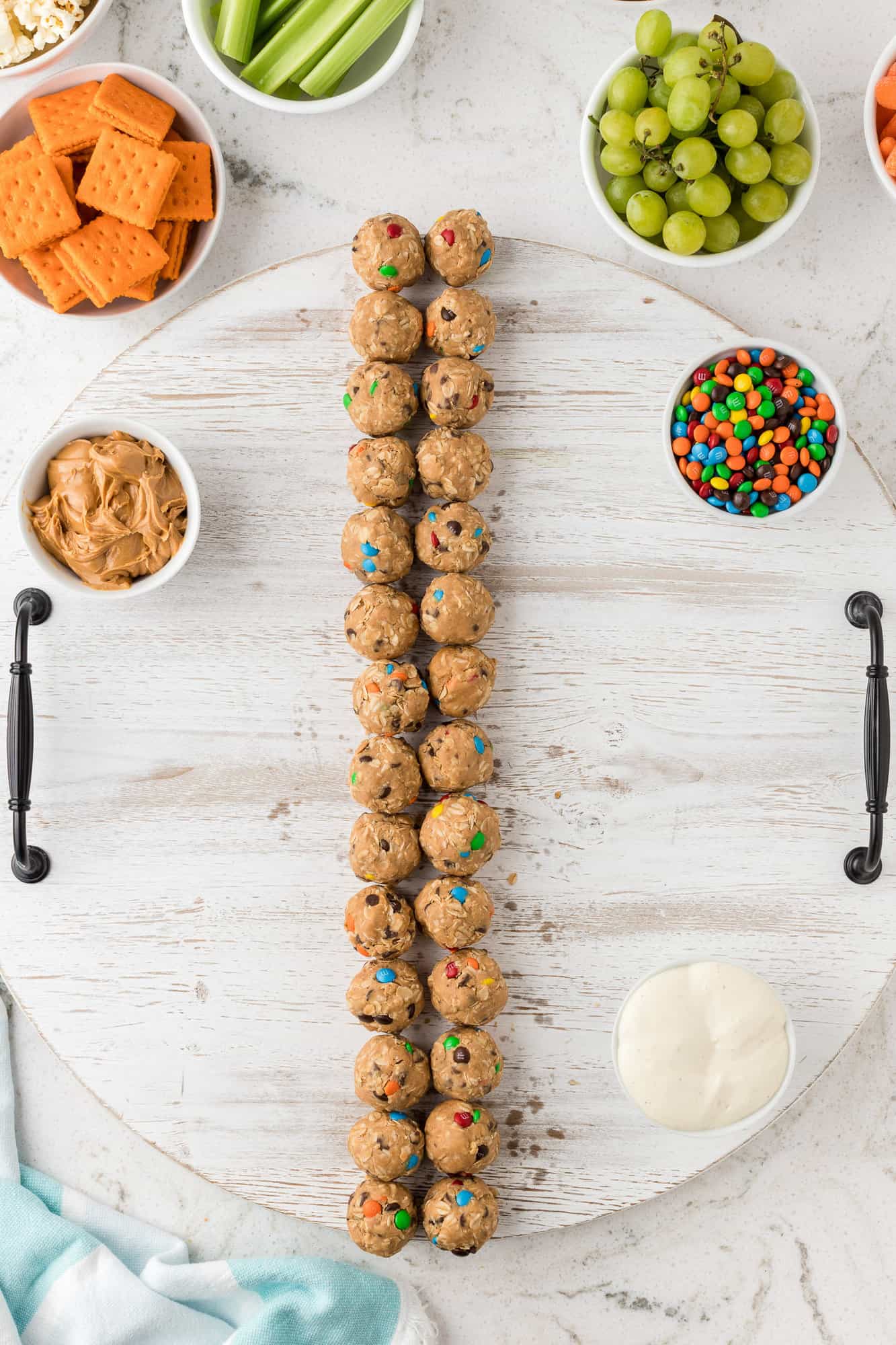 Pay attention to color. Fill in the open spaces with the remaining ingredients. Pay attention to colors and shapes so that the board looks balanced and attractive.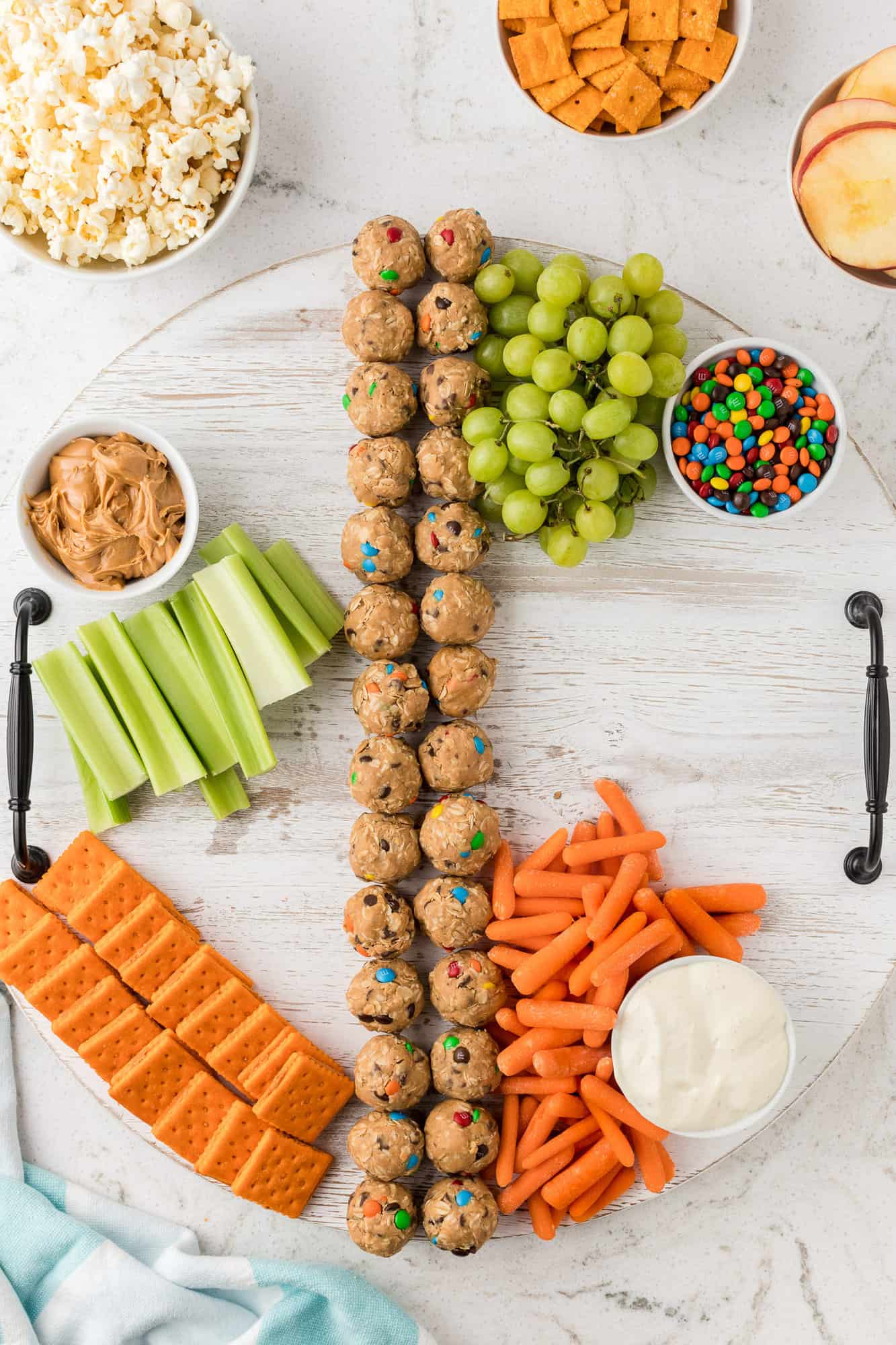 For example, you could arrange the items by color: orange carrots, cheez-its, cheese crackers; green celery, grapes; white popcorn, ranch dressing, apple slices.
Alternatively, mix up the colors so similarly colored items are separated from each other (as pictured). It's really up to you. Just have fun with it and be creative.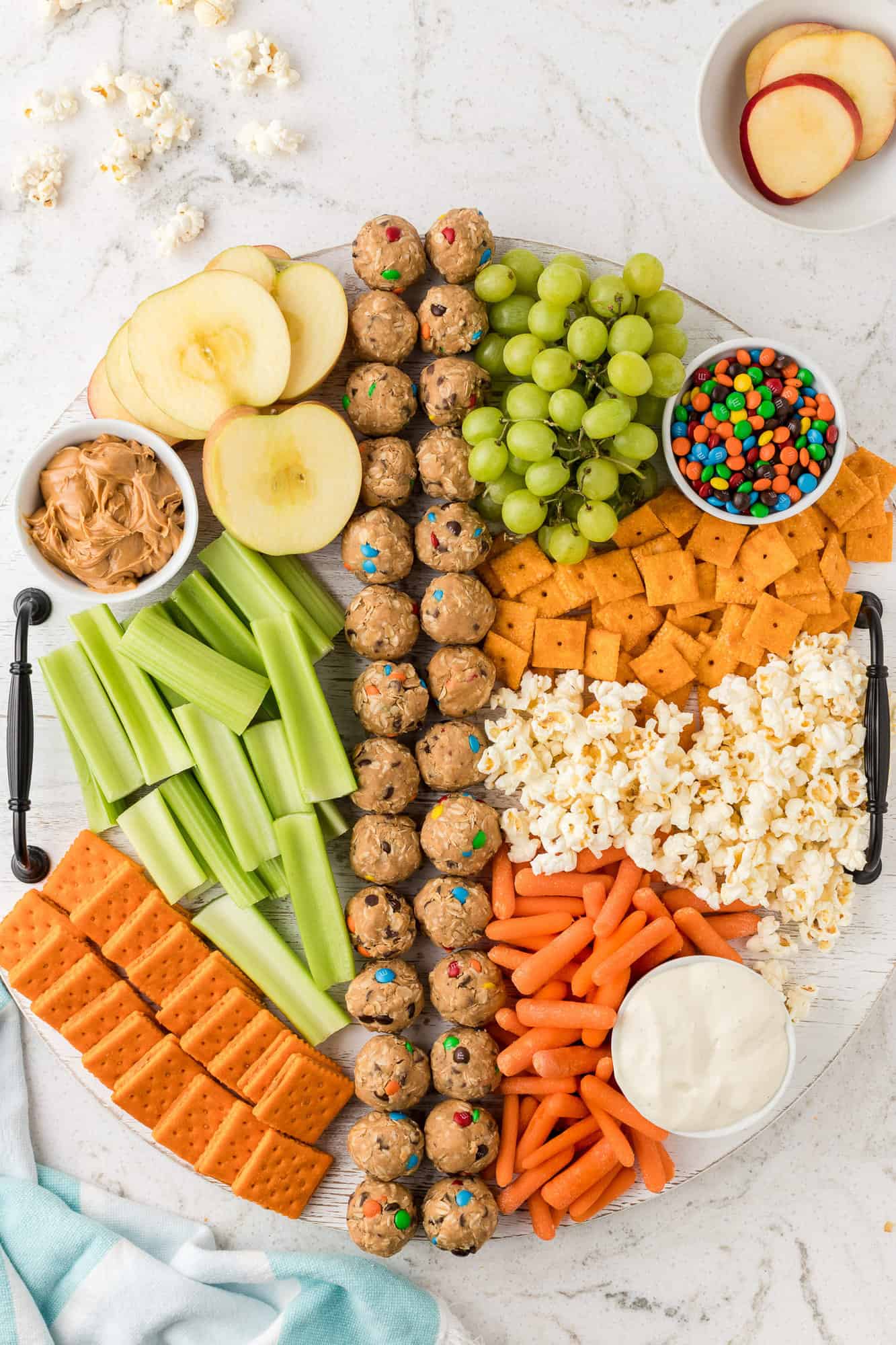 How to serve a snack board: I strongly encourage a good hand washing before snacking! You may want to provide small plates so the kids can choose what they like and put the items on their plates. Napkins are always a good idea, too.
Remember to provide a beverage. The kids will be thirsty, too. Offer milk, water, juice boxes, or tropical smoothies. Check out my list of 10 delicious smoothie recipes.
FAQs
What should be on a snack board?
There can be many themes for a snack board depending on the occasion. Your snack board can have a holiday theme (Christmas cookies!) or be suitable for a cocktail party with more sophisticated snacks like fancy cheese, nuts, olives, and meats.
There should be a good variety of snacks offered. Pay attention to color and texture so that the snack board looks attractive. Put small items into bowls or jars; dips can be in small bowls or crocks. Tongs, small forks, or spoons may be necessary for some items.
Have fun choosing and arranging the items on your snack board! There really isn't a right or wrong way to do it. Simply choose items that you think your guests will enjoy.
What is the purpose of a charcuterie board?
Think of a charcuterie board as a chance for friends to gather around a beautiful arrangement of delicious foods, lingering for relaxed conversation and friendship as they nibble on the foods you've prepared.
Make It Your Own
There are so many ways to customize a snack board. I'll give you a few substitution ideas here but feel free to use whatever snacks you like. If you're looking for more ideas, take a look at my list of 30 after school snacks.
Instead of ranch dip, try homemade dill vegetable dip made with Greek yogurt as an alternative. It's healthy and it isn't as drippy.
Instead of peanut butter, offer hummus or bright green edamame dip.
Add sliced cheese or nuts to the board. Instead of M&M's, offer healthy trail mix.
Carrots and celery can be replaced with sliced cucumbers, broccoli florets, sugar snap peas, or bell pepper strips.
Add apple slices with easy apple dip (cream cheese & peanut butter) to the board.
More fruit choices are strawberries, blueberries or blackberries, sliced pears, melon chunks, dried fruit such as raisins or cranberries, etc. Offer yogurt fruit dip or arrange the fruit on skewers. Take a look at my patriotic fruit kabobs for ideas.
For more board ideas, take a look at my other site, PancakeRecipes. Kids love the epic egg sandwich board and the yogurt parfait board. For adults, the mimosa bar and brunch board is always a hit, along with the Bloody Mary bar on a board!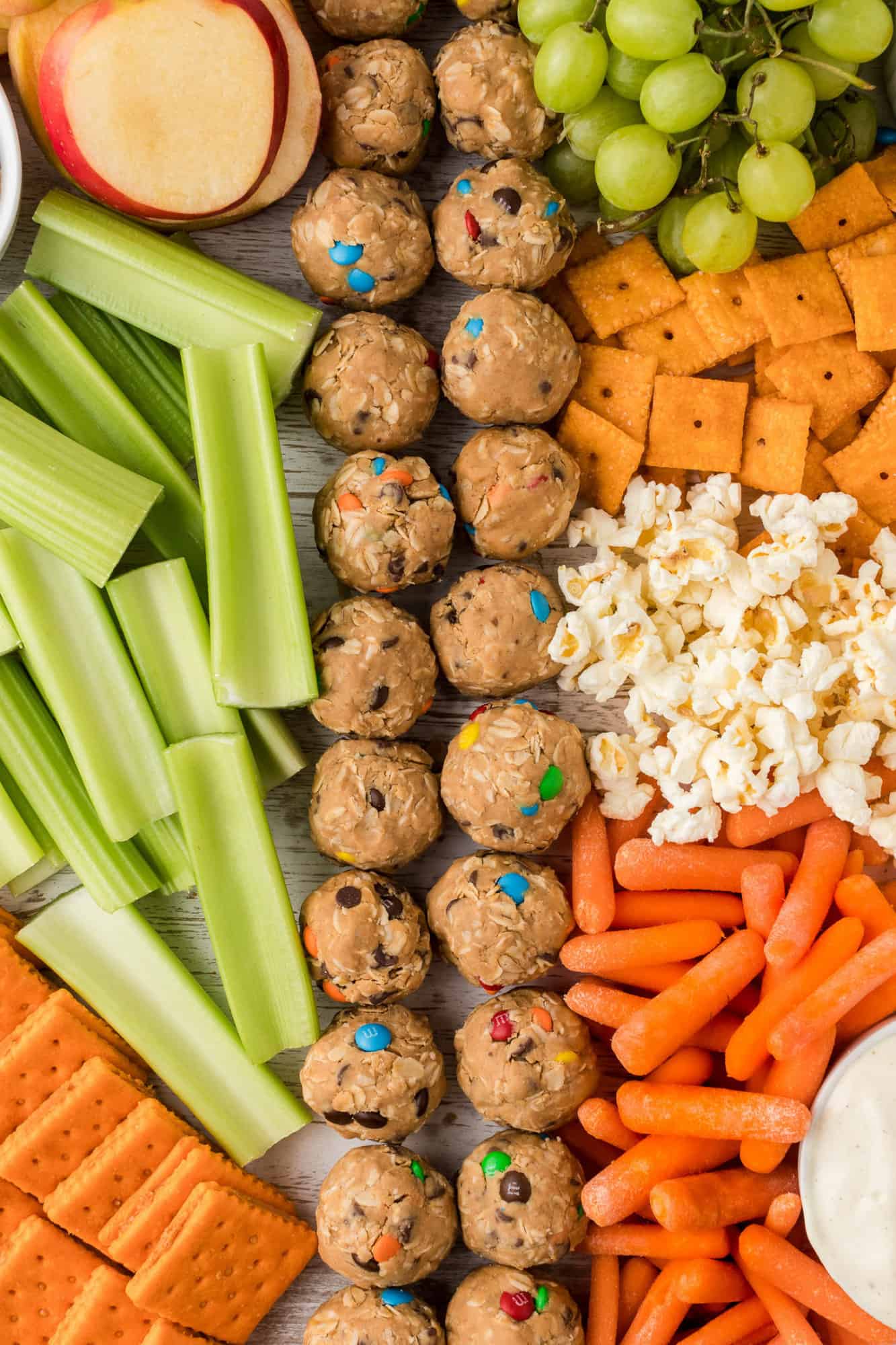 Make-Ahead Ideas/Storage Tips
As I mentioned above, many of the snack board items can be prepped ahead. Cut up veggies and fruit can be stored in the refrigerator until you need them. The energy balls can be made ahead, too. Keep a ready supply of them in your freezer.
Did you make this? Be sure to leave a review below and tag me @rachelcooksblog on Facebook, Instagram, or Pinterest!
Are your kids "starving" when they come home from school? Surprise them with an after school snack board stacked high with healthy fun snacks! They'll love it.
Ingredients
½

cup

mini M&M's

½

cup

ranch dressing

¼

cup

peanut butter

2

cups

celery sticks

2

cups

baby carrots

(or carrot sticks)

10

cheese peanut butter crackers

2

cups

grapes

(red, green, or purple)

1

cup

Cheez-It crackers

(any small crackers or pretzels)

2

apples, sliced

2

cups

popcorn
Instructions
Prepare the monster cookie energy balls.

Wash, cut, and prep all necessary ingredients.

Assemble your board. Arrange the monster cookie energy balls down the center of the board.

Put the M&Ms, ranch dressing, and peanut butter into small bowls. Arrange the bowls around the board's edges.

Fill in the open spaces with celery sticks, baby carrots, cheese peanut butter crackers, grapes, cheez-it crackers, sliced apples, and popcorn. Be unique, creating a decorative pattern.

Gather the kids and enjoy!
Notes
Nutrition information is a very rough estimate and will depend on what combination of food you eat and what brands you purchase.
You may want to add more or less of certain ingredients to fill holes or suit dietary needs.
Substitute any variety of energy balls or granola bars for this board.
Feel free to substitute your kid's favorite fruits (berries, sliced pear, melon chunks, dried fruit, etc.) and veggies (sliced cucumbers, grape tomatoes, bell pepper strips, broccoli florets, sugar snap peas, etc.)
Storage: Store all items in separate air-tight containers. Refrigerate the necessary items.
Nutrition Information
Calories:
237
kcal
,
Carbohydrates:
29
g
,
Protein:
4
g
,
Fat:
13
g
,
Saturated Fat:
3
g
,
Polyunsaturated Fat:
5
g
,
Monounsaturated Fat:
3
g
,
Trans Fat:
0.1
g
,
Cholesterol:
5
mg
,
Sodium:
241
mg
,
Potassium:
268
mg
,
Fiber:
3
g
,
Sugar:
18
g
,
Vitamin A:
3693
IU
,
Vitamin C:
4
mg
,
Calcium:
51
mg
,
Iron:
1
mg
This website provides approximate nutrition information for convenience and as a courtesy only. Nutrition data is gathered primarily from the USDA Food Composition Database, whenever available, or otherwise other online calculators.