Crockpot Oatmeal (Steel Cut Oats)
Crockpot oatmeal is a healthy and satisfying hot breakfast that's ready when you wake up. Get a good old-fashioned start to your day!
Recipe Overview
Why you'll love it: Your slow cooker is ideal for cooking steel cut oats. Low and slow is just what they need to cook perfectly.
How long it takes: overnight
Equipment you'll need: slow cooker (4-6 quart)
Servings: 6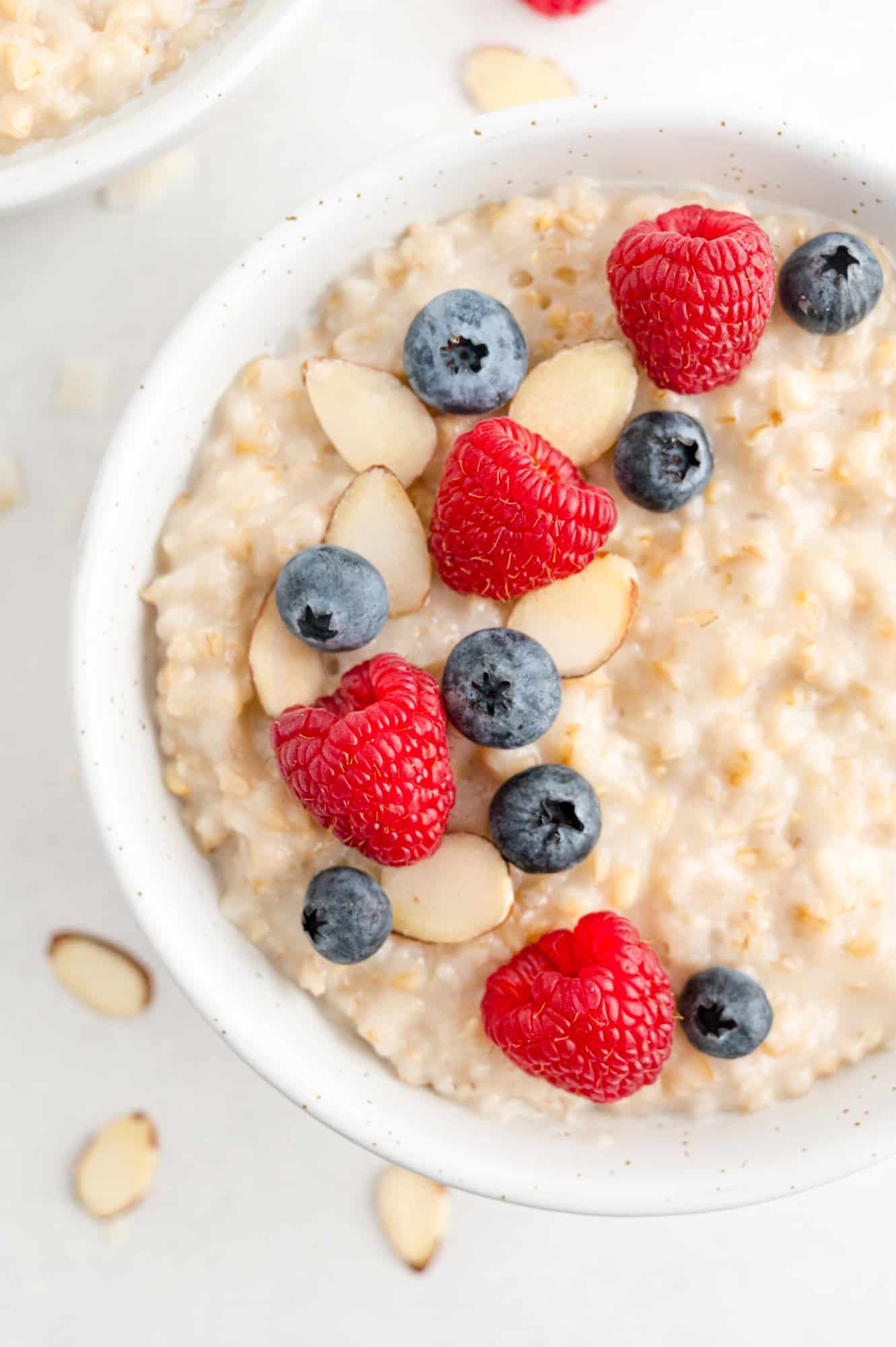 You'll love crockpot oatmeal because you wake up to a hot bowl of oatmeal, a hearty healthy breakfast. What could be better than that? It's comforting, warm, and filling.
Eating oatmeal can feel a little old-fashioned. Oats have been around for thousands of years. You may know oatmeal as porridge or by another name. The Scots have been eating oatmeal for centuries because growing oats is well-suited to their climate. I'm reminded of a funny episode in The Outlander series when Jamie tells the French king his digestive problems could be solved with a morning bowl of porridge.
Why is a breakfast of oatmeal a good thing? Healthline says oats are one of the healthiest grains on earth. They are a good source of vitamins, minerals, and fiber and help with heart health, digestion, and weight loss. Oats are higher in protein than many other grains. They'll stick with you until lunchtime! Oats are gluten-free, too.
If you have only tried instant oatmeal from the little packets, you'll be very pleased to discover that oatmeal can be so much better than that! There's really no comparison.
What Are Steel Cut Oats?
Oat groats (the whole grain) are milled in a variety of ways. For steel cut oats, the groats are chopped into little pieces. They look like small pieces of brown rice. Steel cut oats, also known as Irish oats or Scottish oats, have a chewier texture than old-fashioned oats which are steamed first, then rolled into small flat disks. Steel cut oats require a longer cooking time.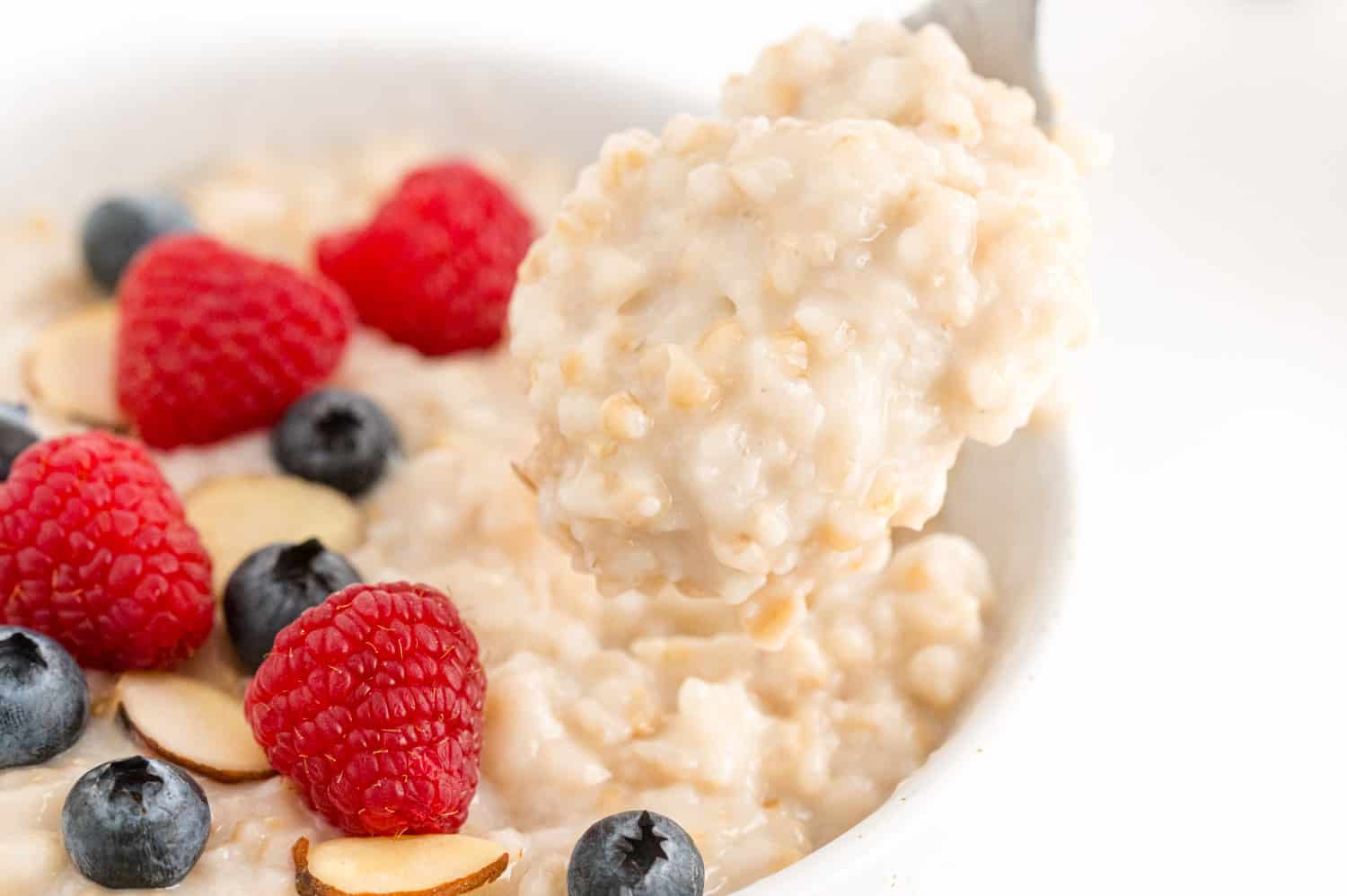 About This Recipe
This oatmeal is so easy to stir up the night before. You only need oats, water, and a pinch of salt. And a crockpot, of course!
In the morning, just lift the lid off your slow cooker, spoon steaming hot oatmeal into your bowl, top with anything you like, and eat!
No half-awake breakfast making. No standing by the stove, stirring a pot while you listen to your stomach growl. Granted, quick oats don't take long to make but if you prefer the texture of steel cut oats, you're looking at thirty-five minutes minimum. That definitely doesn't work for my family and probably not yours either.
Note: Some cooks like to cook the oats overnight in milk. We tested this recipe many times and found that it works best to make them with water. Oats made with milk have a tendency to burn or scorch. Add a bit of milk to the oats when you serve them, if you like.
If you have an Instant Pot, you may want to try Instant Pot steel cut oats.
I'll give you the basics of this easy recipe here but as always, you'll find the printable recipe card below with complete instructions, measurements, and nutrition information.
What You'll Need
Steel Cut Oats: No substitutions here, other types of oats won't work in this recipe. Try our baked oatmeal with rolled (old-fashioned) oats if that's what you have on hand. Homemade granola is always a great option, too.
Water: Essential to hydrate the oats.
Salt: Just a pinch of salt keeps the oats from tasting flat.
Nonstick Spray, Butter, Or Coconut Oil: To make clean up easy for you.
Slow Cooker (Crockpot): You'll need a four to six quart crockpot with a lid.
Optional Toppings: Milk (both dairy and non-dairy), fruit, dried fruit, seeds, nuts, nut butters, brown sugar, honey, maple syrup, you name it, it's good on oatmeal. Keep reading for even more topping ideas!
How To Make This Recipe
It's so easy and that's a good thing, right? Who wants to spend a bunch of time the night before making breakfast for the next day? I'm pretty tired by the end of the day but a five minute task I can handle.
Here's how to do it. Spray the inside of the crockpot with nonstick spray or grease it with butter or coconut oil. This will prevent the oats from sticking to the sides and will be easier to clean up.
Add the steel cut oats, water, and a bit of salt to the crockpot and stir. Put the lid on, set it for Low, and walk away.
In seven or eight hours, you'll have perfectly cooked steel cut oats! Have a good night's sleep!
In the morning, give the oats a stir and scoop up a bowlful.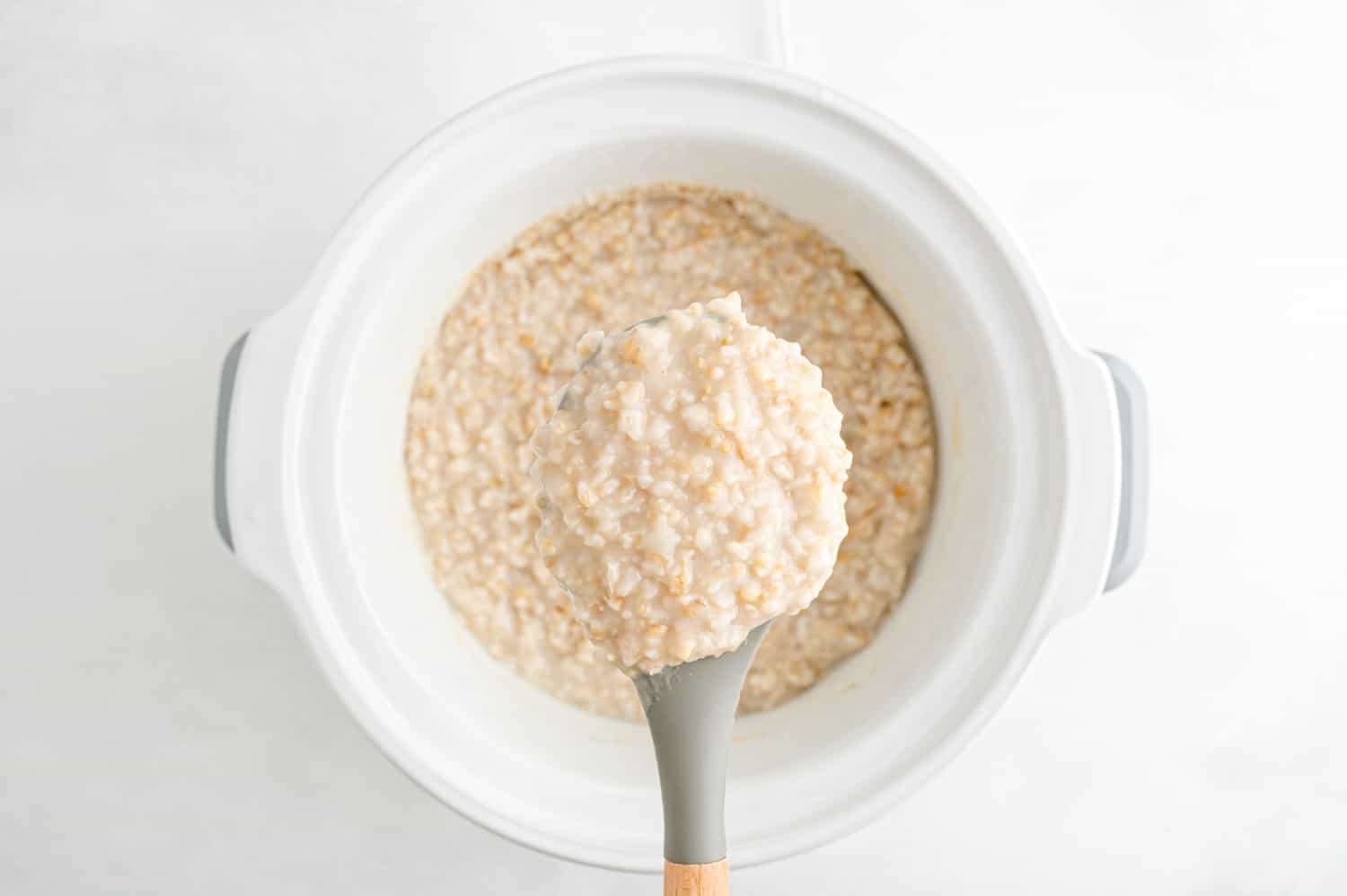 Unless you're really a purist, you'll want to top the oatmeal with something. Here's a few ideas but don't be limited by this list.
Topping ideas
Milk, cream, yogurt, non-dairy milk such as almond milk
Brown sugar, honey, maple syrup, molasses, chocolate syrup (or chocolate chips!)
Spices: add a sprinkle of cinnamon, nutmeg, or ginger. Pumpkin pie spice or apple pie spice are great additions to oatmeal. Try mild curry powder for something different!
Fresh fruit such as sliced bananas, berries, peaches, mango, etc.
Dried fruit (raisins, dried cherries, dried apricots, dates, figs)
Apple compote is one my favorite things to add to oatmeal. It's great on French toast or pancakes, too!
Toasted nuts and seeds (walnuts, pecans, almonds, pepitas, sunflower seeds). For an extra special breakfast, garnish the oatmeal with spiced pecans.
Nutrition boosters like ground flaxseed, chia seeds, wheat germ, nut butters
Add a fried egg to your bowl of oatmeal for a more savory treat.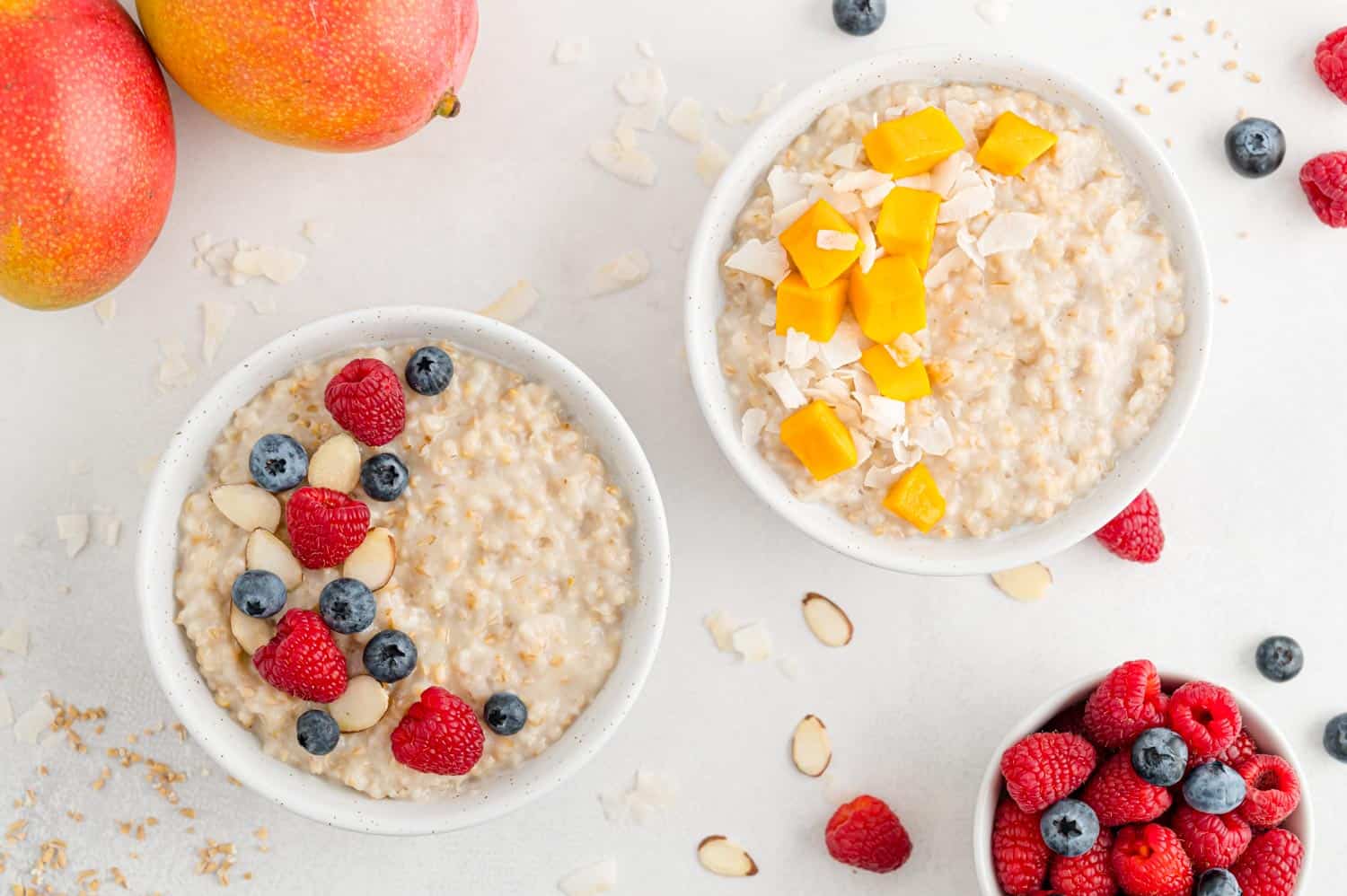 FAQs
Do you need to wash steel cut oats?
No, you shouldn't have to wash the oats before cooking unless the package instructs you to do so.
Do you need to soak steel cut oats?
Soaking the oats can speed up the cooking time if you are cooking them on the stove. With this crockpot method, there's no need to soak them first.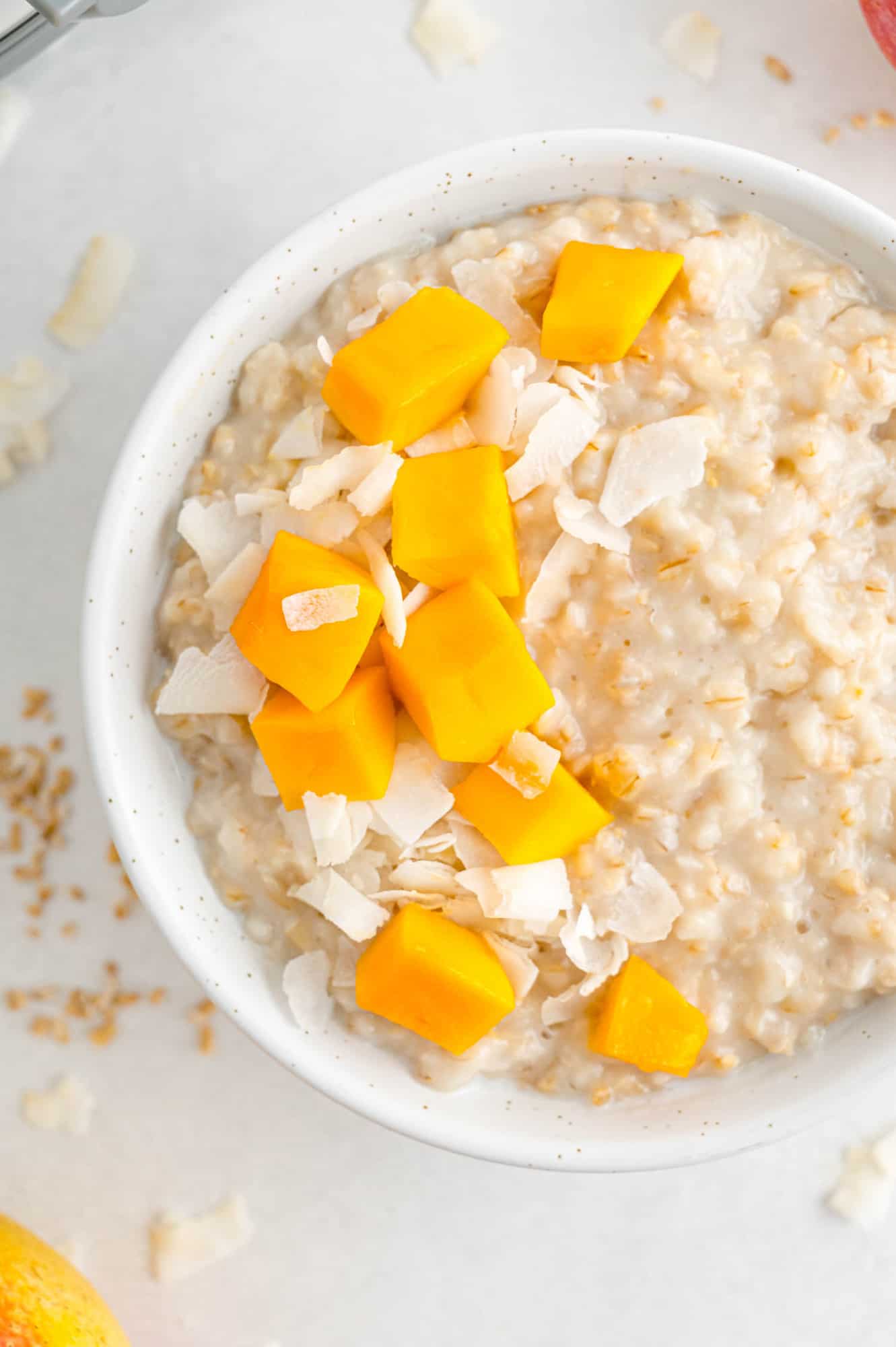 Make-Ahead Ideas
You can easily double the recipe. It's a great make ahead recipe because the oatmeal is really good reheated the next few mornings.
You may like this idea: For serving size portions, freeze the cooked oatmeal in muffin tins sprayed lightly with cooking spray or greased (silicone muffin tins work great for this). Once it's frozen, pop it out of the tins and put the disks into freezer bags. To reheat, put one into a microwave safe bowl and heat for 1-2 minutes. Bingo, breakfast is ready!
Storage & Reheating Tips
Cooked oats can be stored in a covered container in the refrigerator for up to five days, or frozen for up to six months.
Uncooked oats should be kept in an airtight container in a cool dark place. For longer storage, keep oats in the refrigerator or freezer.
Rather Have Oatmeal Cookies?
I get that! Try these crispy coconut oatmeal cookies, soft and chewy iced oatmeal cookies, or whole wheat oatmeal raisin cookies. We really love chocolate walnut breakfast cookies for breakfast on-the-go or a healthy snack. Energy balls are high in protein and are usually made with oats, too. Try cranberry oatmeal energy balls or apple cinnamon energy bites.
If you're loving the idea of crockpot oatmeal, be sure to try carrot cake slow cooker oatmeal or pumpkin pie slow cooker oatmeal.
More Recipes
Did you make this? Be sure to leave a review below and tag me @rachelcooksblog on Facebook, Instagram, or Pinterest!
Crockpot oatmeal is a healthy and satisfying hot breakfast that's ready when you wake up. Get a good old-fashioned start to your day!
Ingredients
1 ½

cups

steel-cut oats, uncooked

(do not substitute other types of oats)

6

cups

water

¼

teaspoon

kosher salt
Instructions
Spray the inside of a 4 to 6-quart crockpot with nonstick cooking spray or rub with coconut oil or butter.

Add ingredients to crockpot and stir to combine.

Cook on low, covered, for 7-8 hours (overnight is perfect!) or on high for 4 hours, until the oats are tender and the water is absorbed.

Stir and serve warm with desired toppings.
Notes
Makes 6 cups (serving size 1 cup).

Recipe can be doubled. We don't recommend halving the recipe unless you have a smaller size slow cooker.
We found the oatmeal cooked best (and didn't burn) when we added additional ingredients after it was done cooking. We tested this many, many times!
Optional Toppings: Milk, fresh fruit, dried fruit, nut butters (peanut butter, for example), or spices (cinnamon, apple pie spice, pumpkin pie spice, etc.). Ground flaxseed, chia seeds, or hemp seeds add great nutrition.
Nutrition Information
Serving:
1
cup
,
Calories:
154
kcal
,
Carbohydrates:
26
g
,
Protein:
6
g
,
Fat:
3
g
,
Saturated Fat:
1
g
,
Sodium:
109
mg
,
Potassium:
1
mg
,
Fiber:
4
g
,
Calcium:
27
mg
,
Iron:
2
mg
This website provides approximate nutrition information for convenience and as a courtesy only. Nutrition data is gathered primarily from the USDA Food Composition Database, whenever available, or otherwise other online calculators.