Apple Cinnamon Baked Oatmeal Recipe
Meal prepping at its best, this easy apple cinnamon baked oatmeal recipe tastes great all week long! One of the best ways to enjoy it is with a dollop of yogurt on top!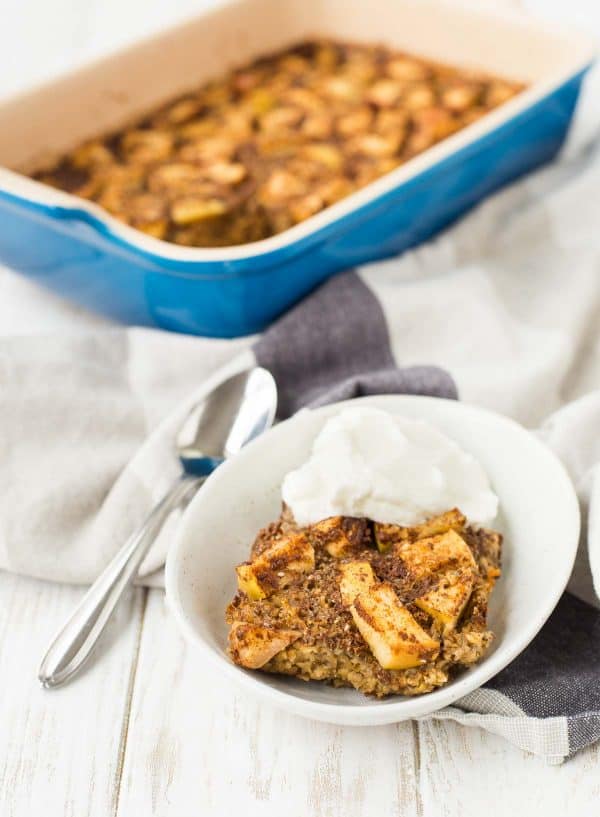 I'm sitting at a coffee shop writing this blog post right now and yawning. I can't stop yawning. All the coffee in the world will not help me today.
Buuuut….
I read a really great article today (from Sarah Von Bargen) about how the things that make you busy/stressed/tired are often the same exact things that make you happy. It really hit home for me because it's so true. Would my life be less stressful and less busy without this corner of the internet that I call home? Certainly. But would I be as happy if I wasn't constantly trying to improve this site and my skills? Debateable, but likely not.
Is it sometimes exhausting hearing a 4-year-old call down, "Is it wake-up time?" before 6AM? YES. Yes, it is. Would I change it for the world? Never ever.
It really hit home and gave me a good dose of perspective that I needed this morning. I'm tired and yawning because I woke up at 4:45AM to work out today. But I'm so thankful for a healthy body and the ability to get up and work out. I'm thankful for the way working out makes me feel. Yes, it's one more thing on my schedule, but it makes my life better and happier.
From here on out, I'm really going to take a minute to consider what it is that is making me feel busy or tired before I start grumping about it. Anyone care to hold me to that?
Also, I'll keep on making easy recipes like this baked oatmeal recipe for all of us to enjoy. I'm simplifying those early mornings with make-ahead breakfasts that create a slightly more leisurely pace before the sun rises. A couple of my favorites are this Cinnamon Swirl Breakfast Cheesecake or Chocolate Protein Pancakes (make ahead and freeze). This past week, I didn't have anything prepped for breakfast and it really made a difference (not in a good way) in our morning. Ben hits the drive-thru for a much less healthy start to his day more often when I don't have something ready for him to grab in the fridge.
This baked oatmeal recipe is unbelievably easy to prepare (SO SO SO easy!) and it's great warmed up for a minute in the microwave and topped with milk or a dollop of yogurt.
Let's all try to enjoy the busy a little more, but simplify where we can, at breakfast, with our oatmeal. If you're an oatmeal fan like me, try it in all its forms! My Carrot Cake Slow Cooker Oatmeal cooks while you sleep (hooray!). If you love the idea of that, you might also like this CrockPot Make-Ahead Apple Pie Oatmeal from Kalyn's Kitchen. Something that's a little less common but I absolutely adore is to pour cooked oatmeal into a pan, let it cool, and then cut it out and pan-sear it. The partnering of a crunchy outside and soft inside is absolutely irresistible — you have to try Pan-Seared Oatmeal if you've never had it. If you're feeling extra motivated, you can even use cookie cutters to cut it into fun shapes – I did heart-shaped Strawberry Steel Cut Oatmeal for Valentine's Day! I haven't tried overnight oats (in the fridge) yet, but this No-Cook Blueberry and Apricot Overnight Oatmeal from Belly Full looks like the perfect place to start! Or this recipe for Raspberry Mocha Latte Overnight Oats from Cupcakes & Kale Chips — YUM!
PS: I just yawned again. And I have a 2 1/2 hour drive this afternoon to see my accountant. When you find someone you love, it's hard to switch! Maybe next year…
Used in this recipe:
Apple Cinnamon Baked Oatmeal Recipe
Yield: 4 servings
Prep Time: 10 minutes
Cook Time: 50 minutes
Total Time: 1 hour
Meal prepping at its best, this easy apple cinnamon baked oatmeal recipe tastes great all week long! One of the best ways to enjoy it is with a dollop of yogurt on top!
Ingredients
1 cup steel-cut oats
2 cups skim milk (or almond milk)
1 large apple, chopped
¼ cup coconut sugar
2 tablespoons chia seeds
2 tablespoons ground flax seeds
1 tablespoon coconut oil, melted
1 1/2 teaspoons ground cinnamon
1 teaspoon pure vanilla extract
1/2 teaspoon ground nutmeg
Pinch of salt
Instructions
Preheat oven to 375°F and grease a 9×13 (or slightly smaller) pan with nonstick baking spray or coconut oil spray.
Mix all ingredients in a large bowl until combined.
Pour into prepared pan and bake for 45-50 minutes or until set and golden brown. Serve warm with milk or yogurt.
Notes
Use almond milk to make this a vegan recipe. Nutrition information is based on using skim milk.
Nutrition Information:
Yield: 4
Serving Size: 1 of 4
Amount Per Serving:
Calories: 352
Total Fat: 9g
Saturated Fat: 4g
Trans Fat: 0g
Unsaturated Fat: 5g
Cholesterol: 2mg
Sodium: 90mg
Carbohydrates: 57g
Fiber: 9g
Sugar: 25g
Protein: 11g
RachelCooks.com sometimes provides nutritional information, but these figures should be considered estimates, as they are not calculated by a registered dietician. Please consult a medical professional for any specific nutrition, diet, or allergy advice.
Verdict:
I love this baked oatmeal recipe! It tastes like apple crisp but it's even more filling and healthier.
Husband's take:
He really liked this for breakfast. He had a boiled egg with it and said it kept him full all morning.
Changes I would make:
None are necessary. And PS: I've forgotten the coconut oil (maybe I was busy yawning?) and it still turns out. Sticks to the baking dish a little, though.
Difficulty:
Easy! Stir and bake, friends. You can totally handle it.