Carrot Cake Slow Cooker Oatmeal
Carrot cake slow cooker oatmeal tastes like an indulgent dessert but it is a nutritious, fun, and filling way to start your day.
Recipe Overview
Why you'll love it: Using your slow cooker overnight to make steel cut oats is a no-fuss way to have a hearty breakfast in the morning.
How long it takes: just a few minutes to prep, 7 to 8 hours in the crockpot
Equipment you'll need: slow cooker, box grater or food processor
Servings: makes 6 cups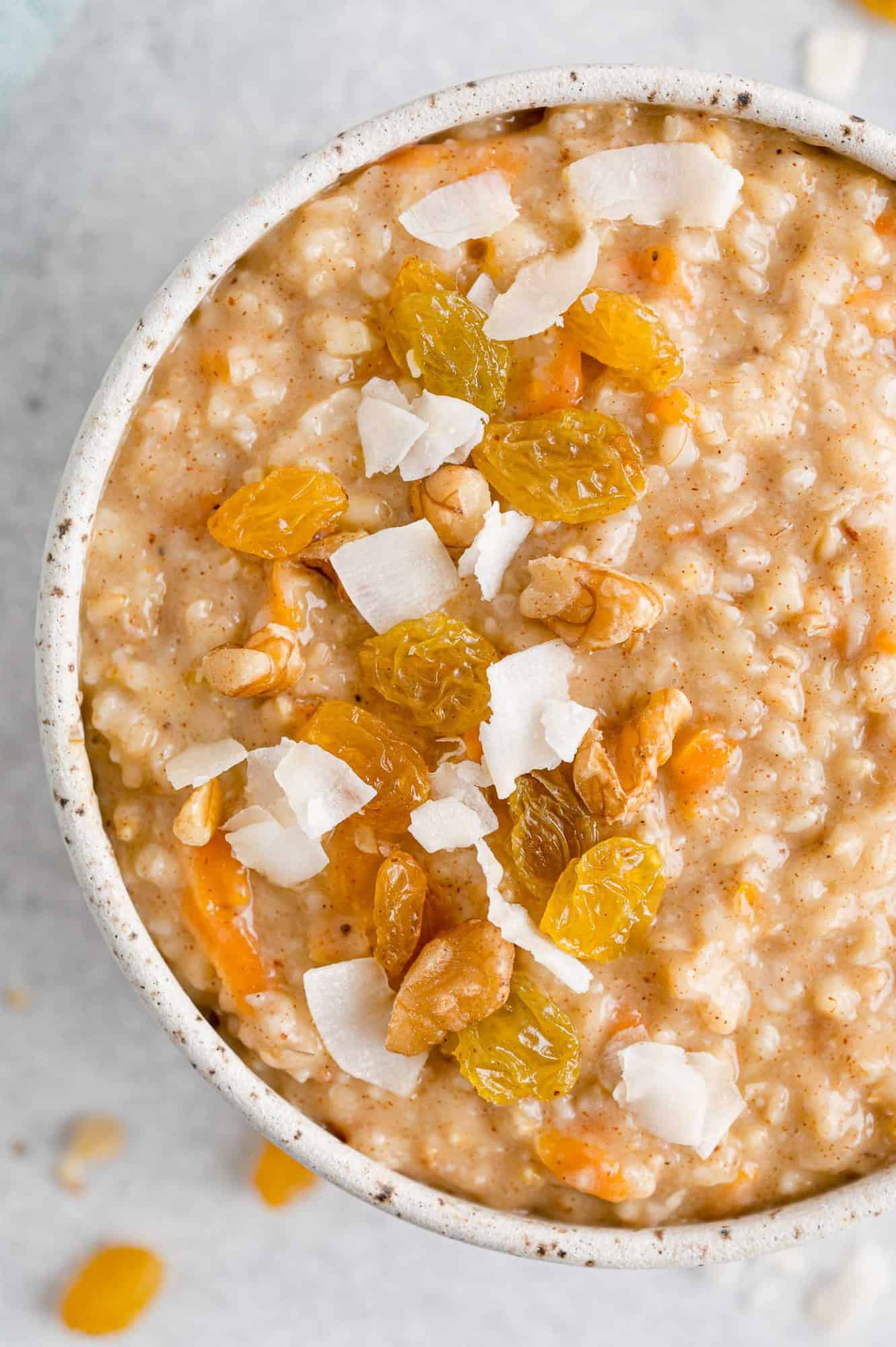 Slow cooker oatmeal is one of my favorite things. It just doesn't get much better than stirring a few things together in the slow cooker before you go to bed (takes only a few minutes!) and waking up to a hot breakfast, ready and waiting for you.
Loaded with nutritious ingredients like steel cut oats and carrots, a bowl of carrot cake oatmeal is a satisfying and healthy breakfast option. If you add all the toppings, it's fancy enough for a special occasion breakfast. You'll love it!
Steel cut oats work perfectly in the slow cooker because they take a long time to soften enough to be creamy and delicious. A long time = overnight! If you make them in a saucepan, you can plan on cooking them twenty-five to thirty minutes, and you have to stir them fairly often so they don't stick. Honestly, I usually don't have time for that on weekday mornings. (Making Instant Pot steel cut oats is another great solution to this problem!)
I love my plain (but versatile!) version of slow cooker steel-cut oats. In the fall, pumpkin pie oatmeal is a must. However, this version just may be my favorite with all the luscious flavors of carrot cake: carrots, coconut, nuts, raisins, pineapple, and warm spices. If I'm really feeling like a splurge, I head on over to Pancake Recipes and find my recipe for cinnamon cream cheese glaze to drizzle over the oatmeal.
By the way, overnight steel cut oats are naturally gluten-free, vegetarian, and vegan (depending on what you add as a topping).
About This Carrot Cake Slow Cooker Oatmeal
After testing this recipe multiple times, we found that it's best to cook only the oats and shredded carrots with water overnight so that they get nice and tender. The spices are added when it's done cooking, but the smell of breakfast cooking will still waft out of the kitchen all night.
However, I can hear you thinking that oats, carrots, and a couple of spices don't add up to carrot cake, right? We found that it works best to add the "carrot cake stuff" as toppings right before you serve the oatmeal.
The raisins stay firm, the coconut doesn't get stringy, and the nuts stay crisp. When you add the milk and sweet stuff ahead of time, the oatmeal tends to burn around the edges and that can make cleanup a pain in the you know what.
Another advantage of adding the goodies as toppings is that everyone can dress up their bowl of oatmeal just the way they like it. It seems like there's always someone who doesn't like coconut, or abhors raisins, or hates nuts, or who just likes things plain, am I right? This way everyone is happy!
Another little bonus is that a splash of milk will help cool those oats down a little so you can actually eat them!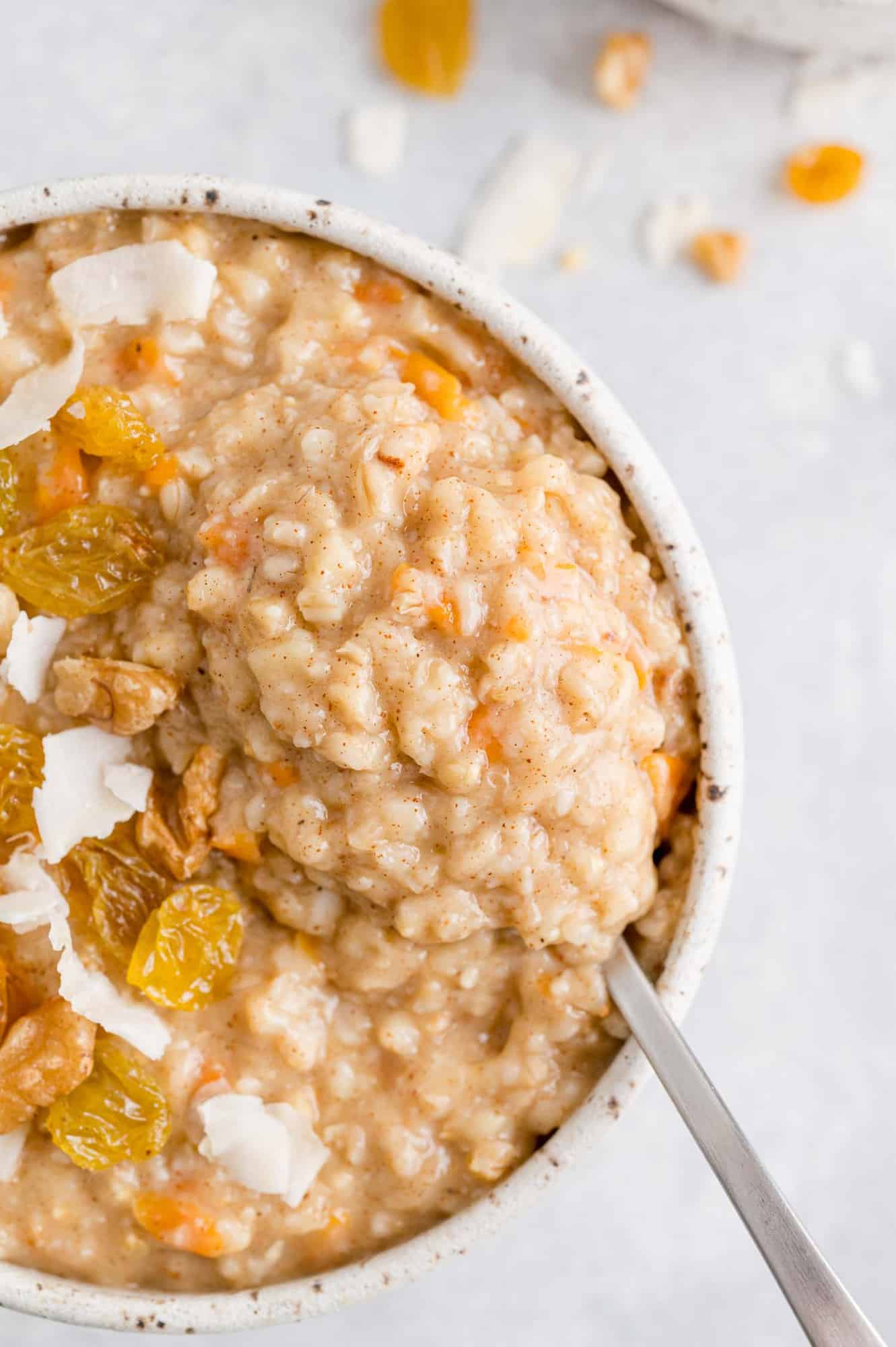 I'll get you started on making your oatmeal breakfast and give you lots of helpful tips. As always, look for the printable recipe card near the end of the post, with complete instructions, measurements, and nutrition information.
What You'll Need
Steel Cut Oats: This recipe is written for steel cut oats. You'll find steel cut oats by the hot cereals. Quaker Oats is a familiar brand.
Water: Just to reiterate, these oats are cooked with water. Some cooks like to cook them in milk but we found that milk tends to burn in the slow cooker.
Shredded Carrots: Carrots add nice color, natural sweetness, and extra nutrition. Finely shredded (grated) carrots work better than julienned or diced carrots. Use a box grater or a food processor to make quick work of it.
Salt: If your oatmeal seems to taste blah or flavorless, chances are you're forgetting the salt. Salt enhances the flavor of most foods, including oatmeal.
Cinnamon & Nutmeg: You'll find these warm spices in carrot cake. If you're feeling motivated, add a teaspoon of ground ginger and a dash of cloves, too.
Optional Toppings: golden raisins, unsweetened coconut (shredded or flake), crushed pineapple, toasted walnuts or pecans, brown sugar, milk or half & half. Make sure you choose at least a couple of the toppings!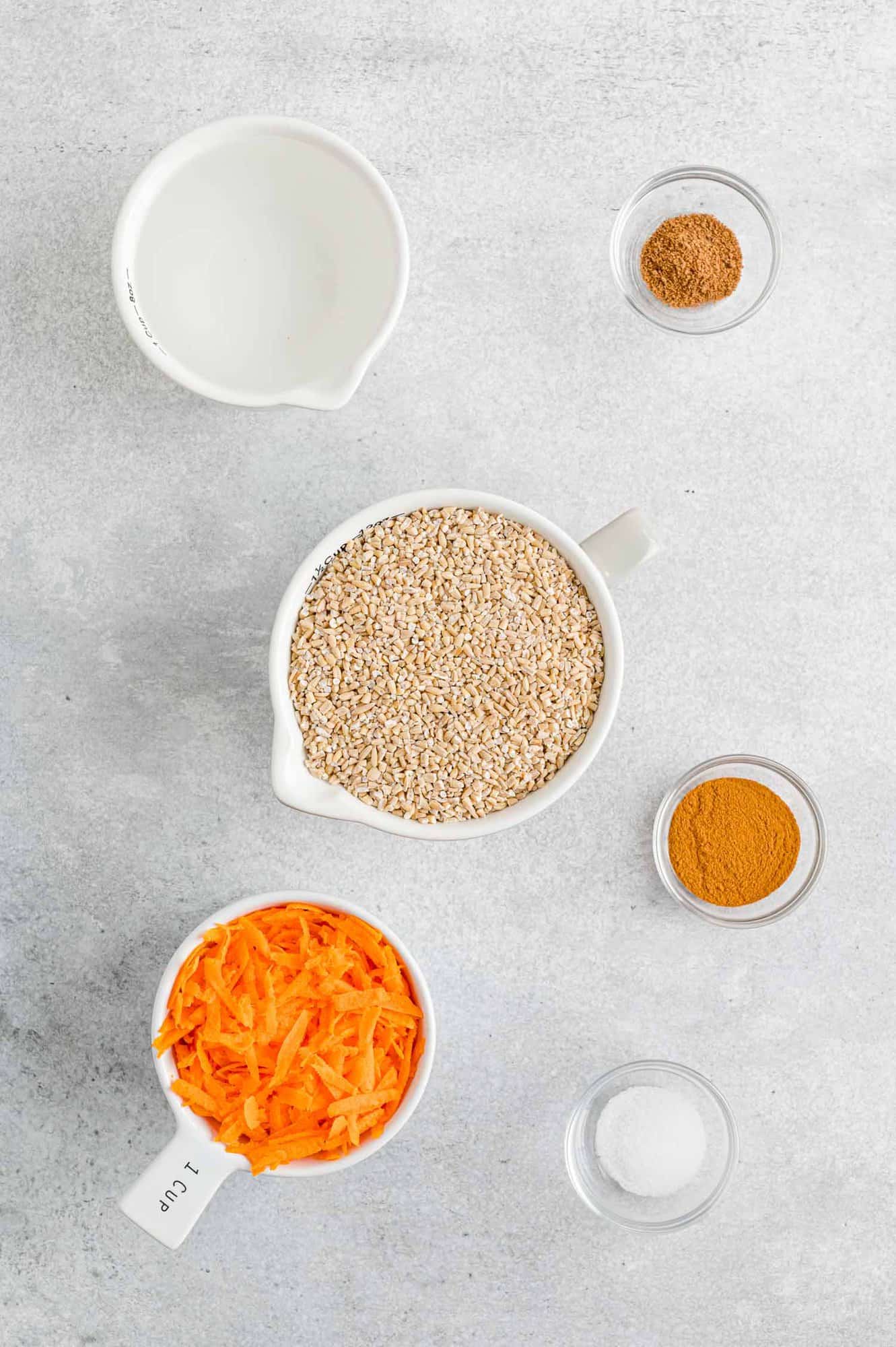 How To Make Slow Cooker Oats
Before you go to bed, take five minutes to get this easy breakfast started.
Begin by lightly spraying your crockpot with nonstick spray or greasing it with coconut oil or butter. Oats are a naturally sticky food and this important step keeps the oats from sticking to the sides of the crockpot.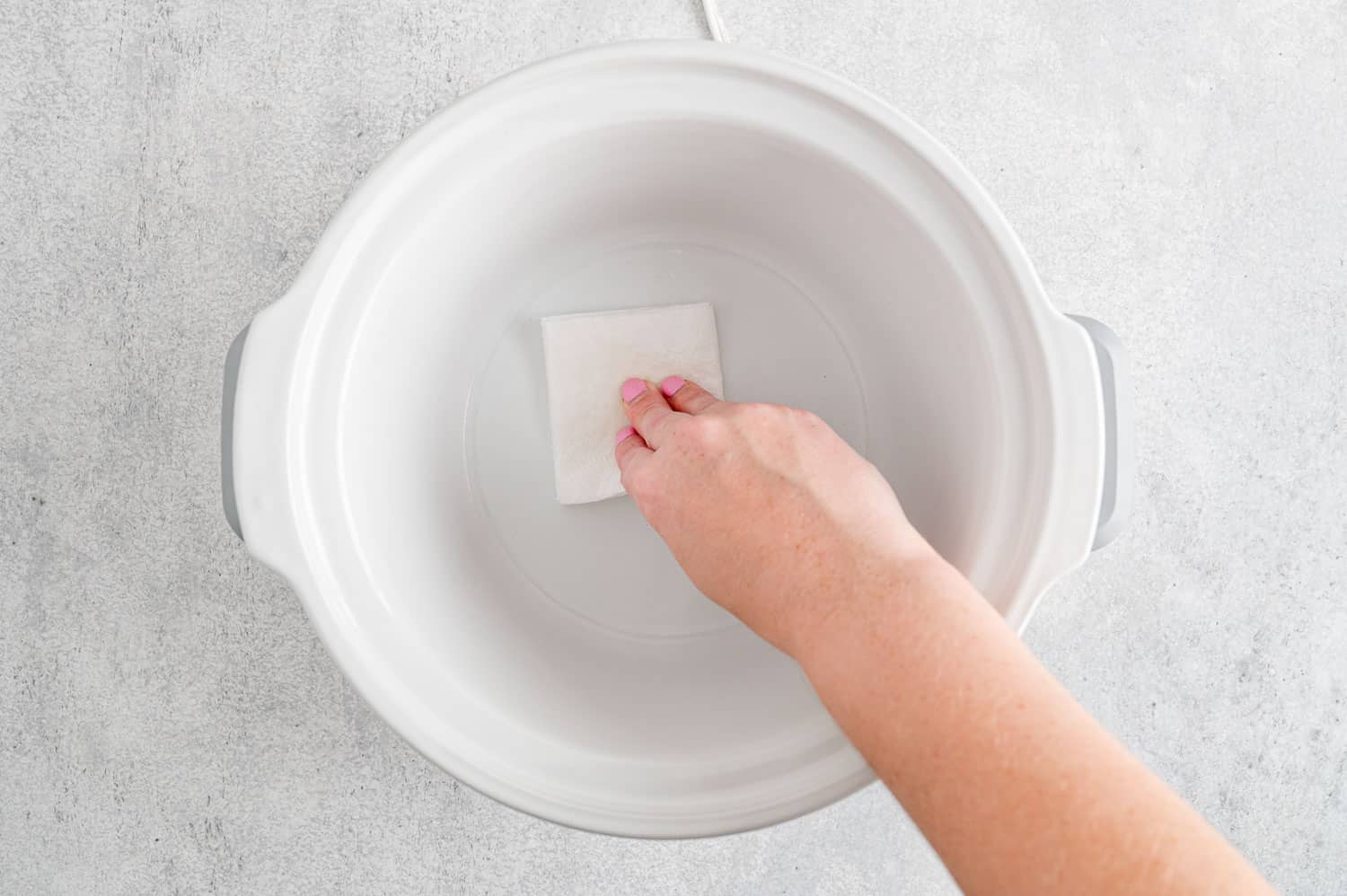 Next, measure out the oats and water and add them to the slow cooker, along with a bit of salt. Give everything a good stir.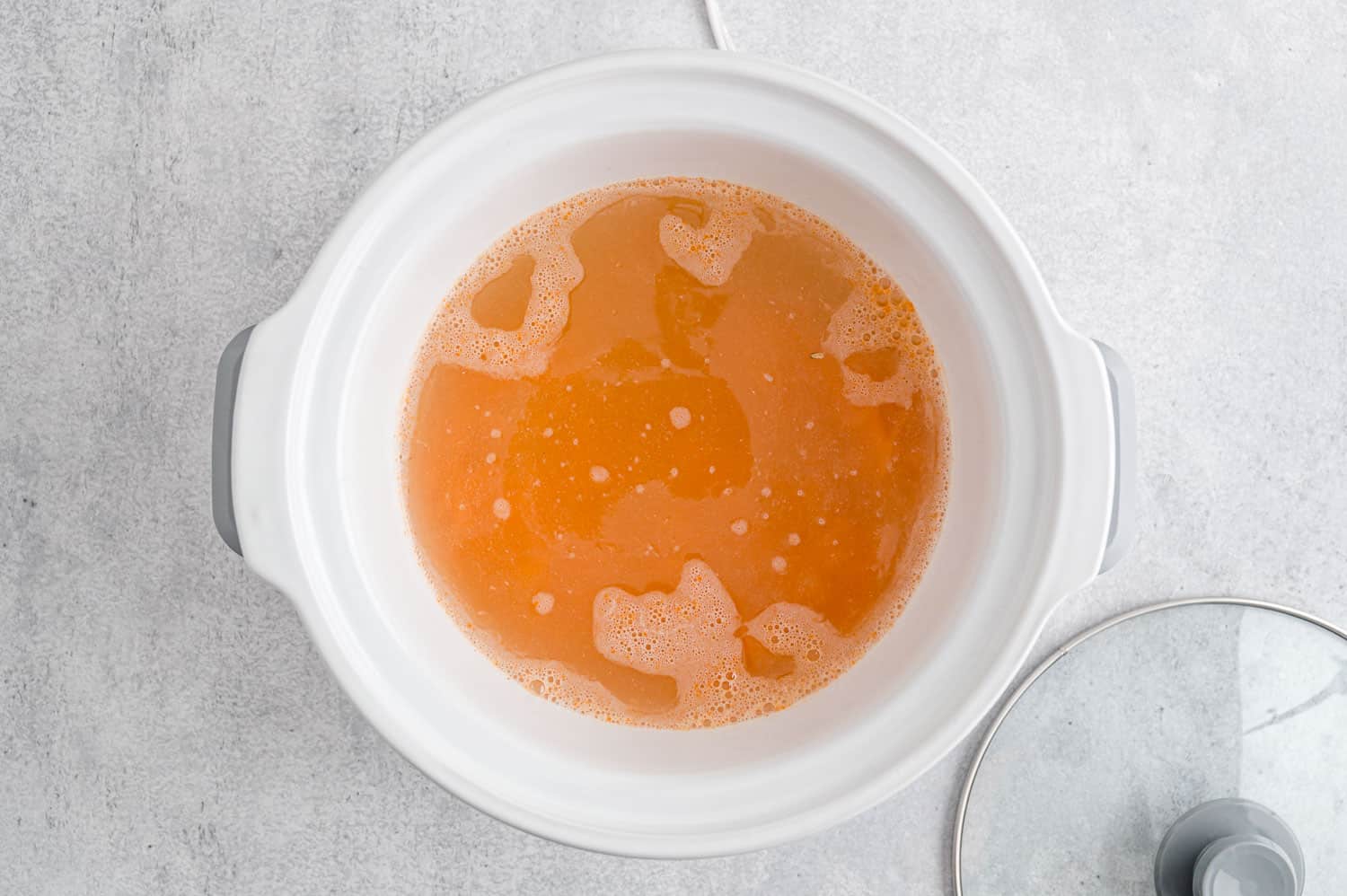 Put the lid on the crockpot, plug it in, and set it on LOW. If you have a minute yet, get the toppings ready.
Chop a few pecans or walnuts and toast them in the microwave. Just spread them on a microwave safe plate and microwave them on high power for one minute intervals, giving them a little stir each time. Don't overcook them because they can burn pretty quickly. You can do the same to make toasted coconut (in 30 second intervals).
Let the oatmeal cook all night. When you wake up, stir in the spices and breakfast will be ready.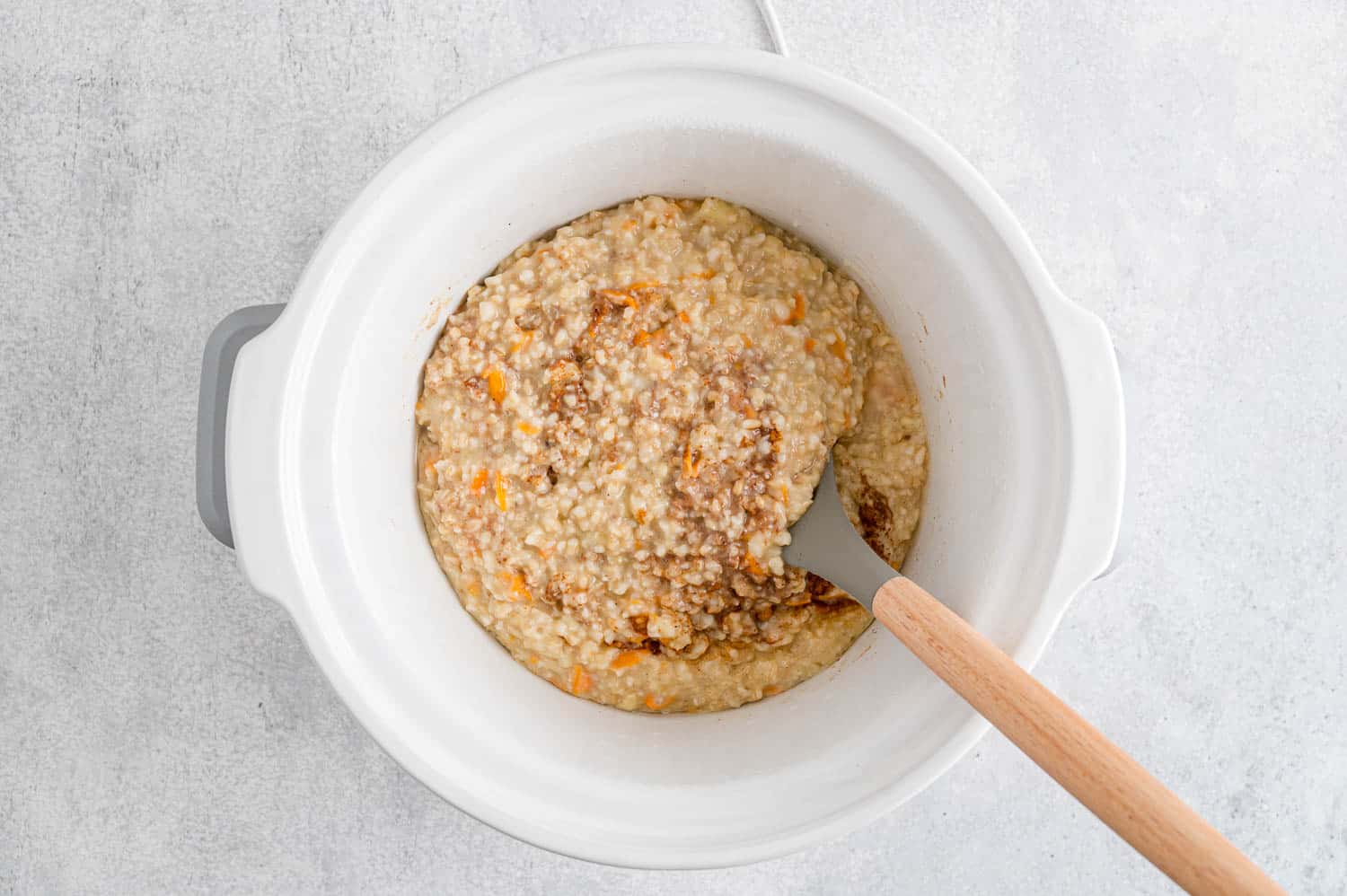 It's a feel good breakfast that will stick with you. Oatmeal is a complex carbohydrate that fuels your body all morning and it contains 7 grams of protein per serving. Add nuts and milk for more protein.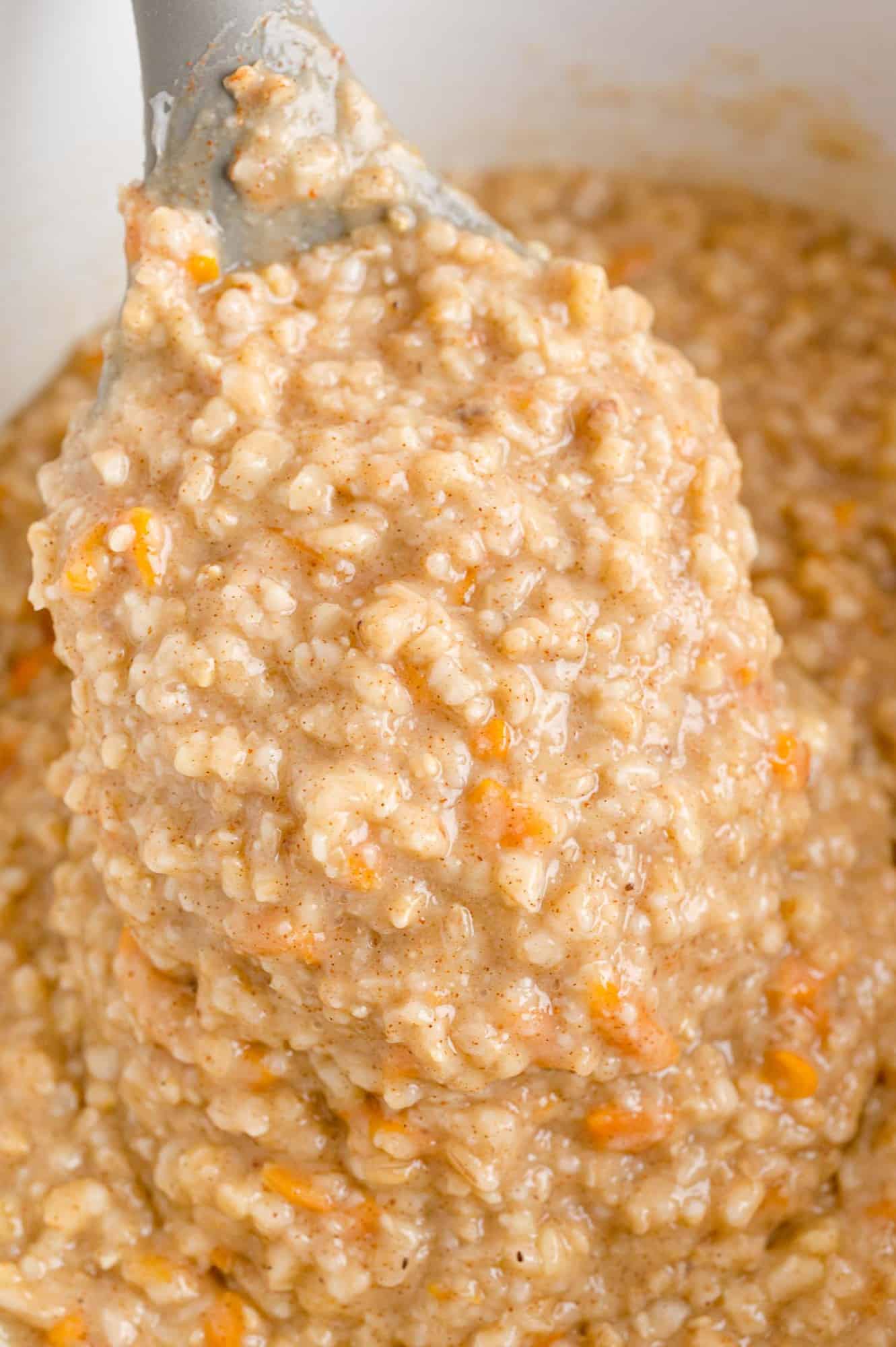 FAQs
What is the ratio of water to steel cut oats?
According to Quaker Oats, the ratio of water to steel cut oats should be 4:1, that is, four cups of water to one cup of oats.
Are steel cut oats better for you than rolled oats?
All oats begin as oat kernels that are hulled. Hulled oat kernels are called groats. The groats are processed in different ways: chopped into pieces (steel cut oats), rolled (old fashioned), or rolled, steamed and cut into smaller pieces (quick oats). Nutritionally, all three varieties are very similar. Steel cut oats have a bit more fiber which gives them a lower glycemic index. For more information, check out Healthline.
Should steel cut oats be soaked before cooking?
Soaking the oats speeds up the cooking process because the oats become slightly softer. If you're cooking the oats in a slow cooker, soaking is not necessary.
Make It Your Own
Have fun with the toppings! Use any of the topping ideas I've given you or have fun coming up with your own ideas.
The recipe can be increased as long as you keep the ratio the same and you have a large enough slow cooker.
Substitute old fashioned rolled oats for the steel cut oats. Remember that you'll need less water (3:1). If you use 1½ cups of rolled oats, you'll need 4½ cups water. Note: I haven't tested this recipe with rolled oats but it should still work well.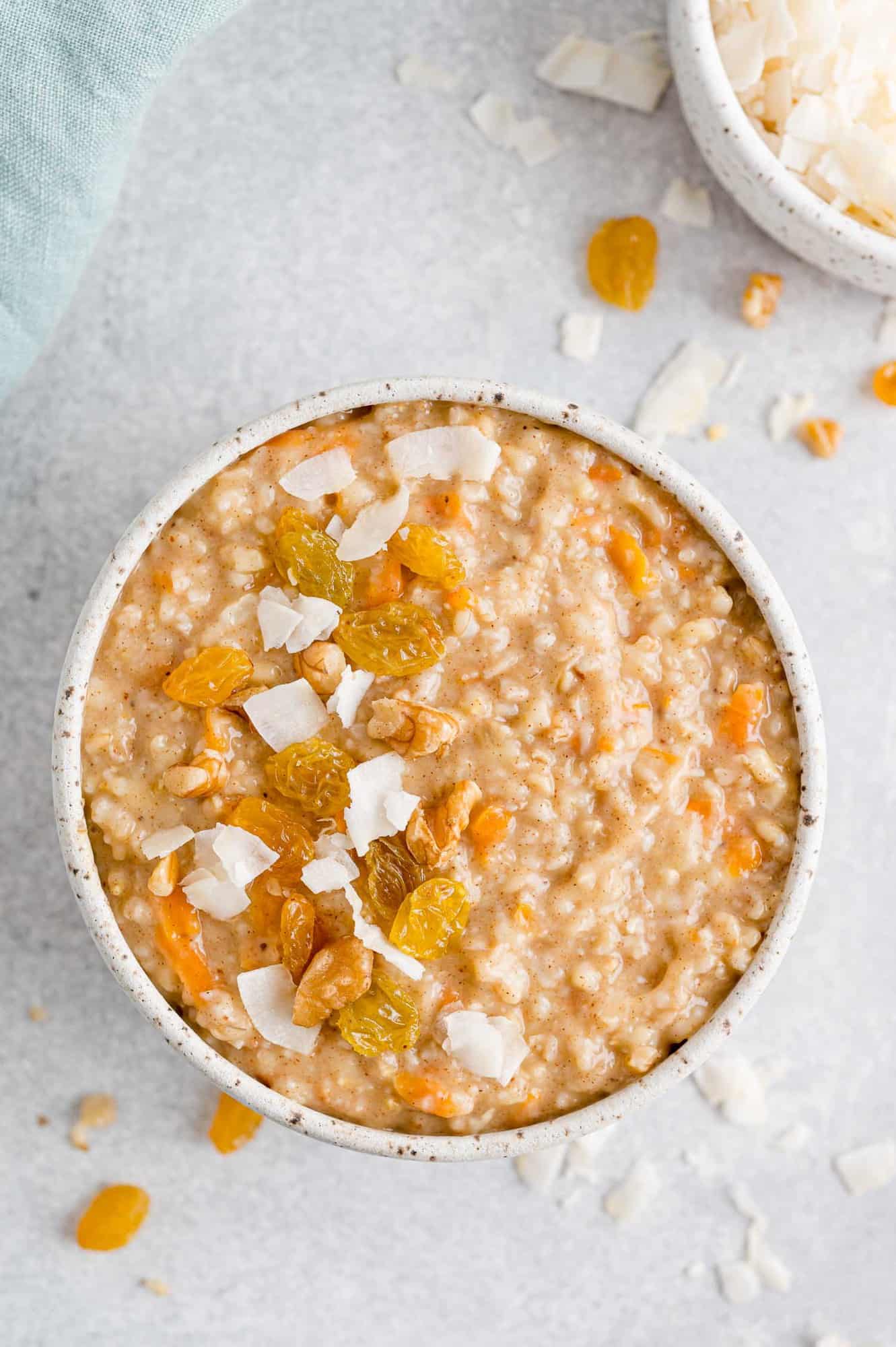 Make-Ahead Ideas
This makes a fairly large batch of slow cooker carrot cake oatmeal, about six cups. It's great for breakfast all week. Simply store it in the refrigerator (or freezer!) and heat it up in the microwave for a quick and easy breakfast.
Storage & Reheating Tips
Leftover cooked oatmeal will keep in the refrigerator for up to six days, or in the freezer for up to six months. For best results, store it in individual serving size containers. Put the frozen oatmeal in the refrigerator overnight to thaw.
To reheat single servings, put the oatmeal in a microwave safe bowl with a little extra milk or water. Microwave on high in 30-second increments, stirring each time, until heated through. For larger amounts, heat slowly in a saucepan on the stove with additional liquid until hot.
Did you know?
Why does oatmeal need more milk or water when you reheat it? Oatmeal tends to absorb liquid even after it's cooked, much like pasta or rice, making it seem drier and more solid.
More Ways To Eat Your Oats
Oatmeal is such a nutritious breakfast. If the slow cooker isn't your thing, try making it in your Instant Pot, or bake it. Here's some recipes to get you started:
Did you make this? Be sure to leave a review below and tag me @rachelcooksblog on Facebook, Instagram, or Pinterest!
Carrot cake slow cooker oatmeal tastes like an indulgent dessert but it is a nutritious, fun, and filling way to start your day.
Ingredients
1 ½

cups

steel cut oats

(do not substitute old-fashioned rolled oats, quick, or instant oats)

1

cup

shredded carrots

(see note)

6

cups

water

¼

teaspoon

salt

2

teaspoons

ground cinnamon

½

teaspoon

ground nutmeg

(use freshly grated for best flavor)

Optional toppings: golden raisins, unsweetened coconut (shredded or flake), crushed pineapple, toasted walnuts or pecans, brown sugar, milk
Instructions
Spray the inside of a 4 to 6-quart crockpot with nonstick cooking spray or rub with coconut oil or butter.

Combine oats, carrots, water, and salt.

Cook on low, covered, for 7-8 hours (overnight is perfect!) or on high for 4 hours, until the oats are tender and the water is absorbed. Stir in cinnamon and nutmeg.

Serve with desired toppings.
Notes
It's best if you shred/grate your own carrots with a box grater or food processor. A finer shred works better than julienned or coarsely shredded carrots.
Nutrition information does not include optional toppings.
Leftover oatmeal can be refrigerated for 4 to 6 days or frozen for 6 months. Reheat in the microwave or on the stove, adding milk or water as needed for the right consistency.
Recipe retested and revised 7/2022.
Nutrition Information
Serving:
1
cup
,
Calories:
166
kcal
,
Carbohydrates:
29
g
,
Protein:
7
g
,
Fat:
3
g
,
Saturated Fat:
1
g
,
Polyunsaturated Fat:
1
g
,
Monounsaturated Fat:
1
g
,
Sodium:
124
mg
,
Potassium:
72
mg
,
Fiber:
5
g
,
Sugar:
1
g
,
Vitamin A:
3566
IU
,
Vitamin C:
1
mg
,
Calcium:
41
mg
,
Iron:
2
mg
This website provides approximate nutrition information for convenience and as a courtesy only. Nutrition data is gathered primarily from the USDA Food Composition Database, whenever available, or otherwise other online calculators.