Love polenta but don't have time to do all that stirring? Instant Pot polenta is beautifully creamy and delicious, and so easy to make!
Recipe Overview
Why you'll love it: This Instant Pot polenta recipe eliminates the need for the near constant stirring that stovetop polenta usually requires. It's wonderful!
How long it takes: 35 minutes
Equipment you'll need: Instant Pot
Servings: 4 one cup servings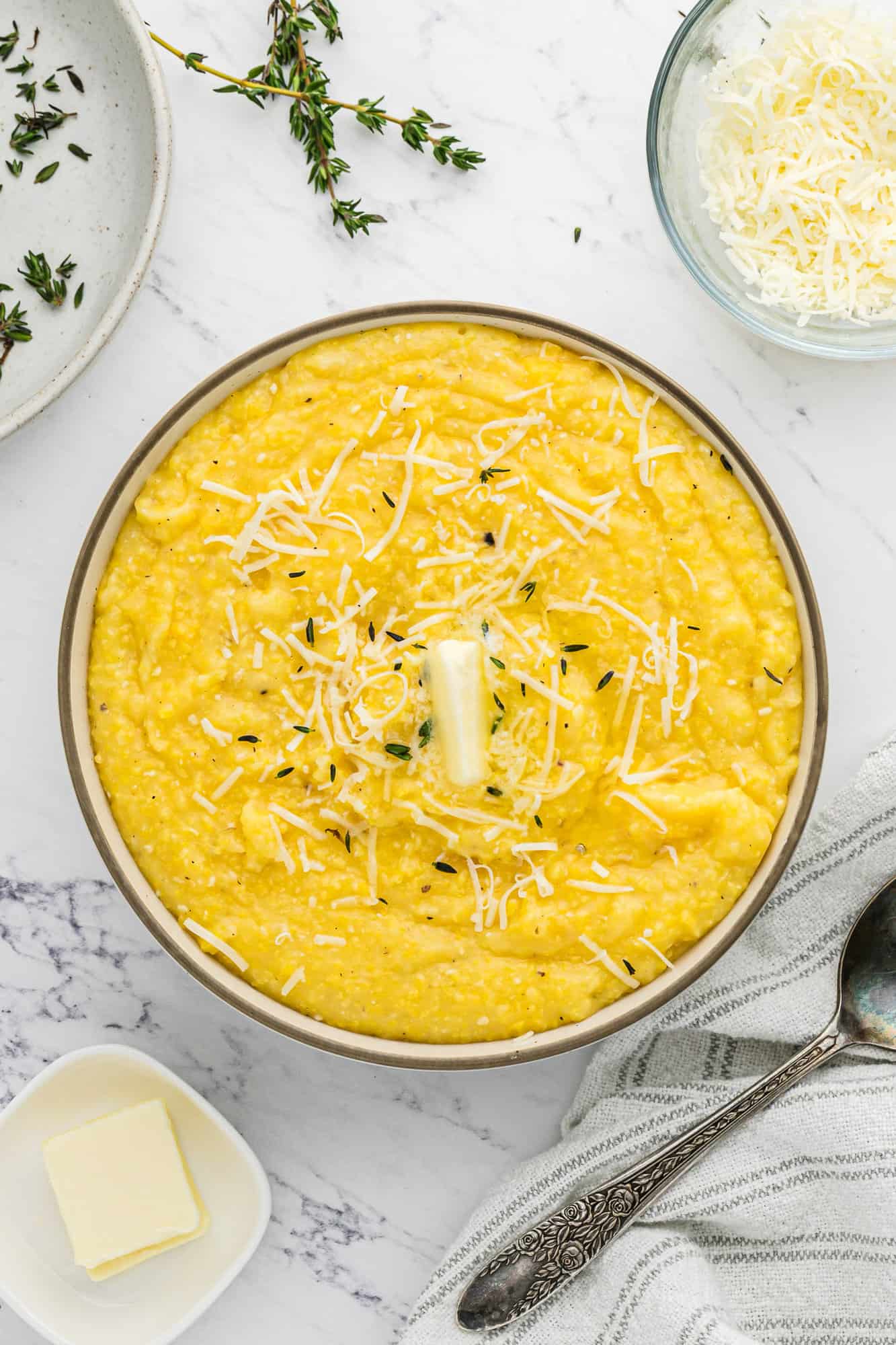 This creamy golden polenta is the stuff of dreams. Well, perhaps only food bloggers dream about food but you know what I mean. Polenta is comfort food whether you enjoy it regularly or as a special treat.
Now that I know how easy it is to make polenta in an Instant Pot, I think it will be making an appearance on my table a lot more often. And why not? It's economical, filling, and nutritious. It's basically a cereal, just ground up corn, and you can store it in your pantry, refrigerator, or freezer pretty much indefinitely. It's gluten-free, too.
And it's delicious! Enjoy creamy polenta just plain, or topped with any type of sauce, sautéed vegetable, or meat (for a truly special meal, it's divine with short ribs or lamb shanks). Refrigerate polenta until it's firm, and it can be lightly fried in olive oil for a completely different treat.
I've heard that polenta is the Italian version of mashed potatoes. I'm not sure if that's true or not but I totally get that. Give this easy recipe a try and see what you think!
P.S. Be sure to try Instant Pot risotto, another Italian favorite. We also love roasted mushroom risotto which is made on the stovetop.
About This Recipe
Instant Pot polenta is almost embarrassingly easy. Water, cornmeal, butter, and salt is all you need. How do these humble ingredients magically turn into something so creamy and delicious?
Well, I don't know. Let's just consider it one of life's mysteries. I will say, once you make polenta in your Instant Pot, you'll never cook it any other way.
If you're a traditionalist, maybe you'll resist using this recipe. Perhaps all the stirring is part of the satisfaction of making your own. I would challenge you to try Instant Pot polenta just once. Just once! I think you'll be convinced.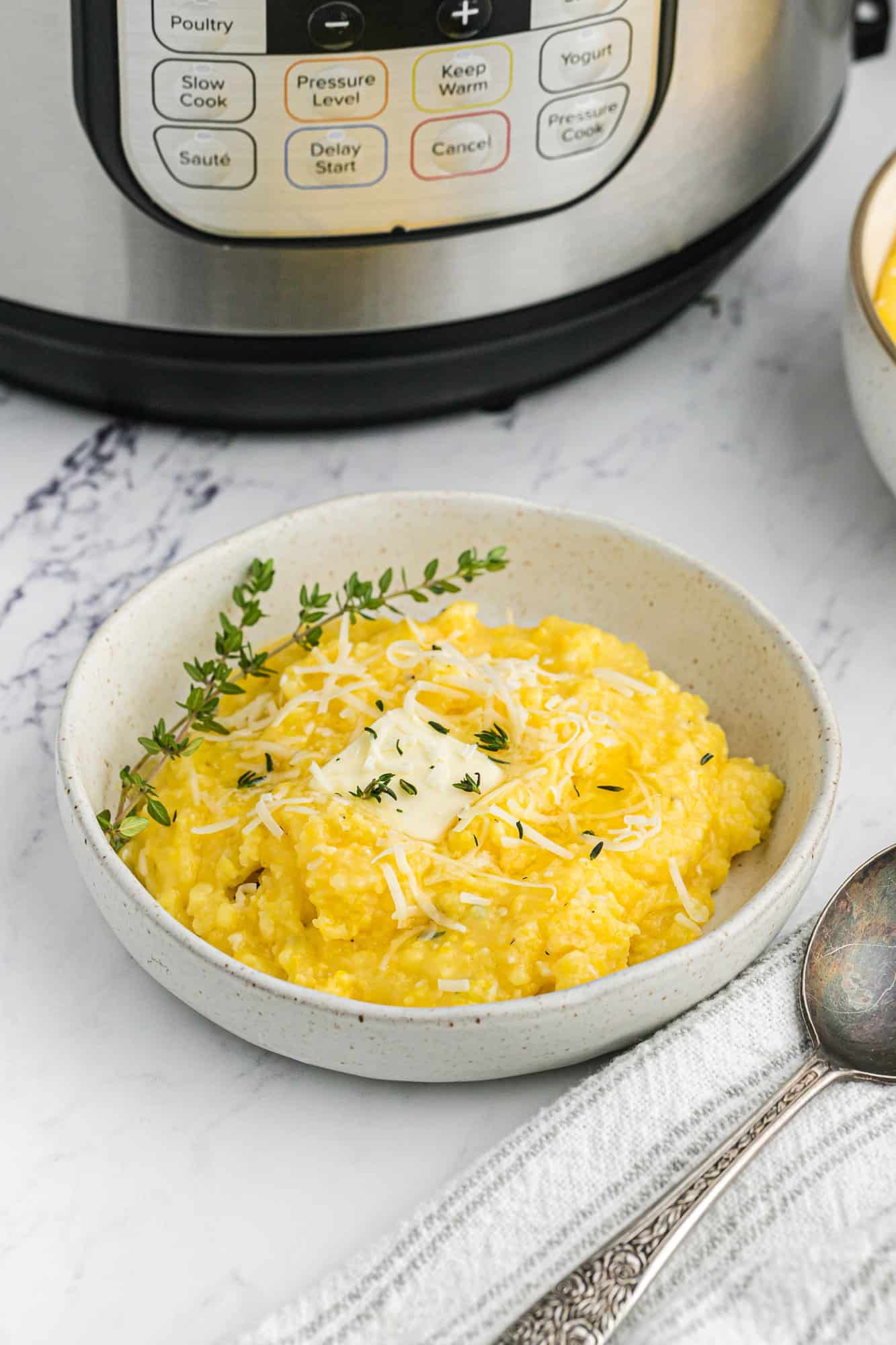 I'll get you started here with an overview of the recipe and extra tips. Look for specific measurements, instructions, and nutrition information on the recipe card below.
What You'll Need
Polenta: Polenta is technically a dish made with coarsely ground cornmeal. If you buy cornmeal that's labeled "polenta," you can be sure that it's the best grind for making polenta. Finely ground cornmeal won't have the best texture; your polenta will be too pasty. Don't buy instant polenta; it won't work in this recipe.
Kosher Salt: If you're using salted broth or including the cheese, you may want to decrease the amount of added salt. In addition, kosher salt has coarse grains which means that not as much fits in a teaspoon. If you choose table salt, you'll want to decrease the amount.
Water or Broth: Unsalted chicken broth enhances the flavor of the polenta but classic polenta is made with water.
Butter: Choose unsalted butter, not butter spreads or the like.
Parmesan or Pecorino Cheese: Cheese is optional but I think you'll agree, it makes your polenta super tasty.
Freshly Cracked Black Pepper, to taste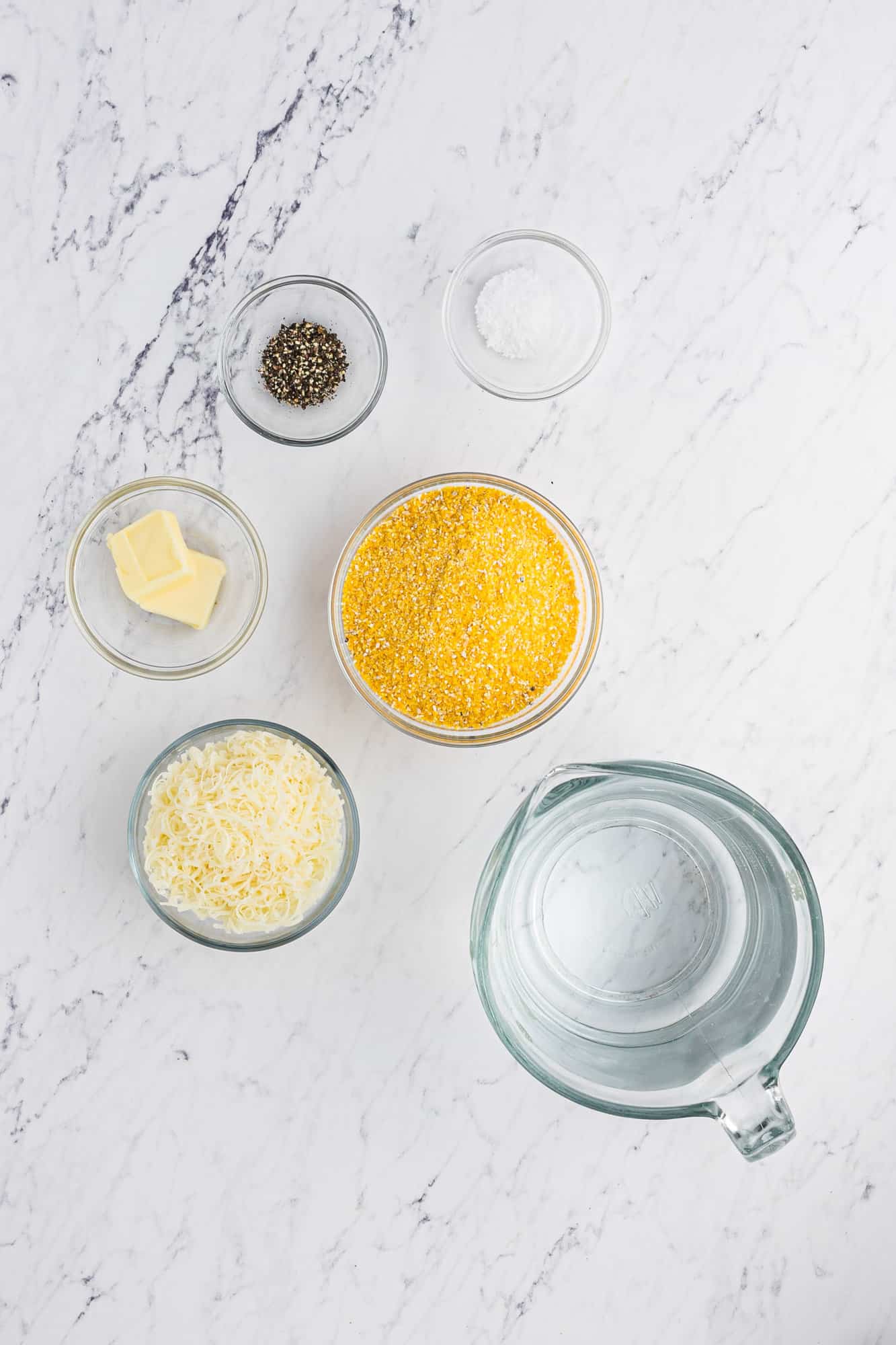 Like Easy Clean-Up?
Who doesn't, right? Lightly spray the inside of the Instant Pot with nonstick cooking spray. Grains like polenta, rice, and pasta have a tendency to stick to the hot surface of the inner pot. The nonstick spray helps them release and makes clean-up so much easier.
How to make it
It's so easy! I may have said that already, but really, it is!
Simply measure out one cup of polenta in a dry measuring cup. Level off the cup with a straight edge, such as a table knife. Pour it into the pot.
Next, measure out 4 cups of liquid, either water or broth, and add it to the pot. It seems like a lot but don't worry.
Add salt and stir the three ingredients together. Cover the pressure cooker, locking to seal.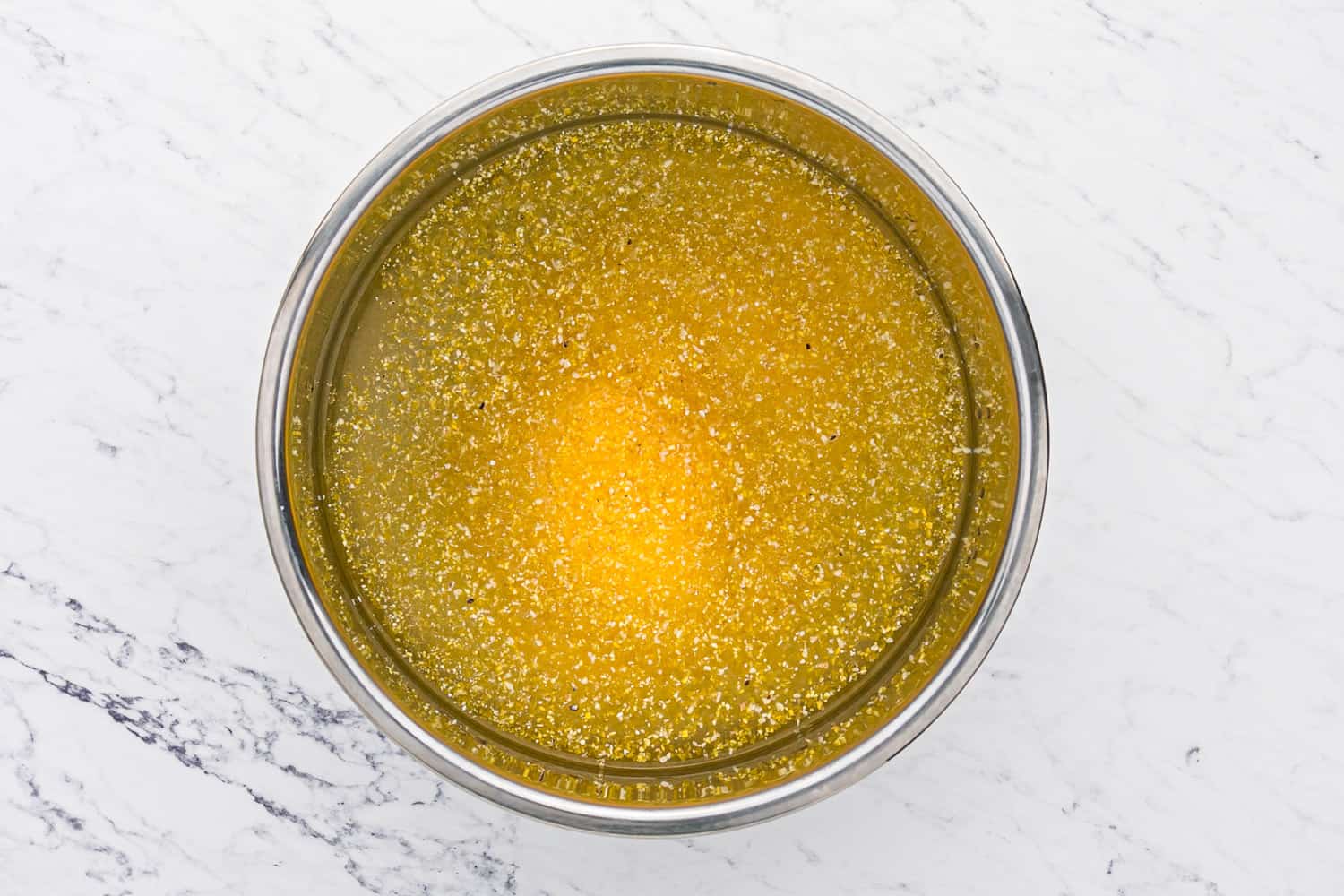 Set to Pressure Cook, or High Pressure, depending on the model you have. Set the time for 9 minutes. It will take roughly 11 minutes to come to pressure.
When the timer goes off, let the pressure release naturally for ten minutes. That means you don't do anything other than keep on eye on the time. I usually set a timer because it's easy to forget about it.
Once ten minutes has elapsed, release any remaining pressure and carefully remove the lid.
Using a sturdy whisk, vigorously stir the polenta until it's creamy. It will look quite watery at first and you may think this recipe is a flop but keep stirring and wait for the magic to occur.
After a couple of minutes, the polenta will start to come together. Stir in the butter and whisk until the butter melts. Stir in the cheese, and season with freshly cracked black pepper.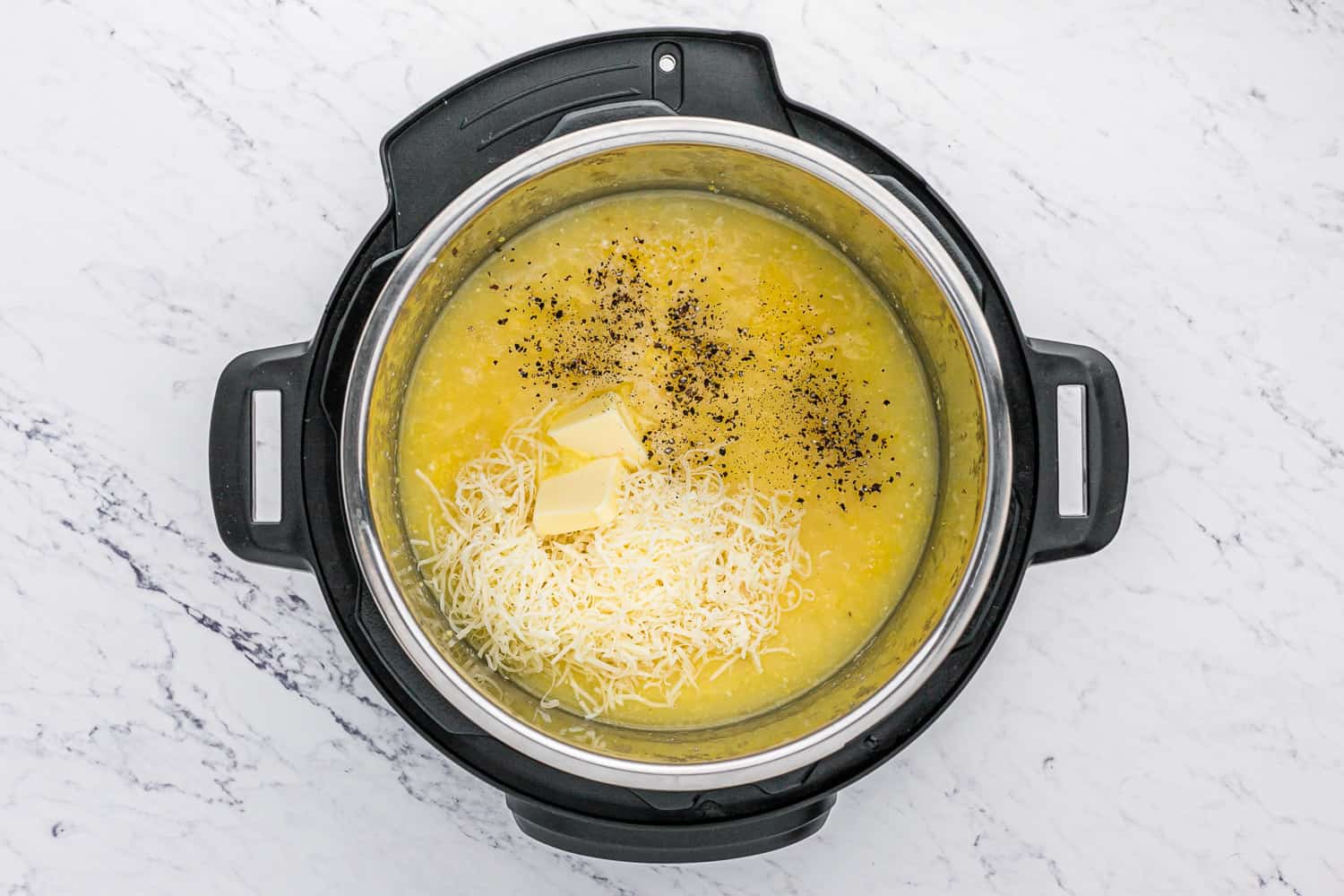 Serve the polenta immediately, garnished with fresh herbs if desired. Polenta continues to thicken as it cools.
If it gets too thick before you serve it, whisk in a bit of hot broth or water to thin the consistency a bit.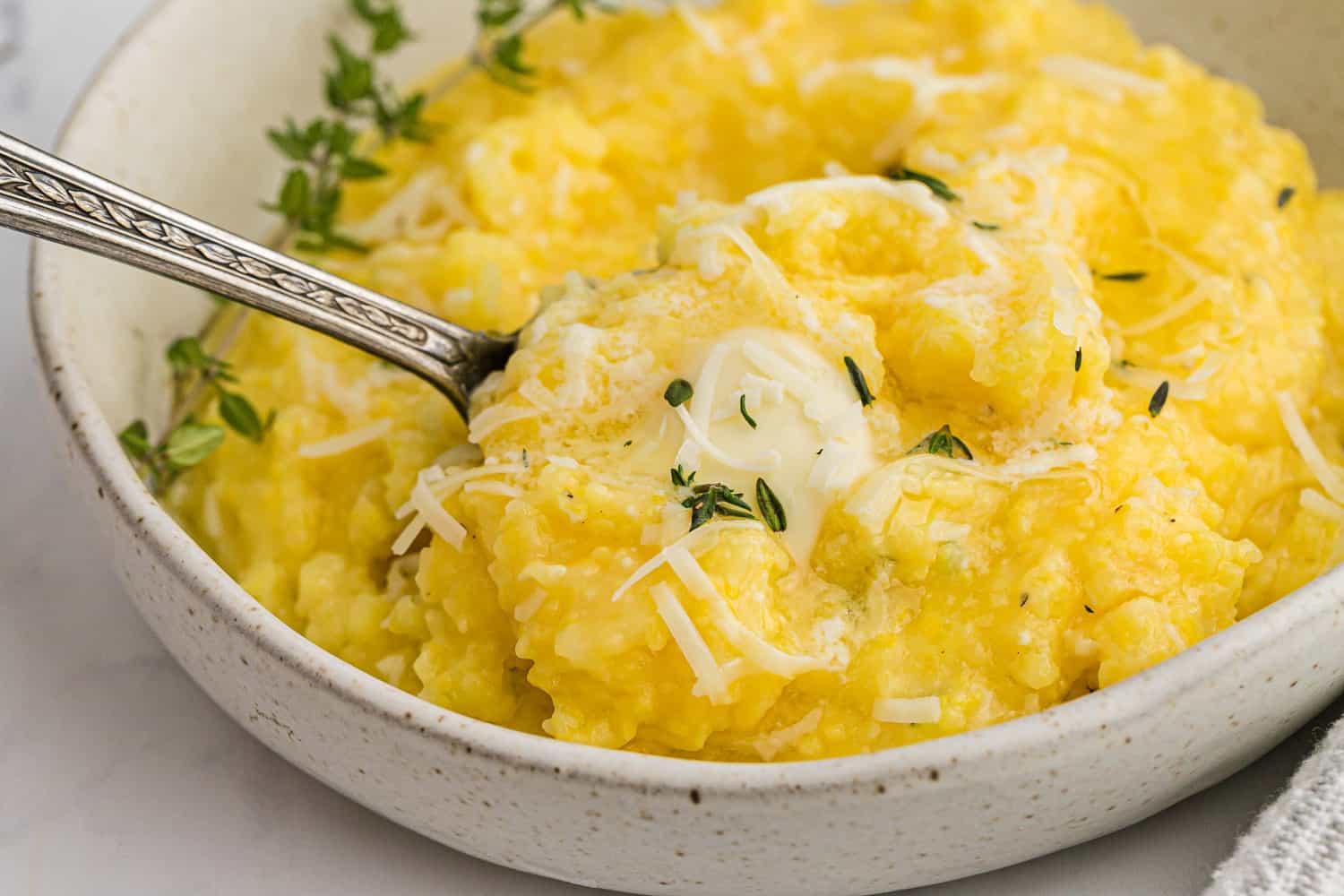 What To Serve With Polenta
Polenta is quite versatile. I love it for breakfast with a soft cooked fried egg and sautéed spinach. Most pasta sauces can be served on polenta but don't stop there. Here's a few recipes you may enjoy:
FAQs
What is the difference between polenta and grits?
Although both polenta and grits are made from cornmeal, they are quite different. Grits are common in the southern states of the U.S., and are often served for breakfast. Grits are ground from a type of corn called dent corn. It has a higher starch content, which is why grits have a creamier, stickier texture.
Polenta originates in Italy and is served as an alternative to pasta. It's usually more golden in color and is ground from flint corn (otto file). It has a coarser texture than grits.
Can I substitute cornmeal for polenta?
Polenta is coarsely ground cornmeal. Cornmeal that's used for baking is usually more finely ground. You could substitute it but your polenta may turn out pasty.
Is polenta healthy?
Polenta is made with cornmeal so it's considered a grain. Made with water, it's quite low in calories but it's mostly carbs. Polenta is a gluten-free alternative to pasta.
Choose whole grain polenta (cornmeal) for more nutritional benefits. Whole grain cornmeal means that the germ of the kernel has not been removed. Remember that whole grains should be refrigerated or frozen for optimal freshness.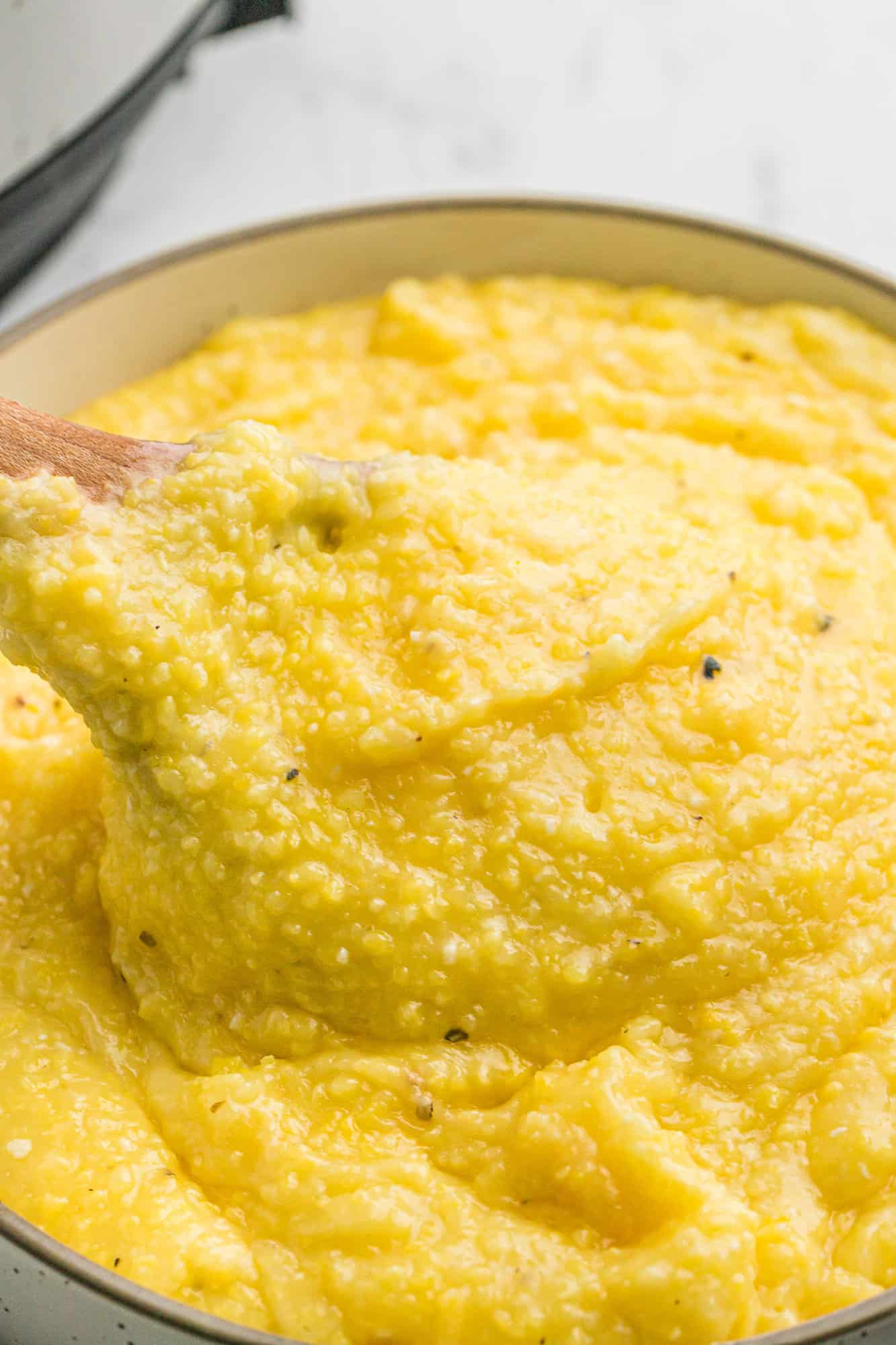 Make It Your Own
Vegan: Make it vegan by omitting the butter and cheese. If you like, vegan butter and cheese can be substituted. You can add more flavor by using a vegetable broth or adding a tablespoon or two of nutritional yeast.
Make it with milk. Replace a cup of the water with one cup of milk, if desired.
Storage & Reheating Tips
Refrigerate: Cover polenta that's left over with plastic wrap, or put it into an airtight container. Refrigerate for up to 5 days. Polenta will solidify when chilled.
Freeze: It can also be frozen for a few months. Thaw overnight in the fridge before reheating.
Reheat: Warm individual portions of polenta in the microwave, with medium power. Stir a couple of times to loosen it up. If it's too thick, thin it with a bit of water, milk, or broth. Larger portions can be heated in a saucepan or skillet. See the section below for another idea.
Interested in a weekly meal plan (it's free!) that includes this polenta recipe? Take a look at my Meal Plan (#4). You'll find a wholesome recipe for each weekday plus a categorized grocery list. Let me do the planning for you this week!
We'll be adding a new meal plan weekly. If you're interested, browse all of our meal plans.
Leftover Love
Leftover polenta will become quite solid once it's chilled. Smooth it into a pan or shape it into a log before refrigerating it. Once it's completely chilled, polenta can be sliced and fried in a bit of olive oil. Serve the fried slices with a spoonful of warm marinara and a handful of grated cheese. Add a side dish of roasted broccoli for a very satisfying meal.
Try this rustic polenta stack, with fried polenta, marinara sauce, fresh mozzarella slices, and fresh basil. Sliced polenta can be used to make this favorite one pan meal: Sheet pan Italian sausage, polenta, and broccoli.
Did you make this? Be sure to leave a review below and tag me @rachelcooksblog on Facebook, Instagram, or Pinterest!
Love polenta but don't have time to do all that stirring? Instant Pot polenta is beautifully creamy and delicious, and so easy to make!
Ingredients
1

cup

polenta or coarse ground cornmeal

(not quick cooking)

1

teaspoon

kosher salt

4

cups

water or unsalted chicken broth

2

tablespoons

unsalted butter

Black pepper to taste

1

cup

shredded parmesan or pecorino cheese, optional
Instructions
Add polenta, salt and water (or chicken broth) to Instant Pot (mine is a 6 quart). Stir to combine and cover. Set for High pressure or Pressure Cook (depending on your model) for 9 minutes. It will take about 11 minutes to come to pressure.

Once time has elapsed, let the pressure naturally release for 10 minutes (don't do anything). Release any remaining pressure and carefully remove lid.

Whisk polenta vigorously until creamy. It will appear thin at first but thickens after whisking. Add butter and stir until melted. Stir in cheese, season with black pepper to taste.

Serve immediately. Polenta will continue to thicken as it cools.
Notes
Nutrition information is based on a one cup serving, made with water and including Parmesan cheese.
Add 1 to 2 tablespoons of minced fresh herbs such as chives or parsley for additional flavor. Thyme or sage are also delicious but we'd recommend using less, 1 to 2 teaspoons.
Refrigerate leftover polenta for up to 5 days. When reheating, you may need to stir in additional water, broth, or milk. Polenta can be frozen for a few months. Thaw overnight in the refrigerator before reheating.
If desired, smooth polenta into a loaf pan or shape it into a log. Once it's chilled, slice it and fry it in a bit of olive oil.
Nutrition Information
Serving:
1
cup
,
Calories:
303
kcal
,
Carbohydrates:
35
g
,
Protein:
11
g
,
Fat:
13
g
,
Saturated Fat:
8
g
,
Polyunsaturated Fat:
1
g
,
Monounsaturated Fat:
3
g
,
Trans Fat:
0.2
g
,
Cholesterol:
37
mg
,
Sodium:
1032
mg
,
Potassium:
102
mg
,
Fiber:
1
g
,
Sugar:
0.3
g
,
Vitamin A:
476
IU
,
Calcium:
231
mg
,
Iron:
1
mg
This website provides approximate nutrition information for convenience and as a courtesy only. Nutrition data is gathered primarily from the USDA Food Composition Database, whenever available, or otherwise other online calculators.