Sheet Pan Italian Sausage, Polenta & Broccoli
You'll only need one pan to make this easy dinner. Sheet pan Italian sausage, polenta & broccoli is delicious and satisfying; everyone loves it and it's a breeze to make.
Recipe Overview
Why you'll love it: This is truly an all-in-one dinner with sausage, polenta, broccoli, and marinara to finish the ensemble.
How long it takes: 15 minutes to prep, 30 minutes in the oven
Equipment you'll need: large sheet pan (13 x 18 inches)
Servings: 4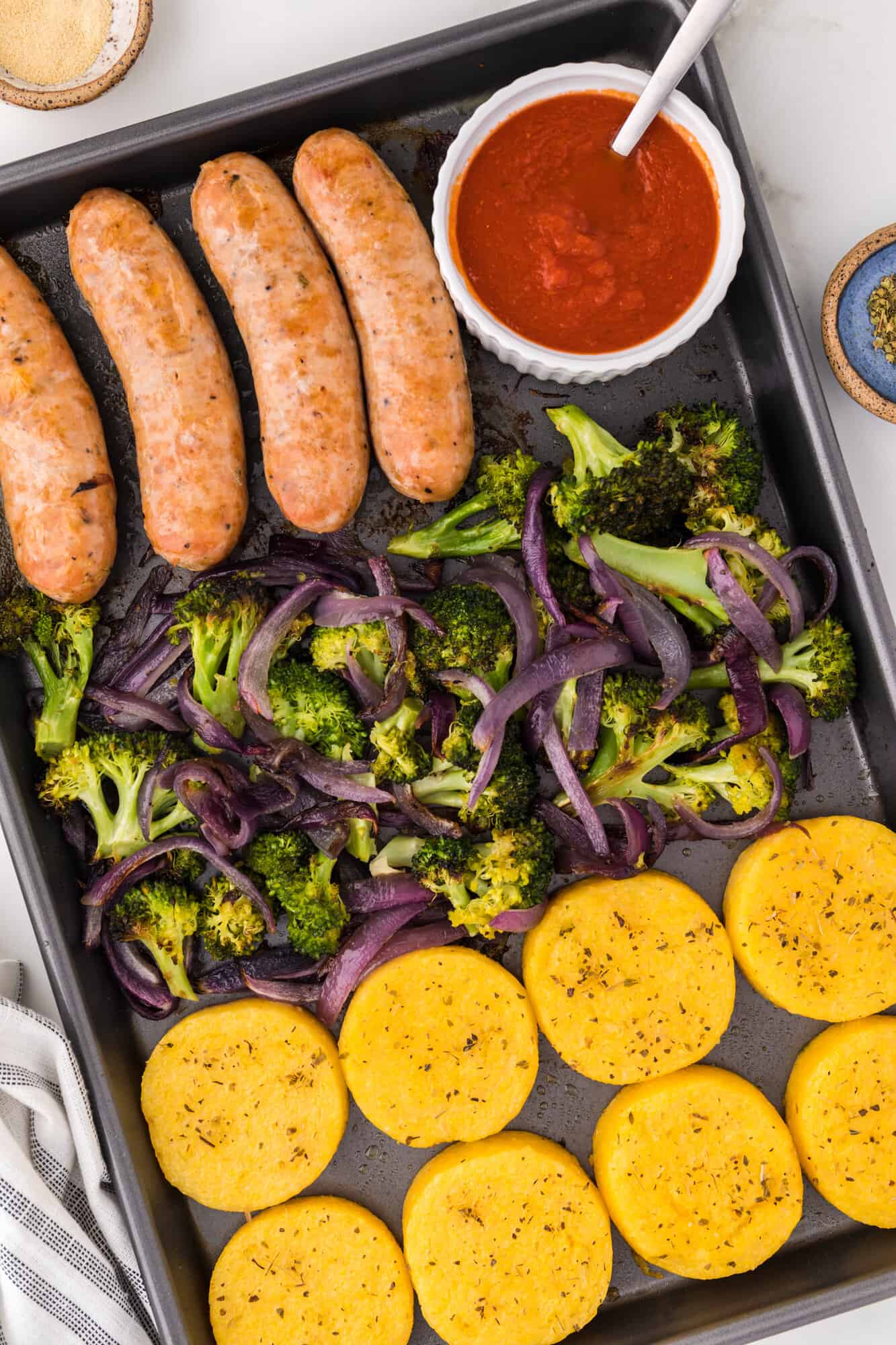 I can't tell you how much we love this recipe. It's easy to pull together and it's truly delicious. We especially enjoy the sliced polenta. It's a nice change from roasted potatoes or pasta with spaghetti sauce.
I'm a huge polenta fan (I could eat a whole potful of my Instant Pot polenta) so I really appreciate the shelf-stable prepared polenta. It's all ready to eat and keeps in your pantry for up to three months. Just remove the wrapping, slice it into rounds, and heat it. You can jazz it up any number of ways. (Try it with sautéed spinach and a fried egg for a quick breakfast or lunch.)
And for those of you who are gluten-intolerant, polenta is naturally gluten-free since it's made from cornmeal (as always though, check your labels to be sure).
A sheet pan Italian sausage dinner is often what I fall back on for weeknights. Sheet pan dinners are like a safety net so we don't resort to take-out. A package of Italian sausages in your freezer means you'll always be able to throw a quick dinner together.
Take the sausages straight from the freezer, throw them on a sheet pan with polenta and veggies, whatever you happen to have in the fridge/pantry, and pop it all into the oven. Easy and delicious!
Why You'll Love This Sheet Pan Dinner
Easy to make (and clean up): You can have dinner in the oven in less than 15 minutes! And there's only one pan to wash after dinner.
Versatile: There are many ways to make this Italian sausage sheet pan dinner your own, depending on your preferences and what you happen to have in your pantry and refrigerator. Check out the Make It Your Own section below for suggestions.
Healthy: This dinner includes a healthy serving of broccoli, a cruciferous vegetable which has loads of antioxidants and fiber. Tomato-rich marinara has health benefits and polenta is surprisingly good for you, too (yay!); it's a complex carb with protein and fiber. For more about polenta, check out this article by Medical News Today.
I'll talk about the ingredients you need and how to put this dinner together. For the complete recipe, check out the recipe card below.
What You'll Need
Italian Sausages: Choose your preferred type of sausage: pork, turkey, or chicken. Both sweet (mild) or hot (with red pepper flakes) sausages are fine, depending on what you like best. Turkey sausage is lower in saturated fat and calories.
Pre-Cooked Polenta: Usually sold in tubes, pre-cooked polenta is shelf-stable and does not need to be refrigerated. Since it's made from ground corn (cornmeal), it is gluten-free. Simply remove it from the packaging and slice it into rounds. Refrigerate any polenta you don't use right away.
Broccoli: Look for a firm, dark green head of broccoli (or three crowns of broccoli). Don't discard the large stem. Simply remove the tough peeling from the stem and slice it into bite-sized pieces to be added to the sheet pan.
Red Onion: You'll need half of a large red onion, or another type of sweet onion. Avoid yellow cooking onions for roasting; they tend to get a bit tough.
Olive Oil: A light coating of oil is essential for browning and crisping. Olive oil is a flavorful heart-healthy oil but other types of oil can be substituted.
Dried Oregano: A common pantry item, dried oregano goes well with the Italian sausage. If you prefer, fresh oregano can be substituted. Dried Italian seasoning is another option.
Garlic Powder, Kosher Salt, Coarsely Ground Black Pepper: These simple seasonings add so much flavor. Be sure to use garlic powder, not garlic salt.
Marinara Or Pizza Sauce: Choose your favorite brand or make your own. Try my easy homemade pizza sauce recipe. You'll love the fresh taste.
How To Prep Broccoli For Roasting
Cut the head of broccoli evenly into bite-sized pieces. If you plan on using the thick stem, peel it and slice it into rounds. Rinse the broccoli thoroughly with cool water.
Dry the broccoli as much as possible. I usually give it a spin in my salad spinner. Why? If the broccoli is dripping wet, the oil won't adhere and the broccoli will steam instead of roast.
How to make This Sheet Pan Dinner
Ready to get started? Turn your oven on and start preheating it. Prepare the pan by giving it a good coating of olive oil.
Slice the polenta into 8 even slices about a half inch thick. Place the slices in the sheet pan and flip them over once so both sides have a thin layer of oil. Sprinkle the slices with a pinch of dried oregano.
Next, arrange the Italian sausages in the pan. The arrangement is up to you. You can scatter the sausages among the polenta or segregate each ingredient (like the photos).
In a large bowl, toss the broccoli florets and onions with a couple tablespoons of oil, garlic powder, salt and pepper. If you don't like your broccoli as well done or your sausages are frozen, let the sausage and polenta roast for 15 to 20 minutes before adding the broccoli to the pan.
Arrange the broccoli and onions on the sheet pan between the sausages and polenta.
Pop the sheet pan into the oven for 20 minutes.
Remove the pan from the oven; flip the sausages and give the veggies a stir. If you want, flip the polenta slices, too. Put the pan back into the oven for about 10 minutes or until the sausages are cooked through. (If they were frozen, they'll take a little longer to cook.)
Place one sausage, two slices of polenta, and a scoop of vegetables on each plate. Garnish with a side of marinara or drizzle it on top. Enjoy!
If you have room for dessert, homemade vanilla pudding or chocolate pudding is a great finale, especially topped with a big spoonful of whipped cream. Polenta and pudding, does it get any better?
Tips For Success
Choose the right pan. If you use a pan that's too small or with higher sides, there won't be good air circulation. Instead of browning nicely, the contents will steam, take longer to cook, and become somewhat soggy.
Preheat the oven. It's important that your oven is piping hot before you put the loaded sheet pan in. Turn the oven on to 425ºF before you start prepping the food.
Slice and dice uniformly. Being consistent with your cutting means that the food will cook evenly. Tiny pieces cook more quickly and may burn; large pieces take longer and may not get cooked through.
Make It Your Own
Add seasonings of your choice. I kept things pretty simple with garlic powder, dried oregano, salt and pepper. It's easy to personalize this recipe with additional or different seasoning. Try my all-purpose seasoning, Italian seasoning, or herbes de Provence.
Use a different kind of sausage. Any uncooked sausage links will work in this recipe: garlicky kielbasa, bratwurst, or chicken sausage.
Substitute another vegetable. Not a fan of broccoli? Try Brussels sprouts, cauliflower, zucchini, or carrots instead. Add a package of mushrooms or a bell pepper, cut into chunks. A combination of veggies is delicious. We especially like red bell pepper and onions.
Make Ahead Ideas
This meal is easy to prep. If you want to get a head start, cut and wash the broccoli and red onion in the morning or even the night before. Refrigerate the cut vegetables in a covered container or resealable bag until you're ready to use them.
Storage & Reheating Tips
If you happen to have leftovers, refrigerate them for up to 3 days, or freeze in a freezer-safe container for up to 3 months. Thaw overnight in the refrigerator before reheating.
For best results, use your air fryer or toaster oven to reheat the leftovers. Cutting the sausage into slices will help it reheat more quickly and evenly.
Interested in a weekly meal plan (it's free!) that includes this sheet pan dinner recipe? Take a look at my Meal Plan #24. You'll find a wholesome recipe for each weekday plus a categorized grocery list. Let me do the planning for you this week!
We'll be adding a new meal plan weekly. If you're interested, browse all of our meal plans.
Did you make this? Be sure to leave a review below and tag me @rachelcooksblog on Facebook, Instagram, or Pinterest!
You'll only need one pan to make this easy dinner. Sheet pan Italian sausage, polenta & broccoli is delicious and satisfying; everyone loves it and it's a breeze to make.
Ingredients
3

tablespoons

olive oil, divided

1

pkg.

(18 ounces) cooked polenta

1

teaspoon

dried oregano

16

oz.

(

4

to

5

links) uncooked Italian sausages

(pork, turkey, or chicken)

½

large

red onion, quartered and cut into ½ -inch slices

4

cups

fresh broccoli florets

(

1

head)

½

teaspoon

kosher salt

½

teaspoon

coarse ground pepper

¼

teaspoon

garlic powder

½

cup

marinara or pizza sauce for serving
Instructions
Preheat oven to 425ºF. Add 1 tablespoon olive oil to a large sheet pan (13 x 18 inches), brushing to coat bottom of pan.

Cut polenta into 8 even slices (½ – ¾ inch thick). Add sliced polenta to pan and flip each piece to coat in oil. Sprinkle with oregano.

Arrange sausages in the pan.

In a large bowl, toss red onion, broccoli, 2 tablespoons olive oil, salt, pepper, and garlic powder until vegetables are coated with oil and seasonings (SEE NOTE). Add to sheet pan, arranging the vegetables between the sausages and polenta.

Bake for 20 minutes. Remove pan from oven, flip sausages over, and stir vegetables. Return pan to oven and continue to cook for another 10 minutes or until sausages are cooked through (internal temperature of 165ºF when checked with an instant-read thermometer).

Serve with a side of marinara or pizza sauce.
Notes
If you like your broccoli less well done or your sausage is frozen and will take longer to cook, wait and add the broccoli and onions until 10-15 minutes into the cooking time.
Try homemade pizza sauce. It can be made ahead and stored in the refrigerator for up to 5 days or frozen for up to 3 months.
Nutrition information is calculated using pork Italian sausages. Any type of uncooked sausage can be used, such as kielbasa, bratwurst, etc. Turkey sausage is lower in saturated fat and calories.
If desired, substitute a different vegetable for the broccoli, such as cauliflower, Brussels sprouts, zucchini, carrots, mushrooms, or peppers. A combination of vegetables is good, too.
Nutrition Information
Calories:
607
kcal
,
Carbohydrates:
27
g
,
Protein:
21
g
,
Fat:
47
g
,
Saturated Fat:
14
g
,
Polyunsaturated Fat:
6
g
,
Monounsaturated Fat:
24
g
,
Cholesterol:
86
mg
,
Sodium:
1298
mg
,
Potassium:
724
mg
,
Fiber:
4
g
,
Sugar:
3
g
,
Vitamin A:
749
IU
,
Vitamin C:
87
mg
,
Calcium:
84
mg
,
Iron:
3
mg
This website provides approximate nutrition information for convenience and as a courtesy only. Nutrition data is gathered primarily from the USDA Food Composition Database, whenever available, or otherwise other online calculators.