Sheet Pan Honey Balsamic Chicken and Vegetables
Tender marinated chicken and flavorful crisp vegetables combined and roasted in the oven on a sheet pan. Serve honey balsamic chicken and vegetables over a bed of steaming rice for an easy and delicious entrée.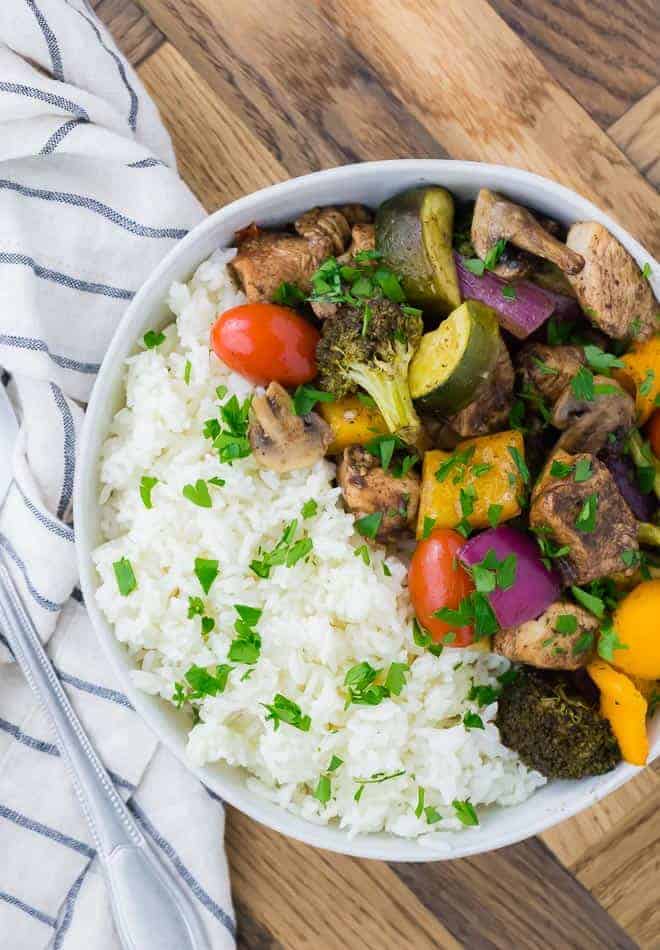 I read recently that dinner should be a respite. Respite is defined as a short period of rest or relief and isn't that a wonderful idea for dinner? Visualize your family just enjoying each other's company, phones turned off, no nagging or going over to-do lists, instead maybe sharing the best things that happened that day (or the funniest) or maybe one thing each you're grateful for. A respite from the hustle of the day and the ongoing demands, just a chance to take a breath and say, Hey! I like spending time with you guys!
Sometimes cooking dinner itself can detract from this idea of respite, especially if you're tired or short of time. I like the idea of healthy meals that can be prepared without a lot of fuss or clean up. Maybe your family can work together preparing the meal: scrubbing vegetables, peeling, chopping, sautéing, having conversations as you go. A side benefit is that your kids will learn the basics of cooking as you cook together, making them more independent in the kitchen.
And don't forget about clean up! My sister and I always had a week on, week off schedule for helping mom with clean up. This deal was sweetened by the promise that when it was our week to clean up, we got to sit in the front seat of the car (this was pre-air bag era). We cleaned up the kitchen when it was our turn without really realizing that we were learning how to leave a kitchen sparkling clean. Plus, we spent extra time chatting with our mom, one-on-one.
So today I present to you this honey balsamic chicken with vegetables recipe. I hope you enjoy the flavorful marinated chicken, the crisp vegetables, coated in a sweet and tangy sauce. But most of all, I hope you enjoy preparing and eating it together, as a respite in your busy day!
About this Honey Balsamic Chicken:
The base of this honey balsamic chicken is an easy marinade (very similar to my balsamic chicken marinade), made with (you guessed it!) balsamic vinegar, honey, olive oil, garlic, oregano, and seasoning. The boneless skinless chicken breasts, cut into bite sized pieces, can bathe in the marinade for at least a half hour but up to 8 hours. If you have a little time in the morning, you can get this step out of the way ahead of time.
I like to use a combination of onions, broccoli, bell pepper, zucchini, and mushrooms for the vegetables. I mix them together on a sheet pan with a little olive oil, and salt and pepper and roast them for around 10 minutes.
Then I add cherry or grape tomatoes and the marinated chicken pieces, along with the marinade, and mix it all together on the sheet pan. Pop it back into the oven for 20-25 minutes, or until the chicken is done.
The vegetables will stay crisp and flavorful, reminiscent of a stir fry. I like to serve this, including any juice that's left in the pan, on a bed of fluffy white or brown rice. Try making brown rice in your Instant Pot! Dinner is ready! It's a complete meal: meat, vegetables, rice. If you want, you could serve it with fresh fruit or salad.
How to make this balsamic chicken and vegetables your own:
I used chicken tenders, cut into bite sized pieces. You could use boneless skinless chicken breasts or thighs, whichever you prefer.
Use the vegetables you happen to have. Carrots, celery, sweet potatoes, or cauliflower would work well.
If you like to spice things up a bit, add a 1/4 teaspoon or more of red pepper flakes to the marinade.
Not a rice fan? Serve the chicken and vegetables on a different grain, such as quinoa (did you know you can also make quinoa in your Instant Pot?), couscous, or even noodles.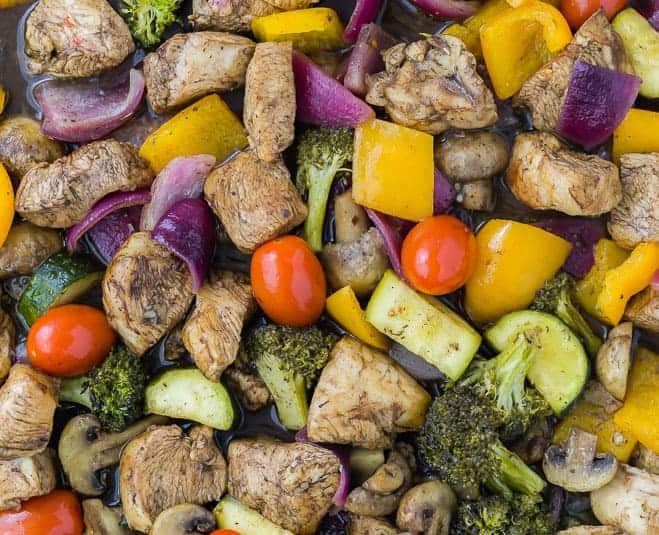 Reheating and Storage Tips
If you happen to have leftovers, store the chicken and vegetables separate from the rice. It will keep a couple of days in the refrigerator. Reheat gently in the microwave or on the stove.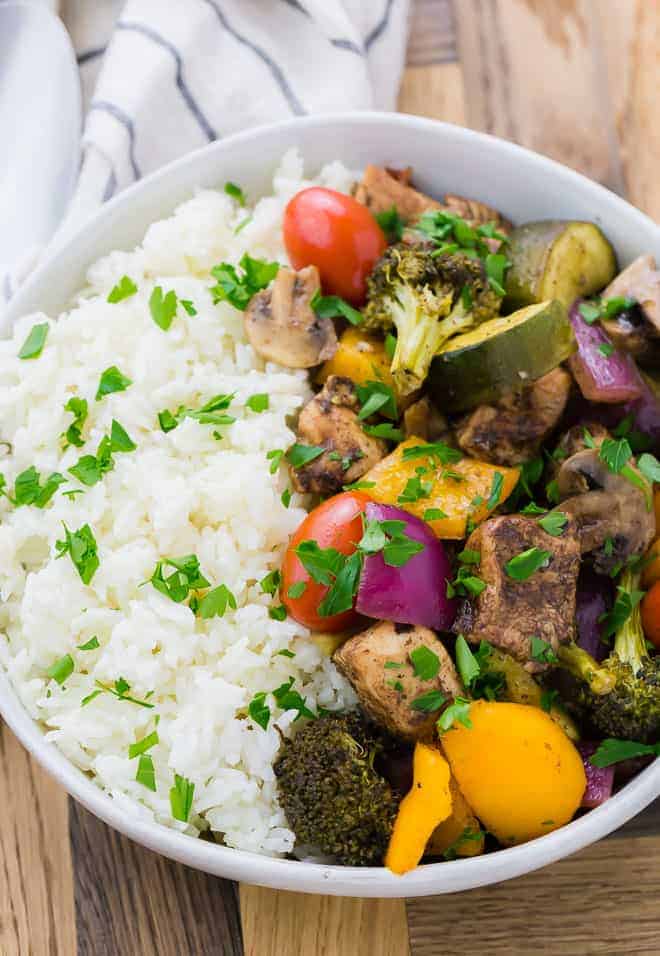 Other great sheet pan dinners:

Sheet pan dinners are the greatest! I make a sheet pan dinner at least twice a week. Here are some of my favorites:
Sheet Pan Honey Balsamic Chicken and Vegetables
Yield: 6 servings
Prep Time: 15 minutes
Cook Time: 35 minutes
Additional Time: 30 minutes
Total Time: 1 hour 20 minutes
Tender marinated chicken and flavorful crisp vegetables combined and roasted in the oven on a sheet pan. Serve honey balsamic chicken and vegetables over a bed of steaming rice for an easy and delicious entrée.
Ingredients
1/2 cup balsamic vinegar
1/4 cup + 1 tablespoon olive oil, divided
2 tablespoons honey
1/2 teaspoon minced garlic (about 1 clove garlic)
1 teaspoon dried oregano
3/4 teaspoon kosher salt, divided
1/2 teaspoon cracked black pepper, divided
1 1/2 pounds boneless skinless chicken breasts or tenders, cut into 1-inch cubes
1/2 medium red onion, cut into chunks
1 crown broccoli, cut into florets
1 bell pepper, cut into chunks (red)
1 small zucchini or summer squash, cut into 1/2-inch half moons
8 ounces mushrooms, halved
1/2 pint cherry or grape tomatoes
Cooked rice, for serving
optional: fresh parsley for garnishing
Instructions
In a measuring cup, combine balsamic vinegar, 1/4 cup olive oil, honey, garlic, oregano, 1/2 teaspoon salt and 1/4 teaspoon pepper.
Place chicken cubes in a zip-top bag or a baking dish and pour balsamic mixture over chicken, making sure all the chicken is evenly coated.
Marinate for at least 30 minutes or up to 8 hours.
Preheat oven to 400ºF.
On a rimmed baking sheet, toss onions, broccoli, bell pepper, zucchini, and mushrooms with 1 tablespoon olive oil, 1/4 teaspoon salt, and 1/4 teaspoon pepper.
Roast for 10 minutes.
Remove pan from oven. Add chicken AND marinade, and tomatoes. Toss to coat everything in marinade. Spread into an even, single layer on baking sheet.
Return to oven and continue to roast for 20-25 minutes or until chicken is cooked through (165ºF internal temperature).
Serve over cooked rice. Garnish with chopped parsley, if desired.
Notes
Don't overcook. Mixture will be juicy and vegetables should remain crisp, like a stir-fry with sauce.
Nutrition Information:
Yield: 6
Serving Size: 1 of 6
Amount Per Serving:
Calories: 355
Total Fat: 8g
Saturated Fat: 2g
Trans Fat: 0g
Unsaturated Fat: 5g
Cholesterol: 99mg
Sodium: 409mg
Carbohydrates: 30g
Fiber: 3g
Sugar: 16g
Protein: 40g
RachelCooks.com sometimes provides nutritional information, but these figures should be considered estimates, as they are not calculated by a registered dietitian. Please consult a medical professional for any specific nutrition, diet, or allergy advice.
Verdict:
I love a good healthy, easy meal with minimal dishes. This one fits the description perfectly! It's a winner.
Husband's take:
Ben loves this too! He eats leftovers cold, almost always. I don't understand, but to each their own.
Changes I would make:
None are necessary, but feel free to use whatever vegetables you have in the fridge. Keep in mind that they might take slightly longer or less time to roast.
Difficulty:
Easy!