This may become your favorite way to make beets! Air fryer beets are sweet, pleasantly chewy, and delicious. They're easy to make and ready in just 25 minutes.
Recipe Overview
Why you'll love it: Ordinary beets are transformed into the most scrumptious little morsels. Even beet-haters love them.
How long it takes: 5 minutes to prep, 20 minutes to air fry
Equipment you'll need: air fryer, mixing bowl
Servings: 4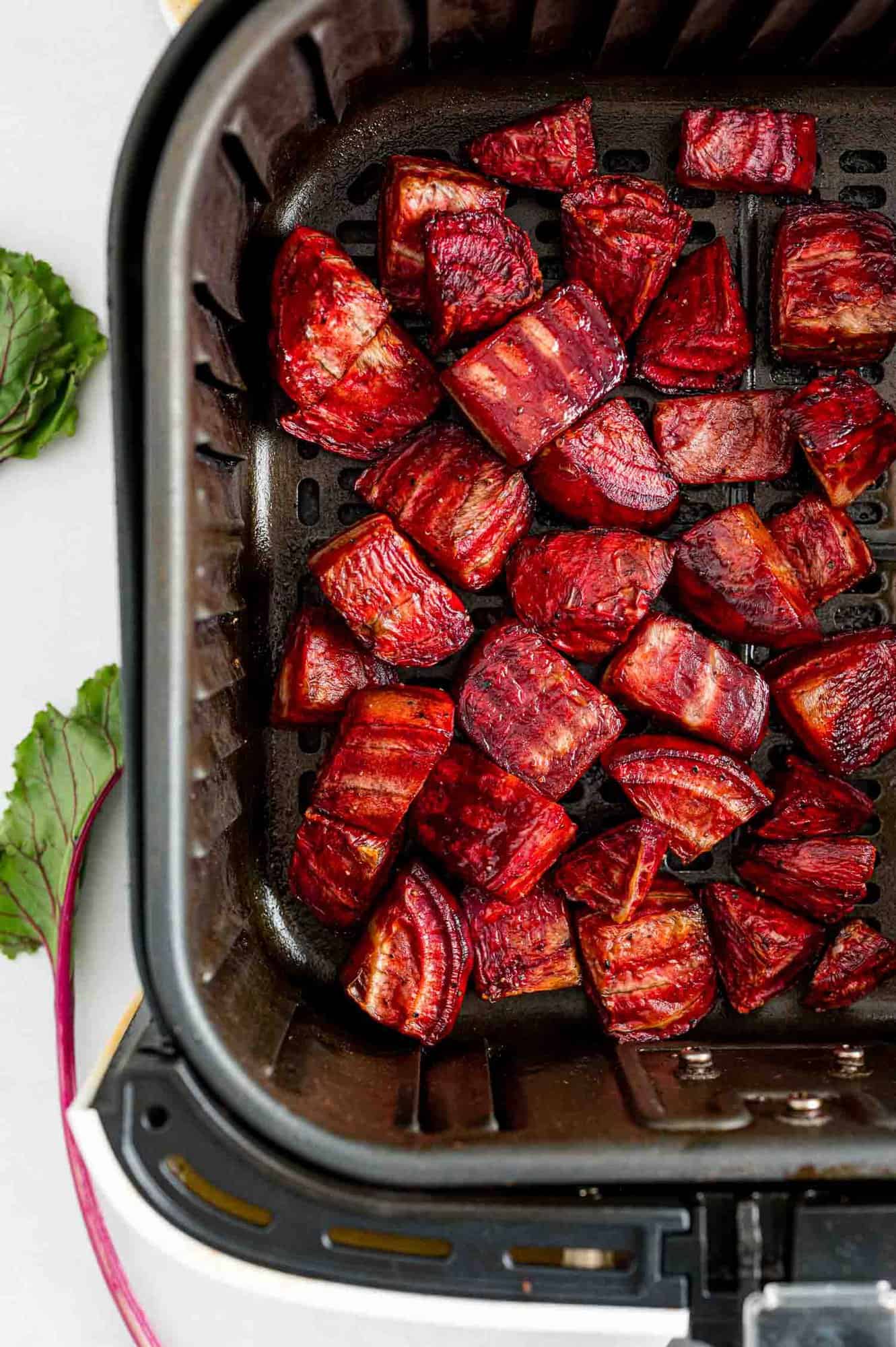 Beets. People love 'em or hate 'em. There doesn't seem to be a middle ground with beets. They're either described as "tasting like dirt" or "sweet and earthy" (in a good way).
Air frying beets may be a game changer. Tossed in olive oil, seasoned with a bit of salt and pepper, and roasted in the the air fryer, beets become chewy little morsels that really pop with flavor.
The first time I cooked beets in my air fryer, they disappeared in a hurry. We tested the beets three different ways to figure out the best method so we cooked a lot of beets. I was kind of hoping I'd have a few leftover for my salad the next day but that wasn't the case. They are pretty irresistible.
And that's okay because beets are super good for you! They are low in calories (only 80 calories per serving), high in fiber, and loaded with nutrients (Healthline).
About This Recipe
You may not cook beets very often because let's face it, they take a long time to cook. They are pretty hard and it takes awhile for them to become tender. Often I wrap the beets in foil and roast them in the oven for an hour or more (check out How to Cook Beets). Then you still have to peel them.
Air fryer beets are a different story. Simply scrub them, cut them into little squares, toss them with a bit of oil, and pop them into the air fryer. No peeling necessary! In 20 minutes, they're ready to eat.
Air fried beets are a good side dish or they can be added to salads, grain bowls, or even pizza. Another benefit of this cooking method is that it seems to seal in the juices. You know how "bleeding" beets can turn your whole dish pink. Air frying curbs that tendency.
Don't forget that beets come in a rainbow of colors, too. Try a mixture of crimson, golden, and striped beets for a beautiful array.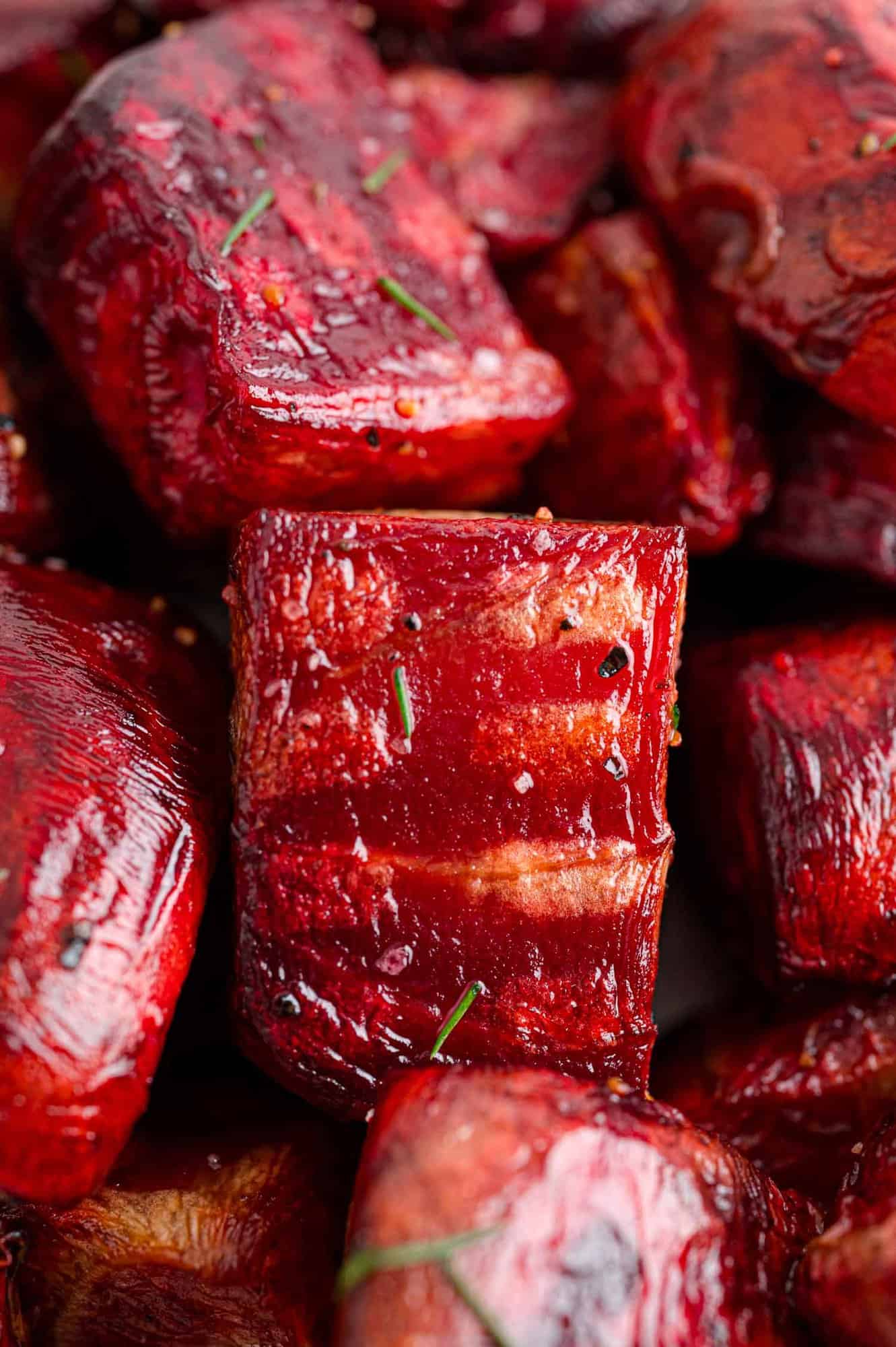 Let's get started on this recipe! I'll run through it here and give you some extra tips. Look for the printable recipe card near the end of the post.
What You'll Need
Beets: Any beet variety will work, whether it's deep crimson, golden, striped, or white. Yes, white! Did you know there are actually white beets? I learn something new every day (Gardeners' Path). Don't you just love the striped beets in the photos? They're really quite pretty. The darker the beet, the more betalain they contain. Betalain is a phytonutrient with antioxidant and anti-inflammatory health benefits.
Olive Oil: This heart-healthy oil is perfect for roasting vegetables. It's flavorful, has a fairly high smoke point, and it's good for you. What more can you want?
Salt & Pepper: Simple seasonings are all you need to let the sweet vibrant flavor of the beets shine.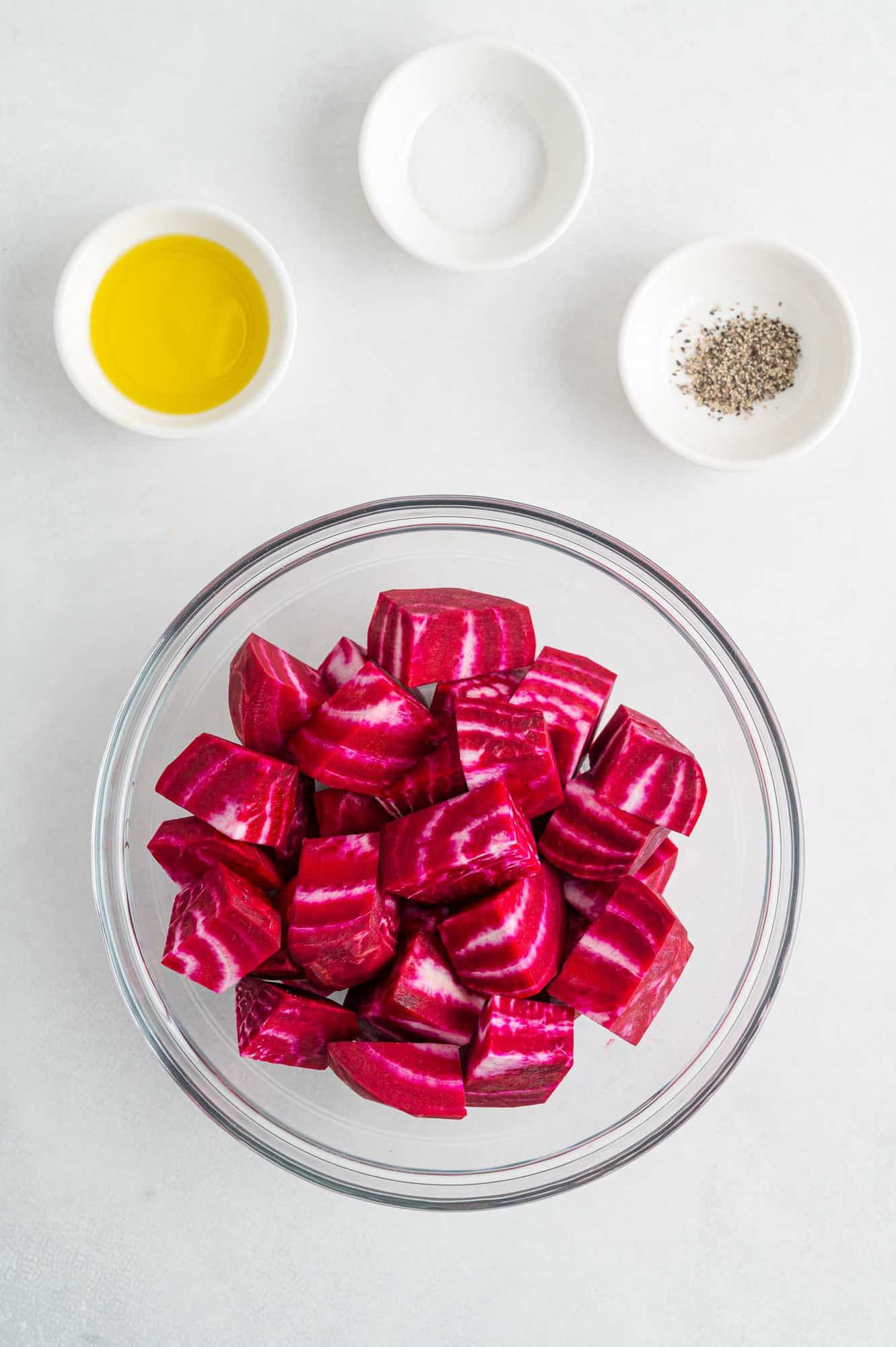 How to Prevent Beet Stains
When you cut raw beets, the juice is bright pink and may stain your hands or cutting board. While I find that the juice usually rinses off, if you are worried about staining, wear disposable food safe gloves when handling the beets. To protect your cutting board, cover it with a layer of plastic wrap or parchment paper.
How To Make Air Fryer Beets
The first step is to decide whether you're going to peel the beets or not. We tested them both ways and really couldn't tell the difference. Not one bit! Since my philosophy is the less work, the better, why peel them? But it's your choice.
If you decide to peel the beets, go for it. A vegetable peeler works well. If you're ready to go unpeeled, simply scrub the beets really well with a vegetable brush.
Trim the tops and bottoms from the beets and dice them into uniformly-sized pieces, about three-quarters of an inch. If you decide to cut them smaller, they will get done even more quickly and be a bit crispier, too. Again, your choice.
Put the cut beets in a mixing bowl and add olive oil, salt, and pepper. Toss them until they are coated with oil.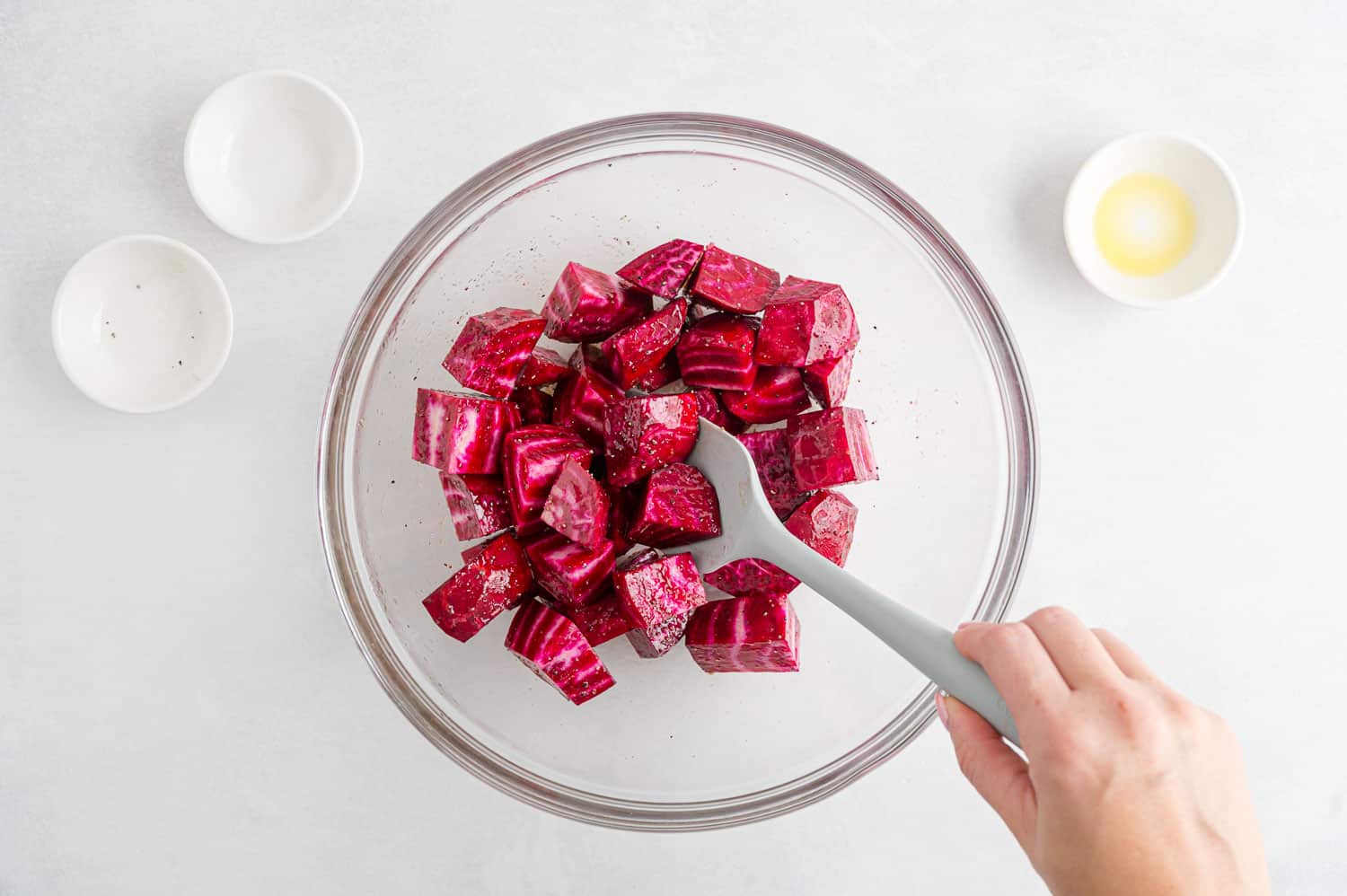 Put the beets on the rack inside your air fryer; arrange them in a single layer. It's okay if the sides are touching.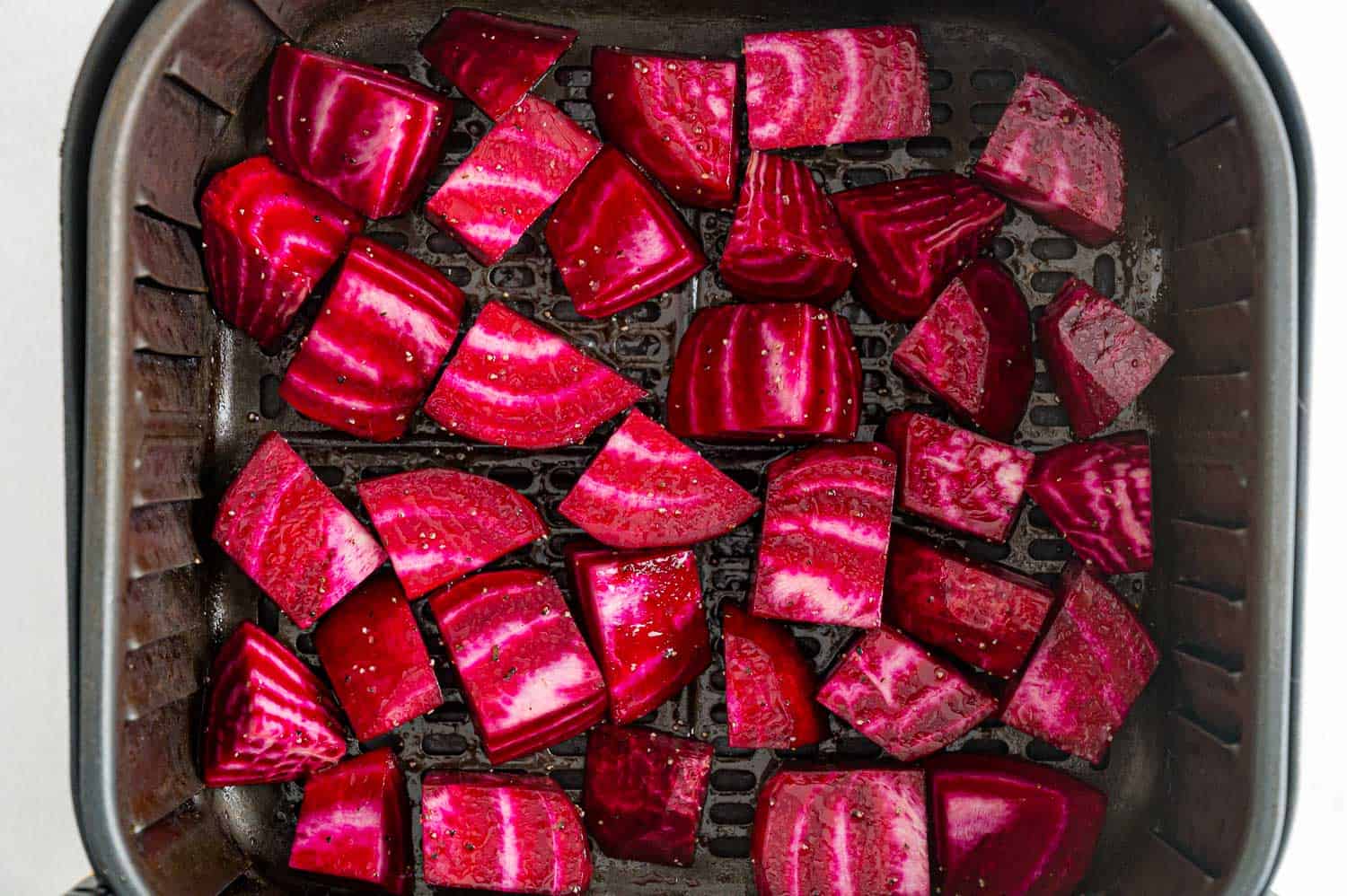 Air fry them at 380ºF for 20 minutes or so, tossing once or twice so they get done evenly. Check for tenderness near the end of the cooking time (see the FAQ below).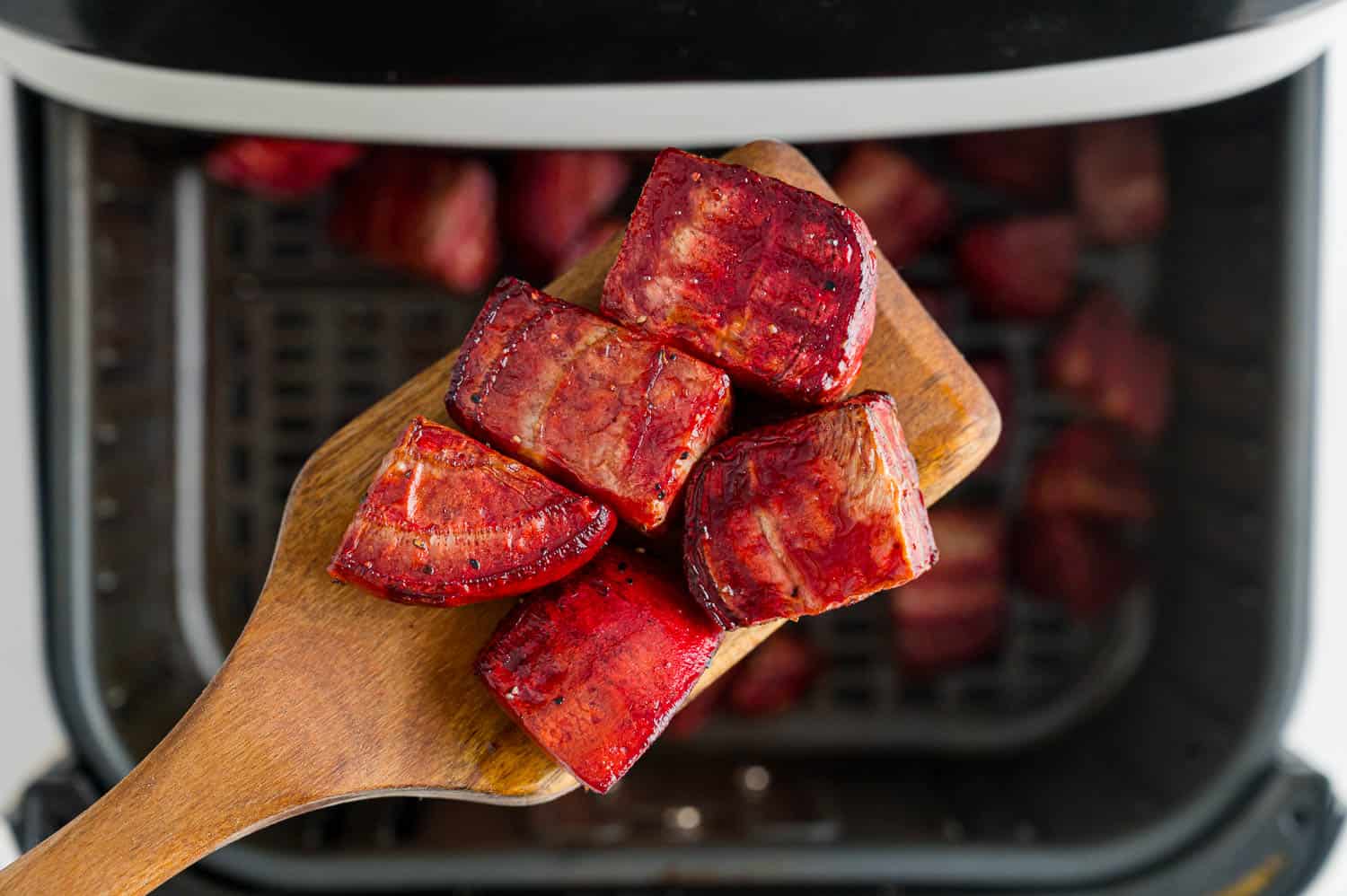 Serve the beets unadorned or with embellishments. They are so good that you'll find yourself "testing" one or two or ten before they get to the table.
If you want to fancy them up, try a squeeze of fresh orange juice, maybe even a sprinkle of orange zest. A bit of crumbled goat cheese and/or some fresh dill or thyme is super delicious. Toss them with your favorite vinaigrette, such as a simple white wine vinaigrette or this fantastic apricot vinaigrette. A drizzle of hot honey is great, too.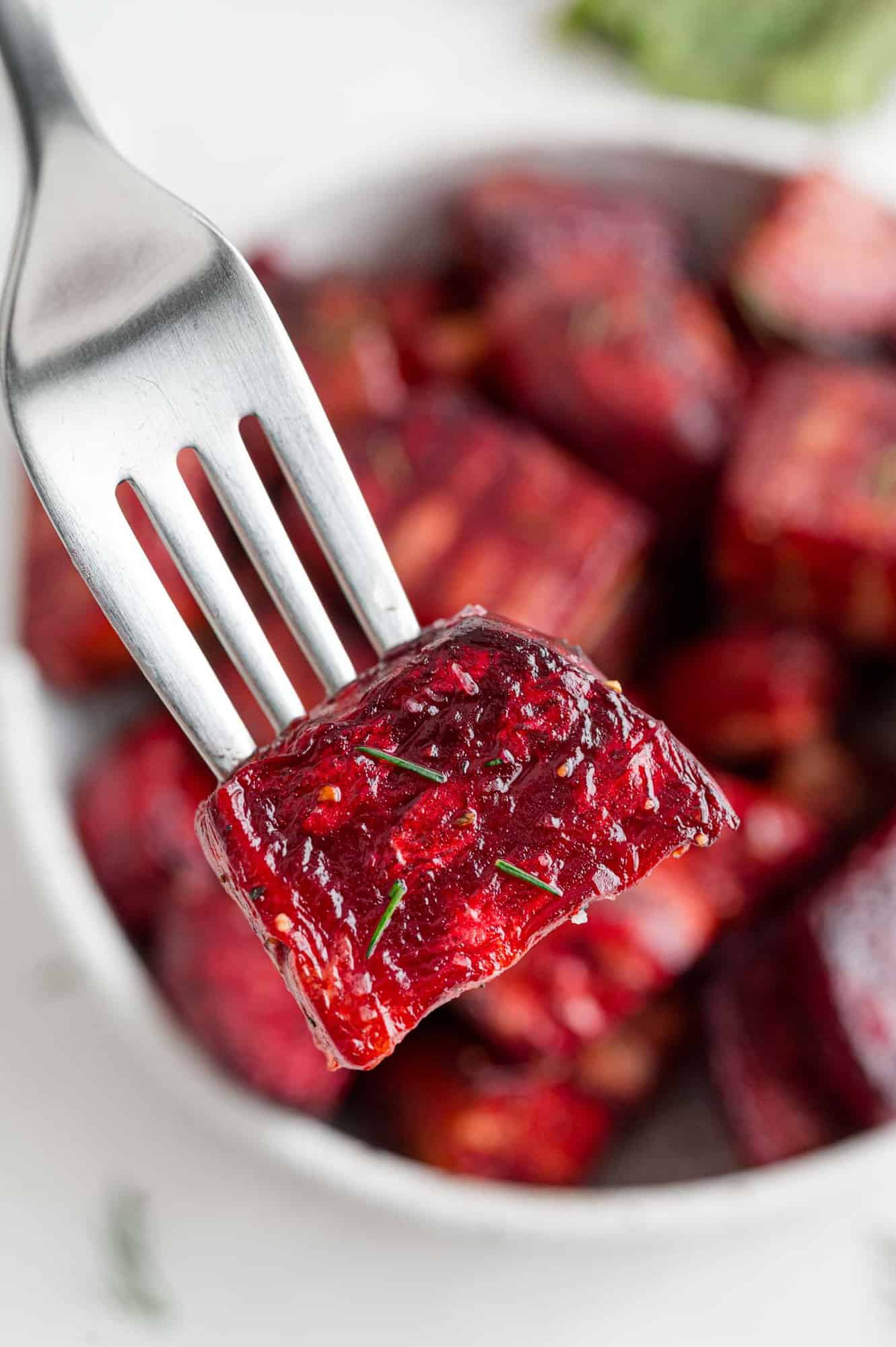 Serve the beets as a side dish or as a topping for a salad. They are excellent in grain salads or a rice pilaf. Once you try them, you'll be imagining all sorts of ways to incorporate beets into your menu.
FAQs
Do you have to peel beets before cooking?
Unpeeled whole beets can be roasted or boiled until they are tender. The skins slip off easily and are discarded once the beets are cooked.
If the beets are cut or sliced before cooking, you will want to peel them first. However, we found that air fried beets do not need to be peeled.
How do you know when beets are done?
They should be fork tender. "Fork tender" means there will be little or no resistance when you poke a fork into the beet.
Make It Your Own
Be creative with the seasoning. Want smoky beets? Toss them with a ¼ teaspoon of smoked paprika. Add a bit of garlic powder when you toss them with oil. Try my all-purpose seasoning instead of plain salt and pepper. Try dried herbs or curry powder.
Roast other root vegetables with the beets. Beets and carrots is a good combination, or beets and sweet potatoes. Try turnips, parsnips, or radishes.
Oven baked method: Diced beets can be roasted in the oven at 425ºF for 30 minutes or until tender. Toss one or two times so they roast evenly.
Canned beets: We also air fried canned beets (plain not pickled). You can't "beat" how easy canned beets are. They weren't quite as tasty but still perfectly acceptable. If you have a can of beets in your pantry, air frying them will take them to the next level.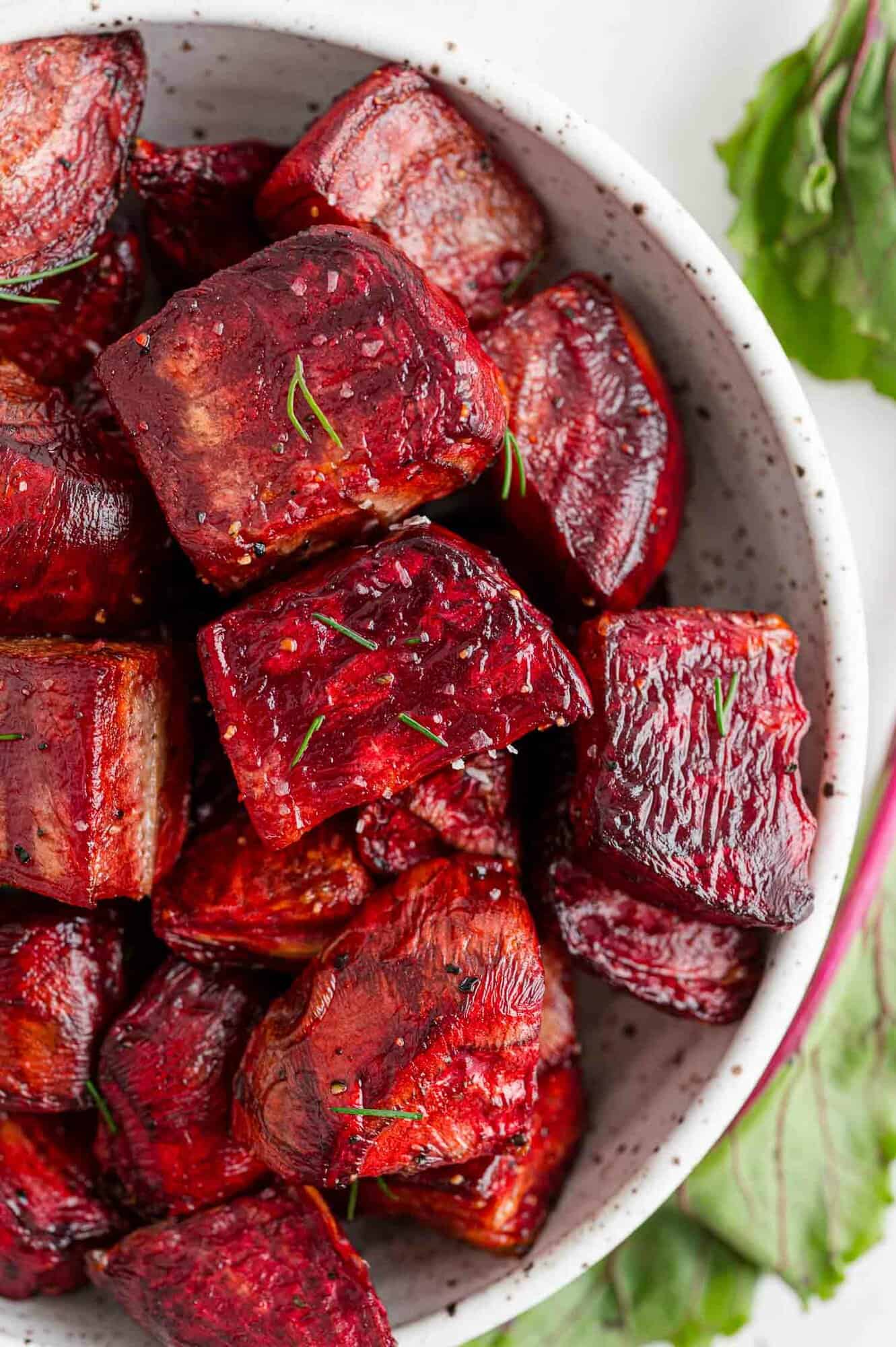 Make-Ahead Ideas
To get a head start on this recipe, the raw beets can be prepped up to a day ahead of time. Scrub and trim the beets, cut them into cubes, and refrigerate them in a covered container. Continue with the recipe as directed when you're ready to air fry them.
Storage & Reheating Tips
Cooked beets will keep in the refrigerator for four to five days in a covered container. For best results, reheat them in your air fryer for a minute or two to crisp them up. You can also microwave them but they will be softer. Beets can also be eaten cold.
How To Store Raw Beets
To store raw beets, remove the greens and wrap the beets loosely in a plastic or paper bag. It's best if there is some air circulation. They will keep at room temperature for a few days but for longer storage, keep them in the crisper drawer of your refrigerator.
Leftover Love
You'll be so glad you have leftover air fried beets! Add them to your salad, a grain bowl, or eat them as a snack. So good!
Did you make this? Be sure to leave a review below and tag me @rachelcooksblog on Facebook, Instagram, or Pinterest!
Air fryer beets are sweet, pleasantly chewy, and delicious. They're easy to make and ready in just 25 minutes.
Ingredients
Serving Suggestions (Choose one or any combination)
Squeeze of fresh orange juice

Sprinkle of fresh dill

Crumbled goat cheese
Instructions
In a large bowl, toss beets with oil, salt, and pepper.

Add the beets to air fryer basket and arrange in a single layer. Air fry at 380ºF until fork tender, 20 to 22 minutes, tossing 1 or 2 times during cooking.

Serve as is, or with one or more of the suggested toppings.
Notes
We tested both peeled and unpeeled beets and really could not tell the difference. Scrub the beets well and trim off any rough spots if you choose not to peel.
To prevent staining, wear disposable food safe gloves when handling beets. You may also want to place a layer of plastic wrap or parchment paper on your cutting board.
For crispier beets, cut them smaller (½ inch pieces) and air fry for 15 to 16 minutes or until done.
For canned beets, drain a 15 oz. can of beets. Cut in halves or quarters, depending on the size of the beets. Toss in olive oil, salt, and pepper. Air fry for 17 to 18 minutes or until done. We found that these weren't as tasty but were still acceptable.
Nutrition Information
Serving:
4
oz.
,
Calories:
80
kcal
,
Carbohydrates:
11
g
,
Protein:
2
g
,
Fat:
4
g
,
Saturated Fat:
1
g
,
Polyunsaturated Fat:
0.4
g
,
Monounsaturated Fat:
3
g
,
Sodium:
379
mg
,
Potassium:
370
mg
,
Fiber:
3
g
,
Sugar:
8
g
,
Vitamin A:
38
IU
,
Vitamin C:
6
mg
,
Calcium:
19
mg
,
Iron:
1
mg
This website provides approximate nutrition information for convenience and as a courtesy only. Nutrition data is gathered primarily from the USDA Food Composition Database, whenever available, or otherwise other online calculators.