Spice Rubbed Pork Tenderloin Recipe
Juicy and flavorful, this spice rubbed pork tenderloin recipe is hands-down our family's favorite way to prepare pork tenderloins.
Recipe Overview
Why you'll love it: This recipe is easy and fool-proof.
How long it takes: 5 minutes to prep, 30 minutes to cook, 5 minutes resting time
Equipment you'll need: large oven safe skillet
Servings: 8 (6 oz. each)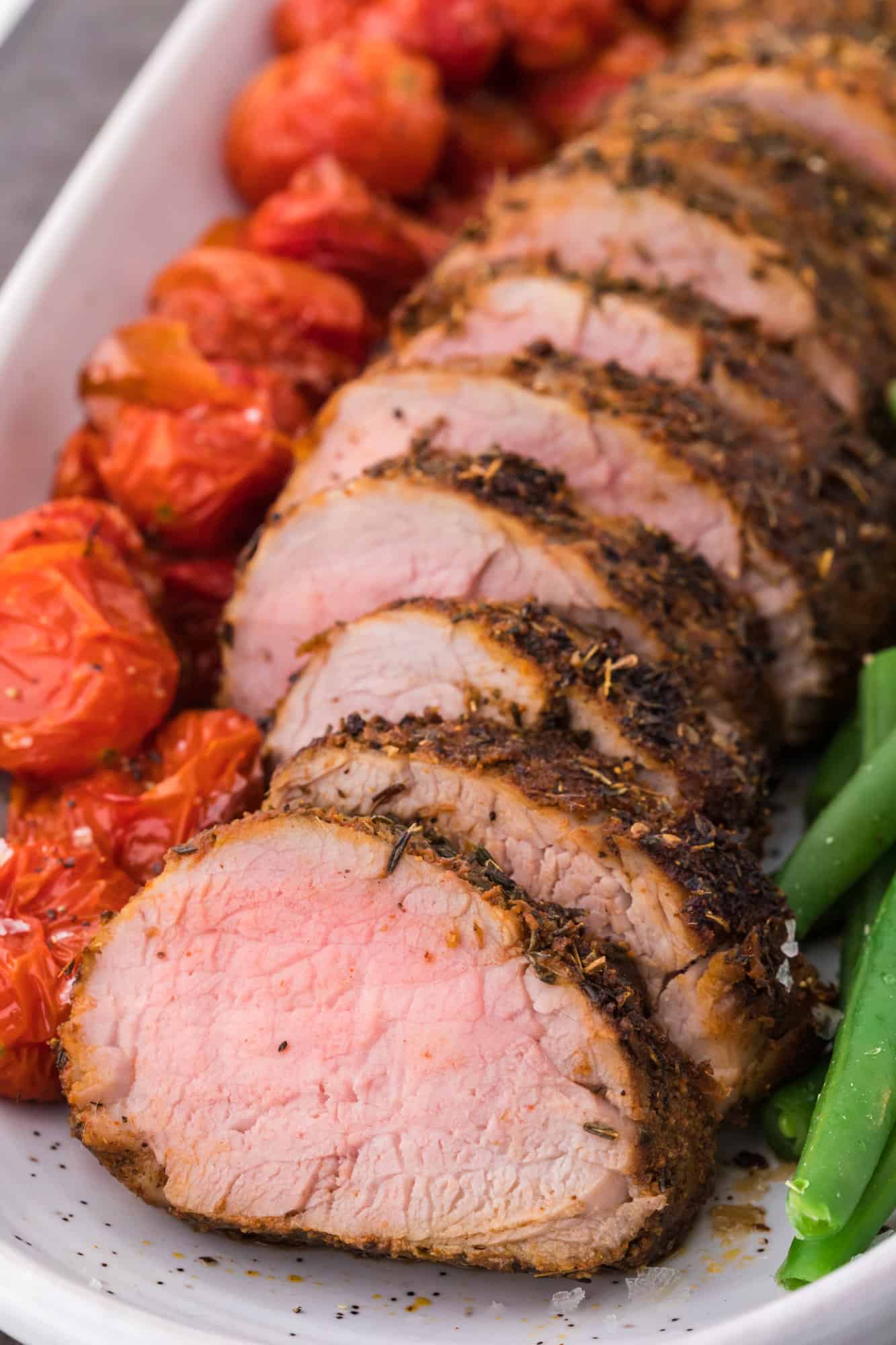 I have made this spice rubbed pork tenderloin more times than I can count. I've made it for my family, I've made it for extended family, and I've made it for friends.
It is unquestionably our favorite pork tenderloin recipe. It's easy and it turns out perfectly every time. The pork is juicy and tender, and oh, so tasty. Everyone raves about it.
This isn't the only way I cook pork tenderloin. Because it's boneless and lean, pork tenderloin is super versatile. It cooks up fast and is perfect for quick dinners.
Here are a few more recipes to tantalize your taste buds! Pork tenderloin with apples and onions or pork tenderloin with port wine sauce and roasted grapes are easy and delicious. The apricot glaze on these grilled pork kebabs is simply amazing. And if you're looking for a really quick way to prepare pork tenderloin, try these pork medallions with lemon garlic sauce. The thin slices of pork cook up in no time.
Pork tenderloin is a healthy choice. This spice rubbed pork tenderloin recipe is also Whole 30 compliant, keto and paleo friendly, and because pork tenderloin is so lean, it's a healthy choice for anyone. A six ounce serving of pork tenderloin is 225 calories and contains 36 grams of protein, with only 7 grams of fat.
A perfectly roasted pork tenderloin is pretty enough to serve to guests and it's easy enough to be on your menu every week. And it's delicious!
About This Pork Tenderloin Recipe
This spice rubbed pork tenderloin recipe is easy to make (have I mentioned that already?). The pork is seasoned with a succulent blend of spices and dried herbs. The seasoning is rubbed into the pork before you cook it.
The cooking method is a two step process. First, the pork is seared in a skillet on the stovetop over high heat. Once there's a nice brown crust on the outside surface of the meat, the skillet is popped into the oven. The pork continues to roast until it reaches the correct internal temperature.
When you take the tenderloin out of the oven, you give it a short resting time. This allows the juices to settle down a little bit, ensuring that they won't all run out onto the plate when you slice the meat. The goal is to have juicy meat, not a juice-filled plate.
It's a pretty simple cooking method but the results are always fantastic. The pork tenderloin is perfectly cooked: juicy, flavorful, and tender.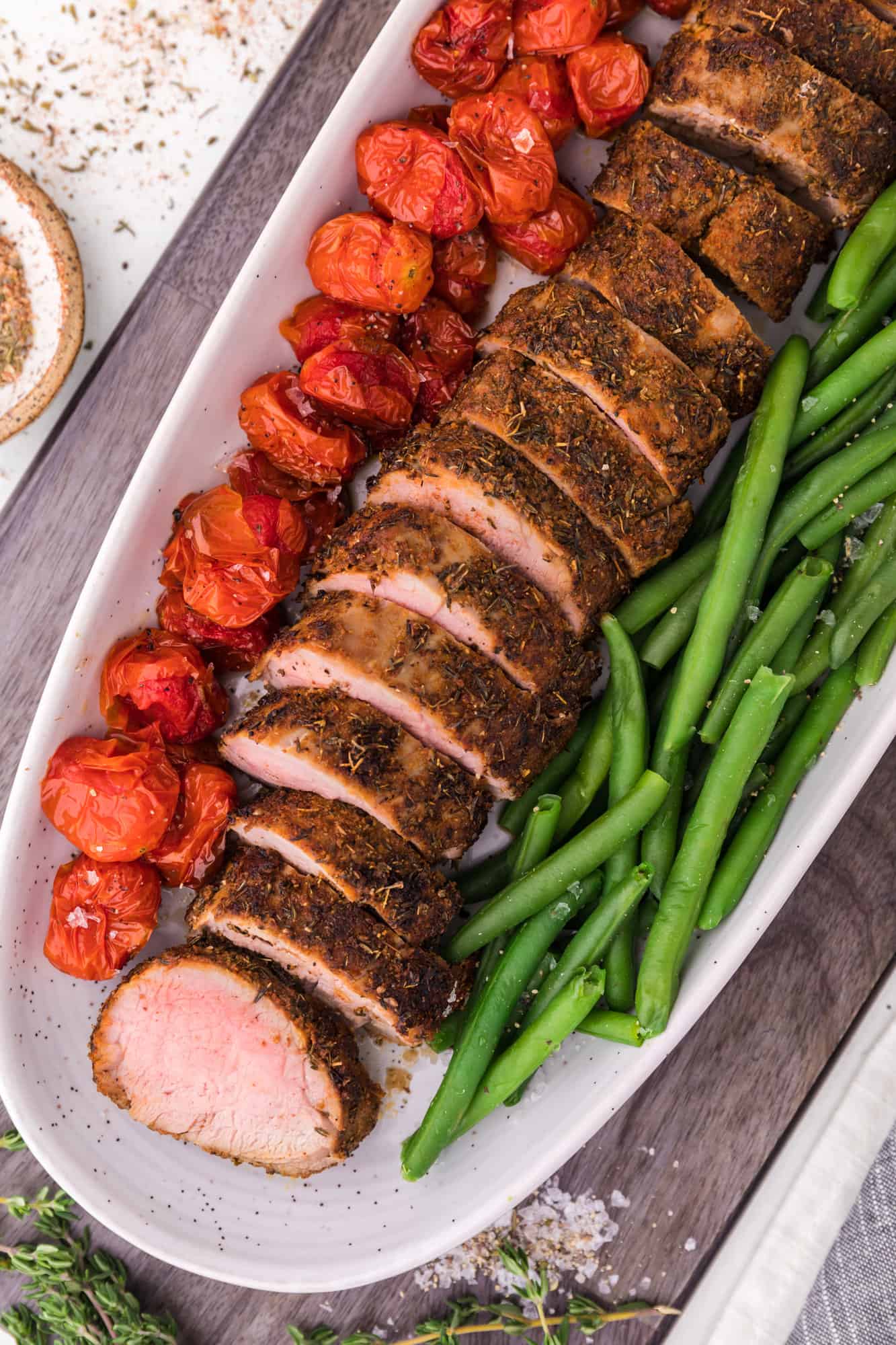 I'll give you a recipe overview here with extra information and tips. Look for the printable recipe card near the end of the post for measurements, instructions, and nutrition information.
What You'll Need
Pork Tenderloins (2): Since pork tenderloins usually are sold two to a package, the recipe is written for two tenderloins, each weighing about one and a half pounds, three pounds total. Be sure to buy plain tenderloins, not seasoned or marinated tenderloins.
Dried Oregano and Dried Thyme: Dried herbs are so easy to use and keep in the pantry indefinitely. Their pungent flavor is more concentrated than fresh herbs.
Garlic Powder: Another pantry item, garlic powder is simply dehydrated garlic that has been pulverized into a powder. Don't substitute garlic salt; it will make your seasoning too salty.
Ground Cumin, Paprika, Ground Coriander: Bright red paprika is made from dried peppers but it is not spicy. It gives a nice color to the seasoning. Ground coriander is actually the seeds from cilantro plants, dried and ground into a powder.
Salt and Pepper: These two common seasonings are found in everyone's kitchen. What would we do without them?
Olive Oil: The tenderloins are seared in olive oil. If you prefer, another type of oil can be substituted as long as it has a fairly high smoke point.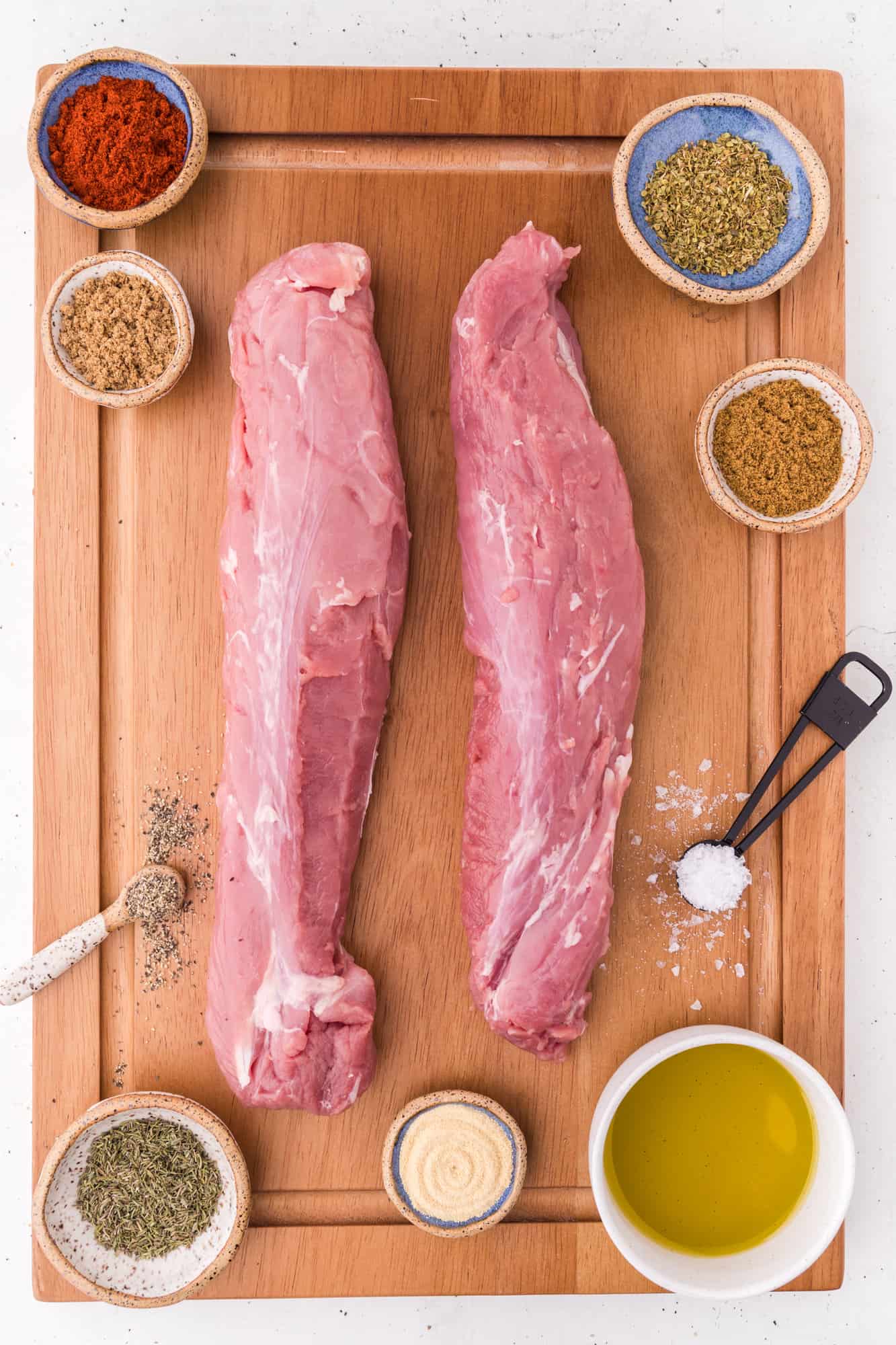 How To Make This Recipe
Preheat the oven to 450°F. It's important to have the oven nice and hot, ready for the tenderloins once they are seared, and it takes a little time for the oven to get to that temperature.
You'll need a large skillet that is oven safe up to 450°F. A cast iron skillet works well but many stainless steel or nonstick skillets are oven safe too. If the pan is all metal, including the handles, it's probably oven proof. A pan with plastic or wooden handles usually is not. The skillet should be large enough to accommodate both tenderloins without overlapping.
Prep seasoning: Prepare the seasoning blend in a small bowl and set it aside for a minute.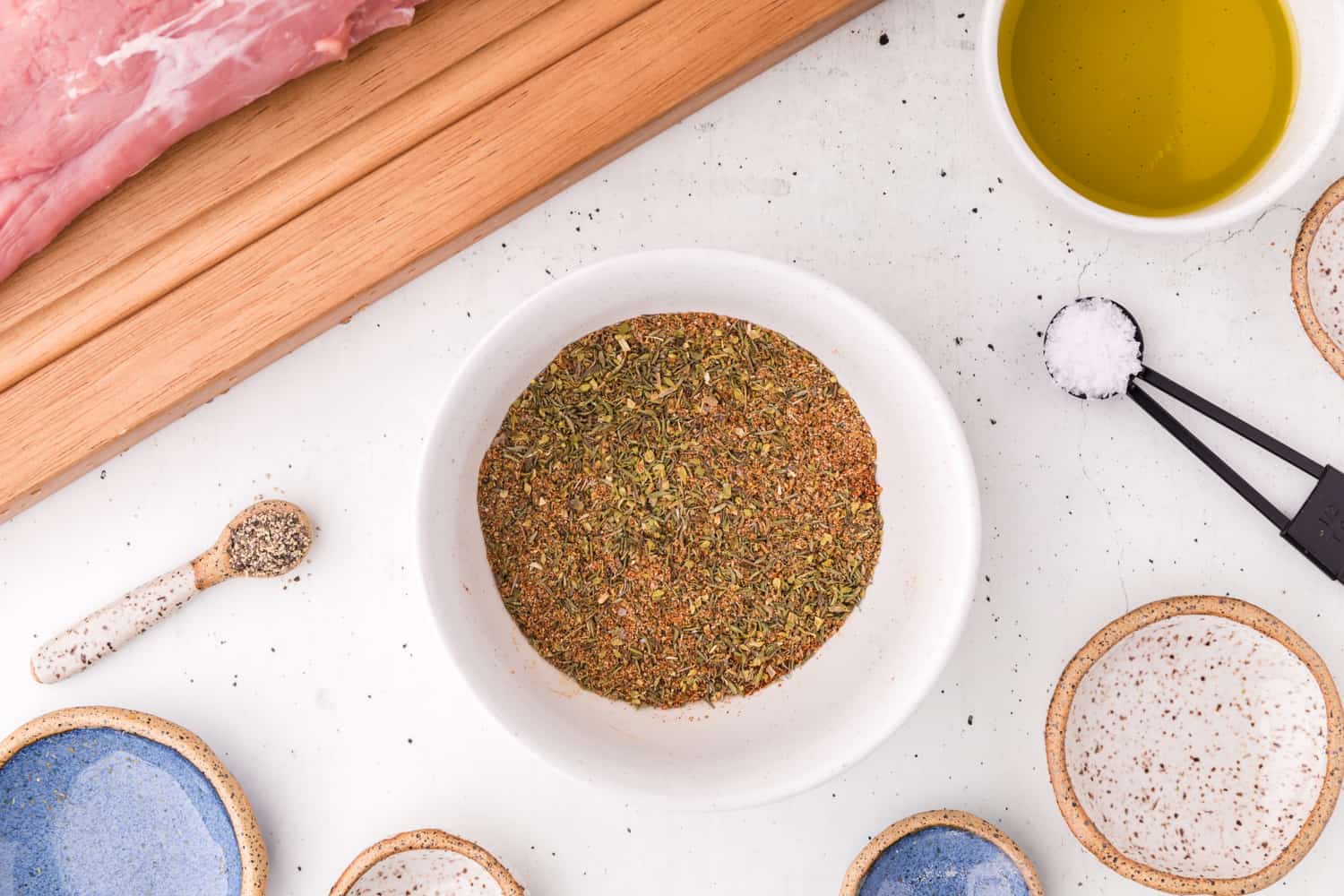 Trim the pork tenderloin. Remove the tenderloins from the packaging. You'll sometimes see a silverskin on one side of the tenderloins. That's actually what it's called and it describes it perfectly. It's a thin silver-colored membrane. Using a very sharp knife, slice the silverskin away from the tenderloins. If desired, trim off any excess fat. Usually there is very little fat on tenderloins.
Season pork. Now it's time for the spice rub. Set the tenderloins on a cutting board or platter and sprinkle the seasoning over the tenderloins. With your hands, rub the spices into all sides of the meat until it's well-coated. Wash your hands.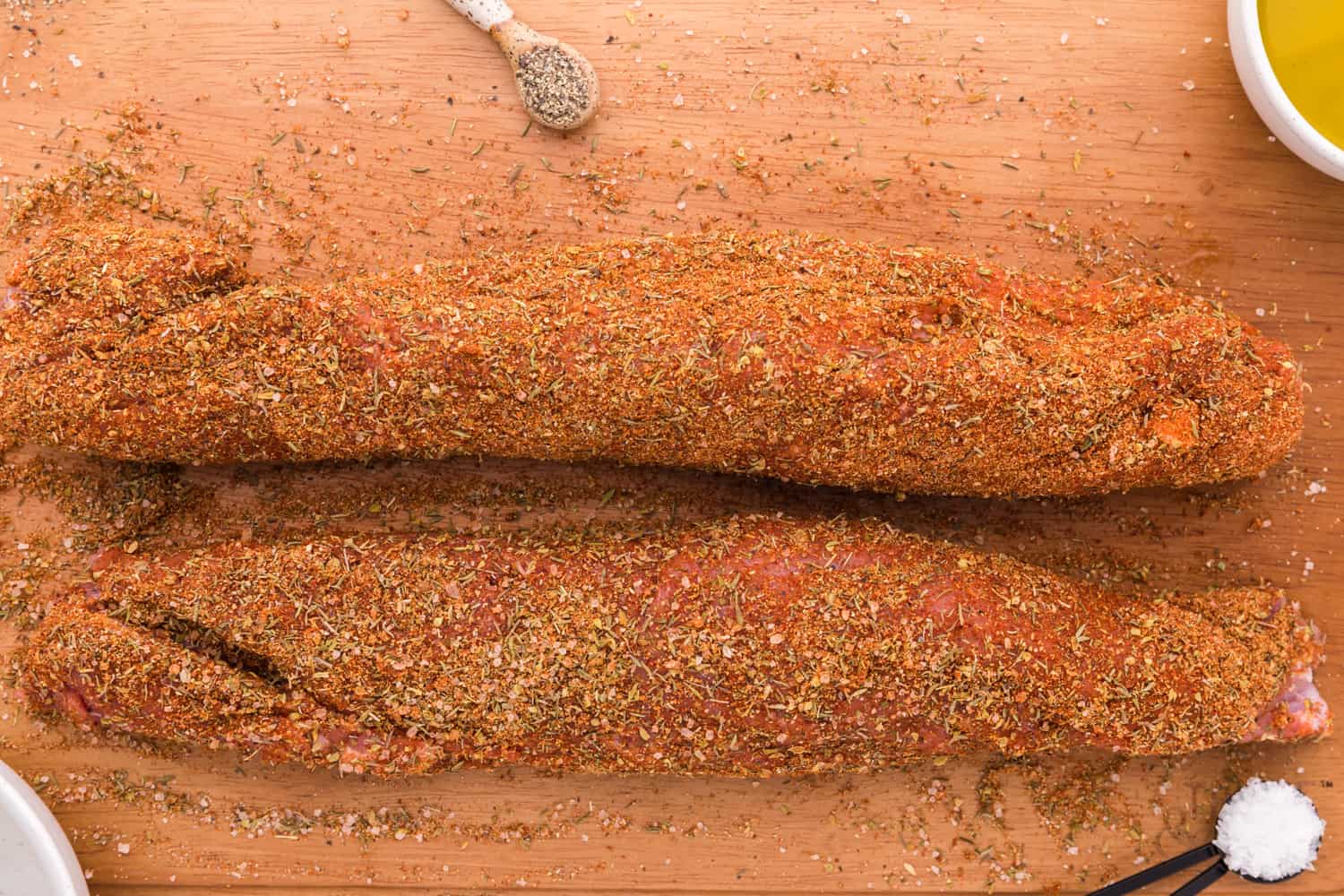 Cook the pork tenderloin. Heat a couple tablespoons of oil in the skillet over medium-high heat. When the pan is hot, tilt the pan to coat it with the oil. If the pan is hot, the oil will be liquid and shimmering.
Place the tenderloins into the hot skillet. Be careful of splatters! If you have a grease splatter screen, now's the time to use it. (By the way, you can find the screens at the dollar store.) Allow the pork to brown for a few minutes, then turn it over using tongs. Brown that side for a few minutes, then turn it to another side. The pork tenderloin should be nicely seared on all sides in about 10 minutes. Don't allow the pork to burn; it should be golden brown.
Transfer the hot skillet with the pork to the preheated oven. Set the timer for 15 minutes. Carefully remove the pan (don't forget to use an oven mitt, the handle with be very hot) and test for doneness with an instant read thermometer (see the FAQ below). If it's not quite at the correct temperature, return the pan to the oven for a few more minutes.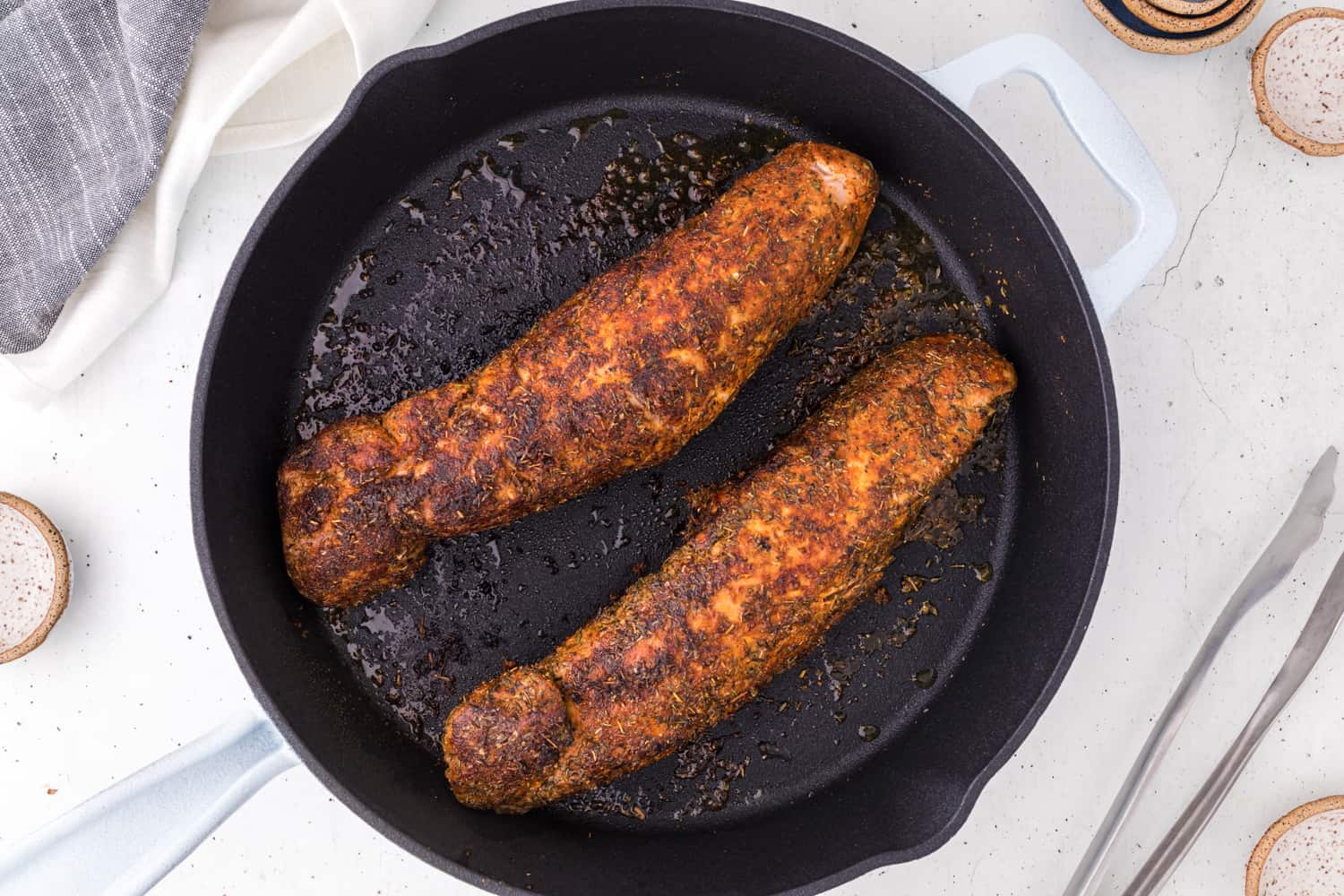 To finish: Once the pork is done, remove it from the skillet and put it on a cutting board to rest for a few minutes. The internal temperature will continue to rise a couple of degrees.
Slice the tenderloins vertically, about one inch thick. Serve immediately and enjoy!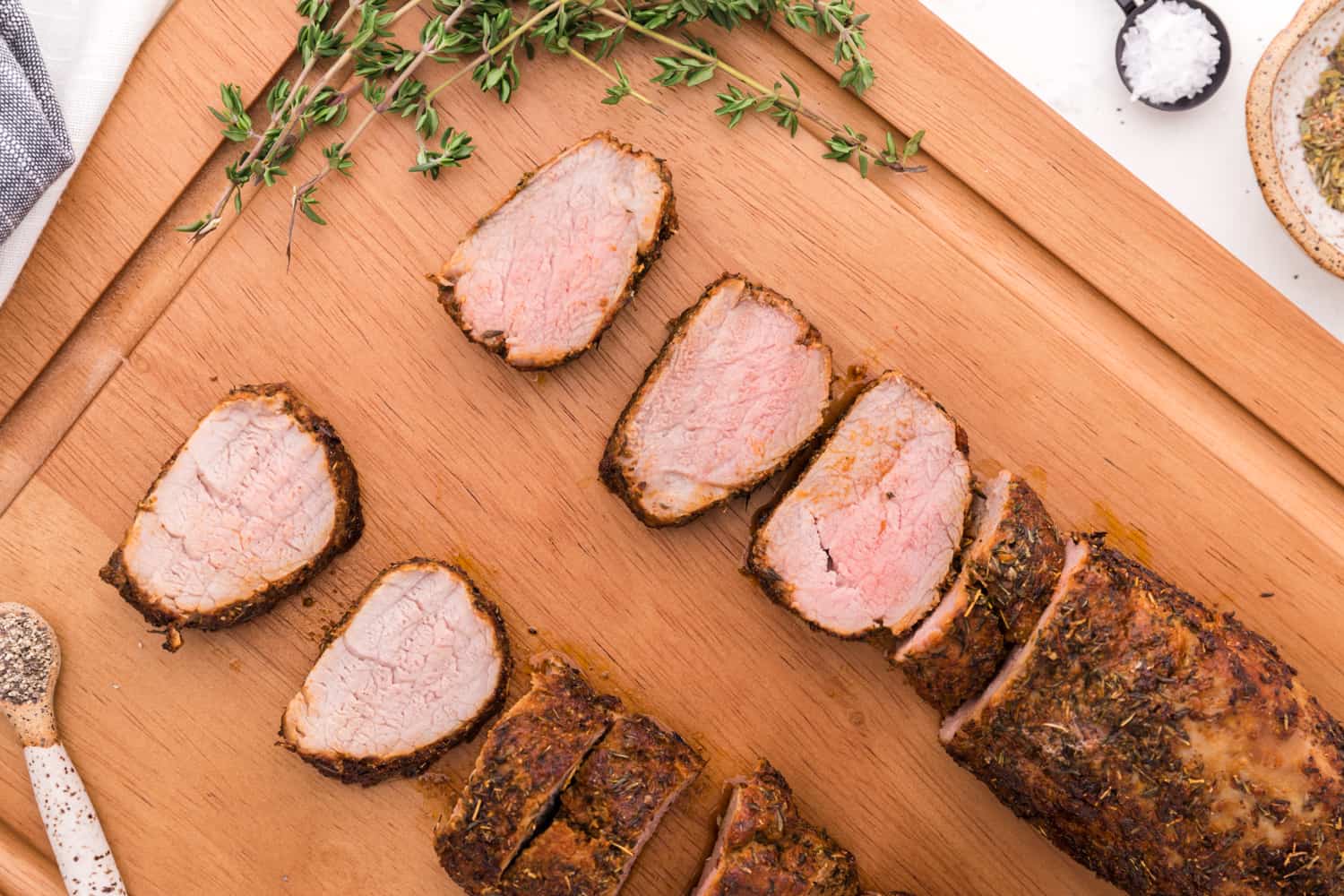 what to serve with spice rubbed pork tenderloin
Here are a few of my favorite side dishes that pair perfectly with this easy pork recipe:
FAQs
What is the difference between pork loin and pork tenderloin?
These two cuts are often confused. They are both boneless and lean but the two cuts are very different.
A pork loin is much larger in size, about 7 to 10 pounds, and usually has a thick fat cap on top. It may be called a pork loin roast, New York pork roast, top loin pork roast, or center cut pork roast. It is usually roasted whole and takes much longer to cook.
A pork tenderloin is long and narrow, about 1 to 1½ pounds; it often is sold with 2 tenderloins per package. It may have a silverskin on one side that should be removed before cooking. A tenderloin can be cooked in a variety of ways: roasted whole, sliced and sautéed, or grilled.

What temperature does pork need to be cooked to?
When you're cooking pork tenderloin, it is of utmost importance not to overcook it. Take it out of the oven just before the pork reaches the desired temperature and let the pork rest briefly. The internal temperature will continue to rise a few degrees. You'll be left with juicy, delicious pork.
The National Pork Board has a great photo illustration of what the pork should look like when it's cooked medium rare (145-150°F), medium (150-155°F), medium well (155-160 °F), and well done (160°F).
Make It Your Own
Tweak the seasoning: The easiest way to make this your own recipe is to tweak the seasoning blend. Really, any type of seasoning can be used. We really love this blend but feel free to experiment with your own blend. You can also substitute my all purpose seasoning, if you prefer. Try a chili seasoning rub. Avoid rubs that contain sugar because the sugar tends to scorch when you sear the meat.
Substitute boneless pork chops. If pork tenderloins aren't available, try this cooking method with thick cut boneless pork chops. Adjust the cooking time, depending on the thickness of the chops.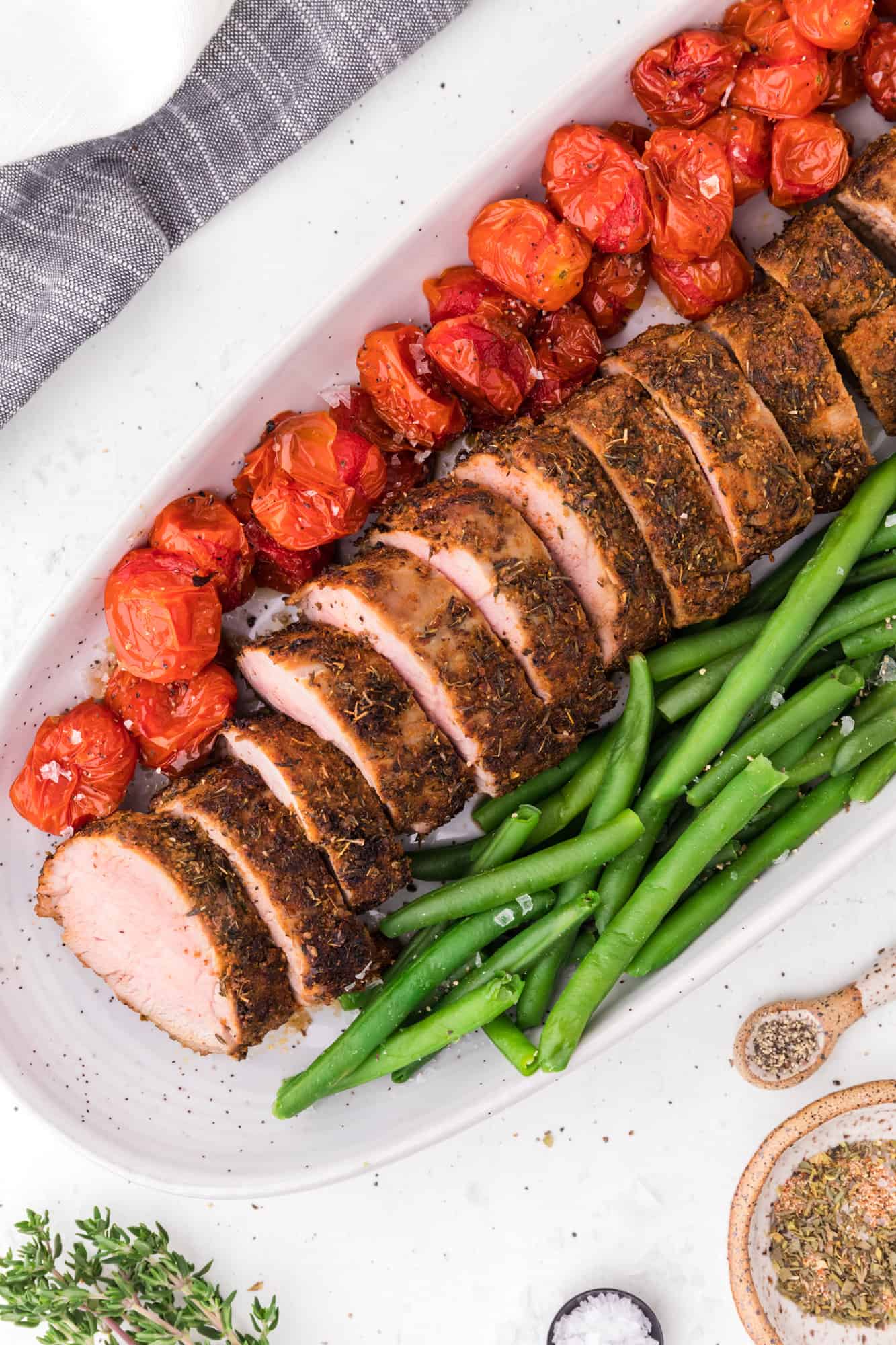 Make-Ahead Ideas
If you'd like to get a head start on this recipe, prep the tenderloins several hours or up to a day ahead of time.
Trim the pork tenderloins and rub the spice mixture into the meat. Put them in a tightly covered container. Remove them from the refrigerator a half hour ahead of time, or while the oven is preheating.
Storage & Reheating Tips
Refrigerate: Leftover pork tenderloin will keep in the fridge for three to four days in a covered container.
Freeze: Leftover pork can be frozen for two to three months. I prefer to freeze the pork already sliced so that it thaws more quickly.
Reheat: The best way to reheat leftover pork is to briefly pan fry the tenderloin slices in a bit of oil until warmed through. The microwave tends to toughen the meat.
Leftover Love
Cooked pork tenderloin is super versatile. Substitute pork for chicken in recipes that call for cooked boneless skinless chicken breasts. Thinly slice or shred the meat and use it for pulled pork sandwiches with homemade BBQ sauce. Dice it and add it to a veggie hash, fried rice, or egg roll in a bowl. Add it to salads, like this southwestern farro salad with roasted sweet potatoes and poblanos.
Interested in a weekly meal plan (it's free!) that includes this pork tenderloin recipe? Take a look at my Meal Plan #15. You'll find a wholesome recipe for each weekday plus a categorized grocery list. Let me do the planning for you this week!
We'll be adding a new meal plan weekly. If you're interested, browse all of our meal plans.
Did you make this? Be sure to leave a review below and tag me @rachelcooksblog on Facebook, Instagram, or Pinterest!
Juicy and flavorful, this spice rubbed pork tenderloin recipe is hands-down our family's favorite way to prepare pork tenderloins.
Instructions
Preheat oven to 450°F.

Prep pork by trimming fat and silver membrane if present.

In a small bowl, mix together oregano, thyme, cumin, paprika, salt, garlic powder, coriander, and black pepper. Using your hands, rub this all over pork tenderloins.

In a large oven safe skillet over medium high heat, heat olive oil. When it is hot, add pork tenderloins and sear on all sides, 2 to 3 minutes per side, or about 10 minutes total, until the pork is nicely browned.

Carefully transfer skillet to preheated oven and bake for 15 to 18 minutes or until cooked to medium rare (140-145°F). Let meat rest for 5 minutes before slicing.

Using a very sharp knife, slice tenderloins into approx. 1 inch slices. Serve immediately.
Notes
Feel free to customize the spice mixture. If you're a garlic fan, increase the amount of garlic powder. If you like a little more heat, add a dash of cayenne red pepper.
Leftover pork can be refrigerated for 3 to 4 days or frozen for 2 to 3 months. I like to slice the cooked pork before freezing it because it thaws more quickly.
Nutrition Information
Serving:
6
oz.
,
Calories:
224
kcal
,
Carbohydrates:
2
g
,
Protein:
36
g
,
Fat:
7
g
,
Saturated Fat:
2
g
,
Polyunsaturated Fat:
1
g
,
Monounsaturated Fat:
4
g
,
Trans Fat:
0.04
g
,
Cholesterol:
111
mg
,
Sodium:
673
mg
,
Potassium:
714
mg
,
Fiber:
1
g
,
Sugar:
0.1
g
,
Vitamin A:
64
IU
,
Vitamin C:
2
mg
,
Calcium:
31
mg
,
Iron:
3
mg
This website provides approximate nutrition information for convenience and as a courtesy only. Nutrition data is gathered primarily from the USDA Food Composition Database, whenever available, or otherwise other online calculators.