Tender green sautéed Brussels sprouts are perfectly seared in a skillet. You won't have to turn your oven on for these beauties.
Recipe Overview
Why you'll love it: Easy and fast, with delicious results! It doesn't get much better than that. Oh, and they're good for you, too.
How long it takes: 20 minutes
Equipment you'll need: sharp knife, skillet with a lid
Servings: 4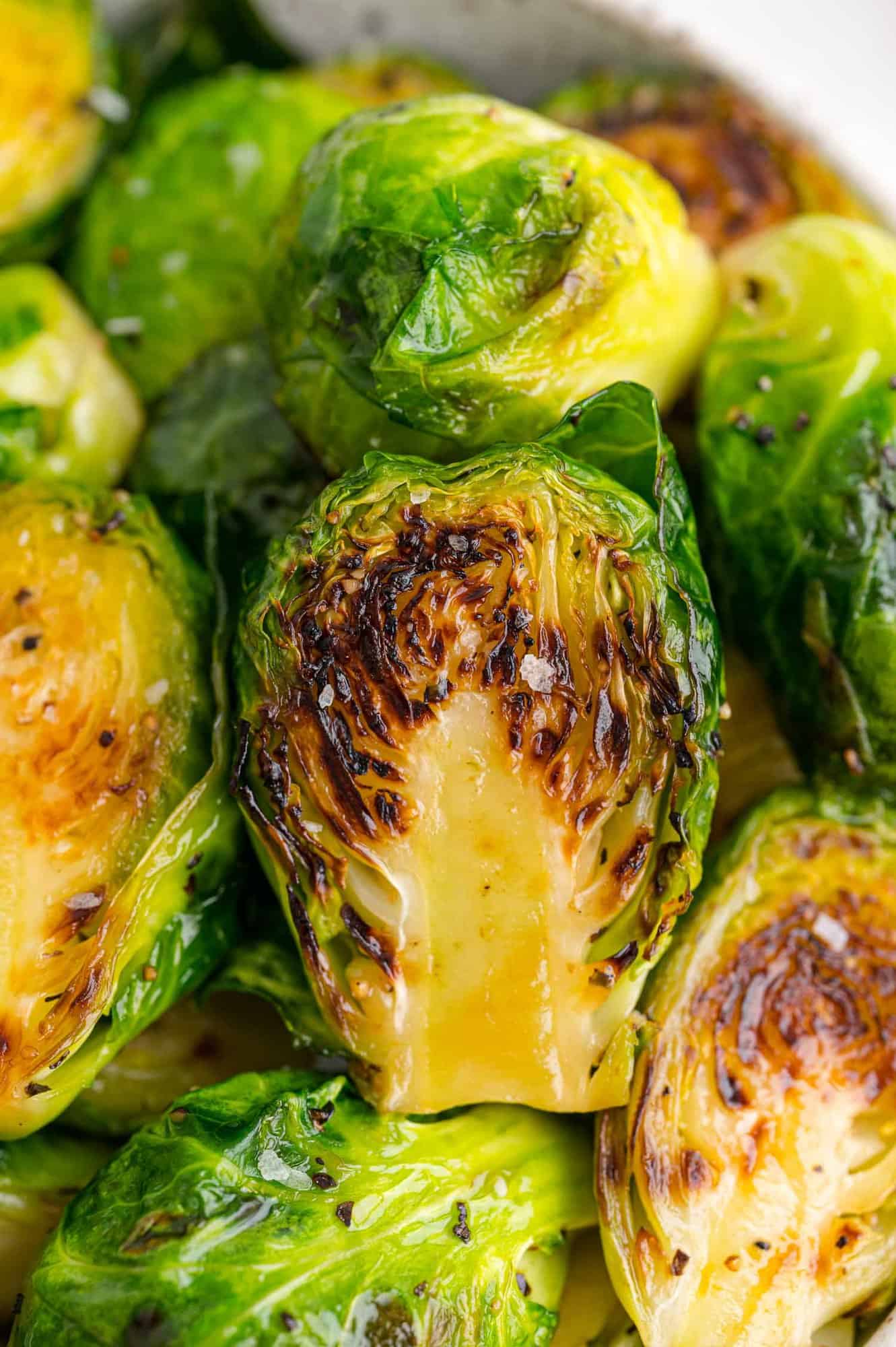 Brussels sprouts have become a very popular item on restaurant menus. Often they are deep fried until they are dark brown and crisp, and served with all sorts of fabulous sauces and embellishments. They are just so good and I'm glad that they are enjoying a little (or a lot) of well-deserved attention.
They look like little green cabbages and you have to admit, they are kinda cute. Brussels sprouts are champions when it comes to nutrition. According to Healthline, these tightly packed green globes have lots of fiber, vitamin K and vitamin C, along with other antioxidants and minerals. They are very low in calories, only 28 calories per half cup and are beneficial to your health in lots of ways.
Maybe you're just not sure how to cook Brussels sprouts. There are many different meothods; today I'll show you how to pan fry them. All you need is a skillet with a lid, and about 20 minutes. It's easy and you'll love the way they turn out.
About This Recipe
This is a how-to recipe where you'll learn the basic method of pan frying Brussels sprouts. I've added a few flavor variations and add-ons that you can use to make them your own.
I've been making roasted Brussel sprouts in the oven for ages and it's a totally great way to do them. Roasted vegetables are so easy and you can pretty much ignore them once they are in the oven, other than a quick stir or two. Air fryer Brussels sprouts are amazing, too.
However, as I was saying to a friend just the other day, I think I like the sautéed Brussels sprouts best. Give them a try soon and see what you think!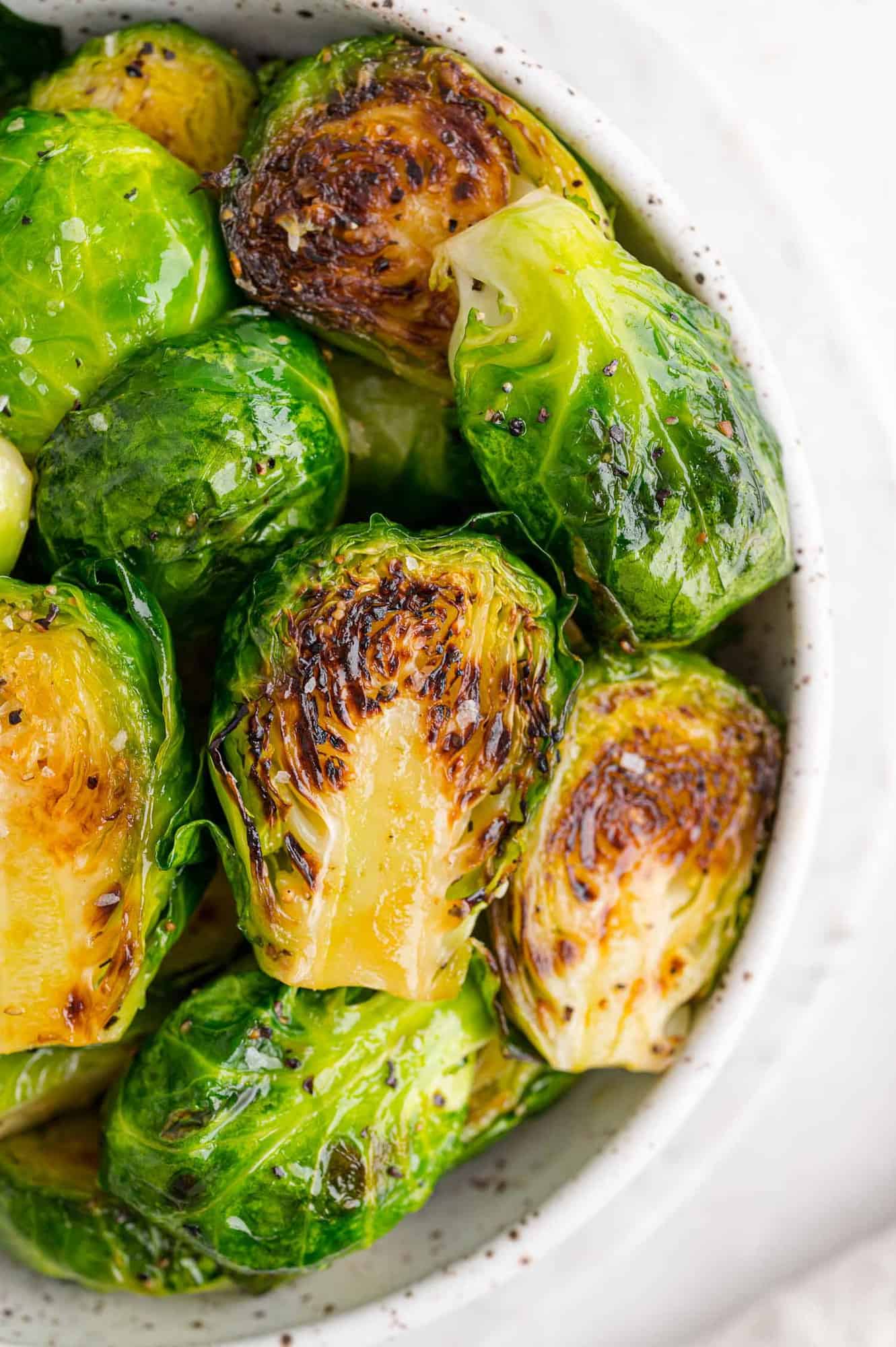 I'll explain here how to make pan fried Brussels sprouts and throw some helpful tips your way. Be sure to look for the recipe card near the end of the post. You'll find complete instructions with measurements and nutrition information.
What You'll Need
Brussels Sprouts: The recipe is written for a pound of Brussels sprouts although you can easily increase it if you have a large enough skillet. Look for sprouts that are firm and dark green. If they look wilted or have yellowish spots, they aren't fresh and should be avoided. Uncooked Brussel sprouts should be stored in the refrigerator. They'll keep for at least a week as long as they are kept dry. They are often sold in a mesh bag to promote good air circulation.
Oil: Ghee is a good choice because it has a very high smoke point. Other good choices are olive oil, avocado oil, or canola oil.
Salt & Pepper: Coarse salt such as kosher salt and coarsely ground black pepper are the best choices for this recipe. If you choose a finely ground pepper, use less. Try a scattering of red pepper flakes for something different.
Optional Add-ons: Embellish your sprouts with pancetta or bacon, shallots or onions, or drizzle with balsamic glaze. See the recipe for instructions on how to make these additions!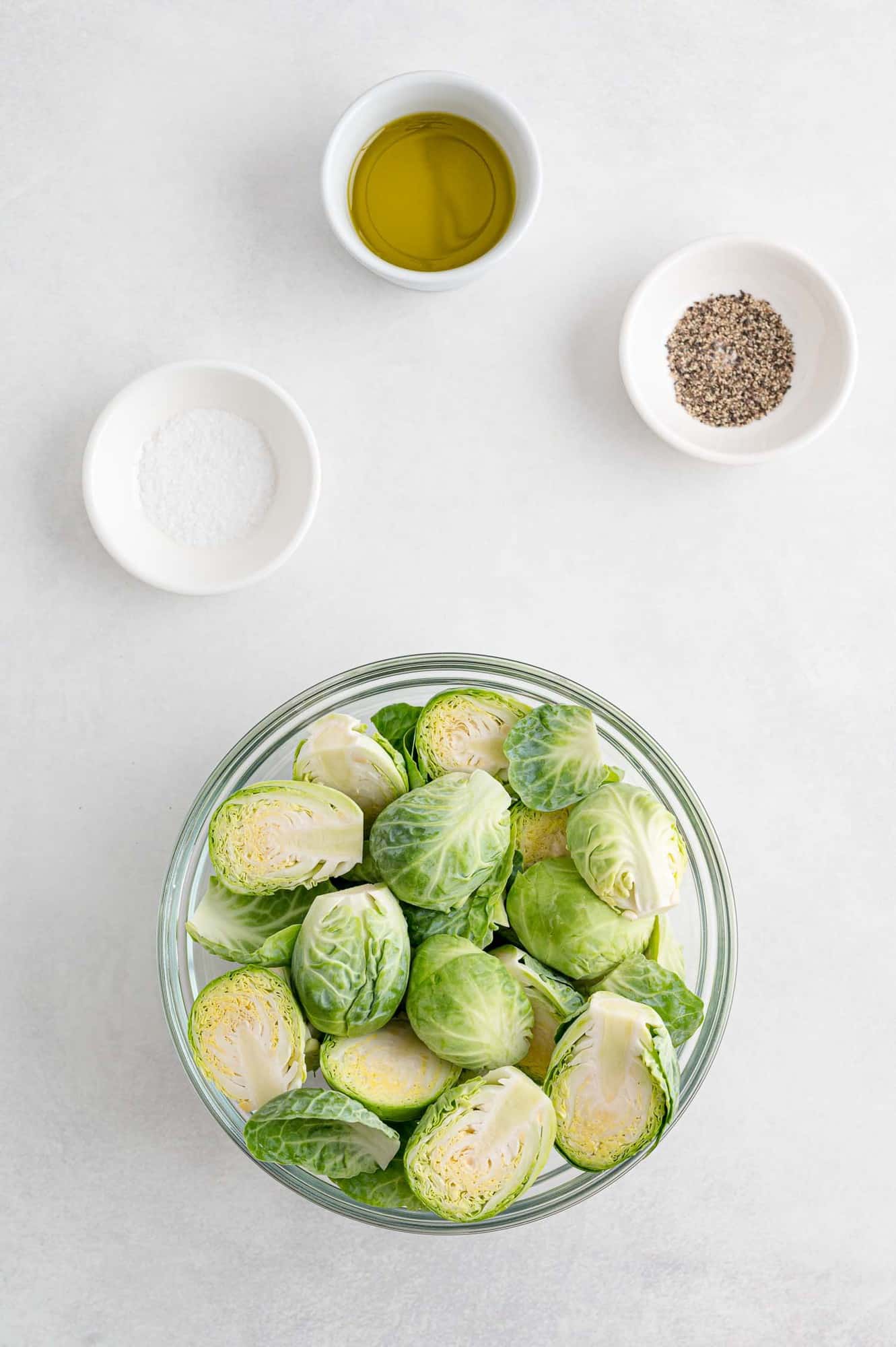 What is Ghee?
Ghee is clarified butter. Because the milk solids and water have been removed, it won't burn or spatter, and it's very flavorful. Ghee is a good choice for sautéing or frying because it stands up to high heat, that is, it has a very high smoke point. It comes in a jar and is shelf-stable (doesn't need to be refrigerated).
How To Make Sautéed Brussels Sprouts
Let's get started. This recipe is very uncomplicated; however, it's important to prep your Brussels sprouts correctly.
Trim the stem end. This cut edge is where the sprout was attached to the large stalk. It can be tough so you want to trim it evenly with the sprout. Remove any blemished outer leaves. If a few extra "good" leaves fall off in the process, save those, too. They can be added to the pan and some of us think that those runaway leaves are the best part.
Place the trimmed sprouts in a colander and rinse them under cold running water to remove any dirt or debris. Drain and dry them as much as possible. A salad spinner works well if you have one.
Cut each sprout in half lengthwise, that is, top to bottom. The cut side ensures that the sprout will make good contact with the hot skillet. Makes sense, right? Since these mini cabbages are round balls, they would just roll around in the pan and only a tiny portion of the sphere would brown.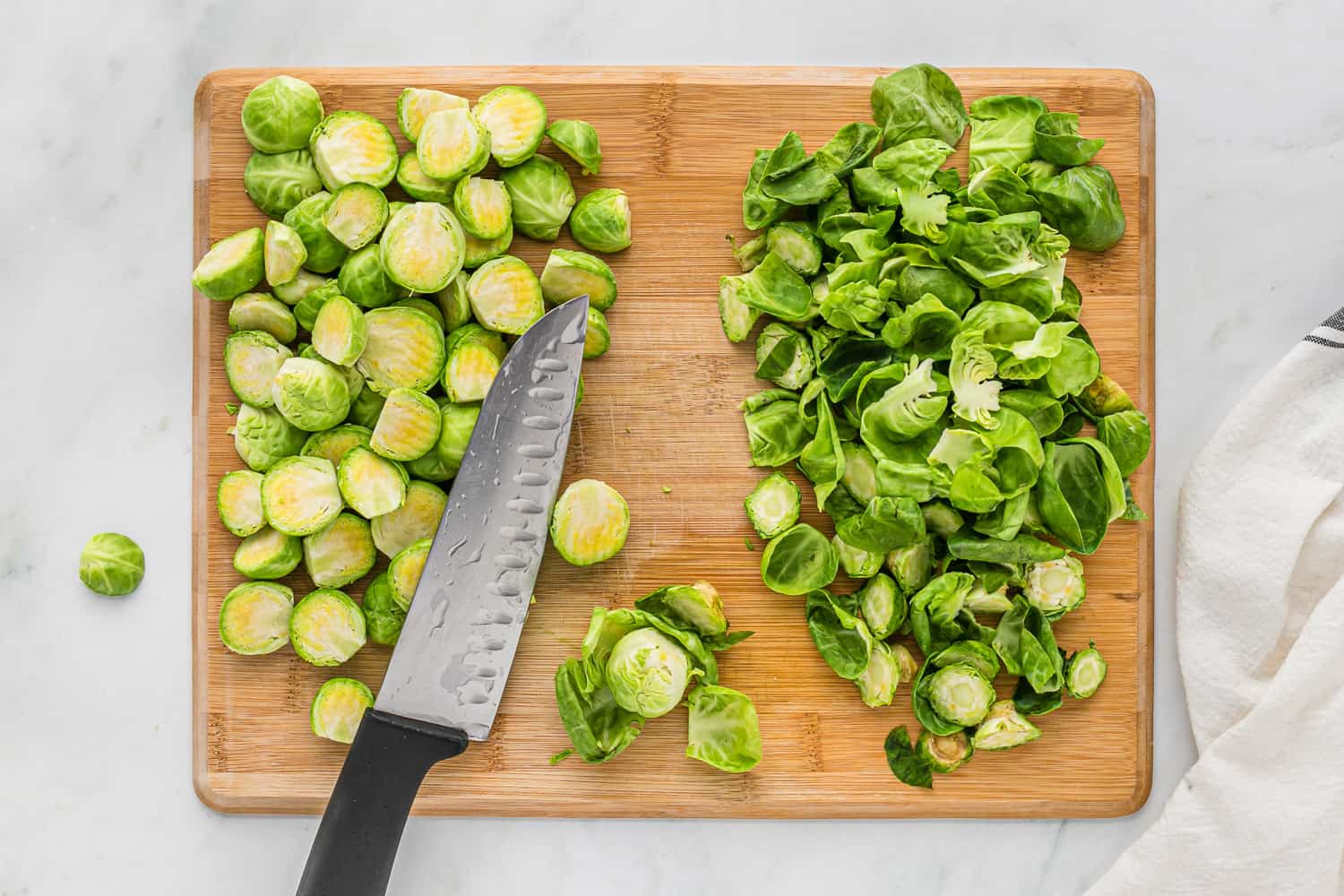 Okay, are you ready to get cooking? You're halfway there. It takes just as long to prep Brussels sprouts as it takes to cook them, only about 10 minutes.
You'll need a good-sized skillet that has a cover or lid. There should be enough room in the pan for the Brussels sprouts to fit in a single layer. Heat the pan over medium-high heat.
When the pan is hot, add the ghee or oil. Swirl it around and then add the Brussels sprouts. Toss them around a little to make sure they are coated with the oil. Use a large spoon or spatula and quickly arrange them so that they are mostly cut side down in the pan.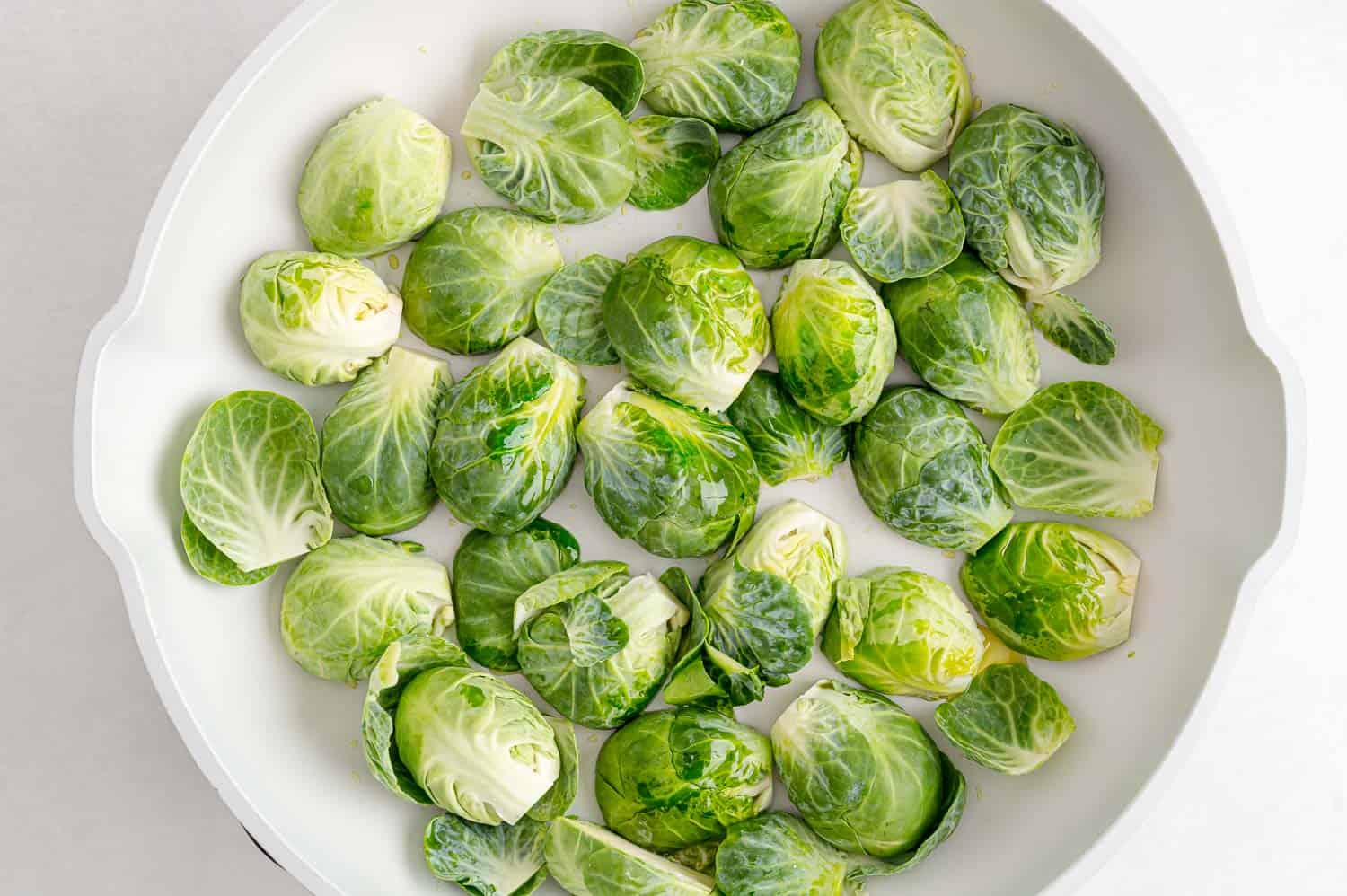 Give the sprouts a quick shot of salt and pepper, cover the pan and let them settle in and brown.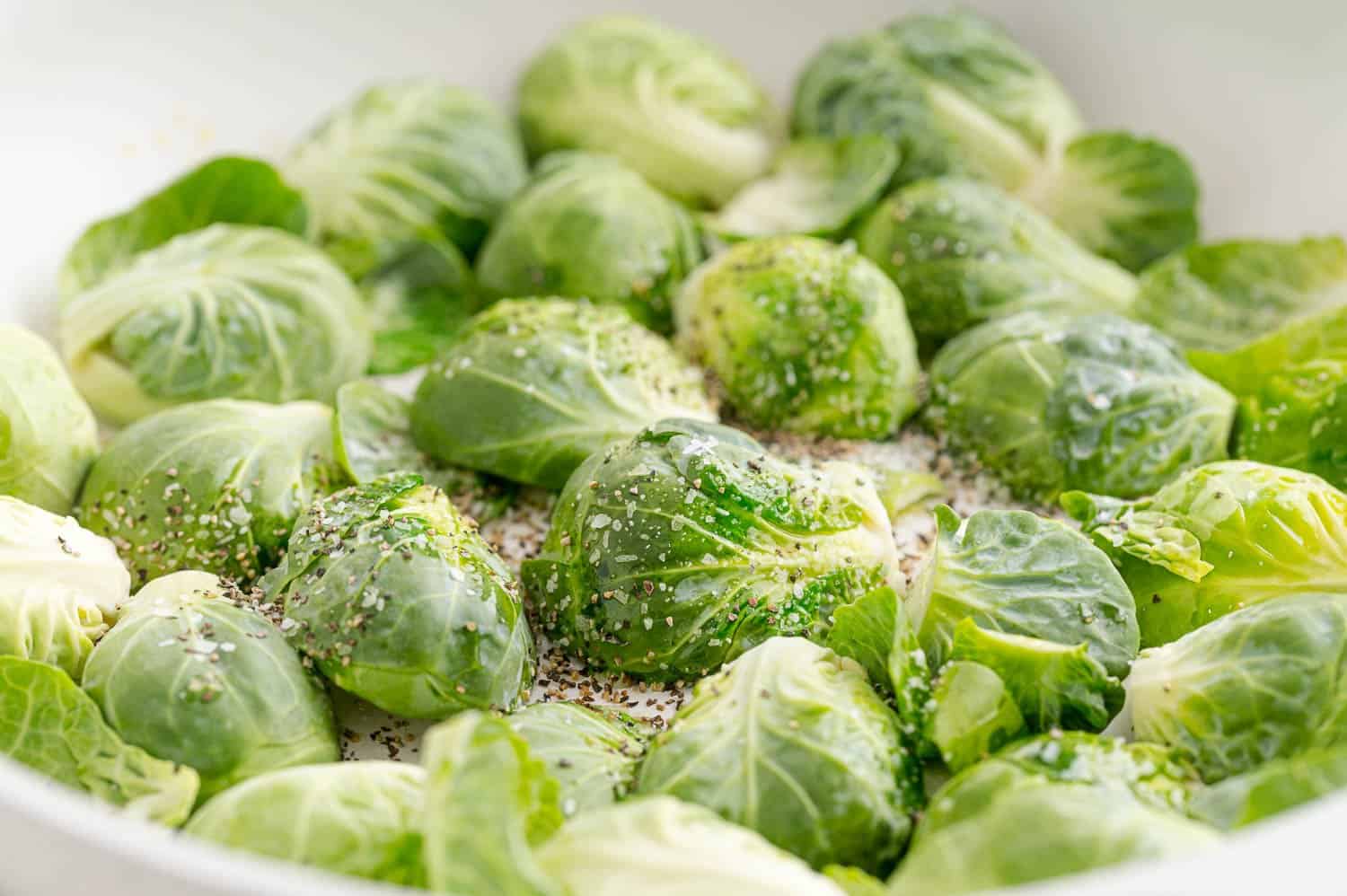 Don't touch them for three to four minutes. Seriously, don't peek and don't move those sprouts around. This is not a stir fry. You want them to have a chance to nicely brown and steam, and the best way to accomplish that is to leave them alone.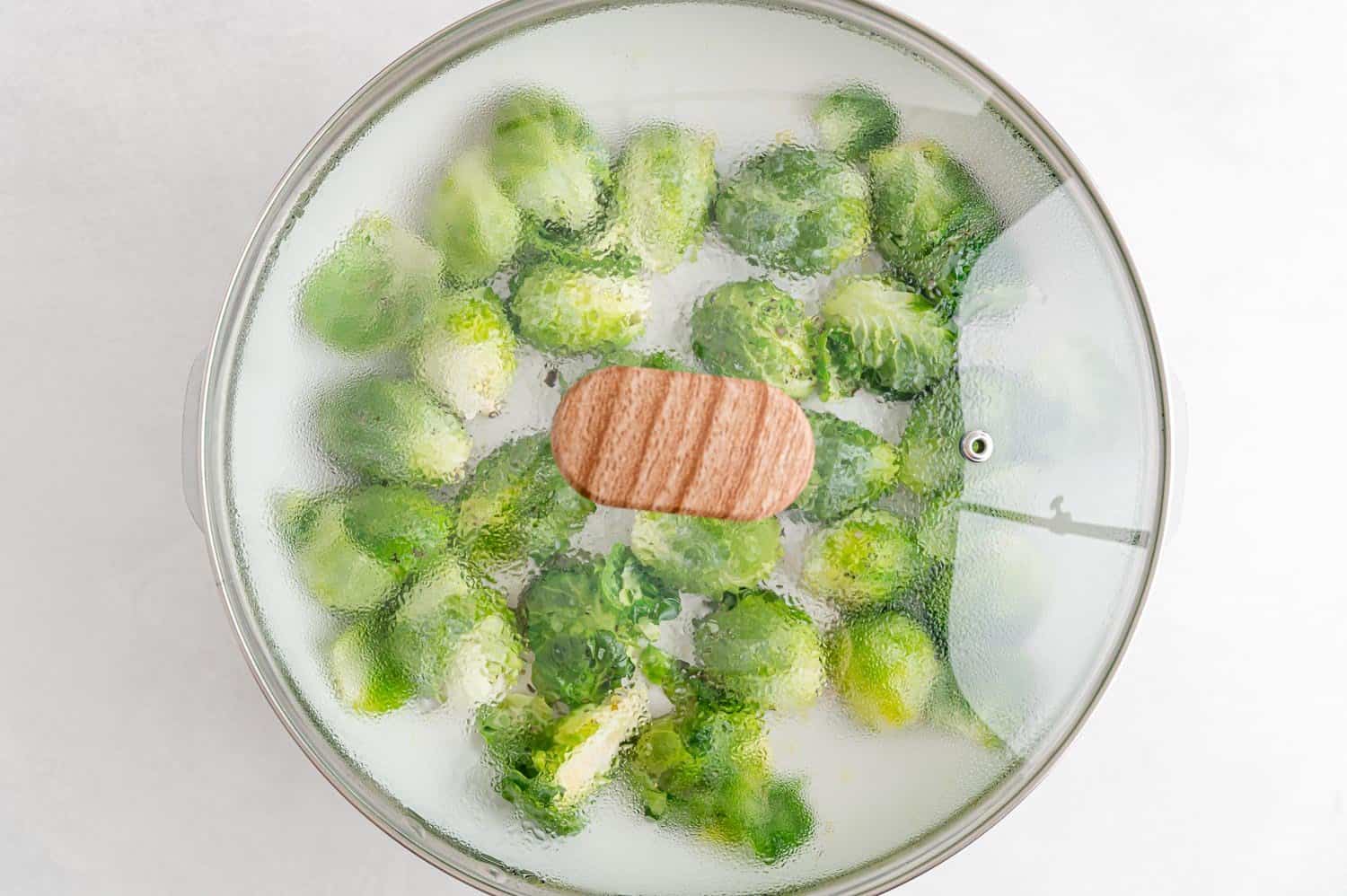 Whew, it's such a temptation to give them a little stir, isn't it? The same "leave them alone" method is essential for the best sautéed mushrooms, too. Try it and see! It really makes a difference.
Okay, after that little segue, now it's time to take the cover off the pan and give the Brussels sprouts a stir. Cook the sprouts five more minutes, removing the cover and stirring every couple of minutes.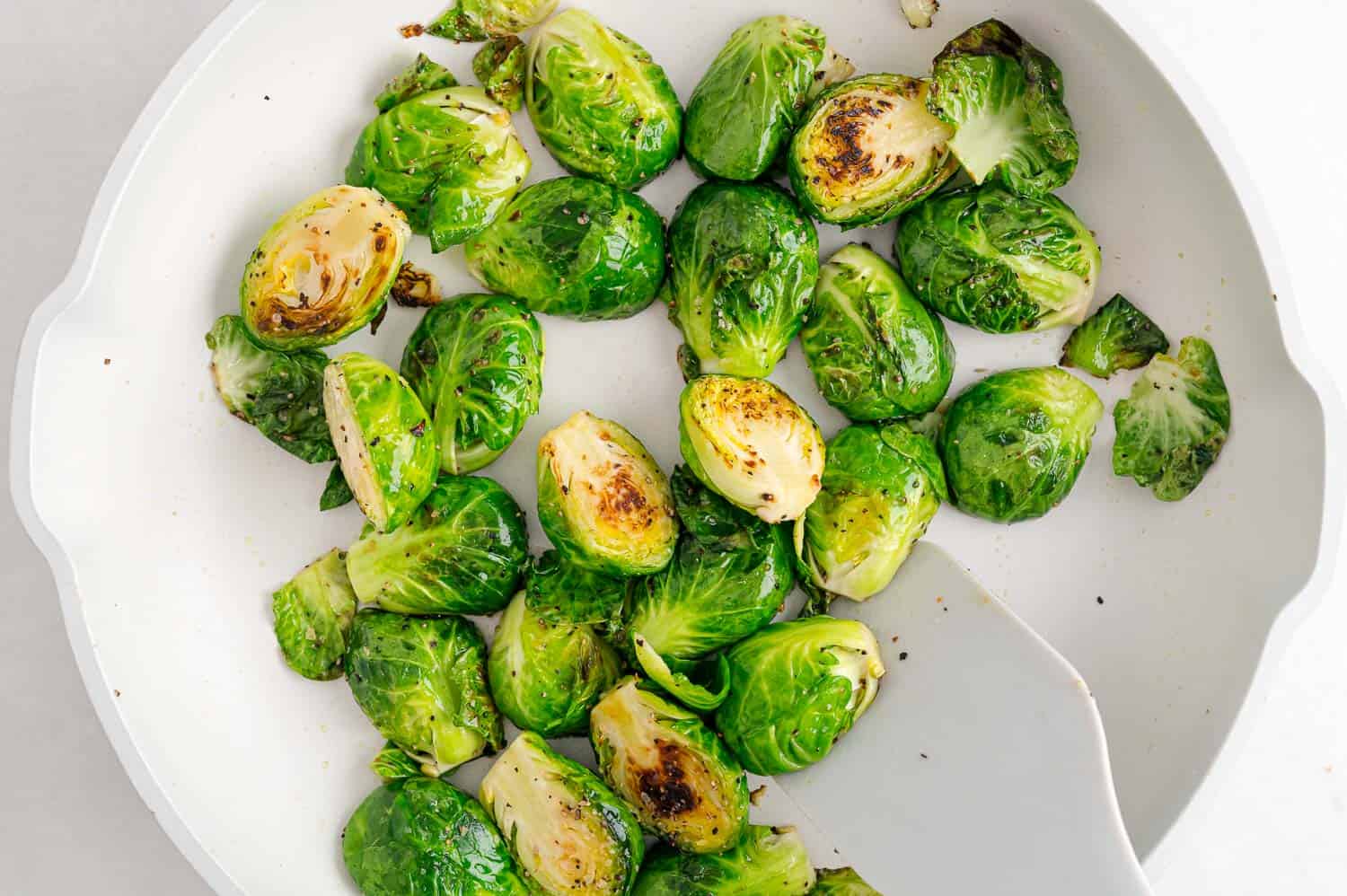 Aren't they beautiful? Grab a fork and try one, just don't burn your tongue! Yum, so good.
Brussels sprouts are a quick and easy side dish for slow cooker pork loin with balsamic glaze or baked chicken cordon bleu. Air fryer pork chops or air fryer chicken thighs are healthy and fast. Try them with sautéed pork tenderloin with apples and onions.
FAQs
Are Brussels sprouts better roasted or sautéed?
This is a matter of personal preference, I'd say. Each method produces really delicious Brussels sprouts that are nicely browned and tender with crisp edges. If you don't want to turn your oven on, try pan frying the sprouts. If you already have the oven on, roast the sprouts. Both ways are "better"! And by the way, be sure to try grilled Brussels sprouts, too!
Is it better to sauté in butter or oil?
This gets back to the question of high smoke point. A good sauté is usually done over high heat so you can get a nice sear. Butter, which does not have a high smoke point, tends to smoke and spatter over high heat. Oil is a much better choice for sautéing.
Why are my Brussels sprouts mushy?
Usually the problem is too much moisture and overcooking. Brussels sprouts that are boiled or steamed can easily become mushy and overdone. If that's the only way you've eaten Brussels sprouts, you're in for a real treat. Don't let past bad experiences keep you from trying excellent Brussels sprouts.
Make It Your Own
Add bacon: Fry up a few ounces of bacon or pancetta in the skillet. Remove the bacon to drain on a paper towel lined plate; crumble it when it cools. Use the rendered bacon fat to sauté the Brussels sprouts and sprinkle them with bacon to serve.
Add onions: Add thinly sliced shallot or onion to the pan with the Brussels sprouts. Brussels sprouts and onions are a delicious combination (try smoky Brussels sprouts with shallots!).
Add garlic: Mince a few cloves of garlic and add it to the pan during the last minute of cooking. Don't add it right away; the garlic burns quite quickly.
Topping suggestions: Embellish your sprouts with a drizzle of hot honey or balsamic glaze. Honey mustard vinaigrette or creamy honey mustard dressing is super tasty, too. Sprinkle on grated Parmesan cheese.
One pan dinner: Try hot honey chicken sheet pan dinner with Brussels sprouts and sweet potatoes.
Not a fan of Brussels sprouts? Try sautéed spinach or sautéed cabbage instead.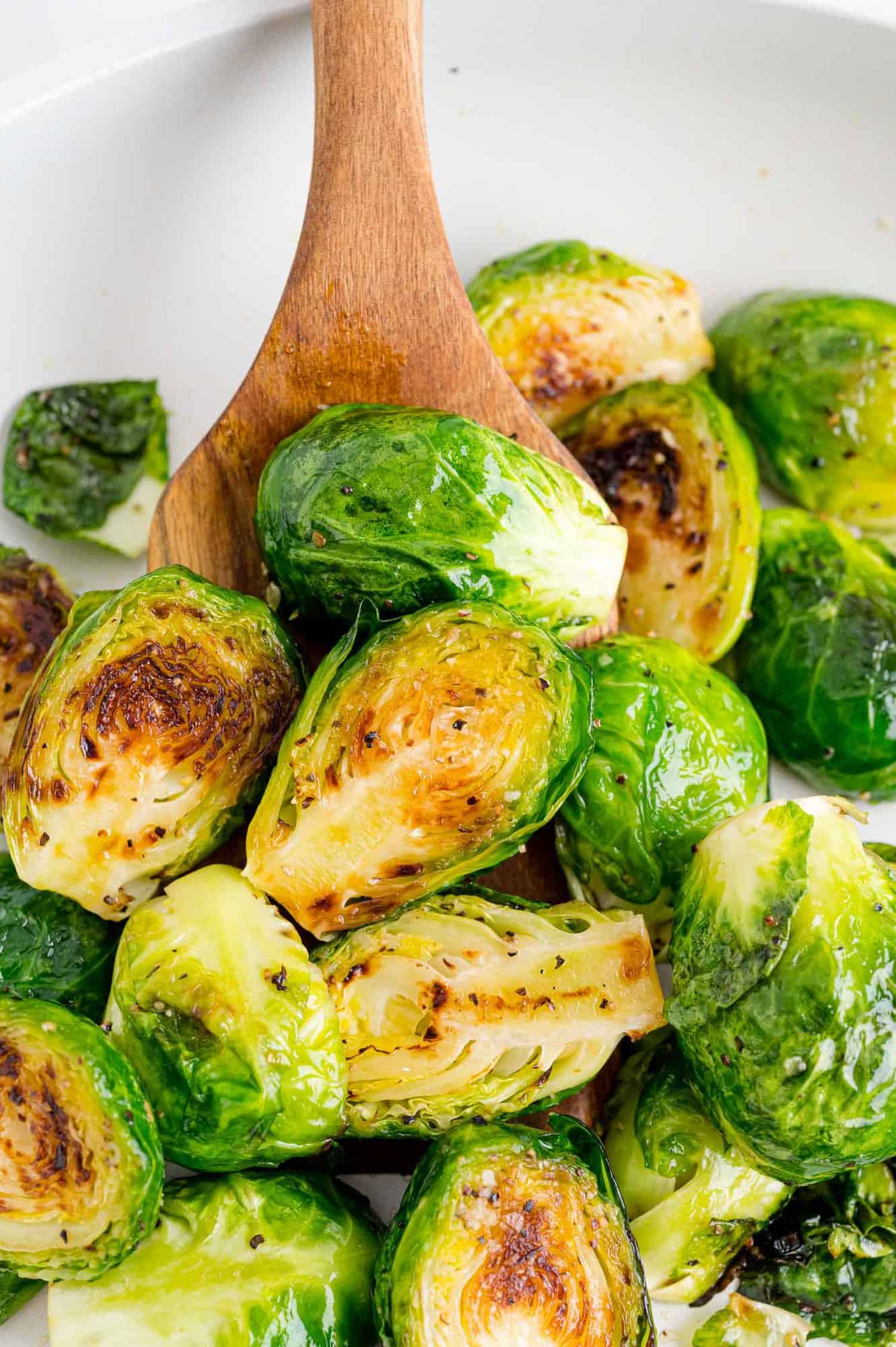 Storage & Reheating Tips
Refrigerate: You won't believe how quickly these Brussels sprouts will disappear. It's hard to stop yourself from eating "just one more!" But if you do happen to have some left over, cover and refrigerate them. They'll keep for three or four days.
Reheat: It's best to briefly sauté them in a skillet until they are warmed through. You can microwave single portions but they won't taste quite as good.
Leftover Love
Throw leftover Brussels sprouts on a salad or bowl. Top a pizza with sprouts. Add them to your omelet.
Did you make this? Be sure to leave a review below and tag me @rachelcooksblog on Facebook, Instagram, or Pinterest!
Tender green sautéed Brussels sprouts are perfectly seared in a skillet. You won't have to turn your oven on for these beauties.
Ingredients
1

pound

fresh Brussels sprouts, trimmed and cut in half

2

tablespoons

ghee, olive oil, or another high smoke point oil

½

teaspoon

kosher salt, more to taste

¼

teaspoon

coarse ground black pepper, to taste
Instructions
Heat a large covered skillet over medium-high heat. When hot, add ghee or oil and Brussels sprouts in a single layer. Toss Brussels sprouts to coat in oil; season with salt and pepper. Try to have as many cut-side down as possible, but don't spend too much time arranging them.

Cover and cook for 3 to 4 minutes, without stirring, or until caramelized and golden brown.

Uncover, stir, and continue to cook 5 minutes more, removing the cover to stir every 1 or 2 minutes, or until sprouts are tender and golden brown on all sides.

Serve immediately as is or with a drizzle of balsamic vinegar or glaze.
Notes
If unblemished single leaves fall off, don't discard them. They can be added to the pan with the halved sprouts and will get extra brown and crisp.
For Brussels sprouts with pancetta or bacon, sauté 3 to 4 ounces pancetta or bacon in skillet until crispy. Cook Brussels sprouts in the drippings instead of olive oil or ghee.

If you'd like to add some sautéed onion or shallot, thinly slice them and add to pan with Brussels sprouts. We recommend using one medium-sized shallot or half of a small yellow onion.

Recipe updated 6/1/2022.
Nutrition Information
Calories:
115
kcal
,
Carbohydrates:
10
g
,
Protein:
4
g
,
Fat:
8
g
,
Saturated Fat:
5
g
,
Polyunsaturated Fat:
1
g
,
Monounsaturated Fat:
2
g
,
Cholesterol:
19
mg
,
Sodium:
319
mg
,
Potassium:
443
mg
,
Fiber:
4
g
,
Sugar:
2
g
,
Vitamin A:
856
IU
,
Vitamin C:
96
mg
,
Calcium:
48
mg
,
Iron:
2
mg
This website provides approximate nutrition information for convenience and as a courtesy only. Nutrition data is gathered primarily from the USDA Food Composition Database, whenever available, or otherwise other online calculators.