Slow Cooker Ribs – fall off the bone!
Try slow cooker ribs, so tender and juicy, with loads of flavor from a homemade dry rub and lots of barbecue sauce. Fix 'em and forget 'em for up to ten hours.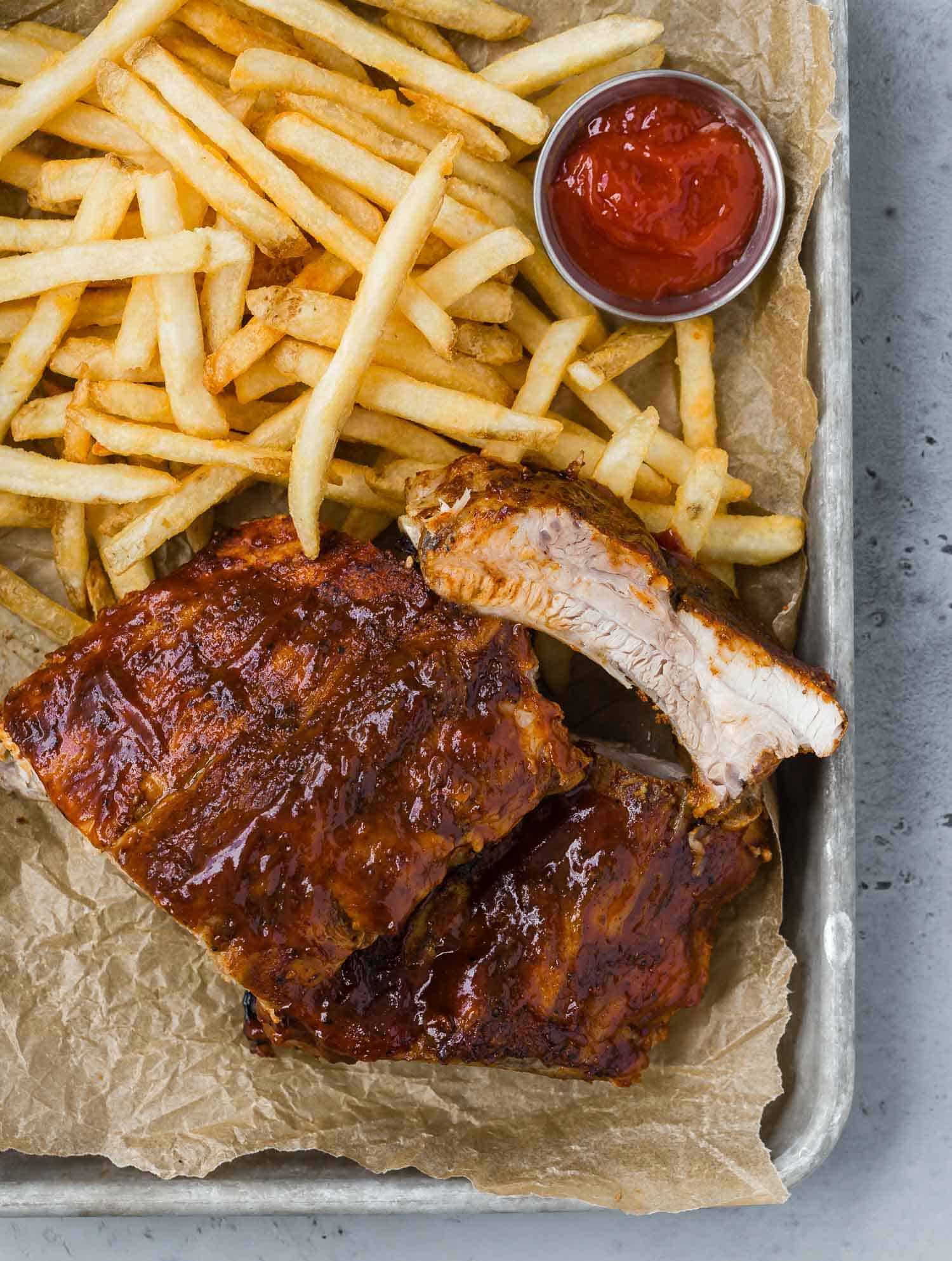 Fall off the bone tender and oozing with flavor, finger-licking good ribs are so easy to make. Make your own ribs using this easy recipe and you won't miss your favorite ribs restaurant at all. And it's way less expensive to make your own, too!
They're perfect with air fryer french fries or sweet potato fries and a bowl of creamy coleslaw. Of course you can't go wrong with potato salad, either.
As you'll see, delicious ribs can be made in a slow cooker. However, just so you know, that's not the only way to cook ribs. I love Instant Pot ribs, tender in just one and a half hours with pressure cooking. Use the recipe that fits best into your time frame.
About this recipe
While a slow cooker is great for cooking perfectly tender ribs, it's not so good at achieving the nice caramelized glaze we all love on ribs. This problem is easily solved by broiling the ribs in the oven for a few minutes, with a second coat of barbecue sauce. So easy, and it adds tons of flavor and texture to the ribs.
What you need
You'll find the complete printable recipe with measurements near the end of this post.
Dry Rub: A simple mixture of chili powder, brown sugar, kosher salt, coarse ground black pepper, garlic powder, onion powder. Or use your favorite bbq rub.
Yellow Mustard: You don't need a fancy mustard; inexpensive yellow mustard works just fine. You won't be able to taste it but it helps the rub stick to the meat.
Baby Back Pork Ribs: About three pounds will fit nicely into a 5 or 6 quart crockpot.
Barbecue Sauce: Store bought barbecue sauce (Stubb's is one of my favorites) or make your own homemade barbecue sauce. If you're looking for something different, try cherry chipotle barbecue sauce.
How to make it
This is a pretty easy recipe and once you get the ribs in the slow cooker, it's all hands off. That's the beauty of these ribs.
Combine the dry rub ingredients first. Then prepare the ribs. You'll notice that the ribs have a translucent membrane on the underside of the ribs. It's best to remove that before cooking because it can be tough and chewy even after slow cooking. Use a knife, fork, or even your fingers to loosen it up on one end, and then just peel it off.
Tip! Use a paper towel to grip the membrane while you pull it off. It can be hard to hold on to with your fingers. It should come up in one big piece. It might seem intimidating, but it's an easy and important step that will result in extra-tender ribs.
Phew! Got that taken care of! Next comes a layer of mustard slathered all over the ribs. Go ahead and use your hands, just go all in with it. Once the ribs are coated in mustard, sprinkle the dry rub on and work it in a bit. As long as the rub is adhering to the ribs, you're good. No need for a brisk rub or anything. Put the ribs right into the slow cooker.
Okay, now you may wash your hands! Hopefully they didn't turn yellow. Pour a good helping of barbecue sauce over the ribs, making sure all the ribs have at least some sauce on them.
Put the lid on and let 'er cook! After awhile you'll notice some really good smells coming from your slow cooker as the ribs gently simmer.
One more step! When the ribs are finished cooking, put them under the broiler for a few minutes with the reserved sauce so they have a nice caramelized glaze. Or you could throw them on the grill, if you're so inclined.
Yum, yum, yum! Can't wait to try those crockpot ribs! Wondering what to serve with ribs? Keep reading, I have a few great ideas for you.
Want to serve beer with your ribs?
Well, yeah, of course you do! Try a hearty full flavored beer, like a porter, brown ale, or dark lager.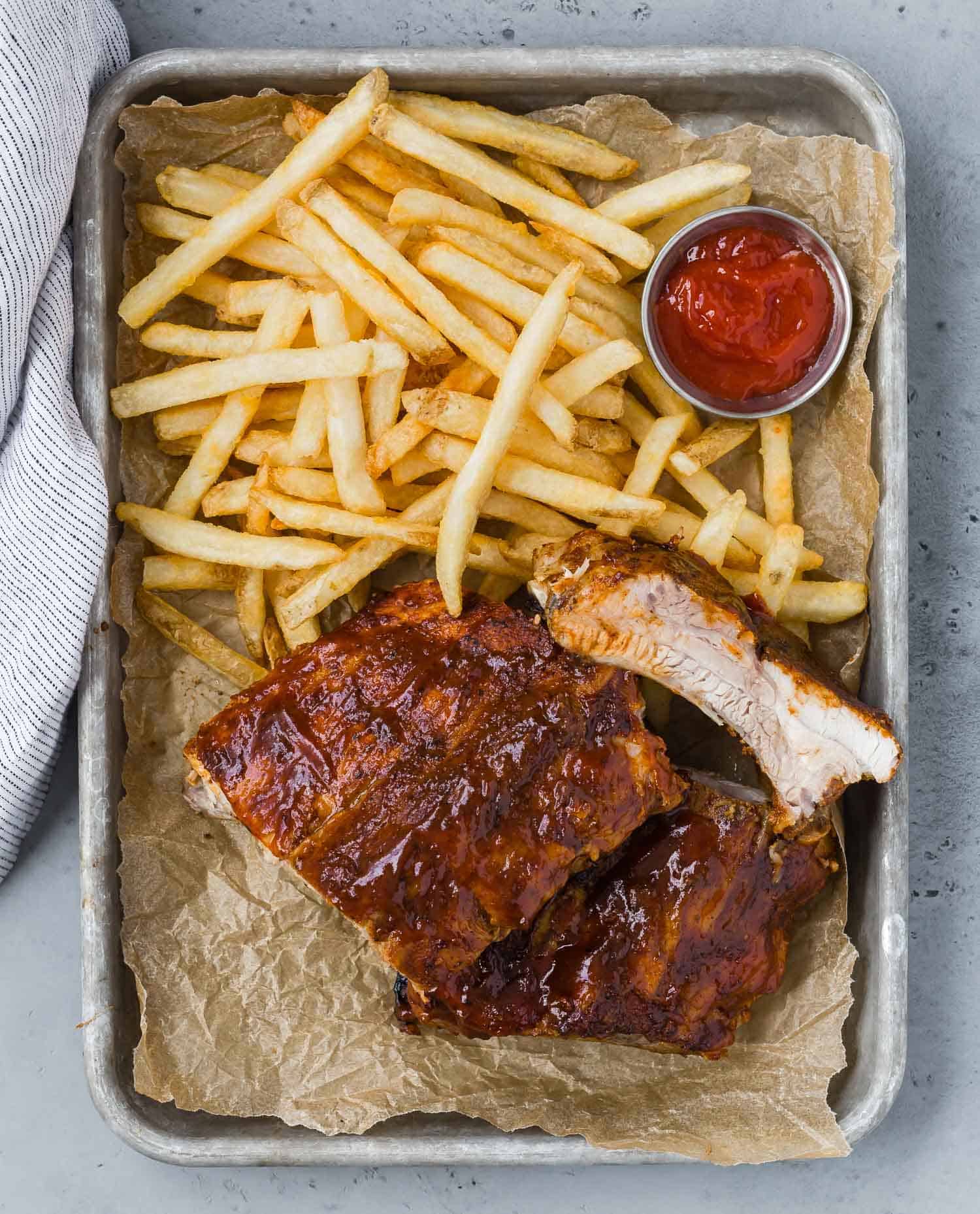 FAQ
Can you slow cook ribs too long?
It sort of depends on how tender you like them. If you like them fall-off-the-bone tender (and I think most of us do!), then you're really not in too much danger of overcooking the ribs. Cook them on low for 8 to 9 hours, even 10, and they'll be fine. If you're in more of a hurry, 4 to 5 hours on high is good, but six hours won't hurt either. If you have time to cook them on low, we recommend it.
Should I sear ribs before slow cooking?
No need to do any searing! No need to boil the ribs first either, just put them in the crockpot raw.
Can you stack ribs in a slow cooker?
Yes, I often stack ribs in a slow cooker. Ribs are kind of bulky and take up a lot of room. Try to wrap them around the inside of the slow cooker if you can. If the slow cooker is really full, the ribs may take a bit longer to cook.
How do I keep my ribs from drying out?
Ribs cooked in a slow cooker are in little danger of drying out. That's why it's such a great cooking method for ribs: low and slow!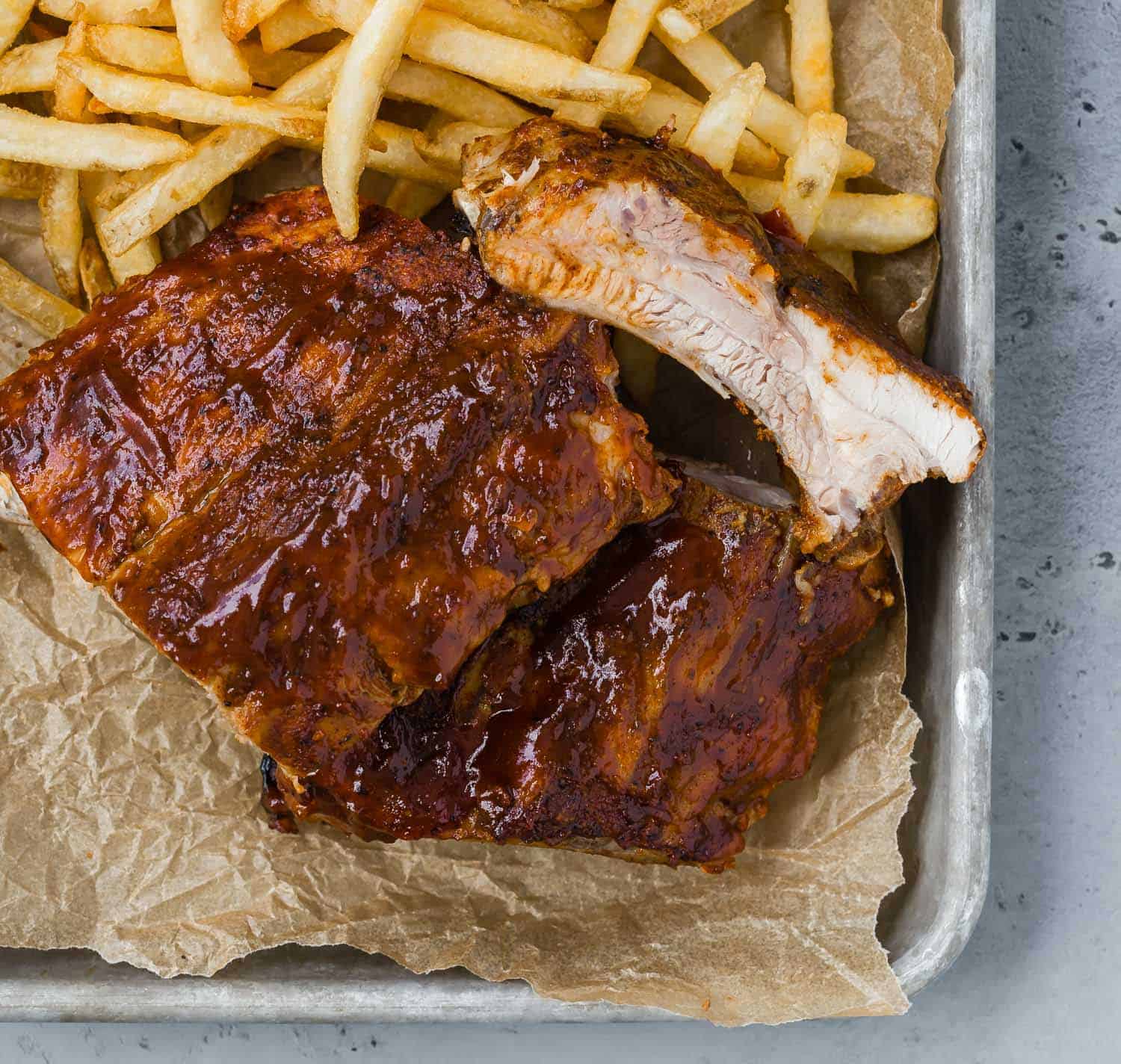 How to make this recipe your own
Make country style ribs. This boneless cut comes from the shoulder of the pig so it's not actually ribs. You can use the same cooking method, however, for a wonderful rib-style meal (and no membrane to remove). The meat will be tender and delicious, with no bones at all.
Wondering about coca-cola ribs? Instead of the mustard and rub, pour a can of cola into the crockpot and cook on low 8-10 hours. Remove the ribs from the crockpot, put on foil lined baking pan, slather with BBQ sauce, and broil until glazed.
Make-Ahead Ideas
Prepare the ribs a day ahead but don't cook them. Place them in a big bowl or pan, cover, and refrigerate. When you're ready to cook the ribs, place them in your crockpot.
Tip! Don't refrigerate the ribs in your crockpot! It's not recommended for a couple of reasons. The temperature extremes may weaken your crockpot or cause it to crack. Also, a cold crockpot takes longer to heat up which may leave your food in the danger zone of being not quite hot enough to keep bacteria from growing.
Storage Tips
Store leftover ribs in the fridge, wrapped tightly, for up to four days. I like to separate the ribs before refrigerating them. They're easier to store, cool off more quickly, and reheat faster. It's totally up to you though.
Cooked ribs can be frozen for up to three months. Thaw overnight in the fridge before reheating.
Reheating Suggestions
The best way to reheat ribs is in the oven. Let them warm up first on the counter for thirty minutes. Preheat the oven to 250°F. Tightly wrap the ribs in foil and place in a pan. Heat thirty minutes or until heated through. Heating time will depend on how many ribs you have.
You're gonna need sides!
Unless you're a real carnivore, you're going to need something to serve with the ribs. Here's a list of great go-alongs (I had a hard time choosing):
Did you make this? Be sure to leave a review below and tag me @rachelcooksblog on Facebook, Instagram, or Pinterest!
Try easy to make slow cooker ribs, so tender and juicy, with loads of flavor from a homemade dry rub and lots of barbecue sauce. Fix 'em and forget 'em for up to ten hours.
Ingredients
1

tablespoon

chili powder

1

tablespoon

brown sugar

1

teaspoon

kosher salt

½

teaspoon

coarse ground black pepper

1

teaspoon

garlic powder

½

teaspoon

onion powder

2

tablespoons

yellow mustard

1

rack

baby back pork ribs (approx. 3 pounds)

2

cups

barbecue sauce, divided
Instructions
In a small bowl, combine rub ingredients: chili powder, brown sugar salt, pepper, garlic powder, and onion powder.

Remove thin translucent membrane from the back side of the ribs. Use a knife or fork to carefully loosen it on one end, and then grip it with a paper towel and just peel it right off.

Rub or brush meat with mustard (feel free to use your hands). When meat is coated with mustard, sprinkle with spice mixture and rub in lightly so the rub adheres to the meat.

Place ribs into slow cooker and coat with

1 1/2 cups

of barbecue sauce.

Cook on high for 4-5 hours or low for 8-10 hours.

When ribs are cooked, line a baking sheet with foil and preheat broiler to high. Carefully place ribs on prepared baking sheet. Brush top with remaining barbecue sauce and broil for 3-4 minutes or until bubbling and caramelized.

Serve immediately.
Notes
Yield for this recipe is 6 servings. I know plenty of folks that can eat a whole rack of ribs, so just plan accordingly based on what else you're serving with it. Nutrition information calculated for 6 servings.
If you have a large slow cooker, and would like to cook 2 racks, simply double the amount of mustard, and double the spices. There's no need to increase the barbecue sauce.
Nutrition information is calculated using purchased barbecue sauce. Make your own sauce to reduce sodium content.
To reheat ribs in the oven: Let them warm up first on the counter for thirty minutes. Preheat the oven to 250°F. Tightly wrap the ribs in foil and place in a pan. Heat thirty minutes or until heated through. Heating time will depend on how many ribs you have.
Nutrition Information
Calories:
393
kcal
,
Carbohydrates:
42
g
,
Protein:
19
g
,
Fat:
16
g
,
Saturated Fat:
6
g
,
Polyunsaturated Fat:
3
g
,
Monounsaturated Fat:
7
g
,
Trans Fat:
1
g
,
Cholesterol:
65
mg
,
Sodium:
1529
mg
,
Potassium:
500
mg
,
Fiber:
2
g
,
Sugar:
34
g
,
Vitamin A:
634
IU
,
Vitamin C:
1
mg
,
Calcium:
72
mg
,
Iron:
2
mg
This website provides approximate nutrition information for convenience and as a courtesy only. Nutrition data is gathered primarily from the USDA Food Composition Database, whenever available, or otherwise other online calculators.