BBQ Rub | Easy Homemade BBQ Rub
This BBQ rub is the perfect sweet and savory rub for pork and chicken. It's easy to make with ingredients you probably already have in your pantry. Don't grill without it!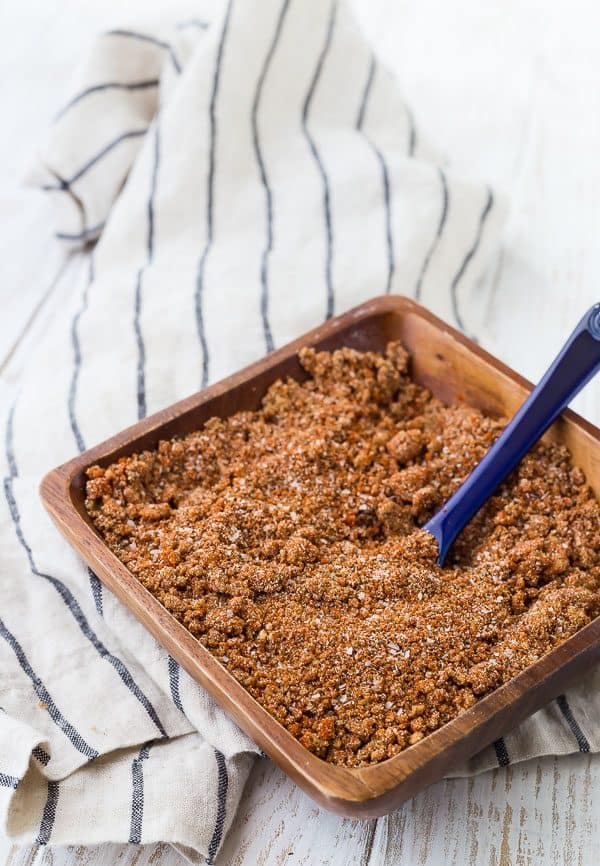 'Tis the season for BBQ and I could not be happier about it! I'm the proud new owner of a Traeger grill (more about that soon!) and I've been having so much fun experimenting with it. The first thing I made was ribs (obviously!), and the next thing I did was a pork butt with this sweet and delicious bbq rub.
It was such a hit with our company – I even heard some people say it was the best pulled pork they had ever had. EVER! Needless to say, this bbq rub is a keeper.
It was absolutely perfect for our pulled pork, but it would also be great for chicken, for ribs, and basically anything you can get your hands on. If you're a vegetarian, throw this mixture on portabella mushrooms, grill them, and you'll be in hog heaven. Is "hog heaven" a poor choice of words for a vegetarian?
It's a really simple sweet and savory mix, and I'm guessing you might already have all the ingredients on hand.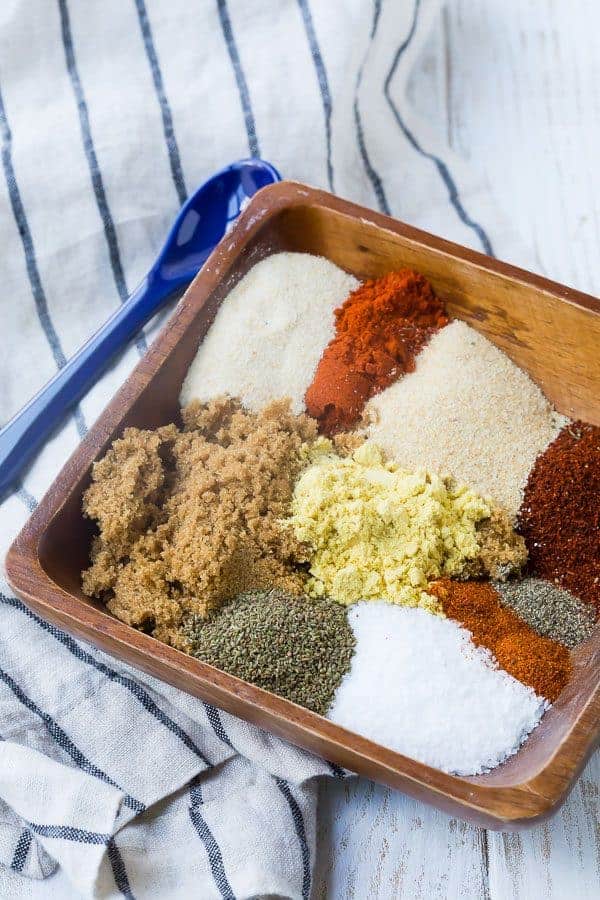 In this BBQ Rub:
dark brown sugar – you could use light brown sugar if you're in a pinch, but the dark brown has a richer, more molasses-like flavor that is great in this spice rub.
kosher salt – always need salt!
cracked black pepper – obviously.
chili powder – this adds so much flavor!
smoked paprika – again, you could use regular paprika, but I'd highly recommend smoked. You'll be obsessed with the smoked flavor it add to this mixture.
garlic powder – gotta have the basics!
onion powder – again, a basic flavor addition!
ground mustard – mustard is in many barbecue sauce recipes and it's a great component of this rub, adding another layer of flavor.
celery seed – like the mustard, the celery seed adds another layer of savory flavor that makes this rub completely irresistible.
cayenne pepper – adds a little bit of heat and complexity to this rub. You could leave this out, but it's a very small amount that doesn't make this spicy at all. On the other hand, if you like things a little hotter, I'd recommend bumping this up a bit to bring some more heat to the mixture.
I've become quite the homemade spice mix addict (hit that link to see them all!), but this might just be one of my favorites. Homemade taco seasoning is far and away the one I use the most, and I do love homemade fajita seasoning for my sheet pan chicken fajitas, but this BBQ rub is a game changer for grilling.

I hope you guys try it and report back – can't wait to hear what you think! Remember to tag me on Instagram with #RachelCooks so I can see your delicious creations!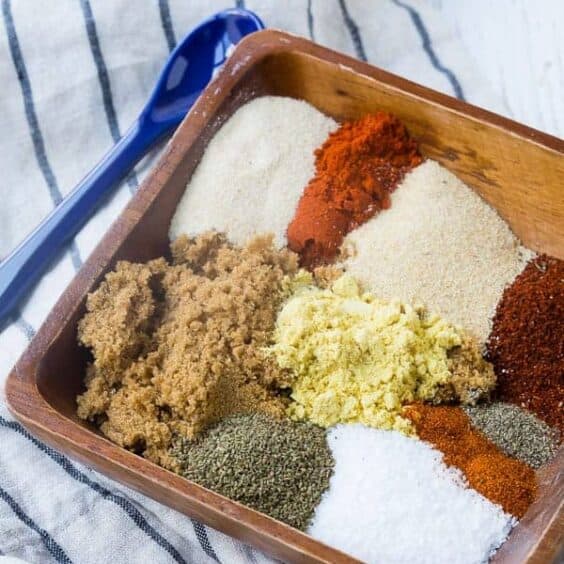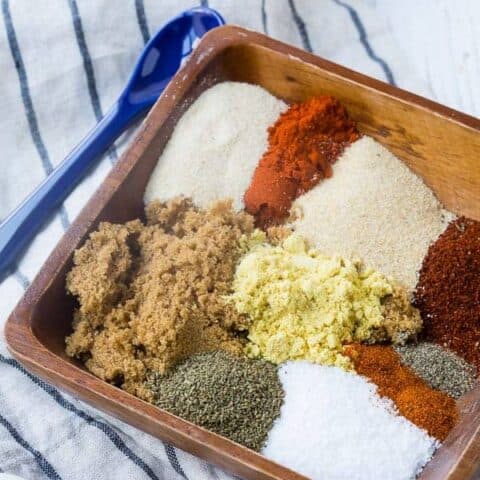 BBQ Rub | Easy Homemade BBQ Rub
Yield: about 1/2 cup
Prep Time: 5 minutes
Total Time: 5 minutes
This BBQ rub is the perfect sweet and savory rub for pork and chicken. It's easy to make with ingredients you probably already have in your pantry. Don't grill without it!
Ingredients
1/4 cup dark brown sugar
1 tablespoon kosher salt
2 teaspoons coarse cracked black pepper (halve this if using a finer grind)
2 teaspoons chili powder
2 teaspoons smoked paprika
2 teaspoons garlic powder
1 1/2 teaspoons onion powder
1 teaspoon ground mustard
1 teaspoon celery seeds
1/4 teaspoon cayenne pepper
Instructions
In a small bowl or jar, mix all ingredients together. Store in an airtight container until ready to use.
When ready to use, rub onto desired choice of meat - I recommend pork or chicken for this spice rub.
Nutrition Information:
Yield: 12
Serving Size: 2 teaspoons
Amount Per Serving:
Calories: 21
Saturated Fat: 0g
Cholesterol: 0mg
Sodium: 290mg
Carbohydrates: 5g
Fiber: 0g
Sugar: 4g
Protein: 0g
Verdict:
Obsessed. My pantry will never be without a jar of this bbq rub.
Husband's take:
Ben and everyone that's tried this loves it. Haven't heard a single complaint!
Changes I would make:
None!
Difficulty:
So easy! SO EASY.