A BBQ chicken bowl is a meal in a bowl with rice, chicken, fajita style bell peppers and onions, and lots of tangy sweet BBQ sauce. Go crazy with the toppings!
Recipe Overview
Why you'll love it: A bowl meal is hearty and healthy; it's easy to make if you have rice and chicken already prepped.
How long it takes: 15 minutes
Equipment you'll need: skillet
Servings: 4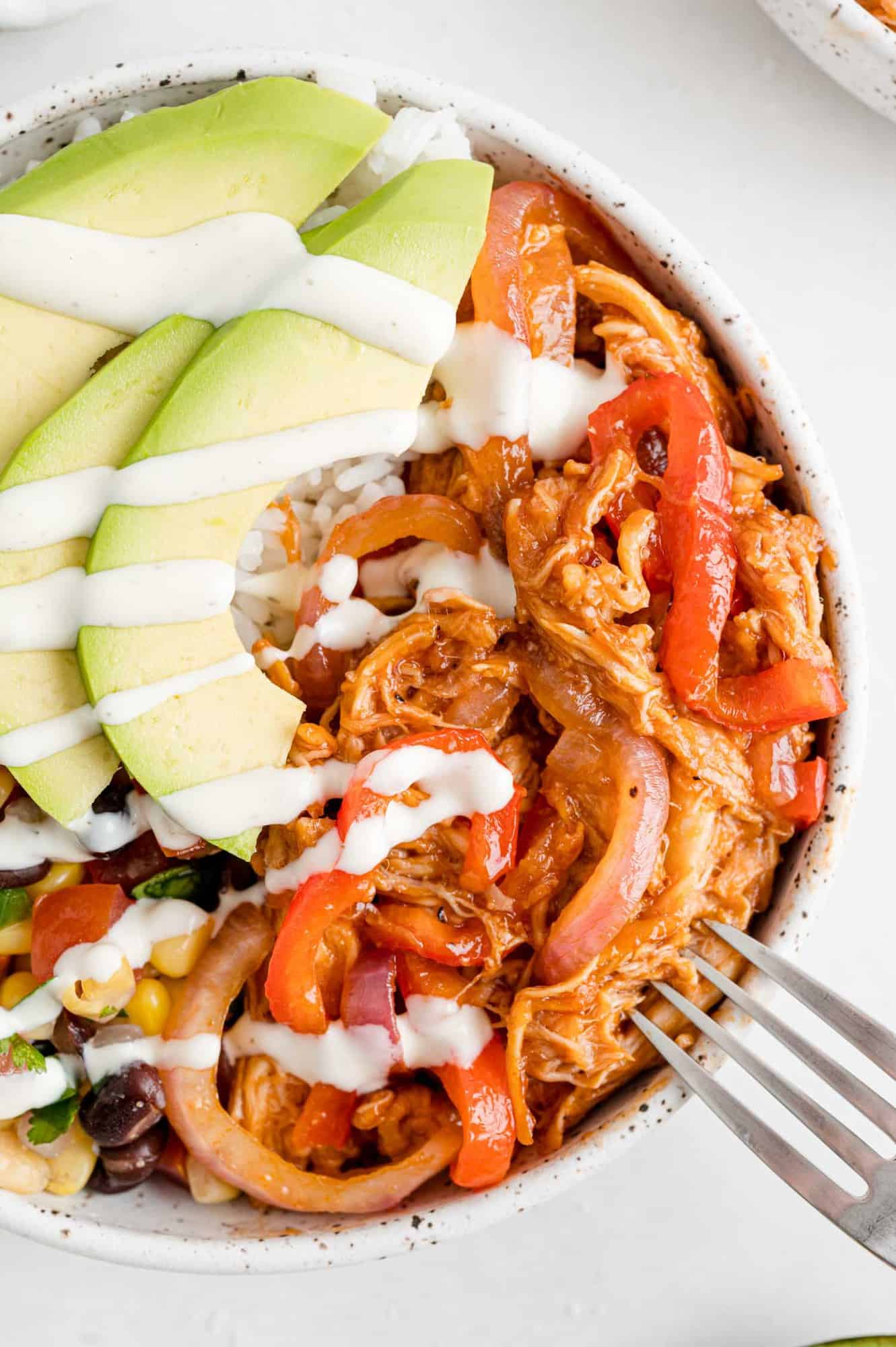 Are you a fan of burrito bowls? We love visiting restaurants like Chipotle or Qdoba where you go through a line selecting all the items you want in your bowl.
Starting with a dollop of rice, you can add meat, beans, veggies, cheese, sauce (I always go for pico de gallo), just whatever your little heart desires. My bowl is usually overflowing and I enjoy every bite.
Did you know that it's very easy to replicate the bowls at home? Although you won't have a hundred items to choose from (and really, we probably don't need quite that many!), you can make a very tasty meal simply and easily.
This is especially true if you like to meal prep. I almost always have cooked shredded chicken in my fridge or freezer. I buy a family size package of chicken when it's on sale, cook it up, and it's all ready for quick dinners. Rotisserie chicken is always available, too.
The same goes for rice. You can cook up a big batch either on the stove or in your Instant Pot and freeze it to use later.
The rest of the ingredients for a burrito bowl are pretty much pantry/fridge staples. With a little meal prep and planning ahead, you can have healthy and easy lunches and dinners that aren't boring.
Make sure to try our black bean corn salsa – it's the perfect topping for this because it acts as a salsa but also adds some extra protein!
About This BBQ Chicken Bowl
As I mentioned above, the bowl begins with cooked chicken and rice. The plain chicken is sauced up with your favorite barbecue sauce. After adding fajita style peppers and onions, the rest is really up to you. What do you love on your burrito bowl?
You can have as many toppings as you like. Keep reading for suggestions. If you've been to a restaurant that offers this type of meal, think about what you choose there and model your burrito bowl on that.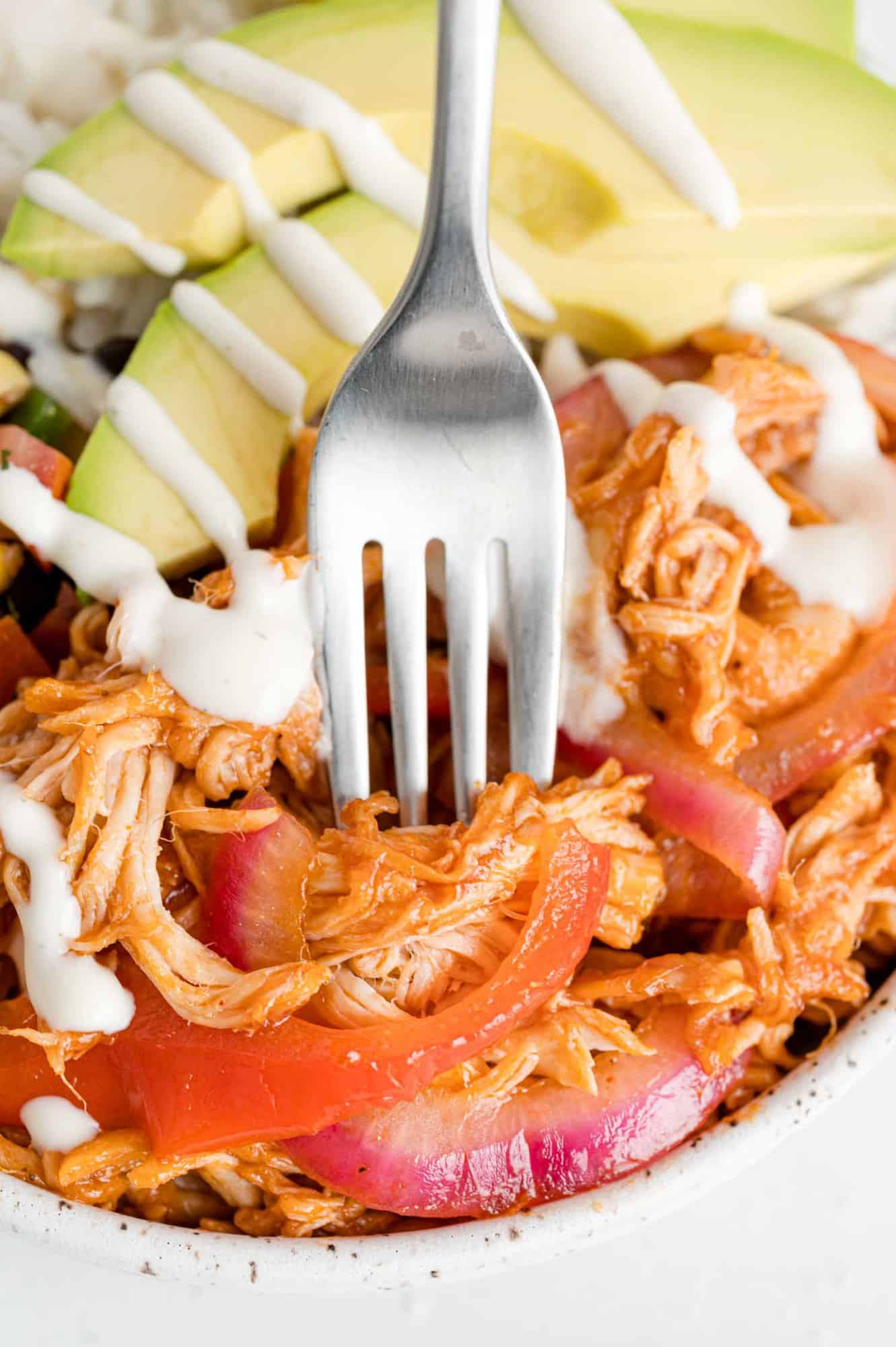 I'll get you started on this quick dinner recipe here and throw a few helpful tips your way, too. For complete instructions, measurements, and nutrition information, take a look at the recipe card below.
What You'll Need
Cooked Chicken: Use whatever type of chicken you prefer or happen to have on hand. Leftover grilled chicken is great and so is rotisserie chicken. You can also cook chicken in your Instant Pot or poach the chicken. Pork is good, too, especially pulled pork or carnitas. Ground beef or turkey works too, if that's what you like.
BBQ Sauce: The meat is mixed with BBQ sauce and warmed up. Choose your favorite sauce or make your own barbecue sauce. There's no need to season the meat further because the sauce provides plenty of flavor.
Red Onion/Bell Pepper: These two fajita-style veggies are sautéed with a bit of olive oil until they are tender. It doesn't matter what color bell pepper you use and a sweet Vidalia onion can be substituted for the red onion.
Cooked Rice: Choose brown rice for a heartier and healthier bowl. You can prep it ahead of time or use the packets of already cooked rice that are readily available. Simply warm the rice up according to package directions. If you prefer, make your bowl with quinoa instead of rice. If you're looking for a low carb option, try cauliflower rice.
Choice of Toppings: You'll want to offer at least two toppings but really, the more the better, right? Choose from: black bean corn salsa, pinto beans, baked beans, cilantro, ranch dressing, additional BBQ sauce, green onion, sliced avocado, cubes of crispy roasted sweet potato, chopped tomatoes, sour cream, pickled red onions, crisp tortilla strips, etc. This list is by no means exhaustive; feel free to add whatever you like.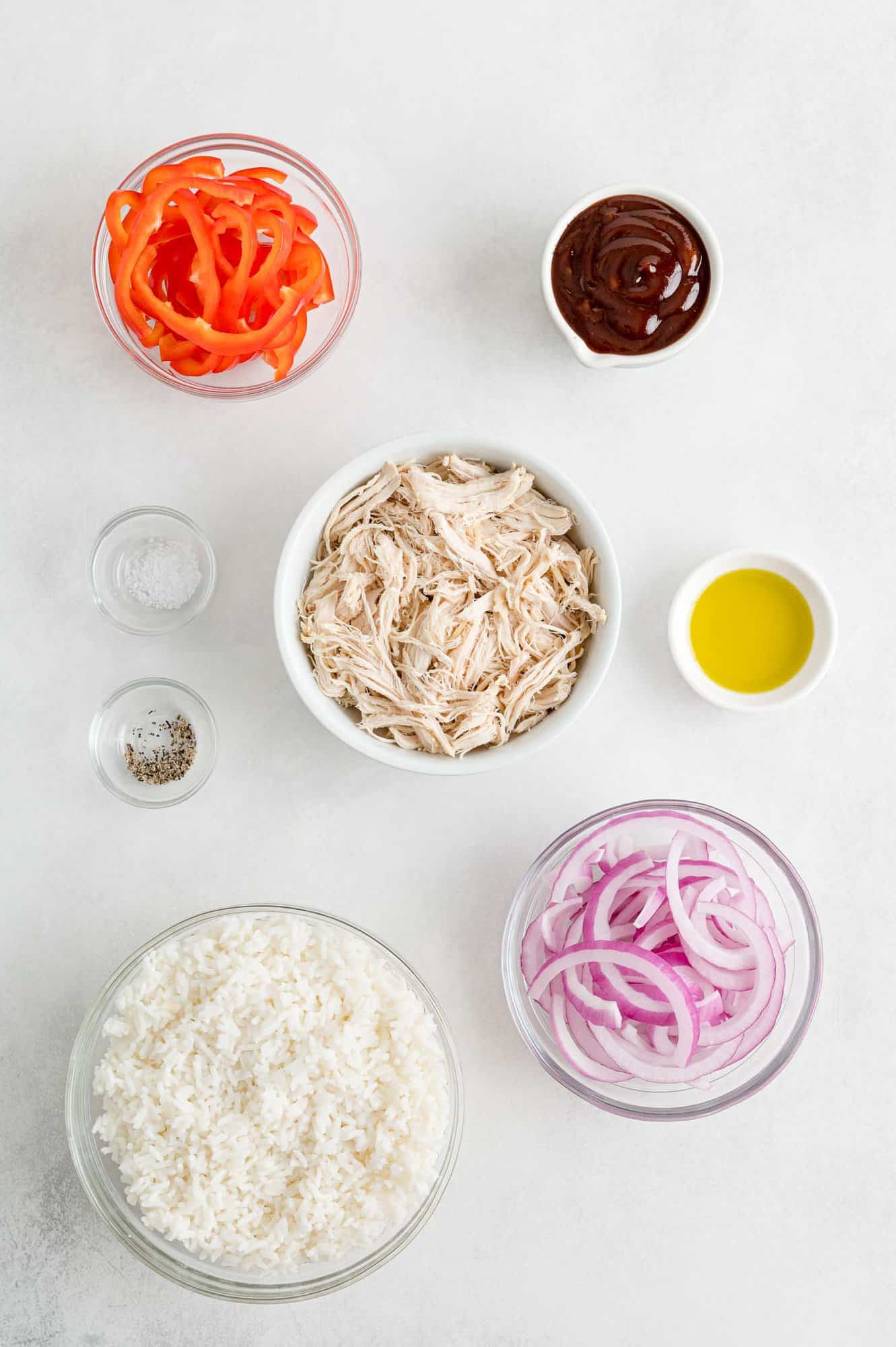 How To Make This Recipe
The ingredients for this recipe include cooked chicken and cooked rice. Just in case you don't happen to have those two items on hand, I'll give you a few ideas for prepping them:
Okay, now that we have that covered, let's move on to today's recipe. Start by slicing the onion and pepper into thin strips. Heat some oil in a skillet and sauté the veggies until they begin to soften, about five minutes.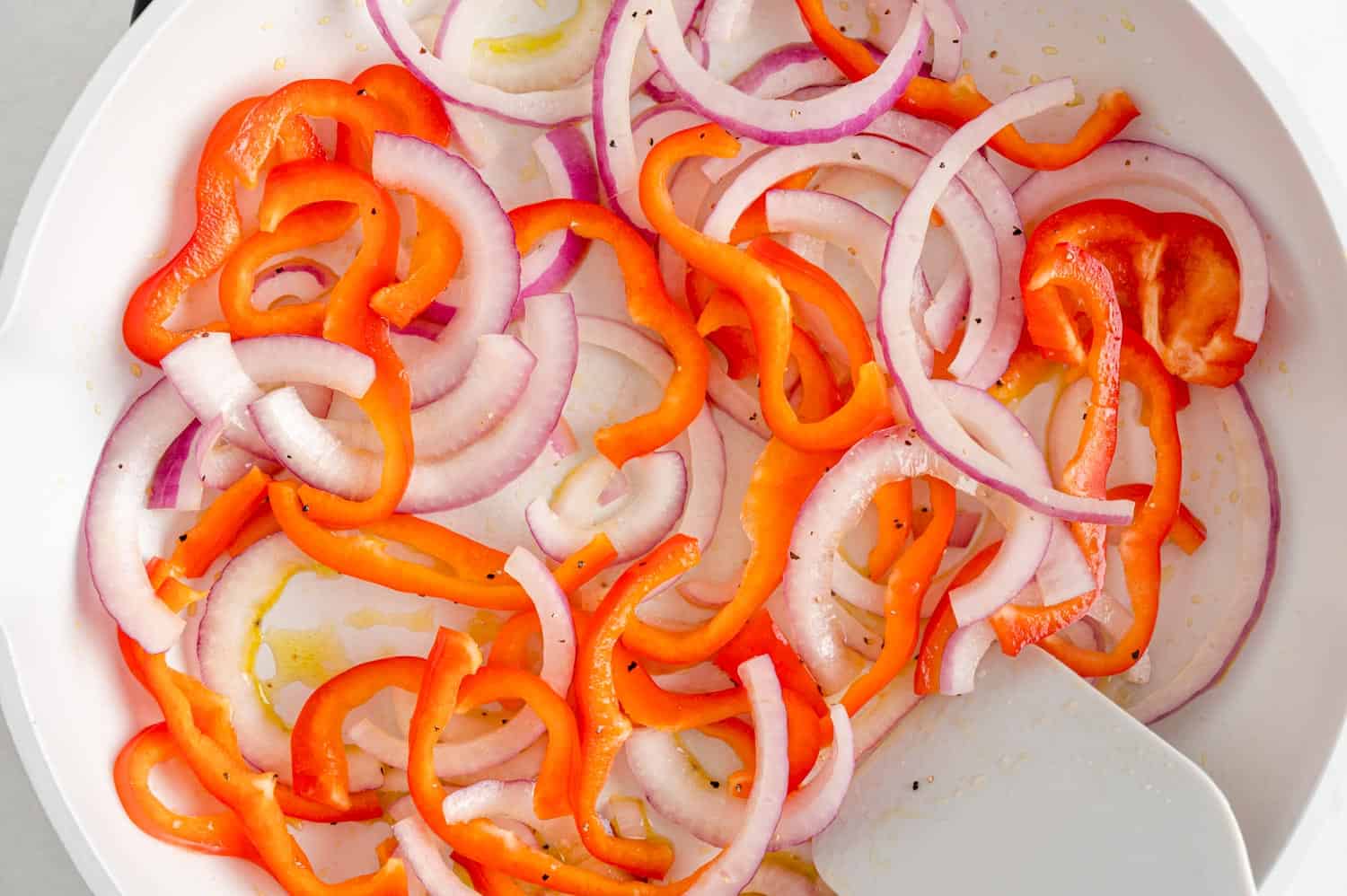 Next, add the chicken (or the meat you chose) to the pan, along with the barbecue sauce. Stir it all together and continue cooking until the meat and sauce is heated through.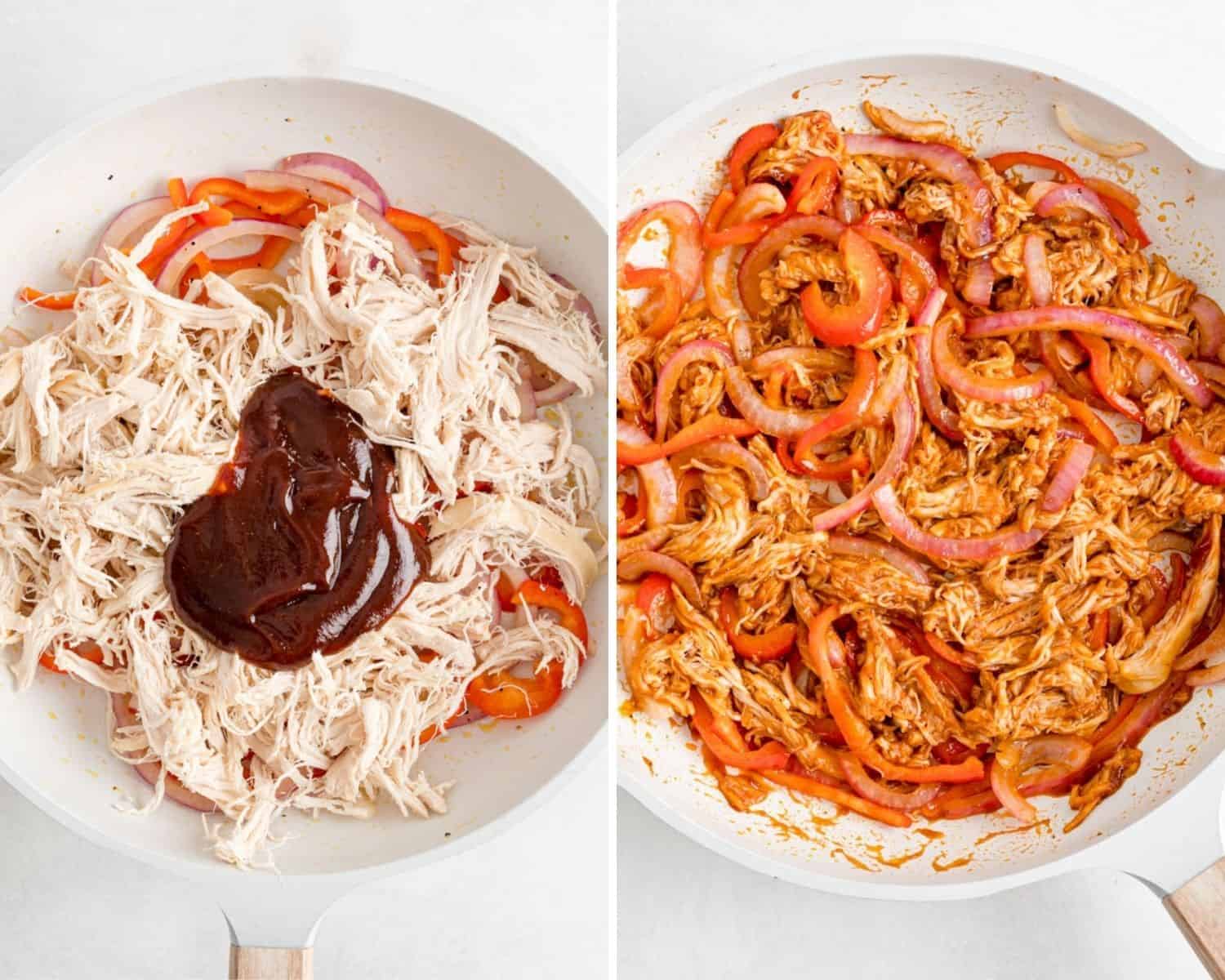 Note: If you'd rather keep the meat and vegetables separate, simply remove the veggies from the pan before you add the meat. We all have those family members who turn their noses up at onions or peppers.
Okay, that's pretty much it! Put a nice big spoonful of warm rice in a wide shallow bowl, add the saucy meat and vegetables, and top it with all your favorite toppings. Tell everyone they have to choose at least two toppings!
I'll be the Miss Piggy who chooses all the toppings!
FAQs
Are burrito bowls healthy?
Like most recipes, burrito bowls can be healthy or you can make them unhealthy. It depends on what you add to your bowl.
This BBQ chicken bowl is just over 400 calories, if you make it with brown rice, lean white meat chicken, and vegetables. It's a fairly low carb meal with lots of protein. The barbecue sauce adds a fair amount of salt and sugar, depending on what brand you use. If you make your own sauce, you can reduce the salt and sugar. Another option is to eliminate the sauce and instead season the meat with chili powder, taco seasoning, or fajita seasoning.
However, that does not include the toppings. Choose healthier toppings like pinto beans, chopped tomatoes, onions, etc. to increase nutritional benefit and keep the calorie count low. We always love adding guacamole for some healthy fats!
Are burritos or bowls healthier?
Again, it depends how you make your burrito. Do you stuff a large tortilla with greasy meat, shredded cheese, and sour cream? That would be a pretty big calorie splurge with lots of saturated fat. A barbecue chicken bowl is a healthier choice compared to your burrito.
Make your burrito a bit better for you by using whole wheat wraps, lean shredded chicken, and lots of veggies, i.e., pretty much the same thing as a bowl.
Make It Your Own
I've already given you lots of ideas of how to change up your BBQ chicken bowl. If you love BBQ chicken, you may want to change it up by trying one of these recipes: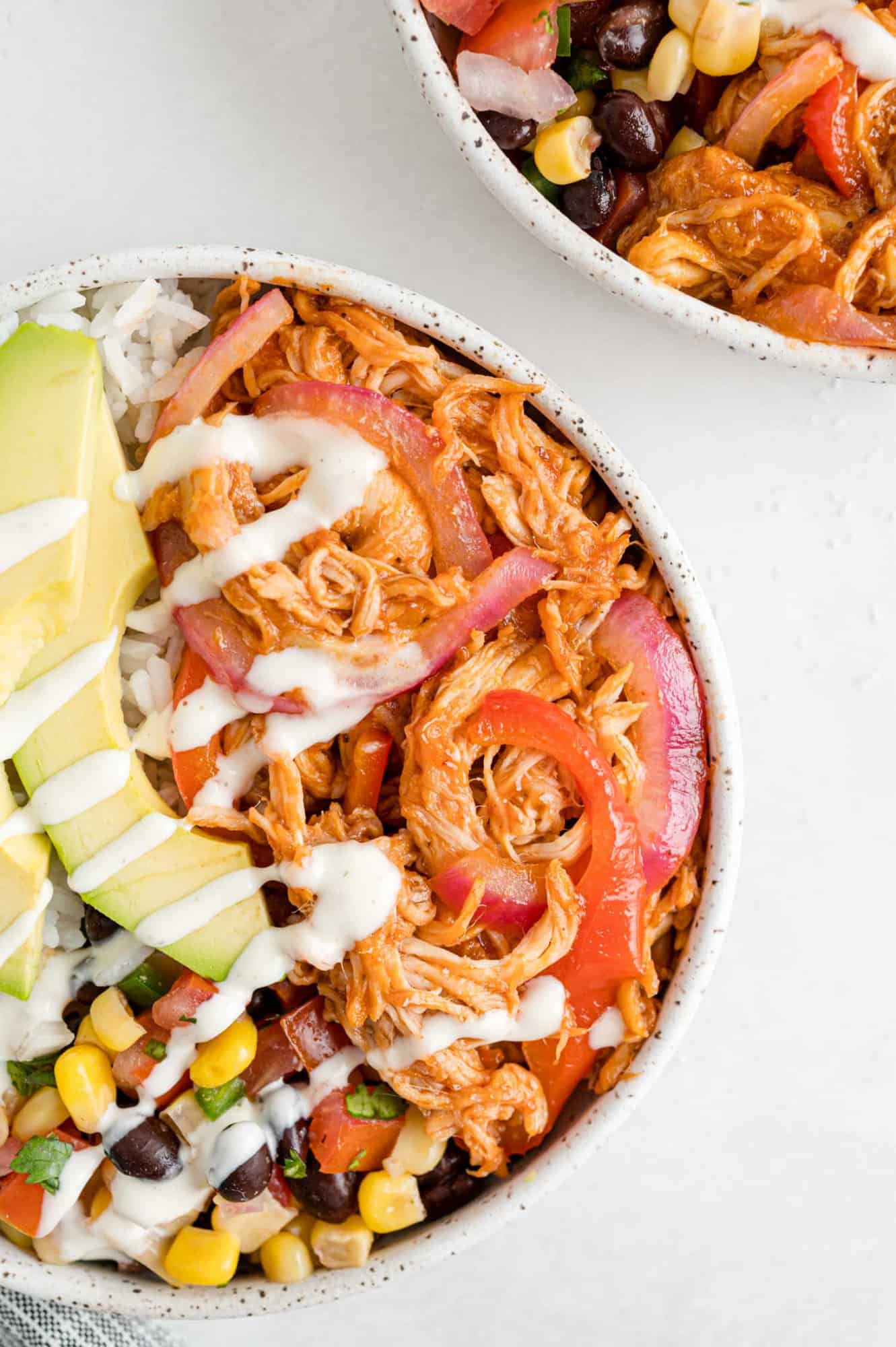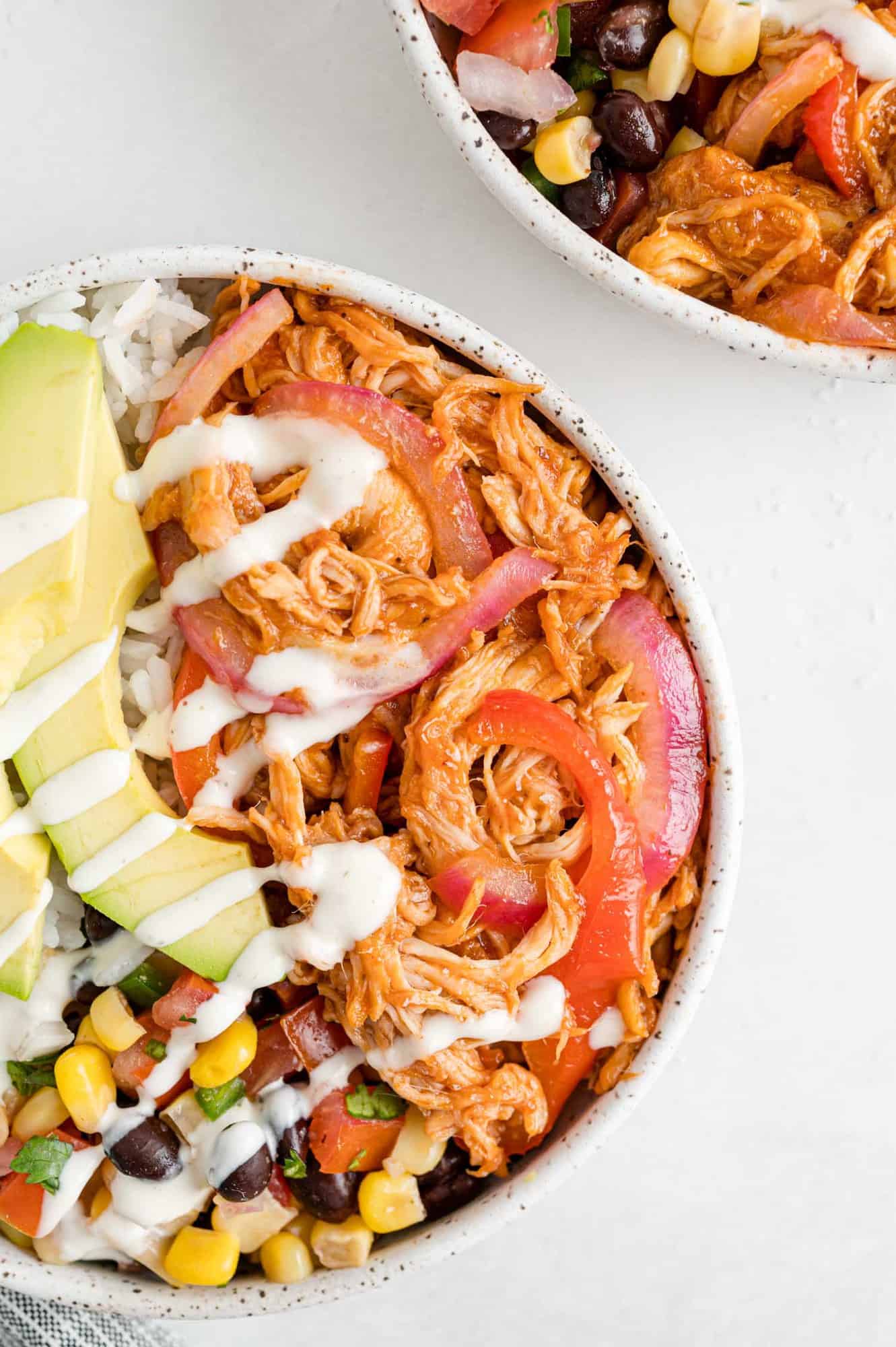 Make-Ahead Ideas
The beauty of a bowl meal is that most of it can be made ahead of time. You can use leftover chicken and leftover rice if you want, or make large quantities ahead of time and store it in the fridge or freezer for a speedy weeknight dinner.
Storage & Reheating Tips
Once the bowls are made with the toppings added, they really should be eaten immediately. If you have leftover chicken, veggies, or rice, store them in separate containers. They'll keep for a few days in the fridge.
Reheat individual portions in the microwave. Larger amounts can be rewarmed in a skillet on the stove.
Interested in a weekly meal plan (it's free!) that includes this BBQ chicken bowl? Take a look at my Meal Plan #11. You'll find a wholesome recipe for each weekday plus a categorized grocery list. Let me do the planning for you this week!
More Ways To Use Cooked Chicken
Looking for more recipes that use already prepped chicken or leftover chicken? Try:
Did you make this? Be sure to leave a review below and tag me @rachelcooksblog on Facebook, Instagram, or Pinterest!
A BBQ chicken bowl is a meal in a bowl with rice, chicken, fajita style bell peppers and onions, and lots of tangy sweet BBQ sauce. Go crazy with the toppings!
Ingredients
1

tablespoon

olive oil

½

large red onion, thinly sliced

1

red bell pepper, thinly sliced

(about ¾ cup)

¼

teaspoon

kosher salt

⅛

teaspoon

coarse ground black pepper

2

cups

shredded cooked chicken

½

cup

BBQ sauce, more for serving

4

cups

cooked rice, warm

(your choice of brown or white rice)

Choice of toppings: black bean corn salsa, pinto beans, cilantro, ranch dressing, additional BBQ sauce, green onion, sliced avocado, chopped tomatoes, sour cream, pickled red onion

(for best taste, add at least two toppings)
Instructions
Heat a large skillet over medium-high heat. When hot, add oil, onion, and red bell pepper; season with salt and pepper.

Cook, stirring frequently, until vegetables are softened, 5-6 minutes. Reduce heat to medium, add chicken and BBQ sauce, and continue to cook until heated through.

Serve over rice with desired toppings. Our personal favorite is black bean corn salsa, ranch dressing, and sliced avocado.
Notes
Recipe updated 5/12/2022.
Nutrition information does not include toppings.
If you prefer, substitute pulled pork or ground beef for the chicken.
Cooked quinoa can be substituted for the rice.
We love this with black bean corn salsa!
Nutrition Information
Serving:
1
bowl
,
Calories:
428
kcal
,
Carbohydrates:
62
g
,
Protein:
23
g
,
Fat:
9
g
,
Saturated Fat:
2
g
,
Polyunsaturated Fat:
2
g
,
Monounsaturated Fat:
4
g
,
Cholesterol:
53
mg
,
Sodium:
569
mg
,
Potassium:
382
mg
,
Fiber:
2
g
,
Sugar:
14
g
,
Vitamin A:
1041
IU
,
Vitamin C:
39
mg
,
Calcium:
42
mg
,
Iron:
2
mg
This website provides approximate nutrition information for convenience and as a courtesy only. Nutrition data is gathered primarily from the USDA Food Composition Database, whenever available, or otherwise other online calculators.