Healthy Chicken Salad with Walnuts and Grapes – with video!
Filling and flavorful, healthy chicken salad with walnuts and grapes is just the thing you're looking for at lunch. Great on a lettuce wrap or tortilla!
As you all know, I'm partnering with California Walnuts this year to bring you great recipes with walnuts like pumpkin spice candied walnuts, Brussels sprouts with candied walnuts, walnut brittle with cinnamon and cloves, and kale quinoa salad. For this recipe, they challenged us to open our fridge and pantry for a "Fridge-A-Dare" challenge, creating something using only what we had on hand.
When I opened my fridge to consider this challenge, I have to admit I almost closed it and went to the grocery store. It was looking sad and empty in there and I wasn't sure I was up for that much of a challenge. But, a challenge is a challenge and I turned my brain on and started to think. I knew I wanted to do something for the meat eaters – unlike any of my recipes so far for California Walnuts.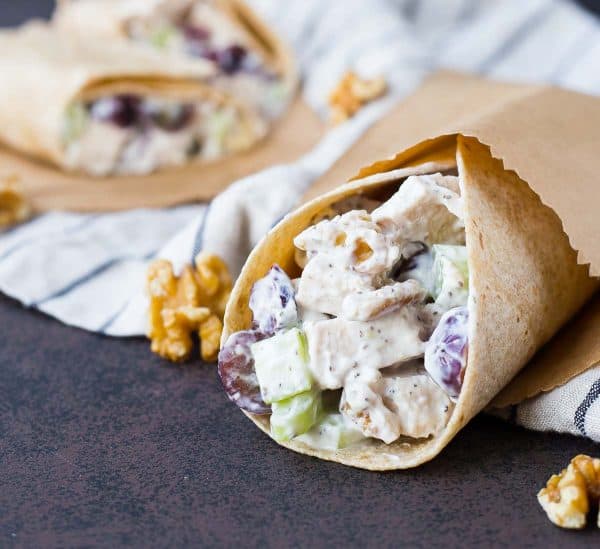 I spotted boneless skinless chicken breast that needed to be used up soon — they would do the trick. (This would also be a tasty way to use up grilled chicken!)
I saw the grapes that I put on the kids' plates and they hardly ever eat.
I had celery that was surprisingly just crisp enough to still eat fresh, which was a shock (why can I never go through celery quickly enough?).
Walnuts, of course. I have lots of those!
Plain Greek yogurt – always. My fridge is never without it.
Okay, now I have an idea. Chicken salad with grapes, one of my favorite combinations. But do I have anything to put it in? My lettuce was eaten up days ago. Bingo! Whole wheat tortillas! They're my go-to for quesadillas and wraps for the kids and they'd be perfect for this healthy chicken salad.
The dried cranberries were a last-minute addition. I wanted a chewy component to this and their tart chewiness is absolutely perfect combined with all the other ingredients.
Why this healthy chicken salad is the best:
I have to say that I'm extremely happy with how this chicken salad turned out! The walnuts give a subtle crunch and of course offer a fantastic nutty flavor. The celery provides a more pronounced crunch and freshness. The yogurt combined with apple cider vinegar and celery seeds is the perfect thing to tie this all together – I promise you won't even miss mayonnaise. Making this recipe with Greek yogurt not only decreases fat and keeps it low in calories but it also adds protein to help keep you satisfied for hours.
With 36 grams of protein and 365 calories per serving (using my calculations — I'm not a registered dietician!), it's going to keep you full all afternoon. You get the bonus omega-3's from the walnuts and antioxidants from the dried cranberries – it's one of my absolute favorite lunches right now. Yum, if only I had homemade sweet potato chips or my favorite sweet potato wedges with Chinese five spice, my day would be complete…
If you're looking for more great sandwich fillings, try: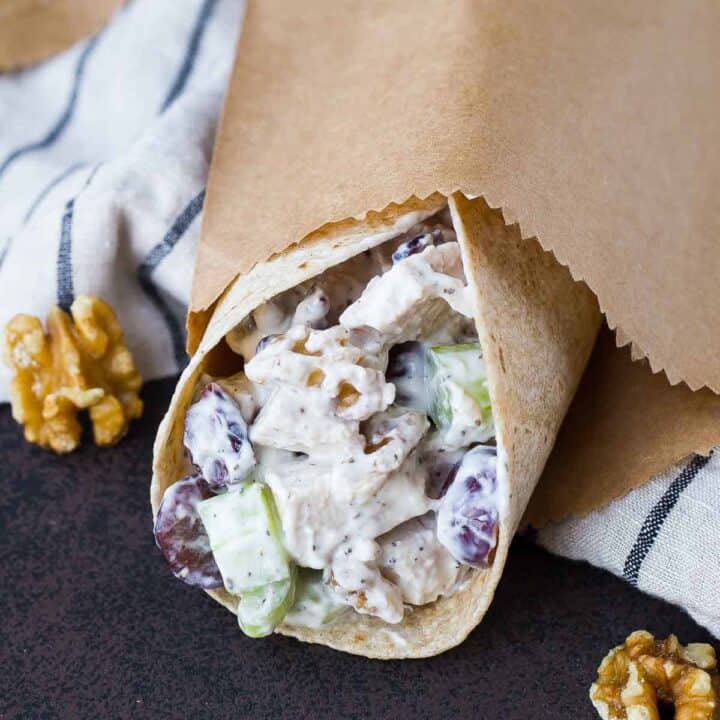 Healthy Chicken Salad with Walnuts and Grapes
Yield: 6 servings
Prep Time: 10 minutes
Total Time: 10 minutes
Filling and flavorful, healthy chicken salad with walnuts and grapes is just the thing you're looking for at lunch. Great on a lettuce wrap or tortilla!
Ingredients
3 cups diced cooked chicken breast (about 3 chicken breasts or 1.25 pounds)
1 cup diced celery (about three stalks)
1 cup halved grapes
3/4 cup chopped California Walnuts
1/2 cup dried cranberries
1 cup plain Greek yogurt
1 tablespoon apple cider vinegar
1 tablespoon honey
1 teaspoon celery seed (not celery salt)
1/2 teaspoon salt
1/2 teaspoon pepper
Instructions
In a large mixing bowl , combine chicken, celery, grapes, walnuts, and cranberries.
In a small bowl or 2 cup measuring cup, whisk together yogurt, vinegar, honey, celery seed, salt and pepper. Pour over chicken mixture and stir until all ingredients are combined.
Serve on a wrap, sandwich, or on top of lettuce. Store covered in refrigerator for 2-3 days, stirring to recombine before serving.
Notes
Delicious served in a whole wheat wrap or tortilla, or lettuce leaf. You could skip the wrap and eat the chicken salad on a bed of lettuce.
Nutrition information does not include wrap.
Nutrition Information:
Yield: 6
Serving Size: 1/6th of recipe
Amount Per Serving:
Calories: 299
Total Fat: 11g
Saturated Fat: 2g
Trans Fat: 0g
Unsaturated Fat: 9g
Cholesterol: 61mg
Sodium: 267mg
Carbohydrates: 23g
Fiber: 2g
Sugar: 19g
Protein: 28g
RachelCooks.com sometimes provides nutritional information, but these figures should be considered estimates, as they are not calculated by a registered dietician. Please consult a medical professional for any specific nutrition, diet, or allergy advice.
Verdict:
I absolutely love this healthy chicken salad. It has quickly become one of my lunchtime favorites.
Husband's take:
I honestly didn't think that this chicken salad was going to be up his alley. He isn't usually too into things that combine fruit with savory things like chicken and celery. But to my surprise, he loves this chicken salad recipe. He has taken it in his lunch many times.
Changes I would make:
None are necessary at all! I might add a little avocado because everything is better with avocado, right?
Difficulty:
Easy!
This Healthy Chicken Salad recipe is sponsored by the California Walnut Board. All opinions are always my own. Thank you for supporting Rachel Cooks by reading about products and food I use and love in my own home.