Moroccan Meatballs with Roasted Tomatoes & Chickpeas
You'll love the flavorful spices in these Moroccan meatballs and even better, tomatoes, onions, and peppers roast with the meatballs in your oven for an easy one pan dinner.
Recipe Overview
Why you'll love it: So flavorful and it's a one pan dinner!
How long it takes: 40 minutes
Equipment you'll need: sharp knife, large bowl, sheet pan, oven
Servings: 4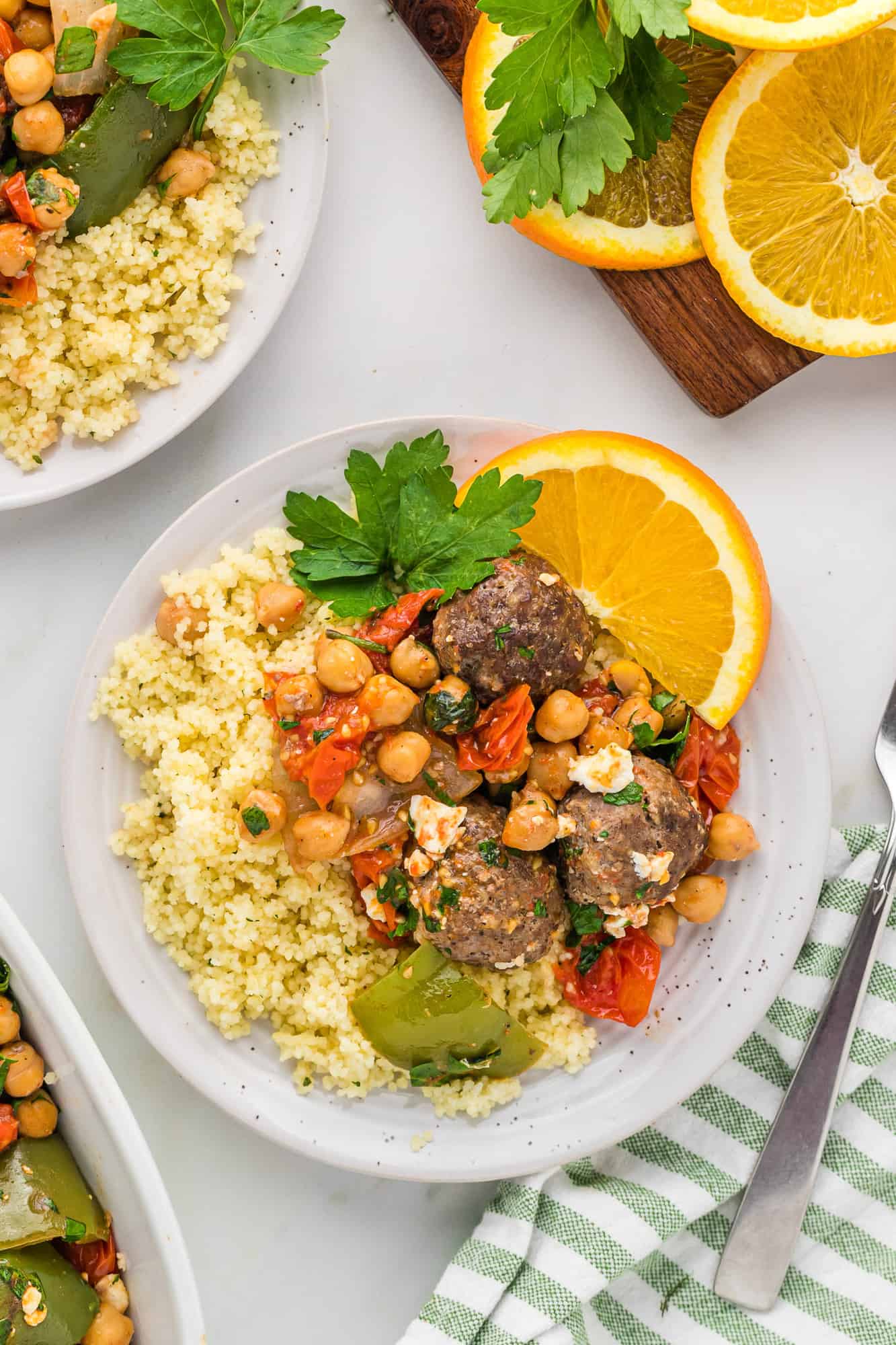 Moroccan spiced meatballs, roasted on a sheet pan with sweet cherry tomatoes, onions, peppers, and chickpeas, are topped with salty feta and freshly chopped parsley and mint. A squeeze of sweet orange juice adds a nice citrus note, making this one pan dinner so flavorful.
When we saw a similar recipe in a Good Housekeeping magazine, we couldn't wait to try it. Naturally, we made it our own and we are super pleased with how it turns out.
What makes these meatballs or any food "Moroccan"? You'll notice warm spices like cinnamon, allspice, cumin, and coriander. In some ways, it may remind you a bit of curry. Often dried fruit like raisins or apricots are included, chickpeas are common, and sometimes olives or capers. If you'd like to learn more about Moroccan cuisine, Local Adventurer has great photos of authentic Moroccan dishes.
If you'd like to try more Moroccan recipes, vegetarian Moroccan stew with chickpeas and butternut squash is one of our absolute favorites. Looking for easy weeknight dinners? We make slow cooker Moroccan chicken thighs with butternut squash so often. It's super easy especially if you buy frozen squash. Sub in chicken breasts if you prefer. Moroccan freekeh pilaf with golden raisins and apricots is a great side dish to serve with salmon or chicken but if you make it with chickpeas, it can stand alone as a meatless main dish.
Take meatballs up a notch with these Moroccan spiced meatballs. I think you're going to love them!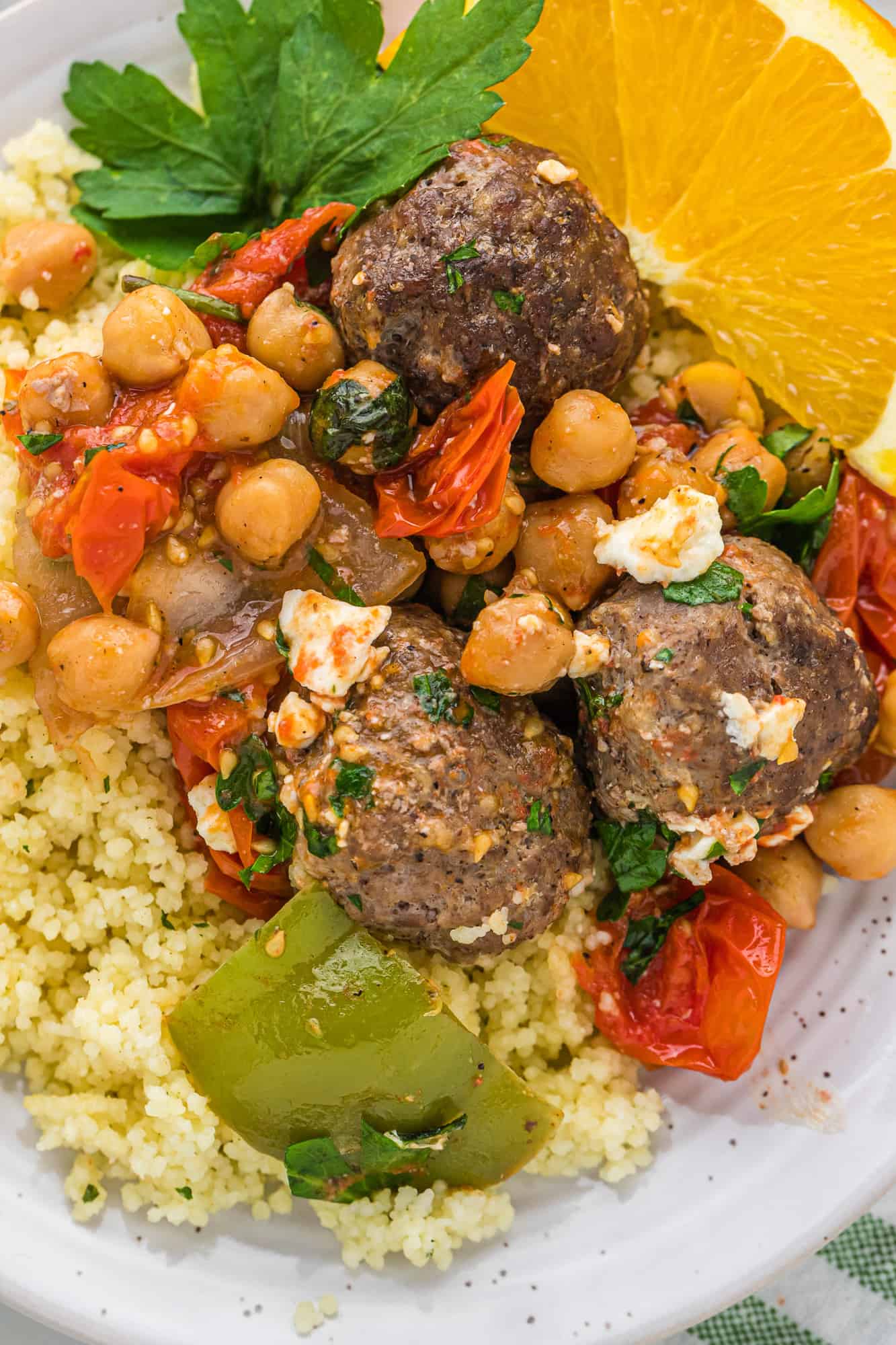 About this one pan dinner
Okay, I've been calling this a one pan dinner. The meat and vegetables are roasted in the oven on one pan but if you serve the meal with couscous, you'll have two pans. I'm sorry, don't throw your meatballs at me!
If you really want a one pan dinner, this meatball and vegetable dinner will easily stand on its own, or you could add a loaf of crusty bread.
Ready to give these Moroccan meatballs a try?
I'll run you through the recipe here with lots of tips and suggestions but remember, the printable full recipe is found at the end of the post.
Ingredients you'll Need
Ground Beef or Turkey: Any ground meat, including lamb, will work. Choose a lean meat with a low ratio of fat such as 92/8.
Egg: One egg glues the meatballs together.
Panko: Other types of breadcrumbs are fine, too. Panko is pretty coarse so if you choose fine breadcrumbs, add a bit less. If you prefer, use oats or gluten-free panko.
Seasonings: The meatballs are warmly seasoned with grated Garlic, Cumin, Allspice, Cinnamon, Salt, and Pepper. They are super flavorful.
Cherry or Grape Tomatoes, Bell Pepper, Sweet Onions: This trio is so good roasted with the meatballs but feel free to substitute other veggies of your choice.
Chickpeas: I always keep a can of chickpeas in my pantry. They add protein and an almost nutty texture to so many dishes.
Feta Cheese: Salty feta cheese adds just the right note but can easily be omitted if you want to make this dish dairy-free.
Parsley and Mint: Don't skip the fresh herbs! They add so much freshness to the dish.
Orange Wedges: A squeeze of orange gives a nice bright note.
Couscous: This easy to make pasta is traditionally served with Moroccan dishes. If you're looking for a low carb alternative, try cauliflower rice. The texture is very similar to couscous.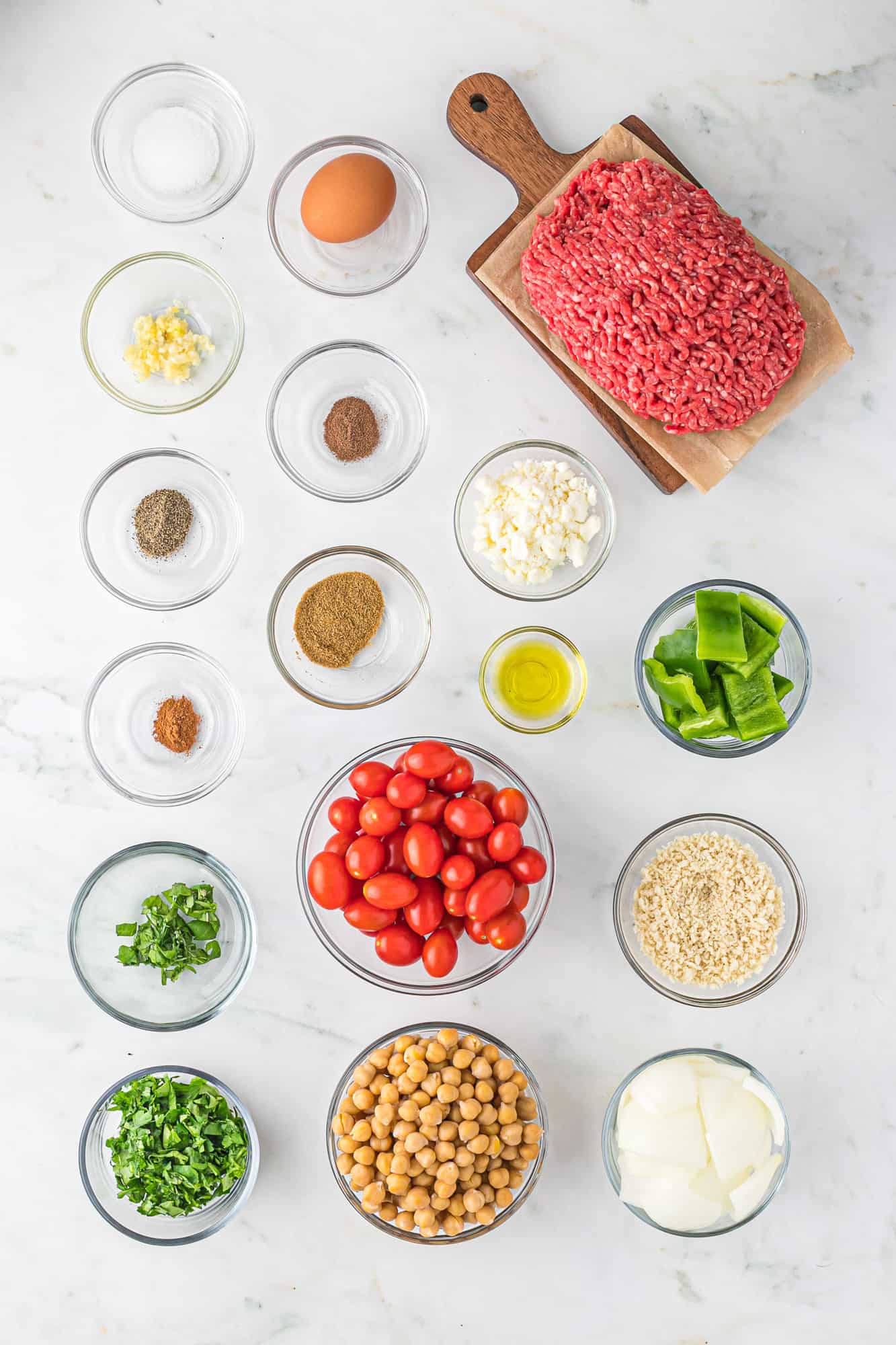 How to make Moroccan meatballs
You'll need a nice big sheet pan and a large mixing bowl. Get your oven preheating and let's get started.
Make the meatballs. Put the meat, egg, panko, grated garlic, and seasonings in a large bowl.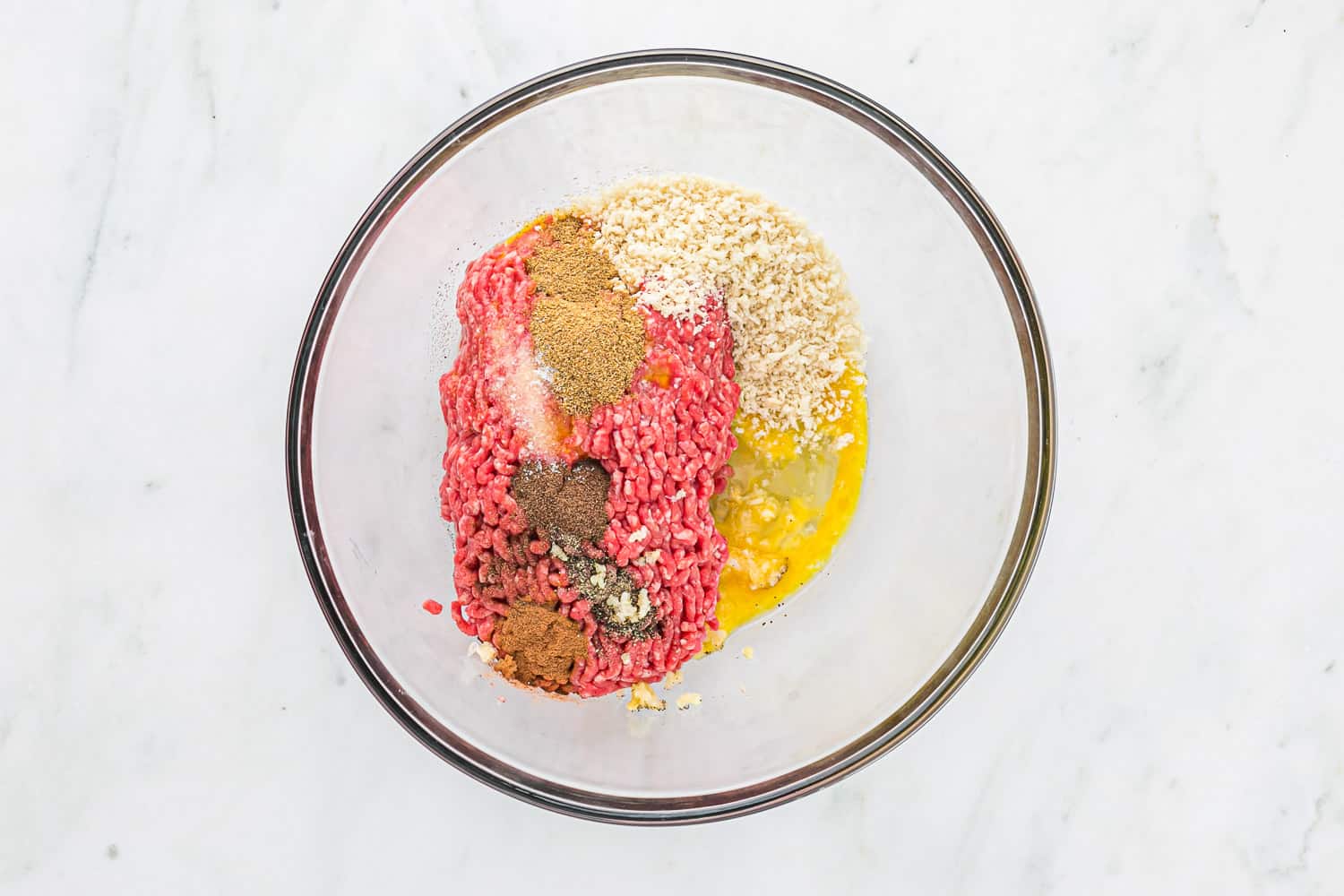 Use your hands to mix it all together. You don't want to overmix it, just squish it around until everything is mixed up and it feels like it will stick together.
There's two ways to form meatballs. Use a small scoop, like you would use for cookies. That's a really easy way that works great. Your meatballs won't be perfectly round but do you really care? I bet you don't!
If you don't have a scoop, use your fingers. You'll make sixteen to eighteen meatballs depending on how large you make them. Put them right onto the sheet pan.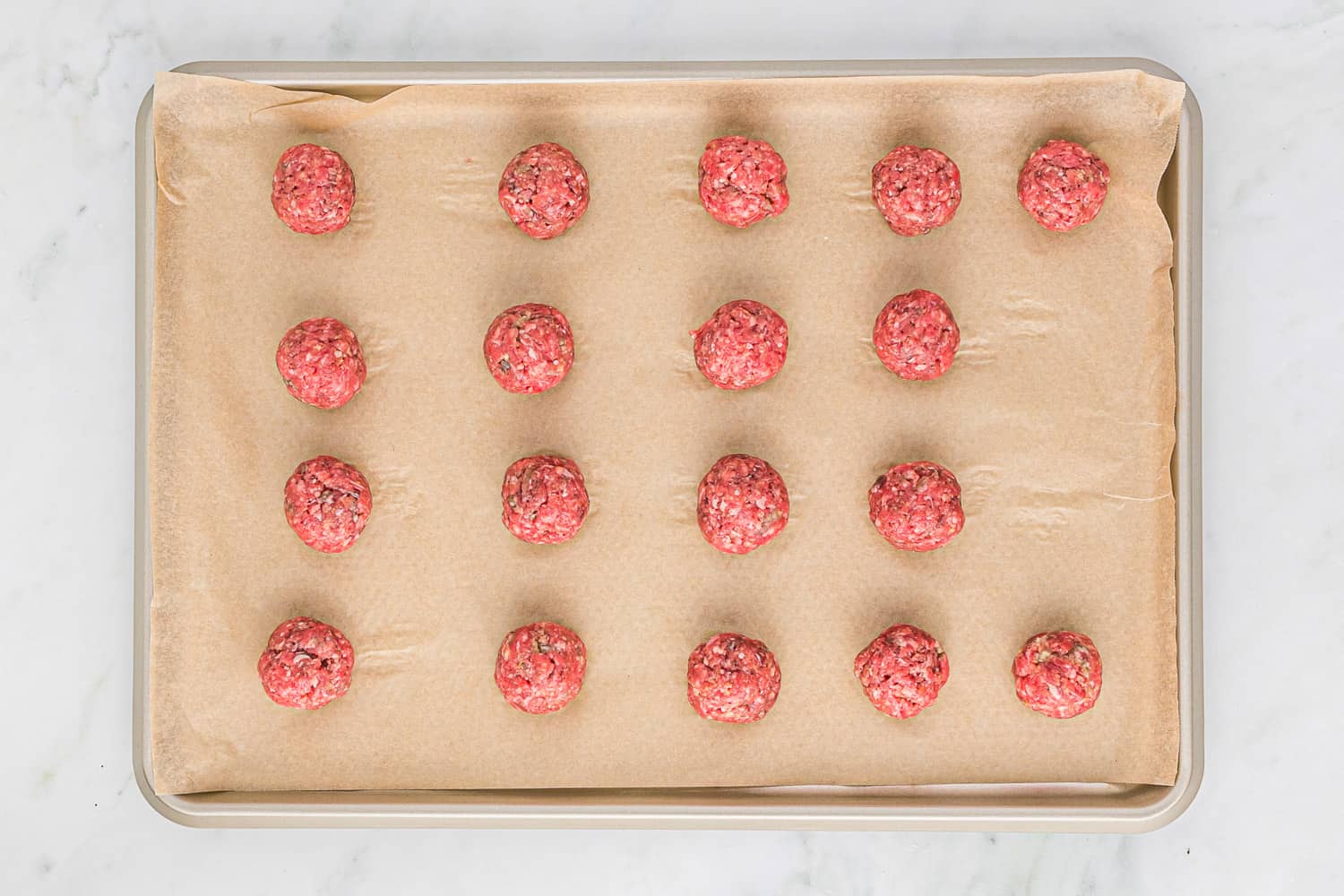 Cooking Tip
Here's a little trick I use when forming meatballs: Fill a small bowl with water and keep it handy. When your hands get too sticky (and they will!), dip your fingertips into the bowl of water before making the next meatball. Works perfectly!
Add the vegetables and chickpeas to the pan. Leave the tomatoes whole but cut the onion and bell pepper into one inch chunks. Toss them, and a can of drained chickpeas, with a bit of olive oil, salt and pepper. Arrange them around the meatballs on the sheet pan.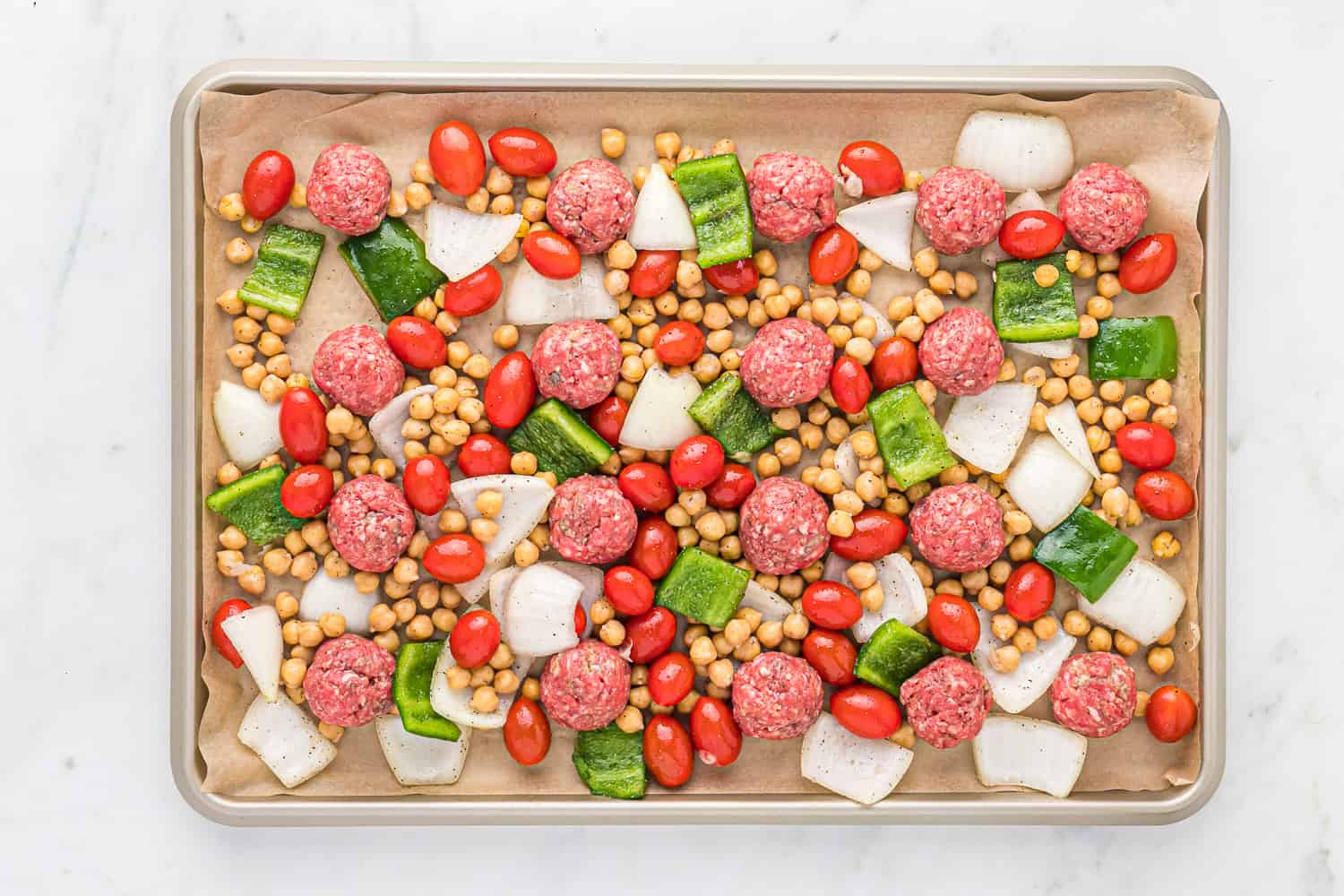 Bake. Put the sheet pan into the preheated oven and bake 20 minutes or so or until everything is done to your liking. The meatballs should reach an internal temperature of 165°F.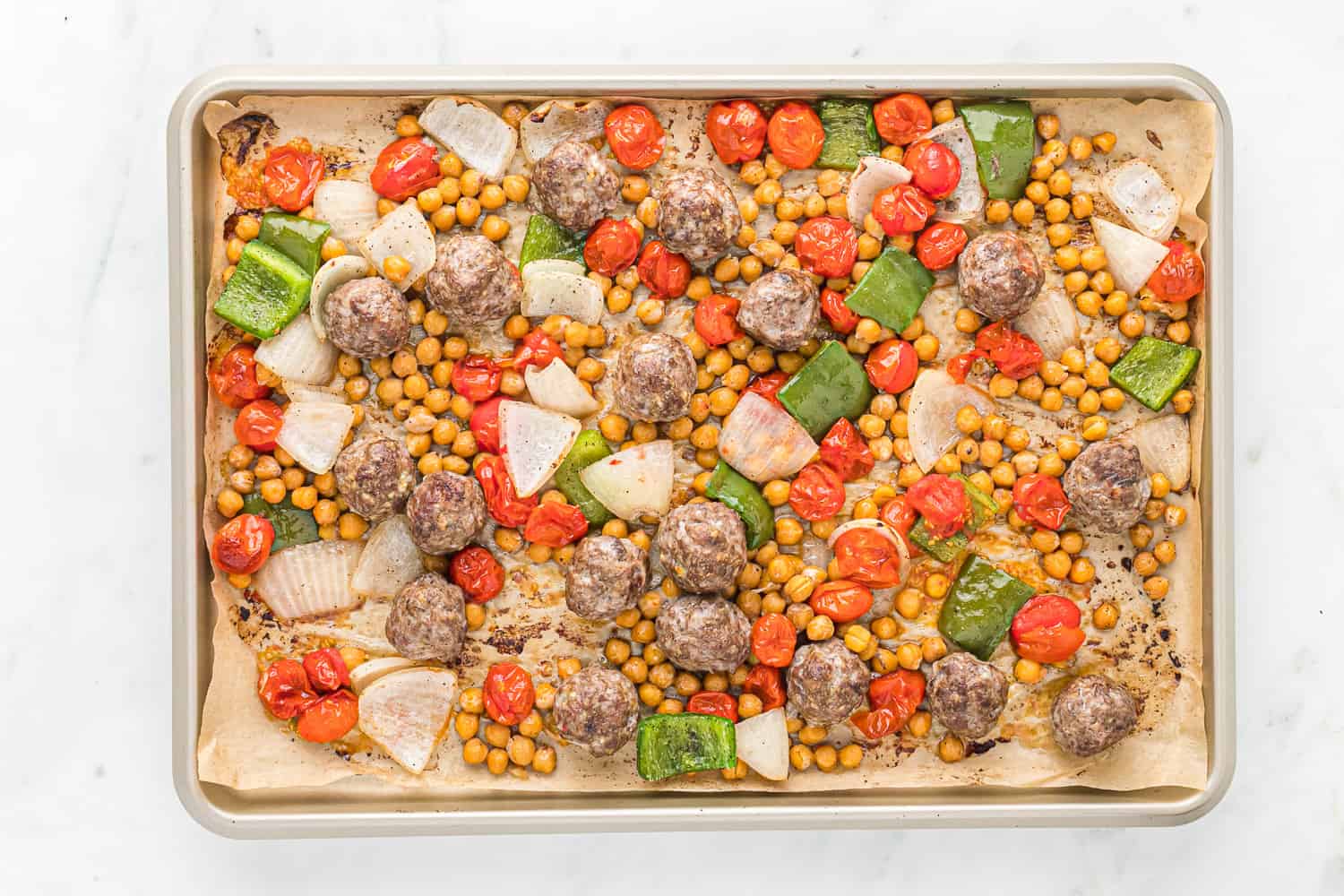 Prep the toppings and cook the couscous. While the meatballs are roasting, prep the fresh herbs and make the couscous. Couscous only takes five minutes or so to make.
Serve the meatballs and veggies on couscous (or not, if you prefer), topped with feta cheese, fresh parsley and mint, and a wedge of orange. So good!
I like to serve this dinner with a fruity white wine such as Gewürztraminer, Riesling, or Moscato. A red or brown ale is good, too.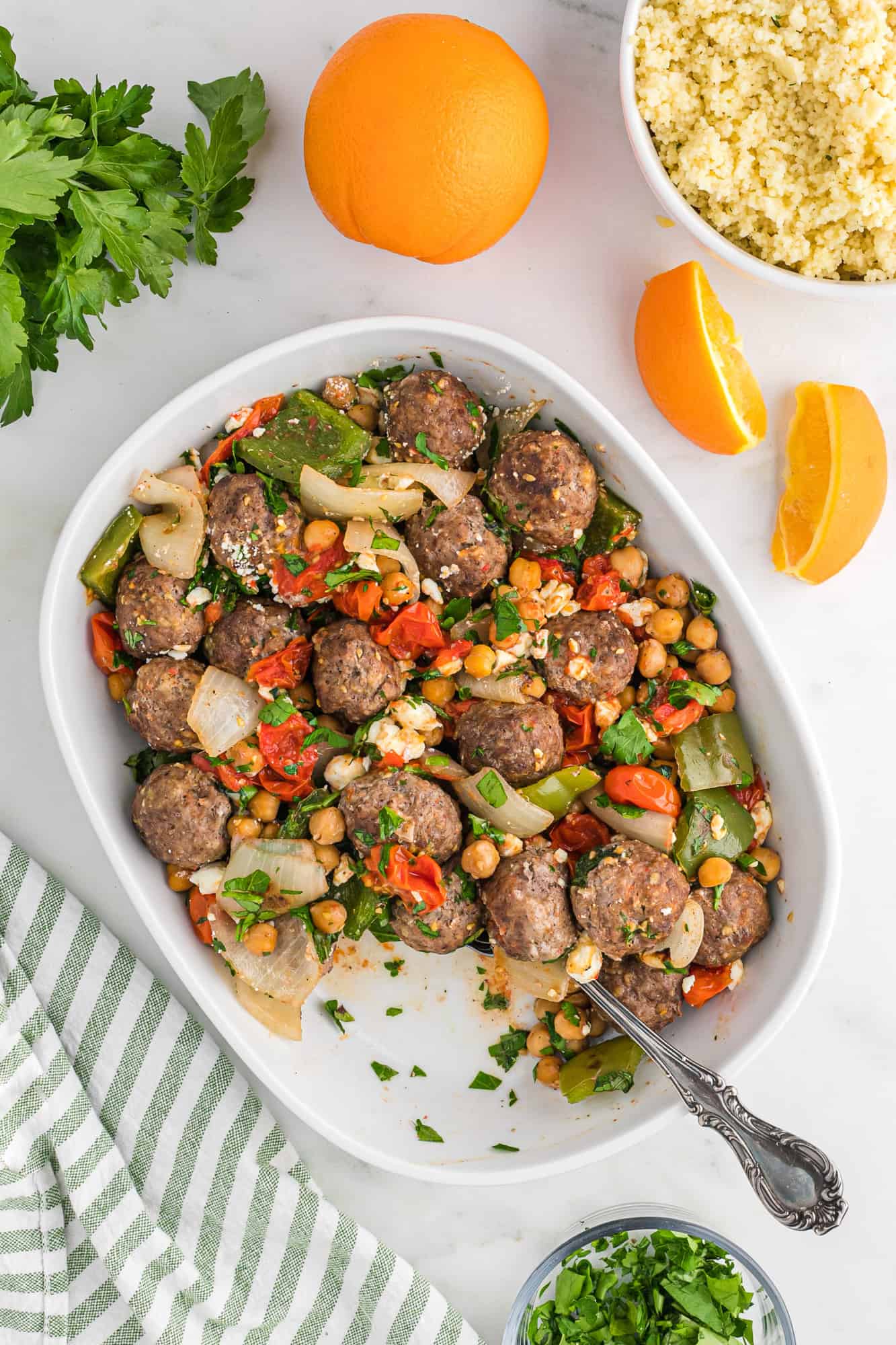 FAQs
Why are my meatballs tough?
Meatballs that have too little filler, i.e. breadcrumbs, oats, etc., can be more chewy but usually meatballs that are tough or chewy have been compacted too firmly. Be gentle when forming the balls, pressing them just until they hold together.
What keeps meatballs from falling apart?
Meatballs need a little binder, something to glue everything together. Usually an egg is the glue. However, if you have too much egg, milk, or other liquid, the mixture can be too soft and the meatballs may fall apart as they cook.
Too much bread can also make a meatball mushy and soft with a texture that's more like stuffing.
Is it better to bake or fry meatballs?
This question really relates to the previous question. Baking meatballs eliminates most of the problem of meatballs falling apart because they brown and firm up in the oven undisturbed. There's no need to constantly move the meatballs around to brown them on all sides like you would have to do in a skillet. I almost always bake my meatballs. Keep reading for more baked meatball recipes.
Make It Your Own
Substitute or add other veggies. I would stick with the tomatoes because they provide a little juiciness. Other good choices are carrots, butternut squash, Brussels sprouts, or whatever your heart desires.
Use whatever ground meat you like best. Vegetarian or vegan? Try these eggplant meatballs. Prevention magazine has additional creative ways to make meatless meatballs.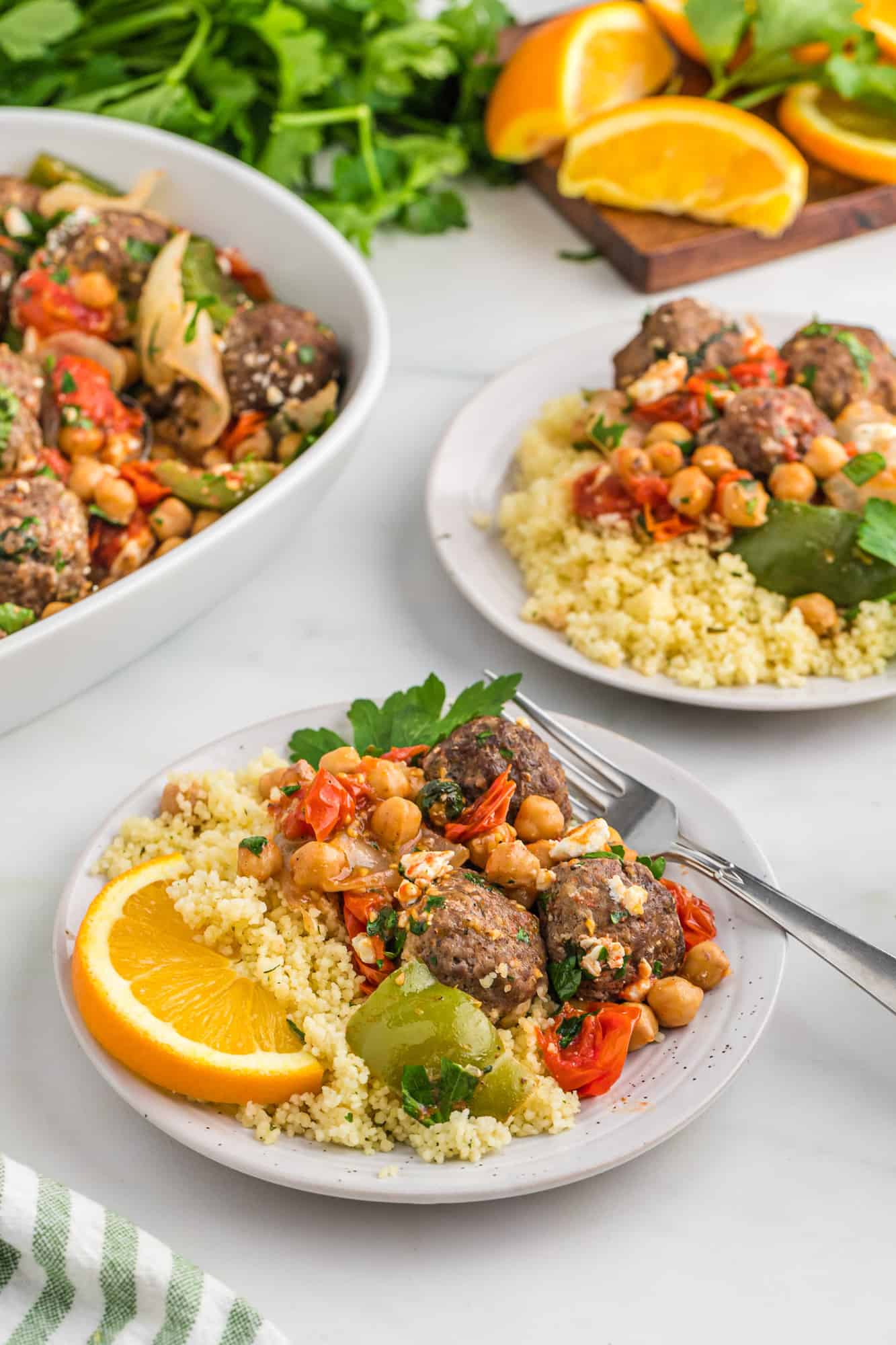 Make-Ahead Ideas
If you want to get a jump on things, mix and form the meatballs a day ahead. Put them in a single layer, wrap tightly or cover, and refrigerate. The veggies can be prepped ahead too.
Storage & Reheating Tips
Leftover cooked meatballs are great leftover. I even like them cold. Store them in the fridge for up to three days or in the freezer for up to a month.
To reheat, warm in the microwave in 30 second increments on High until heated through. Alternatively, heat them in a skillet on the stove, stirring occasionally.
Interested in a weekly meal plan (it's free!) that includes this meatball recipe? Take a look at my Meal Plan #28. You'll find a wholesome recipe for each weekday plus a categorized grocery list. Let me do the planning for you this week!
We'll be adding a new meal plan weekly. If you're interested, browse all of our meal plans.
Leftover Love
Roasted veggies and meatballs make a great salad. If you like, warm the leftovers slightly, just to take the chill out. If you still have couscous, add that to the salad, too, along with chopped spinach, arugula, or kale. Make a sweet/tangy vinaigrette like this apricot vinaigrette dressing or honey mustard vinaigrette. White wine vinaigrette is perfect, too. Top with feta and chopped mint or parsley. Yummy!
More meatball recipes
I've been into meatballs lately. Oven meatballs are so easy and you don't have to worry about them falling apart. Make a double batch and keep some in the freezer for super quick meals later. Bonus: They thaw quickly! Try:
Did you make this? Be sure to leave a review below and tag me @rachelcooksblog on Facebook, Instagram, or Pinterest!
You'll love the flavorful spices in these Moroccan meatballs and even better, tomatoes, onions, and peppers roast with the meatballs in your oven for an easy one pan dinner.
Ingredients
1

pound

lean ground beef (92/8) or lean ground turkey (93/7)

1

large egg, lightly beaten

⅓

cup

panko

2

cloves

garlic, grated or minced

1

teaspoon

ground cumin

¼

teaspoon

ground allspice

⅛

teaspoon

ground cinnamon

¾

teaspoon

salt, divided

½

teaspoon

pepper, divided

1

pint

cherry or grape tomatoes

½

bell pepper, cut into 1-inch pieces

½

lg. sweet onion, cut into 1-inch pieces

1

(16 oz.) can chickpeas, rinsed and drained

1

tablespoon

olive oil

¼

cup

crumbled feta cheese

¼

cup

chopped fresh parsley

1

tablespoon

chopped fresh mint

Orange wedges, for serving

Prepared couscous, for serving
Instructions
Preheat oven to 425°F. Lightly spray large rimmed baking sheet (sheet pan).

In large bowl, combine ground meat, egg, panko, garlic, cumin, allspice, cinnamon, ½ teaspoon salt and ¼ teaspoon pepper. Use hands to lightly blend together. Do not overmix.

Using a 2 tablespoon scoop, shape meat mixture into 16-18 balls, and arrange on prepared pan.

In clean bowl, toss tomatoes, bell pepper, onions, and chickpeas with olive oil, and ¼ teaspoon each salt and pepper. Add to pan, arranging around meatballs.

Roast 20 minutes, stirring once, until meatballs are done (165°F with instant read thermometer) and vegetables have softened.

Remove from oven and stir in feta, parsley and mint. Serve with couscous and orange wedges.
Notes
Nutrition information is based on a serving of 4 meatballs made with ground turkey, and vegetables. It does not include couscous.
Make Ahead Tip: Mix and form the meatballs a day ahead. Put them in a single layer, wrap tightly or cover, and refrigerate. The veggies can be prepped ahead too.
Meal Prep Idea: Make a double batch of the baked meatballs (without the veggies) and freeze up to three months. Add them to soups, stews, sauces, or salads.
Nutrition Information
Calories:
301
kcal
,
Carbohydrates:
12
g
,
Protein:
26
g
,
Fat:
17
g
,
Saturated Fat:
5
g
,
Polyunsaturated Fat:
4
g
,
Monounsaturated Fat:
7
g
,
Trans Fat:
1
g
,
Cholesterol:
133
mg
,
Sodium:
689
mg
,
Potassium:
630
mg
,
Fiber:
2
g
,
Sugar:
5
g
,
Vitamin A:
1604
IU
,
Vitamin C:
53
mg
,
Calcium:
121
mg
,
Iron:
3
mg
This website provides approximate nutrition information for convenience and as a courtesy only. Nutrition data is gathered primarily from the USDA Food Composition Database, whenever available, or otherwise other online calculators.