With sautéed mushrooms, peppers, and onions, layered with pizza sauce, ham and pepperoni, and oozing with melted mozzarella cheese, this grilled pizza panini is ridiculously good.
Recipe Overview
Why you'll love it: This pizza sandwich is over-the-top delicious and satisfies all your pizza cravings.
How long it takes: 30 minutes
Equipment you'll need: panini press or heavy frying pan
Servings: 2 sandwiches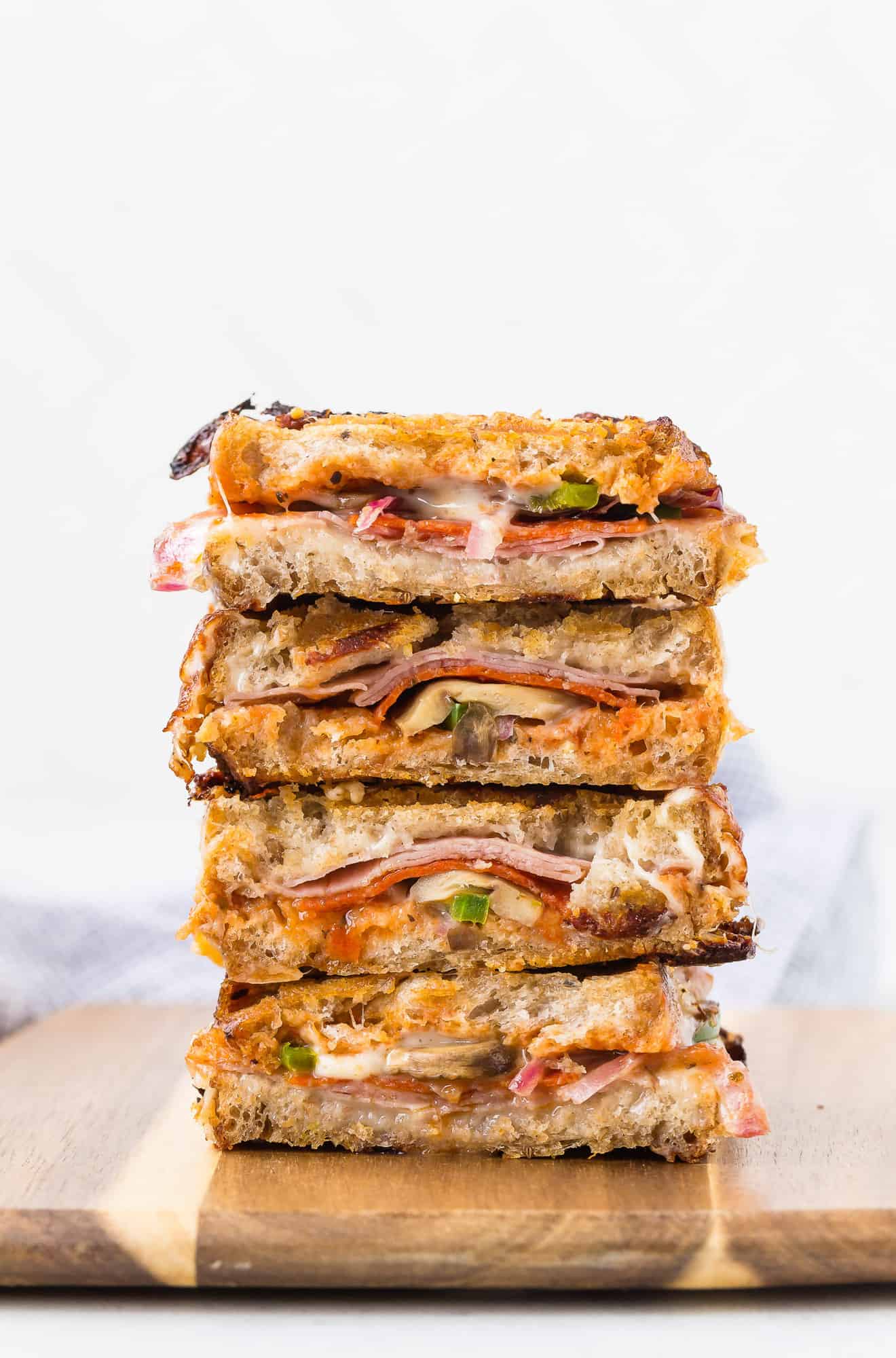 I'm on a panini kick. I'm not so sure that my husband is too crazy about this kick. He would rather not have a sandwich for dinner. He never complains, but I can tell. He loves my Cuban sandwich, but I don't think I have him converted yet. Maybe this pizza panini will do the trick. I think maybe it will.
What do you think about paninis? I love any grilled sandwich. I think it must be a weakness of mine. Have you tried this Parmesan crusted pepperoni pizza grilled cheese? Oh, so good! And now I'm loving my air fryer for grilled cheese sandwiches. So crispy!
If you're a pizza lover, and who isn't, you'll love this pizza panini. All the good things about pizza (think mozzarella! mushrooms! peppers! pizza sauce! pepperoni! ham!) sandwiched between crispy buttery whole grain bread.
How To Make A Pizza Panini
This is a really easy recipe. In fact, I'm not really sure it is a recipe so much as it is an idea.
Prep and sauté the veggies: Sauté the onions, mushrooms, and green peppers just until they're slightly softened. Yum! Try not to eat them all right out of the pan.
Assemble the sandwiches: While they're cooking, butter one side each of the bread. After you've buttered the bread, flip it over and spread pizza sauce on the other side. Next comes a slice of mozzarella, ham, pepperoni, veggies, another slice of mozzarella, and then the other slice of bread, butter side up. Layer it up!
Grill the sandwiches: To grill your panini, follow the directions that come with your panini press, if you have one. A George Foreman grill will work, too.
Since I don't have a panini press, I use a grill pan on the stove. Put the sandwich on the grill pan and press down firmly with a spatula or another cast iron pan. You don't need to squeeze the stuffing out of your sandwiches but you want to be a little forceful.
When the panini is browned, flip it over and do the other side. You can do both sandwiches at once if your grill pan is large enough.
How can you tell if your panini is done? The outsides should be golden brown, the insides warm, and the cheese should be melted. Enjoy!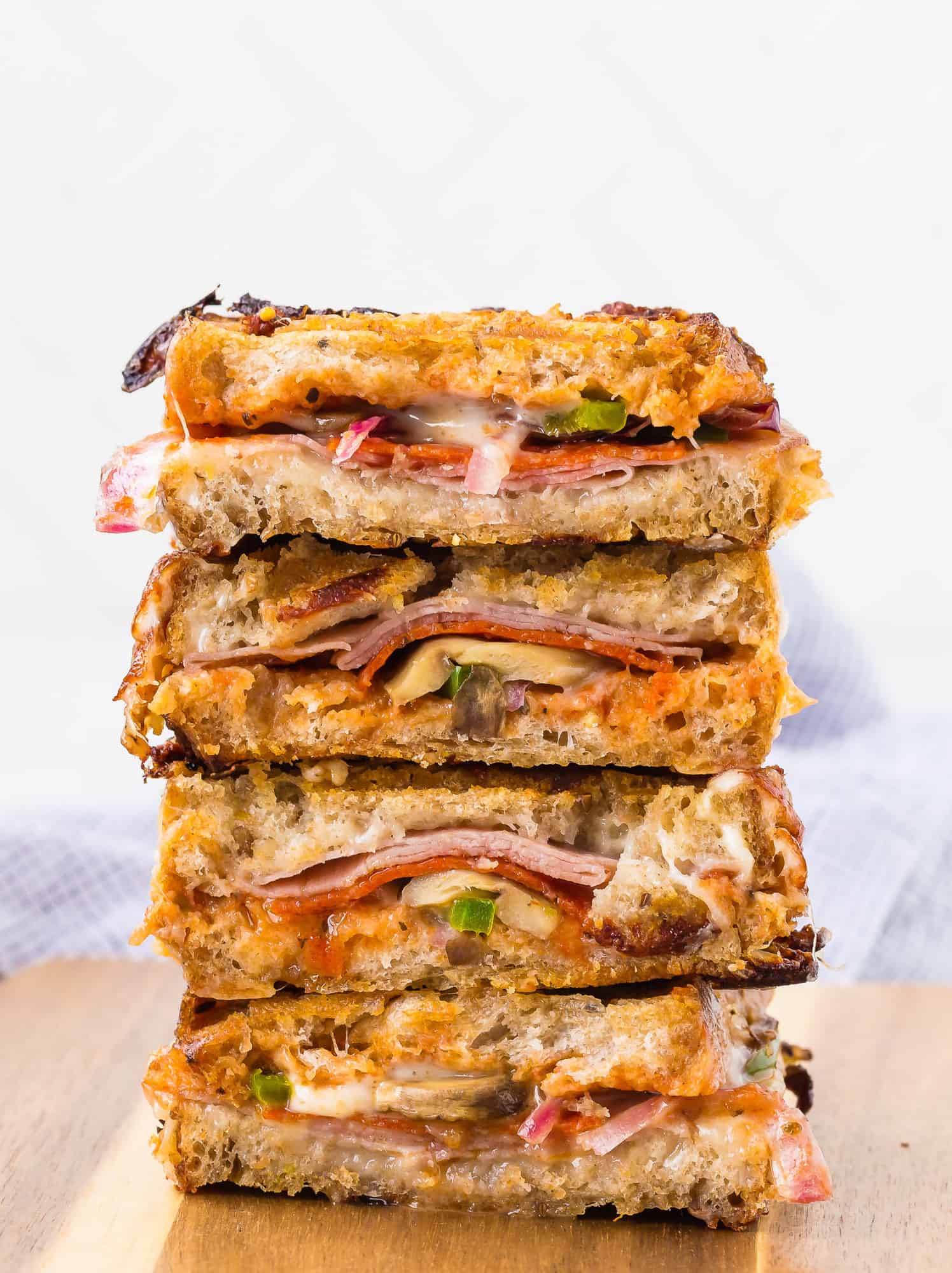 FAQs
What's the difference between a panini and a sandwich?
Sandwich is a more generic term which includes paninis, and many other variations. A sandwich consists of some type of bread and a filling.
A panini is a grilled sandwich that contains meat, cheese, and other fillings. It is usually made in a press or a grill.
Can you use any bread for a panini?
Pretty much any type of bread can be used for paninis but some breads are definitely preferable. Buy the best bread you can find. The better the bread, the better your panini will be. Look for firm bread that can hold up to a lot of filling. Avoid really soft or thin sliced bread. Good choices are thick cut sourdough or whole grain, ciabatta, or focaccia.
Do you butter the bread for a panini?
Buttering the outside of the bread (the side that comes into contact with the grill pan) ensures that your sandwich will have a crisp, brown exterior. It helps prevent the sandwich from sticking to the pan. And besides, a crisp butter-soaked sandwich is just plain good eating!
Panino or panini or paninis?
I just looked up "panini" and found that actually "panino" is singular and "panini" is plural. Wikipedia says Americans typically call more than one panini "paninis."
Make it your own
Like a regular pizza, you can customize this pizza panini and make it exactly the way you like it. Here's some ideas:
Vegetarian: Omit the meat. Just layer on extra veggies if you like, or add different ones like spinach leaves, olives, roasted red peppers, or whatever you like.
Margherita Style: Use fresh mozzarella cheese and fresh basil leaves for a margherita style panini.
More Meat: Use different Italian style meats like: salami, prosciutto, pancetta, capocollo, lardo, or soppressata. Or bacon.
BBQ Chicken Panini: If you love BBQ chicken pizza, this panini is for you. Use leftover rotisserie chicken, your favorite barbecue sauce, bacon, red onions, and mozzarella cheese.
Make a Pizza: Rather have a pizza instead of a sandwich? Try making your own pizza with this easy pizza dough recipe. It makes enough dough for two pizzas and you can make the dough ahead if you prefer. It can even be frozen.
Make-Ahead Ideas
To get a head start on making your paninis, sauté the onions, mushrooms, and green pepper up to a couple days ahead of time. Refrigerate them in an airtight container. Warm them up slightly in the microwave before adding them to the sandwich so they don't cool things down too much.
Storage & Reheating Tips
Pizza panini are best eaten right away. Make it and eat it, don't save a sandwich for tomorrow! You can make a fresh one tomorrow.
Interested in a weekly meal plan (it's free!) that includes this panini recipe? Take a look at my Meal Plan #14. You'll find a wholesome recipe for each weekday plus a categorized grocery list. Let me do the planning for you this week!
We'll be adding a new meal plan weekly. If you're interested, browse all of our meal plans.
Did you make this? Be sure to leave a review below and tag me @rachelcooksblog on Facebook, Instagram, or Pinterest!
Sautéed mushrooms, peppers, and onions, layered with pizza sauce, ham and pepperoni, and oozing with melted mozzarella cheese, this grilled pizza panini is ridiculously good.
Ingredients
1

teaspoon

olive oil

½

cup

sliced mushrooms

½

cup

sliced onion

½

cup

sliced bell pepper

4

slices

whole grain bread

(choose a sturdy bread)

2

tablespoons

spreadable or softened butter

2

tablespoons

pizza sauce

6

slices

mozzarella cheese

6

slices

pepperoni

4

slices

ham
Instructions
In a small frying pan, heat olive oil over medium-high heat. Add mushrooms, bell pepper, and onion and cook, stirring frequently, until vegetables are slightly softened, about 3 to 4 minutes.

Meanwhile, butter one side of each slice of bread. On the other side, spread pizza sauce.

Next, layer 1 ½ slices mozzarella cheese on top of pizza sauce. Add toppings: pepperoni, ham, and sauteed vegetables. Top with remaining mozzarella cheese slices. Finish with second piece of bread, keeping the butter side face-out.

Heat grill pan over medium heat. Place sandwich butter side down and press down gently with spatula. If desired, place another heavy skillet on top of sandwiches to press them. Cook for approximately 5 to 10 minutes, or until golden brown. Carefully flip over and cook for an additional 5 to 10 minutes, or until cheese is melted and bread is golden brown.

Serve immediately.
Notes
If you have a panini press, follow the cooking directions that come with your press.
Feel free to change this sandwich up any way you like. Make it vegetarian by eliminating the ham and pepperoni.
Nutrition Information
Serving:
1
sandwich
,
Calories:
580
kcal
,
Carbohydrates:
11
g
,
Protein:
34
g
,
Fat:
45
g
,
Saturated Fat:
23
g
,
Polyunsaturated Fat:
3
g
,
Monounsaturated Fat:
16
g
,
Trans Fat:
1
g
,
Cholesterol:
138
mg
,
Sodium:
1469
mg
,
Potassium:
502
mg
,
Fiber:
2
g
,
Sugar:
5
g
,
Vitamin A:
2157
IU
,
Vitamin C:
53
mg
,
Calcium:
452
mg
,
Iron:
2
mg
This website provides approximate nutrition information for convenience and as a courtesy only. Nutrition data is gathered primarily from the USDA Food Composition Database, whenever available, or otherwise other online calculators.