Homemade French Onion Dip Recipe – Healthy | with VIDEO
This homemade french onion dip recipe is made with creamy greek yogurt for a healthier version of this classic dip that quickly disappears every time it's made! It uses homemade seasoning so you'll be able to pronounce all the ingredients and feel good about eating it!
Some people have a big sweet tooth, but I crave salty snacks (umm, hi there, popcorn addiction). I'm completely helpless around a bowl (or…a container) of french onion dip and a bag of salty, greasy, potato chips. I can't keep these things in my house because I have no self-control around them.
When multiple people requested that I create a homemade onion soup mix recipe and this homemade french onion dip, I knew I had to get right on it! Well, truthfully it took me months (sorry for making you wait, Allison!).
I knew that I'd make it healthier than the stuff you buy at the store…as I tend to do! My go-to is always my dill vegetable dip made with yogurt, but this homemade french onion dip is quickly becoming a new favorite. The problem is, I still want to eat a ton of chips with it. But it's healthier…so it's all good…right? Right?
The base is mostly plain Greek yogurt, but I also like to add in some mayo to smooth out the flavors and reduce the tanginess of the dip. The only other thing in the dip besides the yogurt and the mayonnaise is a couple of tablespoons of my homemade onion soup mix. It takes only about five minutes to make…but it's best if you let it sit in the fridge for a couple hours to let the flavors meld together.
Make this for a poolside snack, for a party, for just because it's that darn good. You guys are going to adore this one!
FAQ About Homemade French Onion Dip:
How Long Is Homemade French Onion Dip Good For?
This homemade french onion dip will keep in your fridge in a sealed container for about the same amount of time as your yogurt. When you're making this, check the date on your yogurt and use that as a guide for when to toss this out as well.
Can I Make this French Onion Dip Without Mayo?
You can absolutely make this french onion dip without mayonnaise! I like the way it smooths and mellows out the flavor, but you can definitely use all yogurt instead of the mix of yogurt and mayonnaise that I used in this recipe.
Can I use more Caramelized Onions?
You can definitely add more caramelized onions to the mixture and stir them into this dip. They'll add so much amazing flavor! I don't think there's such as too many caramelized onions, am I right? They're absolutely irresistible!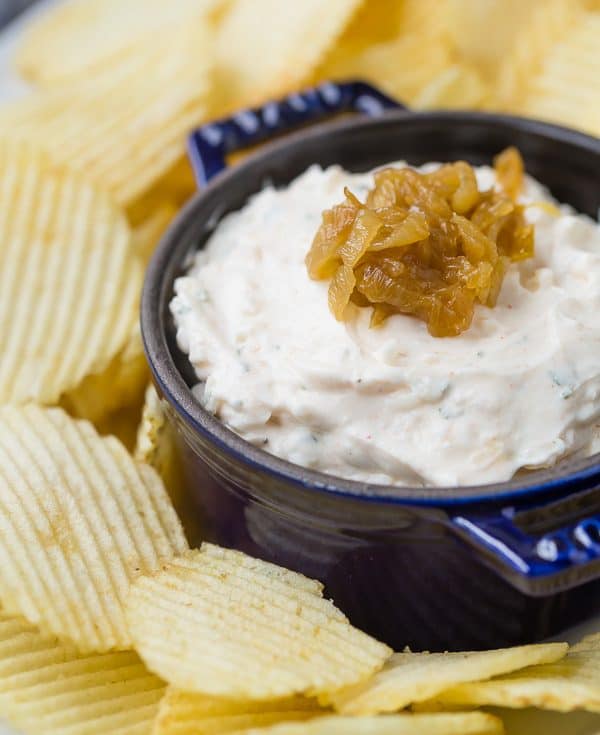 More lightened up but full of flavor dips: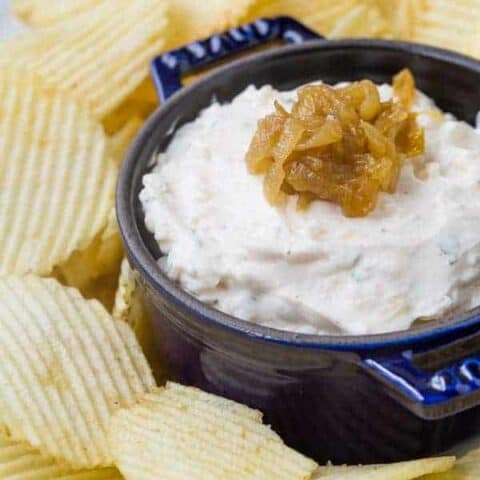 Homemade French Onion Dip
Yield: 1 1/4 cup
Prep Time: 5 minutes
Total Time: 5 minutes
Homemade french onion dip is made with greek yogurt and homemade seasoning for a healthy version of this dip that disappears quickly every time!
Ingredients
1 cup plain Greek yogurt (see note)
1/4 cup mayonnaise (I like the kind made with olive oil)
1 1/2 tablespoons homemade onion soup mix
Optional: chopped caramelized onions for garnish
Instructions
In a medium mixing bowl, combine Greek yogurt, mayonnaise, and homemade onion soup mix. Stir to combine.
Cover and place in the fridge for 1-2 hours prior to serving. Top with chopped caramelized onions if desired.
Serve with chips, vegetables, or anything you'd like! (It makes a delicious sandwich spread, too!)
Notes
I like to use 2% Greek yogurt in this recipe. Full-fat and fat free will also work. If you choose fat free, it might separate and be a little more thin than if you use full-fat. Just give it a stir before serving!
If you're looking for an easy, hands-off way to caramelize onions, try these slow cooker caramelized onions!
Nutrition Information:
Yield: 20
Serving Size: 2 tablespoons
Amount Per Serving:
Calories: 35
Total Fat: 3g
Saturated Fat: 1g
Trans Fat: 0g
Unsaturated Fat: 2g
Cholesterol: 3mg
Sodium: 119mg
Carbohydrates: 2g
Fiber: 0g
Sugar: 1g
Protein: 1g
RachelCooks.com sometimes provides nutritional information, but these figures should be considered estimates, as they are not calculated by a registered dietician. Please consult a medical professional for any specific nutrition, diet, or allergy advice.
Verdict:
I'm so obsessed with this dip, you guys. It's my new favorite recipe and I just know you're going to love it as much as I do.
Husband's take:
Ben never touches French Onion Dip at parties…I always assumed it was because he didn't like it, but nope! He just has better willpower than I do. He likes it but stays away from it because it's not the healthiest. So, somewhat to my surprise, he loved this! Maybe just as much as I did!
Changes I would make:
None at all!
Difficulty:
So easy!