Fudge Swirl Ice Cream (no ice cream maker needed!)
No need for special equipment, you can easily whip up your own creamery delight: homemade fudge swirl ice cream, with only four ingredients!
Recipe Overview
Why you'll love it: It's pretty special to say that you made your own ice cream (but it's really easy).
How long it takes: 15 minutes, plus 7 hours to freeze
Equipment you'll need: electric hand mixer, a couple of large bowls, loaf pan
Servings: 10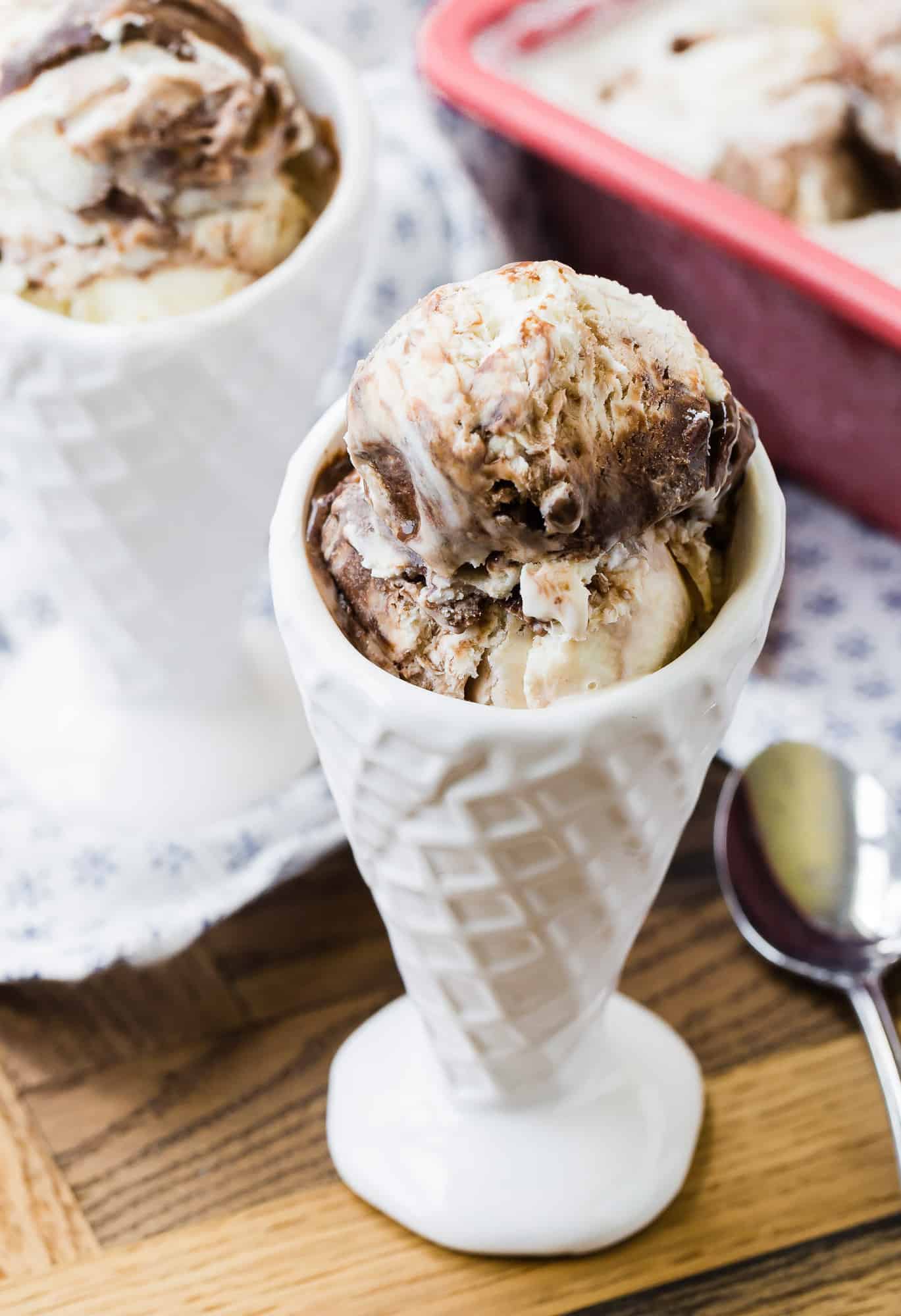 One spoonful of this creamy vanilla ice cream, with lots of chocolate fudge swirled in, and you'll be spoiled for life. You'll never want to buy ice cream again. And it's so easy to make. There's no need for an ice cream freezer or churn; the only equipment you'll need is an electric hand mixer.
And with only four wholesome ingredients, you don't have to worry about stuff like corn syrup, mono and diglycerides, cellulose gum, annatto, and guar gum which are commonly added to commercial ice cream. I love to make my own homemade vanilla bean ice cream, Oreo ice cream (cookies & cream), or cinnamon ice cream (perfect on fruit crisps!).
As kids we used ride our bikes to a neighborhood creamery. With a juke box in the corner, a long counter with a mirrored wall behind it, and really cool stools that twirled, we avidly watched as employees made delightful frozen treats: milkshakes, malteds, floats, sundaes, cones, and so on.
We usually had just enough money to buy a cone and what a selection of ice cream there was! Teenage employees waited patiently for us to make a choice as we drooled over all sorts of creatively named ice cream flavors lined up in the freezer case. What a decision!
My favorites always include a swirl of fudge. Moose Tracks is usually my first choice. To me, ice cream and chocolate are pretty much synonymous; you can't have one without the other. I love this double chocolate no churn ice cream.
What's your favorite? The beauty of homemade ice cream is that you can make whatever flavor you like best.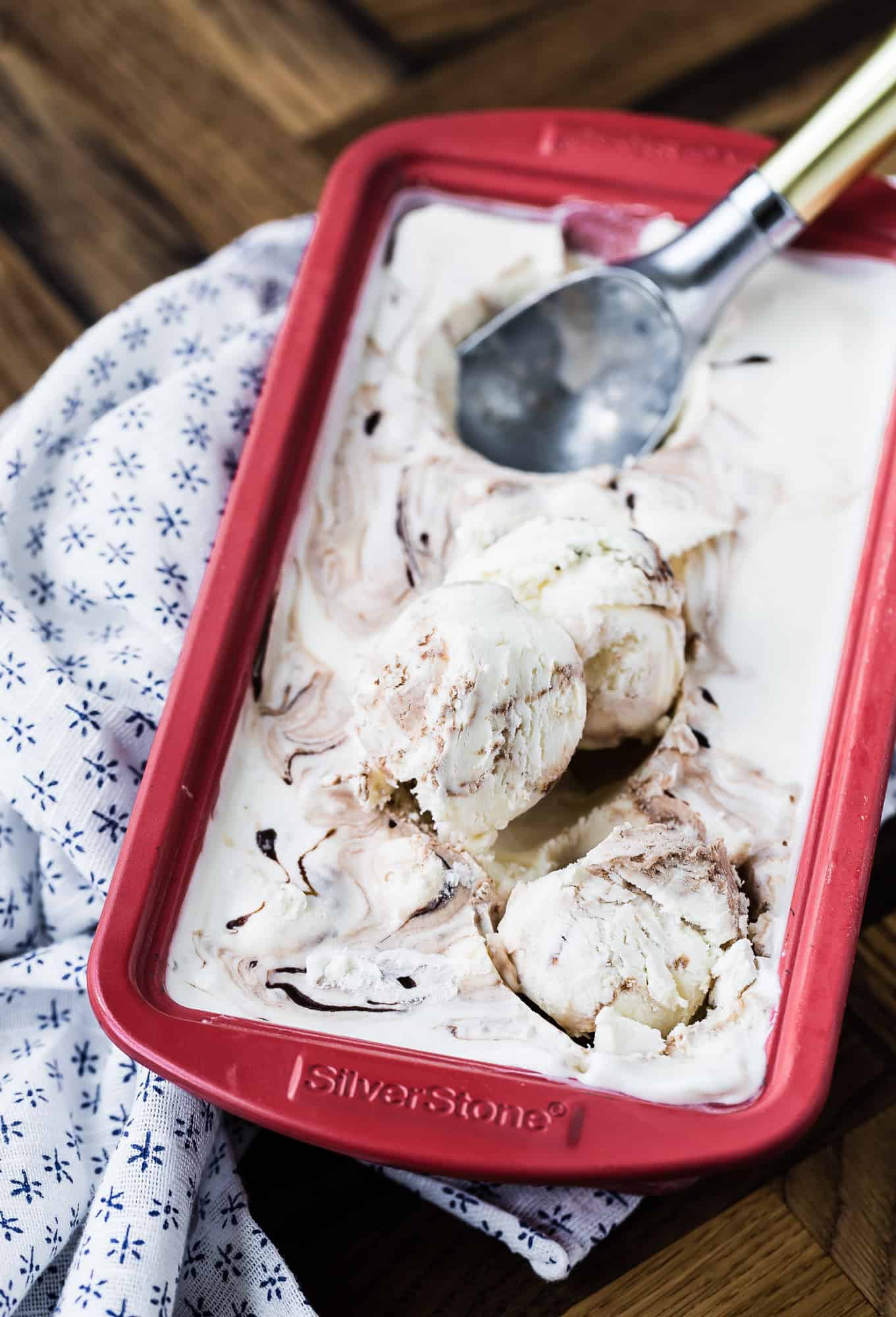 About this Recipe
Like I promised, easy make-your-own ice cream has only four ingredients: a can of sweetened condensed milk, heavy cream, vanilla extract, and fudge topping. I like to make my own hot fudge but feel free to use your favorite brand of fudge topping.
You'll need an electric mixer to whip the heavy cream. Make sure the cream is well-chilled before you get started. You may want to stick the bowl and beaters into the freezer for 15 minutes or so, too.
I'll get you started on making your own ice cream here with a few extra tips thrown in. Look for the printable recipe card near the end of the post with complete instructions, measurements, and nutrition information.
What You'll Need
Sweetened Condensed Milk: This heavily sweetened milk comes in cans. You can usually find in the baking aisle, with brand names like Carnation or Eagle Brand. Don't substitute evaporated milk. It won't work in this recipe.
Vanilla Extract: The base flavor of this ice cream is vanilla. Use a pure vanilla extract for the best taste.
Heavy Cream: Look for heavy cream with a milk fat of 36-40%. Whipping cream can be somewhat lighter in fat, more along the lines of 30%. It will work but the final result won't be as creamy.
Hot Fudge Topping: Make your own hot fudge (it's really easy) or buy a jar of pre-made hot fudge topping. It's up to you. Keep reading for more "swirl" ideas.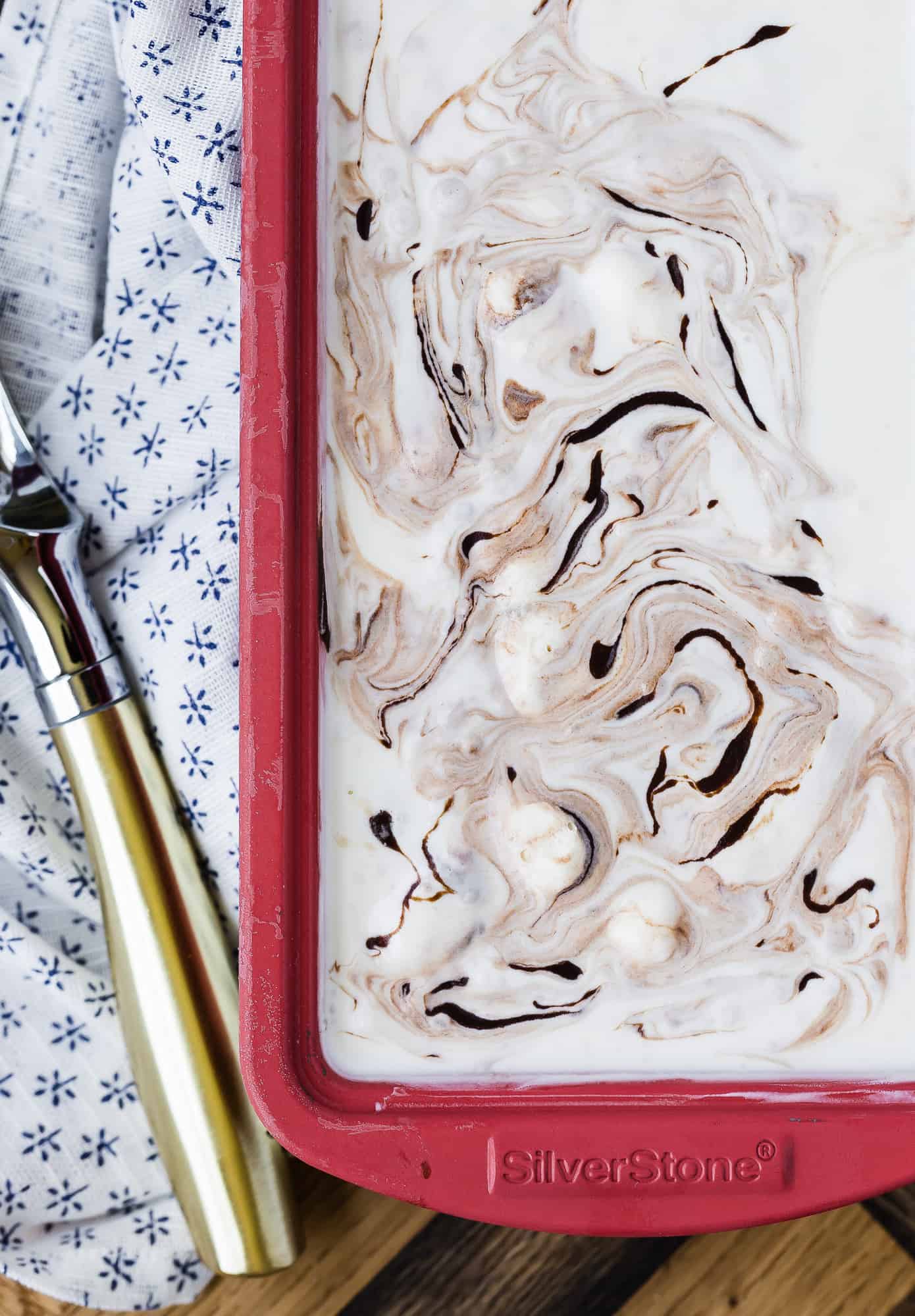 How To Make Homemade Ice Cream
Drum roll, please: here's how to make this delicious ice cream right in your own kitchen.
In a large bowl, whip two cups of heavy cream until it's fluffy and firm (stiff peaks). Gradually fold the sweetened condensed milk into the whipped cream. Don't over stir the mixture because you don't want the whipped cream to deflate. "Gently" is the key word here.
Put this mixture into a freezer safe container: a loaf pan, a plastic container, whatever you like. Easy so far, right? Cover with foil.
Pop the ice cream into the freezer for an hour or so. I bet you're thinking I forgot the fudge! Nope, I find that you have to freeze the ice cream partially before you add the fudge to make nice fudge swirls. Otherwise, it just mixes in and turns into chocolate ice cream (which isn't a bad thing, by the way).
Once the ice cream is partially frozen, add dollops of fudge and, using a table knife or small spatula, artistically (or not) swirl the fudge into the ice cream. Return to the freezer and freeze until firm, about 6 hours.
I know it's hard to wait but good things take awhile, you know? And I promise, fudge swirl ice cream is totally worth the wait! I like to top mine with this crunchy oat topping!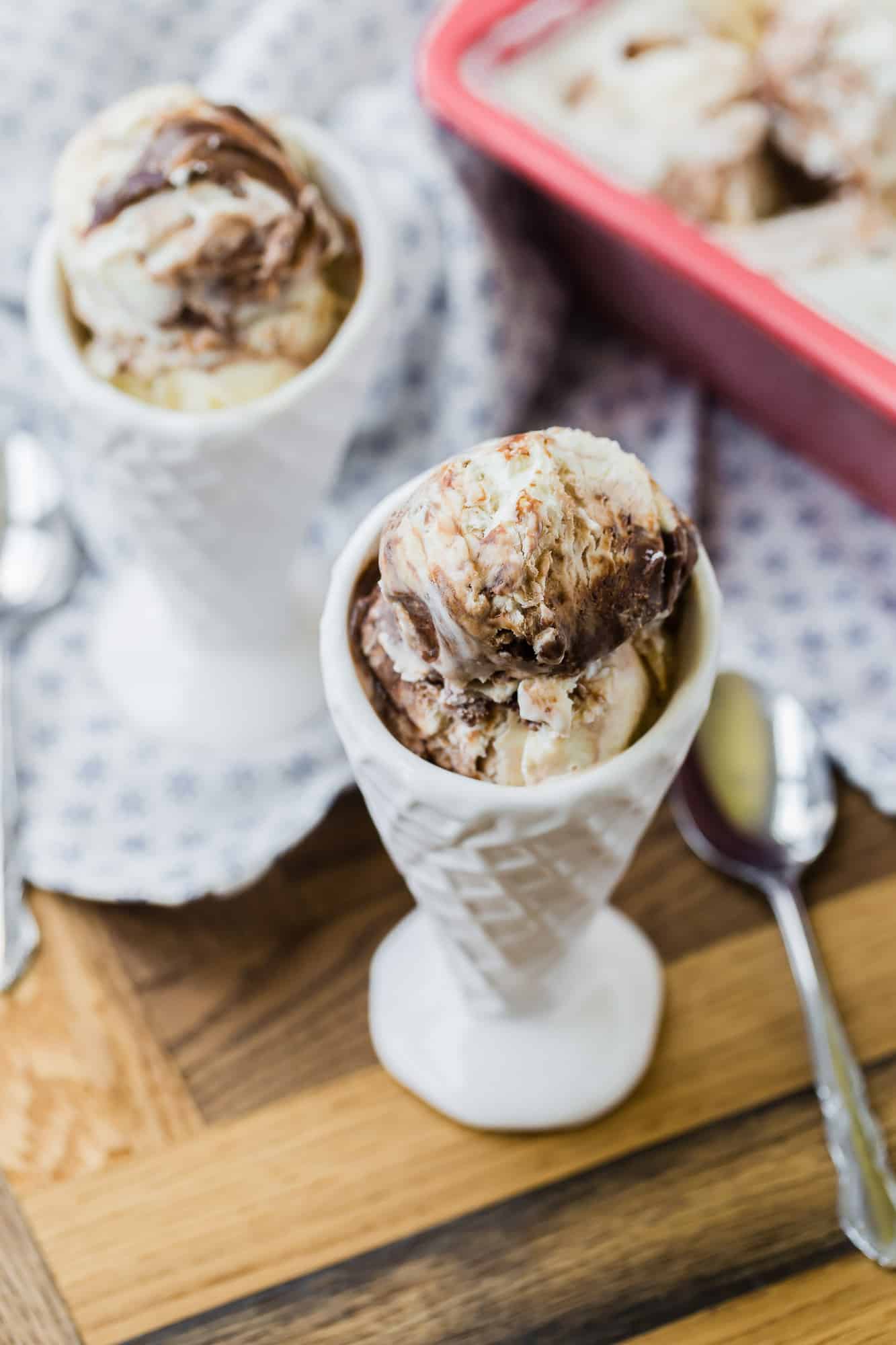 FAQs
Can you make ice cream with half-and-half instead of heavy cream?
The answer is yes, with an asterisk. You can use half-and-half but quite honestly, it won't be as good or as creamy. Because there's more water in half-and-half, the ice "cream" will form ice crystals, making it grainier in texture.
Why is my no churn ice cream icy?
Perhaps you used a lower fat cream which would cause the formation of larger ice crystals. Improper freezing can also cause iciness. Make sure you cover the pan tightly or use an airtight freezer container. Don't let the ice cream spend too much time in the freezer. After awhile, ice crystals naturally form on top.
Is sweetened condensed milk healthy?
If you take away all the sugar that's added, sweetened condensed milk is just like evaporated milk. It's shelf stable milk that's made by removing half the water from ordinary milk. It has vitamins and minerals, along with protein and calcium. However, sweetened condensed milk also has 5 times the amount of sugar as evaporated milk (Healthline).
Make It Your Own
Fudge swirl ice cream begins with plain vanilla ice cream. You can add whatever embellishments you like! The "swirls" can be your choice.
Like cookies and cream ice cream? Crush a handful of Oreo cookies and swirl them into the partially frozen ice cream.
Swirl in caramel topping and maybe even a handful of peanuts.
Try strawberry, blueberry, or cherry jam swirls.
Really, the choices are limited only to your imagination. Create your own signature ice cream!
Storage Tips
Fudge swirl ice cream should be stored in the freezer (right, Captain Obvious!), covered well to prevent freezer burn. It will keep for a couple of weeks, if it lasts that long. Mine never does.
More Soda Fountain Treats
Enjoy more frozen concoctions! Here's some ideas to get you started:
Did you make this? Be sure to leave a review below and tag me @rachelcooksblog on Facebook, Instagram, or Pinterest!
No need for special equipment, you can easily whip up your own creamery delight: homemade fudge swirl ice cream, with only four ingredients!
Ingredients
2

cups

heavy cream, chilled

(at least 36% milk fat)

1

tablespoon

pure vanilla extract

1

can

(14 ounces) sweetened condensed milk

1

cup

hot fudge sauce

(at room temperature — see note)
Instructions
Pour the heavy cream and vanilla extract into a large mixing bowl or the bowl of a stand mixer. On medium-high speed, whip the cream until it holds stiff peaks, about 3 minutes (less if you're using a stand mixer).

Add sweetened condensed milk to whipped cream. Fold together until just combined and silky and smooth. A few small lumps may remain, it's important not to over mix as that will deflate the mixture.

Spread into a 8 or 9-inch loaf pan. Cover with foil and freeze for one hour.

Take pan out of the freezer and stir to mix in frozen portions. Put spoonfuls of room temperature hot fudge on top, and then gently swirl in hot fudge, using a table knife.. Don't over mix, you want to see swirls of hot fudge.

Cover pan tightly with foil. Freeze for at least 6 hours or until firm.
Notes
The hot fudge sauce should be at room temperature. Make homemade hot fudge or use store bought hot fudge topping.
Create your own signature ice cream. Here's some ideas: Crush a handful of Oreo cookies and swirl them into the partially frozen ice cream. Swirl in caramel topping and a handful of peanuts. Try strawberry, blueberry, or cherry jam swirls.
For longer storage: Line the loaf pan with parchment paper before freezing the ice cream. When it's frozen, lift the ice cream out of the pan with the parchment paper and transfer it to a resealable container. Put a layer of plastic wrap or parchment directly on top of the ice cream to prevent ice crystals.
Nutrition Information
Calories:
401
kcal
,
Carbohydrates:
42
g
,
Protein:
6
g
,
Fat:
24
g
,
Saturated Fat:
14
g
,
Polyunsaturated Fat:
1
g
,
Monounsaturated Fat:
7
g
,
Cholesterol:
79
mg
,
Sodium:
174
mg
,
Potassium:
271
mg
,
Fiber:
1
g
,
Sugar:
32
g
,
Vitamin A:
806
IU
,
Vitamin C:
1
mg
,
Calcium:
158
mg
,
Iron:
1
mg
This website provides approximate nutrition information for convenience and as a courtesy only. Nutrition data is gathered primarily from the USDA Food Composition Database, whenever available, or otherwise other online calculators.