Pesto and Cheese Stuffed Zucchini
Easy to make and full of great flavor, these pesto and cheese stuffed zucchini are a great side dish or even a vegetarian meal!
It is finally, finally, finally starting to look and feel like spring around here in Michigan and I could not possibly be happier about it.
We even went to the zoo last Monday! It was still a little chilly (high 40's/low 50's) but gorgeous and warm in the sun and the animals were out and active which is always a good part about the slightly cooler days. When it's in the 80's, they're all lying around sleeping. Can't say I blame them!
With the warmer weather comes spring fruits and vegetables. Hallelujah and good riddance to oranges and clementines (no offense, I love you guys, but it's time for a change). We've already been eating a ton of asparagus, zucchini, strawberries, and blueberries. All totally premature of course, but it's just so great to have a little variety back in life!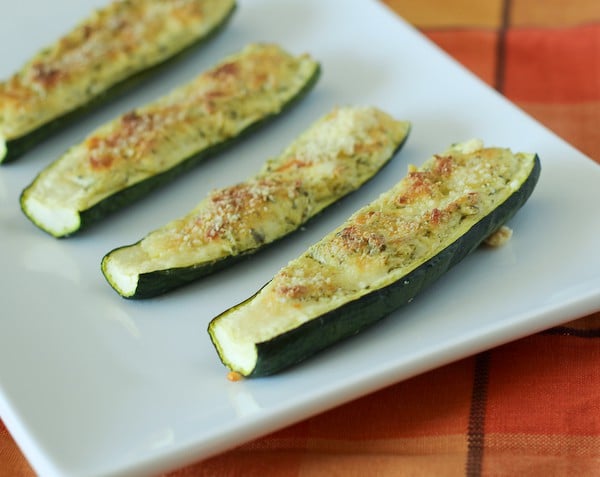 I love these pesto and cheese stuffed zucchini for a vegetarian meal (pair with a hearty salad) or as a side to accompany a great grilled pork chop or chicken breast. They are creamy and slightly decadent without being overly rich. Cut into thirds, they make a good appetizer, too. I like them for brunch or breakfast, too.
The zucchini adds a nice crispness and freshness to balance out the cream cheese. And of course, pesto brings great flavor to the party. I sprinkle Parmesan cheese on the top to add even more crunch. As a bonus, the Parmessan gets nice and golden brown to make these stuffed zucchini an attractive addition to any plate.
Have an abundance of zucchini?

Try one (or all!) of these great zucchini recipes:
Pesto and Cheese Stuffed Zucchini
Yield: 4 side servings
Prep Time: 10 minutes
Cook Time: 35 minutes
Total Time: 45 minutes
Easy to make and full of great flavor, these pesto and cheese stuffed zucchini are a great side dish or even a vegetarian meal!
Ingredients
2 zucchini
4 ounces reduced fat cream cheese, softened
1/4 cup low moisture, part skim mozzarella
2 tablespoons prepared pesto
2 tablespoons grated Parmesan cheese
Instructions
Preheat oven to 350°F.
Cut off ends of zucchini and slice lengthwise so that you have four long halves. Using a spoon, hollow out the middle (take out the seeds) of each half, leaving a little bit on each end to prevent the filling from running out. Place zucchini in/on baking pan.
In a small bowl, mix together softened cream cheese, mozzarella and pesto until well combined.
Spread cheese mixture evenly into hollowed out zucchini.
Sprinkle with Parmesan cheese.
Bake for 30-40 minutes or until zucchini is cooked and cheese is golden brown.
Nutrition Information:
Yield: 4
Serving Size: 1 zucchini halve
Amount Per Serving:
Calories: 163
Total Fat: 13g
Saturated Fat: 6g
Trans Fat: 0g
Unsaturated Fat: 6g
Cholesterol: 30mg
Sodium: 240mg
Carbohydrates: 5g
Fiber: 1g
Sugar: 3g
Protein: 7g
RachelCooks.com sometimes provides nutritional information, but these figures should be considered estimates, as they are not calculated by a registered dietitian. Please consult a medical professional for any specific nutrition, diet, or allergy advice.
Verdict:
Love these! The creaminess of the cheese goes great with the crisp zucchini and the pesto adds great flavor.
Husband's take:
Too much cheese for him. He's not a huge cheese fan. Crazy horse.
Changes I would make:
None.
Difficulty:
Easy!