With fresh herbs, garlic, and thinly sliced sweet shallots, marinated mushrooms are perfect for antipasto, charcuterie, or snacks. Bet you can't eat just one!
Recipe Overview
Why you'll love it: You'll love this recipe for several reasons: it's easy to make, it's healthy, it's versatile, and it's delicious.
How long it takes: 20 minutes
Equipment you'll need: large pot, glass jar or covered container
Servings: 8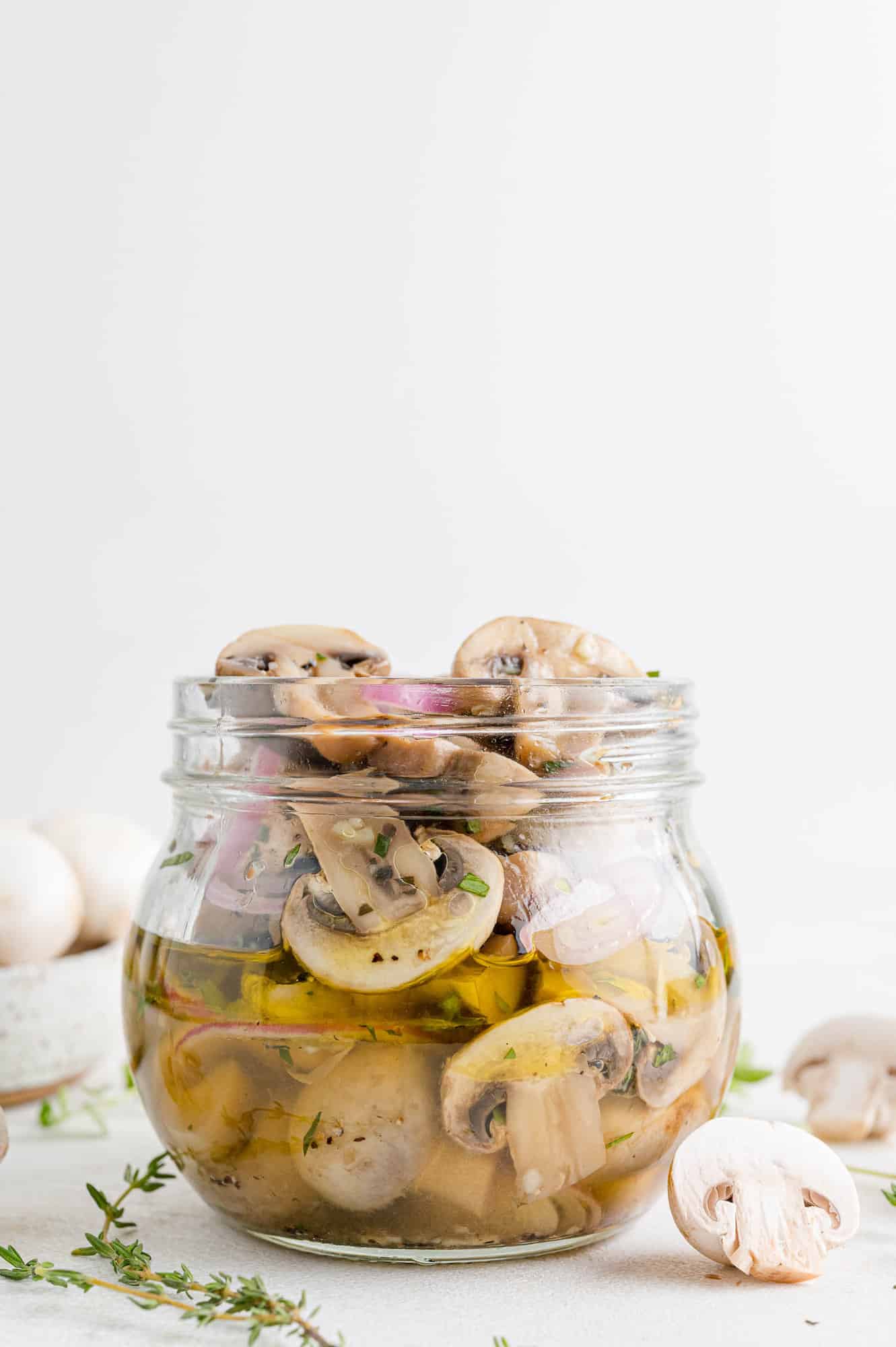 Mushrooms undergo a personality change when they are marinated. Or maybe they just get a personality. Plain raw white mushrooms are a little boring, aren't they? They're the bland elevator music, the droning lecture that puts you to sleep, the song that never seems to end.
Perhaps I'm overstating it. I just can't get too excited about raw mushrooms.
Roasted mushrooms or sautéed mushrooms are a different story. Because mushrooms are a blank slate, they take on exciting characteristics when you mess around with them a little bit.
And that's why marinating mushrooms is such a great idea. Giving the mushrooms something to adorn themselves with, something to enhance their lovely earthy characteristics, to give them a boost of flavor is all it takes to make them the life of the party.
Speaking of parties, marinated mushrooms are a perfect appetizer idea. They go great on an antipasto platter or charcuterie board, perfectly complementing the rich meats and cheeses. A jar of marinated mushrooms is great when you're asked to bring an appetizer to a party because they're portable and popular (try pickled cauliflower and marinated tomatoes, too!).
You'll find yourself just snacking on them right out of the fridge. And why not? They are nutritious and low calorie, a guilt-free snack that satisfies.
About This Recipe
You'll notice from the photos that the mushrooms have a partner squeezed in the jar with them. Thinly sliced shallots balance things out. They have a mild sweet onion flavor and provide a nice visual and textural contrast to the mushrooms.
Fresh garlic, and lots of fresh herbs, oregano, thyme, and parsley, make the marinade more exciting, too. The marinade is simple: olive oil, white wine vinegar, a hint of maple syrup, salt and pepper. You could actually use the marinade as a great vinaigrette.
In order to tenderize the raw mushrooms and make them a little more receptive to the marinade, they are boiled briefly in salted water.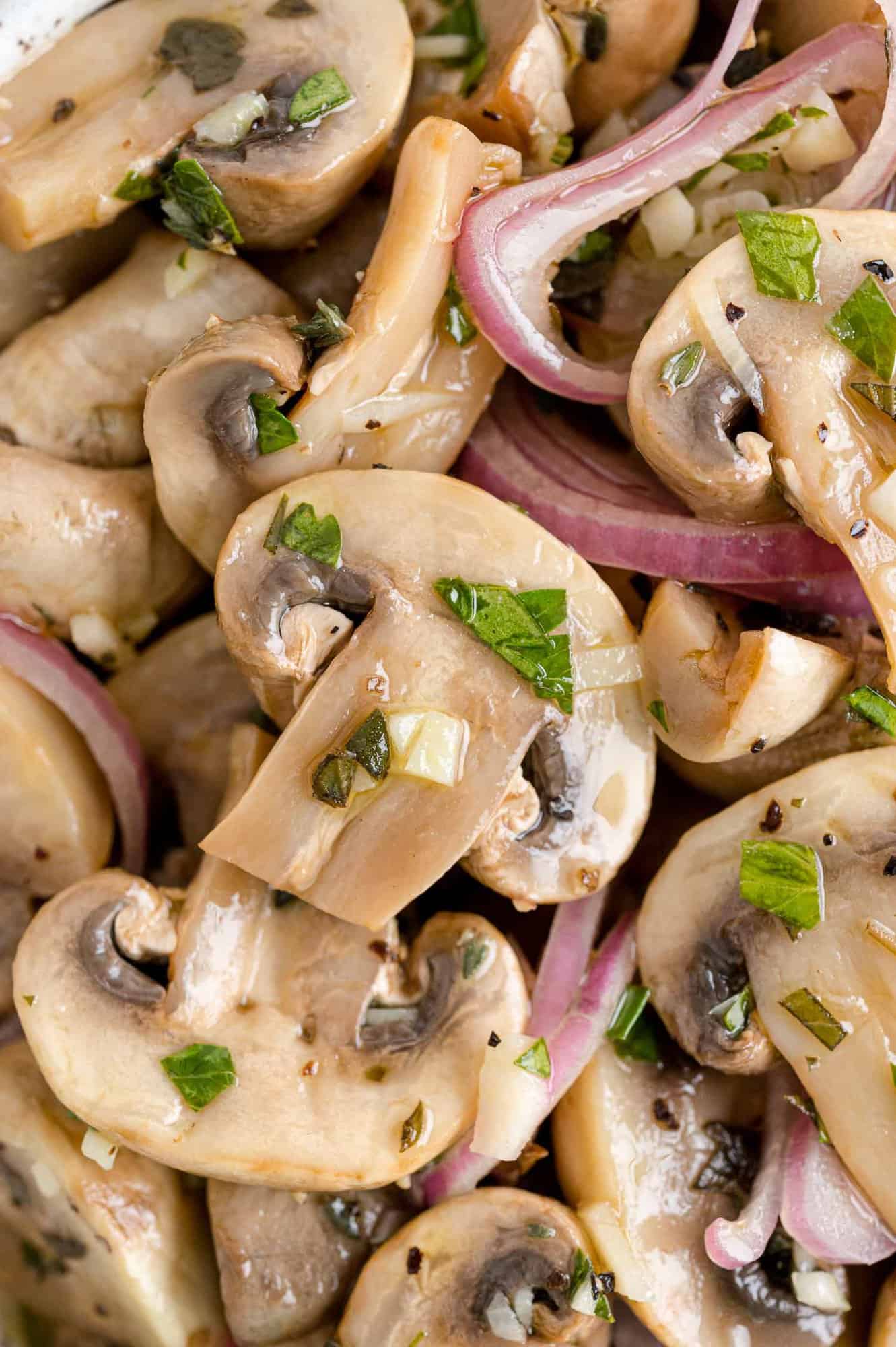 I'll get you started on the recipe here. Look for the recipe card below with specific measurements, instructions, and nutrition information.
What You'll Need
Mushrooms: You can use white, button, cremini, or baby bella mushrooms, or a mixture. Look for mushrooms that are somewhat evenly sized and not too gigantic, but don't worry if that's all you can find. They can be halved or quartered, if necessary. You'll need 16 ounces.
Shallot: A member of the onion family, a shallot is smaller in size and somewhat milder in flavor and a bit sweeter. The texture is more delicate, as well.
Garlic: Fresh garlic is best. I use one clove but if you really love garlic, go ahead and use more! It can be omitted, too, if you don't care for it.
Olive Oil: Use a good quality extra virgin olive oil. It should be green in color, with a sharp flavor, almost fruity or grassy. Olive oil contains lots of antioxidants and has many health benefits.
White Wine Vinegar: This flavorful vinegar is slightly sweet. It does have a trace amount of residual alcohol so if that's a concern, white balsamic vinegar is a good substitute.
Maple Syrup: A hint of sweetness helps balance the acidity of the vinegar and the sharp flavor of the shallot and garlic. If you prefer, it can be left out.
Salt and Pepper: The mushrooms are seasoned with kosher salt and coarsely ground black pepper (freshly ground is best).
Fresh Thyme, Oregano, and Parsley: This herbal trio really make the mushrooms special. If fresh herbs are nowhere to be found, substitute dried herbs. Remember that dried herbs are more potent so you won't need as much (usually the recommended ratio is 1:3, dried to fresh).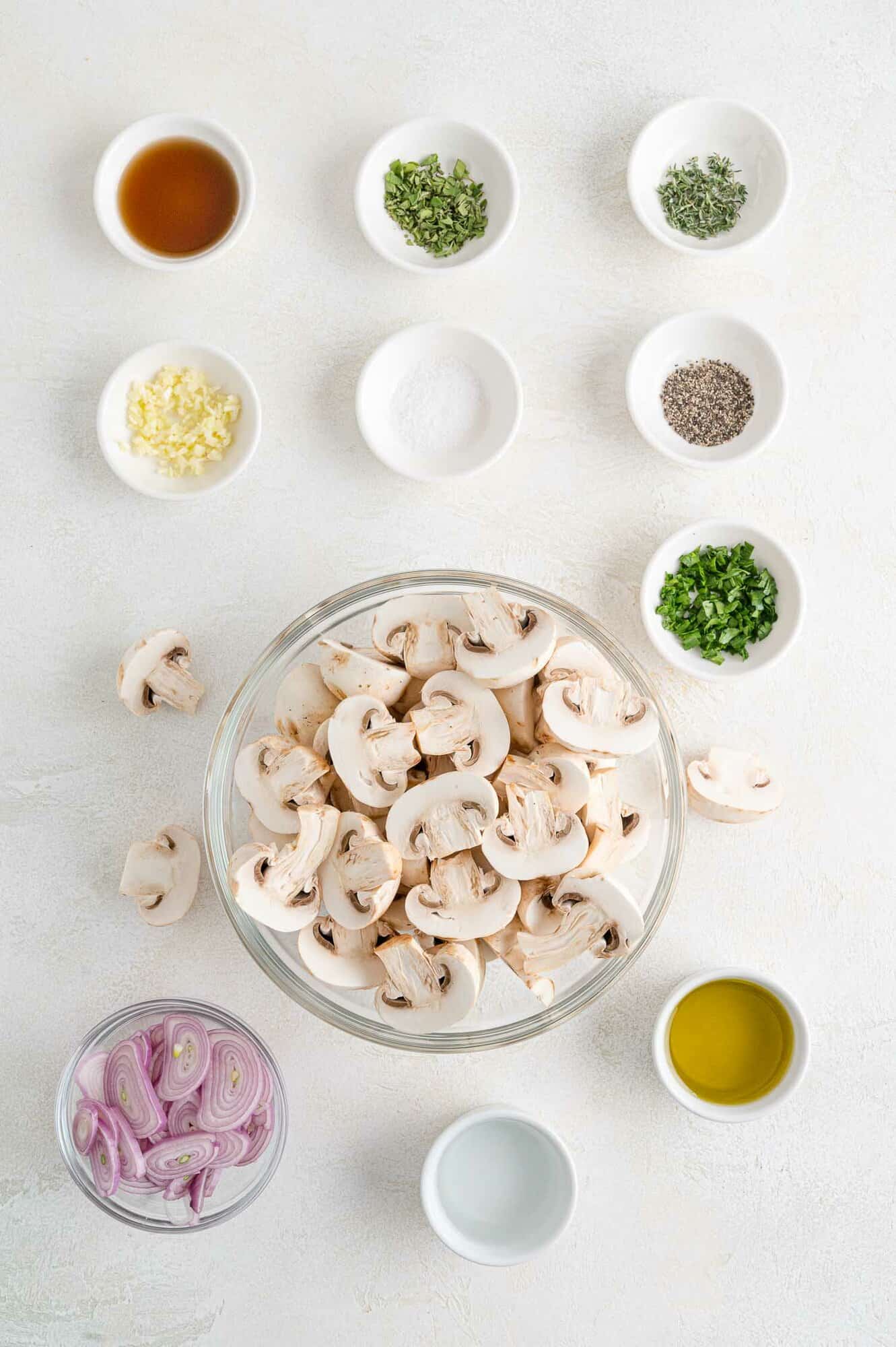 How To Make It
Put a large pot of water on the stove over high heat. Add a couple teaspoons of salt and bring it to a boil.
While the water's heating up, clean the mushrooms thoroughly. Usually I recommend brushing the dirt off with a brush or damp paper towel since mushrooms are porous and tend to absorb water.
In this case, however, the mushrooms are going to be boiled in water anyways. Give them a quick bath in water for a few minutes to clean them, swishing them around to loosen the dirt. Drain and rinse one more time to remove any dirt that's still clinging.
Trim the mushrooms. If they are very large, cut them in half or even quarters. It looks best if they are around the same size. Bite-size is best. It's a little tricky to eat a gigantic marinated mushroom.
Put the mushrooms into the boiling water, bring back to a boil, and boil them for five minutes. Cooking the raw mushrooms tenderizes them and gets them ready for the marinade.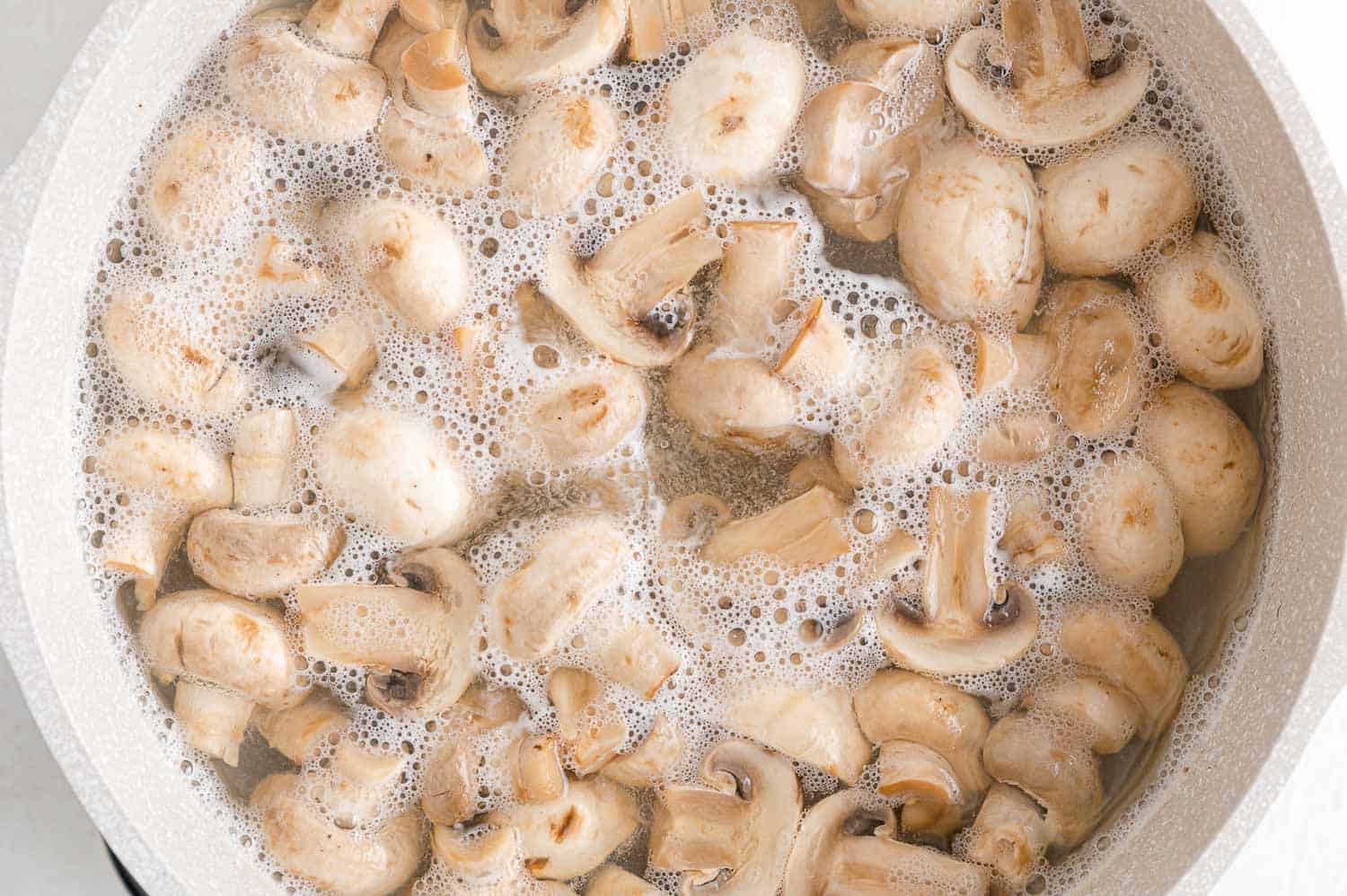 While the mushrooms are cooking, slice the shallot and garlic and whisk together the marinade ingredients in a small bowl.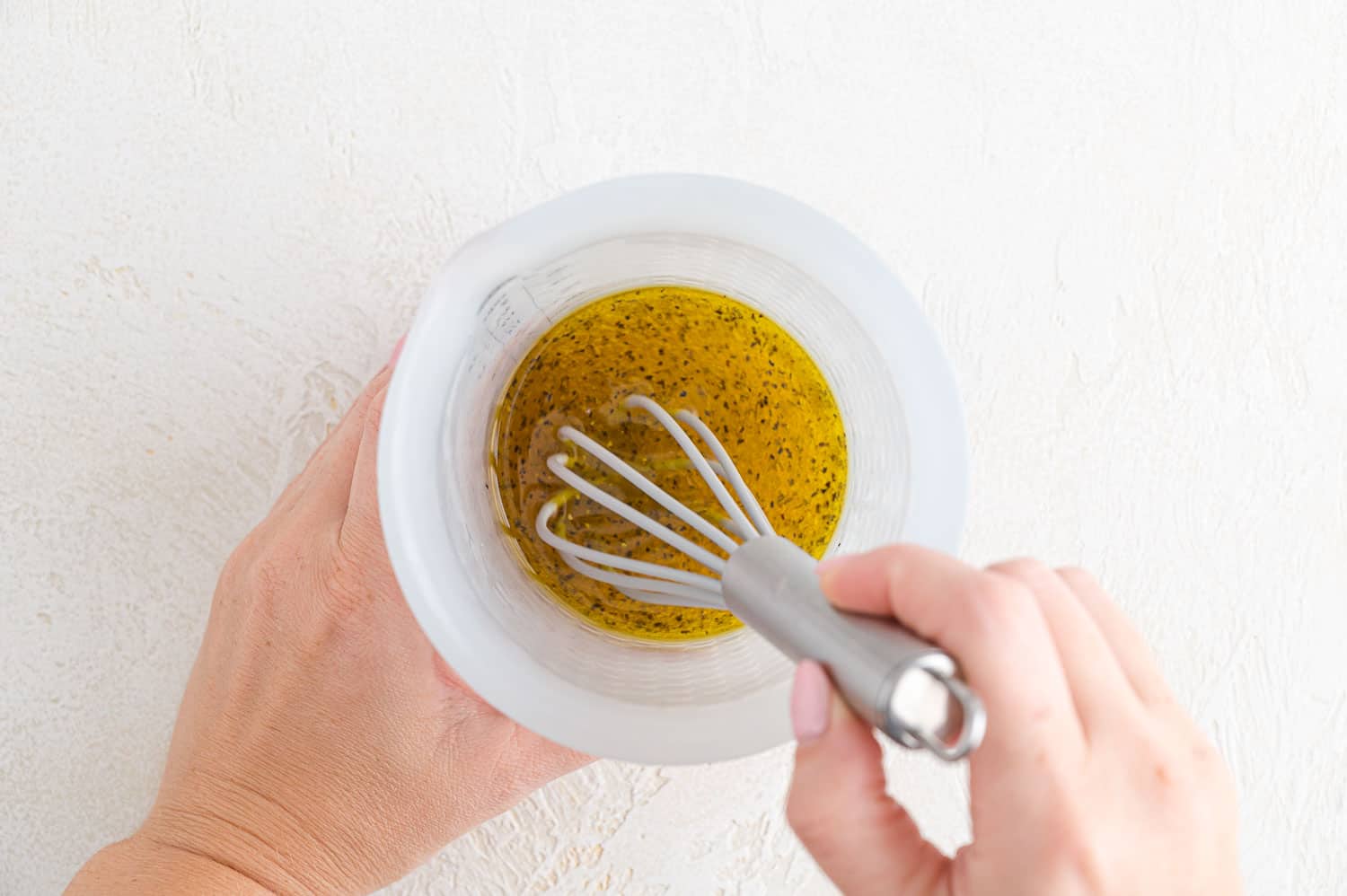 Drain the mushrooms well and put them into a fairly large bowl. Add the sliced shallots and garlic, the herbs, and the marinade.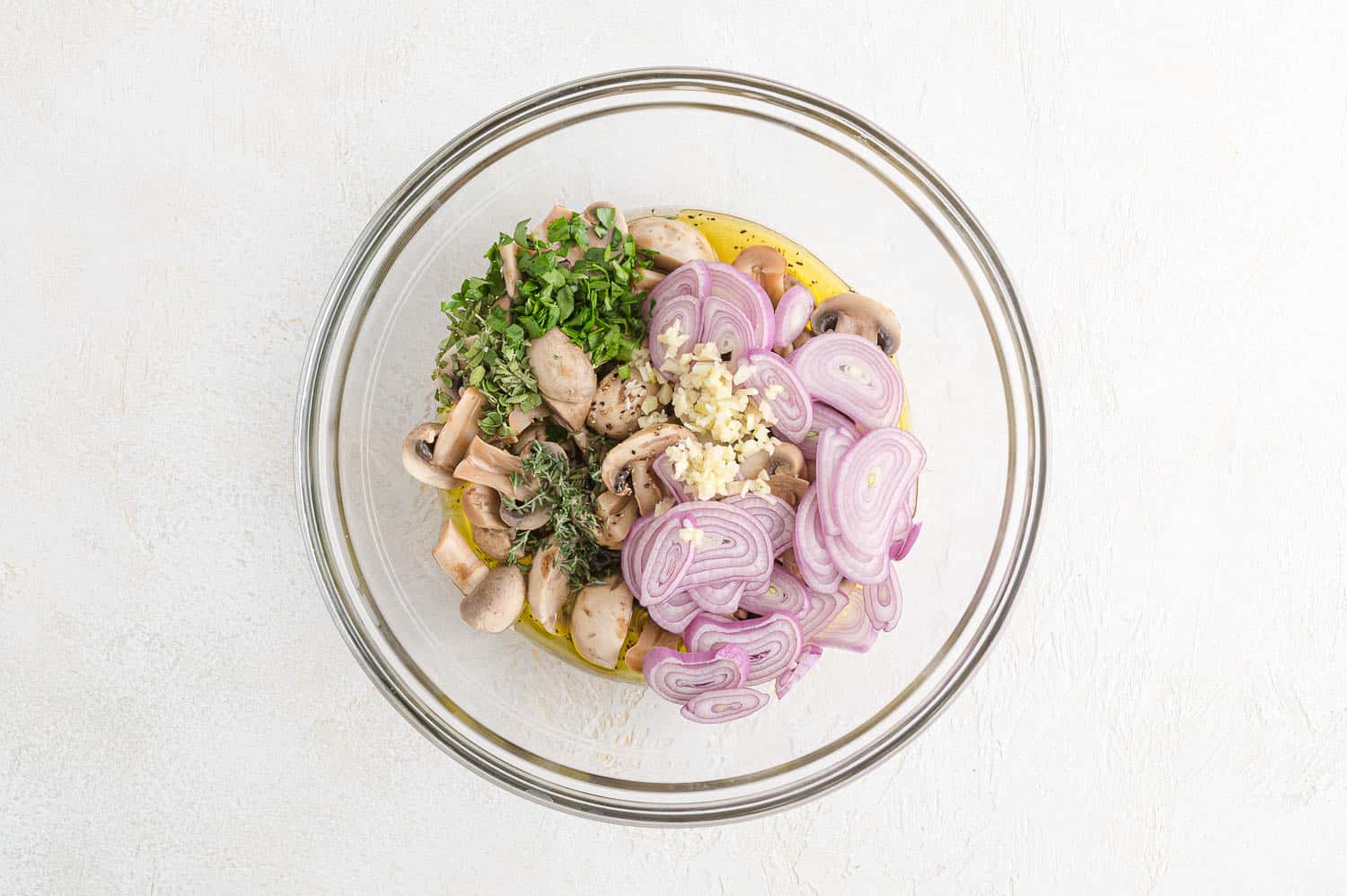 Toss it all together until everything is coated with the marinade.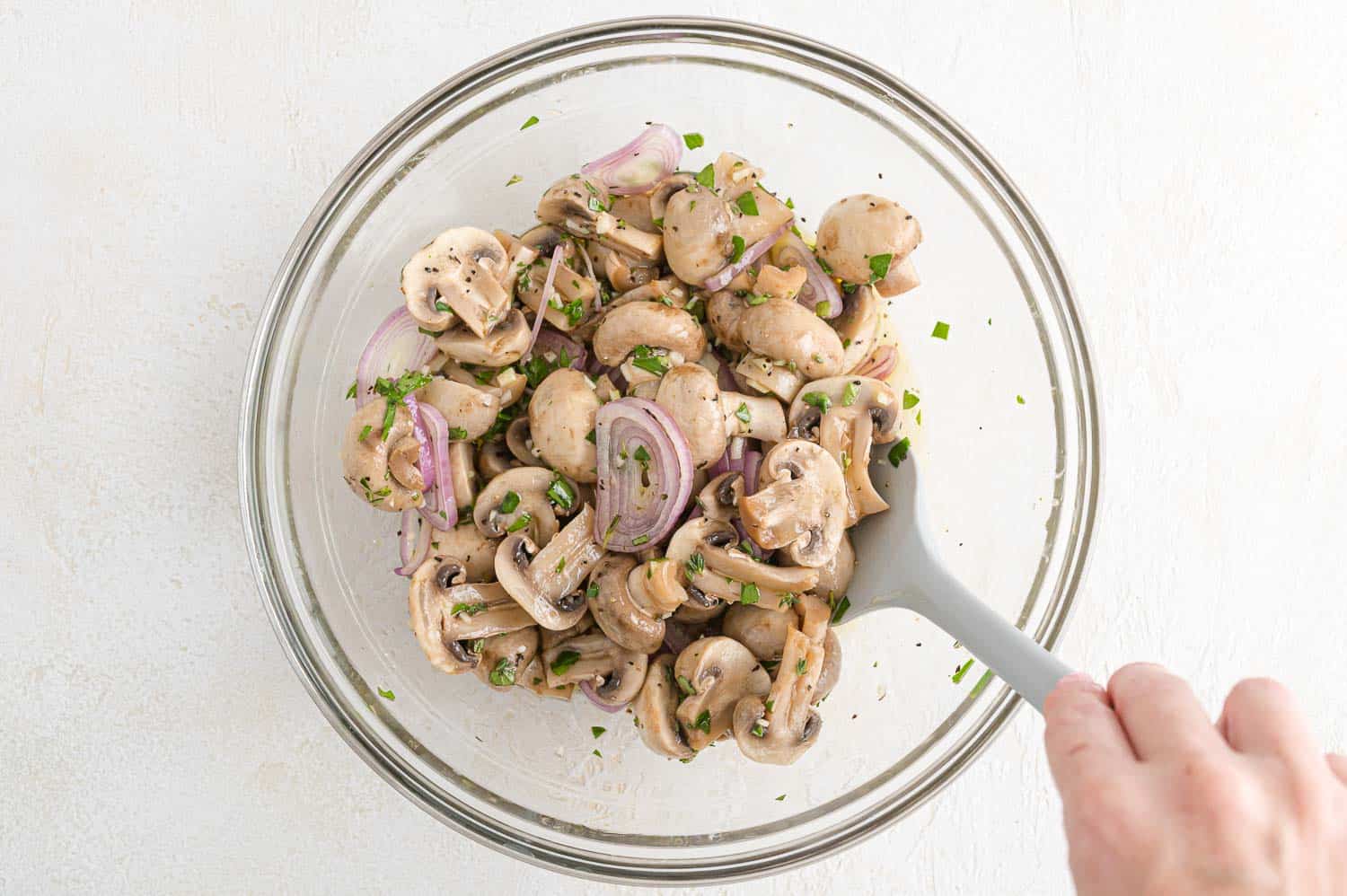 Transfer the mushrooms to a covered bowl or large jar with a lid. Refrigerate at least overnight. It's hard to wait that long but the mushrooms need a little time to absorb the marinade. You'll be glad you waited.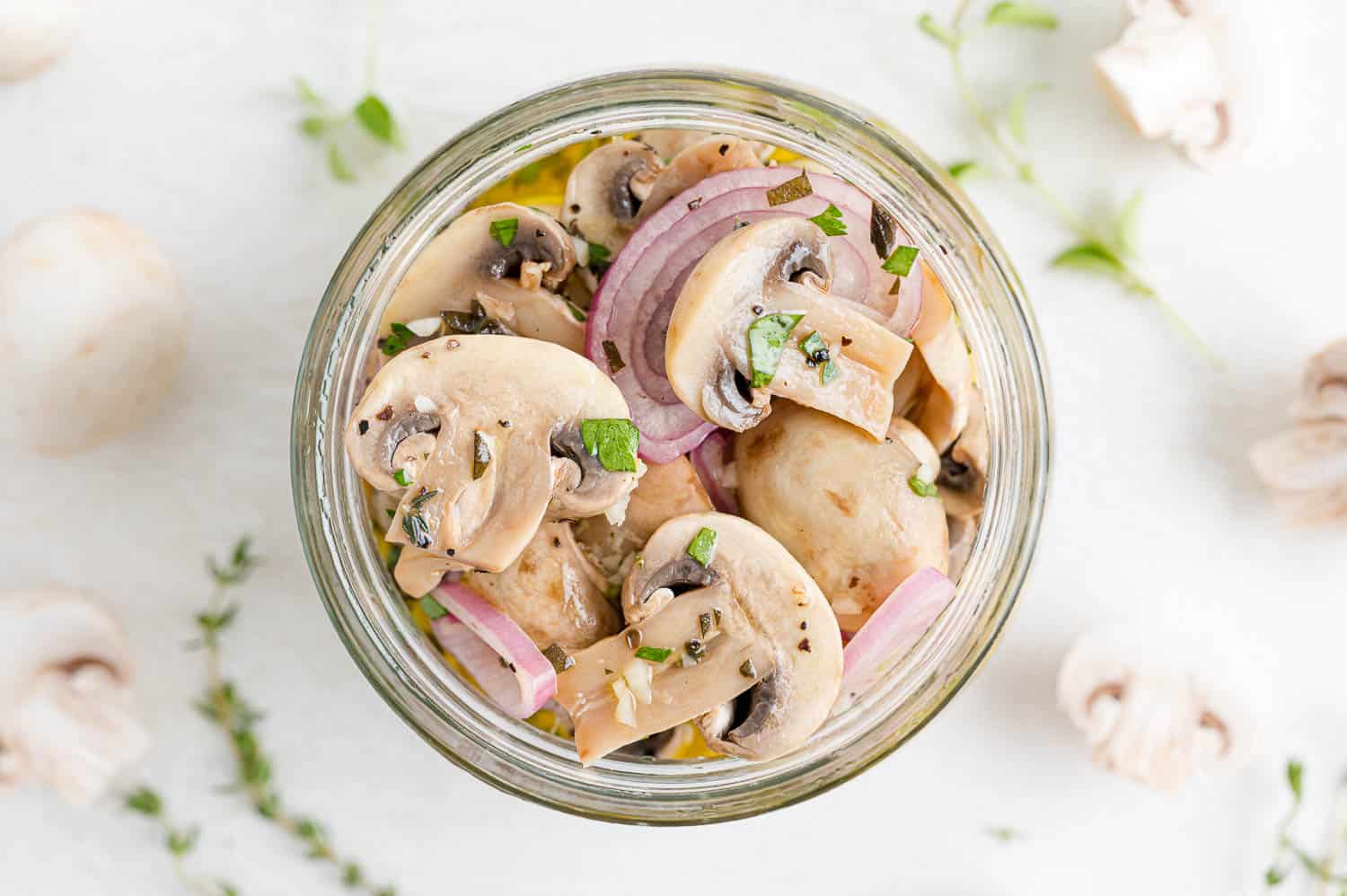 FAQs
Are marinated mushrooms good for you?
Mushrooms are a healthy choice, with antioxidants, selenium, B vitamins, and minerals. They are low calorie and add fiber to your diet (Healthline).
Marinated mushrooms are made with heart healthy olive oil, fresh herbs, garlic and shallot, all of which have health benefits. A half cup serving of marinated mushrooms is only 85 calories.
Should mushrooms be marinated before grilling?
Grilling tends to dry mushrooms out. Brush them with olive oil or marinate them before grilling. Choose a marinade with oil, such as this Italian marinade. Use a grill pan or skewers to grill mushrooms.
How can you tell if mushrooms are spoiled?
If the mushrooms are discolored, slimy, moldy or have soft brown spots, they should be discarded. Fresh mushrooms are dry, firm, and smell earthy.
Make It Your Own
Make this recipe keto by omitting the maple syrup.
Like zesty marinades? Add a pinch of red pepper flakes to the marinade.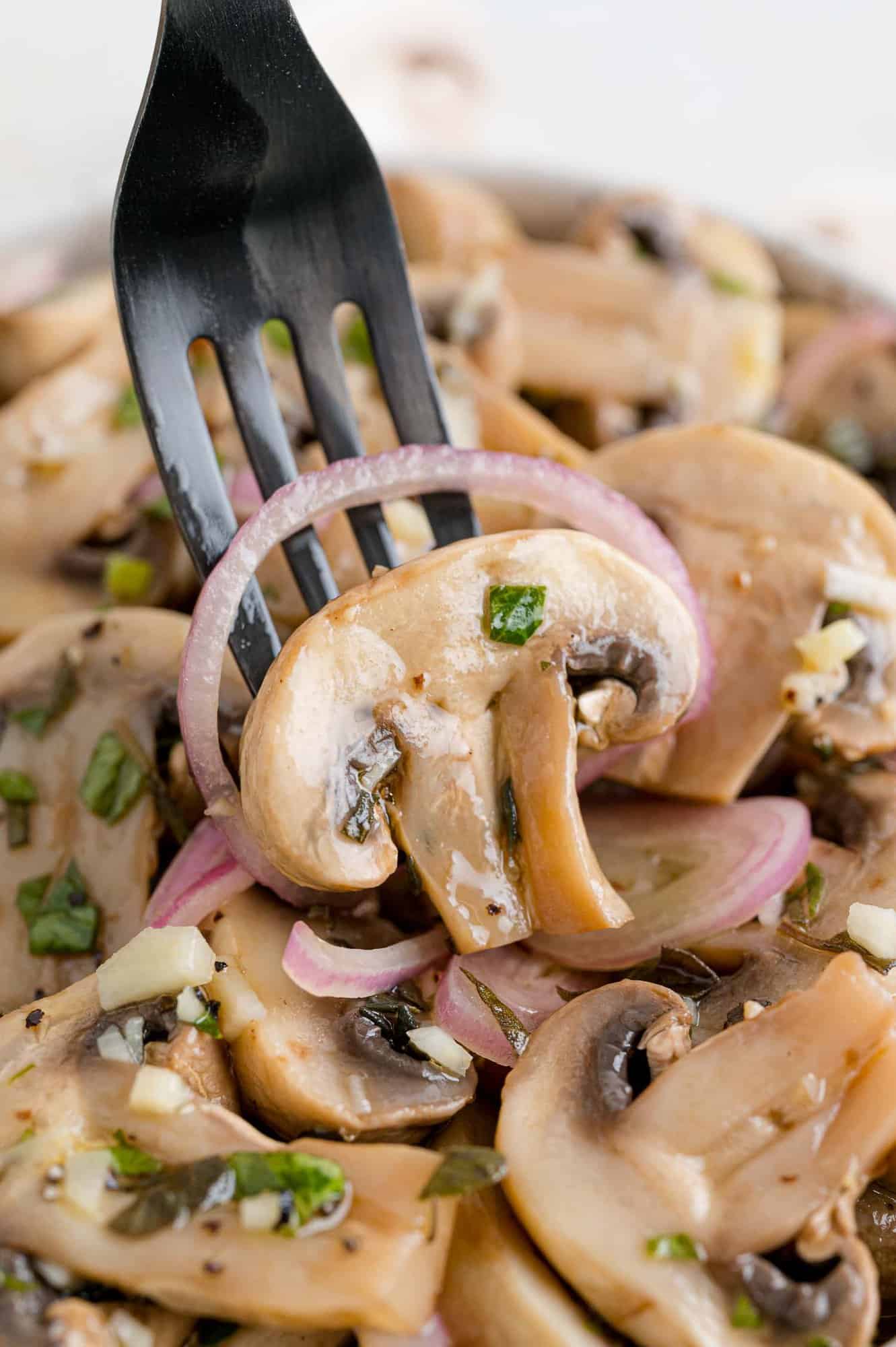 Make-Ahead Ideas
If you're planning a get-together, marinated mushrooms are a good make-ahead appetizer idea. Prep them a day or two ahead and store them in the refrigerator.
Looking for a few more make-ahead appetizer ideas? Try pickled asparagus spears or olive oil roasted almonds. Vegetable cream cheese roll-ups are attractive and always popular, too.
Marinated mushrooms are great for snacking or jazzing up a salad, bowl or sandwich. They add loads of flavor to a veggie wrap or quinoa bowl.
Storage Tips
Marinated mushrooms should be refrigerated in an airtight container. They will keep for up to five days.
Did you make this? Be sure to leave a review below and tag me @rachelcooksblog on Facebook, Instagram, or Pinterest!
With fresh herbs, garlic, and thinly sliced sweet shallots, marinated mushrooms are perfect for antipasto, charcuterie, or snacks.
Ingredients
1

pound

white, cremini, or baby bella mushrooms, cleaned and cut in half

(quartered if very large)

2½

teaspoons

kosher salt, divided

¼

cup

olive oil

¼

cup

white wine vinegar

1

tablespoon

maple syrup

½

teaspoon

coarse ground black pepper

1

shallot, thinly sliced

1

clove

garlic, minced

1

teaspoon

fresh thyme leaves

1

teaspoon

fresh oregano leaves, minced

1

tablespoon

finely chopped fresh parsley
Instructions
Bring a large pot of water with

2 teaspoons

kosher salt added, to a boil over high heat. Add mushrooms, bring back to a boil, and boil for 5 minutes. Drain well.

Meanwhile, prepare marinade. In small bowl or measuring cup, whisk together olive oil, white wine vinegar, maple syrup,

½ teaspoon

salt and pepper.

In a larger bowl, combine mushrooms, shallot, garlic, thyme, oregano, and parsley. Add marinade and stir to combine.

Transfer to jar or covered container and refrigerate overnight before serving. Mushrooms can be refrigerated for up to 5 days.

Serve at room temperature.
Notes
Makes about 4 cups, or 8 half cup servings.
Spicy marinated mushrooms: Add ¼ – ½ teaspoon of crushed red pepper flakes to marinade.
To make this recipe keto compliant, omit maple syrup.
Nutrition Information
Serving:
0.5
cup
,
Calories:
85
kcal
,
Carbohydrates:
5
g
,
Protein:
2
g
,
Fat:
7
g
,
Saturated Fat:
1
g
,
Polyunsaturated Fat:
1
g
,
Monounsaturated Fat:
5
g
,
Sodium:
150
mg
,
Potassium:
210
mg
,
Fiber:
1
g
,
Sugar:
3
g
,
Vitamin A:
59
IU
,
Vitamin C:
3
mg
,
Calcium:
13
mg
,
Iron:
1
mg
This website provides approximate nutrition information for convenience and as a courtesy only. Nutrition data is gathered primarily from the USDA Food Composition Database, whenever available, or otherwise other online calculators.