Marinated tomatoes need to be in everyone's kitchen at all times. Simply bursting with flavor, these tomatoes take everything to the top.
Recipe Overview
Why you'll love it: This recipe is a kitchen essential!
How long it takes: 15 minutes to make, a few hours to marinate
Equipment you'll need: sharp knife, bowl
Servings: 8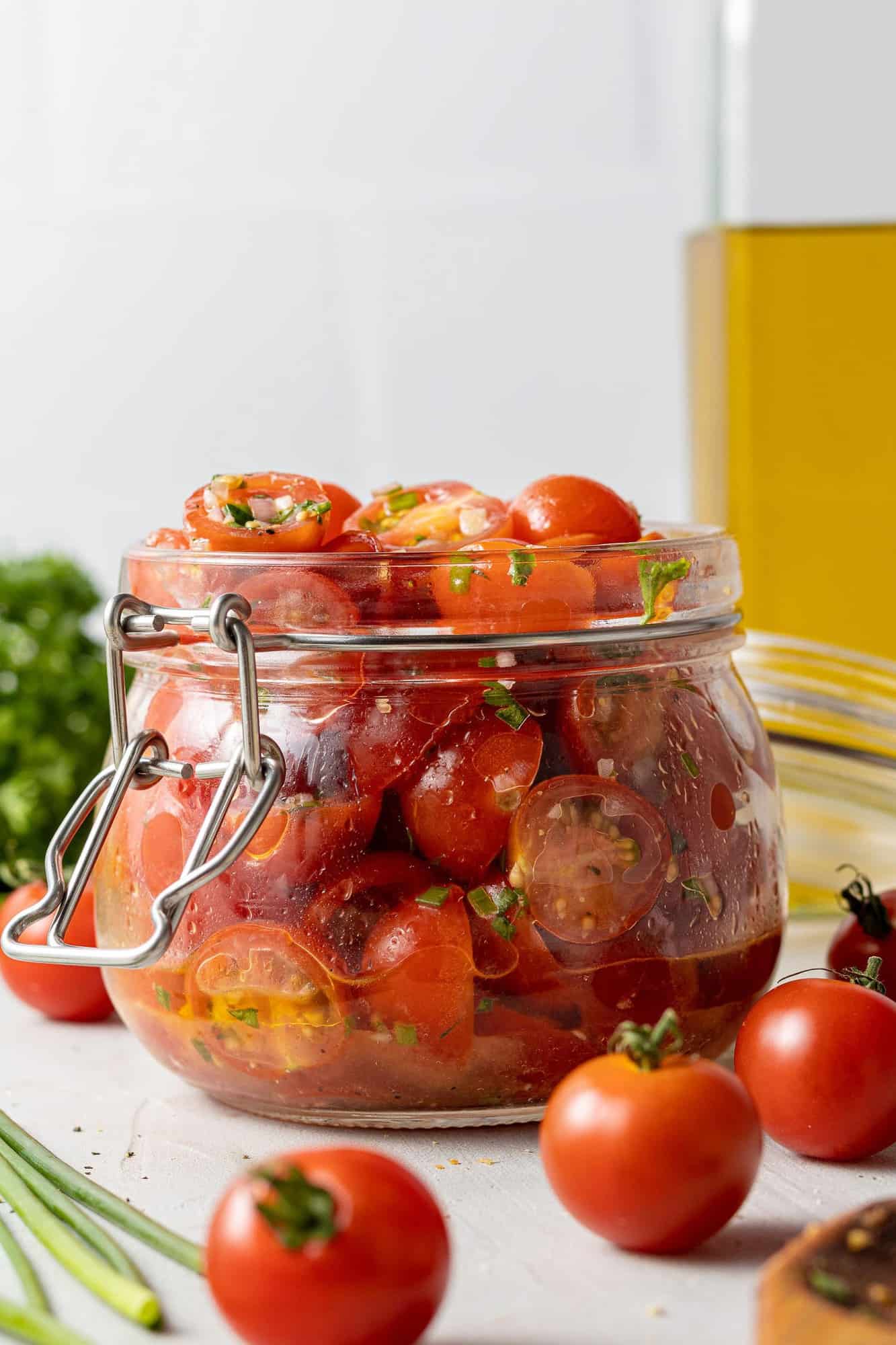 Marinated tomatoes are what you've been dreaming of. Or maybe just food bloggers dream about stuff like that.
While a plain tomato is good for sandwiches, salad, or for pizza, it's not super exciting. Tomatoes add juiciness, or a bit of tang and acid maybe, but when you think about it, they don't have a ton of flavor unless you happen to have a super good tomato.
Enter marinated tomatoes. A tangy vinaigrette with garlic, herbs, and shallot bathes the tomatoes, soaking into and permeating every cell, turning the tomatoes into flavor bombs.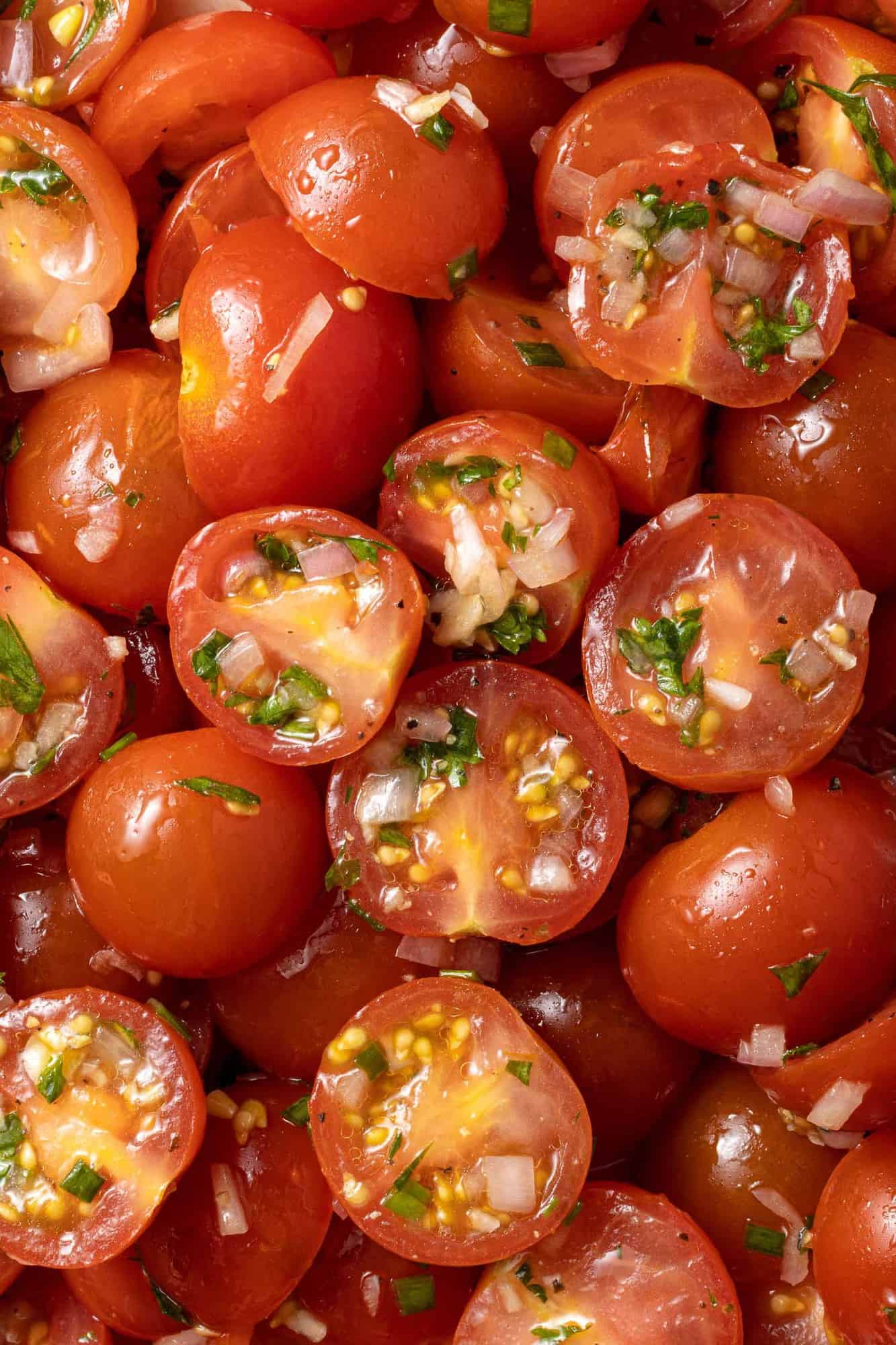 Recently one of my favorite local restaurants began serving this really fantastic flank steak salad, featuring harvest greens, mushrooms, red onions, parmesan cheese, balsamic vinaigrette … and marinated tomatoes. I can't get enough of this salad! It got me to thinking what else would benefit from the addition of these succulent tomatoes.
Ways To Enjoy Marinated Tomatoes
Looking for a quick appetizer? Marinated tomatoes! Serve them with toasted crostini or crackers. Add a creamy cheese spread, homemade hummus or edamame spread, if you like.
Heap them on avocado toast! Marinated chicken! Scrambled eggs! Fish tacos! Air fryer salmon! Air fryer pork chops! Eat them by the spoonful right out of the dish!
No excuses, people, you need to make these tomatoes! You'll thank me when you're piling them on a sandwich, or jazzing up your grilled pizza, or simply tossing a few fresh mozzarella balls with the tomatoes for a quick salad.
About these tomatoes
You won't have to turn on the stove or oven. This is a very easy no-cook recipe which makes it perfect for the hot summer months.
Enjoy the beautiful summer tomatoes. Vine-ripened tomatoes are abundant this time of year. And they are so more delicious than unripe tomatoes that are shipped from distant lands.
Make it ahead! This tomato salad is best if it's made ahead and it keeps for a week in the fridge. Make a batch and enjoy it with any meal that would benefit from a quick salad or relish.
I bet you can't wait to get started. I'll show you how with a few extra tips and ideas thrown in, too.
Look for the printable recipe card for instructions, measurements, and nutrition information.
What you'll need
Tomatoes: Almost any type of tomato can be marinated. If using grape or cherry tomatoes, halve them first so they can really soak up all the great flavors.
Shallots: Thinly sliced shallots add a more delicate flavor than onions but any type of onion can be used.
Garlic: One clove of garlic imparts plenty of garlicky goodness to these marinated tomatoes. Add more if you like or omit the garlic if you're not a fan.
Fresh Parsley and Chives: Parsley has a mild herbal flavor and chives add more intensity to the garlic/onion profile.
Vinaigrette/Marinade: This simple dressing is composed of extra virgin olive oil, white wine vinegar, and salt and pepper.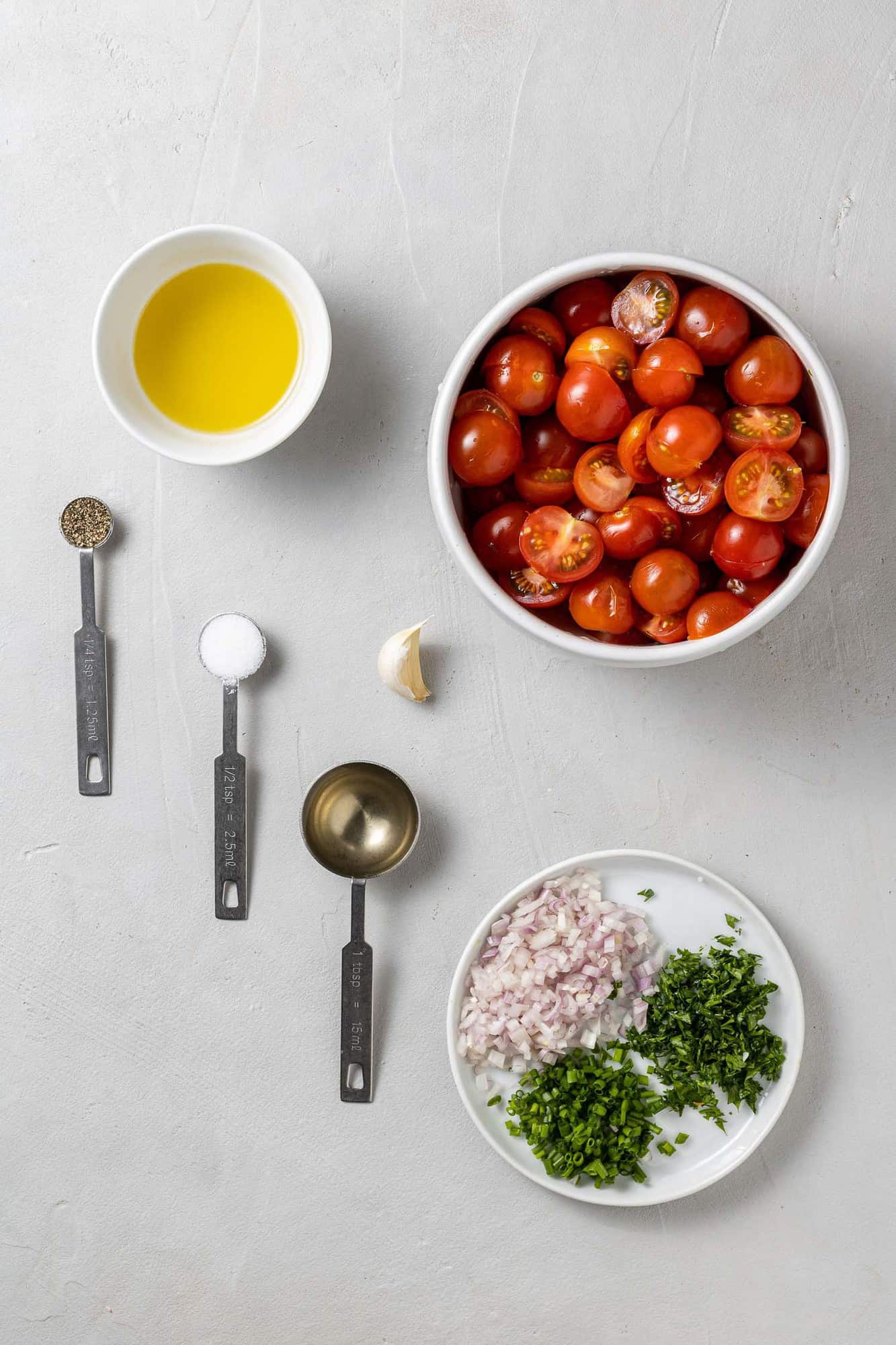 How to make marinated tomatoes
Begin by finely mincing shallot and garlic. You may want to grate or press the garlic if you don't like big pieces.
Next up, the chives and parsley. Maybe you can even raid your herb garden for these easy to grow herbs. Chop, chop, chop! You only need a tablespoon of each.
Mix up the vinaigrette, including the olive oil, vinegar, garlic, shallots, herbs, and season with salt and pepper.
Add the tomatoes to the vinaigrette and gently stir. If you're using larger sliced tomatoes, arrange the tomatoes in a shallow dish and pour the vinaigrette over the slices to preserve their shape.
Marinate. Let the tomatoes soak in all that lovely goodness for about three hours. They're okay sooner than that if you don't want to wait but really, the longer the better.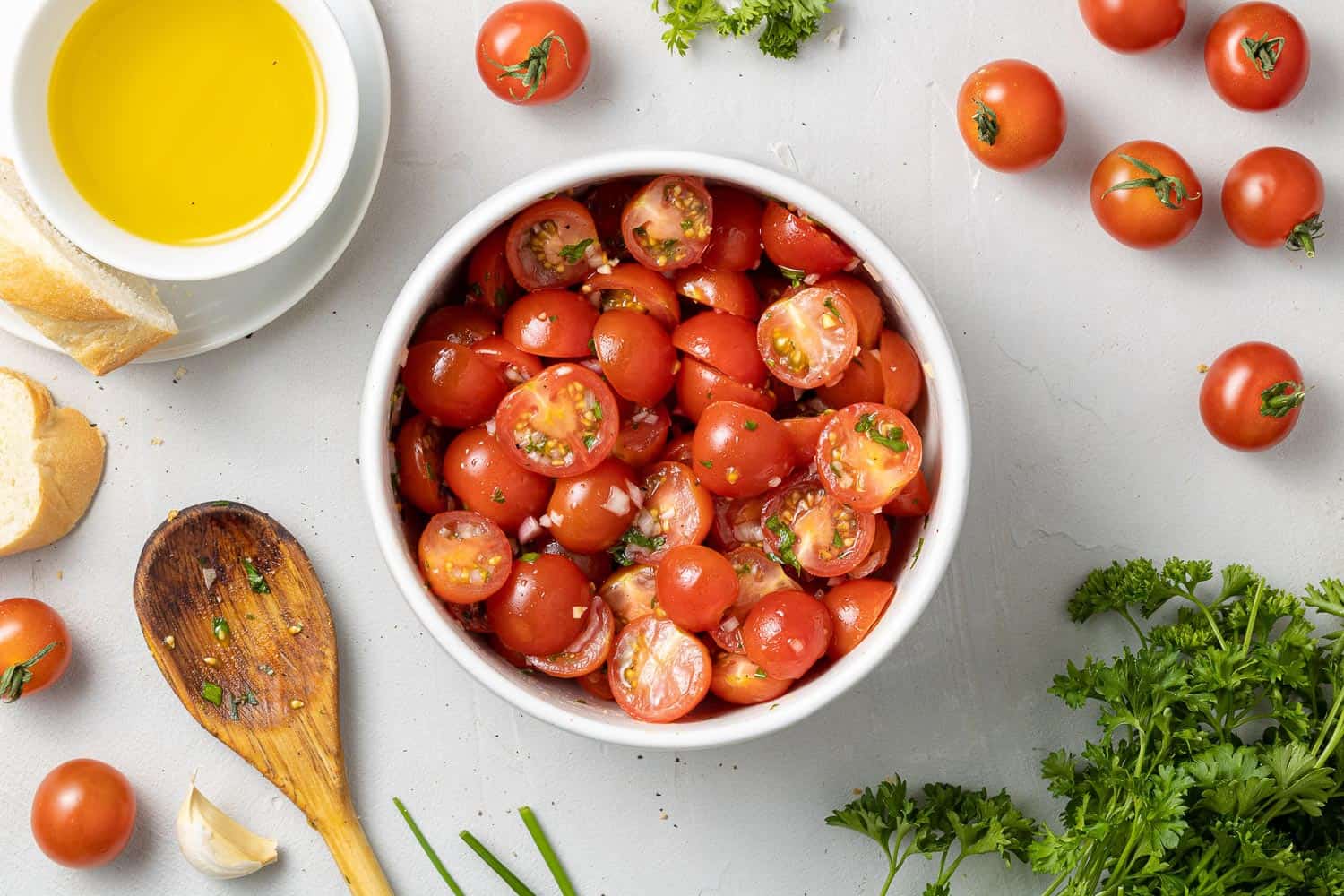 Serve as desired. Those three words say so much. You'll find that you desire marinated tomatoes quite a lot.
FAQs
Are tomatoes and olive oil good for you?
Tomatoes contain lots of antioxidants, in particular, lycopene, which is thought to be one of the most effective carotenoids. Combining tomatoes with olive oil actually increases your body's absorption of lycopene (WebMD).
What is the most flavorful tomato?
Tomato lovers pretty unanimously agree that heirloom tomatoes taste the best: sweet juicy perfection. Personally, I think any homegrown tomato is way more flavorful than grocery store tomatoes, which are engineered to withstand shipping and have a longer shelf life.
However, if heirloom or homegrown tomatoes aren't available, I like cherry tomatoes, grape tomatoes, or Campari tomatoes for these marinated tomatoes.
How long will tomatoes last in vinegar?
It depends on the type of preparation. Marinated tomatoes are made with less vinegar and will last in the fridge for a week, tightly covered. Pickled tomatoes are made with brine (like these quick pickled red onions) and will keep up to two months because the ratio of vinegar is higher. Try these pickled cherry tomatoes by Kitchn.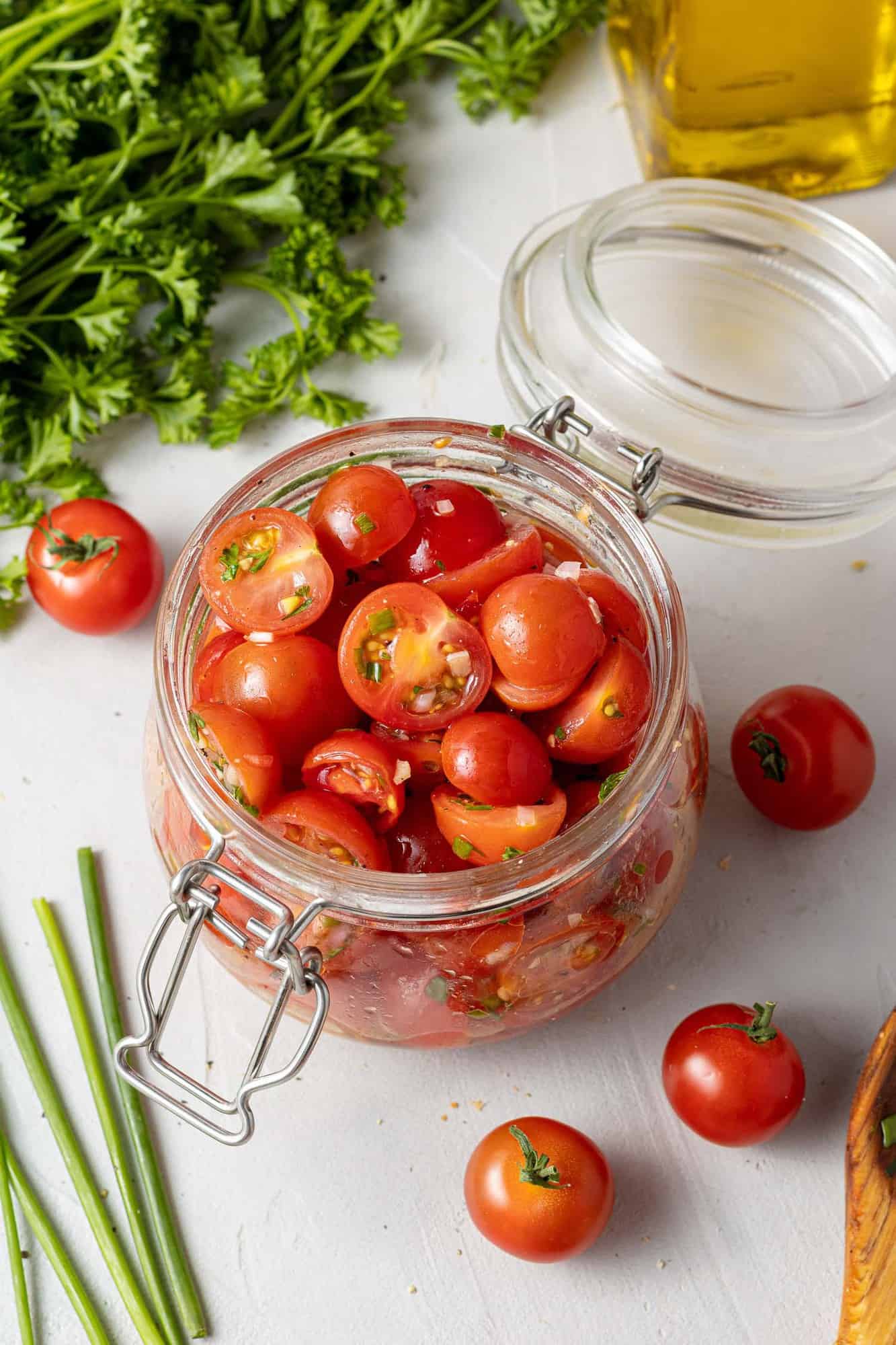 make It your own
Try different varieties of tomatoes. Larger tomatoes can be sliced or cut into wedges before bathing in the marinade. Peel them first if you like (although it's not necessary).
Cooking Tip
To easily peel tomatoes, make a shallow X on the bottoms, place in boiling water about 30 seconds or until skin begins to crack, and then place in ice water. The skins should come off very easily.
Substitute balsamic vinegar. If you enjoy rich dark balsamic vinegar, use it instead of white wine vinegar but remember that balsamic vinegar will deepen the color of the marinated tomatoes. White balsamic vinegar is a good choice, too.
Change up the herbs. Try fresh basil, thyme, oregano, sage, or lemon balm, just to name a few. Dried herbs are okay, too, but remember to use less (1 teaspoon dried = 1 tablespoon fresh).
Make-Ahead Ideas
Marinated tomatoes are best made ahead! They really benefit from marinating a few hours on the counter or overnight in the fridge. If the tomatoes are chilled, take them out an hour or so before serving. Sometimes the oil congeals a bit in the fridge and the tomatoes just taste better at room temperature.
Storage Suggestions
Marinated tomatoes should be tightly covered and will keep in the fridge for up to one week.
Leftover Love
There are so many ways to use marinated tomatoes that I'd hesitate to ever call them leftover. I'd love to hear your favorite ways to enjoy them. Try stirring them into cooked pasta and topping with grilled chicken for a quick dinner!
More tomato recipes
Maybe you have a surplus of garden tomatoes or maybe you just love tomatoes as much as we do! Here's a sampling of delicious ways to eat them:
Did you make this? Be sure to leave a review below and tag me @rachelcooksblog on Facebook, Instagram, or Pinterest!
Marinated tomatoes need to be in everyone's kitchen at all times. Simply bursting with flavor, these tomatoes take everything to the top.
Ingredients
2

tablespoons

finely chopped shallots

1

clove

garlic, finely grated

2

tablespoons

extra virgin olive oil

1

tablespoon

white wine vinegar

1

tablespoon

freshly minced parsley

1

tablespoon

finely chopped chives

½

teaspoon

kosher salt

¼

teaspoon

coarse ground black pepper

1

pound

cherry or grape tomatoes, halved or quartered
Instructions
In a large bowl, combine shallots, garlic, olive oil, vinegar, parsley, chives, salt, and pepper. Whisk to combine.

Stir in tomatoes. Cover and let stand at room temperature 3 hours before serving, stirring 2 to 3 times so tomatoes get evenly marinated.
Notes
Serving Suggestions: bruschetta, pasta salad, steak salad, avocado toast, tacos, pizzas, salmon, grilled chicken, etc. Make a simple salad with tomatoes, greens, and fresh mozzarella – no need for dressing.
Make Ahead: Marinated tomatoes can be made up to a week in advance and refrigerated. Remove tomatoes from refrigerator about an hour before serving, if possible, so they come to room temperature.
Substitutions: Replace white wine vinegar with balsamic vinegar. Use sliced tomatoes instead of grape or cherry tomatoes. Substitute or add fresh herbs like oregano, tarragon, dill, etc. If using basil, add just before serving.
Nutrition Information
Calories:
44
kcal
,
Carbohydrates:
3
g
,
Protein:
1
g
,
Fat:
4
g
,
Saturated Fat:
1
g
,
Polyunsaturated Fat:
1
g
,
Monounsaturated Fat:
3
g
,
Sodium:
152
mg
,
Potassium:
139
mg
,
Fiber:
1
g
,
Sugar:
2
g
,
Vitamin A:
336
IU
,
Vitamin C:
14
mg
,
Calcium:
9
mg
,
Iron:
1
mg
This website provides approximate nutrition information for convenience and as a courtesy only. Nutrition data is gathered primarily from the USDA Food Composition Database, whenever available, or otherwise other online calculators.