Beer Marinated Chicken Thighs
Beer marinated chicken thighs scream SUMMER loud and clear. The subtle taste of the beer in every bite of the chicken will have everyone singing your praises.
I have this thing about making twice as much grilled chicken as I need. It's all about streamlining the process. If I make double the chicken, I get double the meals with the same amount of work. Plus I just adore grilled chicken cold on top of a salad. It's great on a sandwich too.
And life is a liiiiiiiitle crazy right now so prepping food ahead is a must. I haven't shared a lot about what is going on because truthfully I've been so busy. Nothing bad, all good things. Ben got a new job. Same position (high school principal) at a new school. We're moving out of the Detroit area into a pretty rural area just east of Grand Rapids. We've wanted to move to the west side of the state ever since we got married. We love the area and all my family is still there. I'm so excited to be able to spend more time with my family and have the kids grow up with their cousins.
We'll definitely be firing up the grill and cooking this beer marinated chicken as soon as possible. Actually we'll be doing as much grilling as possible. This chicken is great because you can taste the beer in every bite and the spices used in this recipe make it completely irresistible – full of flavor but not overly spicy. It's a total crowd pleaser. This year I'll be rotating out my go-to greek style marinade more often for this flavorful marinade. You can't go wrong with either recipe. Either recipe would be great with a side of these grilled stuffed mushrooms that you all love so much.
Round out the meal with a great salad, perhaps? This one is a classy classy choice and this orzo salad is a major hit everywhere it goes.
Needed for this recipe:

beer — I like a light (in color) beer with a lot of flavor, IPAs work great in this recipe, and I if I remember correctly, the photographed chicken was marinated in Dos Equis.
a grill! I also like my stovetop grill pan….but you won't be able to do 40 ounces of chicken on that.
Love this marinade? Try my tequila lime chicken marinade or the fan favorite balsamic chicken marinade.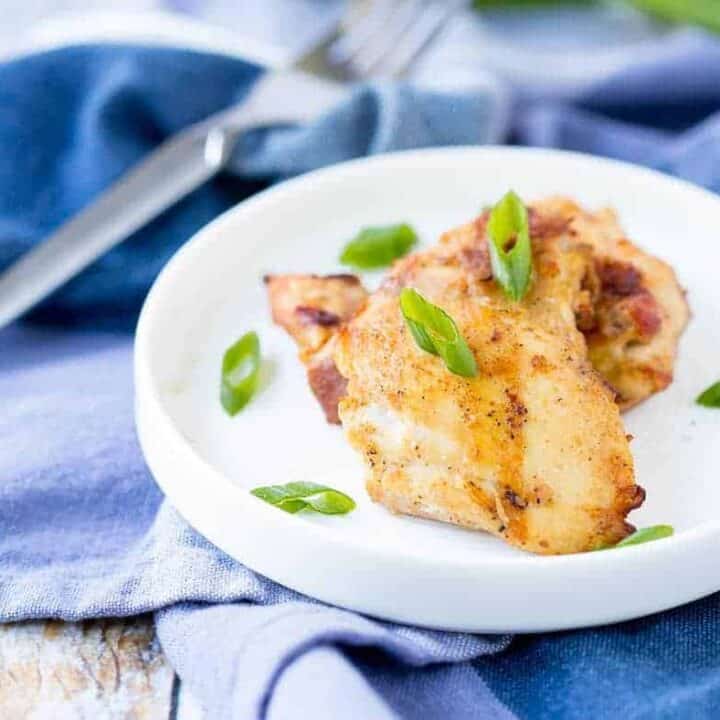 Beer Marinated Chicken Thighs
Yield: 6-8 servings
Prep Time: 10 minutes
Cook Time: 10 minutes
Additional Time: 4 hours 5 minutes
Total Time: 4 hours 25 minutes
Beer marinated chicken thighs scream SUMMER loud and clear. The subtle taste of the beer in every bite of the chicken will have everyone singing your praises.
Ingredients
Two twenty ounce packages boneless skinless chicken thighs
1/4 cup olive oil
1 1/2 teaspoon sea salt
1 teaspoon ground black pepper
1 teaspoon paprika
3/4 teaspoon cumin
1/4 teaspoon cayenne pepper
1/2 teaspoon garlic powder
3/4 teaspoon onion powder
12 ounces beer
Instructions
Mix all ingredients together in a zip-top bag. Move chicken around until fully coated in marinade. Place in a bowl or baking dish to protect your fridge from any possible leaks. Refrigerate for at least 4 hours or up to 24 hours.
Remove from marinade and grill over medium heat for about 5 minutes on each side or until fully cooked (chicken reaches an internal temperature of 165°F when tested with instant-read thermometer).
Tent with foil and rest for 5 minutes prior to serving.
Notes
This marinade would also be amazing with chicken breasts!
Nutrition Information:
Yield: 8
Serving Size: 2 thighs
Amount Per Serving:
Calories: 315
Total Fat: 18g
Saturated Fat: 4g
Trans Fat: 0g
Unsaturated Fat: 13g
Cholesterol: 173mg
Sodium: 650mg
Carbohydrates: 2g
Fiber: 0g
Sugar: 0g
Protein: 35g
RachelCooks.com sometimes provides nutritional information, but these figures should be considered estimates, as they are not calculated by a registered dietitian. Please consult a medical professional for any specific nutrition, diet, or allergy advice.
Verdict:
This beer marinated chicken is so good!. I loved how much you could taste the beer.
Husband's take:
I made this on a weekend my parents were visiting and the whole family thought this chicken was great. There's the perfect amount of spice and you can pick up the beer flavor in every bite, but it isn't overwhelming. Summer winner, for sure.
Changes I would make:
None!
Difficulty:
So easy!