Mango Bourbon Pulled Pork (Slow Cooker!)
Mango bourbon pulled pork has the perfect combination of sweet and spicy — and the bourbon gives it that WOW factor! Make it in your slow cooker for an easy crowd pleaser.
Recipe Overview
Why you'll love it: Tender pork, full of sweet and spicy flavor!
How long it takes: 9 hours, 20 minutes, but mostly hands-off!
Equipment you'll need: slow cooker, blender or food processor, saucepan, knife
Servings: 12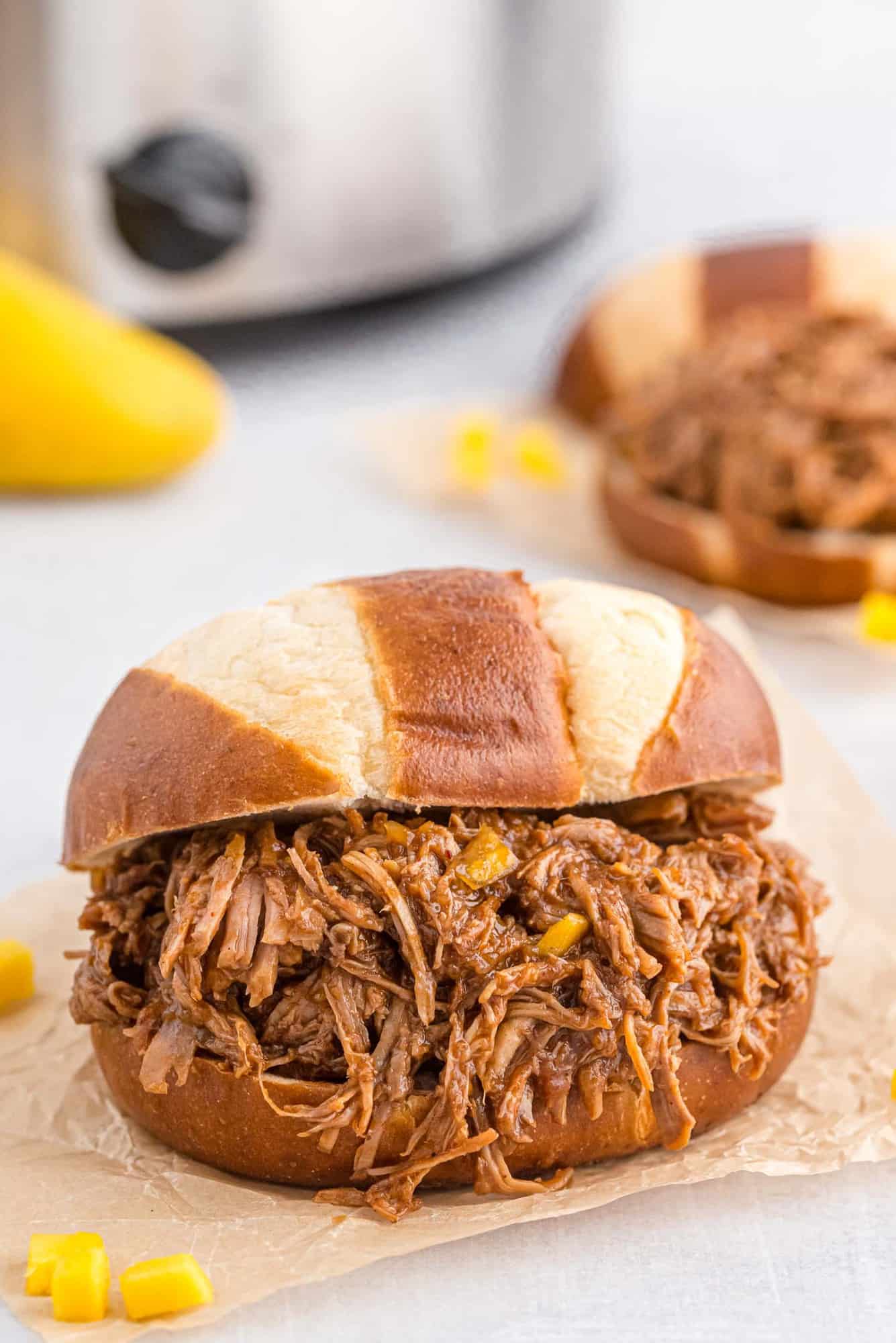 You'll love this bourbon pulled pork for a lot of reasons but the sauce is what will bring you back time and again. It's such good sauce with rather unique flavors like mango, bourbon, honey, and balsamic vinegar that pack so much excitement into every bite.
I've made this mango bourbon pulled pork many, many times and it's always a hit. Here's what my hubby had to say the first time he tried it: "Wow!" "Oh my gosh!" I guess speech sort of failed him for a bit.
Pulled pork is always great for parties because you can make it way ahead in a slow cooker and guests can serve themselves. It stays nice and hot all evening long. Just set a basket of buns or sliders next to the crockpot and you can chill out with your guests.
Serve bourbon pulled pork with air fryer sweet potato fries or five spice sweet potato wedges. Potato chips are always good with sandwiches, too. I love coleslaw with pulled pork. It contrasts perfectly with the saucy meat on a bun. Try classic creamy coleslaw or a vinegar coleslaw without mayonnaise.
Cold beer is always welcome with pulled pork. A brown ale would be perfect or a nice IPA. Try a craft beer from a local brewery. Enjoy! I feel a party coming on….
About this recipe
The recipe is pretty easy but it does take time. It's a slow cooked meal, after all. You'll need a slow cooker and a small saucepan to cook the sauce in. And about 10 hours. Almost all of that time is completely hands off though.
Below is a brief overview of the recipe (with some added details!), but as always, scroll down for the printable version of the recipe.
What you'll need
Pork Shoulder Roast: This cut is also known as "Boston butt" or "picnic shoulder". The pork is well-marbled (plenty of fat) and you can choose bone-in or boneless. The bone does add flavor and is easily removed after the pork is cooked. Pork shoulder roast is the best cut for pulled pork.
Seasoning: Season the pork simply with Salt, Pepper, and Chili Powder.
Balsamic Vinegar and Chicken Broth: The pork shoulder is braised (simmered slowly) with the vinegar and broth until it's melt-in-your-mouth tender.
Mangoes: The fruit is peeled, sliced off the pit, and diced. The diced fruit is added to the sauce. Throw the pits into the slow cooker with the pork. As the pork simmers, any remaining fruit left on the pit will come right off so nothing is wasted.
Barbecue sauce: A bottle of your favorite barbecue sauce is the base of this easy sauce.
Honey: A tablespoon adds just the right amount of sweetness. Maple syrup is really good, too.
Bourbon: A shot of whisky adds a huge shot of flavor. Use your favorite brand, such as Maker's Mark, Wild Turkey, or Jim Beam. It doesn't have to be top shelf since it's a small amount and you're cooking it.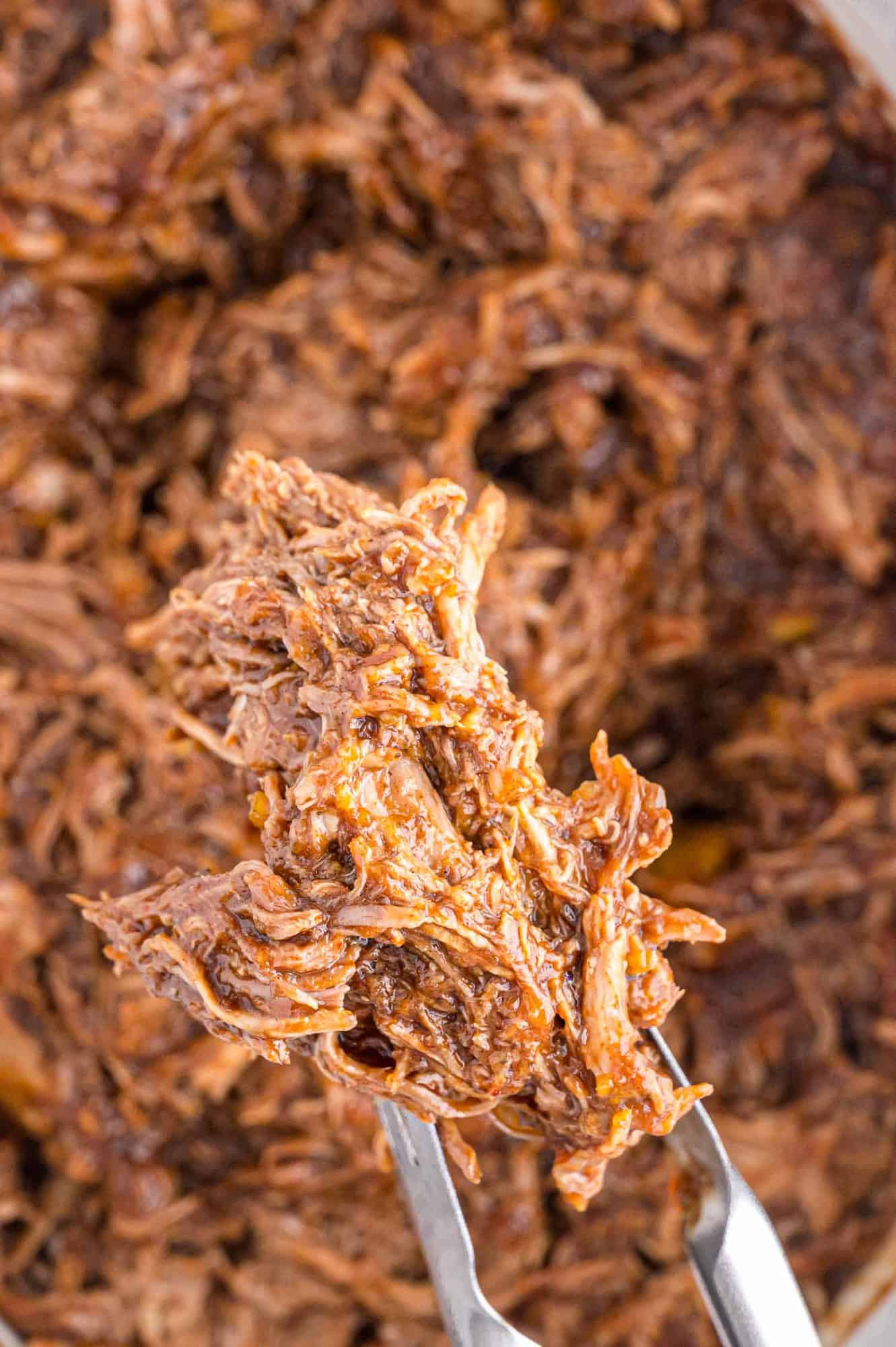 How to make this pulled pork
Start the pork in the morning so it can slowly simmer all day long. The pork is braised with the mango pits (there is a lot of fruit left on them after you cut them!) in the broth and vinegar until it's so, so tender.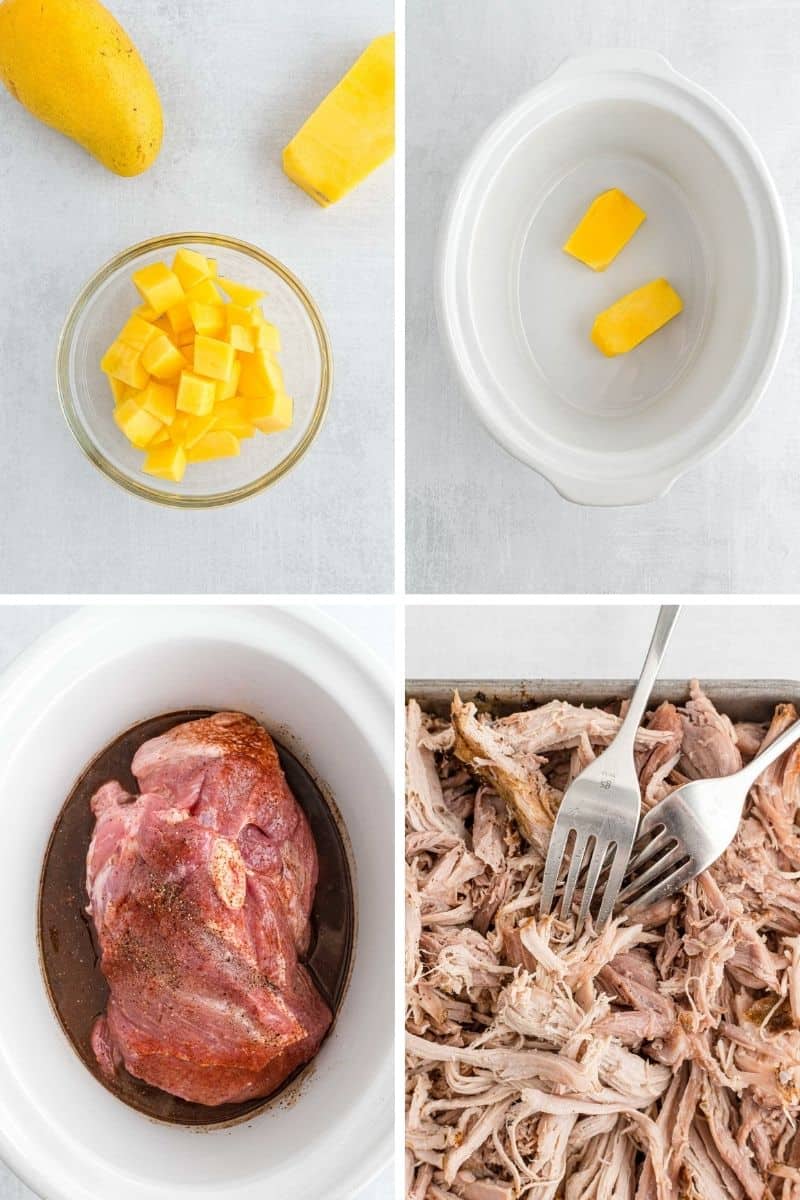 While it's cooking, make the sauce on the stove with the chopped mangoes, prepared barbecue sauce, honey, chili powder, and bourbon.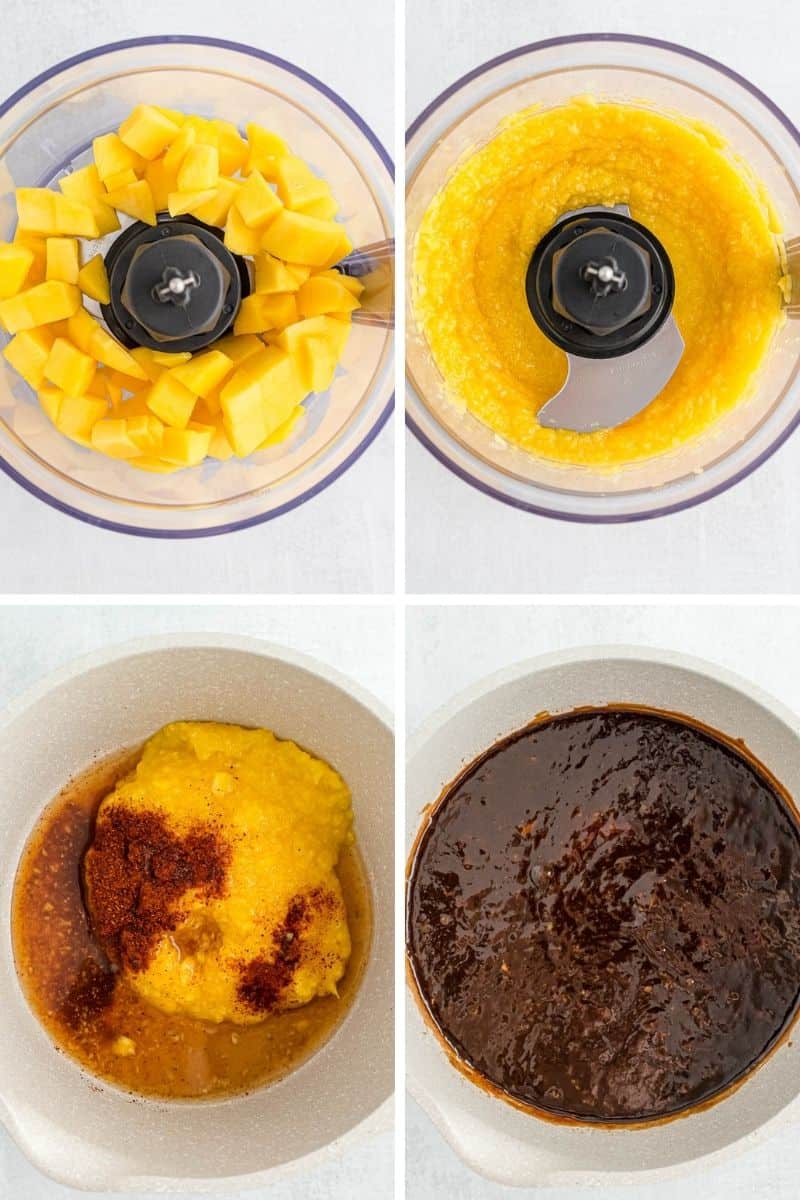 A couple of hours before serving, shred the pork, put it back into the crockpot, add the sauce, and let it simmer awhile longer. You want the sauce to permeate the pork, infusing it with all that great flavor.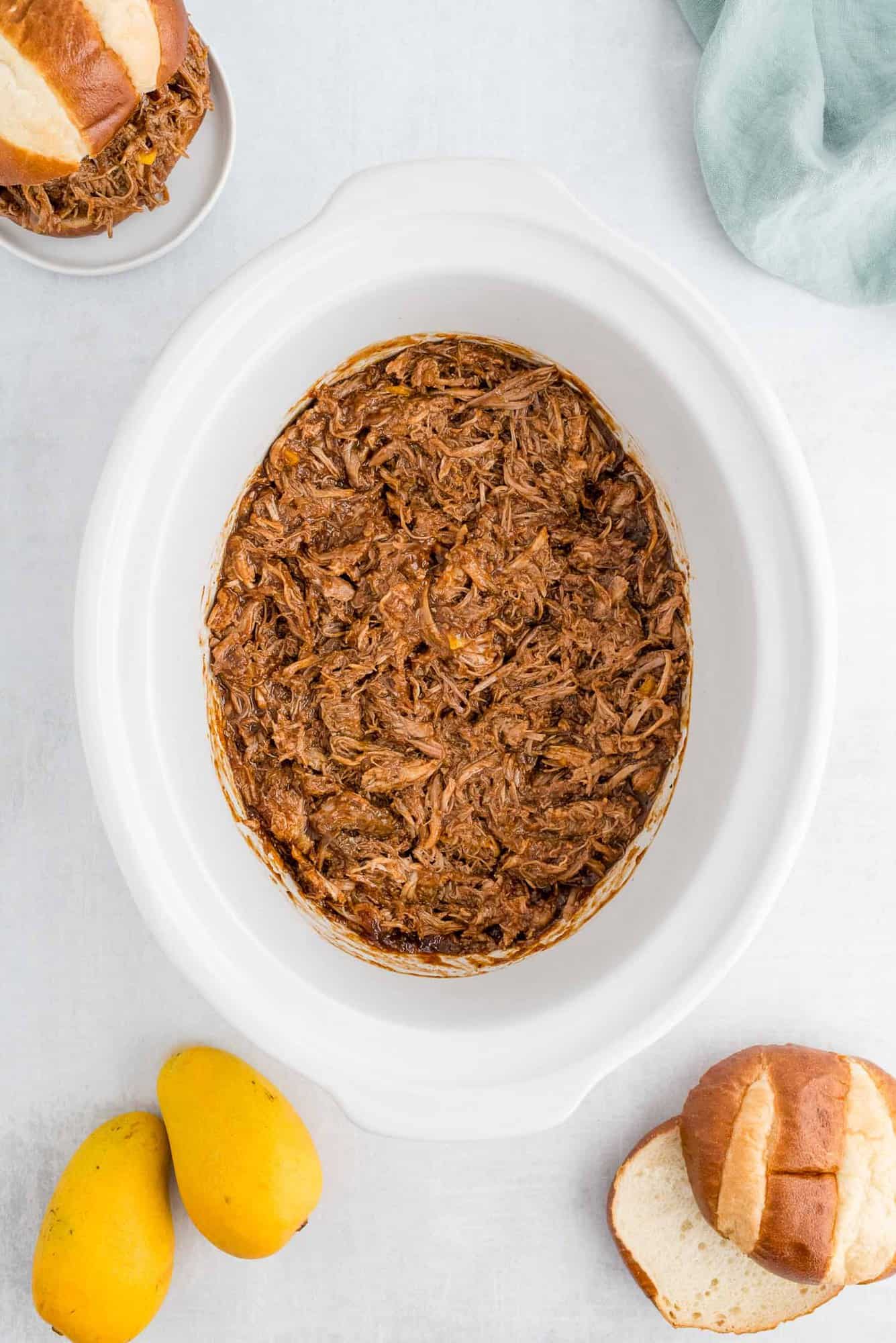 Butter the buns and either grill or toast them for an even better sandwich.
FAQs
What is the best liquid to cook pulled pork in?
For this recipe, the pork is cooked in broth and balsamic vinegar. The excess liquid is drained off after the pork is cooked, removing a lot of the fat.
How do you add flavor to pulled pork?
You can use a dry rub on the pork. Another way to add flavor is to brown the pork before slow cooking it. And of course, the sauce adds tons of finger-licking-good flavor.
What can I make with whiskey pulled pork?
Lots of foods go with pulled pork! I mentioned a few already that I like but here's another suggestion. Try this Potato Salad Recipe, it's creamy and delicious and is perfect with pulled pork sandwiches.
What is the difference between whiskey and bourbon?
Bourbon is a type of whiskey. All bourbon is whiskey but not all whiskey is bourbon. Jack Daniels is whiskey but not bourbon.
Bourbon is made according to a strict recipe, always including corn as an ingredient, and often comes from Kentucky. It has to be aged in new charred oak barrels and has a distinctive flavor.
Love The Flavor Of Bourbon?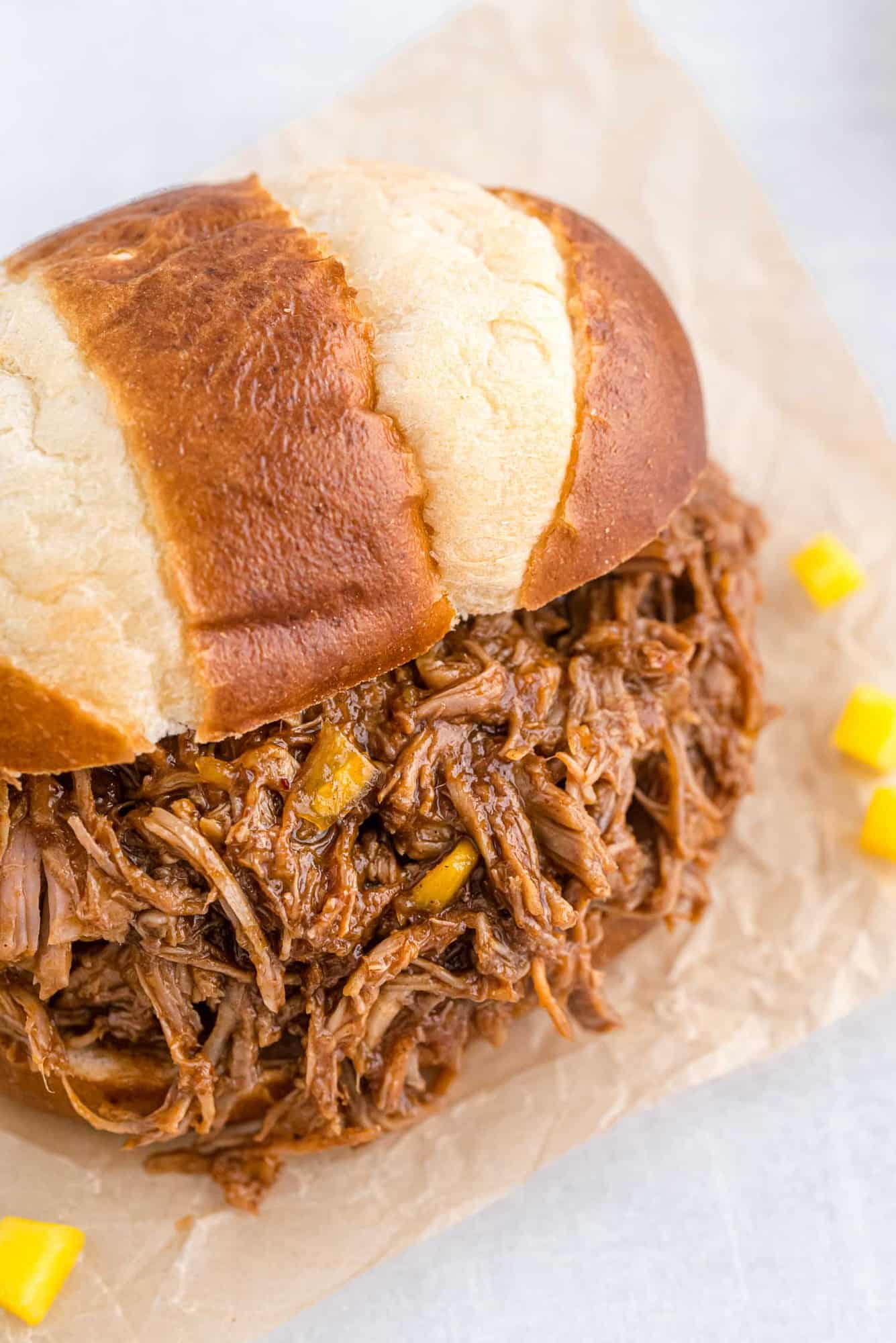 How to make this pulled pork your own
Tweak the sauce. Add a little heat with red pepper flakes. Add chopped onion, garlic, and peppers, to make a chunkier sauce. Sauté the veggies in the pan briefly before adding the other sauce ingredients. Make the sauce sweeter by adding a bit more honey, or replace the honey with maple syrup.
Use a different fruit. Replace the mangoes with apple or peeled peaches if you like.
Make pulled chicken instead. Not into pork? This sauce is great with chicken, too. Use a combination of boneless skinless chicken breasts and thighs.
Make Ahead Ideas
Pulled pork is a great make ahead meal. Prepare it completely when you have time and refrigerate or freeze it until you want to serve it. It's even a little better the next day.
Interested in a weekly meal plan (it's free!) that includes this pulled pork recipe? Take a look at my Meal Plan #28. You'll find a wholesome recipe for each weekday plus a categorized grocery list. Let me do the planning for you this week!
We'll be adding a new meal plan weekly. If you're interested, browse all of our meal plans.
Storage & Reheating Tips
Refrigerate: Pulled pork should be cooled and refrigerated in a tightly covered container. If you're refrigerating the whole batch, spread it out in a thin layer in a large container so it cools more quickly. It will keep in the fridge for up to 4 days.
Freeze: Put cooled pork into freezer safe containers or bags. It will keep for up to 3 months. Thaw overnight in the refrigerator.
Reheat: For large quantities, put the pork back into the slow cooker and reheat on low for 2 to 3 hours or until hot, at least 165°F. It can also be reheated on the stove over medium-low heat (stirring frequently), or in the oven in a covered baking dish at 325°F for about an hour, stirring once or twice. Small portions can be reheated in the microwave, but we try to avoid heating meat in the microwave as it tends to get tough.
Leftover Love
Make a pizza with leftover bourbon pulled pork. Add the pork to a pizza crust of your choice. Pile on cheese (cheddar goes great with this pork) and other toppings of your choice (I'd recommend crispy bacon and sliced red onion, yum!). Bake at 450°F for 10 to 15 minutes or until the crust is golden brown and cheese is melted. Oh, that's so yummy!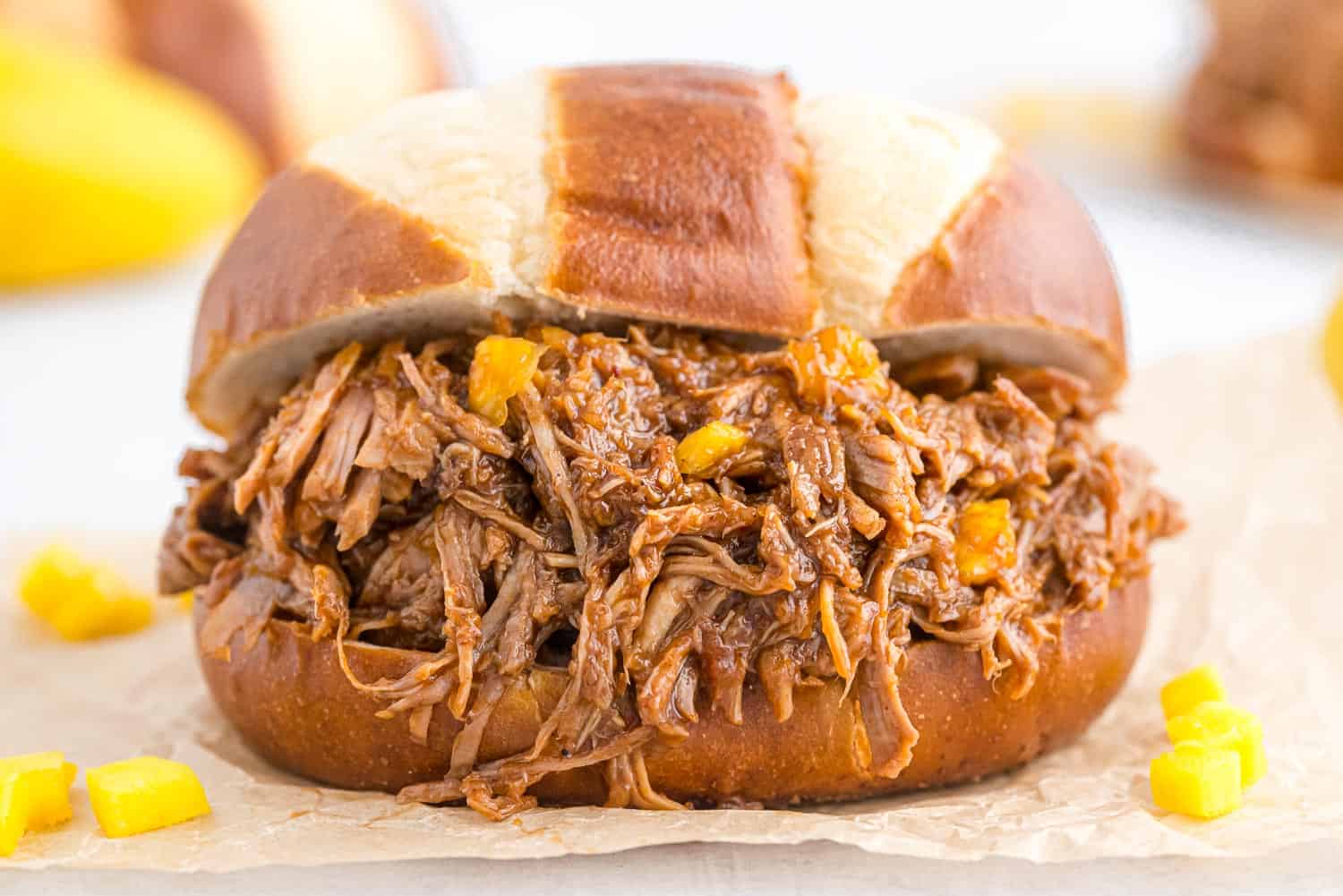 More meat on a bun recipes
Did you make this? Be sure to leave a review below and tag me @rachelcooksblog on Facebook, Instagram, or Pinterest!
This mango bourbon pulled pork has the perfect combination of sweet and spicy – and the bourbon gives it that WOW factor!
Ingredients
2

mangoes

1

pork shoulder roast

(3 to 4 pounds)

½

teaspoon

coarse ground black pepper

1

teaspoon

kosher salt

2

teaspoons

chili powder, divided

¼

cup

balsamic vinegar

2

cups

reduced-sodium chicken broth

1

tablespoon

honey

1

shot

(1.5 fluid ounce) bourbon whiskey

16

ounces

prepared barbecue sauce

12

Buns for serving, toasted if desired
Instructions
Place pork shoulder into the slow cooker, and sprinkle with black pepper, salt, and 1 teaspoon chili powder. Pour in balsamic vinegar and chicken broth.

Cover and cook on low for 7 to 8 hours or until the meat is very tender and falling away from the bone. Drain the pork, discarding the cooking liquid and mango pits. Shred with two forks, and return pork to slow cooker.

While the pork is cooking, puree the chopped mango in a blender until smooth. Pour mango puree into a medium saucepan. Add honey, remaining 1 teaspoon chili powder, and whiskey. Bring to a simmer over medium-high heat. Reduce heat to medium-low, and simmer, stirring frequently until the mango has reduced and darkened slightly, about 10 minutes. Be careful for splatters! Stir in the barbecue sauce, and remove from heat.

Stir the mango barbecue sauce into the shredded pork in the slow cooker. You may not need it all, depending on how saucy you want it. Cover and cook on high 1 to 2 hours until the pork absorbs the barbecue sauce.
Notes
Nutrition is for pulled pork, sauce, and hamburger size bun.
Storage: Pulled pork should be cooled and refrigerated in a tightly covered container. If you're refrigerating the whole batch, spread it out in a thin layer in a large container so it cools more quickly. It will keep in the fridge for up to 4 days or in the freezer for up to 3 months.
Reheating:

Slow Cooker: This method is great if you froze a whole batch. Thaw in fridge overnight, and reheat on low for 2 to 3 hours or until hot, at least 165°F.

Stove: Reheat over medium-low heat (stirring frequently), until hot, at least 165°F.

Oven: Bake in a covered baking dish at 325°F for about an hour, stirring once or twice, until hot.

Microwave: Reheat single portions of meat for 45 to 90 seconds or until hot. This is not our preferred method, as the meat may become tough.

Recipe adapted from All Recipes.
Nutrition Information
Serving:
1
sandwich
,
Calories:
368
kcal
,
Carbohydrates:
45
g
,
Protein:
24
g
,
Fat:
9
g
,
Saturated Fat:
3
g
,
Polyunsaturated Fat:
2
g
,
Monounsaturated Fat:
3
g
,
Cholesterol:
62
mg
,
Sodium:
885
mg
,
Potassium:
561
mg
,
Fiber:
2
g
,
Sugar:
23
g
,
Vitamin A:
563
IU
,
Vitamin C:
14
mg
,
Calcium:
96
mg
,
Iron:
3
mg
This website provides approximate nutrition information for convenience and as a courtesy only. Nutrition data is gathered primarily from the USDA Food Composition Database, whenever available, or otherwise other online calculators.