This red lentil soup recipe is comforting, healthy and subtly sweet, thanks to an unexpected ingredient: dried apricots!
Recipe Overview
Why you'll love it: This homemade soup is so good; it's nutritious, low in calories, and absolutely delicious. This recipe is vegan, vegetarian, and dairy-free.
How long it takes: 45 minutes
Equipment you'll need: soup pan or Dutch oven, immersion blender (optional)
Servings: 6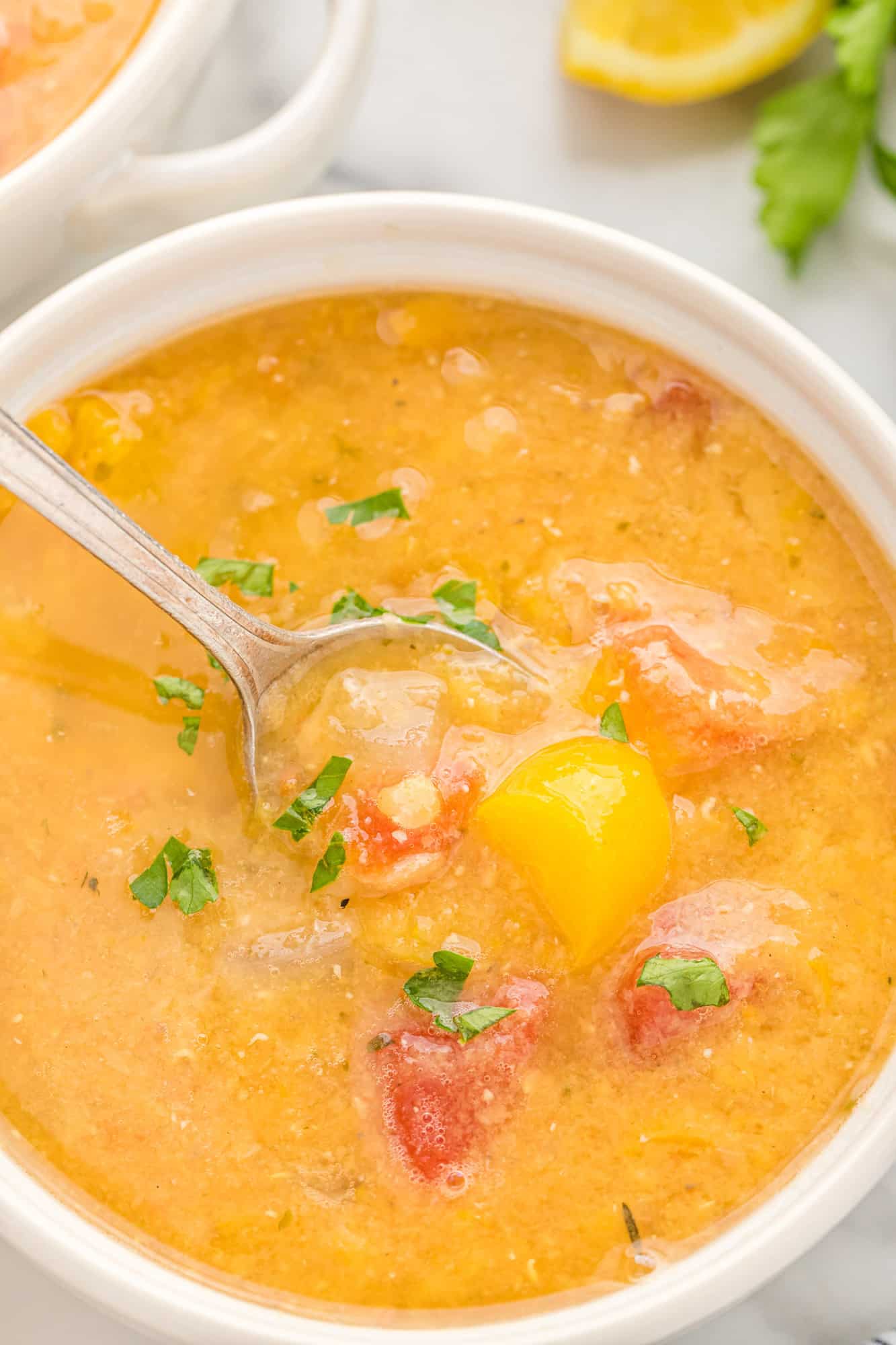 Soup can be your best friend sometimes. It's warm, comforting, and eating it can make you feel like you just got a hug. Your tummy's happy, you're warmed up from the inside out, and you're enveloped with a sense of well-being.
Not all soups are created equal in this department. Just like friends, soup can be too assertive: spicy, garlicky, or uncomfortably rich. Some soups, like relationships, are too messy or demanding to be comfortable. They have long noodles, giant chunks that don't fit in your spoon, or stringy tough cheese (I'm thinking of you, French onion). Some soups are too bland to be interesting.
While there's a time and place for every kind of soup, sometimes you need a friendly soup, and this red lentil soup answers the call.
Whether you've had an upsetting day, or you're getting over an illness or just returned from the dentist, or maybe you're in need of a little love, this vegetarian soup is there for you (creamy carrot soup and roasted tomato soup fill this role well, too).
Creamy red lentils, soft carrots, onions, and tomatoes, a hint of cumin, a squeeze of lemon, and a little surprise of sweet golden apricots make this soup a good friend. It's so nutritious and satisfying. You'll feel like you just got a warm hug.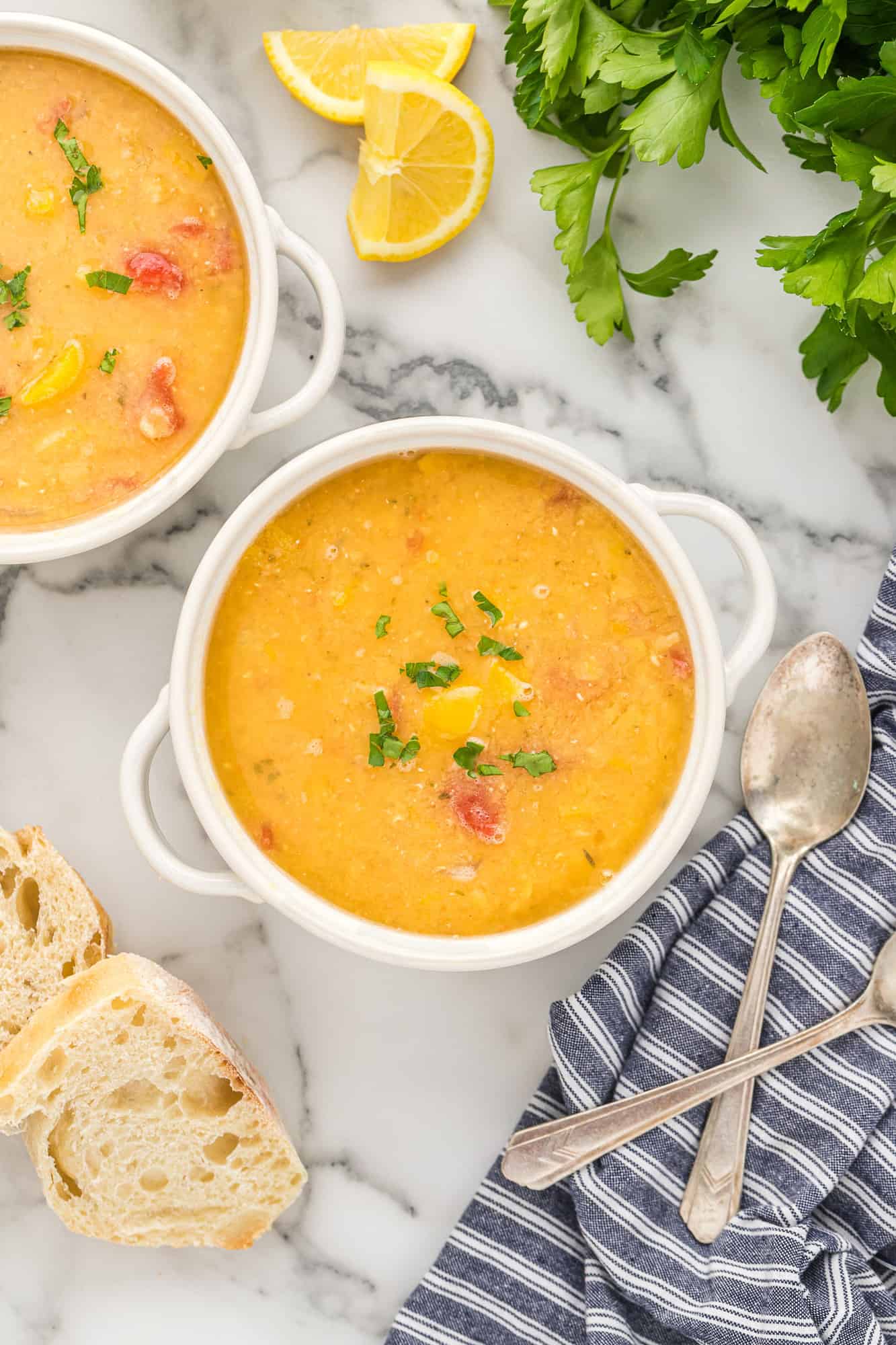 About Red Lentil Soup
This red lentil soup recipe is adapted from a recipe my mom made the last time I was home. It reminds me of the soup that I love to order from a local Lebanese restaurant. Red lentil soup is often found on Turkish menus as well. You may know it as mercimek çorbası.
Lentils have been grown and consumed for eons. The Old Testament story of Esau and Jacob comes to mind, when Esau sold his birthright to Jacob for a bowl of lentil stew. There are different varieties: brown, green, red/yellow, French puy, beluga (black), and many more. Some hold their shape well for lentil salad and others disintegrate when cooked, making them perfect for soup.
While most legumes (black beans, garbanzos, pintos, etc.) have to be soaked and cooked for a few hours, dry lentils merely need a quick rinse and less than a half hour of cooking time, making them an ideal choice for busy weeknights. A couple of my favorites are lentil soup with pasta (with brown lentils) and one pot green lentils with sweet potatoes and kale.
I'll run through the how-tos of this recipe for red lentil soup and give you some extra tips and information. As always, look for the printable recipe card near the end of the post. It has complete instructions, measurements, and nutrition information.
Ingredients You'll Need
Dried Red Lentils: Red lentils are usually sold in one pound bags. Look for them in the aisle that contains other Middle Eastern or Indian foods (dal). They are orange, small in size, and look somewhat like split peas. Yellow lentils are similar and will work for this recipe too.
Dried Apricots: Apricots are the "surprise" ingredient in this soup. They provide just a hint of sweetness.
Yellow Onion: Any type of onion is fine. I usually use yellow onions for soup because they are the most economical and just the right size.
Yellow Bell Pepper: Chopped bell pepper adds flavor, color, and nutrition. Red or orange bell peppers are perfectly acceptable, too.
Chicken or Vegetable Broth: Look for low sodium or no-salt-added.
Canned Diced Tomatoes: Again, look for tomatoes that don't have extra salt added. Wouldn't you rather add the salt to your soup yourself so it's just the way you like it?
Dried Parsley, Dried Thyme: Dried herbs make this soup really easy to prepare. If you happen to have fresh, use that instead. You'll need to add more (about 3 times more) because dried herbs are more potent than fresh.
Ground Cumin: Start with a half teaspoon. If you know you love cumin, you can increase this amount up to a teaspoon.
Garlic Powder: Using powder instead of fresh keeps the garlic from being too assertive. If you really love garlic, go ahead and use a clove or two of fresh garlic.
Lemon Juice: Just a squeeze of fresh lemon juice added at the end of the cooking time adds a bright note of acidity. Often soup that tastes blah or flat just needs to be brightened up with lemon or vinegar.
Salt and Pepper: Simple seasonings that can be adjusted to your preference.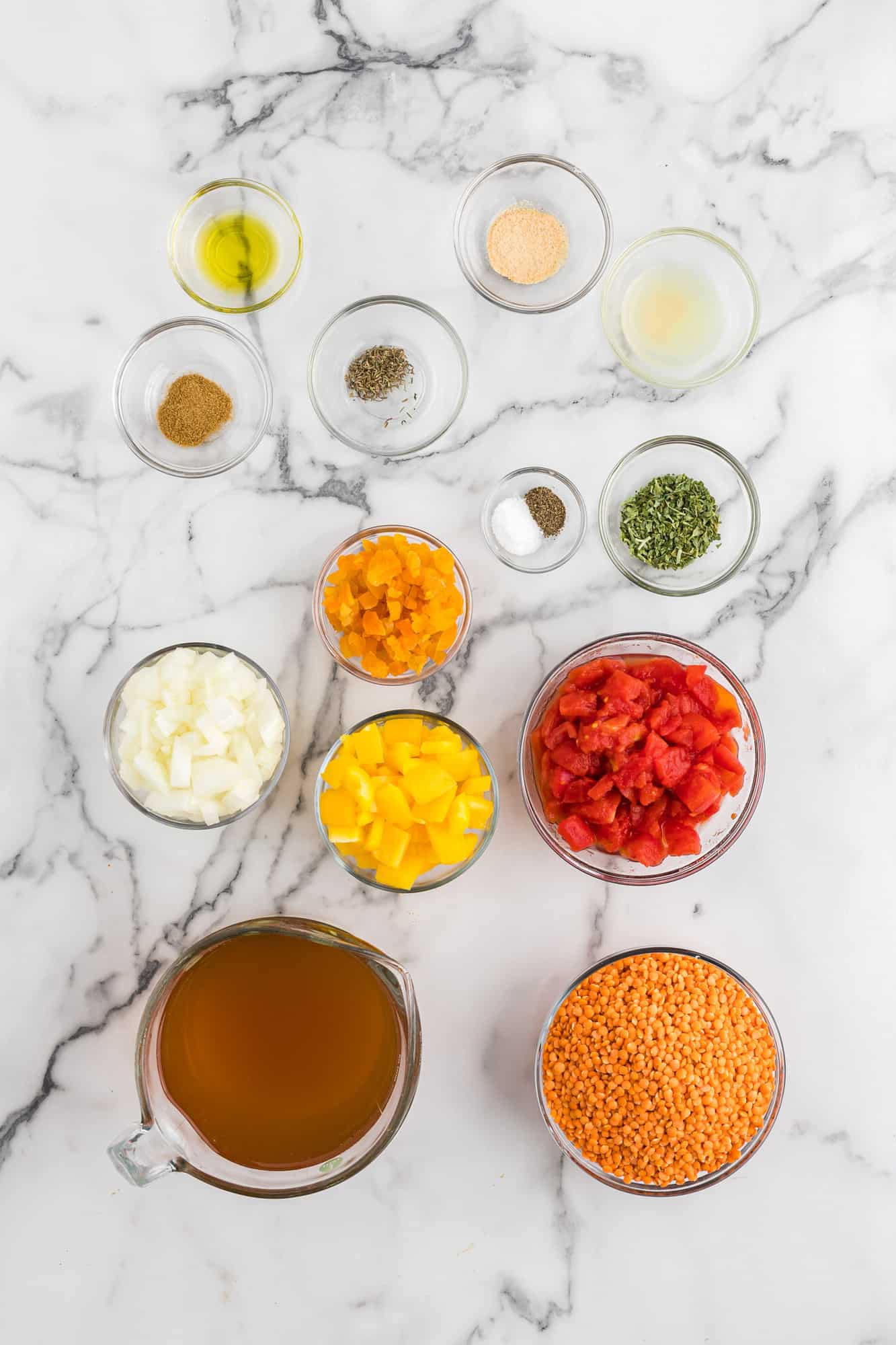 How To Make This Soup
Let's get started on this happy soup. I'm happy that you're going to try it and you'll be happy, too, after your first spoonful. Find a nice big soup pan or Dutch oven and let's get cookin'!
In a fine mesh strainer, rinse the lentils with cold water. Shake them a few times, looking carefully for any alien objects like stones or funny looking lentils. Let them drain. Just a warning: they'll sort of solidify as they drain. They're not really solid but they kind of clump together. It can be a little surprising when you dump them into the pan with a big splash.
Next, chop up an onion and a bell pepper. Cut up the dried apricots. A sharp kitchen shears works pretty well for the apricots. Heat up a tablespoon of oil in the pan and sauté the veggies and apricots for about five minutes, or until the onions become translucent.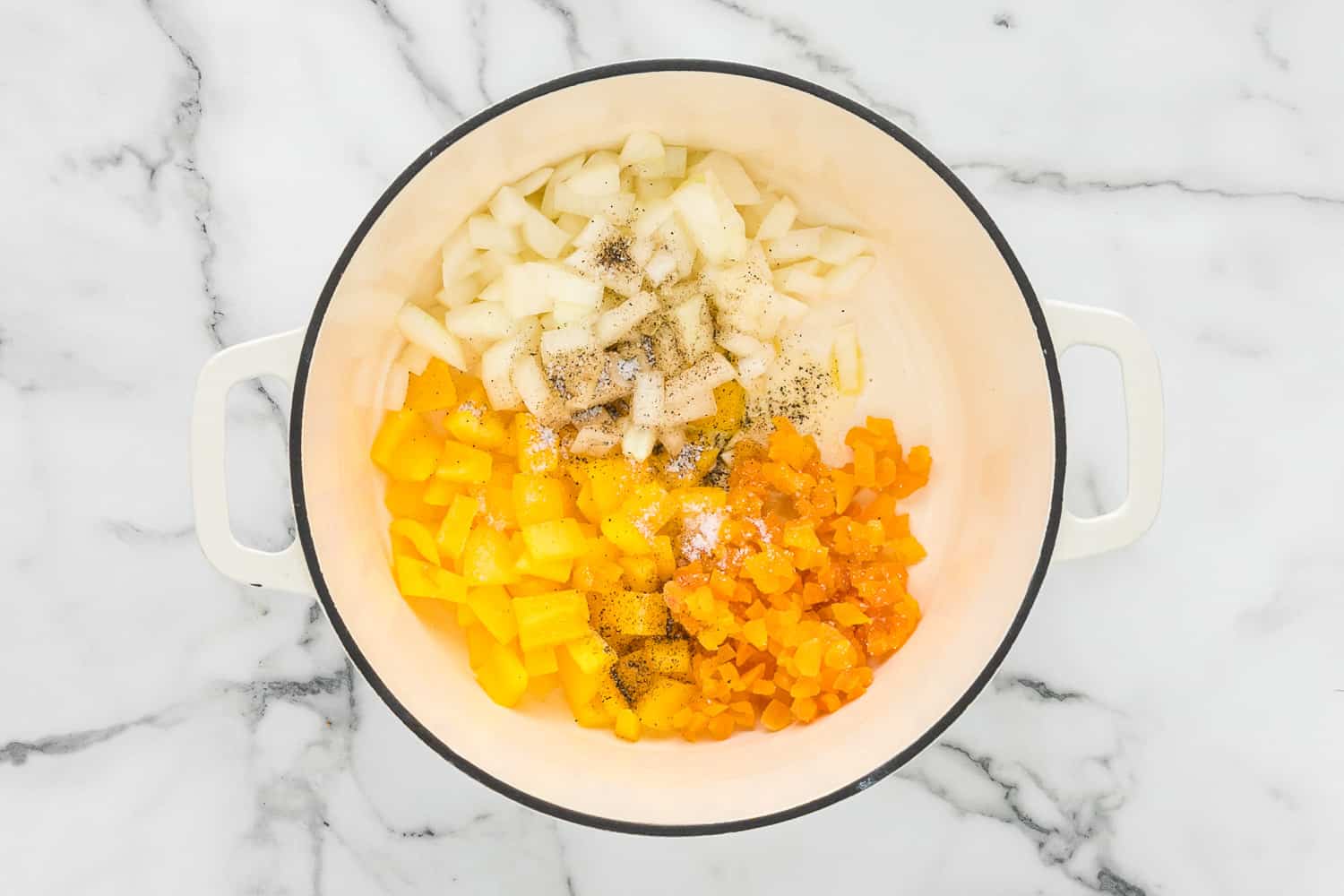 Add pretty much every else except the lemon juice. Give it a good stir and bring the soup to a simmer.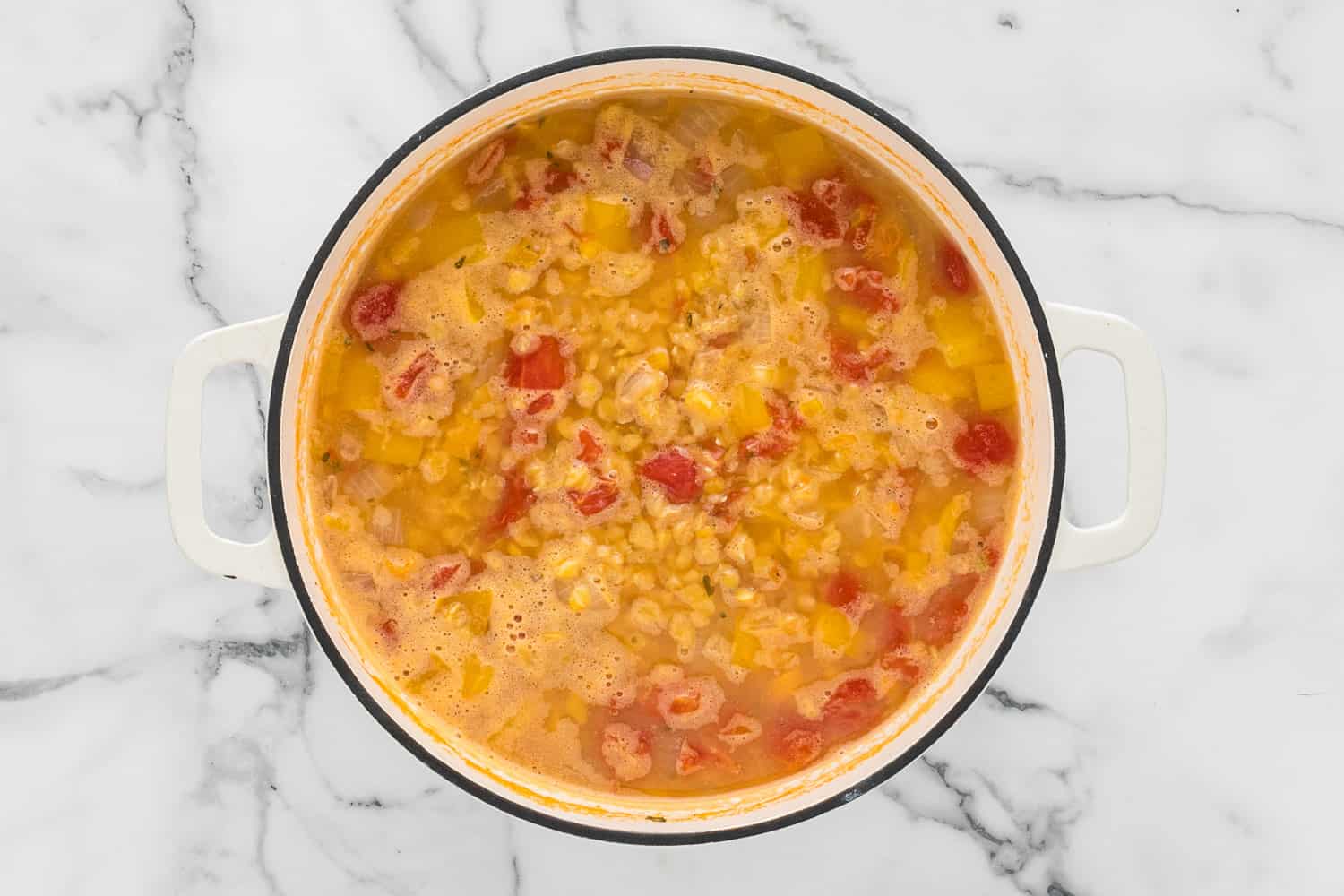 Partially cover the pan, turn down the heat, and simmer the soup for about a half hour, or until the lentils are soft. Give it a stir now and then, and if the soup seems like it's getting too thick, add a bit more water.
A note about these lentils: Red lentils aren't like other beans that retain their shape; they sort of disintegrate and that's okay, that's what they're supposed to do.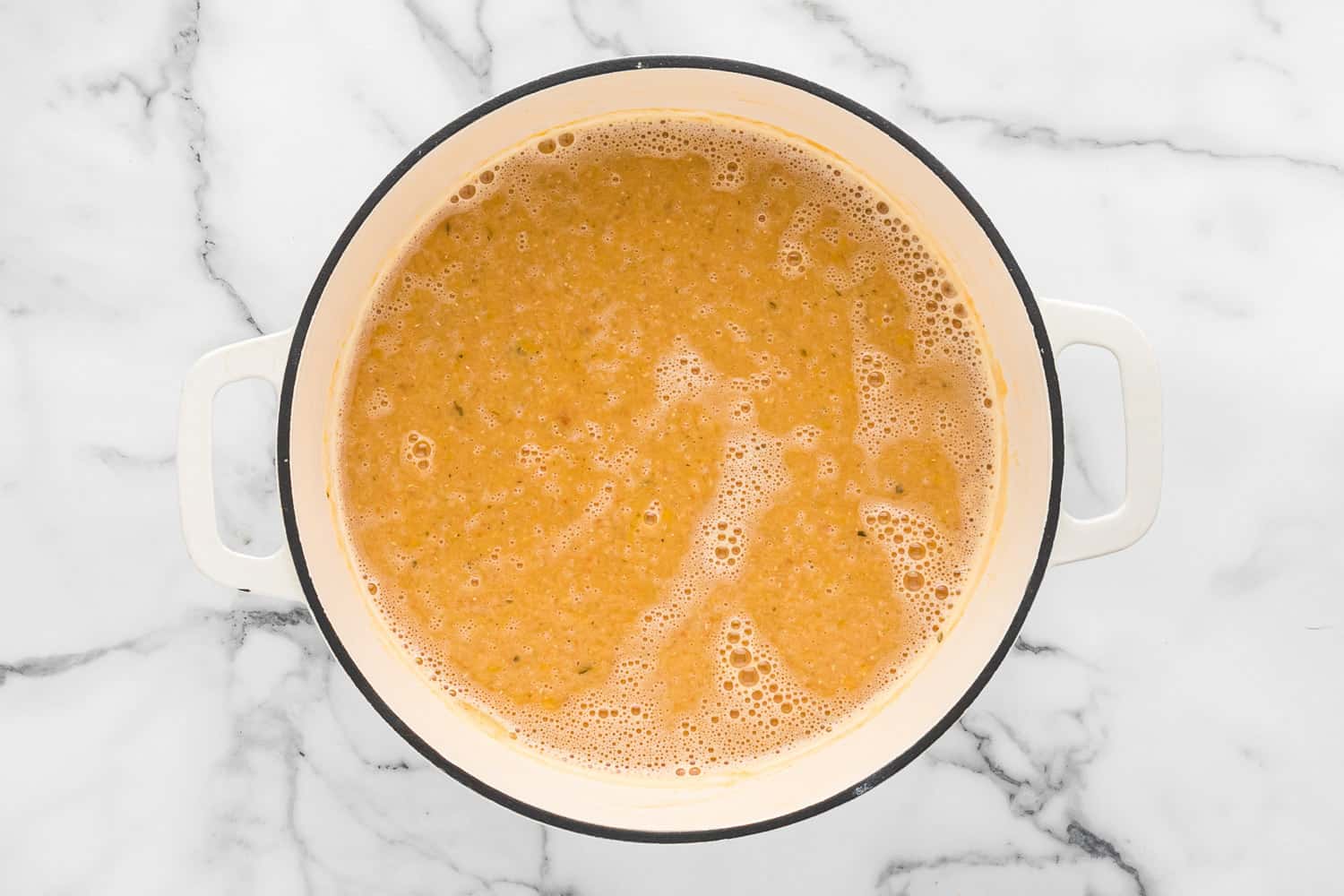 To give this soup a great consistency, I like to purée some of it with my immersion blender. If you prefer a chunkier soup, feel free to skip that step. Or if you love your soup silky smooth, purée the whole thing!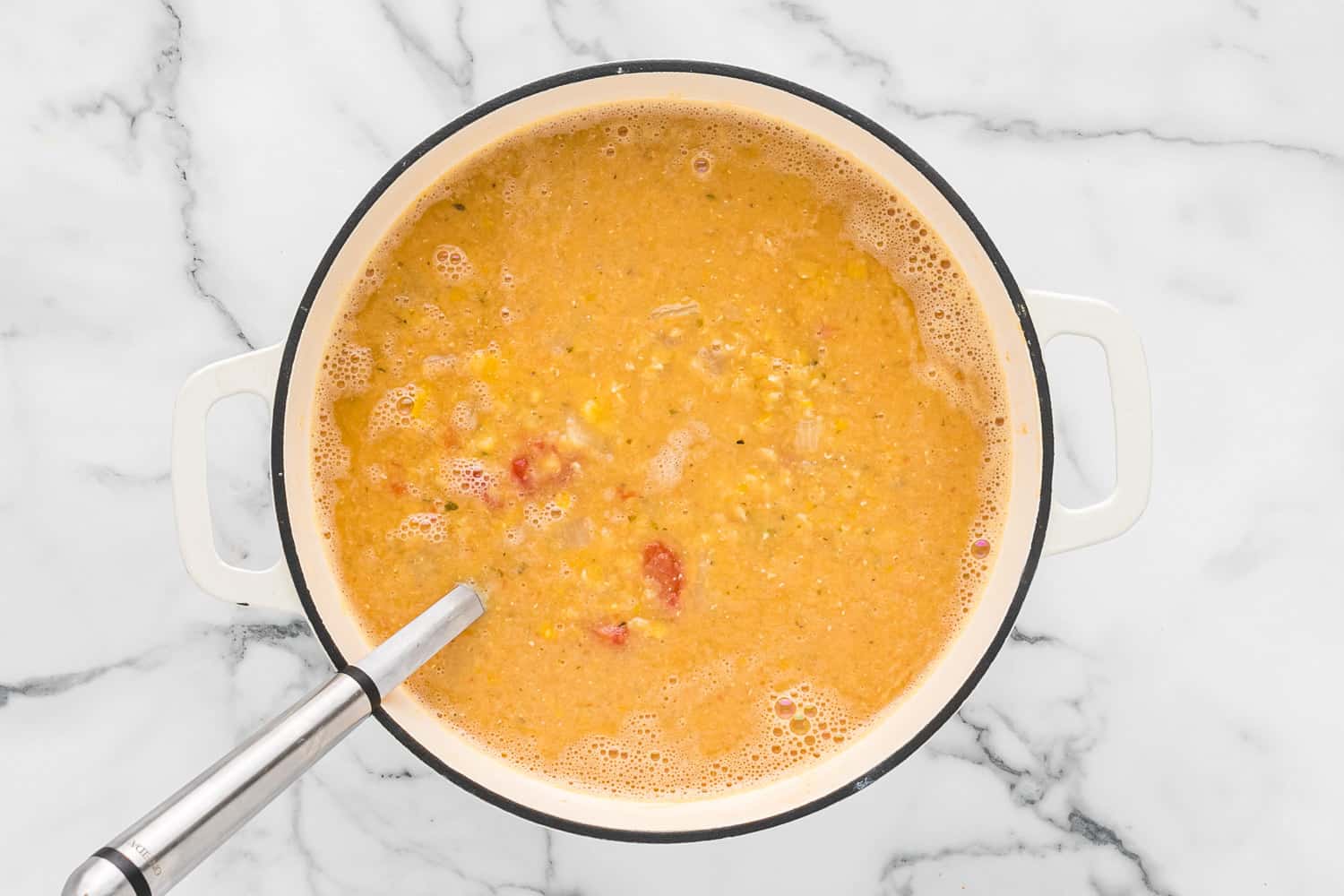 Stir in the lemon juice and do a little taste test. Add more salt and pepper if needed.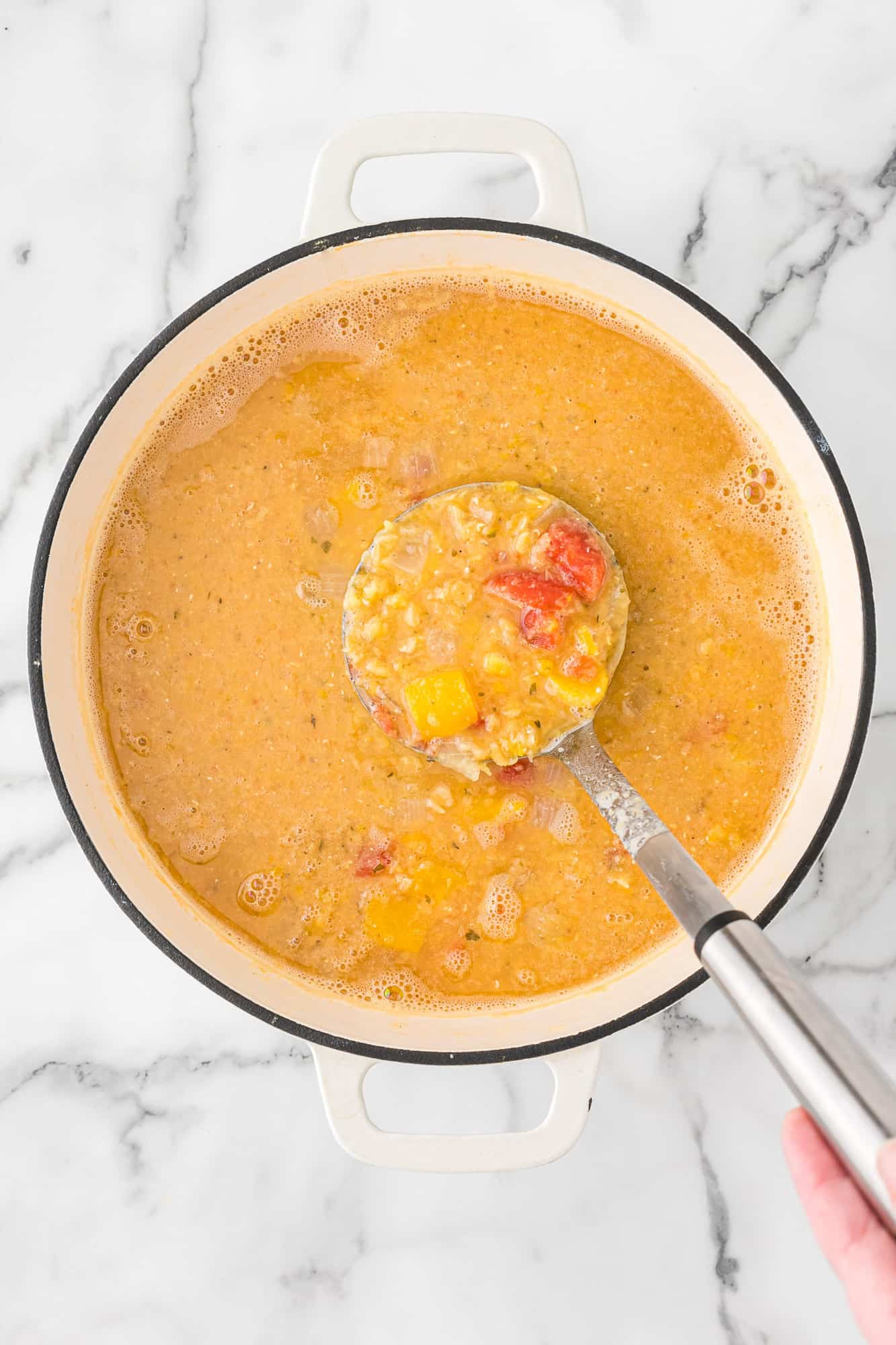 Serve red lentil soup with warm homemade flatbread and tahini sauce or hummus for dipping, and fattoush salad. For dessert, try this healthy baklava yogurt parfait.
FAQs
Is red lentil soup good for you?
Yes, red lentil soup is very good for you. All lentils are very nutritious because they are legumes. They have several health benefits including reducing blood sugar, promoting gut health, and weight loss. Lentils contain a wide variety of nutrients, including lots of protein and iron (Healthline).
A serving of this red lentil soup has 18 grams of protein, 3 grams of fat, and only 278 calories. It's low in sodium, too, with only 261 mg. Compare that to processed canned soups that often have sodium counts well over 1000.
Do I need to soak red lentils for soup?
No, a quick rinse with cold running water is sufficient for most lentil varieties. Sort through the lentils and remove any foreign objects or wrinkled lentils.
What tastes good with red lentils?
It depends a lot on what cuisine you're thinking of. Middle Eastern recipes often include cumin, peppers, garlic, and onions. Indian or Sri Lankan recipes may have coconut milk, fenugreek seeds, and cinnamon, like this Sri Lankan Red Lentil Curry from Vegan Richa.
Red lentils are mild-tasting and common to many cultures so there are lots of different ways to cook them.
Make It Your Own
Like most soup recipes, it's easy to tweak this lentil soup recipe. Here's a few ideas:
Add more veggies. Increase the amount of onions and bell peppers. Add a carrot or a stalk of celery. Add a potato. If you like greens, stir in finely chopped baby spinach just before serving.
Play around with the seasonings. Make it more garlicky, add more cumin, use fresh herbs, add a hint of smoked paprika, spice it up with cayenne, etc.
Not into lentils? Try my vegan butternut squash soup with roasted garlic or carrot ginger soup (vegan and Whole30).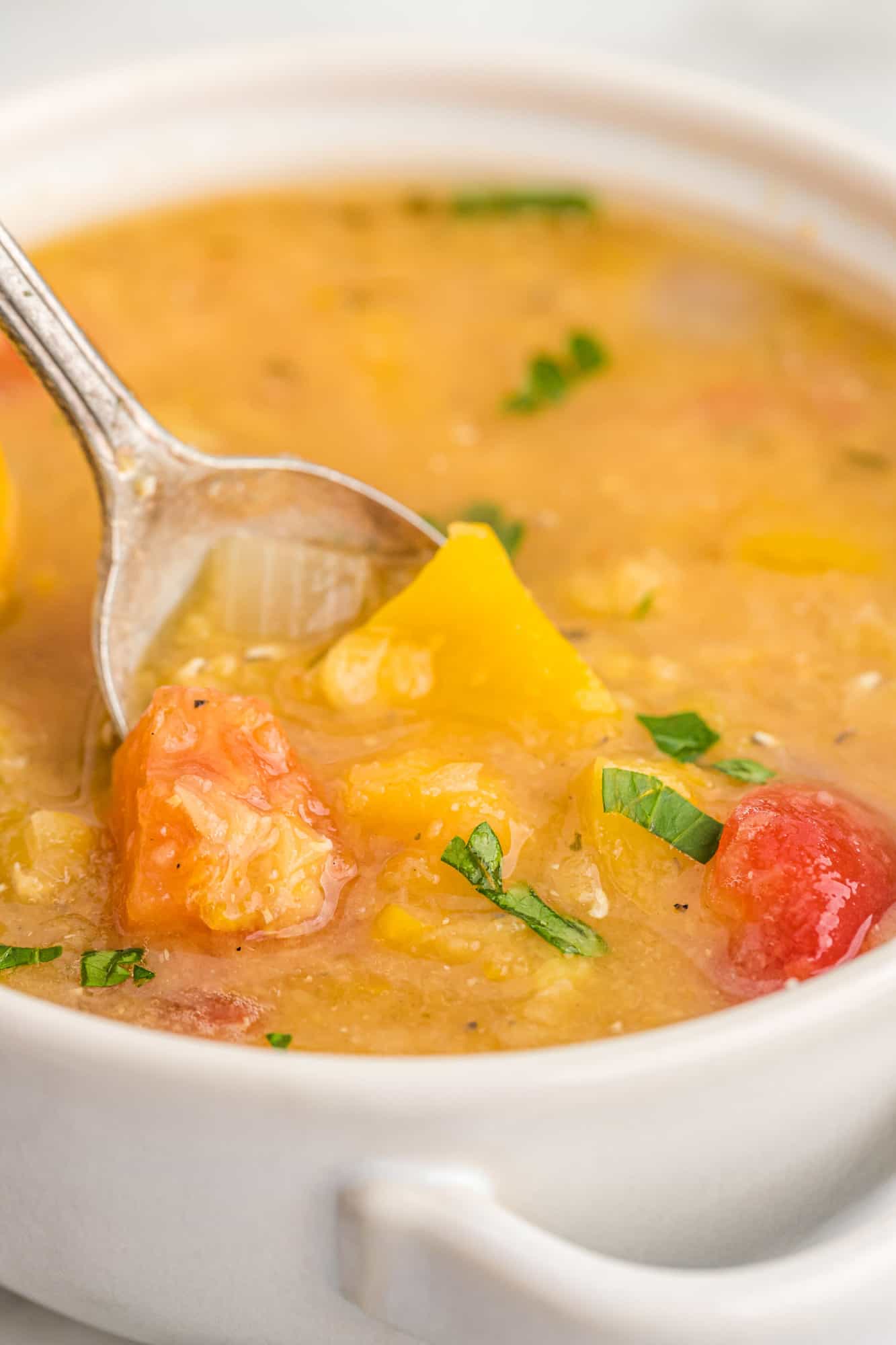 Make-Ahead Ideas
Make a big batch of soup at the beginning of the week and it can be a healthy lunch for you all week long. It's so perfect! I love to make a big batch of this 15 Bean Soup or Bean and Bacon Soup, too. Hearty and healthy!
Time saver tip: Although this soup only takes about a forty-five minutes to make, if you cut the veggies and apricots up in the morning or the day before, you can save about 10 minutes. Just store them in the fridge in a covered bowl or resealable bag until you're ready to cook.
Storage & Reheating Tips
Refrigerate/Freeze: Lentil soup will keep five to six days in the fridge and can be frozen for up to 3 months. Thaw frozen soup overnight in the fridge for best results.
To Reheat: Reheat on the stove in a saucepan or individual portions in the microwave until steaming hot.
Interested in a weekly meal plan (it's free!) that includes this lentil soup recipe? Take a look at Meal Plan (#5) or Meal Plan (#21). You'll find a wholesome recipe for each weekday plus a categorized grocery list. Let me do the planning for you this week!
We'll be adding a new meal plan weekly. If you're interested, browse all of our meal plans.
Did you make this? Be sure to leave a review below and tag me @rachelcooksblog on Facebook, Instagram, or Pinterest!
This red lentil soup recipe is comforting, healthy and surprisingly flavorful, thanks to an unexpected ingredient: dried apricots!
Ingredients
1

tablespoon

extra virgin olive oil

1

cup

chopped yellow onion

(1 medium onion)

1

cup

chopped yellow bell pepper

(1 small bell pepper)

½

cup

diced dried apricots

½

teaspoon

kosher salt

¼

teaspoon

coarse ground black pepper

4

cups

reduced-sodium chicken or vegetable broth

(see note)

16

ounces

dried red lentils, rinsed (about 2 ½ cups)

1

can

(14.5 ounce) diced tomatoes, drained

1

tablespoon

dried parsley

½

teaspoon

ground cumin

(more to taste)

½

teaspoon

garlic powder

¼

teaspoon

dried thyme

3

cups

water, more if needed

1

tablespoon

lemon juice

(freshly squeezed)
Instructions
In a large saucepan over medium-high heat, heat oil and add onion, bell pepper, apricots, salt, and pepper. Sauté, stirring frequently, until onions are translucent, about 8 minutes.

Add broth, lentils, tomatoes, dried parsley, cumin, garlic powder, thyme, and 3 cups of water. Bring to a boil and then reduce to a simmer (medium-low heat).

Cover partially and simmer 20-30 minutes or until lentils are softened. Stir occasionally and add more water if it becomes too thick.

Remove about 4 cups of soup and purée the remaining soup using an immersion blender or carefully using a traditional blender in batches (this step is optional, see note).

Return soup to pan, add lemon juice, and stir to combine. Taste and season with additional salt and pepper, as needed.
Notes
P

uréeing the soup is optional. You can leave it as it is for a chunkier soup, purée part of it, or for very smooth soup, purée all of it.

Use vegetable broth instead of chicken broth to make this soup vegan.
Leftover soup will keep in the refrigerator for 5-6 days or up to three months in the freezer. Reheat in a saucepan or individual portions in the microwave.

Makes about 10 cups (8 servings of 1 ¼ cups each).
Nutrition Information
Serving:
1.25
cups
,
Calories:
278
kcal
,
Carbohydrates:
46
g
,
Protein:
18
g
,
Fat:
3
g
,
Saturated Fat:
1
g
,
Polyunsaturated Fat:
1
g
,
Monounsaturated Fat:
2
g
,
Sodium:
261
mg
,
Potassium:
917
mg
,
Fiber:
19
g
,
Sugar:
8
g
,
Vitamin A:
421
IU
,
Vitamin C:
44
mg
,
Calcium:
69
mg
,
Iron:
6
mg
This website provides approximate nutrition information for convenience and as a courtesy only. Nutrition data is gathered primarily from the USDA Food Composition Database, whenever available, or otherwise other online calculators.