Fifteen bean soup is a warm and comforting soup, perfect for cool weather. It's loaded with ham, a rainbow of beans, and vibrant vegetables.
Recipe Overview
Why you'll love it: Bean soup is hearty and nutritious, and low in calories.
How long it takes: 2 hours (mostly hands off), plus 8 hours to soak the beans (overnight)
Equipment you'll need: large soup pan
Servings: 8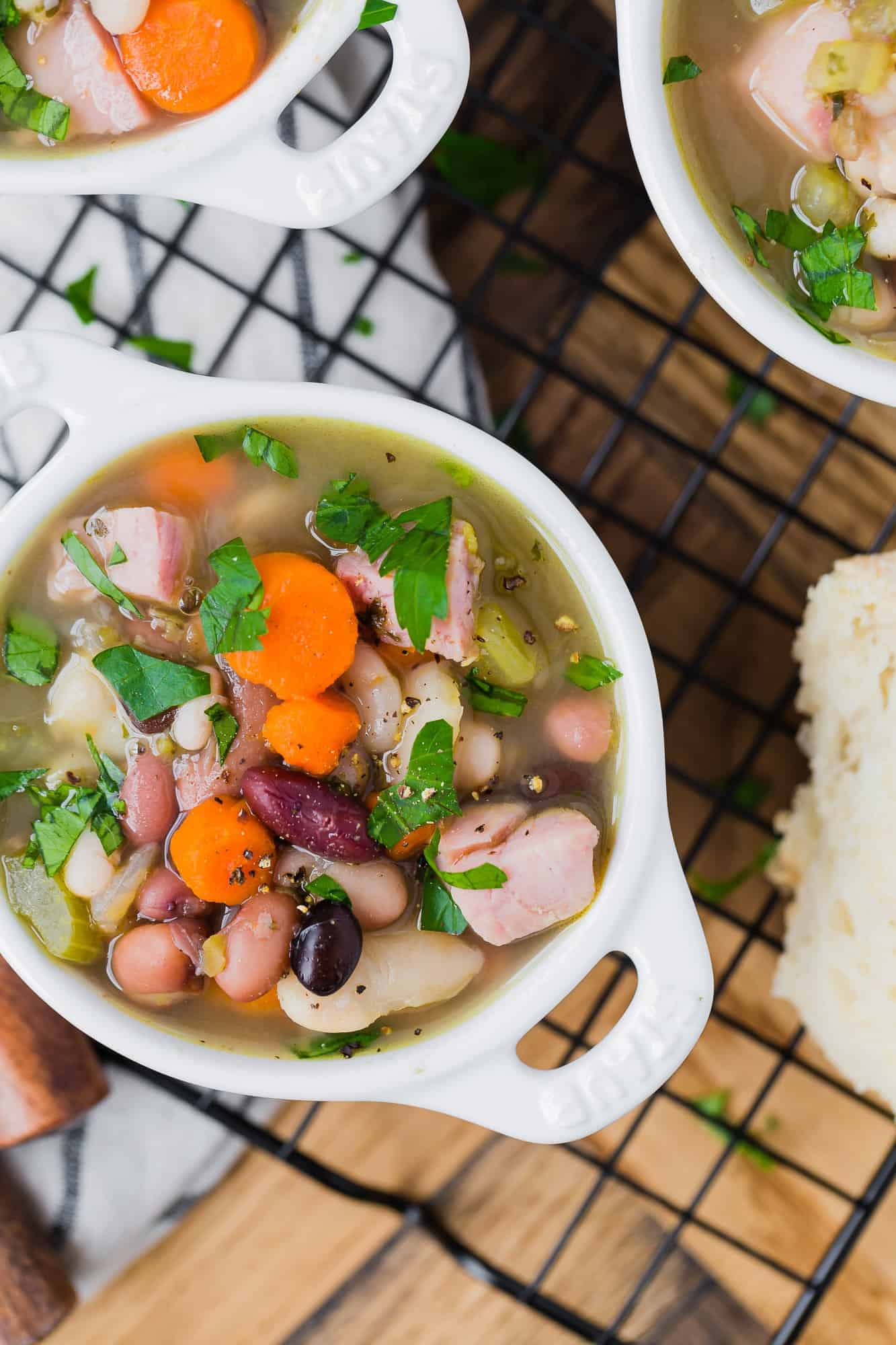 Repeat after me:
"I, beautiful, kind, smart and valued reader of Rachel Cooks, do solemnly swear, to never, ever, ever throw away a ham bone."
Unless you're a vegetarian or you don't eat pork for religious reasons. But then I'm not really sure what you're doing with a ham bone in the first place.
The ham bone takes this soup from mediocre to amazingly delicious. Trust me.
Did you know you can freeze ham bones? Now you really have no excuses for throwing it out. Just toss it in a zip-top bag and stick it in your freezer until you're ready to make this soup.
You might be thinking, "Doesn't the 15 bean dried bean mix come with a packet of ham flavoring?"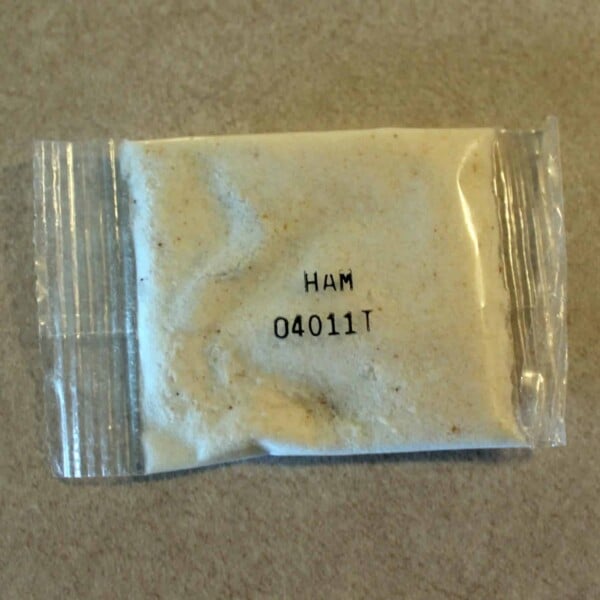 Doesn't look like ham to me!
And just for kicks, here is the list of ingredients: Salt, dextrose, maltodextrin, sugar, bacon flavor (which has nine ingredients in and of itself), disodium inosinate, disodium guanylate, ham flavor (which has an additional four ingredients), and silicon dioxide added as an anti-caking aid.
An anti-caking aid? Gross! I'm not an obsessive label reader and yes, I put some things in my body that probably aren't the best for me and probably aren't all-natural.
But why put in nine ingredient "bacon flavor" when all you need is a ham bone and a couple of spices and herbs? And I'm willing to bet that the real thing probably tastes better than that little tiny package labeled "ham."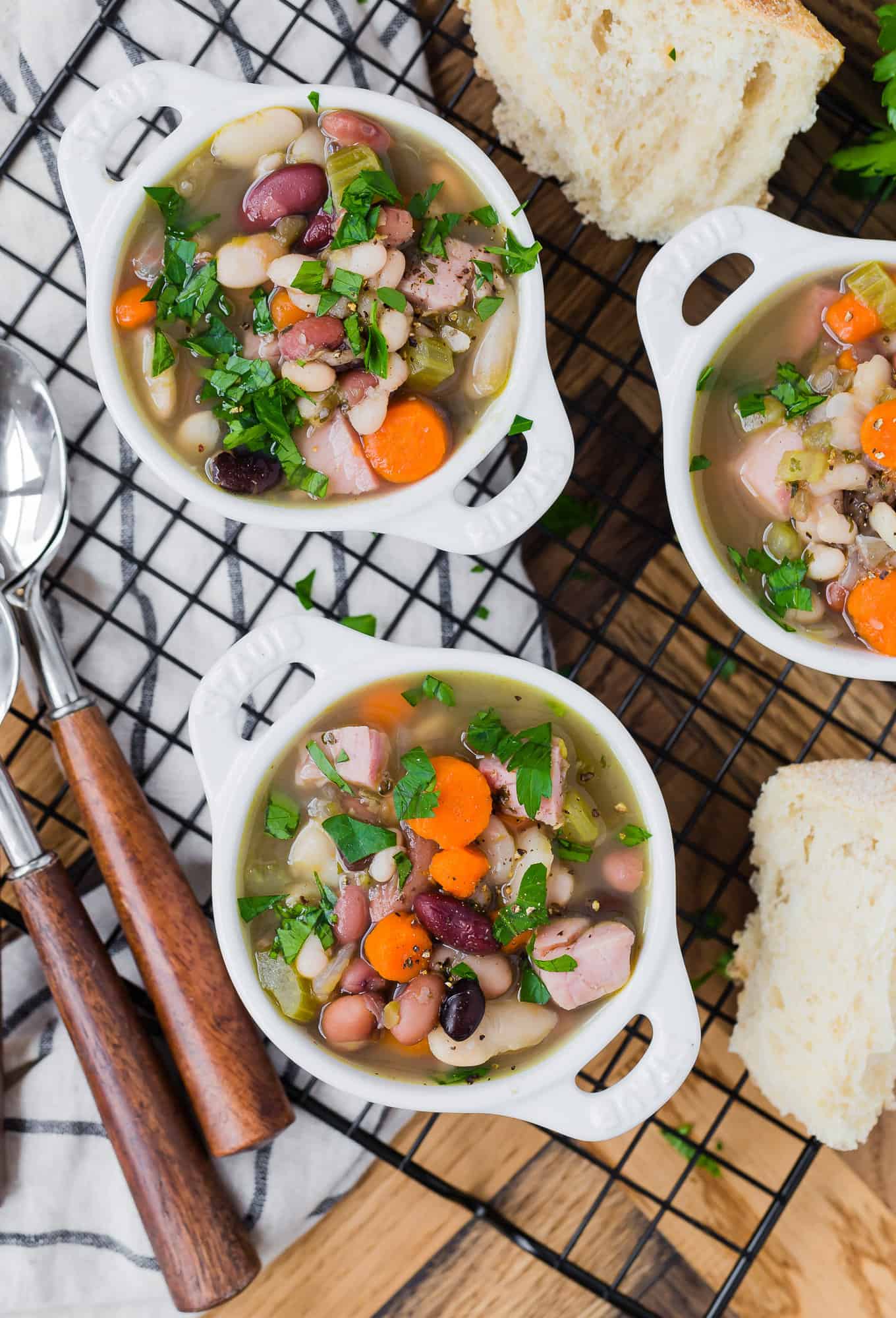 About This Soup Recipe
Don't be scared off by the total time it takes to make this 15 bean soup. It's almost entirely hands off time and it's a super easy recipe to make.
Dried beans need a good long time to soak. After you give the beans a quick rinse, sort through them, removing any foreign objects like small pebbles or the like. Cover the dried beans with water.
I recommend soaking them overnight, or at least 8 hours. If you don't have 8 hours, there are directions on the package for the quick-soak method (cook beans for 2 minutes, then let them soak for an hour or more). Both methods are fine.
When the beans have finished soaking, drain off the soaking water, rinse the beans again, and drain.
P.S. If you're looking for a quicker bean soup, try my popular bean and bacon soup or Instant Pot black bean soup.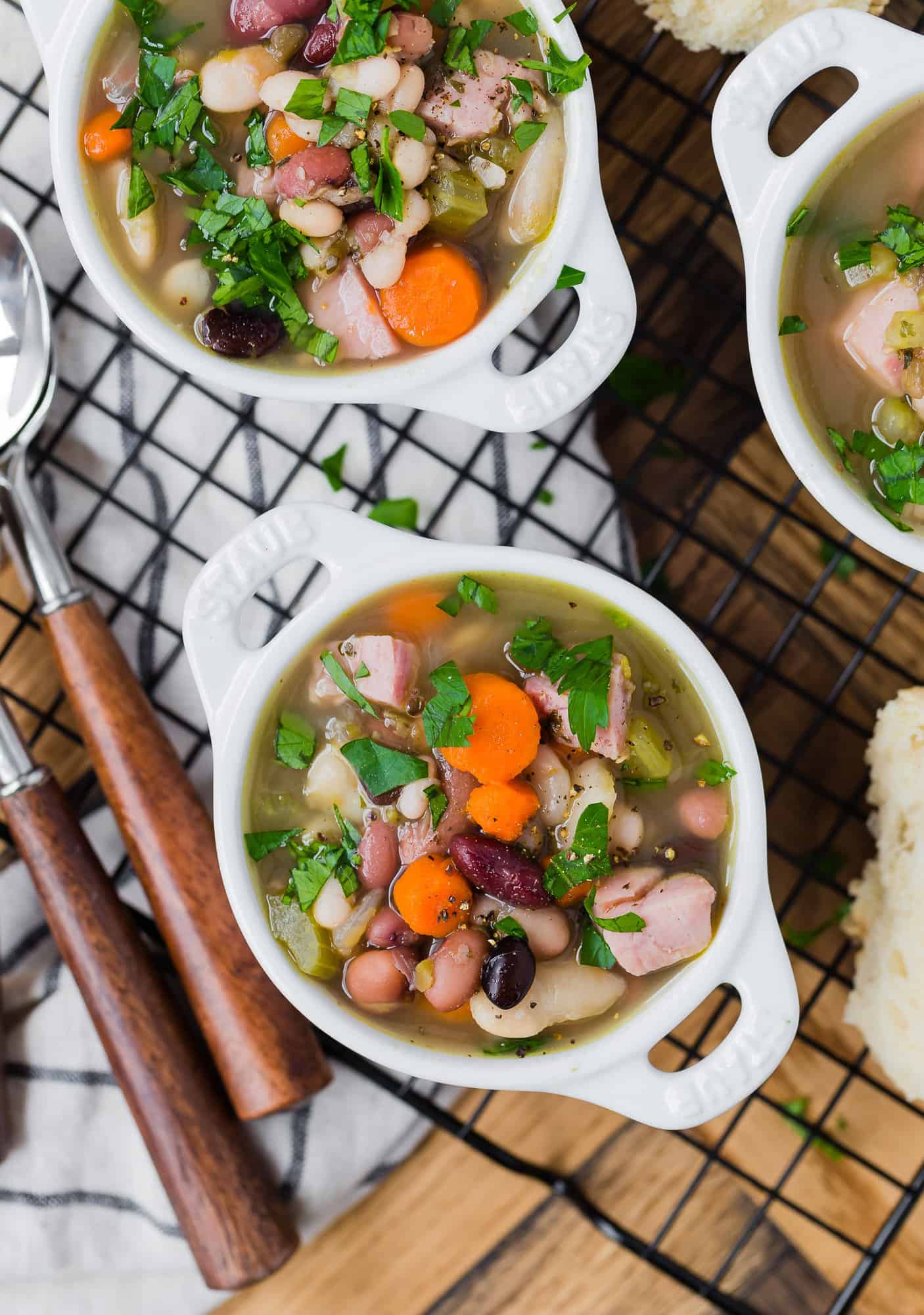 How To Make Bean Soup
Okay, now the beans are soaked. It's time to get started on the soup. You'll need at least two hours to cook this soup but more time is fine, too. The soup can simmer for as long as you want.
Sauté chopped onions, carrots, and celery in a Dutch oven or stockpot. When the veggies are softened, add the soaked beans, water, and seasonings. Nestle that ham bone in, bring the soup to a boil, turn the heat down, and simmer. I recommend an hour and a half, but no worries if you go longer than that.
Remove the ham bone and if there's any ham still clinging to the bone, pull it off and add it to your soup. I like to add some additional ham at this point. If you don't have any extra ham, don't worry, there will be plenty of good flavor in the soup from the ham bone.
Simmer the bean soup 15 minutes more to make sure everything is nice and hot. Remember to remove the bay leaf before serving the soup. Garnish with fresh parsley.
Serve with warm homemade healthy corn bread or whole wheat biscuits made with cornmeal, cheddar and black pepper. Yum! We really love no-knead Dutch oven bread, too, which is another overnight recipe.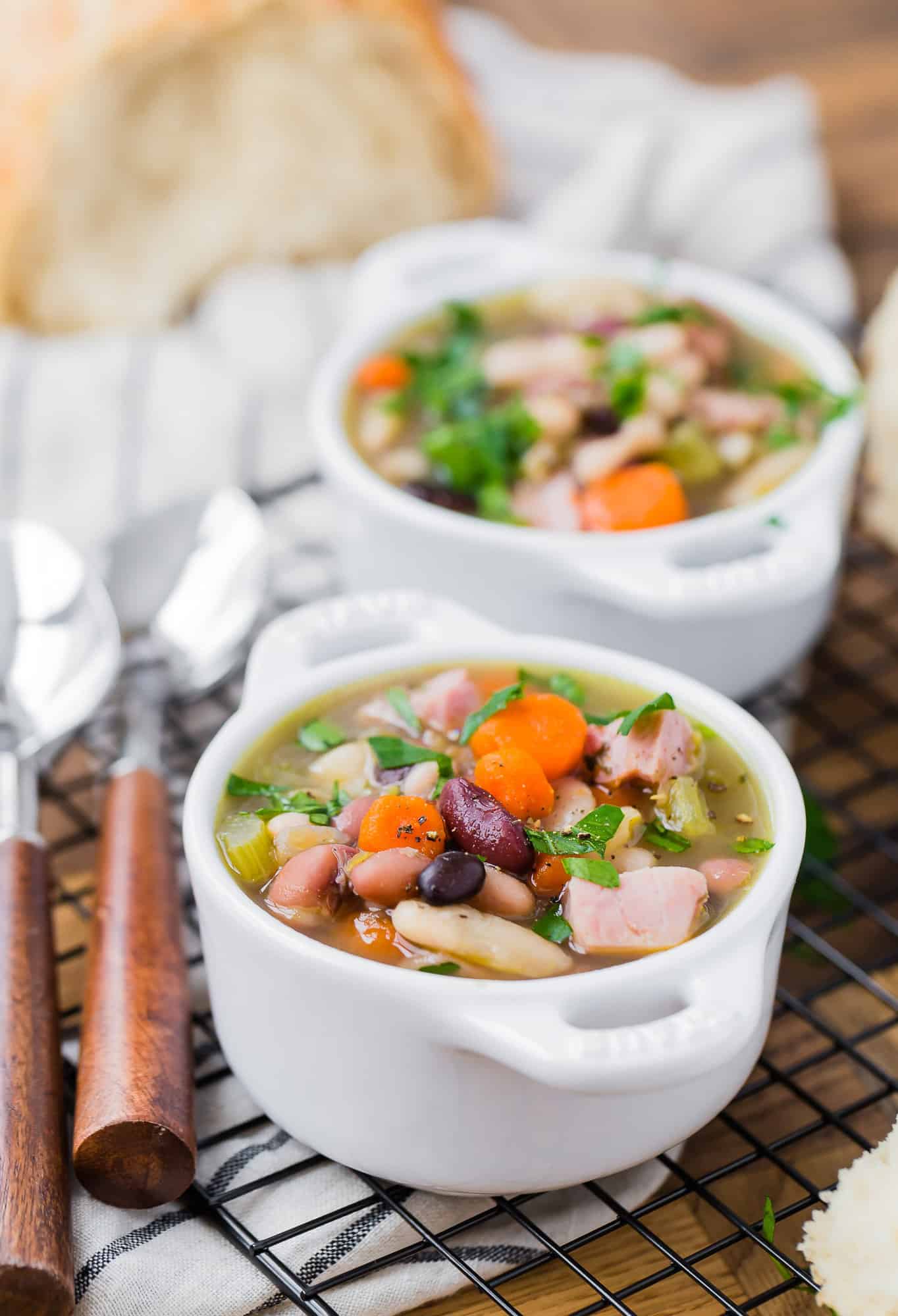 FAQs
What is 15 bean soup made of?
A popular brand in the U.S., Hurst 15 Bean Soup contains a mixture of these beans: Northern, pinto, lima, yellow eye, garbanzo, baby lima, green and/or yellow split peas, kidney, cranberry, white, pink, red, lentils, navy, and black beans. The soup mix also includes a seasoning packet.
How healthy is 15 bean soup?
Beans are legumes which are high in plant protein and low in calories. They contain lots of fiber, vitamins, and minerals. In addition, most bean soup recipes are made with vegetables like onions, carrots, and celery, which also have health benefits.
Make It Your Own
Don't have a ham bone? Or ham? While the ham bone does add really great flavor as it simmers slowly with the beans, you could substitute sausage. Kielbasa or smoked sausage are great, or Italian sausage. Or stir in cooked and crumbled bacon at the end of the cooking time. Another great substitute for a ham bone: ham hocks. I always use ham hocks when I'm making the traditional Hoppin' John with black eyed peas and ham.
Want to make this soup vegetarian or vegan? Just leave the ham bone and ham out. Try adding a couple of tablespoons of nutritional yeast to enhance the flavor and use vegetable broth instead of water.
Like lots of veggies? Increase the amount of carrots, celery, and onion; add chopped bell peppers; stir in spinach or kale near the end of the cooking time.
If you can't find 15 bean soup mix, this soup is delicious with just one type of dried beans. Great Northern beans or another white bean would be perfect.
Some bean soup packages include 15 types of beans, others include 16. Fifteen or sixteen, it doesn't make a difference with this recipe, so feel free to use whatever you like. Call your soup 16 bean soup or 15 bean soup, it's all the same!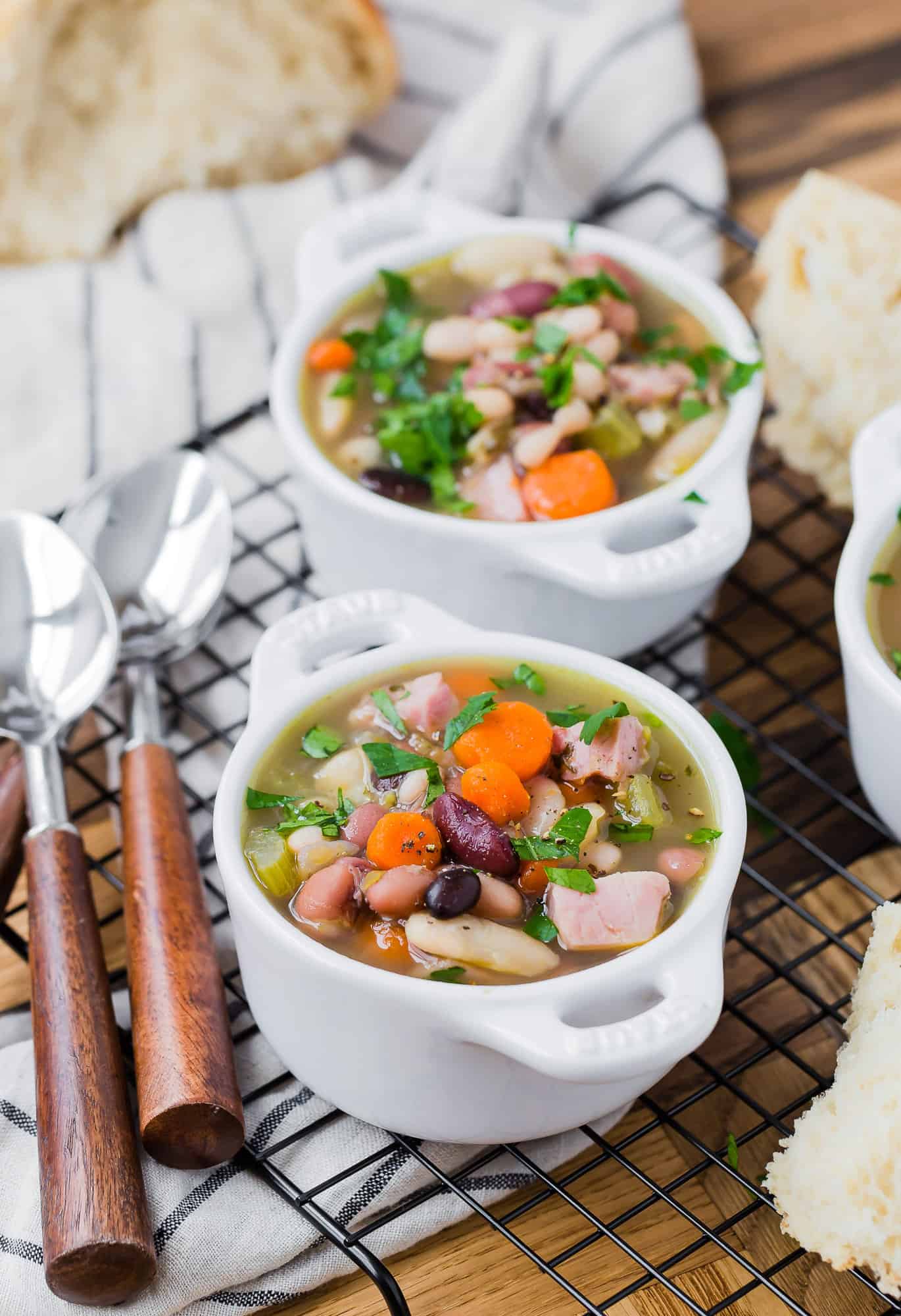 Storage & Reheating Tips
This makes a large batch of soup. Refrigerate leftover soup in covered containers. It will keep for three or four days and is perfect for lunches.
Freeze leftover soup for future meals. Bean soup freezes well. It will keep for at least 6 months. Thaw it in the refrigerator overnight before reheating.
Reheat individual portions in the microwave, using a microwave safe bowl. Cover the bowl because beans tend to explode in the microwave. Large amounts can be reheated in a saucepan on the stove. If the soup seems too thick, add a bit of water or broth.
Did you make this? Be sure to leave a review below and tag me @rachelcooksblog on Facebook, Instagram, or Pinterest!
This 15 bean soup is a warm and comforting soup, perfect for cool weather – and includes no strange seasoning packets!
Ingredients
1

bag

(20 ounces) 15 bean soup mix, seasoning packet removed

(16 bean soup mix is fine, too)

1

teaspoon

olive oil

1

cup

diced peeled carrots

(

4

medium carrots)

1

cup

diced celery

(

3

celery stalks)

1

cup

diced yellow onion

(

1

medium onion)

½

teaspoon

salt

¼

teaspoon

pepper

½

teaspoon

ground cumin

1

tablespoon

dried parsley

1

dried bay leaf

1

ham bone

8

cups

water

8

oz.

(

2

cups) diced fully cooked ham
Instructions
Rinse beans and sort for foreign objects. Pour beans into a bowl or pan, cover with water, and soak overnight (for at least 8 hours).

Drain water from beans and rinse again.

Heat oil in large Dutch oven over medium-high heat, and add onions, carrots, and celery. Season with salt and pepper. Sauté until softened, and onion is translucent, about 5 minutes.

Add cumin, parsley, and bay leaf. Stir to combine. Add beans, ham bone, and water. You can add more later if it gets too thick. Bring to a boil, reduce heat, and simmer for about 1 ½ hours or until beans are tender.

Remove ham bone. If you like a thicker soup, remove a few cupfuls of the soup and mash the beans lightly before adding them back to the soup. Add the diced ham, and simmer for another 10 minutes.

Taste, adjust seasonings as desired. Remove bay leaf and serve. If not ready to serve, turn heat to low and simmer for as long as needed.
Notes
If you don't happen to have a ham bone, no worries! Just skip that part and add diced ham at the end of the cooking time.
If you would prefer not to use ham at all, kielbasa, Polish sausage, bacon, or Italian sausage can be substituted.
Make this soup vegan or vegetarian by not adding any meat. Instead add a couple of tablespoons of nutritional yeast and use vegetable broth instead of water.
Bean soup freezes well and will keep for at least 6 months.
Nutrition Information
Calories:
53
kcal
,
Carbohydrates:
5
g
,
Protein:
6
g
,
Fat:
2
g
,
Saturated Fat:
0.1
g
,
Polyunsaturated Fat:
0.1
g
,
Monounsaturated Fat:
0.4
g
,
Cholesterol:
15
mg
,
Sodium:
550
mg
,
Potassium:
125
mg
,
Fiber:
1
g
,
Sugar:
2
g
,
Vitamin A:
2738
IU
,
Vitamin C:
3
mg
,
Calcium:
27
mg
,
Iron:
0.5
mg
This website provides approximate nutrition information for convenience and as a courtesy only. Nutrition data is gathered primarily from the USDA Food Composition Database, whenever available, or otherwise other online calculators.