Crispy Chickpeas
Crispy Chickpeas are the perfect salty snack that's packed with protein! They're also great on salads and sprinkled on top of soup.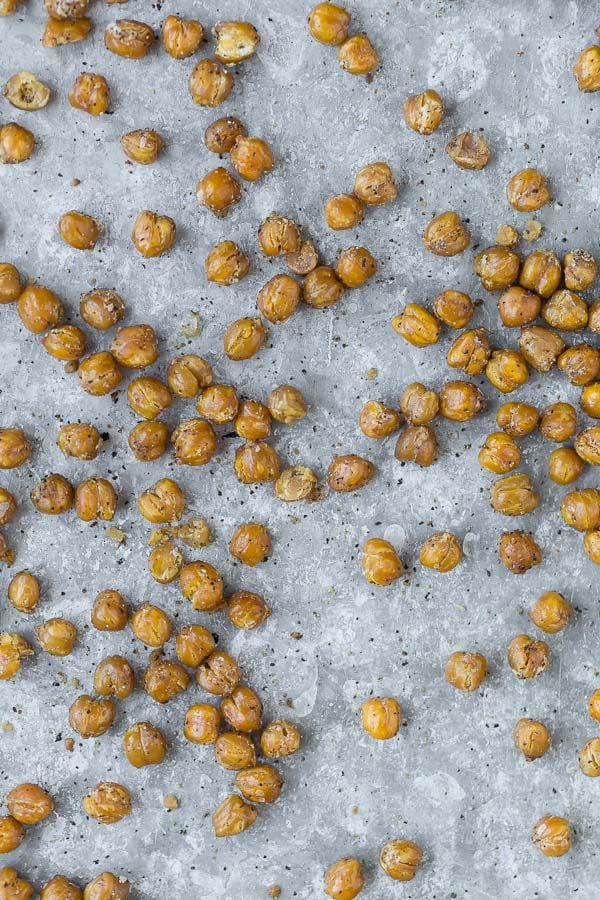 Remember that time I dropped an entire bright red cocktail on my white carpet in my studio? And then dropped it again in the kitchen?
Well, here's another fun story…
I was making these crispy chickpeas. It was an afternoon when I was trying to get far too much done. My parents and my sister and her family were coming over for a belated Christmas celebration. They had been sick, and then we were sick, and we were celebrating Christmas over a week later than we had originally planned.
I had made my banana chocolate chip cake for dessert and decided to reshoot the photos since they were old and needed to be redone. I was also making bacon wrapped dates which I decided that I had to share with you guys because they're so dang good so I squeezed in a shoot for those, too.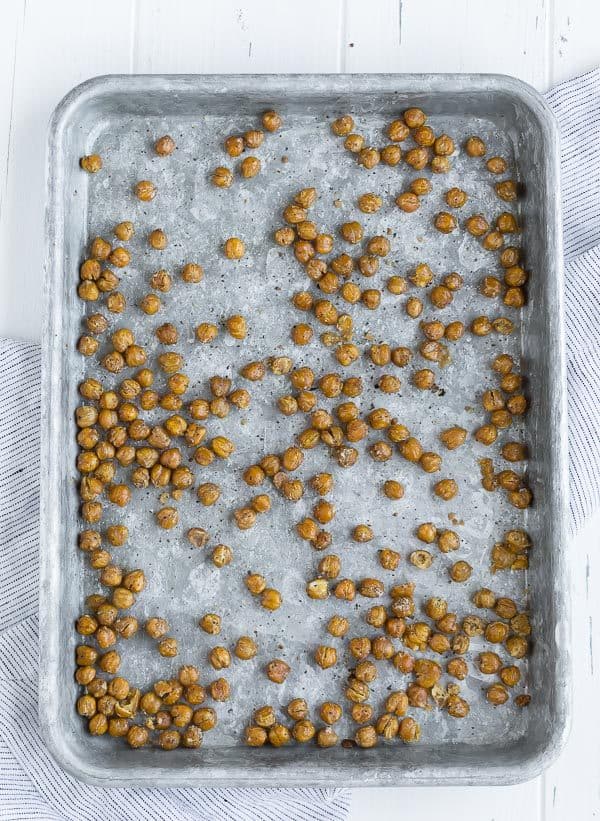 And then there was this Brussels sprouts salad I wanted to get done. I had bought the Brussels sprouts almoooost too long ago and I had kept putting off the task because I had a cold that had kicked my butt and just getting the basics done was difficult enough. So I thought, why not squeeze that into the two hours before they get to our house? The salad is topped with these yummy crispy chickpeas, but they're also great on their own…so sure, why not shoot photos of these separately too?
And peeling chickpeas…that's an easy task that's not at all monotonous and time consuming (please sense my sarcasm) so it totally makes sense to do this all, right? There was a glass of wine waiting for me at the end of the tunnel!
I got the chickpeas peeled and then scooted them into the oven while I began to prep the salad. As you'll see in this recipe, you'll want to give the pan of chickpeas a little shake every ten minutes or so while they bake, so that they crisp up evenly. So here's the thing. Make sure you have a good grip on that pan, k? Don't be like me.
I was shaking the pan, lost my grip on it, and dropped it. Of course I wasn't doing this on the countertop…I was doing it with the oven door three-quarters of the way open, in the oven. Again…don't be like me.
The chickpeas fell into the crack where the oven door meets the oven. So instead of falling into the oven (actually really glad about that) or falling onto the floor, they fell into this crack, and then subsequently into the drawer under my oven. The "warming drawer." Does anyone use this drawer for its intended job? Or do you all store your grilling tools in it like I do?
So into the drawer go all my chickpeas…the chickpeas that I peeled one-by-one. At this point, I'm faced with a dilemma. Do I restart completely? Or do I scoop these out of the not-so-clean under the oven drawer, and continue roasting?
Clearly I went with the second option, because I didn't have time to spare! So, I've made these before (also cinnamon roasted chickpeas), and I took the chance and ate one for quality control, but other than that, these starred in their photoshoot and then went in the trash.
That turned into a pretty long story! Anyone still with me want to talk about these tasty crispy chickpeas?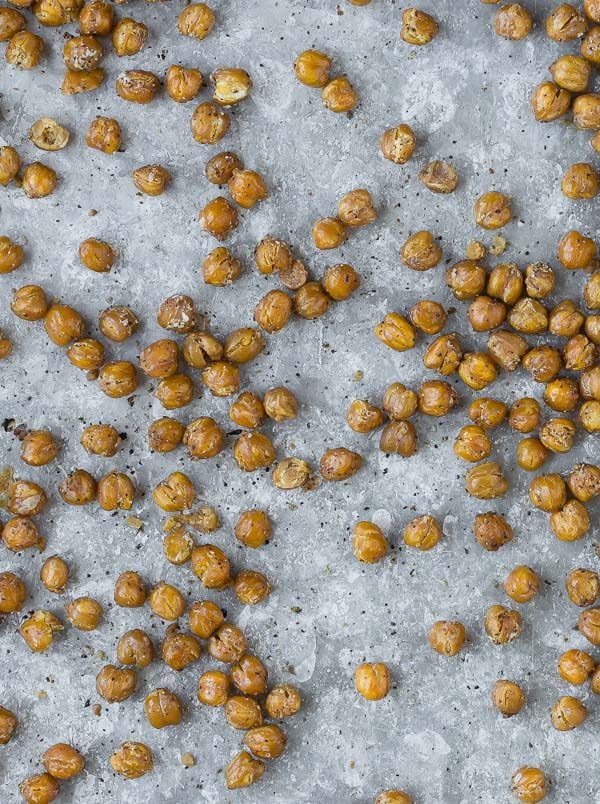 How to Make Crispy Chickpeas:
This is a pretty basic recipe that uses olive oil, salt, pepper, and garlic powder. You can obviously have fun with flavors with these, but I kept them fairly simple since they were intended as a salad topping.
Roasted chickpeas get delightfully crispy and are a great snack for when you're craving something crunchy and salty. If you have an air fryer, try crispy Air Fryer Chickpeas.
After having made these quite a few times, I have a couple tips for the best success and highest levels of crispiness.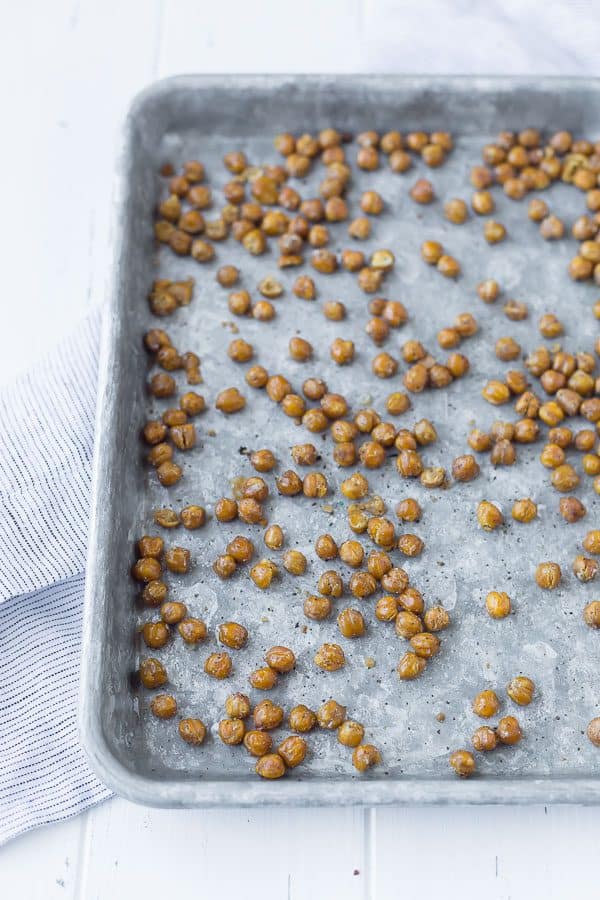 Tips for the crispiest chickpeas:
Peel them. I know, it's a pain. It's worth it though. Rub them between two paper towels — that will get a lot of the peels off, and then just tackle the rest one by one. It's monotonous but it's also oddly satisfying popping those little buggers out of their peels.
Dry them. Dry them well with a paper towel or a non-linty (and clean) kitchen towel (tea towels work well). You can also spread them on a towel and let them air dry for 30 minutes or an hour.
Roast, shake, roast, shake, etc. The longer you cook these, the crispier they will get. Carefully shake the pan every 10 minutes to ensure they roast evenly.
Enjoy!
Crispy Chickpeas
Yield: 4 servings
Prep Time: 20 minutes
Cook Time: 30 minutes
Total Time: 50 minutes
Crispy Chickpeas are the perfect salty snack that's packed with protein! They're also great on salads and sprinkled on top of soup.
Ingredients
1 can (14oz) chickpeas, drained, rinsed, peeled and patted dry
1 tablespoon olive oil
1/2 teaspoon kosher salt
1/4 teaspoon black pepper
1/4 teaspoon garlic powder
Instructions
Preheat oven to 400°F.
Toss peeled chickpeas with olive oil, salt, pepper, and garlic powder. Spread on a rimmed baking sheet.
Bake for 20-30 minutes, shaking pan every 10 minutes, or until crispy.
Cool completely before storing in an airtight container.
Nutrition Information:
Yield: 4
Serving Size: 1
Amount Per Serving:
Calories: 98
Total Fat: 4g
Saturated Fat: 1g
Trans Fat: 0g
Unsaturated Fat: 4g
Cholesterol: 0mg
Sodium: 267mg
Carbohydrates: 11g
Fiber: 3g
Sugar: 2g
Protein: 4g
RachelCooks.com sometimes provides nutritional information, but these figures should be considered estimates, as they are not calculated by a registered dietician. Please consult a medical professional for any specific nutrition, diet, or allergy advice.