Hummus without Tahini – Parsley Flavor (Sesame & Nut Free)
If you don't like or can't have tahini, this parsley hummus without tahini should be your bean dip of choice! It comes together in 10 minutes or less and is perfect for healthy dipping.
Recipe Overview
Why you'll love it: Pretty, economical, and good for you!
How long it takes: 10 minutes
Equipment you'll need: food processor
Servings: 10 (2 tablespoons each)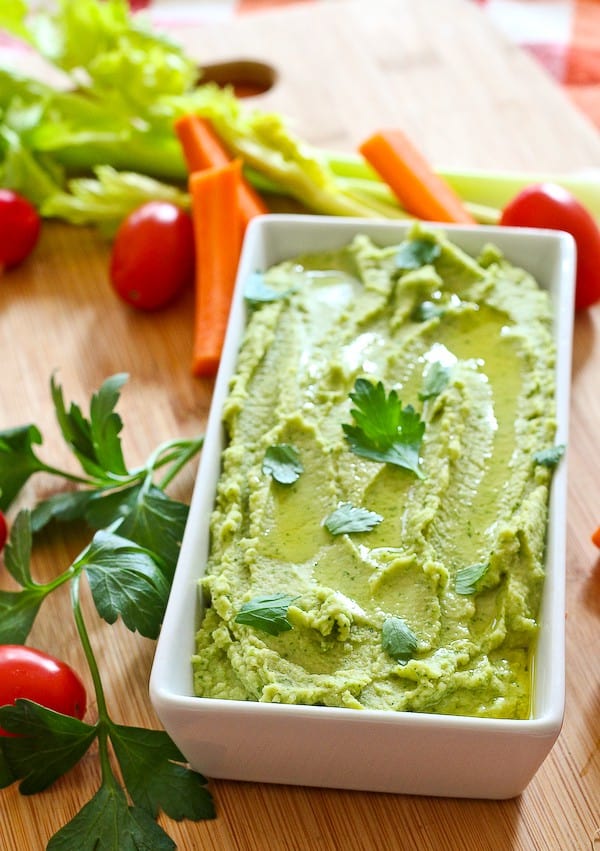 As many of you know, my little man (N) has a sesame seed allergy (we found out the hard way when he was 15 months old – aka, the worst day of my life). He's allergic to nuts too, but sesame is far more severe.
It's so dangerous because people also don't know that sesame can be found in things such as makeup (yes, really!) and vegetable oil. It can also be snuck into products as a "natural seasoning" or "spice" on an ingredient label.
Eating at Asian or Lebanese restaurants is out of the question for us. (We still do get our Lebanese carryout sometimes when it's just the four of us. Thankfully his allergy is through ingestion and not inhalation and we're all very aware and careful.)
Many people don't even know that there is sesame in hummus. Let's take a minute to chat about that. One of the main ingredients in hummus is tahini. In fact, I think tahini is what makes it hummus and not a "bean dip," but we're calling this recipe hummus anyways.
So, tahini. Tahini, if you're unfamiliar, is basically just ground sesame seeds. If you were to make peanut butter with sesame seeds instead of peanuts, you'd have tahini.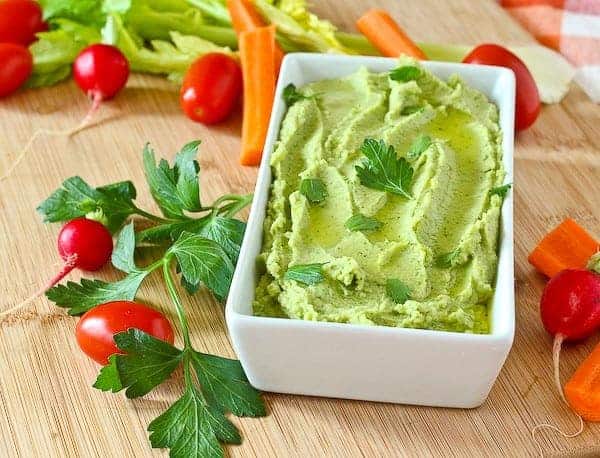 I've said it more than once already and I'll be preaching this until the day I die, but if you have a kid in school, please please please please educate them in the importance of washing their hands immediately after they eat and not sharing food. Please. Even if they just have an apple and pizza in their lunch or anything else you might assume is completely innocent.
On Halloween of this past year, N actually had a reaction after eating a breadstick from a local pizza place at a family member's house. We called the place they ordered from and found that the restaurant offered sesame seed crust. So even though we were assured there was "NO WAY" there could be a sesame seed on the breadstick, we still ended up in the ER. My poor little Spiderman said, "Is this Halloween?" as we pulled up to the hospital. Instead of candy, he got a hospital gown and a popsicle.
I've never wanted my kids to live in a bubble, and I still don't. But, as time progresses with this allergy, I find myself becoming more and more cautious (some would say crazy) about how we handle these allergies. If you don't have a loved one with an allergy, count your blessings and please be patient and gracious to people who do. We literally live every day in fear. That sounds extreme, but fun events such as birthday parties, potlucks, and dining out? They all become stressful and anxiety-producing events. I'm so thankful that I have a healthy boy and modern medicine and an EpiPen.
Anyyyyyyyways. Should we talk dip? Can you tell I'm slightly passionate about food allergies? If you're allergic to sesame, I would absolutely love to hear from you and hear your story. I hope you like this hummus without tahini as much as we do.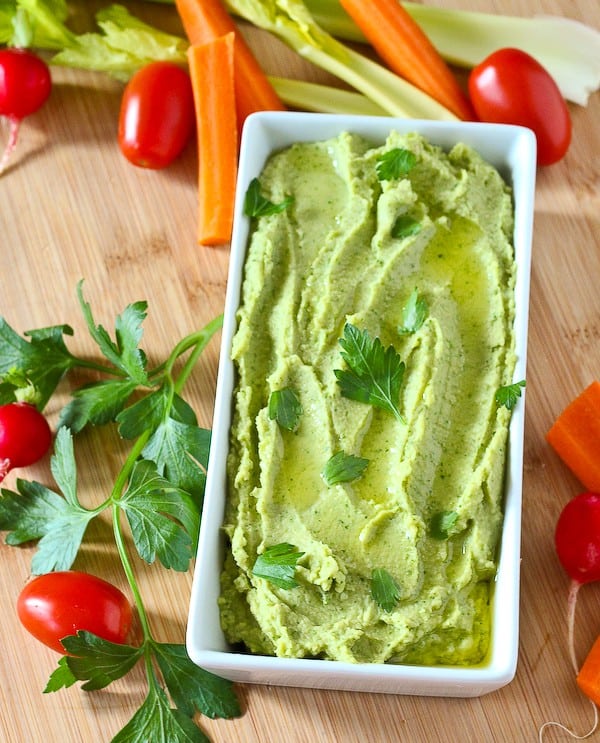 About This Hummus
This dip doesn't look like hummus, I know. If you're going for something that looks and tastes more like hummus (even hummus without tahini), omit the fresh parsley. I just love the flavor parsley adds and the beautiful shade of green. Wouldn't you say it's more appetizing than plain ol' hummus?
You'll find the printable recipe card at the end of this post.
What You'll Need
Hummus is super easy to make. You'll need a food processor. Maybe a blender would work although I've never tried making hummus in a blender.
Canned Chickpeas: Or garbanzo beans, whatever name you give them. They are exactly the same thing. If you like, save a couple tablespoons of the liquid they're canned in. It's called aquafaba and can be substituted for the water in this recipe for an even creamier dip.
Garlic: Adjust the garlic to your preference. I'd start with one clove and go from there.
Freshly Squeezed Lemon Juice: A splash of citrus brightens up the flavor of hummus and is a pretty classic ingredient.
Olive Oil: Choose a good quality extra virgin olive oil for best results.
Salt: Since this is homemade hummus, you can control the sodium in this recipe.
Parsley: Only fresh parsley will do here. I like Italian flat leaf but curly parsley works, too. Parsley adds nutrition and color. You may omit it if you prefer more classic hummus.
How to Make Hummus
I've made this recipe super easy for you. Simply add all the ingredients to your food processor and process until smooth. Drizzle more olive oil in if it's too thick.
Used in this recipe:
FAQs
What is green hummus made of?
You can add pretty much any tender green or herb to hummus. Spinach, watercress, baby kale, cilantro, dill, chives or green onions are good choices.
Is eating hummus every day bad for you?
Actually, hummus is really good for you so go ahead and eat it every day if you like. The only caution is watch what you're eating it with. Crackers and chips can be loaded with fat and sodium. Veggies are a great choice or whole wheat pita bread. Spread in on a sandwich or wrap, like this vegetarian Quinoa Hummus Wrap or Flatbread with Hummus and Vegetables.
How well does hummus freeze?
Hummus freezes well for four to six months. If it separates slightly, just give it a good stir. If you're freezing a large amount, thaw overnight in the fridge for best results.
Keep reading for more about freezing hummus.
Storage Tips
Store hummus in an airtight container in the fridge for up to 5 days. Hummus can be frozen, too! If you are looking for an easy lunchbox idea, put the hummus into individual serving size containers and freeze for up to 6 months. Add it to lunchboxes along with fresh pita triangles and/or veggies for a healthy lunch.
Looking for more nut-free dips?
Here's a selection of some of my favorites:
Did you make this? Be sure to leave a review below and tag me @rachelcooksblog on Facebook, Instagram, or Pinterest!
If you don't like or can't have tahini, this parsley hummus without tahini should be your bean dip of choice! It comes together in 10 minutes or less and is perfect for healthy dipping.
Ingredients
1

can

(16 oz.) garbanzo beans,

rinsed and drained

1

garlic clove, minced

juice of one lemon

1/4

teaspoon

salt

(more to taste)

1/2

cup

firmly packed parsley leaves

(some stems are okay too)

2

tablespoons

olive oil

2

tablespoons

water
Instructions
Blend all ingredients together in food processor until smooth. Scrape down sides as needed.

Store in airtight container in fridge for up to a week.
Notes
Serving size: 2 tablespoons.
If you're looking for something that looks and tastes more like hummus, omit the fresh parsley in this recipe. I just love the flavor it adds and the bright green color of the hummus.
Garbanzo beans and chickpeas are the same thing.
Aquafaba, the liquid in canned chickpeas, can be substituted for the water.
Nutrition Information
Serving:
2
tablespoons
,
Calories:
66
kcal
,
Carbohydrates:
6
g
,
Protein:
2
g
,
Fat:
4
g
,
Saturated Fat:
1
g
,
Polyunsaturated Fat:
1
g
,
Monounsaturated Fat:
2
g
,
Sodium:
186
mg
,
Potassium:
83
mg
,
Fiber:
2
g
,
Sugar:
1
g
,
Vitamin A:
260
IU
,
Vitamin C:
4
mg
,
Calcium:
21
mg
,
Iron:
1
mg
This website provides approximate nutrition information for convenience and as a courtesy only. Nutrition data is gathered primarily from the USDA Food Composition Database, whenever available, or otherwise other online calculators.