Sautéed Parsnips with White Wine and Thyme
A classy yet stand-out side dish, these sautéed parsnips are flavored with wine, butter, and thyme. They're the perfect addition to any meal – especially Thanksgiving!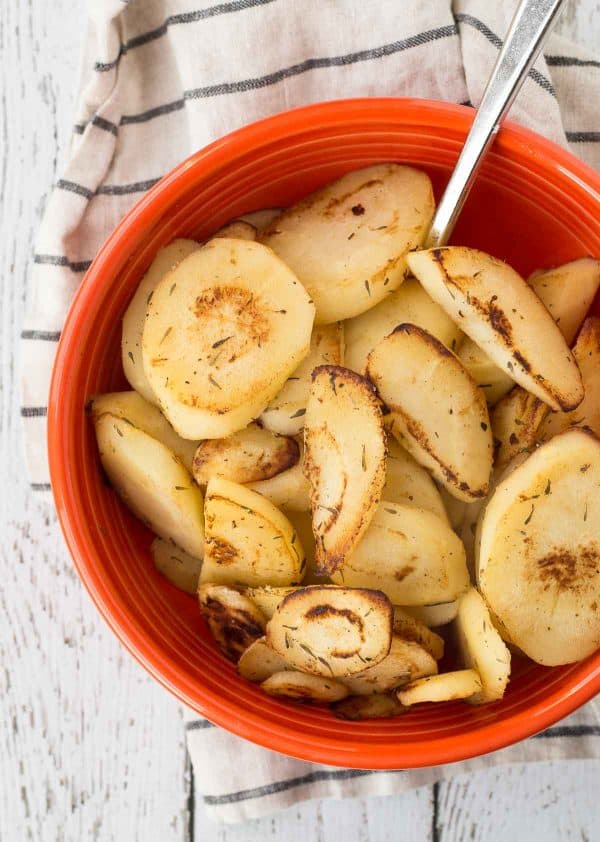 Arguably, not the prettiest food in the world. But parsnips are one of my favorite things — they have such a unique, unforgettable flavor. I bet some of you have ignored these "white carrots" at the grocery store, not knowing what they taste like, or thinking that they just would taste like pale carrots. Parsnips are root vegetables, like carrots, but they have a flavor all their own. Some people describe parsnips as tasting sweeter than carrots, with a nutty, earthy flavor. I personally think they have an almost spicy, kind of herby thing going on.
Nutritionally speaking, parsnips bring vitamin C, vitamin K, and folate to the table, along with fiber. They're rich in antioxidants and low in calories.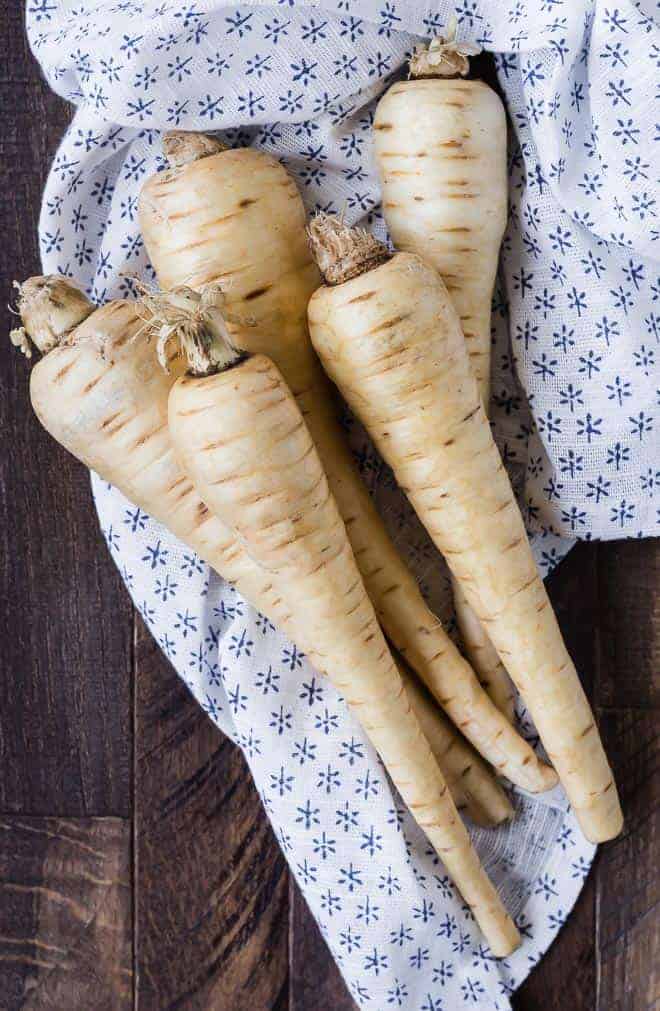 They're the perfect unexpected ingredient in soups and other dishes like pasta and they also shine on their own. My mom once made parsnip cupcakes and they were AMAZING. Looking through my parsnips archives, it has become clear that they need to make an appearance here more frequently! Those are all such old (and ugly!) recipes.
Quick side note because we need to talk about Halloween for a minute. Last year my little Spiderman, N, who was 2 at the time, ended up in the ER with an allergic reaction. Before we even had the chance to do any trick-or-treating. We're still not 100% sure, but we think a sesame seed probably made its way onto a breadstick that he was eating.
So, this year, my primary goal was to NOT spend Halloween in the ER. Seems reasonable, right?
I'm happy to say that we were successful! The kids had an absolute blast with their cousins. The weather was perfect and everyone had so much fun. We're loving living closer to family and spending more time with everyone.
Now, with Halloween under our belts, it's time to shift the focus to Thanksgiving! Hooray! I can't wait to fill our new home with the smell of a roasting turkey, sage and other herbs, sweet potatoes, and PIE.
I'm thinking these sautéed parsnips will make an appearance on our Thanksgiving table. I also love these brown sugar glazed carrots and Brussels sprouts with cranberries and walnuts. I'm the type that believes that you can never have too many vegetables. Something for everyone, you know? Or just a whole bunch of choices for me.
Truthfully, I could stick to stuffing and vegetables and skip the turkey all together. Am I allowed to say that? Maybe I'm a closet vegetarian. Just don't leave the bacon out of the green bean casserole. Oh, and I absolutely have to have cranberry sauce, like this orange cranberry sauce with cardamom.
PS: My slow cooker stuffing has become an absolutely necessity for Thanksgiving – I love that it frees up space in the oven and never gets too dry.
Ready to try more parsnip recipes? Here's a few to get you started:
Sautéed Parsnips with White Wine and Thyme
Yield: 4-6 servings
Prep Time: 5 minutes
Cook Time: 20 minutes
Total Time: 25 minutes
A classy yet stand-out side dish, these sautéed parsnips are flavored with wine, butter, and thyme. They're the perfect addition to any meal – especially Thanksgiving!
Ingredients
4 large parsnips, peeled and cut into 1/4 inch slices
1 tablespoon olive oil
1 tablespoon butter plus 1 teaspoon, divided
Salt and pepper to taste
1/3 cup dry white wine
1/2 teaspoon dried thyme
Instructions
Melt butter and olive oil over medium heat. Add parsnips, sprinkle with salt and pepper, and cover. Cook for 5 minutes, covered.
Stir, cover again and cook for an additional 5 minutes
Uncover, increase temperature to medium-high and cook until parsnips are tender and browned.
Add wine and continue to cook until wine is almost completely reduced. Add 1 teaspoon butter and melt, sprinkle with dried thyme.
Serve immediately.
Nutrition Information:
Yield: 6
Serving Size: 1 of 6
Amount Per Serving:
Calories: 124
Total Fat: 5g
Saturated Fat: 2g
Trans Fat: 0g
Unsaturated Fat: 3g
Cholesterol: 5mg
Sodium: 76mg
Carbohydrates: 19g
Fiber: 4g
Sugar: 5g
Protein: 1g
RachelCooks.com sometimes provides nutritional information, but these figures should be considered estimates, as they are not calculated by a registered dietician. Please consult a medical professional for any specific nutrition, diet, or allergy advice.
Verdict:
I loved the taste of the parsnips with the white wine and thyme. It's a comforting and warm way to enjoy parsnips.
Husband's take:
No complaints from him – I think he even went back for seconds. My mom loved these too.
Changes I would make:
None are necessary.
Difficulty:
Easy!