Creamy Italian Dressing
If you love creamy Italian dressing, try making your own healthier version! Zesty and flavorful, it's perfect on a garden salad topped with Parmesan cheese.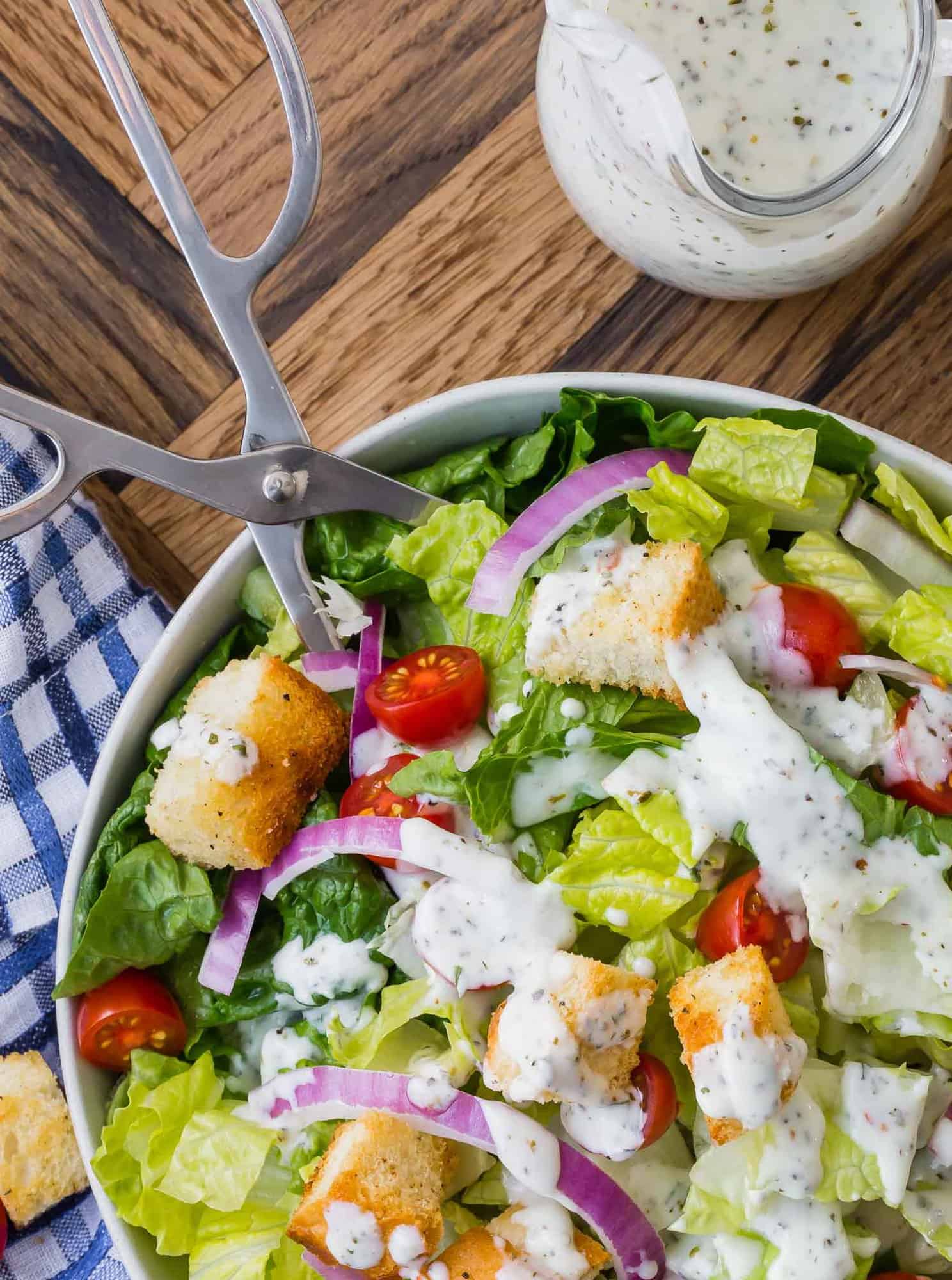 Many of you love my Italian dressing, an easy to make vinaigrette, but some of you are asking if I have a recipe for a creamy Italian dressing, so here it is!
Many creamy dressings use mayonnaise to achieve their creamy status. While I'm not against mayonnaise in any way, I like to keep things a bit more healthy by using Greek yogurt in place of the mayo. The dressing is nice and creamy without as many calories (and it's egg-free!)
This Italian dressing has loads of flavor and it really is perfect for a simple green salad, especially with tomatoes and pickled red onions. I love topping it with shaved Parmesan and homemade croutons. It's a delicious dressing for pasta salads, too.
About this dressing
This homemade dressing recipe is so easy to make. There's no chopping or mincing. Just grab dried herbs from your pantry. How easy is that! You can throw it together in about five minutes. And I'm sure you'll agree that homemade is way fresher tasting than store bought dressing.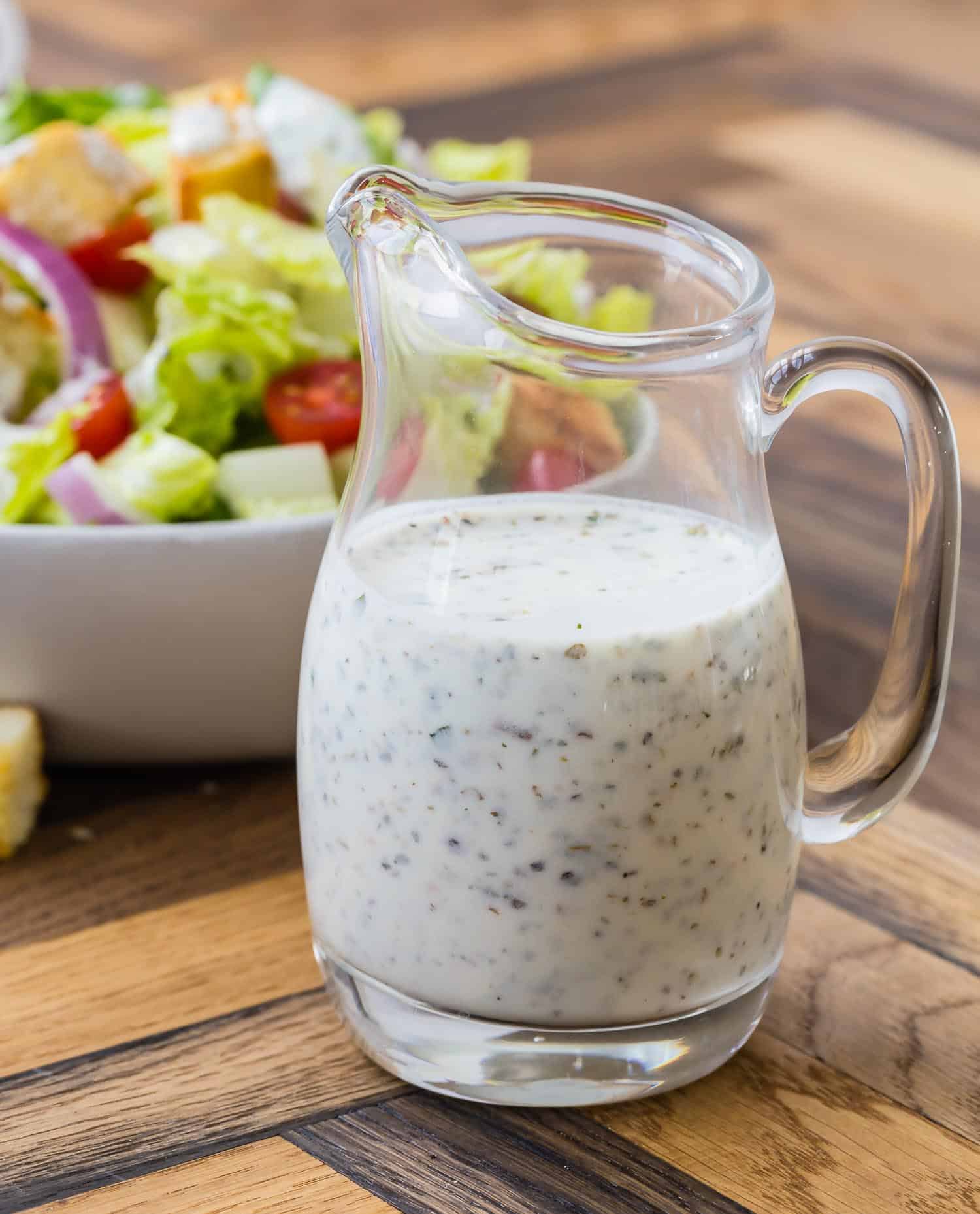 What you need
Olive Oil – You could also use grapeseed or canola oil but I like a good quality extra virgin olive oil.
Plain Greek Yogurt – Any type is fine: nonfat, lowfat, or regular, as long as it is plain/unflavored. This replaces the mayonnaise found in most creamy Italian dressing.
White Wine Vinegar – White balsamic would work too but don't use plain white vinegar because it's too acidic.
Honey or Sugar – Just a touch, to balance the tangy yogurt.
Lots of Flavorful Seasonings – Garlic powder, dried basil, oregano, and parsley, and kosher salt. All stuff you probably have in your pantry!
Like it zesty? Add a pinch (or more!) of red pepper flakes.
How to make it
Find a nice little jar (about 12 oz.) or small bowl. I like to use recycled jars that have a tight fitting lid. Mason jars are great, too.
Measure out all the ingredients and add them to your container.
Cover the jar and shake it until the ingredients are blended. If you're using a bowl, a small whisk will do the trick.
Now this next step isn't crucial but we found that the dressing tastes a little bit better if you refrigerate it for 30 minutes or so. The dried herbs sort of come into their own, hydrating until they are full flavored. That's just enough time to make your salad, right? Make the dressing first, put it in the fridge, prepare the salad, and you're good to go. Enjoy!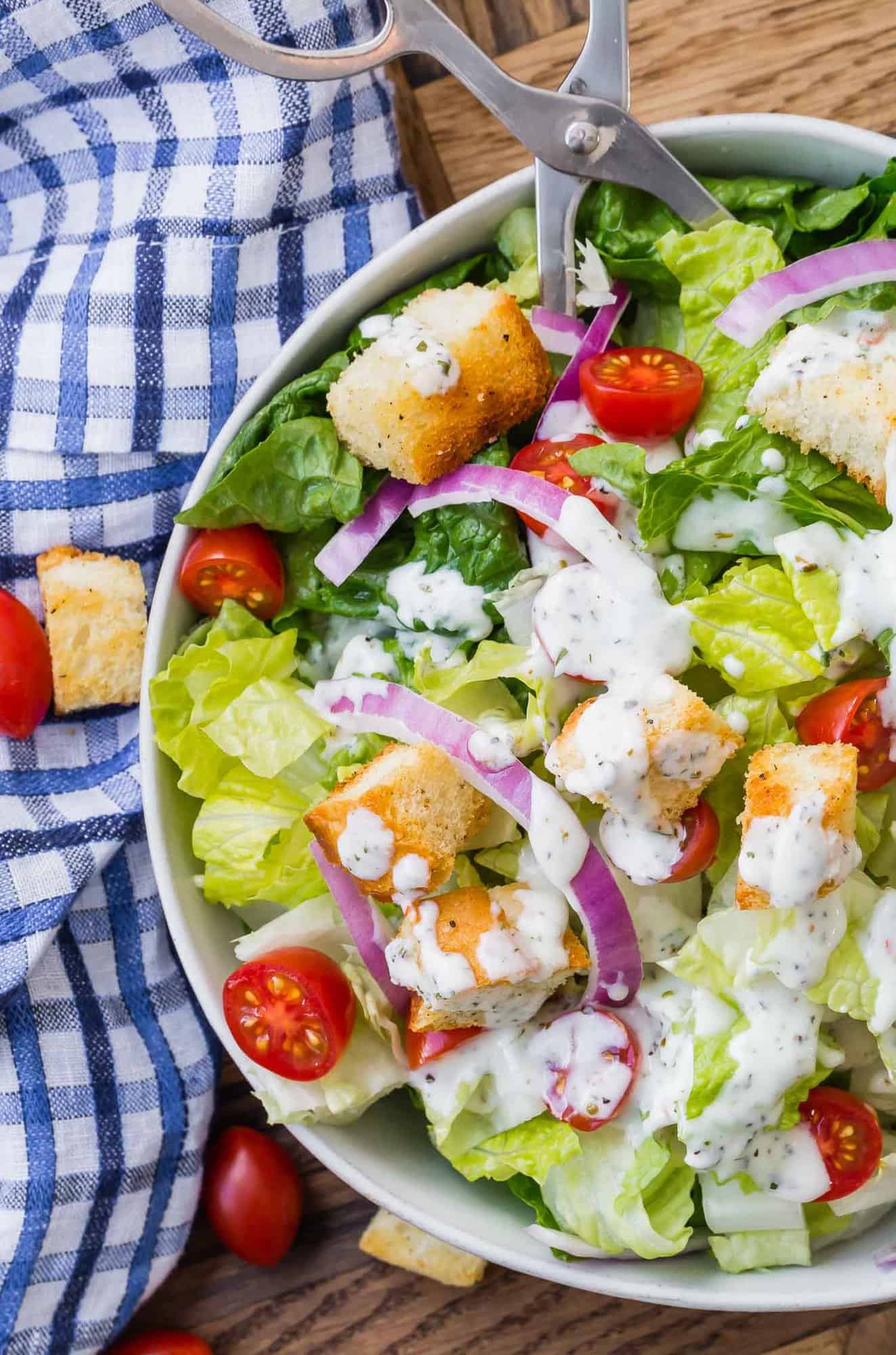 FAQ
What is the difference between zesty Italian and regular Italian dressing?
A zesty Italian dressing usually includes red pepper flakes for just a little zingy heat. How hot do you like it? The beauty of making your own dressing is that you can add as much or as little heat as you like.
What is creamy Italian dressing made of?
Usually mayonnaise is added to make a creamy dressing. Mayonnaise also adds a lot of extra calories but Greek yogurt is a good healthy alternative. I use Greek yogurt in most of my creamy dressing recipes.
Does creamy Italian dressing contain eggs?
Mayonnaise is made with eggs so most creamy dressings do contain eggs. However, my no-mayo recipe does not have any egg or egg products in the ingredient list.
How to make this dressing your own
Looking for a vegan recipe? Simply use a vegan mayo product to replace the yogurt in this recipe.
Experiment with the dried herbs. This is a classic Italian dressing but there are plenty of ways to change it. Make it more "zesty" by adding additional red pepper flakes.
Use fresh herbs. Fresh herbs add tons of great flavor but keep in mind that your dressing will only keep a day or two.
Add 2 tablespoons of grated Parmesan cheese to the dressing for even more flavor.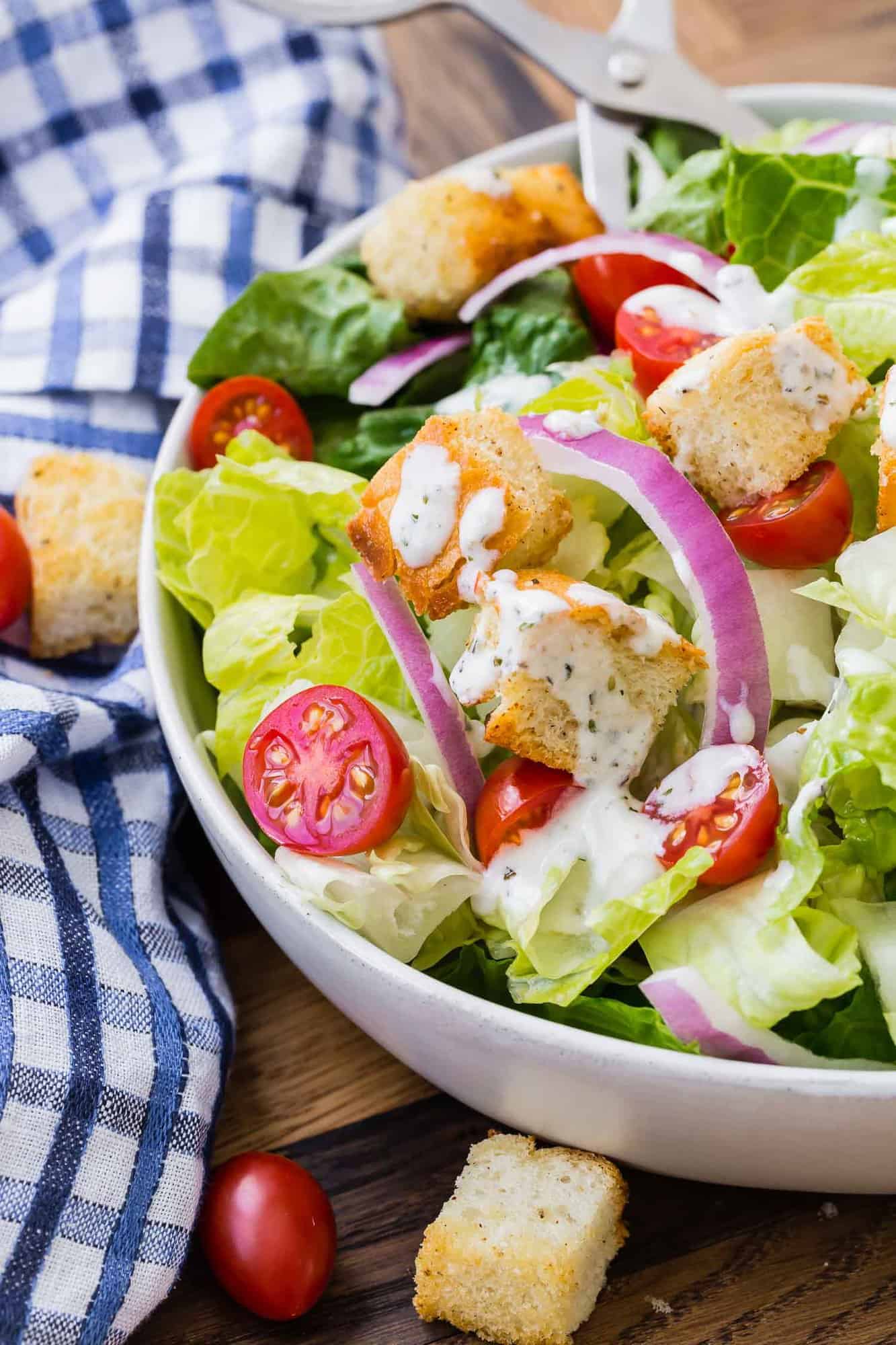 Make Ahead Ideas
Since this dressing will keep in the fridge for up to a week, you can make it whenever you have five minutes or so and it will be ready when you are.
Storage Suggestions
Simply store the dressing in the fridge in the same jar you mixed it up in. It will keep for up to a week (depending on when your yogurt expires). Shake it well before serving.
Leftover Love
Have a little dressing leftover? Try it on a sandwich. Pile your favorite cold cuts, cheese, and veggies on a sub bun or between slices of bread and top it with creamy Italian dressing.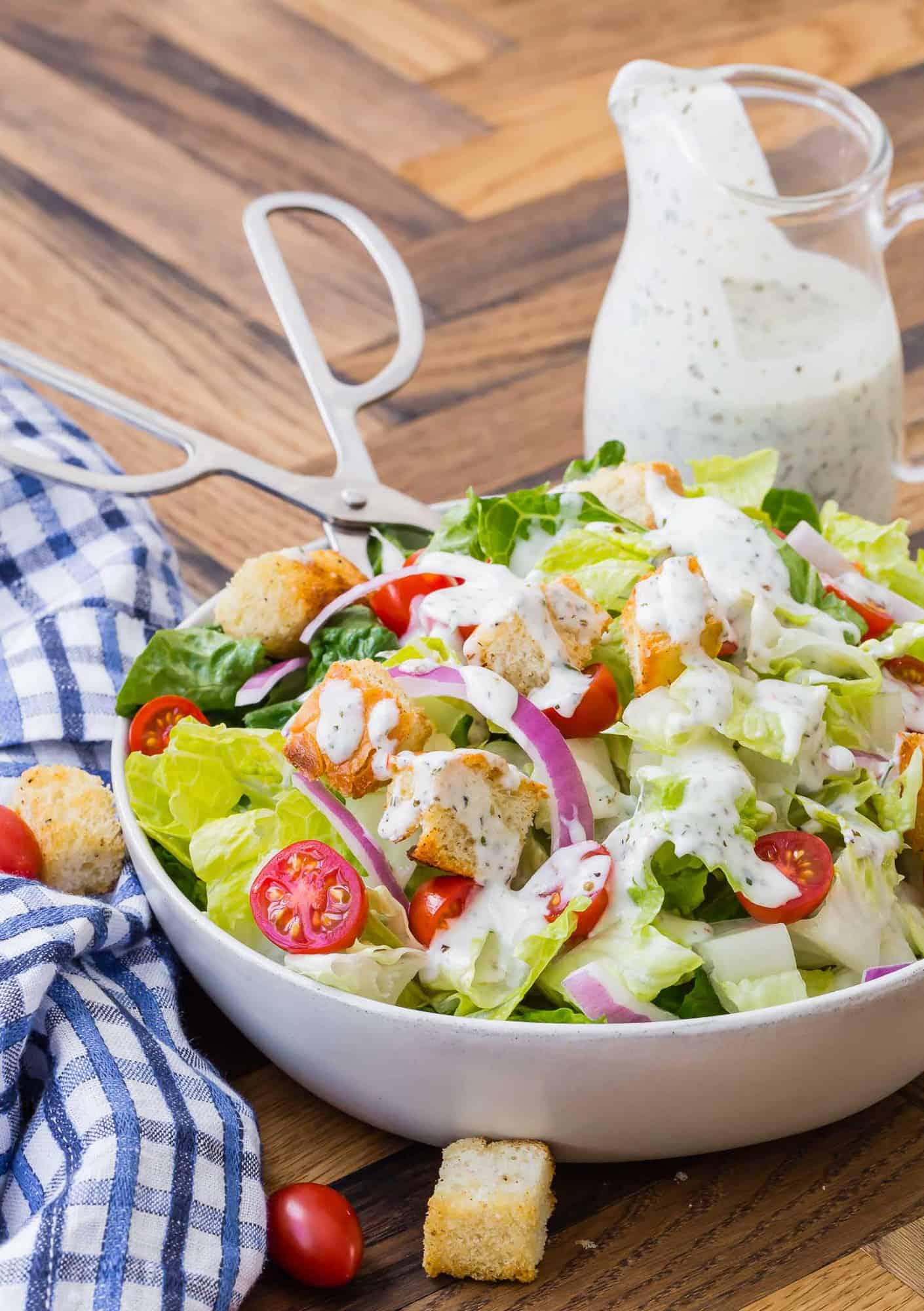 More dressing recipes
If you're not convinced yet that homemade dressing is way better than store bought, and so easy to make, too, or if Italian dressing isn't your favorite, try one of these recipes:
Creamy Italian Dressing
Yield: 1 cup
Prep Time: 10 minutes
Additional Time: 30 minutes
Total Time: 40 minutes
If you love creamy Italian dressing, try making your own healthier version! Zesty and flavorful, it's perfect on a garden salad topped with Parmesan cheese.
Ingredients
½ cup plain Greek yogurt
¼ cup oil (olive, canola, or grapeseed oil)
¼ cup white wine vinegar
2 teaspoons honey or granulated sugar, or to taste
1 teaspoon garlic powder
1 teaspoon dried basil
1 teaspoon dried oregano
1 teaspoon dried parsley
1 teaspoon kosher salt
Pinch red pepper flakes, or more to taste
Instructions
Combine all ingredients in a small jar or bowl; shake or whisk until combined. If desired, refrigerate for 30 minutes to hydrate dried herbs.
Store in the refrigerator in a tightly covered container or jar for up to a week. Shake well before using.
Notes
This recipe is easily doubled if you're serving a lot of salads.
Add 2 tablespoons of grated Parmesan to the dressing, if you like.
Nutrition Information:
Yield: 8
Serving Size: 2 tablespoons
Amount Per Serving:
Calories: 81
Total Fat: 7g
Saturated Fat: 0g
Trans Fat: 0g
Unsaturated Fat: 6g
Cholesterol: 1mg
Sodium: 270mg
Carbohydrates: 3g
Fiber: 0g
Sugar: 2g
Protein: 2g
RachelCooks.com sometimes provides nutritional information, but these figures should be considered estimates, as they are not calculated by a registered dietitian. Please consult a medical professional for any specific nutrition, diet, or allergy advice.