One Pan Lemon Pasta with Sausage, Asparagus, and Dill
This one pan lemon pasta has some bright spring flavors in a cozy, one pan pasta that's easy to make and even easier to eat. It's the best of both worlds!
I'm writing this post on a Sunday morning from a hotel room. We lost power early Wednesday morning after an ice storm in Michigan. We're in the company of more than 100,000 other people and we're expecting to be without power until Sunday or Monday. On top of that, my 8-year-old daughter has pneumonia and has been fighting a fever for over a week. It's been getting up to 104 or 105 degrees on a daily basis.
I just want to take the pneumonia out of her little body, put it in mine, and tuck her into a nice warm bed in her own room. She's exhausted from fighting a fever for so long, coughing non-stop, and not getting enough sleep. It's hard to see and even harder that I can't do much to help her besides give her lots of love, which of course we're all doing.
Between snow days and sick days, she hasn't been to school in two weeks. It's insane. I think we're all a little ready for spring, so I'm throwing this pasta into the mix and just pretending it's spring with all these flavors.
It's bright and fresh and tastes like spring, but it's just hearty enough to warm us on these cold days. It's easy to make too, which is necessary because I feel like all of Michigan is just kinda OVER IT. Take-out might be the first choice, but easy one pan meals are a close runner-up.
I originally made a version of this when I bought beet and dill bratwurst at a local market. It was a huge gamble, considering Ben doesn't even like beets. The bratwurst was bright pink before I cooked it, but I hodgepodged a meal together with the crumbled sausage and finished it off with fresh lemon, dill, and red pepper flakes. I loved the combinations of the flavors and I knew I had to make a version to share with you guys as soon as I could.
I didn't want to use beet and dill sausage in this lemon pasta because I figured that was pretty unique and probably difficult to find. If you can find it though, it will be super tasty in this! But otherwise, you can just use turkey sausage like I did in this recipe. I used a breakfast sausage, actually, because I like the mild flavor of it for this rather than the bolder flavors of Italian sausage.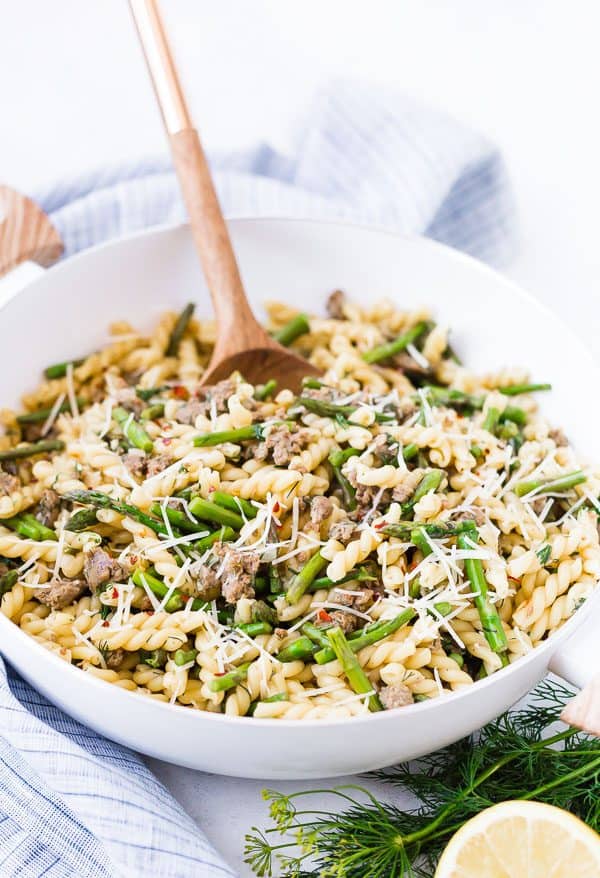 More About this Lemon Pasta with Sausage
Through sharing recipes such a homemade hamburger helper, one pan broccoli chicken alfredo, and taco pasta (more where those came from, too!), I've discovered that you guys love one pan pasta recipes. And why wouldn't you? I love them too. Who wants to make two pans and a strainer dirty just for a good pasta dinner?
This lemon pasta is another one of our favorites. The first time I made it, aside from the beet brats, I was really nervous Ben might not like it. It's far from a traditional meaty red sauce, but the bright flavors have my heart over a traditional tomato sauce any day of the week.
If you don't have asparagus or it's not in season, this is also great with mushrooms, fresh green beans, or even Brussels sprouts.
It would be so delicious served with this homemade french bread from I Heart Naptime….there isn't much that's better than freshly baked bread.
If you're using mushrooms or Brussels sprouts, I'd recommend sautéing them with the sausage and then removing them from the pan (you can take the sausage out too) and keeping them covered with foil in a bowl. When the pasta finishes cooking, stir them back in. This will prevent them from completely overcooking.
The green beans should cook in a similar amount of time as the asparagus if you like green beans crisp (I do!) but if you like them softer, add them in right away when you add the pasta so they have more cooking time.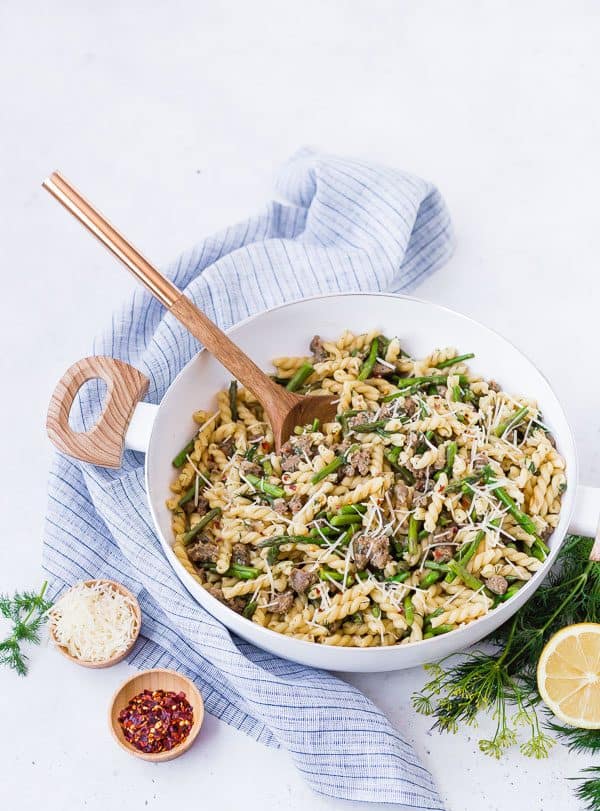 Tip: Make this dairy free by leaving out the cheese!
One Pan Lemon Pasta with Sausage, Asparagus, and Dill
Yield: 6 servings
Prep Time: 10 minutes
Cook Time: 20 minutes
Total Time: 30 minutes
This one pan lemon pasta has some bright spring flavors in a cozy, one pan pasta that's easy to make and even easier to eat. It's the best of both worlds!
Ingredients
1 pound (16 oz) ground turkey sausage
1/2 cup small diced yellow onion (about 1 small yellow onion)
1 clove garlic, minced
3 cups uncooked gemelli pasta
3 cups chicken broth
3 cups 1-inch asparagus pieces (approximately 1 bunch)
1/2 cup grated Parmesan cheese
1/4 cup minced fresh dill
Pinch to 1/2 teaspoon red pepper flakes
2 tablespoons fresh lemon juice (about 1/2 a lemon, juiced)
Instructions
Heat a large, deep skillet with a cover over medium- high heat. Add sausage and onion and cook, breaking up sausage until browned and cooked through, about 8 minutes. Add garlic and cook for 1 minute or until fragrant.
Add uncooked pasta and chicken broth and turn heat to high. Stir, and press pasta down into broth. Cook, covered, for about 10 minutes, stirring occasionally so pasta cooks evenly. When pasta has about 4 minutes cook time remaining, stir in asparagus.
When pasta is cooked to your liking, add in Parmesan, dill, red pepper flakes, and lemon juice. Stir to combine and serve immediately.
Nutrition Information:
Yield: 6
Serving Size: 1
Amount Per Serving:
Calories: 301
Total Fat: 11g
Saturated Fat: 3g
Trans Fat: 0g
Unsaturated Fat: 5g
Cholesterol: 79mg
Sodium: 1117mg
Carbohydrates: 24g
Fiber: 2g
Sugar: 2g
Protein: 25g
RachelCooks.com sometimes provides nutritional information, but these figures should be considered estimates, as they are not calculated by a registered dietician. Please consult a medical professional for any specific nutrition, diet, or allergy advice.
Verdict:
I love this one pan lemon pasta – it's one of my top three one pan pastas that I've ever created.
Husband's take:
Ben loves this way more than I thought he would, which is a big win!
Changes I would make:
None are necessary – but try it with some other vegetables if you want!
Difficulty:
Easy!