Air fryer cauliflower is a quick and easy side dish that anyone can make with just a few simple seasonings. These crispy cauliflower bites come out tasting oven-roasted, ready in a fraction of the time!
Recipe Overview
Why you'll love it: The air fryer is a fast and easy method for perfectly "roasted" cauliflower.
How long it takes: Just a few minutes of prep, then 18 minutes to air fry.
Equipment you'll need: your air fryer and a bowl for tossing
Servings: 4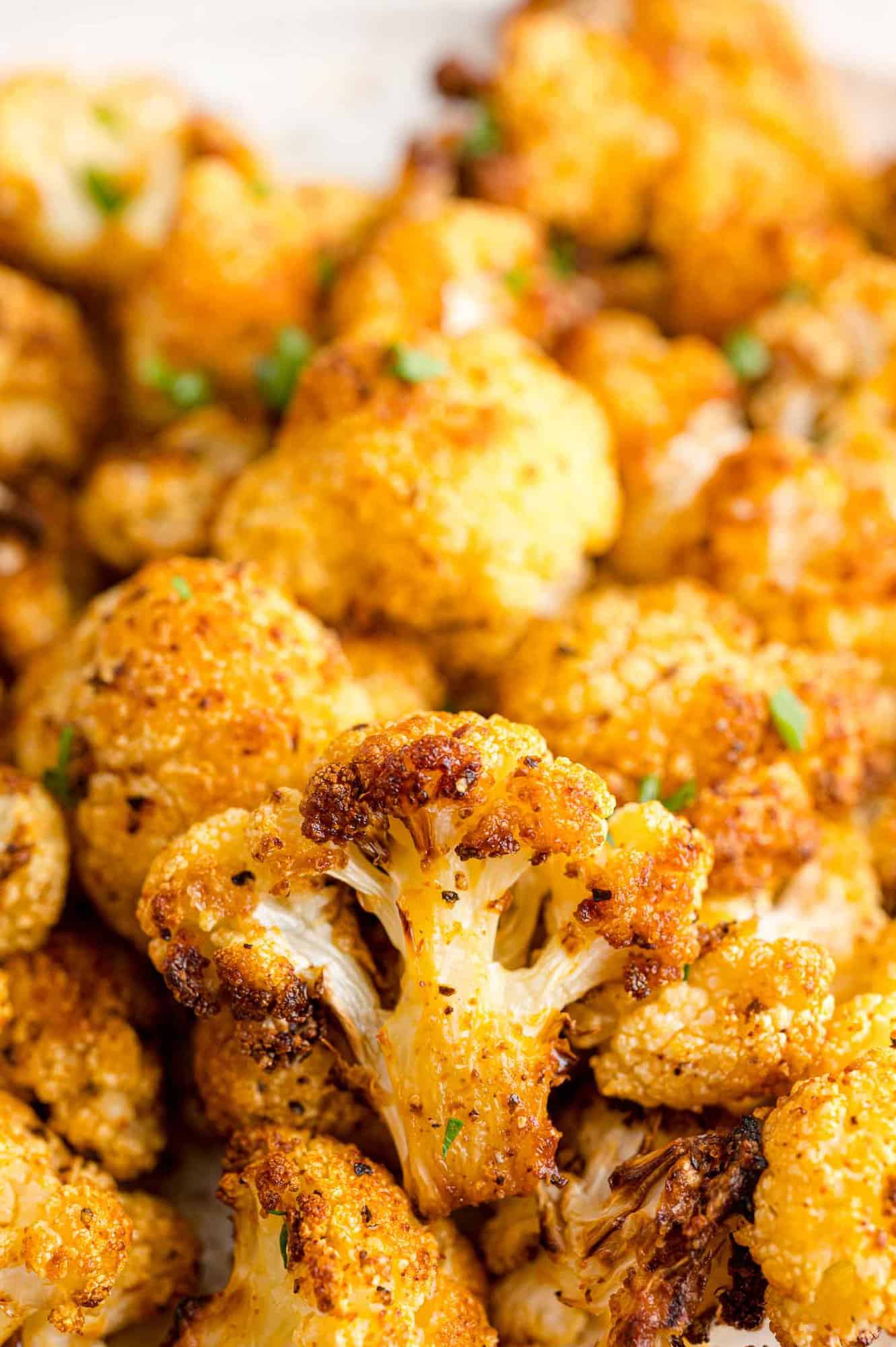 Crispy Air Fryer Cauliflower Recipe
This recipe for air fryer cauliflower turns out delectably browned and lightly crispy every time! It's the ultimate side dish that you can have ready and on the table in 30 minutes or less. It goes well with so many dishes, and it's even great on its own.
If you have a head of cauliflower in your fridge (and even if you don't), trust me: you need to try this recipe! Run, don't walk. The air fryer is an easy method to make perfectly cooked, flavorful cauliflower. Because it doesn't need a lot of oil, this method is lighter than pan-frying, and faster than oven-roasting.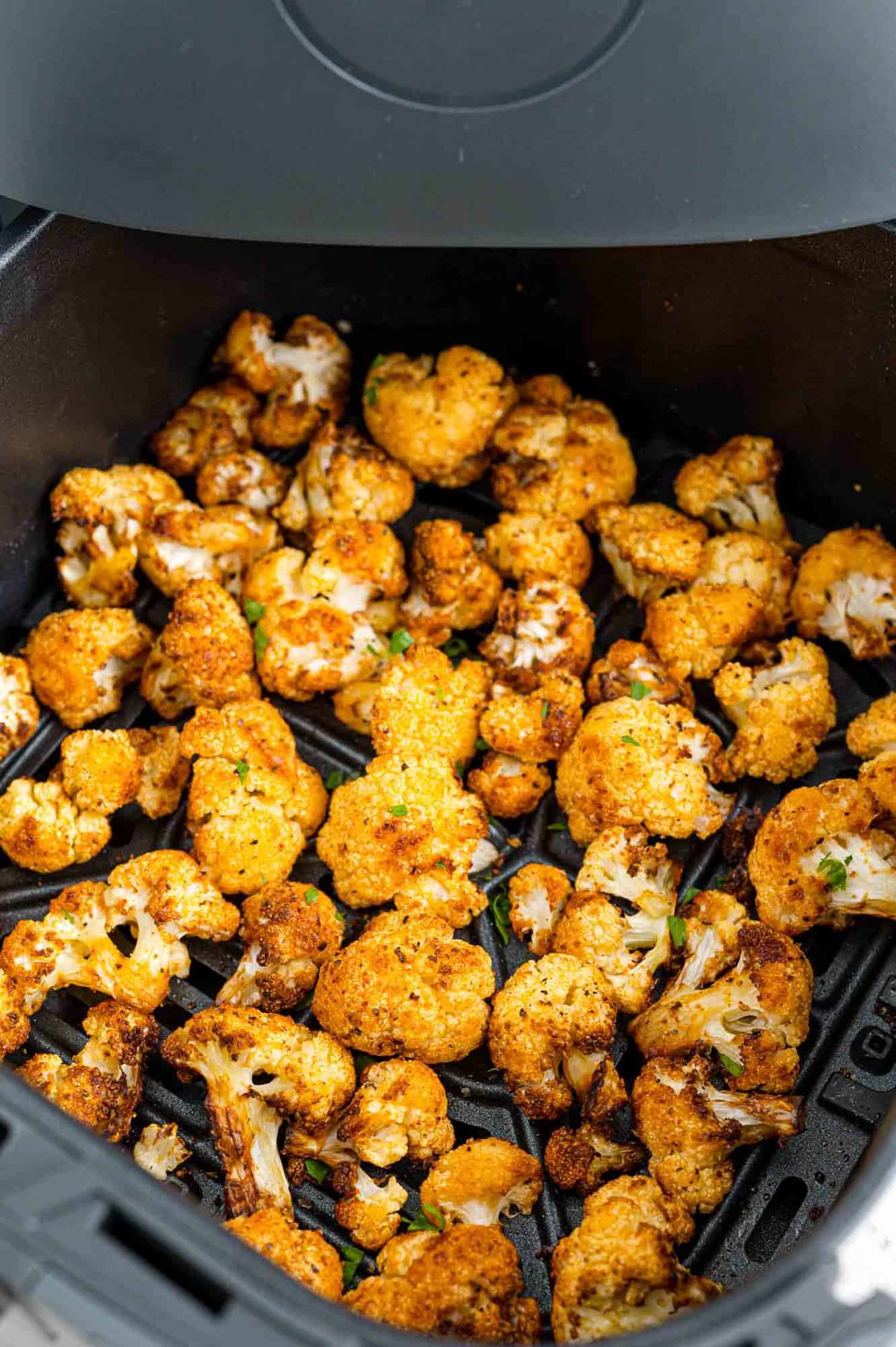 Why You'll Love Air Fried Cauliflower
Here's why you'll never want to cook cauliflower any other way:
Quick. It takes less than 20 minutes to cook the cauliflower to crispy perfection in your air fryer.
Tender and flavorful. A simple seasoning blend turns your average cauliflower florets into total flavor bombs. Air fryer cauliflower tastes just like oven roasted cauliflower, with deliciously browned, caramelized edges. And you don't even have to turn on the oven!
Versatile. Air-fried cauliflower makes a healthy side dish, appetizer, or add-on to tons of easy meals. This recipe is low in carbs and gluten-free!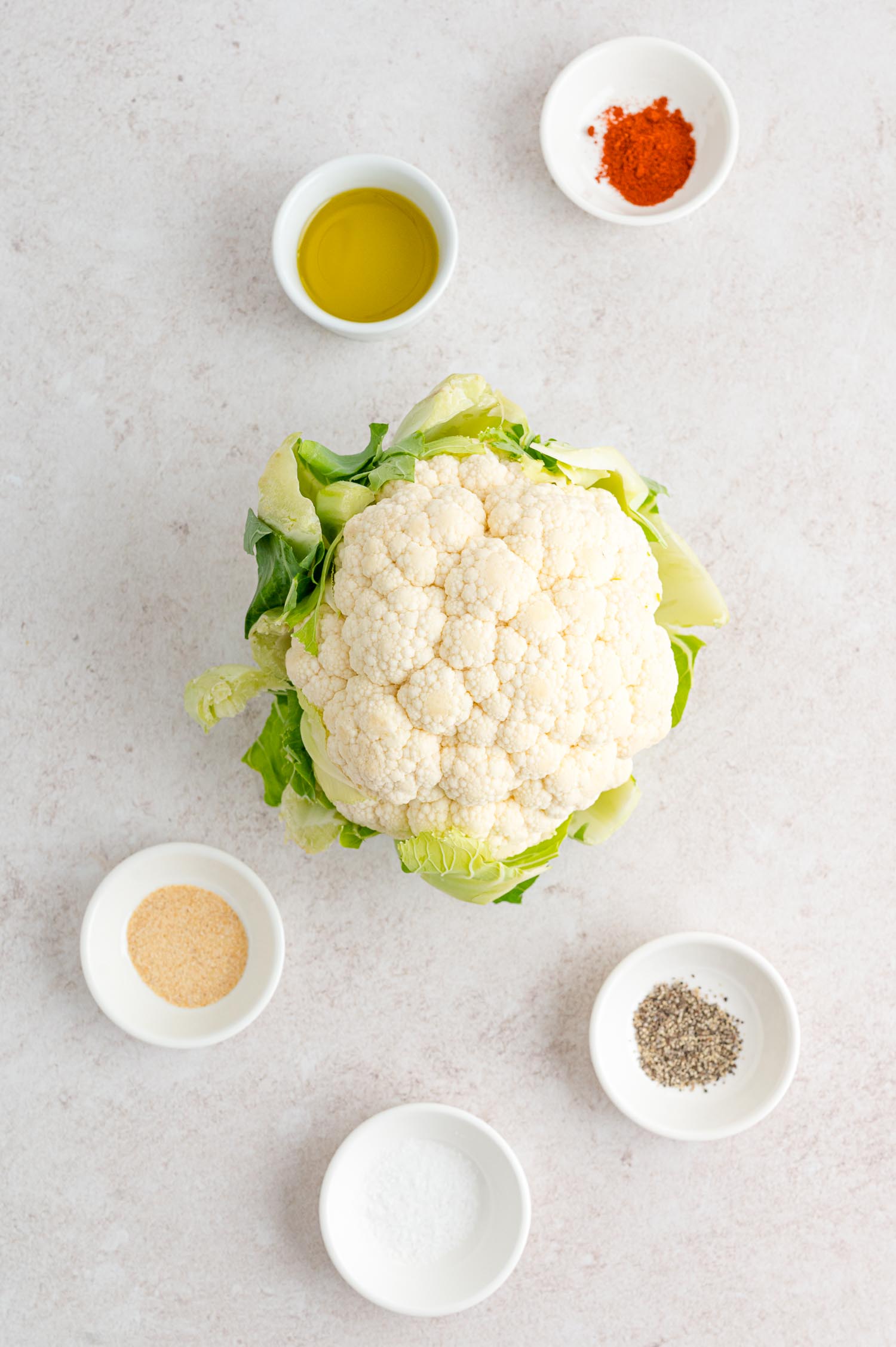 Ingredients You'll Need
Below, I've included a short overview of what you'll need to make the perfect air fryer cauliflower. Remember to scroll to the recipe card below the post for the full ingredient amounts and recipe details.
Cauliflower: You'll need one head of cauliflower, or enough to make 4 cups of bite-sized florets once it's cut up. See below for a quick guide on how to cut a cauliflower.
Olive Oil: You don't need much, but a bit of oil helps the cauliflower crisp up in the air fryer. I recommend a good-quality extra virgin olive oil. Avocado oil or vegetable oil will also work.
Seasonings: Toss the cauliflower in a simple yet delicious blend of garlic powder, paprika, salt, and pepper. Fresh chopped parsley also makes a nice garnish. There are many ways to season your florets; don't forget to scroll for ideas to make this recipe your own!
Picking the Best Cauliflower
When choosing a head of cauliflower from the store, look for one with tightly packed, white florets that are free from dark spots. The cauliflower's leaves should be crisp and green, and it should feel heavy for its size.
How to Cut Cauliflower
Before you start, you'll need to separate your head of cauliflower into florets:
Prep the cauliflower. Remove the leaves and stem. Give the cauliflower head a good rinse under cold water, and then pat it dry.
Remove the core. Place the cauliflower upright on a cutting board, then use a sharp knife to cut it vertically down the middle. With the knife at an angle, trim the core away from each half.
Chop off the florets. Finally, use the knife to cut off the florets, or separate them by hand.
Or, Slam Cauliflower on the Counter
If your cauliflower comes wrapped in plastic, another way to "cut" it is to simply slam the wrapped cauliflower against the counter, stem-side-down. It's a fast and easy way to break off the florets.
This method only works if the cauliflower is wrapped, though, and it also can lead to uneven-sized florets. If you're looking for uniform florets, stick with the method above!
How to Air Fry Cauliflower
Preparing this air fryer cauliflower couldn't be easier. With your cauliflower florets ready to go, you'll start with some seasoning.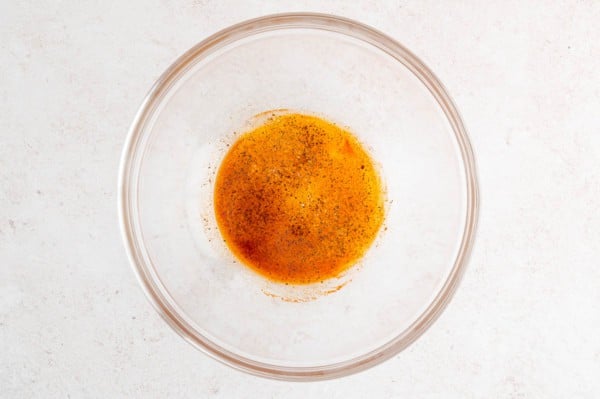 Season. Combine olive oil with your seasonings in a bowl, then add the cauliflower and toss to coat.
Air fry. Spread the seasoned florets in a single layer inside the basket of your air fryer. You may need to work in batches depending on the size of your florets and your air fryer. Cook at 350ºF for 8 minutes, give the basket a shake, and then cook the cauliflower florets for another 8 to 10 minutes until they're fork tender and crispy at the edges.
Serve. Dish up your air fryer cauliflower right away with a sprinkle of fresh parsley. See further down for easy serving ideas.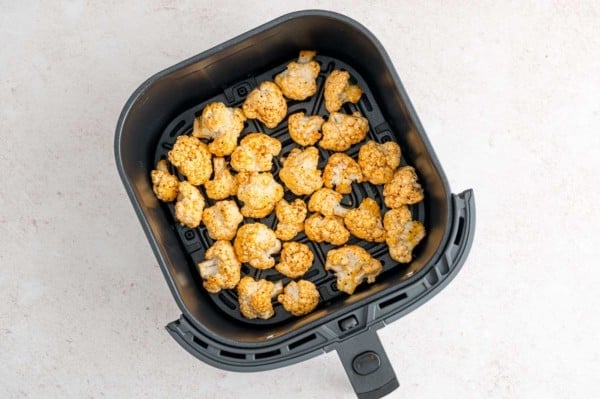 Can I Use Frozen Cauliflower Florets?
Certainly! And you don't even have to thaw frozen cauliflower before air frying. Simply prepare the frozen florets and air fry them as directed, adding an extra minute or two to the cooking time. The texture will be slightly different, as the water content in frozen cauliflower is higher.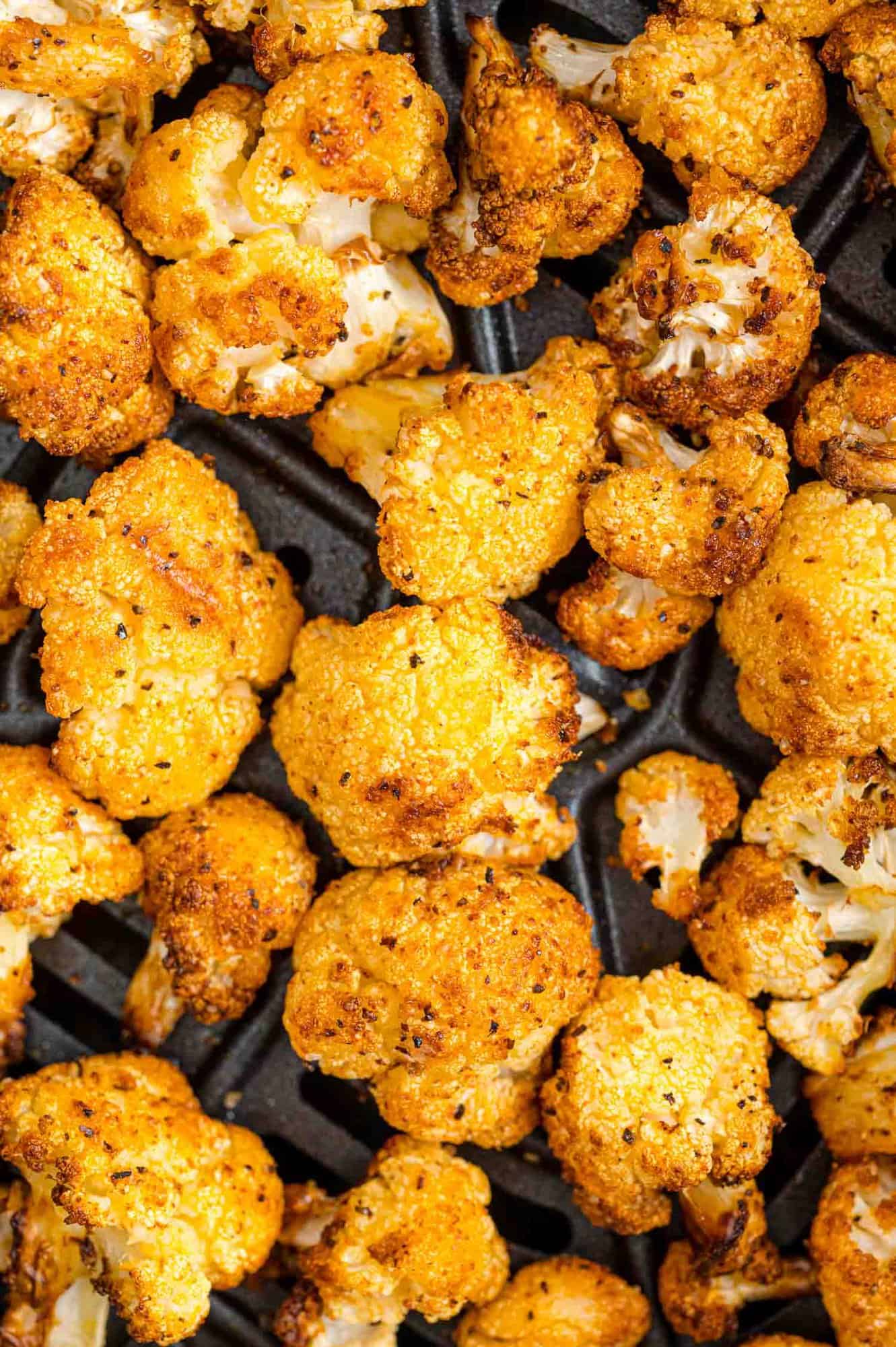 Tips for Success
Here are some tricks for air fryer cauliflower that turns out perfect every time:
Don't overcrowd the basket. For the crispiest cauliflower, make sure to space out the florets in an even layer inside the air fryer basket. This allows the hot air to circulate.
If you'd rather cook without oil, you can air fry your cauliflower without it. However, the texture won't be quite the same, and the seasoning won't coat as well. Consider lining the bottom of your air fryer basket with parchment paper to help with sticking.
Cooking times may vary depending on your air fryer, the freshness of the cauliflower, and the size of the florets. Check the cauliflower after a few minutes, and don't forget to shake the basket about halfway through to ensure it cooks evenly.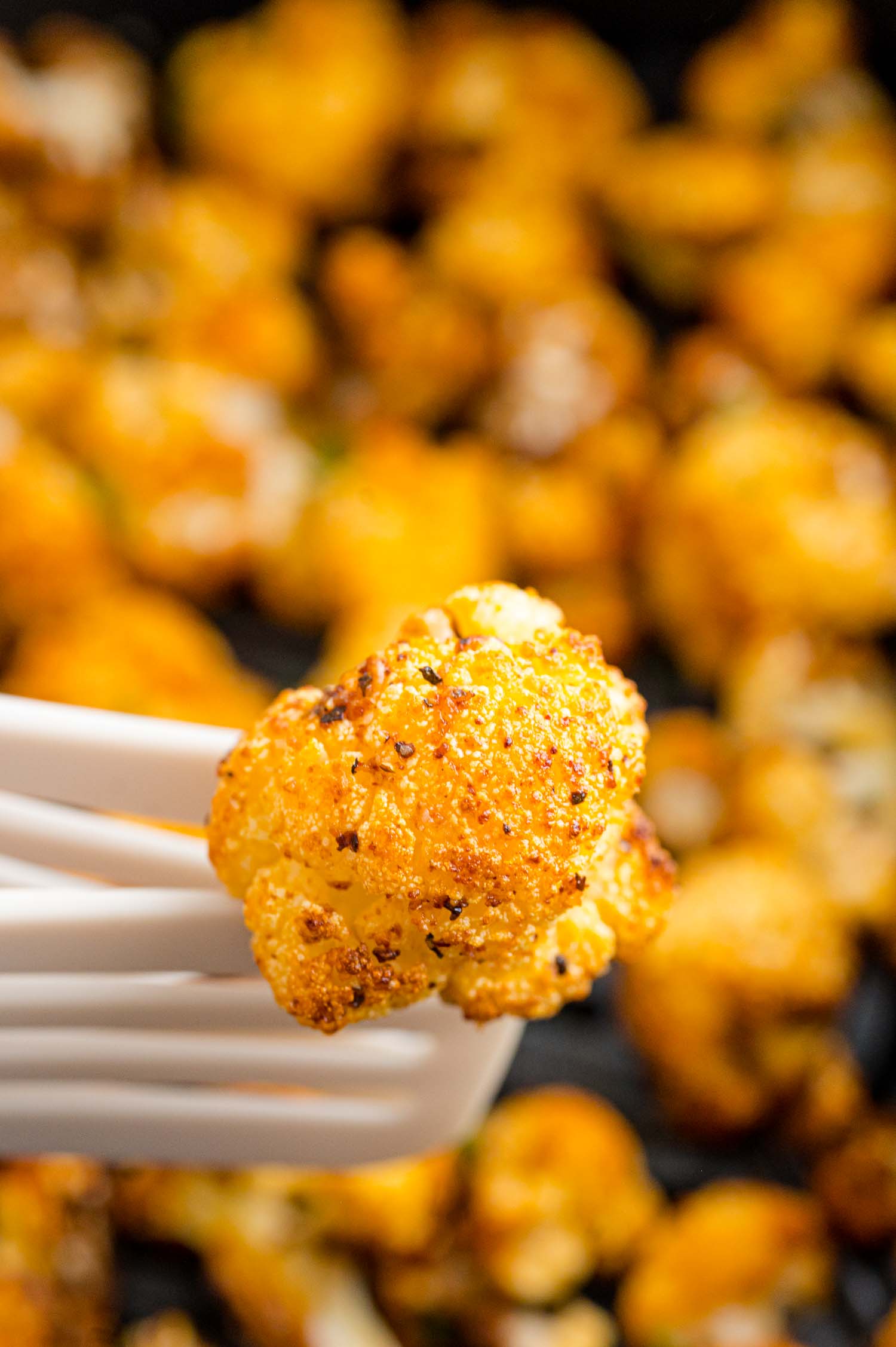 FAQs
Are cauliflower leaves and stems edible?
Yes! Cauliflower leaves and stems are edible. While we trim them off for this recipe, feel free to save the leftover leaves and stalks for soups, salads, or stir-fries.
Do you add water to the air fryer to cook vegetables?
In some cases, adding a spoonful of water to your air fryer may help keep vegetables from becoming dry as they cook. However, it isn't necessary here.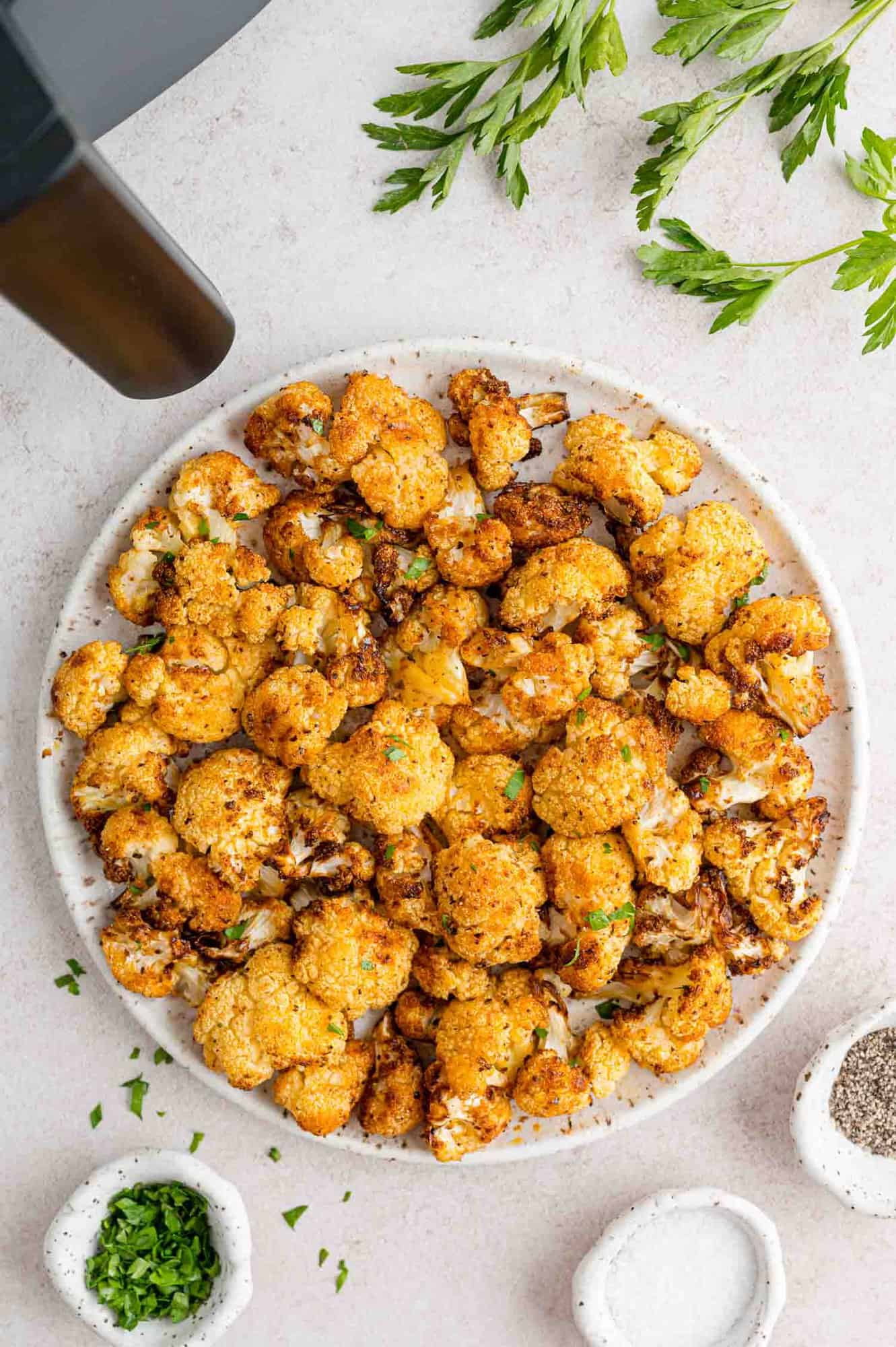 Make This Recipe Your Own
This recipe is flavorful as is, but there are so many ways that you can change up the seasoning for your air fryer cauliflower. Here are some of our favorite variations: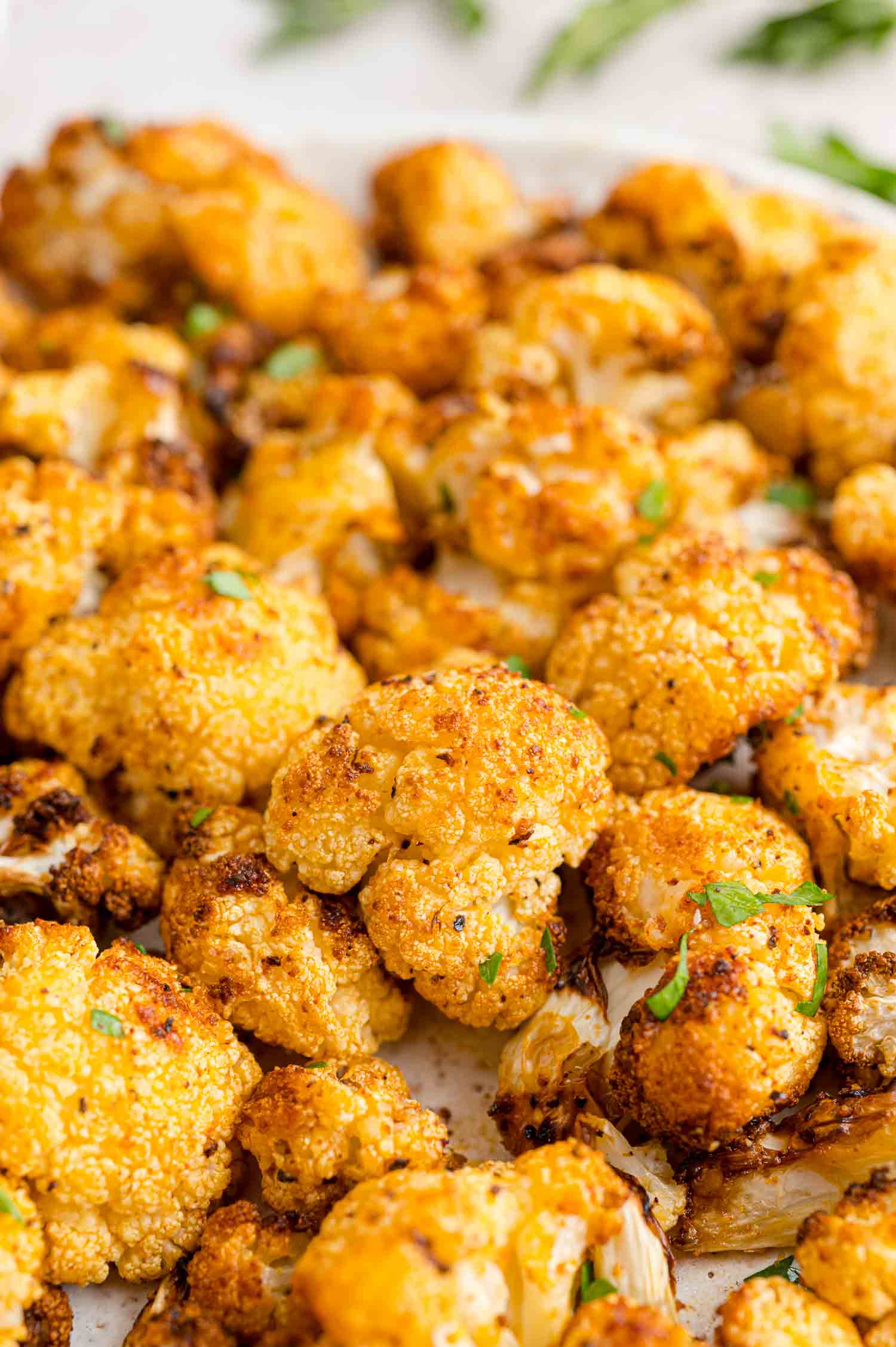 What to Serve With Air Fryer Cauliflower
Wherever you need a quick and healthy side dish to round out a meal, air fryer cauliflower has you covered! Try these easy serving ideas: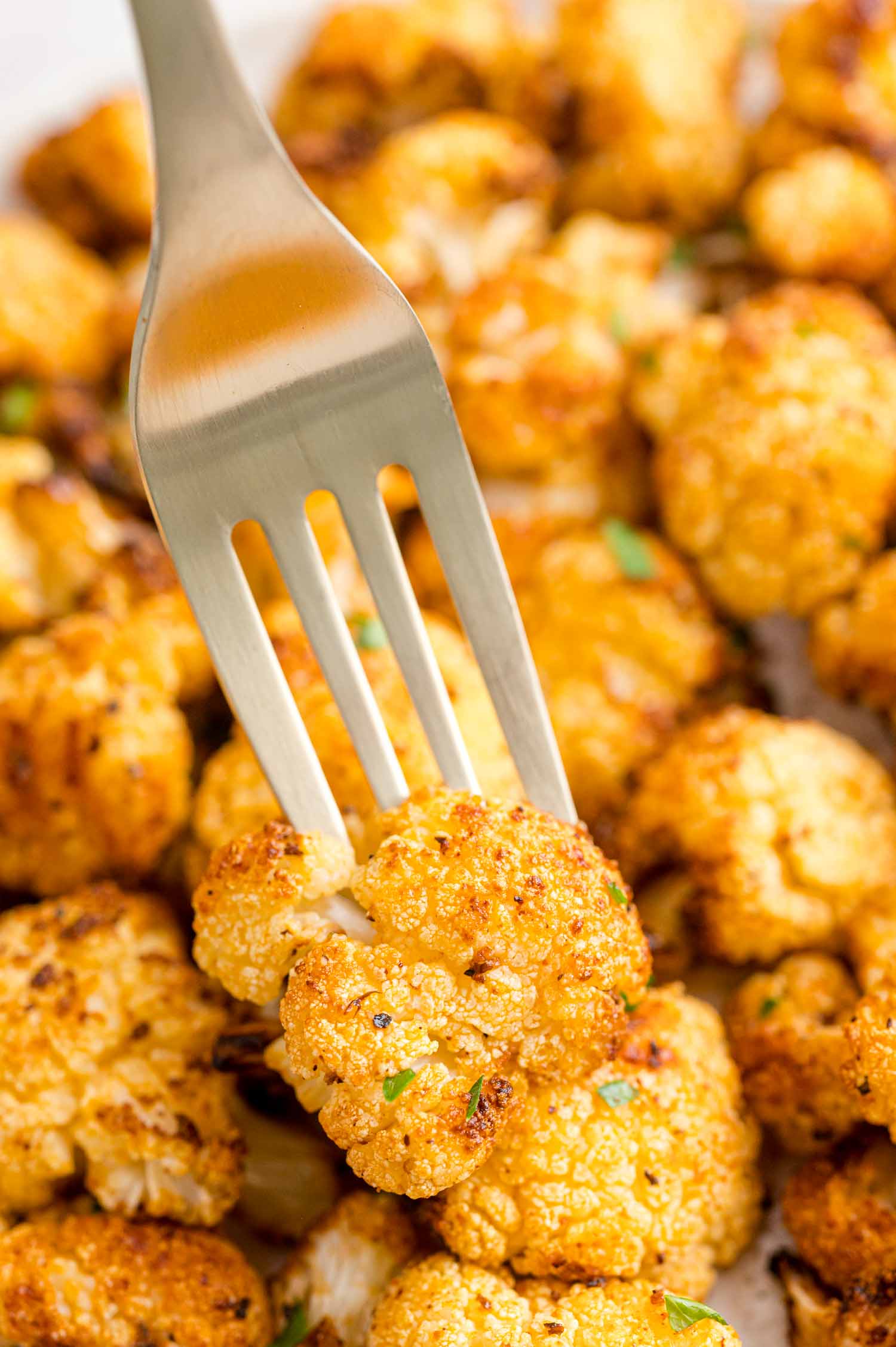 Storing and Reheating
Fridge: Keep air fryer cauliflower stored airtight in the fridge for up to 3 days. It's super easy to reheat cauliflower in the air fryer (my preferred method), or in the microwave.
Freezer: Your cooked cauliflower can be stored frozen for up to 3 months. Defrost in the fridge before reheating.
Leftover Love
Use leftover air fryer cauliflower in Buddha bowls and salads (may we recommend some homemade ranch?). We also love to turn this crispy air-fried cauliflower into vegetarian cauliflower tacos or low-carb cauliflower nachos!
Did you make this? Be sure to leave a review below and tag me @rachelcooksblog on Facebook, Instagram, or Pinterest!
Crispy air fryer cauliflower is a quick and easy side dish made with just a few simple seasonings. These cauliflower bites come out tasting oven-roasted, ready in a fraction of the time!
Instructions
In a large bowl, add the olive oil, garlic powder, paprika, salt, and pepper. Stir to combine. Add the cauliflower and stir until the cauliflower is evenly coated.

Place the cauliflower in a single layer in the basket of the air fryer. Do in batches if needed; it should be in a single layer or close to it.

Air fry at 380°F for 8 minutes, remove basket and shake, and continue cooking for 8 to 10 minutes or until the cauliflower is golden brown, lightly crisp, and tender when poked with a fork.

Serve immediately, garnished with fresh parsley if desired.
Notes
Store leftovers in an airtight container in the fridge for up to 3 days. Reheat in the air fryer for a few minutes before serving, or in the microwave.
Nutrition Information
Serving:
1
cup
,
Calories:
89
kcal
,
Carbohydrates:
5
g
,
Protein:
2
g
,
Fat:
7
g
,
Saturated Fat:
1
g
,
Polyunsaturated Fat:
1
g
,
Monounsaturated Fat:
5
g
,
Sodium:
321
mg
,
Potassium:
307
mg
,
Fiber:
2
g
,
Sugar:
2
g
,
Vitamin A:
20
IU
,
Vitamin C:
49
mg
,
Calcium:
23
mg
,
Iron:
0.5
mg
This website provides approximate nutrition information for convenience and as a courtesy only. Nutrition data is gathered primarily from the USDA Food Composition Database, whenever available, or otherwise other online calculators.