Learn how to roast asparagus perfectly every time. This oven method is easy and versatile.
Recipe Overview
Why you'll love it: Roasted vegetables are just so good!
How long it takes: 5 minutes to prep, 12 minutes to roast
Equipment you'll need: sheet pan
Servings: 4
Asparagus is one of my favorite vegetables. The beautiful emerald spears are so wonderfully delicious and always remind me of spring because they are one of the first green shoots to appear in the garden.
Asparagus is high in nutrients, particularly folate, along with lots of vitamin A and vitamin K, and it contains a lot of fiber, too (Healthline). Asparagus does a body good!
My love for asparagus is demonstrated by how many recipes I have on my site that include it (actually there are several more but I didn't want to scare you off):
About this Recipe
So, that brings us to roasted asparagus. What's the big deal about roasting asparagus?
As you may know, I'm a huge fan of roasted vegetables (see the links below). I've roasted about every vegetable that's come my way and I haven't once been disappointed.
The best qualities of veggies are enhanced by roasting. It's easy, too, and often you can put a pan of veggies in the oven to roast with other parts of your dinner, even on the same pan.
So let's learn how to roast asparagus. This is a how-to recipe. It's really basic and once you learn the technique, you can add it to your repertoire of cooking skills. You'll be roasting all kinds of vegetables!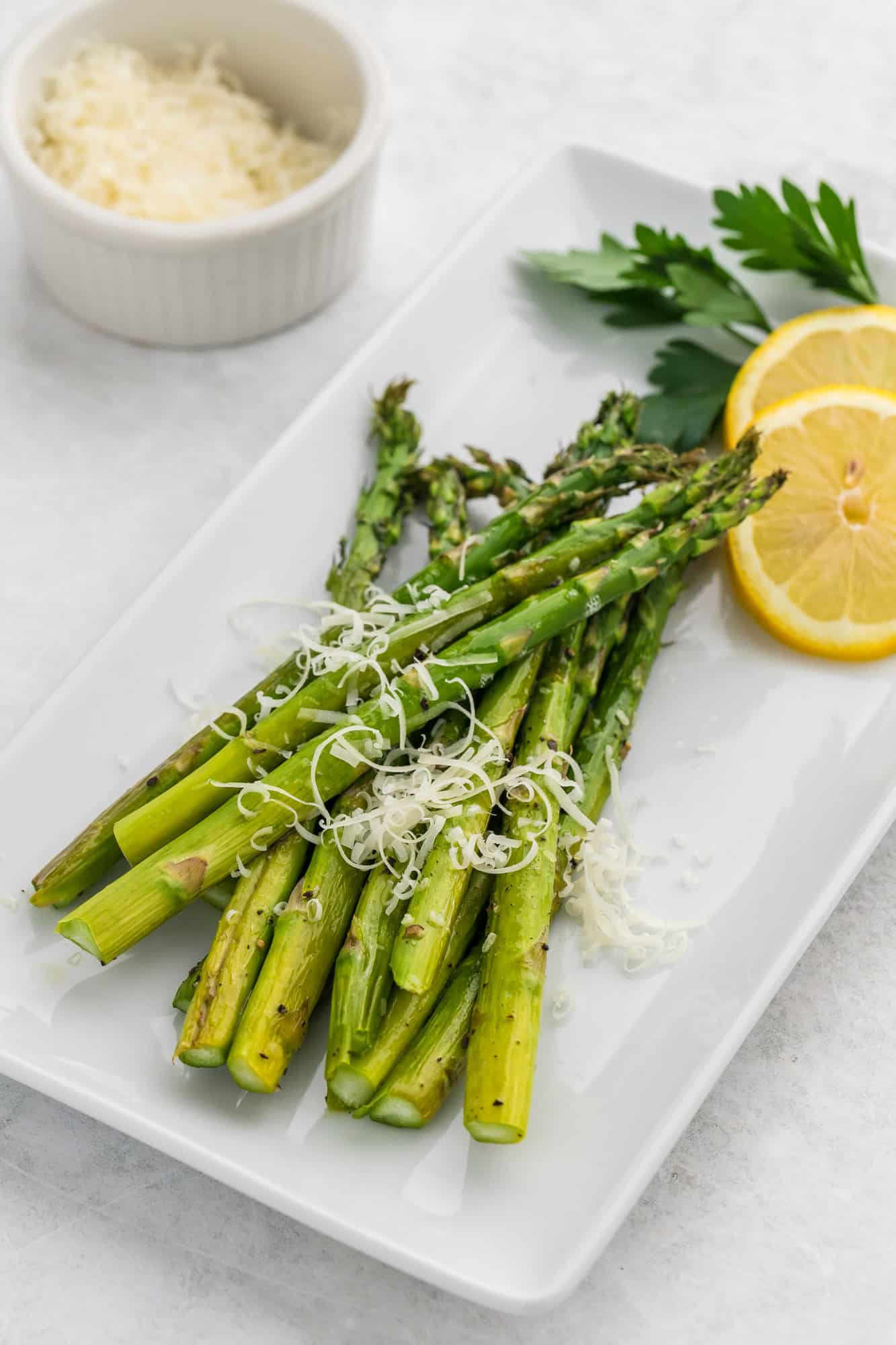 I'll run through the how-to's right here and get you started. Look for complete instructions, measurements and nutrition information on the recipe card below (it's printable, too!).
What you'll need
Fresh Asparagus Spears: Look for firm green spears. Fresh asparagus should be crisp, not bendable and soft. The fresher the asparagus, the better it will taste.
Olive Oil: A little oil is pretty essential for roasting vegetables. Extra virgin olive oil has wonderful flavor and is heart healthy. Other good choices are avocado oil or grapeseed oil.
Salt and Pepper: Simple seasonings really let the wonderful flavor of asparagus shine. Choose coarse salt and coarsely ground black pepper if you can. It's more visually appealing and gives you little pops of flavor.
Shredded Parmesan Cheese: A sprinkling of Parmesan is totally optional but it does taste great. You'll find that roasted asparagus can be deliciously garnished any number of ways but it's really excellent all on its own, too.
How To Store Asparagus
My grandma always went out to her garden right before we ate and harvested just enough asparagus for a meal. She insisted that freshly picked asparagus tasted the best, and I must say it was wonderful.
However, most of us don't have a backyard garden and we have to buy our asparagus. Fresh asparagus should be always be stored in the refrigerator. It will keep for a couple of days in a plastic bag in your crisper drawer. If you want to store it longer, fill a glass or jar with an inch of water and set the cut ends into the water. Place a plastic bag loosely over the tops of the spears and refrigerate.
How To Wash and Prep Asparagus
Rinse the asparagus spears well with clean water. Pay special attention to the tips where sand or dirt can collect.
It's not necessary to peel asparagus; however, the cut ends of asparagus can be woody and tough. It's easy to trim that portion off. Simply bend the asparagus near the ends and the inedible woody part will snap right off. You can do two or three spears at a time.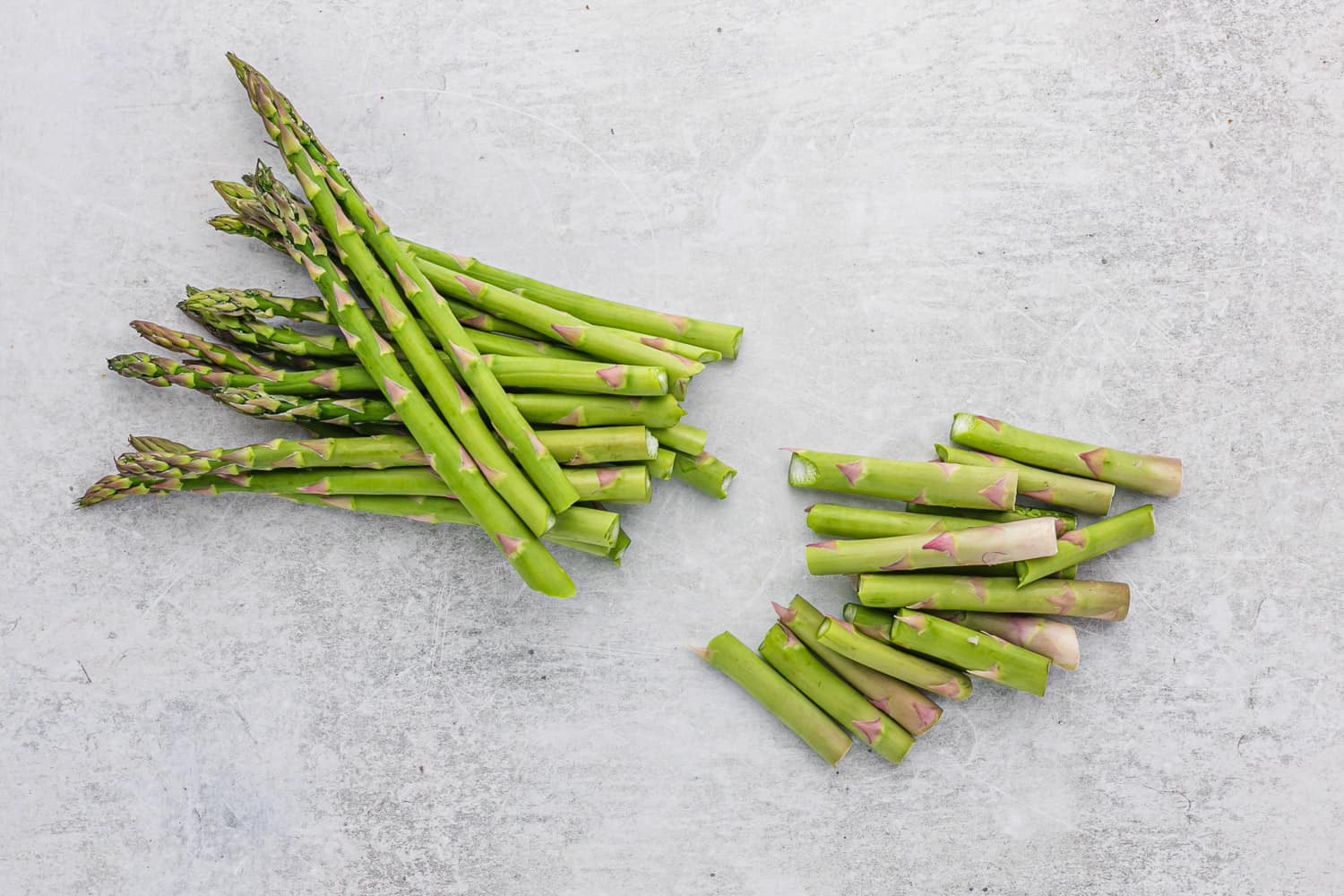 How to Roast Asparagus
While you're prepping your asparagus, turn the oven on to preheat. You want the oven nice and hot. If you think of it, put your sheet pan in the oven so it preheats too.
Using a clean dish towel or paper towels, dry the spears as much as possible. This is important when roasting pretty much any vegetable. If there's a lot of water clinging to the asparagus, there will be a lot of steaming and not much roasting going on.
Put the trimmed and dried asparagus spears on a rimmed sheet pan, along with a bit of olive oil, salt, and pepper. Roll the spears around, or toss them, so that they are coated with the oil and seasonings.
Put the asparagus in the oven and roast it for 12 minutes or until it's crisp tender. It should be fairly bright green with browned spots. The tips may be slightly browner and crispy.
If you want to add the Parmesan cheese, take the asparagus out of the oven, sprinkle on the shredded cheese, and return the pan to the oven for a minute or so to melt it.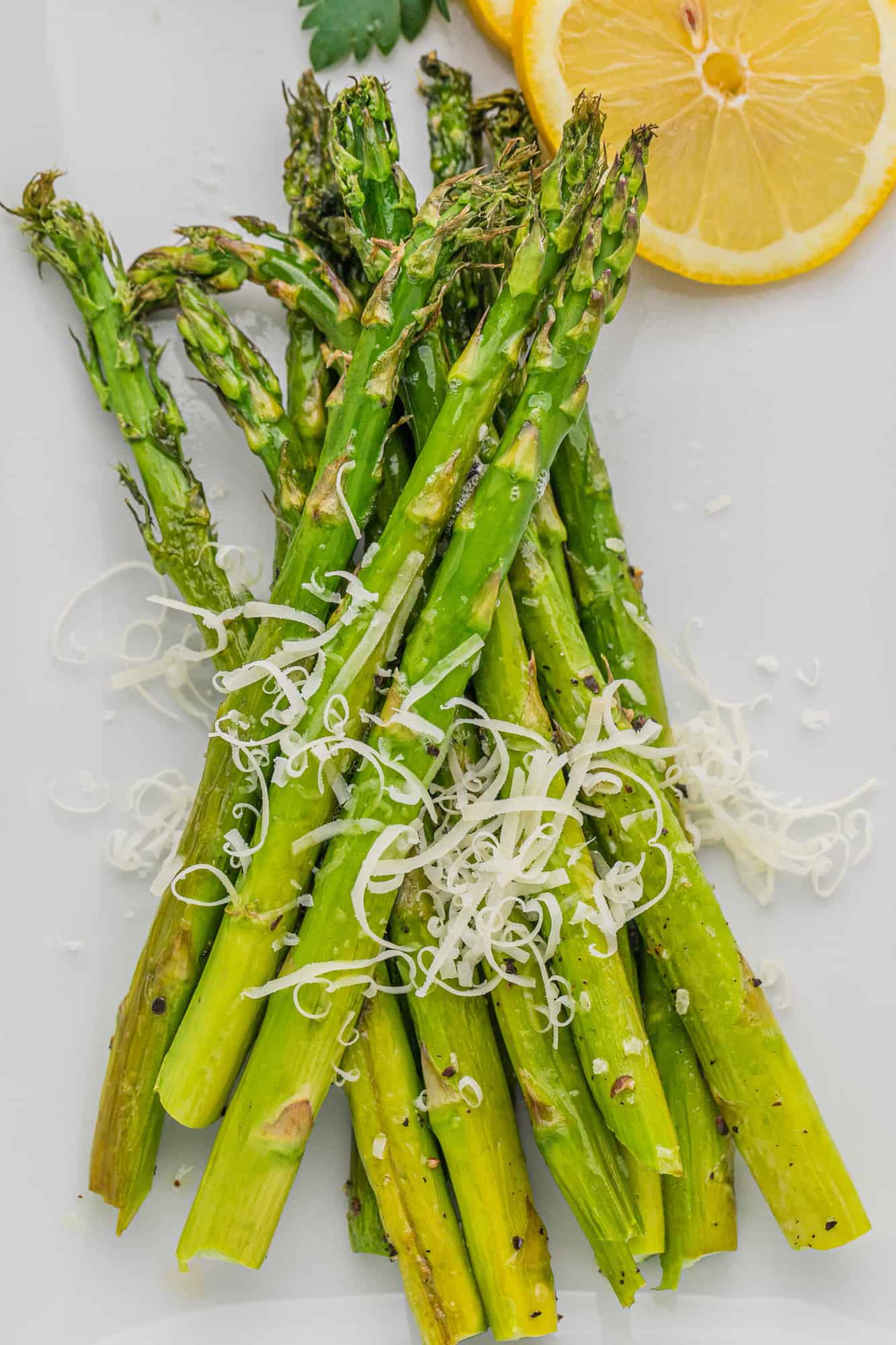 Serve immediately.
FAQs
Do you wash asparagus before roasting?
Yes, all vegetables and fruit should be washed before cooking or eating. There may be dirt, insects, insecticides, or harmful germs on it and you don't want to ingest any of that! It's probably been handled by many people: farmers, harvesters, shipping, warehouse workers, stockers, other shoppers, and finally, you.
Should asparagus be blanched before roasting?
No, it's not necessary to blanch asparagus before you roast it unless you like it very tender.
Asparagus should be blanched before adding it to salads, like this asparagus panzanella salad.
How do you cook asparagus so it's not chewy?
Most people prefer asparagus crisp tender, with a little bit of crunch but not too chewy or tough. If your asparagus is too chewy, perhaps it wasn't very fresh or it was overcooked.
How To Cook Asparagus in Your Air Fryer
Make It Your Own
The recipe is written for one pound of asparagus but you can make as much or as little as you like by simply adjusting the oil and seasonings. Make sure you don't overcrowd the pan; use two pans if necessary.
If you want to roast the asparagus without oil, simply toss the spears with a couple tablespoons of broth or dry roast it.
Roasted asparagus can be served with different toppings or garnishes. Try a drizzle of balsamic reduction; a squeeze of lemon juice with lemon zest; fresh dill or basil; melted butter and garlic; basil pesto or chimichurri sauce. Top it with homemade green goddess dressing.
Have something else going in the oven? While we feel that 400ºF is the optimal temperature, asparagus can be roasted anywhere from 350ºF to 450ºF. Adjust cooking times accordingly.
Make it a dinner. Try a salmon and asparagus sheet pan dinner with salmon, potatoes, asparagus, and a creamy dill sauce. We love this steak sheet pan dinner, too, with steak, potatoes, tomatoes, and asparagus, all cooked perfectly on one sheet pan.
Storage & Reheating Suggestions
Leftover roasted asparagus should be refrigerated. It will keep for a few days in the fridge. Reheat in the microwave or toaster oven.
Leftover Love
Cut the asparagus into bite-sized pieces and add them to your salad or grain bowl. Stir it into cooked rice or quinoa for a side dish. Making a pizza? Try a signature pizza with roasted asparagus, pesto, bacon, and mozzarella.
Did you make this? Be sure to leave a review below and tag me @rachelcooksblog on Facebook, Instagram, or Pinterest!
Learn how to roast asparagus perfectly every time. This oven method is easy and versatile.
Instructions
Preheat oven to 400ºF. Trim woody ends off asparagus and wash and dry thoroughly.

On rimmed baking sheet, toss asparagus with olive oil, salt, and pepper.

Roast for 12 minutes or until tender.

If desired, sprinkle with shredded parmesan and return to oven for 1 more minute.

Serve immediately.
Notes
Nutrition information does not include optional parmesan cheese.
Add seasoning variations (red pepper flakes, lemon, balsamic vinegar, dill)
Thick asparagus spears will take longer to cook; thinner asparagus will cook faster.
Have something else in the oven cooking at a different temperature? Simply adjust the cooking time, i.e., 425

ºF for 10 minutes, or 375ºF for 14 minutes.
Nutrition Information
Calories:
41
kcal
,
Carbohydrates:
4
g
,
Protein:
3
g
,
Fat:
2
g
,
Saturated Fat:
1
g
,
Polyunsaturated Fat:
1
g
,
Monounsaturated Fat:
1
g
,
Sodium:
148
mg
,
Potassium:
230
mg
,
Fiber:
2
g
,
Sugar:
2
g
,
Vitamin A:
858
IU
,
Vitamin C:
6
mg
,
Calcium:
28
mg
,
Iron:
2
mg
This website provides approximate nutrition information for convenience and as a courtesy only. Nutrition data is gathered primarily from the USDA Food Composition Database, whenever available, or otherwise other online calculators.