Cauliflower Steaks Recipe
Hearty cauliflower steaks, roasted in the oven, are an impressive side dish. Try them topped with homemade chimichurri!
Recipe Overview
Why you'll love it: The recipe is easy and the steaks look kind of amazing.
How long it takes: 10 minutes to prep, 30 minutes in the oven.
Equipment you'll need: long sharp knife, small bowl, basting brush, sheet pan, oven
Servings: 6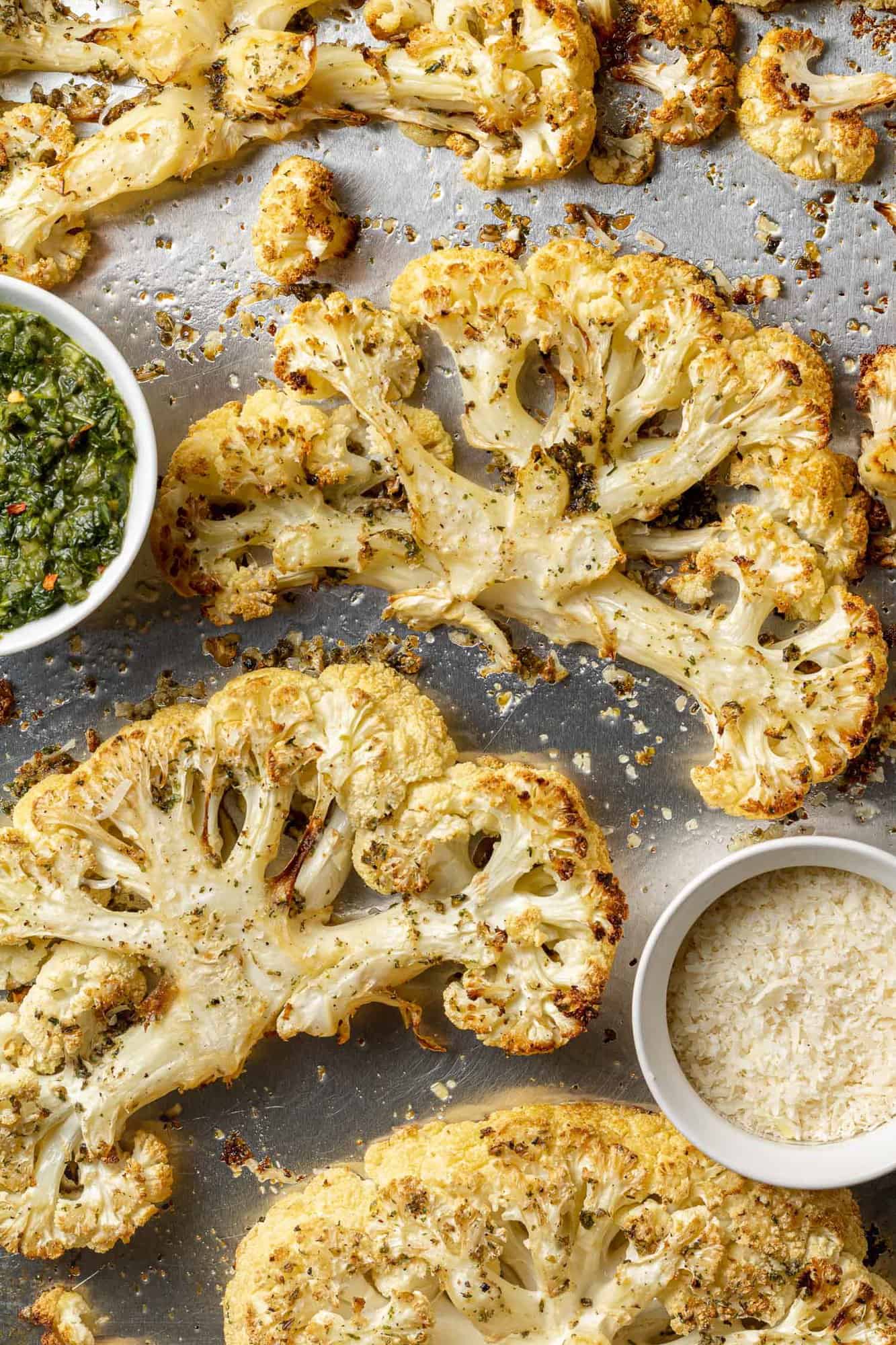 Nicely browned cauliflower steaks topped with a spoonful of brilliantly green chimichurri are so strikingly beautiful that you should feast your eyes on your dinner before you actually begin your feast. Maybe it's the photographer in me but sometimes I just like to look at my food a second and enjoy the visual aspects of it.
But these steaks aren't just a pretty face. They have real substance and flavor. They are a fun addition to any plate, pleasing both vegetarians and those who enjoy a bit of meat.
Why cauliflower? Aside from being a really nutritious vegetable, with lots of vitamins, fiber, and antioxidants, it's so versatile. You've probably noticed cauliflower popping up in all sorts of places, from pizza crusts to crackers. It's the popular kid on the block right now. I love these Cauliflower Nachos and vegetarian Cauliflower Tacos with Chickpeas. Keep reading for lots more cauliflower recipes.
Ready to give cauliflower steaks a try? Let's get rolling!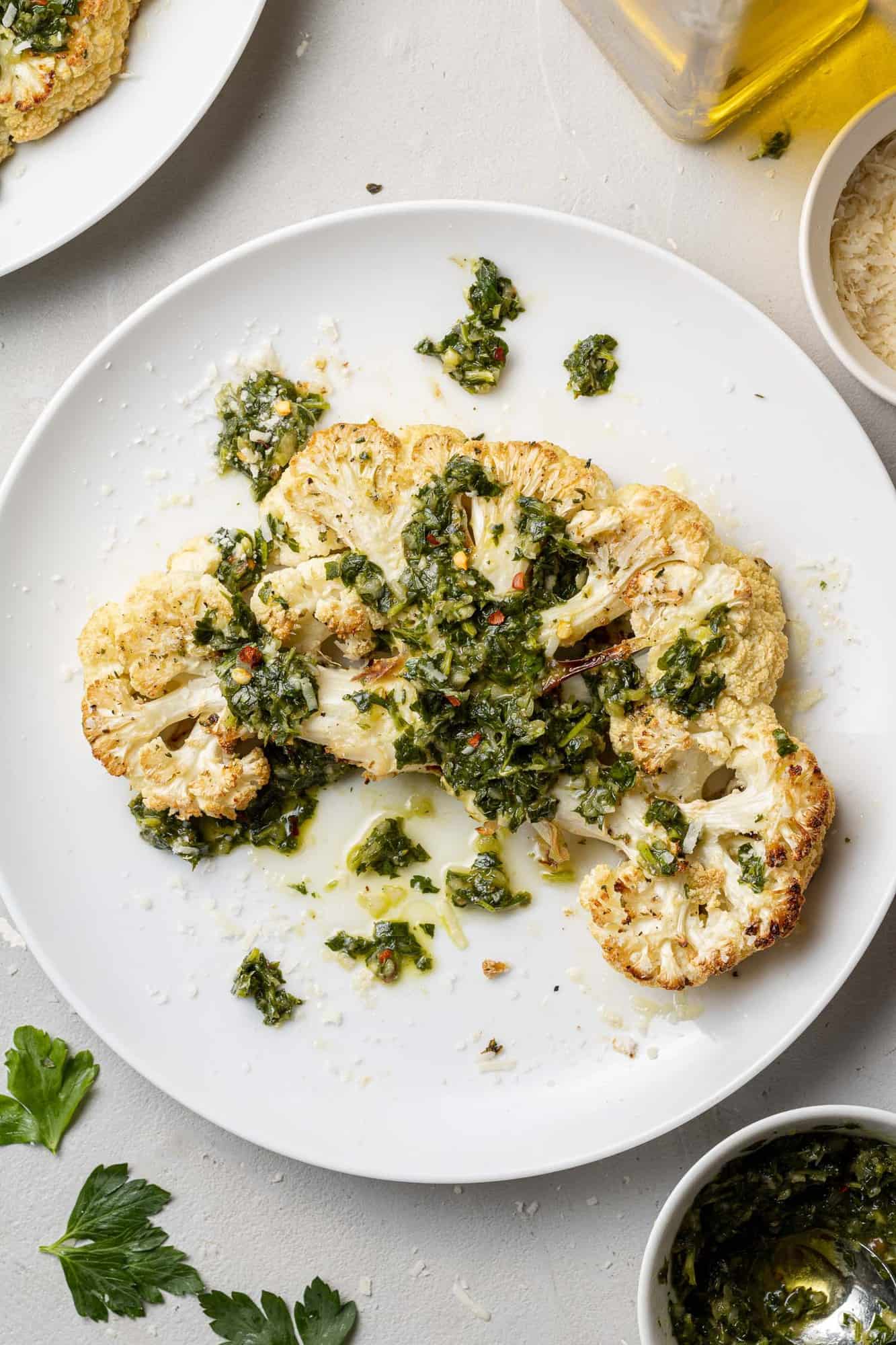 About this Recipe
Cauliflower "steaks" may be a bit of a misnomer. The cauliflower definitely does NOT taste like a sirloin steak or any other kind of steak at all. It would take a bit of magic or alchemy to transform cauliflower into steak.
So why call it a steak? Here's a few of my thoughts:
The thick cauliflower slices are shaped somewhat like a steak.
They have a meaty texture.
You put chimichurri on them just like you would a steak.
They are a vegetarian's answer to steak.
The whole steak thing is tongue-in-cheek, sort of a joke. I don't know, what do you think?
And, just a bit of advice: if you have a real steak-lover in your house, maybe just call these cauliflower steaks something else (roasted cauliflower slices?).
In any case, the cauliflower tastes great and they're easy to make. I'll run you through the recipe here and give you a few helpful tips.
You'll find the printable recipe card at the end of the post with complete instructions, measurements, and nutrition information.
How To Choose a Cauliflower
Look for firm compact heads that are white or purplish with no brown spots. The leaves should be green and fairly crisp. Avoid cauliflower that is soft or discolored. Refrigerate in the original wrapping or plastic bag, unwashed, for up to one week.
What You'll Need
Cauliflower: Buy two heads of cauliflower so you'll be able to get nice thick even slices. Roast the leftover parts, too, because they're just as tasty and get nice and crispy. You can do that right on the same pan as the slices!
Olive Oil: If you prefer, substitute avocado or grapeseed oil.
Seasoning: The seasoning is really easy and you'll have everything you need in your pantry. It's simply garlic powder, dried oregano, dried parsley, salt, and pepper.
Parmesan Cheese: This ingredient is optional so if you're looking for a vegan or Whole30 recipe, simply omit it. We like it because it adds lots of flavor but there are certainly lots of other ways to add flavor with sauces, seasonings, and herbs.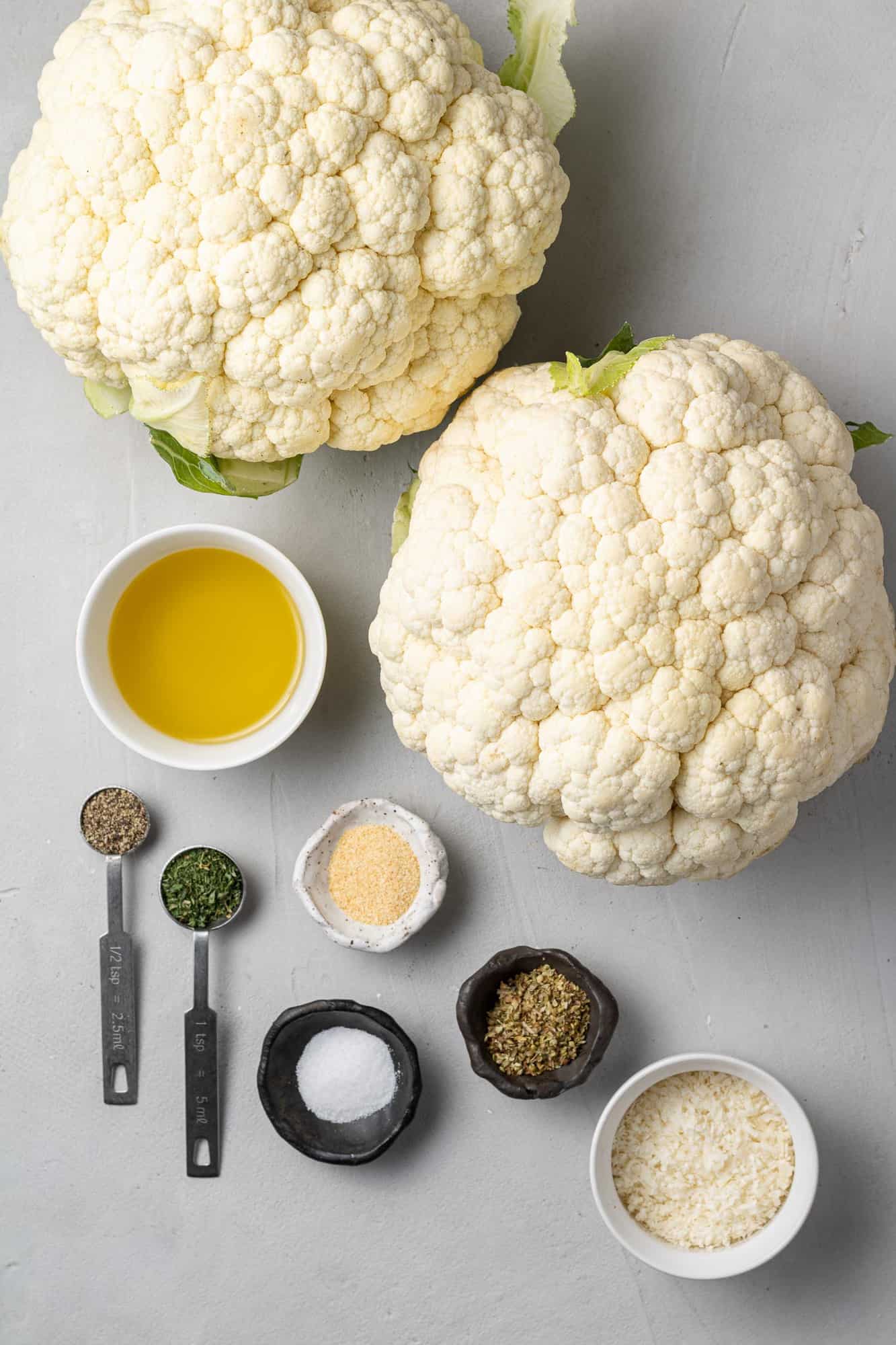 How to make it
Get your oven preheating and prepare a sheet pan. There are a couple of ways you can do this. For the best looking steaks that are nicely browned, spray the pan lightly with cooking spray or give it a light coating of oil. An alternate method (for those of you who really hate washing dishes) is to line the pan with parchment paper or foil instead of greasing it. Your choice!
Next, prep the cauliflower. Remove the tough outer leaves and bottom part of the stem, and rinse the head of cauliflower really well. Drain and pat it dry with a clean towel or paper towels.
You'll need a large sharp knife and a cutting board to cut the cauliflower into steaks. A short paring knife isn't going to work for this. Set the cauliflower on its stem and slice it vertically into one-inch slices. Now obviously, the head of cauliflower is circular so you're not going to get identically sized slices. You should be able to get 2 to 3 nice slices per head. Aim for three slices if you want to make six servings.
You'll end up with some smaller pieces. That's okay, don't discard them! Roast them with the slices. They get a little crispier and are really good.
Arrange the slices on the prepared sheet pan.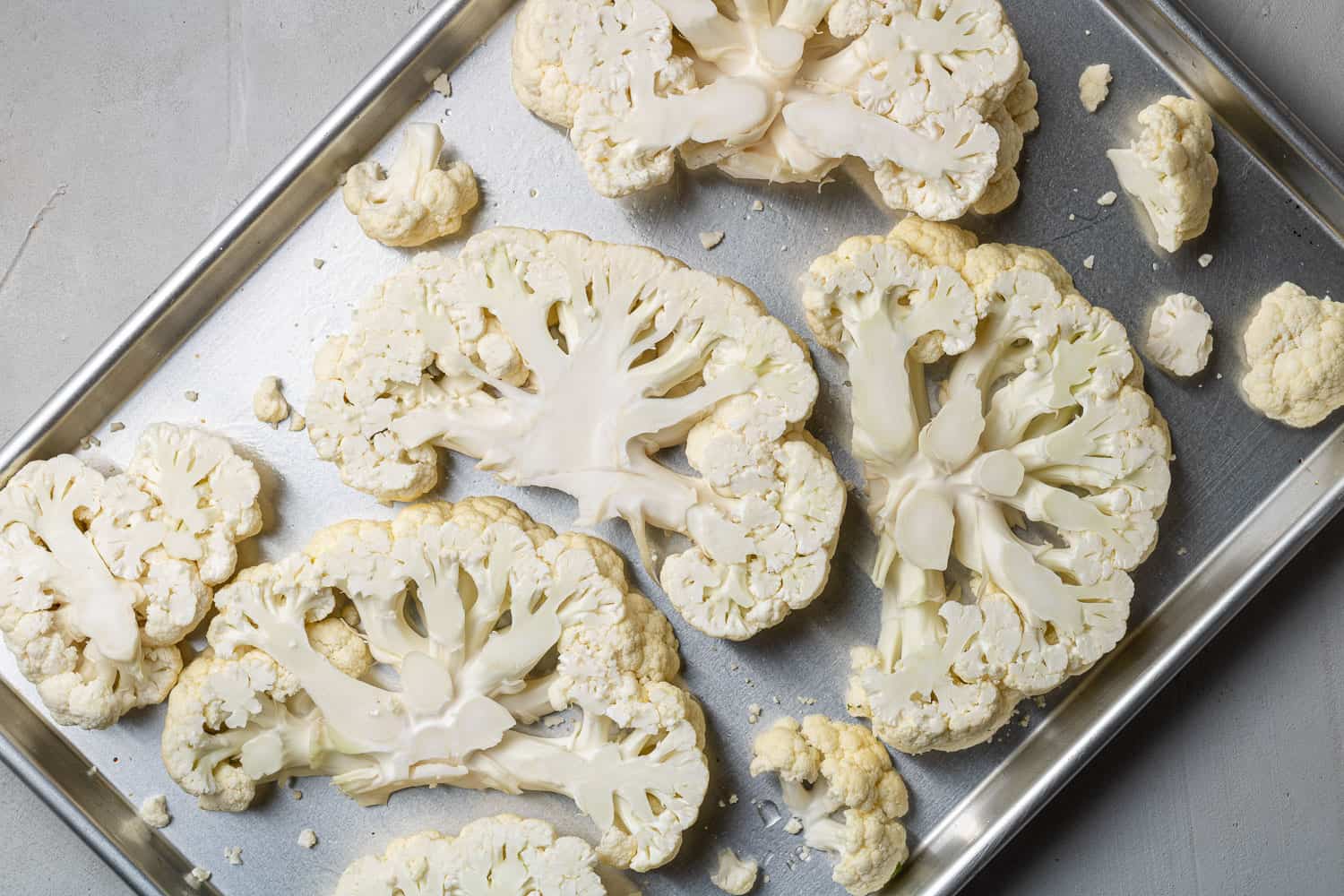 In a small bowl, mix the oil with the seasonings.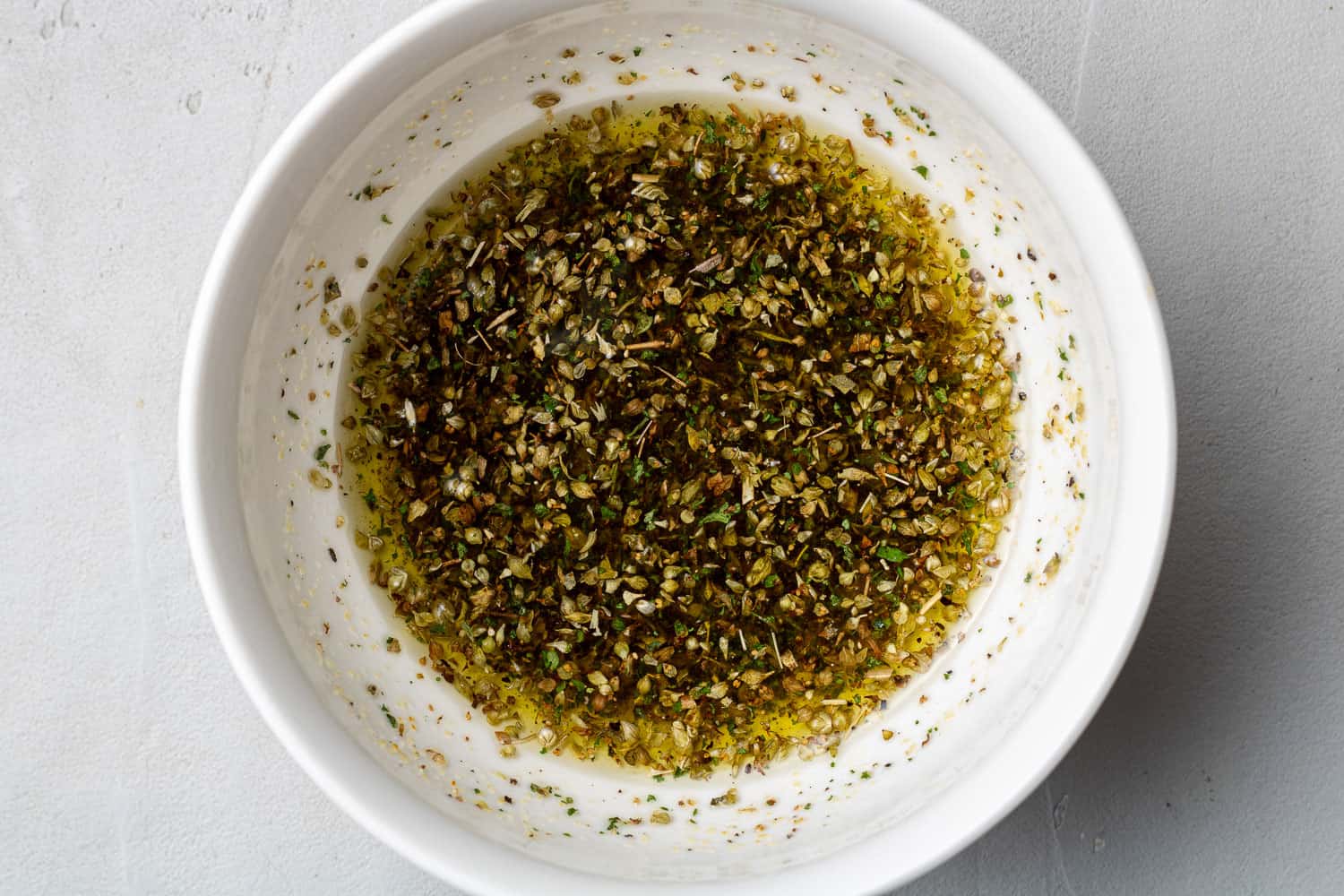 Brush the top side of the cauliflower slices with the oil mixture, flip them over and coat the other side. Give the smaller pieces a light coating of oil too.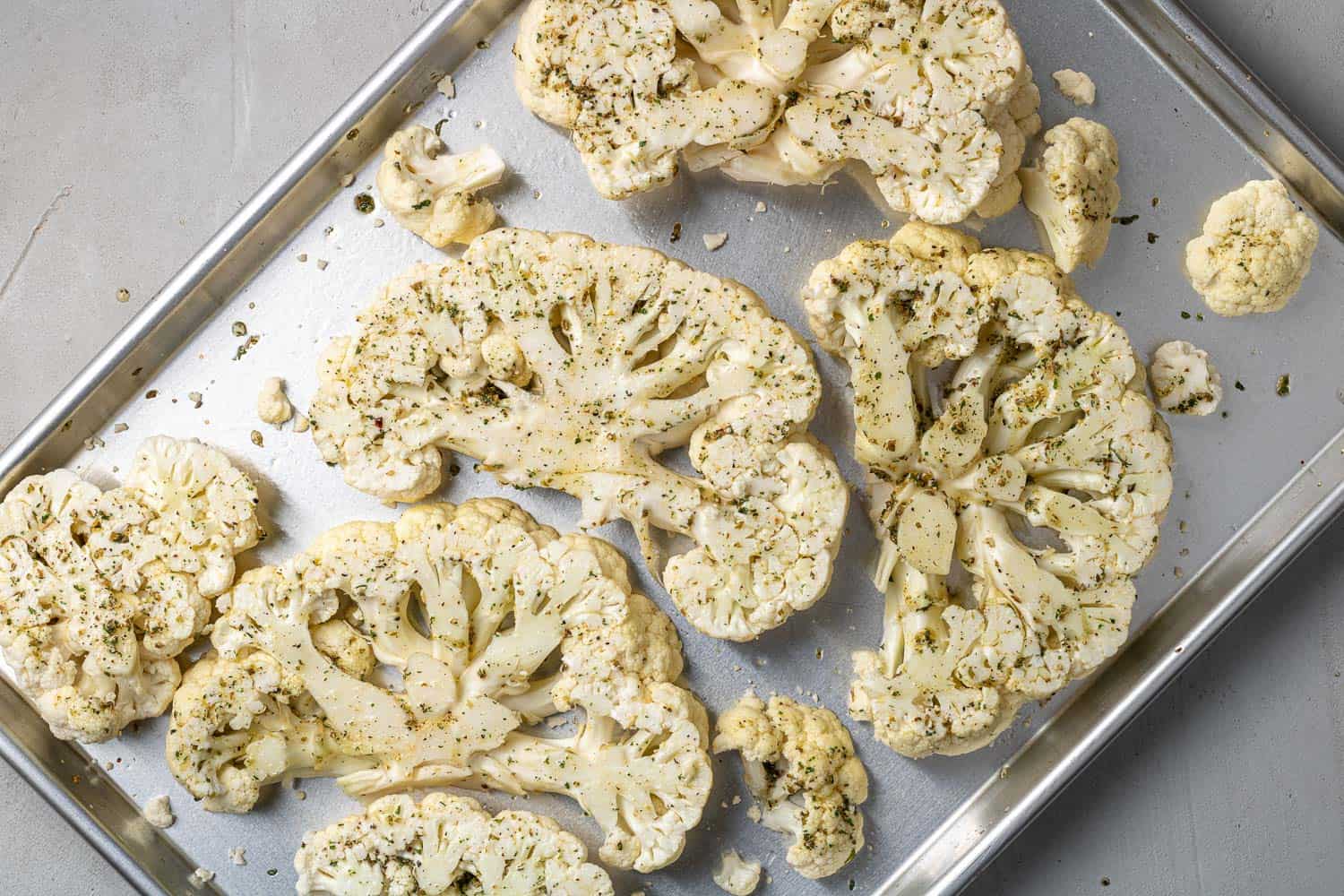 The steaks are ready to pop into the oven. Roast them for fifteen minutes, take them out of the oven, flip them over, and roast them ten to fifteen minutes longer. They should be fork tender and nicely browned on both sides.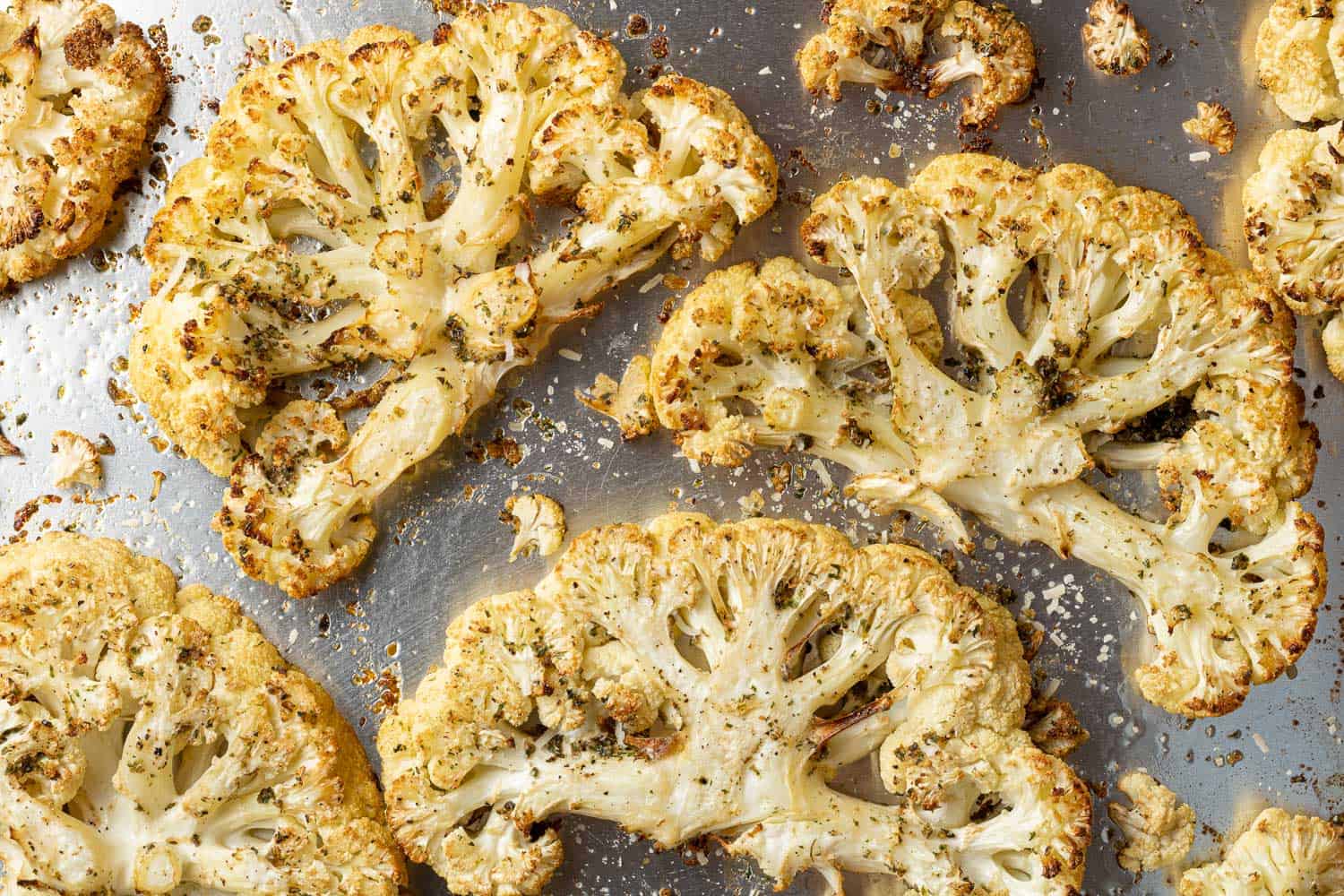 Immediately sprinkle the hot steaks with grated parmesan cheese. So delicious! Serve with homemade chimichurri. Basil pesto, salsa verde, smoky chipotle salsa, or your favorite steak sauce are really good choices, too. A drizzle of balsamic reduction adds a sweet tangy flavor that goes great with the cauliflower.
So, are cauliflower steaks a main course or a side dish? Since cauliflower doesn't have a lot of protein, I would say it's more of a side unless you're looking for a lighter meatless meal. They are pretty filling. Serve them with a couple of fried eggs or a nice fillet of roasted salmon.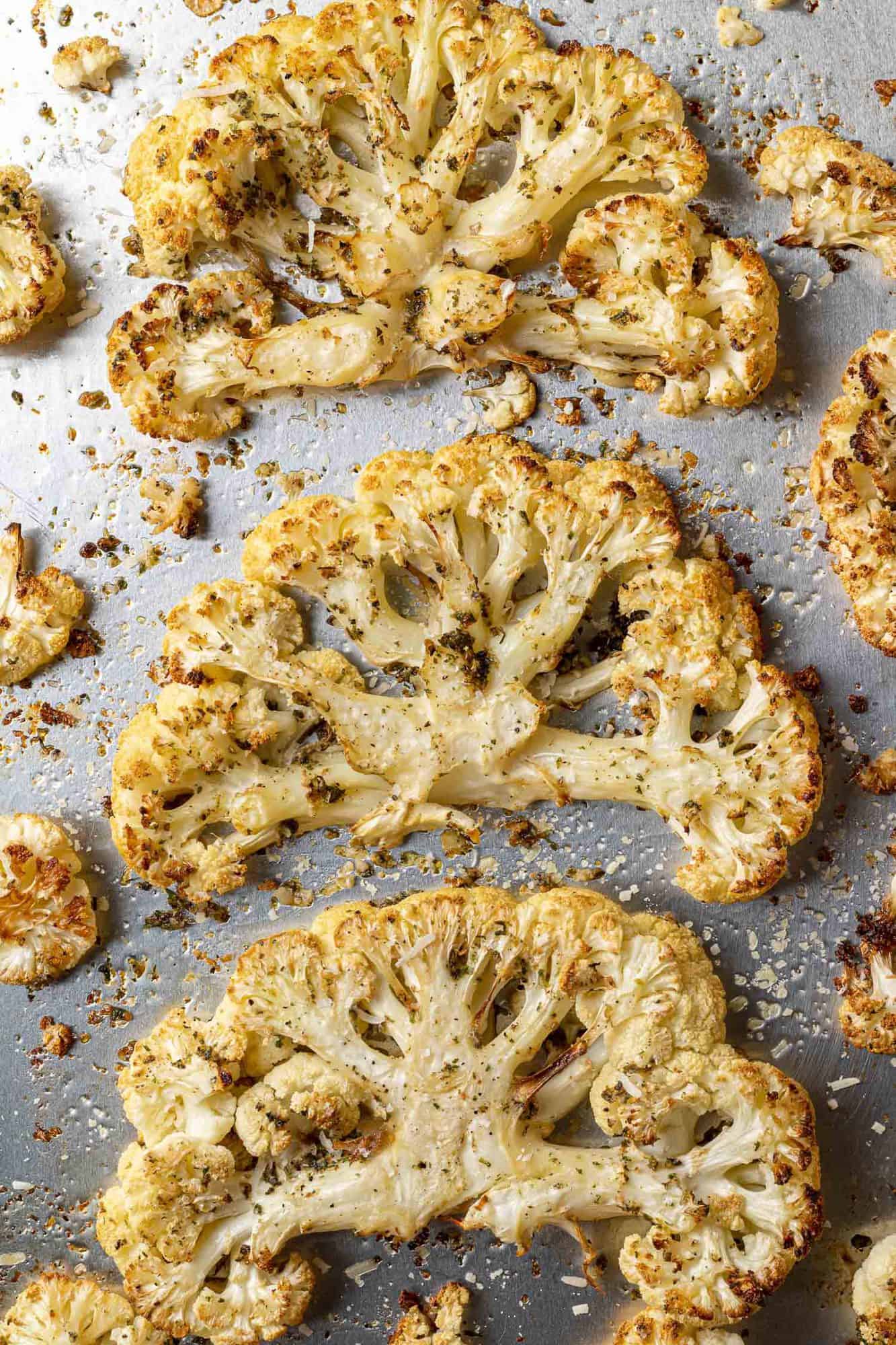 FAQs
What does cauliflower steak taste like?
It will come as no surprise that it tastes like cauliflower. It doesn't taste like steak, sorry! However, some people are not at all unhappy about that. I know my mom much prefers the taste of cauliflower to steak, and she loves these cauliflower steaks, especially with a yummy sauce.
How do you steam cauliflower steaks?
Some cooks like to steam the cauliflower steaks briefly before continuing with the roasting process, producing a slightly more tender steak. It's easy to do. Simply prepare the cauliflower as directed. Cover the pan tightly with foil for the first 5 minutes of baking, then uncover and continue baking as directed.
What tastes good with cauliflower?
I'm going to answer this question two ways.
First of all, what tastes good on cauliflower? Cauliflower is an easy vegetable to dress up because it has an unassertive flavor. It can be made into cauliflower rice, cauliflower nachos, vegetarian tacos, or even pizza crusts. Try topping it with creamy cheese sauce, always a favorite. We love it topped with a bold sauce, such as chimichurri, pesto, or salsa verde.
Second, what do you serve with cauliflower? Try it as a tasty side with pretty much any type of meat, grilled or roasted. Match the seasoning with what you're serving it with.
Make It Your Own
Grill the steaks if you like. Use a grill basket or grill the steaks right on the grates. Preheat the grill (and grill basket, if using) at medium heat (about 350°F). Put the oiled side of the cauliflower down first, then brush the top sides with oil mixture. Grill about 8 minutes per side or until tender. Note: I haven't tested this yet so I can't guarantee how it will turn out.
Prefer pan-fried steaks? Just be aware that unless you have really large pan, only one steak can be cooked at a time. Heat a tablespoon of oil in a cast iron pan at medium heat. Add the prepared cauliflower (brushed with oil mixture) and cook for 8 minutes. Flip and cook an additional 8 minutes or until golden brown.
Play around with the seasoning blend. This is a really basic seasoning so you can add almost anything you like to it. Some people like to add a marinade but I find that cauliflower doesn't really absorb much flavor when you marinate it.
Try a variety of sauces with the steaks.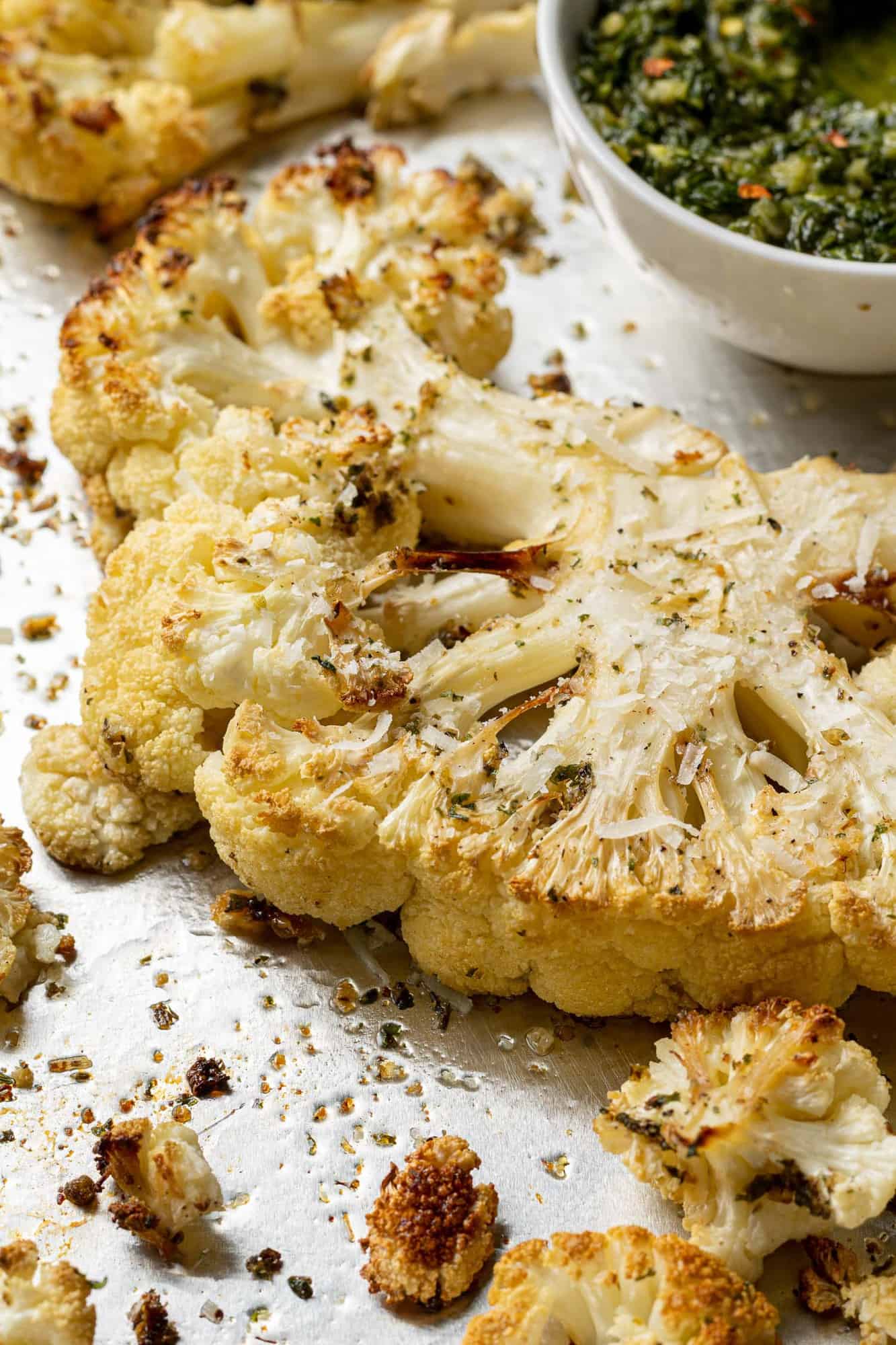 Make-Ahead Ideas
Prep the cauliflower: wash and slice it, storing in the refrigerator until you're ready to cook it. Mix the seasoning and oil in a small bowl, cover, and leave on the counter.
Storage & Reheating Tips
Leftover cauliflower steaks can be stored in the fridge, tightly covered, for up to 5 days. To reheat, warm in the oven at 325°F for 5-10 minutes or until heated through. A microwave can be used to reheat the steaks at high power in 30-second increments.
Leftover Love
If you have a couple of steaks left over, chop them up and make this Roasted Cauliflower Salad with Arugula & Sweet Potato. It's so good – you'll be glad you had leftovers!
Did you make this? Be sure to leave a review below and tag me @rachelcooksblog on Facebook, Instagram, or Pinterest!
Hearty cauliflower steaks, roasted in the oven, are an impressive side dish. Try them topped with homemade chimichurri!
Instructions
Preheat oven to 400ºF. Line a sheet pan with parchment or foil for easy clean up, or spray with nonstick cooking spray (see note).

Wash cauliflower and trim tough outer leaves from cauliflower and bottom part of the stem.

Cut cauliflower into 1-inch "steaks" – you should get 2 to 3 from each head of cauliflower. Arrange on prepared baking pan, along with the smaller pieces, in a single layer.

In small bowl, mix olive oil, garlic powder, oregano, parsley, salt and pepper.

Brush the top sides of the cauliflower with oil mixture, flip the slices over, and brush the other side with oil. Remember to give the smaller pieces a coat of the oil mixture too.

Bake for 15 minutes. Flip and bake an additional 10-15 minutes or until cauliflower is tender and browned. If desired, sprinkle with parmesan cheese immediately upon removing from oven.

Serve immediately with desired toppings. We love chimichurri (see notes).
Notes
We love topping these with this chimichurri recipe.
If you want your cauliflower steaks to brown more, do them right on the pan instead of on parchment or foil.
Store leftovers tightly covered in the fridge, for up to 5 days. To reheat, warm in the oven at 325°F for 5-10 minutes or until heated through, or microwave at high power in 30-second increments.
For a more tender steak, cover the pan tightly with foil during the first five minutes of baking, uncover and continue baking as directed.
Grilling Method: Use a grill pan or grill on the grates. Preheat the grill (and grill pan, if using) at medium heat (about 350°F). Put the oiled side of the cauliflower down first, then brush the top sides with oil mixture. Grill about 8 minutes per side or until tender.
Nutrition Information
Calories:
148
kcal
,
Carbohydrates:
10
g
,
Protein:
5
g
,
Fat:
11
g
,
Saturated Fat:
2
g
,
Polyunsaturated Fat:
1
g
,
Monounsaturated Fat:
7
g
,
Cholesterol:
4
mg
,
Sodium:
509
mg
,
Potassium:
591
mg
,
Fiber:
4
g
,
Sugar:
4
g
,
Vitamin A:
43
IU
,
Vitamin C:
92
mg
,
Calcium:
95
mg
,
Iron:
1
mg
This website provides approximate nutrition information for convenience and as a courtesy only. Nutrition data is gathered primarily from the USDA Food Composition Database, whenever available, or otherwise other online calculators.